S
M
T
W
T
F
S
1
2
3
4
5
6
7
8
9
10
11
12
13
14
15
16
17
18
19
20
21
22
23
24
25
26
27
28
29
30
31
カテゴリ
以前の記事
検索
最新のトラックバック
その他のジャンル
ファン
記事ランキング
ブログジャンル
画像一覧
振り子が戻り始めた米国=國枝すみれ(ロサンゼルス支局)
 ◇未来への希望、国民切望--反戦に傾く退役軍人も
毎日新聞 2007年4月5日 東京朝刊
 ブッシュ米大統領が再選を決めた大統領選が間近に迫った04年初秋のころ。私は中西部オハイオ州で、共和党支持の60代の女性と昼食を食べていた。当時、大統領の人気は低かったが、テロの再発におびえる国民は「戦時は大統領を支持しなくては」という義務感に駆られていた。
 「イラク戦争を続ければ、この国が安全になると米国人は本気で思っているのか? 戦争で死んだイラク国民の家族は米国を憎むでしょう」
 そんな話をしながら、つついていたサラダから顔を上げると、彼女の目に涙がたまっていた。両親も、夫も、もちろん本人も、生涯共和党支持だったが、彼女は反ブッシュ票を投じた、と後で聞いた。
 あれから3年。イラク戦争は5年目に入った。今は米国人の6割が戦争に反対している。
 カリフォルニア州サンタモニカの海岸で3月17日、反戦団体が建てた3210本の十字架が並んだ。イラクで死んだ米兵を悼むものだ。イラク国民の死亡者も報道されただけで6万人、65万人という推計もある。
 オハイオ州クリーブランドの郊外に住むダニータ・ミッチェルさん(44)は、砂浜に立ち尽くして、泣いていた。「この戦争は間違っていた。始めるべきではなかった」。休暇でサンタモニカに来て、十字架を見つけ、立ち去ることができなかった。彼女の高校時代の同級生の息子(19)は開戦直後に戦死した。当時は知事も葬式に来た。出席者は全員、そんな悲劇は数カ月で終わると信じていた。
 21年間、海軍に勤務し、湾岸戦争(91年)にも従軍した夫のアーネストさんが言葉をついだ。「ところが、大統領が終戦宣言した後も、事態は悪くなるばかり。我々は信頼してはいけない指導者を信頼したのだ」
 イラク戦争は米国人の心に刺さったトゲだ。戦争支持が多い退役軍人のなかにも、反戦に傾く人が増えてきた。新聞にも「我々は9・11テロに過激に反応しすぎた」という冷静な意見や、「イラクから米軍を撤退させ、周辺国と協力して、中東戦略を立て直せ」という現実的な提言が載り始めた。
 私は03年春に米国に赴任し、急速に右傾化する米国を見てきた。裁判所の令状なしの盗聴、情報源を言わない新聞記者の投獄。州レベルでも、同性愛者の結婚を禁止する法律や、妊娠中絶を制限する法律が次々と成立した。
 一体、この国はどこまでいくのか。そう尋ねると、多くの米国人は「米国社会は時計の振り子。右に振れたら、必ず左に戻る」と答えた。半信半疑だったが、いま実際に、振り子がゆっくりと戻り始めた気配を感じる。
 こんなこともあった。ウィスコンシン州で昨年春、共和党のドン、センセンブレナー下院議員がタウンミーティングを開いた。長年の支持者という白人の女性が立ち上がり、震える声で訴えた。「公的医療保険の適用が変わって、医療費の支払いが月700ドルを超えた。これでは生きていけない」
 米国の中産階級はどんどん貧しくなっている。民主党のハワード・ディーン氏は、04年選挙の敗北理由を「いざという時の保障制度を徐々になくして不安になった国民は、さらに何かを失うことを恐れ、宗教や倫理にしがみついた」と分析した。そして、とうとう底が抜けたのだ。失うものがなくなった市民は変化を望むだろう。
 「米国人というものは、基本的には保守的なんだよ」。3年前、米国の真ん中に位置するアイオワ州の小麦畑で、農民のおじいさんが教えてくれた。
 オハイオからカンザスまで含む中西部は、米国のハートランド(心臓部)と呼ばれる。教会に通い、勤勉で自立の精神を重んじる。「大草原の小さな家」のローラ・インガルス一家の子孫たちは、保守的だが、何があっても保守から動かない南部と違い、行き過ぎと思えば、くら替えしてバランスを取る。米国政治を決定してきたこの中西部で、振り子が動き始めたのだ。
 選挙は来年なのに、民主党の大統領候補に立候補している女性のクリントン上院議員や黒人のオバマ上院議員に注目が集まる。昨年11月、イリノイ州でオバマ議員の演説を聞いた。「戦争、不平等、不正義、腐敗--。世の中こんなものさとハスに構え、あきらめることは簡単だ。だが、希望とは問題を無視することではない。力を合わせれば世の中を変えられると信じることだ」
 米国人がこのスピーチに心動かされる気持ちは、よく分かる。今、米国人が必要としているのは、未来に対する希望だからだ。
==============
 「記者の目」へのご意見は〒100-8051 毎日新聞「記者の目」係へ。メールアドレスkishanome@mbx.mainichi.co.jp
▲
by

alfayoko2005

| 2007-04-06 00:30 | 米政治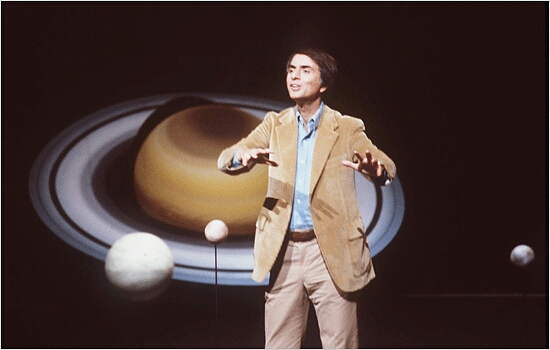 Carl Sagan in 1981. The astronomer extolled and explored the grandeur and mystery of the universe in lectures, books and on TV. (The Associated Press )
Carl Sagan, posthumously, rejoins debate on faith vs. science
By Dennis Overbye Published: February 14, 2007
International Herald Tribune
It's been 10 years since we've heard Carl Sagan beckoning us to consider the possibilities inherent in the "billions" of stars peppering the sky and in the "billions" of neuronal connections spiderwebbing our brains.
In his day, the Cornell astronomer, Pulitzer Prize-winning author of books like "The Dragons of Eden," "Contact," "Pale Blue Dot" and "The Demon- Haunted World," and impresario of the PBS television program "Cosmos" was one of the world's most eloquent unbelievers, an apostle of cosmic wonder, critic of nuclear arms and a champion of science's duty to probe and question without limit, including the claims of religion. He died of pneumonia after a series of bone marrow transplants in December 1996.
Since his death, the public discourse on his favorite issues — the fate of the planet, the beauty and mystery of the cosmos — has not fared well. The teaching of evolution in public schools has become a bitter bone of contention; NASA tried to abandon the Hubble Space Telescope and censor talk of climate change; and religious fanatics crashed jetliners into the World Trade Center, which helped lead to a war in the Middle East that has awakened memories in some corners of the Crusades.
Now, however, Sagan has rejoined the debate with the publication last month of "The Varieties of Scientific Experience: A Personal View of the Search for God" (Penguin). The book is based on a series of lectures exploring the boundary between science and religion that Sagan gave in Glasgow in 1985; it was edited by Ann Druyan, his widow and collaborator.
"I would suggest that science is, at least in part, informed worship," he writes at the beginning of a discussion that includes the history of cosmology, a travel guide to the solar system, the reason there are hallucinogen receptors in the brain, and the meaning of the potential discovery — or lack thereof — of extraterrestrial intelligence.
Never afraid to venture into global politics, Sagan warns at one point of the danger that a leader under the sway of religious fundamentalism might not try too hard to avoid nuclear Armageddon, reasoning that it was God's plan.
"He might be interested to see what that would be like," Sagan wrote. "Why slow it down?"
But Sagan acknowledges that religion can engender hope and speak truth to power, as in the civil rights movement in the United States, but that it rarely does.
It's curious, he says, that no allegedly Christian nation has adopted the Golden Rule as a basis for foreign policy. Rather, in the nuclear age, mutually assured destruction was the policy of choice. "Christianity says that you should love your enemy. It certainly doesn't say that you should vaporize his children."
When Saddam Hussein was hanged in December, those words had a haunting resonance.
It was Druyan's impatience with religious fundamentalism that led her to resurrect Sagan's lectures, which were part of the Gifford Lectures, a prestigious series about natural theology.
Druyan, who co-wrote "Cosmos" and produced the movie "Contact," based on her husband's novel, runs Cosmos Studio and was a leader in the aborted effort by the Planetary Society to launch a solar sail from a Russian submarine two years ago. Among her lesser-known achievements is a kiss on the cheek of the science writer Timothy Ferris, which was recorded and included on a record of the sounds of Earth that is part of the Voyager spacecraft now flying out of the solar system.
She and Sagan had planned to use his Gifford lectures as the basis for a new television show called "Ethos," a sequel to "Cosmos," about the spiritual implications of the scientific revolution. "I know of no other force that can wean us from our infantile belief that we are the center of the universe," she said.
But "Ethos" never happened, and the lectures disappeared.
In the wake of Sept. 11 and the attacks on the teaching of evolution in the United States, she said, a tacit truce between science and religion that has existed since the time of Galileo started breaking down. "A lot of scientists were mad as hell, and they weren't going to take it anymore," Druyan said recently.
Some of the books that resulted, such as Richard Dawkins's "The God Delusion," have been criticized as shrill, but Druyan said: "People like Carl and Dawkins are more serious about God than people who just go through the motions. They are real seekers."
About a year ago, Druyan went looking for Sagan's lectures, eventually finding them in his archive at Cornell. Rereading them, she said, "I couldn't believe how prophetic they were." It took about a day for her editor at Penguin to decide to publish them, she said.
She retitled the book — Sagan had named his lectures "The Search for Who We Are" — as a nod to William James, whose Gifford lectures in 1901 and 1902 became the basis for his book "The Varieties of Religious Experience."
Sagan asks at one point in his lectures why the God of the Scriptures seems to betray no apparent knowledge of the wider universe that "He or She or It or whatever the appropriate pronoun is" allegedly created. Why not a commandment, for instance, that thou shalt not exceed the speed of light? Or why not engrave the Ten Commandments on the Moon in such a way that they would not be discovered until now, à la the slab in "2001: A Space Odyssey"?
If such an inscription were found, people would ask how it had gotten there, Sagan writes. "And then there would be various hypotheses, most of which would be very interesting," he adds.
Near the end of his book, Sagan parses the difference between belief and science this way: "I think if we ever reach the point where we think we thoroughly understand who we are and where we came from, we will have failed."
The search for who we are does not lead to complacency or arrogance, he explains. "It goes with a courageous intent to greet the universe as it really is, not to foist our emotional predispositions on it but to courageously accept what our explorations tell us."
The last word may as well go to Dawkins, who in a 1996 book nominated Sagan as the ideal spokesman for Earth. In a blurb for the new book, Dawkins said that the astronomer was more than religious, having left behind the priests and mullahs.
"He left them behind, because he had so much more to be religious about," Dawkins wrote. "They have their Bronze Age myths, medieval superstitions and childish wishful thinking. He had the universe."
▲
by

alfayoko2005

| 2007-02-15 20:13 | 米政治
ヒラリー議員に「スカート着用」を助言、伊著名デザイナー
2007.02.09
Web posted at: 16:20 JST
- CNN/REUTERS
ベルリン――イタリア著名デザイナーのドナテッラ・ベルサーチさんは8日、米大統領選への出馬を表明、最有力候補とも目されるヒラリー・クリントン上院議員(民主党)に、「女性らしさ」を強調するため、「ズボン」ではなく「スカートやドレス」の着用を助言した。
ドイツの週刊紙ツァイトに語った。「ズボンの着心地の良さは分かるが、彼女は女性。その特性を出すべきだ」などと述べた。「政治の世界での男らしさを真似る必要はない」とも強調した。
その上で、ひざまでの長さのスカートで、短めのジャケットかコートを試すよう助言。色についてはヒラリー議員が現在好む青ではなく、黒を推薦した。
「彼女の決断力を崇拝している。ホワイトハウスに入れることを期待している」とも応援した。
Donatella to Clinton: Ditch the trousers
POSTED: 2:44 p.m. EST, February 8, 2007

BERLIN, Germany (Reuters) --
Presidential candidate Sen. Hillary Clinton, D-New York, should tap into her feminine side and wear dresses and skirts instead of trousers, fashion designer Donatella Versace was quoted as saying on Thursday.
"I can understand (trousers) are comfortable but she's a woman and she is allowed to show that," Versace told Germany's weekly newspaper Die Zeit in an interview.
"She should treat femininity as an opportunity and not try to emulate masculinity in politics," Versace said.
Skirts should reach to the knee and be worn with a short jacket or coat, she said. The best color would be black rather than the blue Clinton currently favors, she added.
"I admire her for her determination, which will hopefully take her to the White House," Versace told the paper.
▲
by

alfayoko2005

| 2007-02-10 00:04 | 米政治
Congress to hear WW2 sex slaves' testimony
Thu Feb 8, 2007 10:28 PM ET
By Paul Eckert, Asia Correspondent

WASHINGTON (Reuters) -
Three women who were forced into sexual servitude by Japanese soldiers in World War Two will testify before a U.S. congressional committee next week, the author of a resolution calling on Tokyo to apologize for the practice said on Thursday.
Rep. Michael Honda, a California Democrat who introduced the nonbinding measure on February 1, told reporters he was confident the resolution would pass by the end of March.
"There are parties who are going to be lobbying against the resolution also, but on the whole we're enjoying bipartisan support," said Honda, one of a handful of U.S. lawmakers of Japanese descent.
Honda's resolution calls on the government of Japan to "formally and unambiguously apologize for and acknowledge the tragedy that comfort women endured at the hands of its Imperial Army during World War Two."
"Comfort women" is a Japanese euphemism for the estimated 200,000 women forced to provide sex for Japan's soldiers at battle-zone brothels during World War Two.
Honda said the first step toward passage would be the hearing at the Asia-Pacific subcommittee of the House of Representatives Committee on Foreign Affairs on February 15.
Witnesses would include experts on the issue and three former comfort women: Koreans Lee Yong-soo and Kim Koon-ja and Jan Ruff O'Herne, a Dutch-born woman who now lives in Australia, said Honda's office.
Asked about the timing of debate that could become an irritant in U.S.-Japan relations ahead of an expected spring visit to Washington by Japanese Prime Minister Shinzo Abe, Honda said that time was running out for the elderly women.
"The urgency is based upon the age of the women who were victims of the policy. Every year these ladies get older and older and they start to die off," he said in a conference call with reporters in Washington.
Japan in 1993 acknowledged a state role in the wartime program and Japanese leaders since 1996 have sent letters of apology to 285 of the women, along with donated funds collected by the government-administered Asian Women's Fund.
U.S. lawmakers introduce resolution urging Japan apology to World War II 'comfort women'
The Associated Press
Thursday, February 8, 2007

WASHINGTON
U.S. lawmakers have introduced a nonbinding resolution demanding that Japan apologize to thousands of so-called comfort women the Japanese army used as sex slaves during World War II.
The resolution, sponsored by Democratic Rep. Michael Honda, Republican Rep. Christopher Smith and others, calls for Japan's prime minister to "formally acknowledge, apologize and accept historical responsibility in a clear and unequivocal manner" for the women's ordeal.
A similar resolution asking for an apology for as many as 200,000 women forced to service millions of Japanese soldiers during the war was passed last year by the House of Representatives foreign affairs panel. The Republicans who then controlled Congress never brought it before the House for action.
The Japanese Embassy did not immediately respond to a request for comment. Tokyo acknowledged in the 1990s that its military set up and ran brothels for its troops. But Japan has rejected most compensation claims, saying they were settled by postwar treaties.
In an interview Thursday, Honda acknowledged that Japan is "very sensitive" to the issue and that Japanese lobbyists in Washington have urged the resolution be dropped, saying it would be bad for U.S.-Japanese relations.
"I'm sure there will be resistance," Honda said. But, he added, "It's a necessary move that the Japanese have to take."
Honda called the resolution "a matter of fundamental justice. These brave women's wounds have been left to fester for over a half-century."
Next week, three comfort women are scheduled to appear at a hearing of the House Foreign Affairs subcommittee on Asia.
The current resolution does not recommend that Japan pay reparations to the women. Instead, it urges Japan to accept moral responsibility for the women's misery with an official apology, to refute those who say the sexual enslavement never happened and to educate children about the comfort women's experience.
▲
by

alfayoko2005

| 2007-02-09 16:55 | 米政治
ジュリアーニ前NY市長「勝つ」大統領選出馬表明 (産経 2007/02/06)
 【ニューヨーク=長戸雅子】2008年の米大統領選に向け、共和党のルドルフ・ジュリアーニ前ニューヨーク市長(62)が5日、「立候補」と明記した新たな書類を連邦選挙管理委員会に提出した。この後FOXニュースに出演した同氏は「勝つために参加する」と事実上、出馬を表明した。ジュリアーニ氏は各種世論調査で高い支持を得ている共和党最有力候補の一人だ。大統領選に向けた動きは早くもヒートアップしている。
 ジュリアーニ氏は同日、ニューヨーク州内で「大きな一歩だ」と述べた。同氏は昨年11月、出馬に向けた準備委員会設立の書類を提出しており、今回はその書類にあった「情勢を見極める」との文言を削除した。改めて出馬表明の場を設けるとみられる。
 同様の書類は共和党有力候補のジョン・マケイン上院議員(70)=アリゾナ州、ミット・ロムニー前マサチューセッツ州知事(59)らもすでに提出している。
 1994年にニューヨーク市長に就任したジュリアーニ氏は連邦検事として犯罪に向き合った経験を生かし、軽微な犯罪を徹底的に取り締まる「割れ窓理論」を実践。強盗などの犯罪を5年間で半減させるなど治安改善に功績をあげた。
 同時テロの際はすぐさま現場に駆けつけて強力なリーダーシップを発揮、「米国の市長」との勇名をはせた。
 全米レベルの知名度と人気から世論調査での支持率も高い。ニューズウィーク紙が先月末に公表した世論調査によると、共和党員の支持率でジュリアーニ氏がマケイン上院議員を48%対44%と上回った。すでに出馬を表明している民主党のヒラリー・クリントン上院議員(59)=ニューヨーク州=と対決した場合、ヒラリー氏49%、ジュリアーニ氏46%と接戦になっている。
 また、全米の先陣を切って来年1月に党員集会が行われるアイオワ州でこの週末に行われた調査ではジュリアーニ氏が27%だったのに対し、マケイン氏は22%だった。
 共和党内の指名争いは両氏を軸に展開するとみられているが、銃規制や妊娠中絶を支持、同性愛者の権利を容認する姿勢を示すなど、政策的には民主党に近い共和党穏健派の代表として知られるジュリアーニ氏が保守派など党内の広範な支持を得られるかは未知数だ。
 民主党からはヒラリー氏をはじめ、当選すれば初の黒人大統領となるバラク・オバマ上院議員(45)=イリノイ州、2004年の大統領選で副大統領候補だったジョン・エドワーズ元上院議員(53)らが出馬を表明している。
(2007/02/06 22:12)
ジュリアーニ前NY市長、次期大統領選に「出馬」
2007.02.06
Web posted at: 20:11 JST
- CNN/AP
ワシントン──共和党のルドルフ・ジュリアーニ前ニューヨーク市長は5日、2008年の次期大統領選で、連邦選挙委員会に対し立候補の意思を示す関連書類を提出した。同氏陣営が明らかにした。公的な政治資金の募集活動が可能になる選挙対策委員会の正式設置などを申請したと見られる。
同陣営によると、前市長は5日、公式な声明などを出す見通し。
共和党では、ジョン・マケイン上院議員やミット・ロムニー前マサチューセッツ州知事らが、大統領選への出馬を表明している
穏健派のジュリアーニ氏は、世論調査でも人気が高いが、共和党内の保守派からの支持は、必ずしも高くはない。特に、同性結婚や妊娠中絶、銃規制問題については、共和党内で支持が得られるかどうか不透明な情勢だ。また、同氏には過去2度の離婚歴があり、これも保守層の反感を買いかねない状況となっている。
▲
by

alfayoko2005

| 2007-02-07 00:53 | 米政治
Text of Nancy Pelosi's speech
Thursday, January 4, 2007

(01-04) 11:31 PST --
Rep. Nancy Pelosi's speech upon her election today as speaker of the House.
"Thank you my colleagues, thank you leader (John) Boehner (R-Ohio).
"I accept this gavel in the spirit of partnership, not partisanship, and I look forward to working with you Mr. Boehner and the Republicans in the Congress on behalf of the American people.
"After giving away this gavel in the last two Congress', I'm glad someone else had the honor today.
"In this House, we may belong to different parties, but we serve one country. We stand united in our pride and prayers for our men and women in the armed forces. They are working together to protect America, and we, in this House, must also work together to build a future worthy of their sacrifice.
"In this hour, we need and pray for the character, courage, and civility of a former member of this House -- President Ford. He healed the country when it needed healing. This is another time, another war, and another trial of our American will, imagination, and spirit. Let us honor his memory, not just in eulogy, but in dialogue and trust across the aisle. Let us express our condolences and appreciation to Mrs. Ford and the entire Ford family for their decades of service to our country.
"With today's convening of the 110th Congress, we begin anew. I congratulate all members of Congress on your election; I especially want to congratulate our new members of Congress. The genius of our Founders was that every two years, new members bring to this House their spirit of renewal and hope for the American people. This Congress is reinvigorated new members by your optimism, your idealism, and your commitment to our country. Let us acknowledge your families, whose support has made your leadership possible.
"Each of us brings to this new Congress our shared values, our commitment to the Constitution, and our personal experience.
"My path to Congress and the speakership began in Baltimore where my father was mayor. I was raised in a large family that was devoutly Catholic, deeply patriotic, very proud of our Italian American heritage, and staunchly Democratic. My parents taught us that public service was a noble calling, and that we had a responsibility to help those in need. I viewed them as working on the side of the angels and now they are with them.
"I am so proud that my brother Tommy D'Alesandro, who was also a mayor of Baltimore, is here leading my D'Alesandro family today.
"Forty-three years ago, Paul Pelosi and I were married. We raised our five children in San Francisco, where Paul was born and raised. I want to thank Paul and our children Nancy Corinne, Christine, Jacqueline, Paul, and Alexandra and our six magnificent grandchildren for giving me their love, support and the confidence to go from the kitchen to the Congress.
"And I thank my constituents in San Francisco and to the state of California for the privilege of representing them in Congress. Saint Francis of Assisi is our city's patron saint, and his song of St. Francis is our city's anthem: 'Lord, make me a channel of thy peace; where there is darkness may we bring light, where there is hatred, may we bring love, and where there is despair, may we bring hope.'
"Hope, hope, that is what America is about and it is in that spirit that I was sent to Congress.
"And today, I thank my colleagues. By electing me speaker, you have brought us closer to the ideal of equality that is America's heritage and America's hope.
"This is an historic moment -- and I thank the leader for acknowledging it. I think you Leader Boehner. It is an historic moment for the Congress, and an historic moment for the women of this country. It is a moment for which we have waited over 200 years. Never losing faith, we waited through the many years of struggle to achieve our rights. But women weren't just waiting; women were working. Never losing faith, we worked to redeem the promise of America, that all men and women are created equal. For our daughters and granddaughters, today we have broken the marble ceiling. For our daughters and our granddaughters, the sky is the limit, anything is possible for them.
"The election of 2006 was a call to change -- not merely to change the control of Congress, but for a new direction for our country. Nowhere were the American people more clear about the need for a new direction than in the war in Iraq.
"The American people rejected an open-ended obligation to a war without end. Shortly, President Bush will address the nation on the subject of Iraq. It is the responsibility of the president to articulate a new plan for Iraq that makes it clear to the Iraqis that they must defend their own streets and their own security, a plan that promotes stability in the region, and a plan that allows us to responsibly redeploy our troops.
"Let us work together to be the Congress that rebuilds our military to meet the national security challenges of the 21st century.
"Let us be the Congress that strongly honors our responsibility to protect the American people from terrorism.
"Let us be the Congress that never forgets our commitment to our veterans and our first responders, always honoring them as the heroes that they are.
"The American people also spoke clearly for a new direction here at home -- they desire a new vision, a new America, built on the values that have made our country great.
"Our founders envisioned a new America driven by optimism, opportunity, and strength. So confident were they in the America they were advancing, they put on the seal, the great seal of the United States, 'novus ordo seclorum' -- a new order for the centuries. Centuries, they spoke of the centuries. They envisioned America as a just and good place, as a fair and efficient society, as a source of opportunity for all.
"This vision has sustained us for over 200 years, and it accounts for what is best in our great nation: liberty, opportunity, and justice.
"Now it is our responsibility to carry forth that vision of a new America into the 21st Century.
"A new America that seizes the future and forges 21st Century solutions through discovery, creativity, and innovation, sustaining our economic leadership and ensuring our national security.
"A new America with a vibrant and strengthened middle class for whom college is affordable, health care is accessible, and retirement reliable.
"A new America that declares our energy independence, promotes domestic sources of renewable energy, and combats climate change.
"A new America that is strong, secure, and a respected leader among the community of nations.
"And the American people told us they expected us to work together for fiscal responsibility, with the highest ethical standards and with civility and bipartisanship.
"After years of historic deficits, this 110th Congress will commit itself to a higher standard: pay as you go, no new deficit spending. Our new America will provide unlimited opportunity for future generations, not burden them with mountains of debt.
"In order to achieve our new America for the 21st Century, we must return this House to the American people. So our first order of business is passing the toughest congressional ethics reform in history. This new Congress doesn't have two years or 200 days.
"Let us join together in the first 100 hours to make this Congress the most honest and open Congress in history - 100 hours.
"This openness requires respect for every voice in the Congress. As Thomas Jefferson said, 'Every difference of opinion is not a difference of principle.' My colleagues elected me to be Speaker of the House -- the entire House. Respectful of the vision of our Founders, the expectations of our people, and the great challenges that we face, we have an obligation to reach beyond partisanship to work for all Americans.
"Let us all stand together to move our country forward, seeking common ground for the common good.
"We have made history, now let us make progress for our the America people.
"May God bless our work, and may God bless America."
URL: http://sfgate.com/cgi-bin/article.cgi?file=/c/a/2007/01/04/BAG5ANCTQ27.DTL
▲
by

alfayoko2005

| 2007-01-05 15:13 | 米政治
Romney's record on gay rights questioned
By GLEN JOHNSON, Associated Press Writer
Tuesday, December 12, 2006
Conservatives concerned about inconsistencies in Republican Mitt Romney's record on gay marriage and abortion said Tuesday the Massachusetts governor has some explaining to do. For now, at least, the potential presidential candidate isn't talking.
The governor's office issued a brief statement last weekend amid reports of a 1994 letter in which Romney, then a U.S. Senate candidate, pledged to be a more effective champion for gay causes than his opponent, Sen. Edward M. Kennedy (news, bio, voting record), D-Mass.
The statement said the governor has been a "champion of traditional marriage."
At a gathering of San Diego County Republicans Monday night, Romney brushed aside a question from The Associated Press. "Thanks, I have other people to talk to right now," he said.
Such dodges may not satisfy conservatives, who hold critical sway in the primaries and could opt for other possible candidates with strong records on social issues such as Kansas Sen. Sam Brownback (news, bio, voting record) and Arkansas Gov. Mike Huckabee.
Several conservative leaders are seeking answers from Romney.
"I am concerned and I do think he needs to explain this," said Paul Weyrich, chief executive officer of the Free Congress Foundation. "Because he either is or isn't in favor of the homosexual agenda and we need to know before we would get involved in his candidacy."
Richard Land, a top member of the Southern Baptist Convention, was among a group of evangelicals who met with Romney at his home in October. Land said Tuesday, "Christians believe in conversion, and so they're open to listen, but when a candidate 12 years ago says he is more of a champion on these issues than Ted Kennedy, that needs to be explained."
Tom Minnery, spokesman for Focus on the Family, the Colorado-based evangelical organization, said homosexuality is an emotional issue.
"You've got to be committed to your position for it or against it or you'll be swayed, so he's got a lot of explaining to do," Minnery said of the governor.
Romney has repeatedly stated his opposition to gay marriage, but in the 1994 letter — sent in the final weeks of his failed Senate campaign against Kennedy — he cited his sensitivity to the concerns of Log Cabin Republicans, the gay GOP group.
"As a result of our discussions and other interactions with gay and lesbian voters across the state, I am more convinced than ever before that as we seek to establish full equality for America's gays and lesbian citizens, I will provide more effective leadership than my opponent," Romney wrote.
During that same campaign, Romney also stated his personal opposition to abortion, but said he would not seek to change state abortion laws. As proof, he cited his mother's own 1970 candidacy for the U.S. Senate as an abortion rights supporter.
During Romney's 2002 gubernatorial campaign, supporters distributed fliers at a Gay Pride Parade in Boston extending the candidate's well wishes.
Weyrich said other conservatives had complained that Romney did not do enough this year to force the Massachusetts legislature into voting on a proposed constitutional amendment defining marriage as the union of a man and a woman.
Despite the governor's protests, the Democratic majorities in the House and Senate used a parliamentary tactic to recess rather than vote. Romney has now joined a group asking the Supreme Judicial Court — the same group of jurists who in November 2003 made Massachusetts the first state to allow gay marriage — to force a vote or else order the question onto the state's 2008 ballot.
Prior to Romney's appearance in San Diego on Monday, members of the conservative community circulated e-mails criticizing the governor for being a RINO — Republican In Name Only.
___
Associated Press writer Allison Hoffman contributed to this report from San Diego.
▲
by

alfayoko2005

| 2006-12-13 09:20 | 米政治
記者の目:共和党自滅の米中間選挙=及川正也(北米総局)
毎日新聞 2006年11月14日 東京朝刊
 ◇地殻変動に至らぬ「お灸」--民主も「自分探し」の途
 米ハリウッド映画「フォレスト・ガンプ」をご存じだろうか。いじめられっ子のフォレスト少年がある日、猛然と走り出す。その俊足を買われてアメリカンフットボールの全米代表選手になり、やがてエビ漁で大金を手にするが、彼は自分に起きたことをよく理解できずにいる。ただ、何の戦略も利得も考えず、ひたすら走り続けた結果がドラマを生んだ。
 7日の米中間選挙は、野党民主党が12年ぶりに上下両院で圧勝した。これを「フォレスト・ガンプ・ビクトリー(勝利)」と選挙アナリストたちは呼ぶ。名付け親は選挙情勢分析で定評のあるジョン・ゾグビー氏だ。
 「道を変えよう」と唱え続け、行き詰まるイラク政策や相次ぐ不祥事など敵失で大勝利が転がり込んだ。映画にはエラーを連発する敵は出てこないが、民主党が特別変わったこともやらずに勝ってしまった、という雰囲気を言い当てている。
 今回の選挙は、民主党が勝ったのではなく、共和党が自滅したのだと思う。共和党大敗の理由はいくつかあるが、最も大きいのはやはりイラク問題と相次ぐ共和党の不祥事だろう。
 10月中旬、ブッシュ大統領側近で「選挙の天才」といわれるカール・ローブ次席補佐官を取材した。終盤の選挙戦略を問う私に「選挙戦はまだ『地質時代』。これから何が起こるかわからない。今は政策を訴える時期だ」と強調していた。
 8月中旬、次期大統領選出馬が取りざたされる共和党のギングリッチ前下院議長は「英国の旅客機爆破テロ計画摘発は、世界が危険な状況にあるという共和党の主張の正しさを証明した」と力説し、共和党勝利に自信を見せた。
 しかし、堅調な経済を強調することで有権者の支持を得られると踏んだローブ氏の戦略はあたらなかったし、他の政策で不手際があっても揺らがなかった共和党のテロ対策への信頼は、イラク問題や不祥事の波にかき消された。
 ローブ氏やギングリッチ氏の誤算は「保守派は共和党の味方」という慣れがあったように思う。共和党敗北に導いたのは、94年中間選挙での共和党の歴史的勝利の原動力となった保守派の離反であり、これが致命傷になったのは間違いない。
 12年前、ギングリッチ氏率いる共和党は「小さな政府」を目指す保守思想を満載した選挙綱領「米国民との契約」を発表、強い求心力を発揮して40年ぶりに上下両院を制した。「保守革命」と称される躍進だった。
 保守革命の流れは04年大統領選でも脈打ったが、その後、保守派はブッシュ大統領に疑いの目を向けるようになった。
 イラク駐留経費は増加の一途をたどり、大型ハリケーン「カトリーナ」の対応の不備と合わせ、膨大な国家予算が拠出され続けた。最高裁判事人事では身内から穏健派の大統領法律顧問を指名し、中絶反対に舵(かじ)を切りたい保守派は猛反発、指名撤回に追い込まれた。
 大統領は不法移民に市民権付与の道を開く包括的改革案を支持し、共和党指導部と対立。一方、共和党の議会内は「政治とカネ」や性的スキャンダルが相次ぎ、道徳観を重視する宗教右派を失望させた。
 こうした保守派の累積した不満が雪崩を打つように「反ブッシュ」「反共和党」へと動いたのが今回の結果だった。
 では、米政界が「地殻変動」を起こして保守派が衰退し、民主党の時代へと移るのかと言われれば、私は懐疑的だ。
 一時予想された民主党の地滑り的勝利には至らなかった。共和党を壊滅的状態には追い込まず「お灸(きゅう)を据える」という有権者の意思表示だったとは言えないか。スキャンダルが焦点となった選挙区で共和党は敗北したが、最も激戦が予想されたオハイオ州下院選では多くで競り勝った。「地表変動」にとどまったというのが実態だろう。
 共和党は保守の再構築を迫られるが、民主党の課題も重い。今回の勝利は08年大統領選勝利を約束するものではない。ヒラリー・クリントン上院議員ら女性や黒人など話題豊富な候補者がいるだけでは選択肢を示したことにはならない。
 民主党はブッシュ政権や共和党に代わる明確かつ具体的な政策を国民に示す必要がある。共和党地盤から当選した多くの中道派の新議員は従来のリベラル派と一線を画しており、民主党がどういう党なのかのイメージづくりも迫られる。
 映画のガンプ青年がひたすら走りながら自分探しの旅を続ける場面がある。民主党も今、「自分探し」の途中にある。
==============
 「記者の目」へのご意見は〒100-8051 毎日新聞「記者の目」係へ。メールアドレスkishanome@mbx.mainichi.co.jp
毎日新聞 2006年11月14日 東京朝刊
▲
by

alfayoko2005

| 2006-11-14 23:37 | 米政治
2006年11月11日(土)「しんぶん赤旗」
米ブッシュ与党 大敗の衝撃
米政権の柱
宗教右翼 非難浴びる
共和党 ネオコン一掃の動きも
 「今回の選挙はブッシュ大統領とイラク戦争への住民投票であると同時に、いわゆる『ネオコン』に対する住民投票でもあった」―米中間選挙で与党・共和党が十二年ぶりに下院で少数派に転落することが明らかになった八日、「レーガン主義」を掲げる保守派の著名な論客の一人、リチャード・ビゲリー氏はこう述べ、「議会共和党指導部は全員辞職せよ」と息巻きました。(ワシントン=山崎伸治)
 ブッシュ政権によるアフガニスタン、イラクに対する戦争。その主要な推進力の一つとなったのがネオコン(新保守主義)派でした。二〇〇一年に成立した同政権が推し進めてきた「力の政治」が、今回の中間選挙で国民の批判に直面。共和党内では、今回の選挙を機にネオコンを党内から一掃しようとする動きも出ています。
 「われわれはどうして、一九九四年の大きなもくろみと展望から、現在の意味のない争点をめぐる陳腐な政治的点数稼ぎへと変わったのか」
 上院で八議席、下院で五十四議席を増やし、「共和党革命」と呼ばれた九四年の中間選挙。その立役者の一人、ディック・アーミー元共和党下院院内総務は、選挙での同党敗北を前提に、
十月二十九日付のワシントン・ポスト紙に寄稿
し、共和党の変容を嘆きました。
 社会保障年金の崩壊や「ならず者国家」による核兵器開発、一触即発の中東情勢といった大問題に直面しているにもかかわらず、「共和党議員が取り上げるのは、国旗の冒とくや安楽死、同性結婚といった問題ばかり」だと同氏は言います。中身はともあれ、そこには、「大きな展望」を見失った共和党議員への失望が示されています。
 アーミー氏が批判の矛先を向けるのは「宗教右翼」です。共同議長を務める組織「フリーダム・ワークス」のウェブ・サイトで宗教右翼の指導者を名指しで非難しています。宗教右翼は、ネオコンとともにブッシュ政権を支えてきた一大勢力です。これまでの選挙でブッシュ共和党の重要な集票マシンとなってきました。
 これに対し代表的な宗教右翼「南部バプティスト会議」のリチャード・ランド師は、自分たちがいなければ、二〇〇四年の前回大統領選で「(民主党の)ジョン・ケリーが大統領になっていた」と豪語します。
 しかし、その宗教右翼も、今回の選挙では十分な力を発揮しなかったようです。
 共和党が今後、米国民の幅広い支持の回復を望むなら、宗教右翼との関係は足かせになりかねません。一方の宗教右翼も、汚職やスキャンダル続きの共和党にはいら立ちを隠しません。宗教右翼指導者のスキャンダルも明るみに出ました。
 中間選挙での敗北は、ブッシュ政権を支えてきたネオコンや宗教右翼をはじめ、共和党内のさまざまな勢力の力関係にも大きな変動をもたらすものとなりそうです。
GOP Blues
Where We Went Wrong
By Dick Armey
Sunday, October 29, 2006; Page B01
Somewhere along the road to a "permanent majority," the Republican Revolution of 1994 went off track. For several years, we had confidence in our convictions and trusted that the American people would reward our efforts. And they did.
But today, my Republican friends in Congress stand on the precipice of an electoral rout. Even the best-case scenarios suggest wafer-thin majorities and a legislative agenda in disarray. With eight days before the election, House speaker-in-waiting Nancy Pelosi has already begun her transition planning.
Where did the revolution go astray? How did we go from the big ideas and vision of 1994 to the cheap political point-scoring on meaningless wedge issues of today -- from passing welfare reform and limited government to banning horsemeat and same-sex marriage?
The answer is simple: Republican lawmakers forgot the party's principles, became enamored with power and position, and began putting politics over policy. Now, the Democrats are reaping the rewards of our neglect -- and we have no one to blame but ourselves.
In 1989, Newt Gingrich rose to the number two leadership position in the House after a contentious three-way race pitting young backbench conservatives such as myself, Bob Walker, Joe Barton and others against old bulls such as Minority Leader Bob Michel and other ranking members. We thought they suffered from a minority party mindset and were too accommodating of the Democrats. Out of congressional power for nearly two generations, Republicans had become complacent. Senior members of the party were happy to accept the crumbs afforded by Democratic chairmen. Life was comfortable in the minority as long as you did not rock the boat. Members received their perks -- such as travel abroad and special banking privileges -- and enough pork projects for reelection. The entire Congress lived by the rule of parochial politics.
Gingrich and I and a handful of true believers in Ronald Reagan's conservative vision set the goal of retaking the House. The "Contract With America" outlined our platform of limited government. This vision appealed to both the social and economic wings of the conservative movement; equally important, it included institutional reforms for a Congress that had grown increasingly arrogant and corrupt. The contract nationalized the vision of the Republican Party in a way that unified our base and appealed to independents. We championed national issues, not local pork projects or the creature comforts of high office.
In 1994, this vision was validated when Republicans took 54 seats in the House, eight seats in the Senate and control of both houses of Congress.
Welfare reform in 1996 only affirmed the revolution. Bureaucrats, special interests and the White House all claimed that the sky would fall if we touched this failed Great Society program, but we held firm. When you take on a sacred cow, you must kill it completely -- tinkering on the margins is ineffective. In the end, the reform proved so successful and popular that President Bill Clinton (who rejected the original bill twice) considers it one of the best ideas his administration ever had.
At one point during the welfare reform debates, a member approached me and said, "Dick, I know this is the right thing to do, but my constituents just won't understand." I told him, "So you're telling me they are smart enough to vote for you but not smart enough to understand this?" He ended up voting to pass the bill.
Yet despite such successes, we didn't learn the right political lessons. A few months before the victory on welfare, we lost the battle over the federal government shutdown of 1995, when we were outmaneuvered by Clinton, a masterful political operator. After that fight, too many Republicans apparently concluded that America wanted bigger government. This misreading was the first step on the road away from the Reagan legacy.
We emerged as a wounded party; we stopped trusting the public; and we internalized the wrong lesson. Since the party won the majority in 1994, the GOP Conference had been consistent in requiring offsetting spending cuts for any new spending initiatives. (In fact, during the aftermath of a large Mississippi River flood, Rep. Jim Nussle even waited to find and approve offsets before moving the relief legislation for his own state of Iowa.) But by the summer of 1997, the appropriators -- rightly called the "third party" of Congress -- had begun to pass spending bills with Democrats. As soon as politics superseded policy and principle, the avalanche of earmarks that is crushing the party began.
Now spending is out of control. Rather than rolling back government, we have a new $1.2 trillion Medicare prescription drug benefit, and non-defense discretionary spending is growing twice as fast as it had in the Clinton administration. Meanwhile, Social Security is collapsing while rogue nations are going nuclear and the Middle East is more combustible than ever. Yet Republican lawmakers have taken up such issues as flag burning, Terri Schiavo and same-sex marriage.
They're fooling only themselves.
If Democrats take control of Congress on Nov. 7, they will form an accidental majority. They are not succeeding because of their principles or policy proposals, but simply because they have kept their heads down. Republicans, fearful of taking on big tasks and challenges, may be defeated next month by a party that offers nothing on the key issues of our day.
Pelosi says she would preside over a moderate Democratic majority, and has committed to raising taxes only as a last resort. But Democratic policy goals such as nationalized health care and low-interest student loans are expensive, and dozens of new spending "priorities" will crop up as soon as the election results are tallied. Democrats have promised that all new spending will be offset by tax increases, so will they raise taxes in the run-up to the 2008 race?
In essence, Pelosi will be forced to choose between a vocal base -- expecting immediate satisfaction on issues such as withdrawing from Iraq, legalizing same-sex marriage and the impeachment of President Bush -- or policies that are tolerable to a majority of Americans. That's quite a dilemma: appeasing a base that has been hungry for political revenge since 2000 and 2004, or alienating moderate and swing voters.
Pelosi has stated that House committee chairmen will be chosen by seniority. This could backfire on the Democrats, because members from the most consistently partisan districts are usually the ones who stick around the longest. Chairmen have the power of the subpoena; Rep. John Conyers Jr. (D-Mich.), the would-be judiciary chairman, has already drafted articles of impeachment for Bush, while others are calling for investigations on the war in Iraq and the federal reaction to Hurricane Katrina. A revenge-hungry Democratic majority, substituting political grudge matches for serious policy, will not remain a majority for long.
How can the Republicans respond?
The leadership must remember that the modern conservative movement is a fusion of social and fiscal conservatives united in their belief in limited government. The party must keep both in the fold. Republicans also need to get back to being the party of big ideas. The greatest threat to American prosperity today is a catastrophic fiscal meltdown resulting from long-term entitlements. Democrats have already lined up behind the solution of raising taxes and reducing benefits. But Americans want more freedom and choice in education, health care and retirement security. Republicans -- too busy dreaming up wedge issues to score cheap points against Democrats -- have lost sight of their broad national agenda.
The likely Republican losses in next week's elections will not constitute a repudiation of the conservative legacy that drove the Reagan presidency and created the Contract With America. To the contrary, it would represent a rejection of big government conservatism. When we get back to being the party of limited government, putting a national agenda ahead of parochial short-term politics, we will again be a party that the American voters will trust to deal with the serious challenges facing our nation.
The 2006 midterm elections will be a success for the Democrats. Republicans will have to manage their own disappointment. Fingers will be pointed, and various villains will be fashioned out of recent events. But the plain fact is that Republicans have been setting the stage for this outcome for nearly a decade, running from themselves and their own principles. We will not find ourselves by conforming to the status quo, but by returning to our Reagan roots.
When we act like us we win. When we act like them we lose. Let's win.
darmey@freedomworks.org
Dick Armey, the House majority leader from 1995 to 2003, is currently chairman of the think tank FreedomWorks.
▲
by

alfayoko2005

| 2006-11-11 13:32 | 米政治