S
M
T
W
T
F
S
1
2
3
4
5
6
7
8
9
10
11
12
13
14
15
16
17
18
19
20
21
22
23
24
25
26
27
28
29
30
カテゴリ
以前の記事
検索
最新のトラックバック
その他のジャンル
ファン
記事ランキング
ブログジャンル
画像一覧
Barks
11月24日、フレディ・マーキュリー命日は新宿でクイーン三昧!
今年2006年は、クイーンのヴォーカリスト、フレディ・マーキュリーの生誕60年、没後15年のメモリアル・イヤーにあたる。そこで、彼の命日である11月24日、新宿がフレディ色に染まる。
現在、クイーンを題材としたミュージカル『We Will Rock You』が上演されている新宿コマ劇場前にあるシネシティ広場に、フレディをこよなく愛する多くのクイーン・ファンのために、当日10:30からフレディに捧げる献花台が設置される。そして、同日の16:45からの15分間には、ミュージカルの合間をぬって『We Will Rock You』のキャスト達も献花にやってくる予定だ。
また、前日の23日から4日間にわたり、シネシティ広場近くのミラノ座1で行なわれている<東京国際シネシティフェスティバル2006>では、24日11:30よりクイーンのライヴ映像の特別上映が決定! '86年に行なわれ、最後のツアーとなったクイーン絶頂期の<マジック・ツアー>の、有名なウェンブリー公演から2週間後に行なわれた『ライヴ・イン・ブタペスト』の映像が上映される。チケットは1,800円(当日券あり)、上映前にクイーン・ファン代表として、サンプラザ中野とパッパラー河合のトークショーも予定している。
11月22日には、フレディ・マーキュリーの短くも劇的な生涯を貴重なインタビューと映像で綴ったドキュメンタリーと、ソロ楽曲のPVを収録した2枚組DVD『ラヴァー・オブ・ライフ シンガー・オブ・ソングス』がリリースされた。
オリコン
11月24日、フレディの命日に街が染まる…
 今年はあのクイーンの伝説のボーカリスト、フレディ・マーキュリーの生誕60年没後15年のメモリアル・イヤーにあたる。彼の命日である11月24日、東京・新宿はフレディ一色に染まる計画があることがわかった。
 現在クイーンを題材としたミュージカル『We Will Rock You』が行われている新宿コマ劇場前にあるシネシティ広場には、フレディをこよなく愛する多くのクイーンファンのため、当日10時30分からフレディに捧ぐ献花台が設置される。そして、同日の16時45分からの15分間には、ミュージカルの合間をぬって『We Will Rock You』のキャスト達も献花にやってくる予定だ。
 また、前日の23日から4日間にわたってシネシティ広場近くのミラノ座1で行われている『東京国際シネシティフェスティバル2006』では、24日の11時30分よりクイーンのライブコンサートの特別上映が決定。1986年、最後のツアーとなったクイーン絶頂期の『マジック・ツアー』、有名なウェンブリー公演から2週間後に行われた『ライヴ・イン・ブタペスト』の映像が上映される。
 さらに上映前にはクイーンファン代表として、サンプラザ中野とパッパラー河合によるトークショーも予定されている。
 一方、フレディ・マーキュリーの短くも劇的な生涯を貴重なインタビューと映像で綴ったドキュメンタリーと、ソロ楽曲のPVを収録した2枚組みDVD『ラヴァー・オブ・ライフ シンガー・オブ・ソングス』も11月22日に発売された。
 イベントやDVDのリリースなど、フレディ一色となりそうな11月24日。メモリアルイヤーに街は、賑やかな盛り上がりをみせそうだ。
▼QUEEN未体験!in新宿 特設サイト
http://st-co.jp/queen2006/
 (PC・携帯)
APATHY, BUDGET CUTS TO BLAME
AIDS awareness falling by the wayside
By JUN HONGO
Staff writer
The Japan Times: Thursday, Oct. 26, 2006
Chizuko Ikegami believes that spreading the word on HIV/AIDS prevention is similar to teaching children the importance of brushing their teeth; it must be restated again and again to make one understand how imperative it is.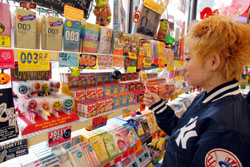 A woman examines a product at a Condomania condom shop in Harajuku in Shibuya Ward, Tokyo, on Tuesday. YOSHIAKI MIURA PHOTO
"Kids must be told repeatedly about how to protect themselves from HIV/AIDS," said the executive director of PLACE Tokyo, a community-based organization supporting people living with HIV/AIDS. "But currently there isn't sufficient education or backup from the government."
According to the Health, Labor and Welfare Ministry, 1,199 new cases of HIV/AIDS were reported in 2005, while the number of people who tested positive for HIV in the quarter between March 27 to July 2 this year reached 248.
Both figures were a record high for Japan, which remains the only industrialized country where the number of people infected with the virus is growing at a steady pace.
In Tokyo, where 417 of last year's new cases were reported, 390 came about through sexual contact.
Seventy-two percent of the people who tested positive for HIV in the city were in their 20s or 30s, while 6 percent were under 20, according to Tokyo's Bureau of Social Welfare and Public Health.
Ikegami said that 10 to 20 new clients contact her office every month to obtain information on living with HIV/AIDS, and in accordance with the national statistics, most are in their 20s to 50s, and 90 percent are males.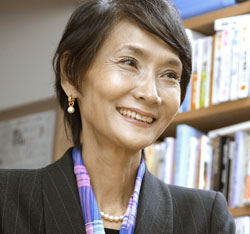 Chizuko Ikegami
"Working here, the growing number of patients with HIV/AIDS is very obvious," she said.
She blamed cuts in government spending on AIDS prevention as a major reason for the crisis.
Experts believe that the conclusion of the Green Cross Corp. scandal, which caused an outbreak of HIV/AIDS through contaminated blood products in the 1980s, resulted in a substantial reduction in AIDS prevention awareness.
Since the suit between patients and the pharmaceutical giant settled out-of-court in 1996, spending by local governments on promoting AIDS awareness has shrunk in Tokyo and many prefectures, including Osaka and Aichi.
Although those infected with HIV require at least 2 million yen a year just for medication, governments have opted not to invest in prevention.
For example, Tokyo, which had a budget of 632 million yen for AIDS awareness and prevention in 1995, only allocated 237 million yen in 2006 -- a massive 62 percent drop in the span of 11 years.
Another reason believed to be the cause for steady HIV/AIDS growth in Japan is the lack of proper sex education in schools, and some fear the situation could get worse under newly elected Prime Minister Shinzo Abe.
The conservative Abe is the head of a Liberal Democratic Party project team promoting a re-evaluation of "gender-free" education. The team claims on its Web site that radical sex education such as the use of dolls in school classes is inappropriate for children.
"I totally disagree that the use of dolls is inappropriate because it's a form of sexual education that is recognized to be efficient. To call that radical is simply unreasonable and lacks grounds," Ikegami argued.
Use of actual condoms in sex education at junior high schools is also now frowned upon, but she warns that no one will be motivated to have protected sex if the trend continues.
"When there was an outbreak of SARS, everyone was instructed to wear masks as prevention. Does it make sense not to use condoms while teaching about HIV/AIDS?" Ikegami said.
Condom makers fear that Japanese have already begun to prefer unprotected sex. Toshiaki Ishii, director of the condom manufacturers' association Nihon Condom Kogyokai, said the number of condoms produced in the country peaked in 1997 at 1.23 billion packs, but output had dropped by almost 50 percent in 2004 to 677 million.
The association analyzed whether birth control pills and the aging population contributed to the sudden drop and found that the plunge has been too sharp to attribute to declines in the sexually active population, and sales of birth control pills here have been small since their approval in 1998.
When surveys conducted by the association in an effort to halt the sales drop revealed that men didn't use condoms because they are "troublesome," "smell bad" and simply aren't "attractive," manufacturers responded by creating condoms with better smell, packaging and taste.
"We even have condoms with special tapes, which probably require 0.1 seconds to put on -- but it didn't boost sales. People are simply not using condoms," Ishii said.
He believes sex education is fundamental in preventing the spread of HIV/AIDS. However, although the association provided schools with condoms for sex education until several years ago, they have halted such programs after receiving complaints from parents claiming the condom makers were "promoting sex among children."
"We gladly help schools and teachers that ask us to provide samples and pamphlets, but other than that, there isn't much we can do in educating the children to use condoms," Ishii said.
Yorimasa Nagai of the Japanese Foundation for AIDS Prevention, a health ministry-approved organization that supports people with HIV/AIDS and works to raise awareness, also suggests that education is essential to preventing the spread of the virus.
But he says there have been schools that said using condoms in class would only promote student sex.
Nagai said that although there are approximately 12,000 people living in Japan who have tested positive for HIV or have AIDS, the disease remains a minor concern for many people because most haven't had contact with actual patients. There is also the perception that AIDS is a problem limited to other countries.
"There is no way that HIV/AIDS prevention can be taught without proper sex education and promoting prevention," Nagai said. "Enlightenment through campaigning is important, but adequate education in schools, communities and workplaces is vital as well."
HIV感染者数、過去最多を更新(2006年8月22日23時43分 読売新聞)
 厚生労働省が3か月ごとに集計する国内のエイズ動向調査で、今年第2四半期(3月27日~7月2日)の新たなエイズウイルス(HIV)感染者数が248人で四半期の最多感染者数を更新したことがわかった。
 過去最多だったのは2004年第3四半期の209人。エイズ患者数も106人で過去2番目に多かった。
 また、4~6月に全国の保健所で行った検査件数は、前年同時期を約4000件上回る2万369件に達した。同省は「国内の感染者は増加傾向にあるとみられるが、過去最高となったのは検査や相談の件数が増えたことも原因」と分析している。
HIV感染、最多の248人=40代以上が大幅増-検査件数伸び・厚労省 (時事 2006/08/22)
 厚生労働省エイズ動向委員会は22日、3月27日~7月2日の今年第2・四半期に新たに報告されたエイズウイルス(HIV)の感染者は248人、エイズ患者は106人だったと発表した。40代以上の感染者が大幅に増加し、四半期ベースの感染者は、報告制度が始まった1985年以降最多となった。
 厚労省疾病対策課は、40代以上の感染者が増えた理由について、「休日や夜間の検査体制を充実させたことで、検査件数が増えたことぐらいしか見当たらない。感染者は今まで20代、30代が中心だったが、この傾向が続くかどうか今後も見守る必要がある」としている。 
エイズ動向委員会報告
♪ 某宗教団体の口車に乗って性教育を弾圧しつづけてたら、大変なことになる。
Condoms, cannabis, beads... and networking: Secrets of AIDS forum success
by Richard Ingham
Wednesday, August 16, 2006
AFP
The audience is receptive as New York prostitute-turned-author Tracy Quan, curled on a makeshift double bed adorned with silk drapes, cushions, condoms and an assortment of strap-on dildos, reads from her latest book.
Excerpts of "Diary of a Married Call Girl," Quan's second foray into literature after a first novel that has sold several hundred thousand copies, meet with smiles and occasional nods from the small assembly of fellow sex workers and the simply curious.
It's all in a good cause: Quan is doing her bit at the International AIDS Conference here to get recognition for prostitutes, hoping to transform an industry that in many countries is criminalised and stigmatised and thus badly at risk to the AIDS virus.
At a meeting area opposite, grassroots workers debate the problems of HIV/AIDS in China and Hong Kong. A Canadian booth is promoting free legal advice for people with HIV.
Activists discuss the plight of gay Tamil men and transexuals in India. Japanese campaigners show off dozens of comic condoms, a useful addition to safe-sex efforts in Japan.
A Bangkok orphanage, the Mercy Centre, proudly talks about its experience in saving Thai AIDS orphans. Campaigners for the sexual rights of Muslim women press their case. African non-governmental organisations sell clothing and beaded jewellery to raise funds. Small organisations of caregivers learn how to apply for grants from the Global Fund to Fight AIDS, Tuberculosis and Malaria.
The meeting point, called the Global Village, is one of the most vibrant, features of the global AIDS conference, a sprawling event held every two years that this year has drawn a record 21,000 people.
And delegates agree that the Village is one of the conference's most useful features, too, because it encourages grassroots networking and new ideas.
"The response here has been fantastic, we are completely overwhelmed by the interest," said Sara Lee Irwin, with a Canadian company, Cannasat Therapeutics Inc., which is researching medical uses of cannabis for HIV patients to help them relax and stimulate their appetite.
Members of a small Canadian group, Lipo-Action, said they had been encouraged by interest in their campaigning about a distressing side-effect from taking HIV drugs -- the risk of a huge buildup of solid fat in the neck that is called "buffalo hump".
"When I walk down the street, I feel as if people are moving out of their way, they don't look me in the face," said Lipo-Action's Brian Marsan. "I had a friend who committed suicide over this."
Lipo-Action wants the Canadian health service to fund operations to remove the disfiguring bulge but also wants drug companies to investigate the phenomenon in order to improve their treatments.
Chinese AIDS activist Wan Yanhai, whose country is a newcomer to the fight against AIDS, said the AIDS conference was extremely useful for learning new skills from veterans. He had attended seminars on legal issues, treatment, prevention of HIV and legal rights.
"China has yet to organise an effective AIDS campaign," Wan told AFP, adding that back home, grass-roots work -- an essential tool for delivering safe-sex awareness, fighting stigma and encouraging HIV testing and so on -- was hamstrung by officialdom.
For Wan and others who are fighting a lonely war, the AIDS conference hammers away at the walls of isolation, creating contacts, friends and moral support from around the world that in turn enhances knowledge, provides tools and encourages funds.
Peter Piot, executive director of the UN agency UNAIDS, says he is unsurprised that the twice-every-two-years conference is such an eagerly-awaited event and that "HIV/AIDS community" is not a false term.
"The history of AIDS is also a history of globalisation, the globalisation of a pandemic," Piot said Wednesday, as he noted how HIV began with a tiny human source and then spread around the world, with nearly 38 million people today infected by the virus.
"Every single individual living with HIV is connected to all other persons living with HIV. And that is the existential meaning of the movement of people living with HIV, I believe."
HEALTH-ASIA:
Gays' High Risk for HIV Gains Recognition
Marwaan Macan-Markar

BANGKOK, Aug 11 (IPS) -
When the Thai government accepted men who have sex with men (MSM) as a vulnerable community in the country's fight against AIDS, earlier this year, it gave them hope of being covered under HIV prevention programmes.
It was an unprecedented gesture, bringing to an end over two decades of silence, since governments in Bangkok had chosen to ignore the spread of the killer disease among the country's homosexuals and bisexuals. ''That was the first time that MSM were identified as the most at risk population and needed preventive programmes,'' Paul Causey, an independent HIV programme consultant in Bangkok, told IPS. ''The government is now going to community groups working with MSM to ask what they need, which was never the case earlier.''
What precipitated this spirit of openness were stark revelations about the high percentage of HIV prevalence within the MSM community in Thailand. It shattered the belief that had taken hold in this South-east Asian country that its success at slowing down the spread of the deadly virus through awareness programmes and condom-use campaigns aimed at heterosexuals was enough.
But the disturbing rise in the prevalence of HIV among Thai MSM is part of a more worrying trend across Asia, reveals a report released Friday ahead of a major international conference on AIDS that begins on Aug. 13 in the Canadian city of Toronto. HIV rates among MSM is as high as 28 percent in some of the 23 Asian countries surveyed in the report by TREAT Asia, a network of clinics, hospitals, and research institutions promoting safe and effective delivery of HIV/AIDS treatments throughout Asia and the Pacific.
''In recent years, MSM in Asia have experienced an extraordinary rise in HIV prevalence. Various studies report infection rates as high as 14 percent in Phnom Penh, Cambodia; 16 percent in Andhra Pradesh, India; 28 percent in Bangkok, Thailand,'' states the report, 'MSM and HIV/AIDS Risk in Asia.'
A lack of political will and resources will condemn MSM in Asia to ''face a crisis more devastating than that experienced by gay men in the West during the epidemics earliest years,'' warns the 85-page report. ''The nature of MSM activity across the continent is so diverse that it forces us to rethink the basic strategies of fighting AIDS: awareness, outreach, education and testing.''
''The prevalence of consistent condom use among men is as low as 12 percent, and up to half of all MSM is some regions have never used a condom. Yet a majority of these men believe that they are at low risk,'' it states. ''Up to half or more of these men also have sex with women ... (due to) situational sex (or) the social pressure to marry ... and can then serve as a bridge population for HIV/AIDS infection.''
''Given the difficulty of surveillance in these populations, rates of HIV infection could actually be far worse,'' says Kevin Frost, director at the Bangkok-based TREAT Asia. ''This report shines a light on the extent of high-risk MSM behaviour and serves a wake-up call for Asia.''
The debate that the report is expected to generate at the 16th International AIDS Conference will be a continuation of a dialogue that began at the 15th International AIDS Conference, held in Bangkok in 2004, where the once marginalised issue -- MSM -- moved from the margins to mainstream discussions.
Lack of MSM-targeted education, resulting in unsafe behaviour, has, according to the report, triggered HIV prevalence rates of up to 2.5 percent among MSM in Jakarta, Indonesia, 4 percent in Kathmandu, Nepal, 6.5 percent in Chennai, India and 4.4 percent in Tokyo. In addition, there are eight percent MSM with HIV in Ho Chi Minh City, Vietnam, eight percent in Taiwanese bathhouses, 16.8 percent in Maharasthra, India and 15.3 percent in Chiang Mai, Thailand.
''Many countries in which overall HIV prevalence is low (less than one percent) nevertheless have high (MSM) HIV prevalence,'' the report adds. ''Of reported HIV cases in the Philippines and Hong Kong, 23 percent and 24 percent respectively are attributed to MSM.''
In Cambodia, for instance, the HIV prevalence rate among all adults is 2.6 percent, but in the capital Phnom Penh, there are 14.4 percent of MSM with HIV. China offers a similar case, where the HIV prevalence rate among all adults is 0.1 percent, but the MSM HIV prevalence rate in Beijing is 3.1 percent.
Thailand's picture is the most troubling, according to the report. Tthe prevalence of HIV among all adults is estimated to be 1.5 percent, while the HIV rate among MSM in Bangkok is 28.3 percent. And while HIV prevalence among all of Vietnam's adults is 0..4 percent, the HIV prevalence rate among MSM in that country is six percent.
Other reasons that have fuelled the spread of HIV among Asian MSM include ''misconceptions about risk factors; high levels of unprotected anal intercourse; high level of transactional sex; high numbers of sex partners,'' it adds. ''MSM congregate where sex is solicited or sold. This greatly increases the chances of greater promiscuity -- in Bangladesh, for example, 26 percent of MSM respondents averaged over 10 different sexual partners a month.''
The report warns Asian countries about a potential spike in their HIV/AIDS numbers as a result of spread among MSM. It comes in the wake of U.N. agencies raising the alarm about the general spread of AIDS across the continent. There are close to 8.3 million people living with HIV in Asia, the Joint United Nations Programme on HIV/AIDS (UNAIDS) said in its 2006 report released this year. ''Approximately 930,000 people were newly infected with HIV in 2005, while AIDS claimed an estimated 600,000 lives.''
''MSM in Asia need not suffer the same fate as many gay men in the West,'' says Frost. ''We've paid for that lesson with too many lives.'' (END/2006)
Analysis: AIDS science, politics mingle
By ED SUSMAN

TORONTO, Aug. 11 (UPI) --
More than 24,000 people began assembling in Toronto, Canada, Friday as the biannual International AIDS Conference convenes for the 16th time since 1985
-- a meeting often highlighted by promises of scientific advancement and government help in controlling the deadly viral epidemic that now infects 40 million people worldwide.
This year's theme, "Time to Deliver" reflects the hope that medications that can control the disease caused by human immunodeficiency virus (HIV) will finally be given to people in developing countries who bear the brunt of the epidemic, but who can't afford the expensive treatment.
"I think there will be an acknowledgement that governments, including the United States, have to do more than just make half-hearted pronouncements and actually begin funding programs that will impact this epidemic in the most needy areas," HIV/AIDS activist Julie Davids told United Press International.
Davids, the founder of the New York city -based Community HIV/AIDS Mobilization Project (CHAMP), said the meeting will also focus its attention on two things that world governments do badly -- issues that involve sex and drugs.
The main epidemics of HIV/AIDS are spread through sexual transmission or through use of contaminated needles by intravenous drug users. The disease is also spread through contaminated blood products, but that mode of transmission -- while devastating to populations of hemophiliacs in the 1980s -- has been controlled in the Western markets through blood donor testing.
"It's not only that when governments face crises involving sex and drugs that they don't do things right," Davids told UPI. "It's that they deliberately do things wrong."
For example, the United Nations AIDS Programme will highlight the fact that injectable drug users account for an estimated ten percent of all HIV cases and nearly one in three new cases outside Africa.
Yet even as many countries move to make HIV treatments more available, drug users remain disproportionately less likely to have access to antiretroviral therapy.
This gap leaves millions without care and potentially fuels the world's fastest-growing HIV/AIDS epidemics. Exclusion is particularly severe in countries of Asia, Eastern Europe, and Central Asia where the largest share of HIV cases are attributed to intravenous drug use.
Davids said she expects the conference will highlight that persecution of gays in some countries and a war against drug paraphernalia, instead of government-sponsored needle exchanges, fail to combat the epidemic and instead foster it.
When the series of AIDS conferences was begun in Atlanta, the focus was on scientific studies to find treatments and find ways to prevent spread of the disease. The meetings went biennial after several disappointing results of clinical trials were announced at the 1994 Yokohama, Japan, conference.
Yet, over the years, the sessions have featured more of the politics of HIV/ASIDS than its science.
That does not mean that research has been forgotten. In Toronto, researchers from Merck will present data on a new class of anti-HIV drugs, integrase inhibitors. These drugs -- which interrupt the ability of the virus to replicate in human cells -- are poised to join the four other classes of HIV drugs.
Robin Isaacs, executive director for infections disease research at Merck, told UPI, "We are encouraged by the results of our 24-week study with MK-0518. We will be presenting the data from those studies at the meeting. We believe that when this integrase inhibitor reaches the market it will give doctors and their patients a new weapon in battling HIV/AIDS."
However, Isaacs said that it is still unlikely that, even with the addition of the long-awaited integrase inhibitors, the combinations will cure the disease. Patients will have to continue to take their medications.
The existing classes of anti-HIV drugs are nucleoside and nucleotide reverse transcription inhibitors such as zidovudine, the first medicine used to fight the disease; non-nucleoside reverse transcription inhibitors such as efavirenz (Sustiva), the backbone of the most widely used combination therapy; protease inhibitors such as Kaletra which, in combination with other classes, almost overnight changed the course of the HIV/AIDS into a chronic disease state; and fusion inhibitors such as enfuvirtide (Fuzeon) which are the only injected anti-HIV drugs.
Other pharmaceutical attacks upon the life-cycle of the virus are also in clinical trials and further results from studies of those drugs will be announced.
The conference will also examine programs in Africa such as in Botswana where universal treatment has been promised and is being initiated by a combination of government and private groups, as well as other developments in microbicides and prevention policies.
Two years ago at the AIDS conference in Bangkok, the U.S. government -- the single biggest contributor in the war on AIDS -- was a virtual no-show. U.S. scientists stayed home to protest ill treatment of its official speakers, including then Health and Human Services Secretary Tommy Thompson, whose speech was drowned out by activists.
This year, more than 175 U.S. delegates will be in attendance to explain the government's policies, including the much criticized ABC standard of Abstinence, Being Faithful and use of Condoms in battling the disease.
Davids said that the conference will also focus on the role of stigma in exacerbating the epidemic. "Stigma comes from government. It is a top-down, not a bottom up phenomenon," she said. Davids said she hopes that the conference will demonstrate how governments can help remove stigma from HIV/AIDS so that the end result is that 2006 will truly be the time that aid for those with AIDS gets delivered.
Dr.北村 ただ今診察中:第106話 エイズ感染爆発が現実のものに (毎日 2006/06/08)
 6月1日から7日までHIV検査普及週間だったということをご存じでしたか。僕自身も東京・池袋で開催された記念講演会に招かれはしましたが、何か盛り上がりに欠けて……。
 国連エイズ特別総会は6月2日、HIV感染者の増大を抑止するために昨年の2倍以上にあたる年間約2兆5千7百億円のエイズ対策費が2010年までに必要になると見込んだ政治宣言を採択したとの情報が入って来ました。世界でのHIV感染者数は昨年末約3860万人に上り「前例のない破壊的状況」と判断したようです。特に、新規感染者の半数を占めるという若者へのエイズ教育の強化と女性の地位向上に努めることを目的にエイズ対策費倍増計画を明らかにしました。
 世界がエイズ爆発に危機感を抱いている一方、わが国はといえば、ことのほかのん気に振る舞っているのが気になります。2004年末にHIV/エイズの報告数が1万人を超えたと大騒ぎしたのも束の間、厚生労働省エイズ動向委員会による06年4月28日の報告数は1万1251人。東京都を例にしても05年は過去最多の417件。驚くなかれ1日1人以上のペースで東京のエイズは増え続けています。もう誰にも止められない危機的状況になっている印象さえ抱くのは僕だけでしょうか。これは決してシミュレーションの数ではなく現実なのです。しかも検査を受けることに消極的なわが国の場合、自分が感染者であることを知らないまま時を過ごしている人がどれだけいるのか想像すらできません。揚げ句は十分な予防行動がとれないために、新たな感染を広げているのです。
 わが国のエイズ治療最前線ともいえる駒込病院での調査によると、自分がHIV感染者であることを知ったきっかけとして「保健所・検査機関」がわずか9.3%に過ぎず、75%が「医療機関で」となっています(2005年日本エイズ学会報告)。ということは発病して初めて自分が感染者であることを知る可能性が高いともいえます。感染から発病までは数年から10年といわれているわけですから、早期発見のチャンスを逃してしまっているといわざるを得ません。
 それにもかかわらず、東京都のエイズ対策予算額は10年前に比べて半分以下。この傾向は東京都にとどまらず、ほとんどの自治体で同様のことが起こっています。自治体の財政事情が厳しいことは承知しています。しかし、予防対策が講じられていればHIV感染を回避でき、1カ月20万円、ひとりで一生1億から2億円かかるともいわれる医療費を節約できることになります。医療費の増大を危惧(きぐ)するのであれば、予防対策予算を減らすどころか増額すべきことはいうまでもありません。少子化対策も同様ですが、ボタンの掛け違いに気づかないで、いたずらに時間稼ぎをしているように思えて仕方ないのです。
 親に知られるのをおそれて国民皆保険制度の恩恵を受けられない若い世代では、おのずと早期発見・早期治療が遅れ、20歳前後で発症してしまう例が少なくありません。ということは10代半ばで感染していると推測されます。若者たちの行動変容をうながすとともに、親の、学校の、社会の、若者達の性に対する意識の変革が今こそ求められています。さし当たってあなたが取り組めるエイズ予防対策。それは、「海外旅行にパスポート、ドライブに運転免許証、セックスにはコンドーム」をお忘れなく。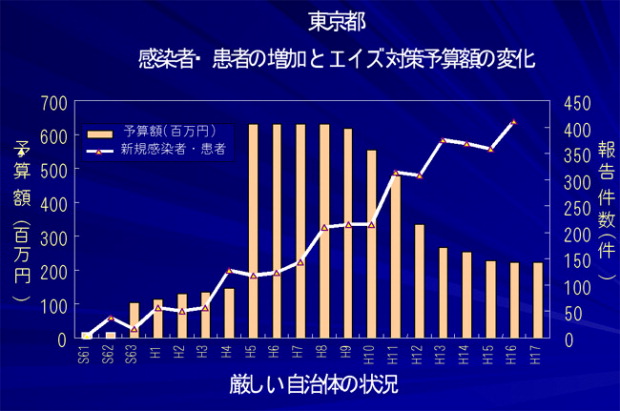 Japan failing to wake up to the danger of AIDS
Did you know that the first week of June is designated as HIV Testing Week? I was invited to a commemorative event in Tokyo's Ikebukuro, but overall the entire week lacked spark.
On June 2, a U.N. special conference on AIDS ended with the adoption of a declaration that it would cost 2.57 trillion yen annually until 2010 -- double the current budget -- to combat the spread of HIV. As of the end of last year, there were about 38. 6 million HIV carriers throughout the world, prompting the UN to declare the disease had reached unprecedented levels of destruction. World leaders also unveiled a plan to double budgets used to fight AIDS, with the project targeting in particular AIDS education for young people, who account for half the new outbreaks of the disease, and trying to improve the position of women.
While the rest of the world may be well aware of the crisis being faced because of the explosive spread of AIDS, the same can't be said for Japan, where the relaxed attitude to the scourge causes me concern.
When an announcement came at the end of 2004 that the number of AIDS patients and HIV carriers in Japan had topped 10,000 there was a terrible hullabaloo. By April 28, 2006, the number of patients had risen to 11,251, according to the Ministry of Health, Labor and Welfare. In Tokyo alone, for example, there were a record 417 patients. AIDS is increasing in Tokyo at a rate of more than one case a day. I often wonder if I'm the only person who realizes what dangers we're facing. These figures aren't some sort of estimate -- they're the real thing. And in Japan, where the public is not supportive toward AIDS testing, it's not hard to imagine that there are many people who aren't even aware that they have been infected. If people aren't taking precautions, the disease could be spreading.
Based on a report by the Japanese Society for AIDS Research, Komagome Hospital, probably an institution at the forefront of Japan's fight against AIDS, found out that only 9.3 percent of HIV carriers learned from a public health facility or AIDS testing organization they had contracted the disease compared to the 75 percent who first learned through a medical facility. What this means is that many people have no idea they've contracted HIV until it develops into full-blown AIDS. It is said the AIDS virus is dormant for anywhere from a few years to about a decade; but without testing, people are missing out on the chance of early detection.
Despite the dire situation, Tokyo's budget for fighting AIDS has been halved over the past 10 years. And it's not just Tokyo. This is happening in local governments right across Japan. Everybody knows that the public sector is finding it hard financially. But, if preventative steps are taken, it could save the 100 million yen to 200 million yen that is required over a lifetime for each person who contracts the disease. If governments want to cut down on burgeoning health expenditures, rather than cutting budgets for preventative measures, they should be expanding them. Just like with policies aimed at combating the low childbirth rate, it seems the public sector is merely buying time instead of dealing with problems.
With Japan's health insurance system closed to young people who are afraid to use it in case their parents find out, early detection and early treatment of AIDS in Japan is impossible. Many AIDS cases are discovered when the patient is around 20, which means they contracted the virus in their mid-teens. While getting teens to change their behavior, we also need revolutionary changes in the awareness of youth sexuality from parents, schools and society at large. Then, there's the motto that everyone can follow for AIDS prevention -- for traveling overseas, a passport; for driving, a license; for sex, a condom. (By Dr. Kunio Kitamura, special to the Mainichi)
Tokyo HIV infections reach record levels
06/05/2006
BY TAKAAKI IKEDA, THE ASAHI SHIMBUN
The number of persons affected by AIDS is on the rise in Tokyo, with an average of 1.14 people being confirmed as either HIV positive or having developed AIDS each day.
Last year saw record numbers of people affected by the disease.
During 2005, 417 people within the Tokyo area were diagnosed as having being HIV positive, compared to only 51 people in 1990.
Not only are numbers up, but the social dynamic of those affected has shifted: Last year, 90 percent of the 417 people diagnosed were Japanese men, a major change from 1992, when 60 percent were confirmed to be non-Japanese.
People in their 20s and 30s account for 72 percent of people with AIDS in the city, and there has been an increase in the number affected through homosexual activity.
Physician Tsuyoshi Yamaguchi, 73, has been involved in HIV/AIDS-related testing at a consultation facility near the southern exit of Tokyo's Shinjuku Station for almost 10 years.
"The number of those who actually have the disease is four to five times the reported level," Yamaguchi said. "Moreover, Japan is the only developed nation where the number of AIDS sufferers is continuing to increase. There is a fear that this could lead to a rampant spread of the virus."
Another cause for concern is the increase in sexually transmitted diseases such as chlamydia, which heightens the risk of HIV infection.
The 3,938 people infected with HIV in Tokyo represent about 40 percent of an estimated 11,000 nationwide.
Last year, 832 people were newly diagnosed as being HIV positive, while 367 people were reported to be suffering from AIDS nationwide.
The number of people infected with HIV first surpassed the 1,000 mark in 2004. In 2005, it reached 1,199.
While the numbers of those with the virus is rising, the number of people being tested for HIV is not.
In 1992, more than 31,000 people were tested in Tokyo for HIV. The figure last year was 22,000.
Numerous tactics have been employed to encourage people to get tested, such as providing weekend testing and offering same-day results.
While these measures have had some impact in the past, authorities fear they may have reached the end of their effectiveness.
"We have tried all sorts of means and are getting closer to hitting a ceiling," said an official from the Tokyo metropolitan government, which launched its first HIV/AIDS week dedicated to educating the public and promoting HIV testing Thursday.
The public "are either feeling comfortable or their interest has weakened," Yamaguchi said.
That complacency--or ambivalence--could be life threatening.
Thanks to medical advances it is possible to inhibit the spread of HIV, meaning that AIDS need not be fatal. Early detection is crucial.(IHT/Asahi: June 5,2006)
東京都内、HIV感染最多 昨年417人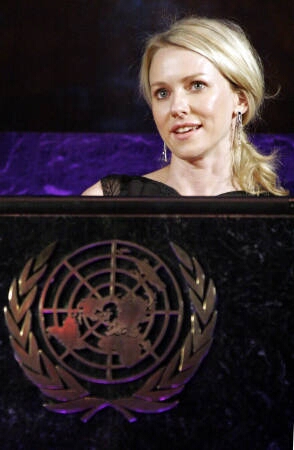 6月2日、国連エイズ特別総会が政治宣言を採択して閉幕。写真は演説する国連合同エイズ計画特使の女優ナオミ・ワッツさん。1日撮影(2006年 ロイター)
国連エイズ総会が閉幕、資金確保の道筋示さず
12:28 JST

 [国連 2日 ロイター] 
3日間にわたり開催されていた国連エイズ特別総会が2日に閉幕した。女性の間での感染の広がりを指摘し、エイズ予防の権利を認める政治宣言が採択されたものの、必要な資金確保の道筋は示さないままに終わった。
 1981年以来エイズによる死者は世界で約2500万人に達し、1日当たりの死者は8000人に上る。感染者は現在4000万人。
 イラクやエジプトなどイスラム諸国が一時、政治宣言に女性や少女の権利擁護を含めることに抵抗していたが、活動家の多くは期待した以上に前向きな宣言になったと評価。
 一方で、参加した市民団体800のうち約70は、政治宣言が資金面や18歳以下の少女の人権に関する点で「情けなくなるほど弱い」と批判している。
 政治宣言は、2010年までに、2005年の倍額以上に相当する年間230億ドルのエイズ対策費が必要だと指摘。しかし米国などの抵抗にあい、資金確保に関する明確な計画は含まれなかった。
国連エイズ総会閉幕 各国拠出額、明示なし 対策費倍増目指す
2006年 6月 4日 (日) 03:11 産経
 【ニューヨーク=長戸雅子】世界各国の首脳や非政府組織(NGO)が参加した国連エイズ特別総会は2日、2010年までに低中所得国の年間エイズ対策費を倍以上に増やす必要を認め、資金増額の措置を取るなどとする新たな政治宣言を採択して閉幕した。
 今回の宣言は、01年の誓約宣言に続き、各国政府やNGOなどのエイズ対策の指針となる。「10年までに誰もが感染予防や治療などの包括的なエイズ対策を受けられるよう最大限努力する」とうたい、年間最大100億ドルだったエイズ対策費を200億~230億ドル(約2兆2300億~2兆5700億円)に増額することを目指している。
 しかし、資金の拠出額や期限などについては明確な数値目標を設定せず、「新たな資金提供を保証する措置を取ることを誓約する」との表現にとどめ、負担増を懸念する日米欧など先進各国に配慮した形となった。
 また、予防計画などの対象になる「社会的弱者」の定義についても意見の対立がみられた。先進国の一部やNGOは同性愛者、薬物中毒者なども対象に含むよう求めたが、イスラム諸国や保守的なカトリック諸国の反対で、直接の言及は避けられた。
 NGO関係者らは「強い決意の感じられない漠然とした内容」「具体的な資金源への言及や目標達成に向けた締め切りもない」と失望感をあらわにし、宣言に盛られた対策の実効性に疑問符をつけた。
 「01年の特別総会後、旧ソ連や東欧を中心に薬物中毒者のエイズウイルス(HIV)感染が爆発的に増えた。宣言はこうした現実を反映していない」との指摘もあった。
エイズ対策に数値目標・国連特別総会 (日本経済 2006/06/03)
 【ニューヨーク=中前博之】国連エイズ特別総会は2日、加盟各国ごとにエイズへの取り組みに関する数値目標を設けることを盛り込んだ新たな政治宣言を採択した。数値目標は予防や啓発活動、治療など幅広い分野に及び、抗エイズ薬治療を受けられる患者の割合や、正しい予防知識を持つ若者の割合などを含む見通し。2008年と10年について各国政府が定める。
 国連エイズ合同計画(UNAIDS)の試算によると、10年までに世界で必要とされるエイズ対策費は年間200億―230億ドル。総会では試算額を国際社会の「目標値」として採用すべきだとの意見もあったが、費用の大半を負担している米国や欧州連合(EU)、日本などが反対し、見送られた。
 同総会は01年の特別総会で採択された政治宣言の達成状況を点検し、一層のエイズ対策強化を目指して開いた。一定の成果はあったが、抗エイズ薬の投与を受けている患者が発展途上国で2割(目標は5割)にとどまるなど、多くの課題も指摘された。 (13:05)
国連エイズ特別総会 政治宣言採択し閉幕 (産経 2006/06/03)
 【ニューヨーク=長戸雅子】世界各国の首脳や閣僚らが一堂に会して地球規模のエイズ対策を話し合う国連エイズ特別総会は2日、「2010年までに、だれもが必要な予防・治療・ケアとサポートを受けられるように目指す」(ユニバーサル・アクセス)との目標を盛り込んだ新たな政治宣言を採択して閉幕した。今後、この精神に基づいてエイズ対策が進められるが、資金や専門家らの人員確保など課題は多い。
 HIV(エイズウイルス)感染者に対する治療や支援体制は先進国と途上国、国内でも都市と地方で大きな差がある。この差を解消し、必要な人が必要な各種支援を住んでいる地域にかかわらず受けられるようにすることが、「ユニバーサル・アクセス」の目標だ。
 「ユニバーサル・アクセス」の実現については、10年までに「最大限努力する」との表現で合意に達したが、とりわけ資金面で難問が残っている。
 今回の宣言では、エイズウイルス(HIV)感染者の増大で昨年の2倍以上にあたる年間200億ドル以上のエイズ対策が必要になるとしたが、具体的な拠出方法や目標時期は示されていない。「十分な資金がドナー国や国の予算から得られる措置をとる」との表現にとどまり、ドナー国の具体的な拠出額などや期限には踏み込まなかった。日米欧などのドナー国が負担の増加を懸念したためとみられる。
 エリアソン総会議長は閉幕の演説で「宣言を採択するのはやさしいが、これらを各国がすみやかに、目的意識をもって実行に移せるかどうかが問われている」と努力を促した。
対策費、10年までに倍増 国連が新エイズ宣言採択 (共同 2006/06/03)
 【ニューヨーク2日共同】国連エイズ特別総会高級会合は2日、エイズウイルス(HIV)感染者の増大により、昨年の2倍以上に当たる年間最大230億ドル(約2兆5700億円)のエイズ対策費が2010年までに必要になると見込んだ新たな政治宣言を採択、閉幕した。
 01年の前回特別総会で採択された政治宣言はHIV感染削減や対策費に関する数値目標を明記したが、今回は負担増を懸念する日米欧の抵抗で目標値を盛り込めず、課題も残した。宣言に法的拘束力はなく、国連加盟国や非政府組織(NGO)がエイズ対策を検討する際の指針となる。
政治宣言を採択して閉幕 エイズ会議
2006年06月03日19時58分 朝日
 世界のエイズ対策を再検討する国連の会議は2日、目標達成への政治宣言を採択して終了した。政治宣言は、コンドームへのアクセスや女性の権利確保など、従来国連であまり取り上げられなかったテーマにも触れ、エリアソン総会議長は「強い宣言だ」と強調したが、市民団体の一部は「具体的な目標に欠ける」として厳しく批判した。
 政治宣言は、2010年までに治療、包括的な予防などをすべての人が受けられる態勢を目指すことを確認。必要な金額が08年には200億~230億ドルにのぼる、との認識を掲げた。ただ、エイズの危険にさらされるセックスワーカー、男性同性愛者、薬物中毒者らの扱いをめぐっては、会議で各国の受け止めの差が浮き彫りになった。
更新2006年06月02日 16:58米国東部時間
エイズとの戦い、誓い新た 米、HIV検査デーを提唱
共同
 5月31日に開幕した国連エイズ特別総会高級会合は最終日の2日、ローラ・ブッシュ大統領夫人や森喜朗前首相ら各国要人が演説、地球規模での「エイズとの戦い」への誓いを新たにした。ローラ夫人はエイズウイルス(HIV)感染の早期把握に向け、米政府が近く「国際HIV検査デー」を設けるよう提案すると述べた。
 120カ国以上の首脳や閣僚らが参加した同会合は2001年の国連エイズ特別総会で採択された政治宣言を踏まえ、エイズ撲滅に向けた新たな政治宣言を同日中に採択、3日間にわたる討議を締めくくる予定。
 ローラ夫人は「どの国もエイズの危機を無視できない」と地球規模の対策の重要性を強調。アナン国連事務総長は「エイズはわれわれの世代にとって最大の挑戦になった」と警告した。
 森前首相は「私の夢はHIVやエイズから解放されること」と切り出し、感染症対策に力を入れた首相時代の取り組みを紹介。エイズ対策での日本の貢献を強調した上で、ラガーマンらしく「1人はみんなのため、みんなは1人のため最善を尽くそう」と要請。(共同)
東京都内、HIV感染最多 昨年417人
2006年06月03日15時51分 朝日
 1日1.14人。東京都内でエイズがじわじわと増えている。昨年1年間にエイズウイルス(HIV)に感染した人と、エイズを発症した患者の合計数は、過去最多の417人。15年前に比べて8倍に増えた。一方、感染の有無を調べる検査の受診者数は、伸び悩みぎみ。危機感を抱く都は、今年から始まった「検査普及週間」(1~7日)に合わせ、啓発に力を入れる。
 「感染者は、実際には報告数の4~5倍はいる。エイズ患者が増え続けているのは先進国では日本だけ。爆発的な流行につながるおそれがある」
 新宿駅南口にある都南新宿検査・相談室で、10年近く検査に携わる医師の山口剛氏(73)は指摘する。
 都内で検査を受け、感染や発症が明らかになった人は年々増え続け、90年の51人から昨年は417人になった。すでに感染が分かっている人も加えると計3938人で、全国の感染者の累計約1万1000人の4割になる。
 一方、検査そのものの受診者数は、社会問題化した92年に3万1千人以上だったのが、昨年は2万2千人。休日に検査をしたり、即日で結果が分かる検査も実施したりするなど様々な工夫が奏功し、ここ数年、増加傾向にはある。ただ、「手は尽くし、頭打ちになりつつある」と都の担当者は懸念する。
 HIVの増殖を抑える薬物治療の進歩で、エイズは致死的な病気ではなくなった。それだけに早期発見が重要だが、山口氏は「安心してしまっているのか、関心は薄れている」と嘆く。
 昨年、新たに感染が分かった人の9割は日本人男性。6割が外国人だった92年から状況は大きく変わった。感染源は同性間の性的接触が目立つ。
 年齢別では20代、30代が72%を占め、HIV感染の危険性が高まるクラミジアなどの性感染症の若者が増えていることも懸念材料だ。
 一方、全国では昨年1年間にHIV感染832人、エイズ患者367人が新たに報告された。合わせて過去最高の1199人となり、2年連続で千人の大台を超えた。