S
M
T
W
T
F
S
1
2
3
4
5
6
7
8
9
10
11
12
13
14
15
16
17
18
19
20
21
22
23
24
25
26
27
28
29
30
カテゴリ
以前の記事
検索
最新のトラックバック
その他のジャンル
ファン
記事ランキング
ブログジャンル
画像一覧
The International Herald Tribune
Japanese companies embrace diversity
By Miki Tanikawa
Friday, June 1, 2007

TOKYO:
In the middle of 2006, Nissan Motor's auto development division summoned a team of 10 women to develop a small car that would appeal to female buyers. The team, made up of designers, product planners and advertising and marketing staff and ranging in age from their 20s to their 30s, came up with the Pino, a minicar to be produced in pastel colors and with a wide array of options, like cushions and special ashtrays, that it felt young women would want.
When the Pino was introduced in January, Nissan was hoping to sell 2,600 vehicles during the first month and beyond. It got 5,500 orders during the first month and has sold steadily above target ever since.
"You are able to make good products by letting women participate in all aspects of the business process," said Yukiko Yoshimaru, general manager of the diversity development office at Nissan. "That way, we can meet the customers' needs satisfactorily."
That Nissan even has a diversity officer may sound startling to those who are used to thinking of Japanese companies as dominated by men, and Japanese men at that. But the automaker has made visible progress on the diversity front under a management team that includes Carlos Ghosn and other French executives from Renault. Aside from bringing in foreign managers from overseas, it has increased the proportion of women in managerial ranks to 4 percent from 1.6 percent three years ago.
And Nissan is not alone in making a visible commitment to diversity. Big employers from manufacturers like Matsushita Electric and Toshiba to large lenders like Mizuho Corporate Bank are setting up departments, holding seminars for management-track women, and soliciting foreigners as regular, full-time employees to work at headquarters in Japan.
Of the 750 new employees Matsushita Electric hired last year in Japan, 30 were non-Japanese; of the 100 non-engineering positions, close to half were filled by women, according to the company. Nissan also boasted a 50-50 ratio of women to men for non-engineer new recruits last year.
"To meet the diverse needs in the global market, you need to have diversity in the composition of your employees," Yoshimaru said. "A homogeneous group can only come up with something homogeneous."
This is radical talk in corporate Japan, which previously took pride in its homogeneity, especially during the go-go years of the 1970s and 1980s, saying it make them efficient. Today the new buzzword is "daiba-shitii," or diversity.
As a general manager of diversity development office at Tokyo Electric Power, the largest electricity producer in Japan, Hiroko Amemiya's job consists of publishing in-house magazines and leaflets meant to raises awareness of the issue and holding seminars for employees and managers to discuss habits and customs in the workplace that might stand in the way of creating a diverse work force.
"There are certain ingrained habits and thinking that are difficult to shake off immediately," she said. "People say, for example, that women aren't good at driving. But some women are good at driving, and to conclude that women can't drive well leads to a bias, and bias leads to discrimination."
Japanese business, like Japanese society and many other countries, still has a long way to go to be truly gender- or ethnicity-blind. According to the most recent survey by the Ministry of Welfare and Labor, in 2003 women held just 3.3 percent of managerial jobs at companies with more than 5,000 employees - among the lowest in mature economies.
And only about 1.6 percent of the population was foreign-born at the end of 2006, according to the Justice Ministry - the highest it has ever been. Xenophobia still runs deep in certain segments of society, and "No Foreigners" signs are found in some commercial outlets in the countryside.
But things are changing - largely, say corporate managers and analysts, because they have to. Demographics and globalization demand it.
In Japan, one of the fastest aging societies in the world, labor is increasingly becoming a scare resource. A big lump of workers in their late 50s, the so-called baby boomers, are retiring, while the pool of younger workers is shrinking, driving big companies to scramble for workers to plug the gap.
"In certain businesses such as the info tech industry, companies are structurally and chronically short of workers," said Yukihiro Yamao, president of AXIS Consulting in Tokyo, an employment concern that has helped big Japanese employers like Fujitsu, Hitachi and their group companies find workers from overseas.
He has placed about 30 Chinese white-collar workers with Japanese companies in the past year and sees assignments from clients zooming to several hundred in a few years.
"These days, a third of new Japanese employees quit their big employers in less than three years," he said. "At a time when Japanese workers are leaving, you don't have a choice to say, 'I want only Japanese workers.' "
Second, big Japanese companies are turning to global markets for growth as their home turf grows more slowly.
"The weight of our business is shifting overseas," said Kimie Iwata, a board member and corporate executive for personnel at Shiseido, the cosmetics company. "To that end, we need to train and ready our employees for overseas responsibilities."
Today, 32 percent of Shiseido's business comes from its overseas units. To enhance its global business operations, Shiseido named Carsten Fischer, a German executive who worked as vice president for Asia-Pacific for Procter & Gamble.
"The more a company becomes global in its operation, the more global should the management become," Fischer said. "Shiseido is a company that has already done much in the field of diversity and we are determined to stay ahead. Obviously, the lack of international managers and the lack of English speakers are a challenge. The existing conservatism in business processes, rituals and at times unconditional following of rules is difficult to accept."
Iwata said that even the company's domestic business required diverse and flexible talents in ways that it did not before. "In the past, when the market was simply growing, all you had to do was to produce and sell given items in a most effective way," she said. "The market is shrinking now, and to survive you have to deliver new value. Where does new value come from? It does not exist inside the company. You get that from outside."
Despite all the movement to hire and promote more women and foreigners, some experts contend that the diversity movement is superficial at best and borders dangerously on a fad.
"Japanese people have this 'we are in the same boat' mentality," said Kimiko Horii, president of Gewel, a nonprofit organization that promotes the status of, and provides resources for, executive women. "If some companies do it, then others feel they must do it, too."
Many of the diversity officers, she said, are not sufficiently empowered and do not report directly to the chief executive. "They often aren't given enough resources and the budget to work with," Horii said. "What do you expect them to accomplish? In any case, the CEO should demonstrate a vigorous support for the cause."
Amemiya, the Tokyo Electric Power diversity executive, acknowledged that the chief executive's commitment was crucial to the success of any diversity program. She added that the issue of top-level support was a common topic of conversation among diversity officers, who meet regularly with each other. "But commitment by the top management is something you elicit as well," she said. "It's also a matter of how you communicate to other employees."
One common challenge is to remove small barriers. Executives in charge of diversity and human resources said flexible policy on working hours and job transfers was crucial. For instance, women with children need to leave the office in the afternoon to pick up their children at school, and cosmetics salespeople cannot, Iwata said - even though Shiseido has a program that lets married people take time off for children.
"That's around the time when the business picks up at the retail stores," Iwata said. "So, practically, they cannot leave work around that time."
Iwata said her company recently decided to hire 500 part-time staff around Japan to relieve their saleswomen with young children of their duties during the early evening hours.
Obstacles like these are blamed for causing many career-track women, who joined Japanese companies after passage of the Equal Employment Act of 1987, to quit after several years of working.
"There is a whole generation of women employees who joined after 1987 that are missing who would be eligible for management jobs by now," Amemiya said.
Osamu Yunoki, executive officer in charge of human resources at Uniqlo, the clothing retail chain, said his company recently imposed a rule whereby employees in the head office are not allowed to work beyond 7 in the evening. "Lights go off at 7," he said.
The burden of working overtime had been a turnoff especially for women and non-Japanese staff, Yunoki said. But after the no-overtime policy was enforced, "the number of meetings decreased, the amount of e-mails people sent went down, and the overall efficiency increased," he said. Yunoki added that when Uniqlo introduced policies that were friendly to women and foreigners, it helped create a good working environment for all. "Now, men appreciate it also," he said.
Because Uniqlo has 730 stores in Japan and 39 overseas, finding diverse talent is a serious strategic concern, Yunoki said.
The need to have women involved is acute in designing products, planning marketing and advertising strategies and conducting sales in retail stores. - 70 percent of Uniqlo's customers are women, Yunoki said. Many of them travel overseas and are well attuned to the trends in Europe and the United States, and clothing designs must reflect the tastes overseas.
At Uniqlo, product planning for all goods is initiated in its office in New York, which is heavily staffed by American designers and is executed in conjunction with their counterparts in Milan and Tokyo.
"To plan, design and execute the business, you have to have a very diverse team, or else you cannot win," Yunoki said. "We need them to compete effectively and that's what business is all about."
足立区長選あす告示
2007年5月26日 東京新聞
 引退する鈴木恒年足立区長の任期満了に伴う同区長選は二十七日、告示される。投開票は六月三日。これまでに立候補の意思を表明しているのは、ともに無所属新人で、税理士で前自民都議近藤弥生氏(48)=自民、民主、公明推薦=と、共産などでつくる革新系団体が支援する看護師宮崎和加子氏(51)。都内初の女性候補のみでの首長選となりそう。
 近藤氏は「こども・家庭担当副区長」の配置による子育て支援の強化や、企業誘致・起業支援による経済活性化などを主張。宮崎氏は子育て支援充実をはじめ、高齢者医療・介護体制の整備、国保料値下げなどを訴えている。
 立候補の届け出は二十七日午前八時半から午後五時まで同区役所で。四月二十二日現在の有権者数は五十万八千三百三十四人。
♪ 現在唯一の女性区長は、
新宿区の中山弘子氏
LABOUR-JAPAN:
Working Women Set Their Sights Higher
Suvendrini Kakuchi

TOKYO, May 25 (IPS) -
When Manami Sato's mother started work at a large trading company almost three decades ago, she was hired as one of several female assistants, a job that included serving tea and copying files for male managers and was the norm those days
But Sato, 26, who graduated from Aoyama University, a prestigious private institution, and then spent two years in the United States furthering her studies in international business, is not ready to follow in her mother's footsteps.
''I have just been promoted to assistant manager in my company,'' says Sato who works for an international finance company she prefers not to name. ''I intend to keep working hard in this company till I am ready to move on to something bigger."
Sato, say labour experts, represents the new generation of well-educated Japanese working women who are ambitious, career oriented and have their sights set higher than their mothers did in a male-dominated job market.
''The changes we note today in female employment patterns represent important developments in Japan that have occurred within a short time span. It is not an exaggeration to say Japanese women are hardworking and ambitious,'' said Makoto Hosoda, director at 'Hello Work', a government-supported recruitment office in Tokyo.
Buoyed by Japan's strengthening economy the employment rate for university graduates was a record high -- 96.6 percent for men and 96 percent for women, forming a total of 357,000 new employees, according to the health, welfare and labour ministry.
''The employment gender gap in Japan has narrowed significantly for university graduates and will stay that way. Today we also see men and women ready to have long-term careers and prefer to work in companies that can give them these opportunities,'' said Takashi Nagata, an expert at the Daiwa Research Institute.
According to Nagata, who has to his credit a report on newly graduated females, more women are moving out from the clerical sector, as was the tradition, and taking on more challenging jobs in banking, information technology and medicine.
Moreover, they work long hours along with their male compatriots and spend their spare time improving career skills to gain chances at promotion.
New data point to an improving situation for Japanese female workers. For example, labour ministry figures show that women, who till three years comprised a dismal 3 to 4 percent of the senior management positions, now hold between 4 to 10 percent.
On he salary front too there are better signs. Ministry reports indicate the salary-gender gap is closing -- from the earlier 62.8 percent to 66 percent in 2006. This is something of a revolution in Japan where stark wage and promotion differences were once readily accepted.
Says Makiko Ogata at Recruit Company, a leading employment agency: ''These days, as the labour market ages, companies do not differentiate between genders so much. Women are even more sought after by managements than before.''
Ogata pointed to several new factors such as the 'greying population' that is expected to lead to a steep decline in the national labour force. Referred to in Japan as the Big Bang the phenomenon, by 2025, is expected to show up 600 million fewer employees than in 1998.
Ogata also indicated a new report by United Nations Economic nad Social Commission for Asia and the Pacific, released this month, showed how gender discrimination in the Asia-Pacific region can result in some 80 billion US dollars worth of economic losses.
''Domestic and international trends that influence Japan's diversifying labour market, have contributed to more gender equality here,'' she told IPS.
But experts also point to harsher working environments for women that are accompanying the change.
Nagata's report showed that Japanese women continue to bear the brunt of family responsibilities which restrict their chances of taking up challenging jobs that demand travel or inconvenient work schedules.
''Japanese companies have still not adjusted adequately to accept career-oriented women such as by establishing flexible schedules for them or enacting regulations that put pressure on men to take paternity leave,'' he explained to IPS. (END/2007)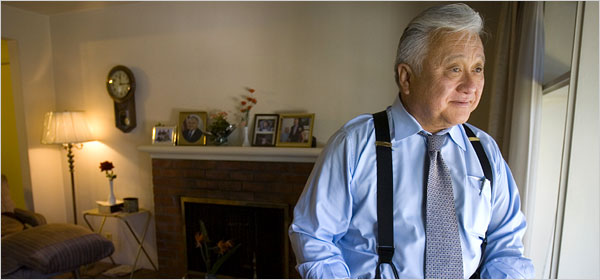 Peter DaSilva for the New York Times
California Congressman Michael Honda discusses H. Res. 121, a bipartisan resolution he introduced on January 31, 2007, calling on the government of Japan to formally acknowledge and apologize for its role in the coercion of women into sex slavery.
The New York Times
The Saturday Profile
A Congressman Faces Foes in Japan as He Seeks an Apology
By NORIMITSU ONISHI
Published: May 12, 2007
SAN JOSE, Calif.
ON a recent sunny Sunday morning, Michael M. Honda was kicking back at his 90-year-old mother's house here, some green tea and rice crackers within arm's reach. She was off to church, and his younger brother had dropped by to fix the plumbing.
"Oh yeah, I ran across a buddy of yours — he says he golfs with you — a big-set hakujin guy," Mr. Honda told his brother, using the Japanese word for Caucasian.
Mr. Honda, a Democratic congressman and third-generation Japanese-American, was wrapping up a weekend visit to his district here in Silicon Valley. After attending an event at a local high school, he would fly back to Washington, where his resolution calling on the Japanese government to unequivocally acknowledge its history of wartime sex slavery and apologize for it was steadily gaining co-sponsors.
The resolution was also drawing sometimes surprising reaction in Japan, making Mr. Honda one of the most famous American congressmen in his ancestral land and riling Japan's conservatives. They have accused a bemused Mr. Honda, 65, of being an agent of a Chinese government bent on humiliating Japan on American soil. During one television interview, an announcer asked Mr. Honda how he could back such a resolution when he has a Japanese face.
"I told her I could have a black face, a brown face, a white face — I could be Mexican, I could be Indian — it doesn't matter," Mr. Honda recalled.
He said he saw the resolution, which has received strong backing from Korean-American groups, as an affirmation of universal human rights. His foes in Japan view it through the prism of Northeast Asia's stark divisions.
The House Committee on Foreign Affairs, led by Representative Tom Lantos, a Democrat from California, is expected to vote on the resolution later in May. Mr. Lantos supported a similar resolution, sponsored by Lane Evans, an Illinois Democrat who was forced to retire last year because of Parkinson's disease, that wilted in the Republican-controlled Congress.
Although the resolution is not binding, the Japanese government, with the support of the Bush administration, has lobbied fiercely against it. The resolution drew little attention until Prime Minister Shinzo Abe, who has long pressed a revisionist view of Japan's wartime history, denied that the Japanese military had coerced women into sex slavery, causing furor in the rest of Asia and the United States.
During his recent visit to Washington, Mr. Abe told House leaders and President Bush in carefully calculated language that he apologized for Japan's history with the women, known euphemistically as comfort women, but he did not take back his initial denial. A news conference with Mr. Bush culminated in an odd moment when the president said he accepted Mr. Abe's apology.
The apology, Mr. Honda said, was not Mr. Bush's to accept.
MR. HONDA'S grandparents came from Kumamoto, a prefecture in southwestern Japan, in the early 1900s, part of the first wave of Japanese immigrants to the United States. His mother, Fusako, was born in San Jose's Japantown in 1916 and grew up there. His father, Giichi, was also born and raised in California, but spent some years living in Tokyo.
After the outbreak of war between the United States and Japan in 1941, his family, like other Japanese-Americans, was sent to an internment camp in Colorado. They spent a total of 14 months there — an experience that would later influence Mr. Honda's politics.
"It taught me that if governments make mistakes, they should apologize," he said.
The family returned to San Jose a few years after the end of the war. At home, the father spoke in English to Mr. Honda and his younger brother and sister; his mother addressed them in Japanese. To this day, Mr. Honda has retained the habit of sprinkling his English with some Japanese words when he speaks with relatives or Japanese-Americans. Japanese food was served at home.
"The only American food I remember eating was Spam," he said.
His parents struggled, working as strawberry sharecroppers, though his father eventually found more stable employment in the post office. His mother cleaned houses.
"As I went into politics, people would say, 'I know you from someplace,' because I used to go pick up my mom from different places," Mr. Honda said. "All the places she would clean were homes of prominent people.
"I wouldn't tell them," he said. "I'd say we met a long time ago. But finally one guy pushed me and said, 'I just know you from someplace.' I said, 'If you really need to know, my mom used to clean your house.' He said, 'Oh.' I said, 'You don't have to apologize. It was good work. It was dignified work, and you treated her well. I appreciated it. It put rice in our rice bowl.' "
After college, Mr. Honda went to El Salvador as a Peace Corps volunteer and then became a teacher in the public schools here. His late wife, Jeanne — a survivor of the Hiroshima atomic bomb who immigrated here at the age of 11 — was also a teacher.
Mr. Honda said his politics, first as a state assemblyman and then as a congressman, had been influenced by his career as a teacher and the successful campaign by Japanese-Americans to obtain an official apology and compensation from the United States in 1988 for their internment.
He has supported efforts by victims of wartime Germany and Japan to purse lawsuits in California, in keeping with his belief that the universality of human rights allowed them to seek compensation in the United States if German or Japanese courts rebuffed them.
His resolution on Japan's wartime sex slavery, he said, would provide justice to surviving women who were drafted into Japanese military brothels from Korea, Taiwan, China, the Philippines and other Asian countries occupied by Japanese troops.
In 1993, the Japanese government's chief cabinet secretary issued a statement acknowledging Japan's history of sex slavery, but it was not endorsed by the cabinet or Parliament. In recent years, nationalist politicians have pushed to rescind that declaration, and they have succeeded in eliminating references to the so-called comfort women from government-approved school textbooks.
"I was a schoolteacher, and so I know what happens in a country when you don't teach history correctly," Mr. Honda said. "It's insane not to teach your children the truth."
IT was almost time to go to the high school event, then catch a plane back to Washington. The weekend trip home had been productive. He had started that Friday with breakfast with former teaching colleagues; presented awards at an Asian-American organization; attended a celebration at his alma mater, San Jose State University; and met executives at a high-tech laser company.
Mr. Honda's mother had yet to return from church. He began locking up, bringing lawn chairs in from the backyard.
Mr. Abe's recent comments have sharpened worries, even among conservative American thinkers, that being too closely tied to Japan's nationalist leadership may hurt American interests in Asia. How the Democratic-controlled House votes on Mr. Honda's resolution could presage changes in American policy toward Japan, particularly if Democrats take control of the White House.
"If we wanted to help Japan," Mr. Honda said, "it should be in the light of, 'If you want to be a global leader, you have to first gain the trust and confidence of your neighbors.' "
The Wall Street Journal
PAGE ONE
Developing Nation: Japanese Clothiers Update Their Lines
Changes in Diet Produce Curvier Bodies in Women; The 'Love Bra' Catches Fire
By AMY CHOZICK
May 7, 2007; Page A1

TOKYO --
All over Japan, retailers are scrambling to keep up with a new look known as "bon-kyu-bon." It means "big-small-big" and it signals a change in the way Japanese women look: They're getting curvier.
Japanese stores that used to keep just two or three sizes of clothing on hand are rushing to stock larger sizes. Juicy Couture, known for its figure-hugging terrycloth tracksuits, opened one of its biggest stores in Tokyo last year. And Tokyo's high-end Isetan department store, which used to relegate its bigger sizes to one corner, now prominently features larger items from designers such as Ralph Lauren, Diane von Furstenberg and DKNY.
Wacoal Corp., Japan's largest lingerie company, was once known for its super-padded brassieres. Now the company has a new best-seller: the "Love Bra," a cleavage-boosting creation with less padding, aimed at curvier women in their 20s.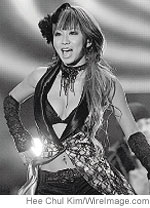 Kumi Koda at a performance in South Korea last year
Today the average Japanese woman's hips, at 35 inches, are around an inch wider than those of women a generation older. Women in their 20s wear a bra at least two sizes larger than that of their mothers, according to Wacoal. Waist size, meanwhile, has gotten slightly smaller, accentuating many young women's curves.
The average 20-year-old is also nearly three inches taller than she was in 1950, according to government statistics, and the average foot has grown by nearly a quarter of an inch.
The physical changes are largely the result of an increasingly Westernized diet, say nutritionists. Meals that used to consist of mostly fish, vegetables and tofu now lean heavily toward an American-style menu of red meat, dairy and indulgences such as Krispy Kreme doughnuts and Cold Stone Creamery ice cream.
All this extra protein and calcium has led to longer, stronger and fuller bodies. Shinichi Tashiro, an endocrinology professor at Showa Pharmaceutical University, says the intake of extra fat tends to go to either breasts or hips in adolescent girls.
Marketers say they first started noticing more women with hourglass figures a few years ago. One of the first people to act on the change was apparel wholesaler Kazuya Kito.
A Catalyst
In 2001, Mr. Kito founded Egoist, a trendy purveyor of slinky clothing designed to highlight the busty look, figuring that the curvier bodies would make women want to wear less-modest outfits. His fashion-industry friends scoffed at the idea. Back then micro-miniskirts were in style, but women, for the most part, kept their chests covered. Yet Egoist, whose wares include see-through sweaters made to show off decorative bras or skinny tube tops, became a huge hit and a catalyst for other skimpy-clothing brands.
"Now that Japanese women are more proportioned," they're ready for these clothes, Mr. Kito says.
Nami Sakamoto, an advertising-agency employee, embodies the new look. The 26-year-old is tall -- by Japanese standards -- at 5 feet 5 inches. She's also voluptuous, with a 35-inch bust and 35-inch hips.
"I had a hard time finding button-down shirts that would close," says the 26-year-old Ms. Sakamoto, especially when she was in high school and there were fewer foreign retailers in Japan that sold bigger sizes. "Sometimes the buttons would burst off." Now she buys clothes at Western retailers that carry larger sizes.
Other young women are buying special items to flaunt their new physique. "It's just more fun to show some skin," says Ayami Arii, a 19-year-old vocational-school student, who recently sported a tiny denim miniskirt and an iridescent pushup bra that peeks out from below her low-cut blouse. Her bra, a big seller at boutiques in Tokyo's Shibuya 109 department store, is called a "Showy Bra." Similar to a string bikini top, the $60 bras, made to be peeking out of a low-cut blouse, started appearing last year and come in a variety of colors, from red patent leather to leopard print and orange sequins.
The cleavage craze took off in 2003, when a young pop star named Kumi Koda appeared in ads around Tokyo wearing a barely-there metallic bra and not much else. In one image, she wore coconut shells over her chest. Then, two years later, she performed at the televised Japan Record Awards wearing thin tape-like gold satin straps over her breasts that revealed nearly everything when she danced. The 24-year-old star has become the champion of a new "If you've got it, flaunt it" attitude among young Japanese women.
The trend has some families concerned. Akiko Uchida, a 49-year-old restaurant owner, decided to enroll her 17-year-old daughter, Masumi, who wears an E-cup bra, in a private all-girls school where she would have to wear a uniform. She says her daughter is always trying to wear scoop-neck shirts and other clothes that show off her body. "I don't want boys to see her unsupervised," says Ms. Uchida, who plans to be even stricter when her daughter goes to college next year.
Complicated Terrain
Fashion has long been complicated terrain for women in Japan, a conformist society where showing some skin is a way to rebel against traditional roles. Fashion historian Akiko Fukai likens the new look to post-World War II Japanese women shedding their restrictive kimonos, which are designed to flatten the chest, in favor of Western garb.
Saki Toraiwa, a 21-year-old cashier at a bakery, says she likes the look of a tanned body and curves like Jennifer Lopez. When she's not wearing her work uniform, she likes to wear skin-tight T-shirts, jeans and high heels.
But she says she has to be careful not to dress in clothes that look too sexy when she's with her boyfriend, who prefers her in more-conservative fashions like flowing sundresses and girly skirts. Ms. Toraiwa wants to get married soon and doesn't want him to see her as a sex object.
"If I'm feeling confident, I'll show it off," says Ms. Toraiwa, "but lately a lot of it just depends on what my boyfriend likes."
Write to Amy Chozick at
amy.chozick@wsj.com
U.S. lawmaker calls for investigation of post-WWII brothels for U.S. troops in Japan
The Associated Press
Thursday, May 3, 2007
WASHINGTON: A U.S. lawmaker said Thursday he wants a closer look at reports that American authorities allowed the operation of an official brothel system for GIs occupying Japan in the aftermath of World War II.
Democratic Rep. Mike Honda, sponsor of a resolution urging Japan to apologize formally for coercing thousands of Asian women into sexual slavery as the Imperial Japanese during the war, said he has asked the Congressional Research Service to look into allegations of brothels set up for American soldiers after Japan's surrender in 1945.
Honda rejected comparisons between the actions of the Japanese during the war and the U.S. occupation forces. He said the Japanese comfort women system was set up and sanctioned by the Japanese government and armed forces.
"It's different," he said. "This is the military of the imperial government, the imperial military's policy, in capturing, coercing and kidnapping girls and women for the purpose of sexual slavery."
Honda said it was important to find out what role the U.S. military played in the postwar system.
An Associated Press review of historical documents and records shows that American authorities permitted an official brothel system to operate despite internal reports that women were being coerced into prostitution.
Tens of thousands of women were employed to provide cheap sex to American troops until the spring of 1946, when Gen. Douglas MacArthur shut down the system, documents show.
There is no clear evidence that non-Japanese comfort women were imported to Japan as part of the program.
Supporters of Honda's nonbinding resolution want an apology similar to the one the U.S. government gave to Japanese-Americans, including Honda as a child, forced into internment camps during World War II. That apology was approved by the Congress and signed into law by President Ronald Reagan in 1988.
___
Associated Press writer Foster Klug contributed to this report.
JAPAN:
Gender Biased Divorce Law Under Review
Suvendrini Kakuchi

TOKYO, Apr 24 (IPS) -
The birth of her baby four years ago was supposed to be a happy occasion for Masae Ito, 41. But she and her second husband were in for a nasty surprise at the registry office.
''I was told flatly by ward officials that the baby (legally) belonged to the husband I had divorced almost a year earlier. I could only gasp in disbelief,'' said Ito, a plucky woman who now manages a small non-profit organisation geared to support mothers in similar situations.
Ito is currently working hard to have changes made to the archaic Civil Code law that prevents women from remarrying for six months after divorce and also prohibits babies born within 300 days of the divorce from being recorded under the family register of their biological fathers.
Only through a special court procedure, whereby the former husband testifies that the child is not his, can the problem be rectified. Husbands, however, are not covered under this law.
Japanese law calls for families to have family registers apart, from individual birth certificates. The register records the background of each family member and is maintained by the householder -- usually the husband.
Changing the contentious civil code -- established in 1898 to ensure a child is not illegitimate at a time when DNA testing did not exist -- is proving difficult.
Gender experts point to the ongoing debate in the Japanese Diet (parliament) on making a long overdue change to a legal stipulation that no longer makes sense as yet another example of official resistance to gender equality.
''The issue of not accepting the father of a child on the grounds that the mother was married to another man before, is beyond logic. The difficulty to change this irrelevant law reflects the desire on the part of conservative politicians to protect Japan's male-dominated society,'' Fujiko Sakakibara, a lawyer and gender expert, told IPS.
A bone of contention for conservative politicians in the ruling Liberal Democratic Party (LDP) is that abolishing the law would break family values by encouraging divorce and possibly increase the number of children born out of wedlock.
Recent remarks by senior politicians referring to women in this situation as ''committing adultery'' have caused bitter resentment. Moves to soften the old law by accepting DNA testing or a doctor's certificate showing the date of conception or reducing to 100 days the wait for women to remarry, have only been met by even more resistance by activists.
''The whole case is a shame on Japan. It shows how Japan ignores the rights of women to start married lives afresh after divorce. Moreover, children are denied their right to register their biological father and mother. Laws take precedence over the happiness of women and children,'' says Yoko Sakamoto, editor of M-Net, an Internet publication that focuses on gender issues.
Indeed, Ito, who has advised more than a hundred women who grapple with this predicament, says many of them suffer mental anguish when they have to approach the courts to settle with their former husbands.
''There are cases where women are the victim of domestic violence and do not want to meet their former husbands ever. In other cases, the wounds from divorce can be still raw and it can be nerve wracking for women to be forced to meet and appeal to their former husbands for permission to register their new offspring under their biological fathers,'' she explained.
As a result of these difficult stipulations, activists have found hundreds of unregistered children in Japan. There is no official count because of the lack of concrete statistics, but cases recorded in the Family Courts, says Ito, indicate there are at least 3,500 children per year who go unregistered.
One consequence of the contentious code is that unregistered children cannot apply for national benefits or have a passport issued. A woman, quoted in the local media, said her new baby was born prematurely and does not have a family register. Both her second husband and she worry about medical bills.
However, last week, the government announced that it has decided to issue passports from May to children not registered due to the provisions of the code relating to recently divorced mothers. The gesture is a sign that the resistance by mothers is paying off.
Ito's own case is regarded as a landmark in the fight for equality. Rather than plead her case in court, she lobbied for help from politicians.
''I met with sympathetic politicians who introduced me to officials at the justice ministry. After long arguments I was allowed to register my child under a new family register without going to Court. But the law itself remained intact which is why I started my grass root movement,'' she said.
Activists hope to push the change before the current session of the Diet ends in June. Already the ruling LDP and its coalition partner, the New Komeito party, are discussing the matter to usher in a new legislation.
''We have to work step by step to change things and make Japan a better place for women,'' said Sakamoto. (END/2007)
Washington Times
The truth about Japan's 'comfort women'
By Henry Hyde and Chris Smith
Published April 26, 2007
Recent denials by Prime Minister Shinzo Abe that women in Asia were coerced into sexual slavery by Imperial Japan during the war years perpetuate pain and sorrow among victims and their loved ones. As Mr. Abe represents the Japanese people to the world, his views also damage foreign perceptions of the great strides many Japanese have made as peaceful, responsible world citizens since 1946. As friends of Japan, we urge the Japanese people to courageously acknowledge and redress the wrongs perpetrated by Imperial Japan.
The government of Japan, during its colonial occupation of Asia and the Pacific Islands from the 1930s through the duration of World War II, organized the subjugation and kidnapping, for the sole purpose of sexual servitude, of young women, who became known to the world as "comfort women." This tragedy was one of the largest cases of human trafficking in the 20th century, and was officially commissioned and orchestrated by the government of Japan to include gang rape, forced abortions, sexual violence, human trafficking and numerous other crimes against humanity.
Some of the victims were girls as young as 13 years of age and women separated from their own children; others were abducted from their homes or lured into sexual servitude under false pretenses. Many comfort women were eventually killed or driven to commit suicide when the hostilities ceased, because they were ashamed of what they had been forced to do.
Historians conclude that as many as 200,000 women were enslaved, but very few of them survive today. And not only did the government of Japan fail to fully disclose these war crimes during negotiations for reparations with its former enemies and occupied countries, but some textbooks used in Japanese schools minimize the "comfort women" tragedy and other atrocities, and distort the Japanese role in war crimes during World War II. In fact, Japanese government officials, both elected and career, as recently as June 2005, praised the removal of the term "comfort women" from Japanese textbooks. This kind of treatment of the issue only exacerbates the pain of the survivors.
Victims of Imperial Japanese brutality throughout East Asia and the Pacific and their families want Japan to frankly acknowledge what it has done. A responsible demonstration of humanity from Japan's social and political leaders will promote general healing and trust in the region, while as Mr. Abe surely knows, official denials from Japan's leaders keep these issues alive and alarm its neighbors.
Facing history squarely is the first duty of leaders anywhere. In the United States today, for instance, political and social leaders courageously acknowledge a shameful history of slavery and racial discrimination. What makes their efforts courageous is that they challenge long-held myths that were used to justify outrageous behavior that weakened our society. Correcting long-standing myths is hard. Efforts to redress them may not initially succeed, but ultimately they strengthen society and make the country more admirable.
We encourage the Japanese people as freedom-loving people to come to grips with the history of Imperial Japan. Doing so will yield untold benefits. Japan will earn not only the respect of neighboring countries and friends, but also their trust, which is essential for Japan to become the leader it yearns to be. Preventing such worthy results are modern denials of Imperial Japan's past. It would bring great honor to the Japanese people if the U.S. Congress hears a frank and courageous leader admit the truth and accept responsibility for the past, when Mr. Abe visits Washington later this month.
Former Rep. Henry Hyde, Illinois Republican, was a member of Congress and served as Chairman of the House International Relations Committee until January 2007. Rep. Chris Smith, New Jersey Republican, is the ranking member of the Africa and Global Health subcommittee of the House Committee on Foreign Affairs.
Japan Premier to Visit a Politically Changed Washington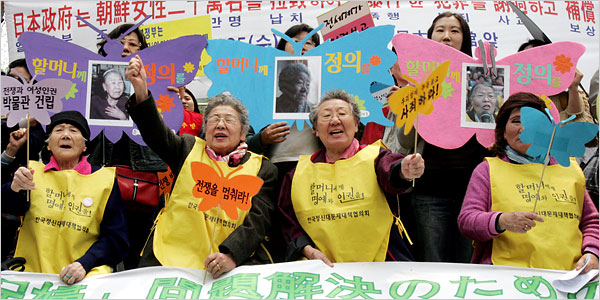 Ahn Young-joon/Associated Press
South Korean women who were forced to serve Japanese troops as sex slaves in World War II rallied yesterday at the Japanese Embassy in Seoul.
The New York Times
Japan Premier to Visit a Politically Changed Washington
By NORIMITSU ONISHI
Published: April 26, 2007

TOKYO, April 25 —
Prime Minister Shinzo Abe will have a hard act to follow when he arrives in Washington on Thursday for his first trip to the United States as Japan's leader.
President Bush took his predecessor, Junichiro Koizumi, on a highprofile visit to Graceland in Memphis, where Mr. Koizumi put on Elvis's shades and played air guitar while mugging for the camera. Mr. Abe is expected to make a low-key visit, staying just one night in Washington and limiting his exposure to potentially uncomfortable questions about his views on Japan's conduct during World War II.
In his seven months in office Mr. Abe has reassured Washington by smoothing relations with China, which grew dangerously tense under Mr. Koizumi. But relations between the United States and Japan have become slightly strained because of differences over two issues intimately tied to Mr. Abe's nationalist ideology: North Korea and his revisionist views of history.
American officials recently publicly rebuked Mr. Abe for denying that the Japanese military had coerced women into sex slavery during World War II. While the United States still wants Japan to become more assertive in Asia, even conservative voices have recently urged caution over being too closely tied to Japan's nationalist leaders.
"The U.S. is going blindly into an alliance with these people without appreciating the fact that their friends in Japan aren't on the right side of history, as with the 'comfort women' issue," the American political philosopher Francis Fukuyama said in an interview. "If you end up polarizing Asia on these history issues, nobody will be on the side of Japan."
Mr. Fukuyama said he supported the Bush administration's overall strategy of encouraging Japan to be more assertive diplomatically and strengthening the two countries' military alliance.
But he said Japan should move cautiously in revising its pacifist Constitution — a goal that Mr. Abe has defined as his most important, and Washington has supported.
"Everybody, including the Japanese themselves, says that nobody should be worried about Japan revising its Constitution," Mr. Fukuyama said. "I think that is basically right. But the Japanese have to make their case. It's not about letting China or Korea have a say in this matter. The Japanese need to take time in their public diplomacy to explain why they want to do this. If they do this unilaterally, the situation in Asia could get a lot worse."
At home, Mr. Abe's approval ratings appear to have bottomed out after falling precipitously for several months over a series of scandals and complaints of weak leadership.
But because Mr. Abe has succeeded in reasserting himself recently and because the main opposition party is in disarray, he is likely to remain head of the governing Liberal Democratic Party and prime minister after a critical election of the upper house of Parliament in July, experts said.
"His popularity was dropping because he lacked management skills and his policies didn't have a clear direction," said Jun Iio, a professor of government at the National Graduate Institute for Policy Studies here. "But the likelihood that his administration will stabilize is very high as long as Prime Minister Abe shows steady results."
Before becoming prime minister, Mr. Abe made a name for himself inside Parliament by spearheading conservative issues like excising references to Japan's wartime abuses from school textbooks. Among voters, he drew his popularity by championing the cause of more than a dozen Japanese citizens abducted by North Korea in the 1970s.
As prime minister he has been trying to balance the demands of his conservative base with those of his new job, often by finessing difficult issues. A onetime regular visitor to the Yasukuni Shrine, the memorial for Japan's fallen soldiers, including war criminals, Mr. Abe says he will neither confirm nor deny whether he has visited as prime minister. That has placated China for now.
"All the expectations of Abe pointed to somebody who was not only going to continue Mr. Koizumi's foreign policy, but harden what were already difficult relations with Japan's neighbors," said Richard J. Samuels, a Japan expert at the Massachusetts Institute of Technology. "But he surprised everyone" by reaching out to China.
It is on North Korea that differences have widened between Washington and Tokyo. Mr. Abe has long said that Japan will not take part in any nuclear agreement, including the accord reached on Feb. 13, unless the North returns Japanese abductees. The North says it has returned all surviving Japanese.
His tough stance, which dovetailed with the Bush administration's previous policy toward the North Koreans, has remained unchanged despite Washington's new efforts to strike a deal with the North.
"Abe and his allies are clearly in dismay that the neocon rug was pulled from under them last fall," said Gerald L. Curtis, a Columbia University expert on Japanese politics who is now in Japan, referring to the Republican loss of Congress and the resulting decline in influence of neoconservatives. "Now he has to find a way to get on board this nuclear agreement."
That will be difficult, Mr. Curtis said, because the abduction issue has become tied to Mr. Abe and Japanese nationalism. "So if it seems like he's selling the abductees down the river, he's dead," Mr. Curtis said.
Before the change in policy toward North Korea, Mr. Bush made symbolic gestures supporting the abductees, including inviting a relative to the White House. In a recent visit to Japan, Vice President Dick Cheney met relatives. But according to the news media here, Mr. Cheney also asked Mr. Abe what he would consider progress on the abduction issue, suggesting that Washington wanted Japan to support the nuclear deal.
"Americans have paid lip service to the abductions, but they're not going to let it get in the way of realizing a nuclear deal," Mr. Samuels said. "Japan is marginalized on this issue."
On Monday, perhaps anticipating that he would be asked the same question in Washington, Mr. Abe struck a tough stance. "Whether there's progress or not on the abduction issue, that's something we will decide," Mr. Abe told reporters.
On the domestic front, Mr. Abe has pushed to extract Japan from what he calls its "postwar regime." He has revised the basic law of education by emphasizing patriotism and has moved to change the Constitution.
His ideological allies, whom Mr. Abe appointed to top posts in government and the governing party, have pushed even harder for long-cherished nationalist goals. One was to rescind a 1993 declaration acknowledging that the Japanese military had coerced women into sex slavery during the war. Nationalists here have long argued that the so-called comfort women were voluntary prostitutes, despite overwhelming evidence to the contrary.
In a nod to his base, Mr. Abe said there was no evidence that the military had coerced the women, but added that the 1993 declaration would remain in effect. After his comments caused anger in Asia and the United States, Mr. Abe apologized.
But despite many verbal contortions, he has not taken back the point most important to his political base, his denial of coercion by the military.
"He made a good gesture in the beginning by visiting Korea and China, but then he made a completely unnecessary comment about the comfort women," said Ahn Yinhay, a Northeast Asia expert at Korea University. "Because of his basic stance, his distortion of history, relations between Korea and Japan will likely remain strained. I don't see any dramatic improvement in the future."