| | | | | | | |
| --- | --- | --- | --- | --- | --- | --- |
| S | M | T | W | T | F | S |
| | | | | 1 | 2 | 3 |
| 4 | 5 | 6 | 7 | 8 | 9 | 10 |
| 11 | 12 | 13 | 14 | 15 | 16 | 17 |
| 18 | 19 | 20 | 21 | 22 | 23 | 24 |
| 25 | 26 | 27 | 28 | 29 | 30 | 31 |
カテゴリ
以前の記事
検索
最新のトラックバック
その他のジャンル
ファン
記事ランキング
ブログジャンル
画像一覧
Washington Post
A Conversation With Shinzo Abe
By Lally Weymouth
Sunday, April 22, 2007; B03
President Bush will welcome new Japanese Prime Minister Shinzo Abe to the White House and Camp David this week. The first Japanese head of government born after 1945, Abe is a staunch nationalist who has aroused controversy with his dismissive remarks about "comfort women" -- women forced to serve the Japanese army as prostitutes during World War II. Newsweek-Washington Post's Lally Weymouth sat down with Abe in Tokyo to discuss issues ranging from changing Japan's constitution to forging a new relationship with China.

What do you hope to accomplish in Washington?
I had the pleasure of meeting President Bush last year in Hanoi, and I am looking forward to seeing him again. I believe the Japan-U.S. alliance is the only indispensable alliance, and I'd like to use my visit to further strengthen this relationship.
How do you feel about the recent agreement on the North Korean nuclear program that was reached in the Six Party Talks?
I welcome this agreement, but what is important is that North Korea actually act in a concrete manner to abandon nuclear weapons in accordance with that agreement. It is also important that we make the North Koreans understand that if they do not act accordingly, none of the problems they are facing today will be resolved and the situation they find themselves in will only get worse.
Do you feel sidelined [in the talks] because the Japanese government has said it will not participate in the U.S.-led deal until the issue of abductees [as many as 17 Japanese were abducted by North Koreans in the 1970s to teach Japanese language and culture to their security services] is resolved?
On this question, Japan and the United States are fully coordinated. I discussed this matter on the phone with President Bush. It is a matter to be discussed at the North Korea-Japan working group. To the extent that the issue remains unresolved, there will be no normalization of diplomatic relations between Japan and North Korea, and therefore there will be no attainment of the objectives of the Six Party Talks.
All the participating countries in the Six Party Talks understand that if there is no progress on the abduction issue, Japan will not participate in energy assistance for North Korea.
What would you define as progress? It appears that the United States wants to go ahead with this deal.
At this moment North Korea is not responding in good faith at all. It is for us to judge if there is progress, not the North Koreans.
Last week the Chinese premier came to Tokyo -- the first visit of a senior Chinese official in seven years. How do you see relations with China now and what came out of the visi t of Premier Wen Jiabao?
Since I took office as prime minister last September, I have met with [Chinese] President Hu Jintao twice, during my visit to China and also during the APEC summit. And I've had three meetings with Premier Wen Jiabao. On my visit to China last year, I agreed with the Chinese leadership that we together shall build a mutually beneficial relationship based on common strategic interests. There are numerous issues that can be covered -- the environment, energy, North Korea, East Asian development, U.N. reform and others. I believe that our cooperation on these fronts will benefit not just Japan and China but Asia and the entire world.
People say that you would like to have a more robust military. Will you aim to reinterpret the constitution to have a military that could take part in peacekeeping operations, that could fire back in Iraq?
This year the Japan Defense Agency was upgraded to the Ministry of Defense. And we believe that this is a reflection of the maturing of democracy in this country and also the confidence of the people in civilian control.
The security environment surrounding Japan and the entire world has undergone major change. There has been proliferation of weapons of mass destruction, the fight against terrorism and regional conflicts arising here and there. At the same time, it is expected of Japan to make increasing contributions to various international challenges.
I think it is the responsibility of anyone involved in politics to always think of what Japan can do to contribute more to the peace and stability not just of Japan and the region but of the entire world.
Does that mean you want Japan to be a normal country and to have a military? Do you want to reinterpret the constitution or amend Article 9 [which prohibits a standing Japanese military]?
It has been more than 60 years since the constitution was put in place. There are provisions in the constitution that no longer suit the times. Since the constitution was promulgated, we've seen the emergence of new values, such as privacy, the environment and so on, which need to be incorporated.
This constitution was drafted while Japan was under occupation. I believe it is important that we Japanese write a constitution for ourselves that would reflect the shape of the country we consider desirable in the 21st century.
In other words, not have an American-drafted constitution?
The basic philosophy that is embedded in the current constitution, such as sovereignty residing in the people, basic human rights and pacifism -- these elements are already incorporated in the draft constitution that we would like to propose. But the important thing is that we write the constitution ourselves. Because the constitution is the basic law of the land.
Your comments on "comfort women" caused an outcry in the United States. Do you really believe that the Imperial Army had no program to force Korean, Chinese and other women to provide sexual services to the Japanese Imperial Army?
I have to express sympathy from the bottom of my heart to those people who were taken as wartime comfort women. As a human being, I would like to express my sympathies, and also as prime minister of Japan I need to apologize to them.
The 20th century was a century in which human rights were infringed upon in numerous parts of the world, and Japan also bears responsibility in that regard. I believe that we have to look at our own history with humility and think about our responsibility.
But that's not what you said originally in the Diet. You said that there was no evidence.
I wasn't the first to make the remarks that I made.
You were not the first to say that there wasn't evidence of links to the Imperial Army?
What I was saying is that I wasn't the first to comment on the facts.
But the main point is, do you now believe that the Imperial Army forced these women into this situation, and as prime minister of Japan do you apologize to them, and do you believe the Kono Statement [a partial 1993 acknowledgment by a Japanese official named Kono of Japan's responsibility for the brothels]?
My administration has been saying all along that we continue to stand by the Kono Statement. We feel responsible for having forced these women to go through that hardship and pain as comfort women under the circumstances at the time.
Can you give me one or two examples of economic reforms you want to bring about as prime minister?
We have expounded two basic pillars to enable Japan to grow in the future. We will deregulate to promote innovation, and we plan on establishing free trade arrangements and economic partnership arrangements with various countries.
We'd also like to facilitate foreign direct investment in Japan. Our plan is to double FDI over a five-year period. We will start implementing rules in May that will enable triangular mergers to be implemented in Japan. It's been said that the government in general has been active in impeding economic activity. My administration -- the [previous] administration also worked on this -- will present to the parliament a bill for reform of the civil service.
I understand that you're going to the Middle East after Washington. How do you see the danger of nuclear proliferation in Iran? What do you hope to accomplish on your Middle East trip?
Japan relies heavily on the Middle East for much of its energy supplies. Japan has a vital interest in the peace and stability of the Middle East. During my visit to the region I would like to discuss with the leaders of the countries there how we can best secure peace and stability -- especially with regards to Iran. Japan today enjoys good relations with Iran and would like to exercise whatever influence it has on the Iranians to try and work toward a peaceful resolution of the [nuclear] issue. We would like to appeal to the Iranians to respond to the concerns of the international community.
中絶一部禁止法は「合憲」 米連邦最高裁が判決
2007年04月19日10時29分 朝日
 米連邦最高裁は18日、妊娠中後期に施す特定の中絶法を禁じた「中絶一部禁止法」を合憲とする判決を下した。73年の最高裁判決で認められた中絶の権利が、一部にせよ、連邦レベルで否定されたのは初めて。ブッシュ政権の下で、国民の間でも論議の分かれる社会問題に関して、最高裁が保守化したことが明確になった。
 ブッシュ大統領は同日、「人間の尊厳と生命の神秘を守るために我々が果たしてきた進歩を裏付けるものだ」と判決を歓迎する声明を出した。
 一方、次期大統領選の民主党有力候補であるヒラリー・クリントン上院議員は声明を出し、「判決は女性の自己決定権と健康を尊重してきた40年以上の判例から逸脱し、憲法上の権利を損なう」と批判した。
 「中絶一部禁止法」は、03年にブッシュ大統領が署名し成立したが、連邦地裁、控訴裁レベルで「違憲の疑いがある」として効力を一時停止する命令が相次いだ。このため、同法は実際に適用されず、最高裁に判断が委ねられていた。
 最高裁は00年、「中絶一部禁止法」とほぼ同様の内容を持ったネブラスカ州法について、「母体にとって安全な形での中絶方法を選ぶ道を閉ざすため違憲」とする正反対の判決を、5対4の小差で出していた。
 今回の判決には、06年に変わった最高裁判事の構成が反映された。00年の判決時に多数意見に加わっていた中道派のオコーナー判事が06年に引退、後任にブッシュ政権が指名した保守派のアリート氏が加わったことで、今回は5対4で「合憲」の多数意見となった。
 オコーナー氏の離任で唯一の女性最高裁判事となったギンズバーグ判事は「多数意見は女性の権利を削り取る、恐るべき決定」などと批判する少数意見を出した。
 中絶容認派は強く反発している。米家族計画連盟のイブ・ガートナーさんはAP通信に対し、「政治家が女性の健康上の決定を行うと告げるものだ」と語った。
The New York Times
April 19, 2007
In Reversal, Justices Back Ban on Method of Abortion
By LINDA GREENHOUSE
WASHINGTON, April 18 — The Supreme Court reversed course on abortion on Wednesday, upholding the federal Partial-Birth Abortion Ban Act in a 5-to-4 decision that promises to reframe the abortion debate and define the young Roberts court.
The most important vote was that of the newest justice, Samuel A. Alito Jr. In another 5-to-4 decision seven years ago, his predecessor, Justice Sandra Day O'Connor, voted to strike down a similar state law. Justice Alito's vote to uphold the federal law made the difference in the outcome announced Wednesday.
The decision, the first in which the court has upheld a ban on a specific method of abortion, means that doctors who perform the prohibited procedure may face criminal prosecution, fines and up to two years in prison. The federal law, enacted in 2003, had been blocked from taking effect by the lower court rulings that the Supreme Court overturned.
The banned procedure, known medically as "intact dilation and extraction," involves removing the fetus in an intact condition rather than dismembering it in the uterus. Both methods are used to terminate pregnancies beginning at about 12 weeks, after the fetus has grown too big to be removed by the suction method commonly used in the first trimester, when 85 percent to 90 percent of all abortions take place.
While the ruling will thus have a direct impact on only a relatively small subset of abortion practice, the decision has broader implications for abortion regulations generally, indicating a change in the court's balancing of the various interests involved in the abortion debate.
Most notable was the emphasis in the majority opinion, by Justice Anthony M. Kennedy, on the implication of abortion's "ethical and moral concerns."
"The act expresses respect for the dignity of human life," Justice Kennedy said.
The decision was a major victory for the Bush administration and its vigorous defense of the law, which President Bill Clinton had vetoed twice before President Bush signed it.
Mr. Bush welcomed the ruling, saying: "The Supreme Court's decision is an affirmation of the progress we have made over the past six years in protecting human dignity and upholding the sanctity of life. We will continue to work for the day when every child is welcomed in life and protected in law."
It was also a vindication for the strategic choice the anti-abortion movement made 15 years ago, when the prospect of persuading the Supreme Court to reconsider the right to abortion seemed a distant dream. [Page A23.]
By identifying the intact procedure and giving it the provocative label "partial-birth abortion," the movement turned the public focus of the abortion debate from the rights of women to the fate of fetuses. In short order, 30 states banned the procedure.
The decision on Wednesday came seven years after the court struck down one of those state laws, from Nebraska. Justice Kennedy was a strong dissenter from that decision. With Justice Alito's vote, he was in a position this time to write not for the dissenters but for the new majority.
Chief Justice John G. Roberts Jr. and Justices Antonin Scalia and Clarence Thomas also voted in the majority. Justices Thomas and Scalia also filed a brief concurring opinion reiterating their opposition to the court's abortion precedents and expressing their continued desire to overturn them.
Neither Chief Justice Roberts nor Justice Alito signed this statement. There was no way of knowing whether their silence meant they disagreed with it or whether, not having previously expressed their views as Justices Thomas and Scalia had, they had no need at this point to stake their ground.
The court did not explicitly overturn any of its precedents, although Justice Ruth Bader Ginsburg, writing for the four dissenters, said the decision was "so at odds with our jurisprudence" that it "should not have staying power." Justice Ginsburg called the decision "alarming" and said the majority's "hostility" to the right to abortion was "not concealed."
Justices John Paul Stevens, David H. Souter and Stephen G. Breyer signed Justice Ginsburg's opinion, portions of which she read from the bench at a slow pace that caused every syllable to resonate.
Justice Kennedy took pains to describe the decision as faithful to the court's earlier rulings, including the one in the Nebraska case. He said that by defining the prohibited procedure more precisely, the federal law avoided the vagueness the court had found in the Nebraska statute and thus did not place doctors at risk of violating it inadvertently.
Congress passed the law in response to the court's ruling in the Nebraska case, responding specifically to the majority's insistence in that case that the law must include an exception for circumstances when the banned procedure was necessary for the sake of a pregnant woman's health. Congress provided an exception only to save a pregnant woman's life, as Nebraska had, declaring that the procedure was never necessary for a woman's health.
Justice Kennedy, in addressing the need for the health exception, said on Wednesday that it was acceptable for Congress not to include one because there was "medical uncertainty" over whether the banned procedure was ever necessary for the sake of a woman's health. He said that pregnant women or their doctors could assert an individual need for a health exception by going to court to challenge the law as it applied to them.
Justice Ginsburg said that this approach was unrealistic and "gravely mistaken." She said that requiring "piecemeal" litigation "jeopardizes women's health and places doctors in an untenable position."
Clarke D. Forsythe, president of Americans United for Life, a leading anti-abortion group, said approvingly that while the court did not technically overturn the Nebraska decision, the new ruling "effectively gutted it."
Dr. LeRoy H. Carhart, the Nebraska doctor who challenged both the state law in 2000 and the federal law in this case, Gonzales v. Carhart, No. 05-380, said that "those who support this law are trying to outlaw all abortions, one step at a time."
In his discussion of the court's precedents, Justice Kennedy went so far as to suggest that the new ruling was in fact compelled by the court's decision in Planned Parenthood v. Casey, the 1992 case that reaffirmed the basic holding of Roe v. Wade that women have a constitutional right to abortion. Justice Kennedy supported that result and helped write the decision's unusual joint opinion.
On Wednesday, he said that "whatever one's views concerning the Casey joint opinion, it is evident a premise central to its conclusion — that the government has a legitimate and substantial interest in preserving and promoting fetal life — would be repudiated were the court now to affirm the judgments of the courts of appeals" that struck down the federal law.
In describing the federal law's justifications, Justice Kennedy said that banning the procedure was in fact good for women, protecting them against terminating their pregnancies by a method they might not fully understand in advance and would come to regret later.
"Respect for human life finds an ultimate expression in the bond of love the mother has for her child," he said, adding: "It is self-evident that a mother who comes to regret her choice to abort must struggle with grief more anguished and sorrow more profound when she learns, only after the event, what she once did not know: that she allowed a doctor to pierce the skull and vacuum the fast-developing brain of her unborn child, a child assuming the human form."
Justice Ginsburg objected vehemently that "this way of thinking reflects ancient notions of women's place in the family and under the Constitution — ideas that have long since been discredited."
She cited century-old Supreme Court cases that upheld a paternalistic view of women's place in society and contrasted those with more recent cases, including one she successfully argued to the court in 1977 and one in which she wrote the majority opinion in 1996, that rejected "archaic and overbroad generalizations" and assumptions about women's inherent dependency.
One law professor, Martin S. Lederman of Georgetown University, commented after reading Justice Ginsburg's response on this point that Justice Kennedy's opinion "was an attack on her entire life's work."
In her opinion, Justice Ginsburg said the majority had provided only "flimsy and transparent justifications" for upholding the law, which she noted "saves not a single fetus from destruction" by banning a single method of abortion. "One wonders how long a line that saves no fetus from destruction will hold in face of the court's 'moral concerns,' " she said.
The New York Times
April 19, 2007
Editorial
Denying the Right to Choose
Among the major flaws in yesterday's Supreme Court decision giving the federal government power to limit a woman's right to make decisions about her health was its fundamental dishonesty.
Under the modest-sounding guise of following existing precedent, the majority opinion — written by Justice Anthony Kennedy and joined by Chief Justice John Roberts and Justices Clarence Thomas, Antonin Scalia and Samuel Alito — gutted a host of thoughtful lower federal court rulings, not to mention past Supreme Court rulings.
It severely eroded the constitutional respect and protection accorded to women and the personal decisions they make about pregnancy and childbirth. The justices went so far as to eviscerate the crucial requirement, which dates to the 1973 ruling in Roe v. Wade, that all abortion regulations must have an exception to protect a woman's health.
As far as we know, Mr. Kennedy and his four colleagues responsible for this atrocious result are not doctors. Yet these five male justices felt free to override the weight of medical evidence presented during the several trials that preceded the Supreme Court showdown. Instead, they ratified the politically based and dangerously dubious Congressional claim that criminalizing the intact dilation and extraction method of abortion in the second trimester of pregnancy — the so-called partial-birth method — would never pose a significant health risk to a woman. In fact, the American College of Obstetricians and Gynecologists has found the procedure to be medically necessary in certain cases.
Justice Kennedy actually reasoned that banning the procedure was good for women in that it would protect them from a procedure they might not fully understand in advance and would probably come to regret. This way of thinking, that women are flighty creatures who must be protected by men, reflects notions of a woman's place in the family and under the Constitution that have long been discredited, said a powerful dissenting opinion by Justice Ruth Bader Ginsburg, joined by Justices John Paul Stevens, David Souter and Stephen Breyer.
Far from being compelled by the court's precedents, Justice Ginsburg aptly objected, the new ruling is so at odds with its jurisprudence — including a concurring opinion by Justice Sandra Day O'Connor (who has now been succeeded by Justice Alito) when a remarkably similar state abortion ban was struck down just seven years ago — that it should not have staying power.
For anti-abortion activists, this case has never been about just one controversial procedure. They have correctly seen it as a wedge that could ultimately be used to undermine and perhaps eliminate abortion rights eventually. The court has handed the Bush administration and other opponents of women's reproductive rights the big political victory they were hoping to get from the conservative judges Mr. Bush has added to the bench. It comes at a real cost to the court's credibility, its integrity and the rule of law.
Rubber Tit a hands-on experience
By Supriya Sinhababu
Friday, April 6th, 2007
Chicago Maroon
Like a punctured hot air balloon, it began its performance lying shriveled and orange at the bottom of a modified wooden crate with edges but no sides. With the aid of a portable air blower and the sounds of a jazz saxophone for inspiration, the thing slowly took shape, spiting the efforts of the small Japanese woman who energetically bound the crate at arbitrary intervals with rainbow-colored cord.
When the thing grew big enough to chafe at the sides of the crate, the woman abandoned her web-weaving and wrenched the strange object bodily from its confines. Now a little taller than the woman herself, the thing at the end of its development finally resembled a "rubber tit," both an actor and a prop in its, uh, titular performance.
Rubber Tit's two non-synthetic performers assumed the shapes of Japanese lesbians: performing artist-cum-performance artist Tari Ito, and jazz saxophonist Masa, a New York resident for the past 20 years. Sponsored by the Japan Committee of the Center for East Asian Studies and the Center for Gender Studies, among others, Rubber Tit dealt abstractly with Japan's ingrained homophobia and the difficulties of leading a lesbian lifestyle in that nation.
Some of the five dozen or so attending students, who sat mainly on the floor of the Cloister Club at Ida Noyes Hall on Tuesday night, may have come to Rubber Tit out of interest in such gender issues. Others may have expected only to experience something from the very broad category of "weird and from Japan." The performance delivered on both counts, but also succeeded from a purely entertainment-seeking standpoint. Rubber Tit dragged lofty intellectual concepts from their roosting places down to the Cloister Club floor, where they could actually engage an audience.
Audience participation had a lot to do with Rubber Tit's success. While the well meaning tactic has added a cheesy, elementary-school feel to many an otherwise interesting performance, Rubber Tit avoided corniness almost entirely. While the tit inflated, Ito wordlessly wrapped her rainbow cord around the feet of a few lucky audience members, this writer included. After extracting the fully-inflated tit from its prison, she spent a few minutes jumping and rolling around in the tit like a child in an enormous beanbag chair; then, to everyone's surprise, she heaved the tit onto the cross-legged audience members. A sort of volleyball game quickly developed between Ito and the crowd, and before long the tit had made its way around the room. Ten-cent parallels to confronting the sexuality of oneself and others could be drawn from the literally in-your-face tit, but only in retrospect. The show itself was engaging enough that during the performance, the audience did not have to scrape for meaning to justify sitting through boring moments.
That said, some elements of the performance certainly packed more punch than others. The show began with the lights completely dimmed, and with Ito lying in the crate on top of the deflated tit. A camera inside the crate shed light on Ito's writhing movements by way of a large projection screen at the front of the room. At one point the camera projection overlapped with the silhouette of a Japanese legislator, whom running text revealed as the first Japanese lesbian to come out during office. While certainly relevant to Rubber Tit's themes, this woman's story seemed adventitious because of its length and textual medium.
The music of Masa's jazz saxophone, on the other hand, added immeasurably to the performance. At moments when Ito failed to completely arrest the audience's attention—mainly during her brief pauses in interacting with the tit—Masa's excellent playing picked up the slack. Significantly, Masa's performance didn't have the feel of being too artsy for the appreciation of novice jazz listeners. As with the tit, Masa's music may well have expressed heavier themes of sexism and homophobia. However, it was entirely possible, if not easier, for the audience to leave contemplation for a later date, and instead just sit back and enjoy the show.
University of Chicago hosts lecture series to explore Japan's protest culture
Financial Times
Gender inequality/economic growth
Published: 13/4/2007 | Last Updated: 13/4/2007 11:50 London Time
In the coming struggle to cope with ageing populations and heavier pension liabilities, governments, though they may not realise it, have a secret weapon: women.
Goldman Sachs estimates that closing the gap between male and female employment would boost US gross domestic product by as much as 9 per cent, eurozone GDP by 13 per cent and Japanese GDP by 16 per cent. But there is no inexorable rise in female employment levels. Goldman reckons that increasing female employment accounts for 0.4 percentage points of the eurozone's 2.1 per cent trend growth since 1995 and projects a further 0.25 percentage points lift over the next 10 years. But relatively high female employment levels in the US have been slipping slightly, and Japan's low female employment rate remains stubbornly flat – so no fillip for either of those.
Yet higher female employment, it turns out, offers a double-whammy, by raising not only total employment (so reducing the proportion of the population dependent on those in work) but also fertility. Italy and Japan, with low levels of female employment and fertility, also share a particularly grim demographic outlook.
The success of Sweden and Denmark in encouraging women to enter – and stay in – the workforce reflects not only their long cultural tradition of female equality, but also policy initiatives such as state-sponsored childcare. The US, on the other hand, has a strong history of equality in the workforce, but little in the way of policies to encourage women to stay in work after childbirth. Other policy issues worth reviewing include equality of tax treatment and of statutory retirement age (Germany, Italy and the UK still have lower retirement ages for women than for men).
Just how equity investors, whatever their gender, should benefit from further likely shifts in working patterns and their impact on economic growth is less clear. Goldman proposes a "Women 30" index which mainly consists of luxury goods brands and fashion retailers – though thankfully stops short of Procter & Gamble and Unilever. More broadly, rising female employment is yet another element of Europe's improving economic prognosis.
University hosts lecture series to explore Japan's protest culture
By Nicholas Nardini
Tuesday, April 10th, 2007
Chicago Maroon
Exploring the oft-overlooked tradition of social activism in modern Japan, the Center for East Asian Studies's Japan Committee is hosting "Celebrating Protest," a lecture series covering such topics as war, colonialism, and sexuality.
The Japan at Chicago Lecture Series's most recent event, "Rubber Tit," responded to issues of sexuality and homophobia in Japan.
The lecture series was developed by Norma Field, the Robert Ingersoll Professor of Japanese Studies, and Tomomi Yamaguchi, a postdoctoral fellow at the Center for East Asian Studies with a specialty in gender and sexuality, as an offshoot of their course on postwar Japanese social movements.
The course and the lecture series were inspired by the troubling term "postwar Japan," Field said. "It's a strange word to use 62 years after the war. Isn't the postwar period over yet?"
The term persists, she said, because many of the social and political problems that troubled Japan in the 1940s remain influential today. Field attributed this condition to the near-disappearance of social activism in Japan after early activist movements clashed with U.S. foreign policy and people grew disillusioned by the American student protests of the '60s.
"Whereas in the 1940s and 1960s you saw huge social movements in Japan, the democratic movement, and the no-war movement, now you get the sense that there is no activism," she said.
The lecture series aims to spotlight Japanese who maintain the postwar tradition of criticism and protest. The series will continue until May 17, with a total of seven scheduled lectures.
"None of the lecturers is a University professor," said Field. "In Japan there's much more of a tradition of learning taking place outside of the classroom, so we wanted to bring in students and performers and institute heads instead."
The series began in March with a talk by Noriaki Imai, a student environmentalist who traveled to Iraq without a visa to study the effects of depleted uranium shells on children. Imai spoke about being captured by Iraqi insurgents who held him hostage during the trip. He returned home to public ridicule, was harassed in public, and was ordered to pay for the plane flight that brought him home.
"Japan is much more of a collective-focused society instead of an individualist society," said Lauren Sethy of the Center for East Asian Studies, one of the series's principle organizers. "So his actions were looked down upon."
Last week's "Rubber Tit" featured an inflated breast that was hurled at audience members during the interactive performance. In an explanation of her piece, performer Tari Ito wrote, "In the course of my daily life in Tokyo, I must face both the entrenched sexism and compulsory heterosexuality of this society."
Upcoming lectures will examine the controversial issue of trans-racial adoption, the status of an embattled plutonium plant in Japan, and protests against Japanese forces in Iraq.
"I have Japanese friends that hear about this series and are amazed," Field said. "They say, 'So you really think it's possible to be positive about protest?'"
In Japan's modern feminist, environmentalist, and educational movements, though, she sees the endurance of the postwar activist spirit, and a chance to learn about more than just Japan. "The series is absolutely universal," she said. "It's so tied to the U.S., and to U.S. government policy today."
Japan's divisive 'comfort women' fund
By Chris Hogg
BBC News, Tokyo
Published: 2007/04/10 13:20:01 GMT
When the prime ministers of Japan and China meet in Tokyo this week, the Japanese will be hoping the summit talks will not be derailed by controversies over its wartime record.
Other Asian nations claim Japan has not faced up to its World War II brutality, but despite these accusations the Japanese have made at least some efforts to heal the scars of the past.
One initiative is the Asian Women's Fund which, until it wound up recently, offered compensation to so-called "comfort women", the women forced to work as sex slaves for the Japanese Imperial Army.
It started with a full page newspaper advertisement, published on the morning of the 50th anniversary of the end of World War II, on 15 August 12 years ago.
The advertisement announced that a fund would be set up to compensate women who had been used as sex slaves during the war.
The money would be given by the government, but the fund would be run by independent trustees.
Ambiguous donations
From the start, there was controversy.
Some right-wingers were opposed to anything that offered compensation or an apology.
Yet some activists, in countries where the comfort women came from, complained that this was not an official apology or official compensation from the government.
Haruki Wada, the fund's executive director, admitted that there was initial confusion about the fund's status.
So he started his explanation of the fund by giving some facts:
*565m yen ($4.7m) was raised in donations from the Japanese people, and given to 285 comfort women from Korea, Taiwan and the Philippines, each of whom received about 2m yen ($16,700)

*770m yen ($6.5m) in taxpayers' money was provided to pay for medical fees for these women, and for 79 other women from the Netherlands

*370 million yen ($3.1m) was spent building medical facilities and old peoples' homes in Indonesia, rather than compensating individuals there, and the rest was used for the fund's running costs and other smaller projects
Mr Wada wanted to list all this detail because of how sensitive this issue of whether or not the compensation was 'official' has become.
"The very first criticism we received," he said, "was that the Japanese government was running away from their responsibility and using the Asian Women's Fund as cover."
"It is true that it was not state compensation. Although the Japanese government spent lots of money on this, we were not able to give the impression that the government was taking full responsibility."
Boycott
There were further difficulties with the letter of apology signed by the prime minister, which was given to each victim.
Copies of the letter were delivered by the Asian Women's Fund rather than by diplomats.
Activists in South Korea and Taiwan claimed that the letter was a personal not an official one, and that the money available was from charity funds rather than state compensation.
They persuaded more than half the former comfort women in the two countries not to accept the money.
In fact, the women in these countries were compensated locally if they said they did not want to receive the Japanese money.
Mr Wada said there was a similar debate in the Philippines, but activists there decided that if the elderly victims wanted the money, they would support them.
"The way we distributed the fund did not leave the right impression," he admitted, "and that is why we have problems now."
Moving on
But not all the difficulties can be blamed solely on the Japanese side.
No money has been paid to the Japanese army's former sex slaves in China, because the Chinese government did not want to help in establishing an authorisation system for women, like the South Korean government did, Mr Wada said.
"There were lots of different sorts of victims of the war in China, and I believe it was difficult for the Chinese government just to single out comfort women for help".
The fund was wound up at the end of last month, its work finished according to Mr Wada.
It had set a deadline of five years for applications for financial support from former sex slaves. Those requests have now all been processed.
Despite the criticism directed at the fund, Mr Wada feels it was important, not just to provide compensation for those wronged by Japan but also to educate the Japanese people about what he calls "the new consensus" about the wrongs committed by the Imperial Army.
"We know that [the comfort womens'] deep scars and damage will not be compensated by a little money and we will not be forgiven for what we've done," he said.
"But both the Japanese government and the people of Japan felt it was necessary for us to apologise for the past and we wanted them to receive compensation as a sign of our vow that it will not be repeated again."
And although the fund has been wound up, Mr Wada feels there is still more work to be done for other victims of the Japanese during World War II and before.
"One issue is that of forced labour. The South Korean government is considering paying compensation to those victims. But it was Japan who forced them to work, so I wonder whether that is the right way to deal with the issue," he said.
"And then there are the comfort women in North Korea too," he added. "There are about 200 of them, and I believe only around half of them are still alive."
Haruki Wada is now ready to move on from the fund, and plans to finish a book he has been writing.
"I believe we can now move forward from here," he said. "That's why I'm proud of the fund, and I feel I'm done with it."
Story from BBC NEWS:
http://news.bbc.co.uk/go/pr/fr/-/2/hi/asia-pacific/6530197.stm
配偶者間暴力 脅迫行為からも保護 与党チーム
2007年04月06日10時09分 朝日
 自民・公明の与党プロジェクトチーム(PT、南野(のおの)知恵子座長)は、内縁も含む配偶者の暴力から被害者を守る「ドメスティック・バイオレンス(DV)防止法」の改正案をまとめた。体を傷つける暴力だけではなく、言葉での脅迫行為でも保護命令を出せるようにする。接近禁止命令が出ている場合には、面会を求める電話やメールを禁じる。議員立法として今国会への提出をめざす。
 与党PT案は、保護命令の対象となる配偶者からの暴力に「生命・身体に対する脅迫行為」を加え、将来、身体的暴力により生命・身体への危害が生じるおそれが大きいと認められるときにも保護命令を出せるようにすることが柱だ。
 また、被害者本人だけでなく、被害者の親族や関係者の一部にも保護対象を拡大する。具体的には、加害者からの接近を禁止しなければ、被害者が加害者と面会せざるを得なくなるような関係にある親族らについては、接近禁止命令を発することができるようにする。
 ただ、禁止の対象を明確にする必要があるので、接近してはならない親族らについては、加害者が認知していると認められる範囲に限定した。
 また、接近禁止命令が発せられている場合には、面会を求める内容や嫌がらせのメールや電話などによる接触も禁止される。違反した場合の罰則も設けられる。
 内閣府が昨年秋に行った調査では、DV被害者のうち9割が配偶者からの暴力でけがをしたり、精神的に不調をきたしたりしていた。また、離れて暮らし始めてからも5割が体調や気持ちが回復せず、電話やメールなどがきたり、実家などに押しかけられたりする「追跡」に悩んでいた。
 与党PTは、男女共同参画会議(議長・塩崎官房長官)の専門調査会がこうした調査結果をふまえて3月にまとめた報告書をもとに、同法改正に向けた議論を本格化させてきた。
 DV防止法は議員立法で01年に施行され、3年ごとの見直しが規定されている。与党PTは今後、野党とも調整し、来週にも要綱骨子をまとめ、議員立法として今国会への提出、成立を目指す方針だ。
Gay youth become movement's ambassadors
By LISA LEFF, Associated Press Writer
Monday, April 2, 2007
The half-dozen lobbyists who crowded into a lawmaker's office here recently didn't come bearing campaign cash or votes to swap.
Instead, they recounted tales of high school torment as fresh as their faces. Ignacio Pitalua, 19, spoke about having a trash can dumped on him by other boys who suspected he was gay.
"It's a big obstacle to learning," Pitalua said, pressing Assemblyman Curren Price to co-sponsor a bill that sets specific requirements for schools to stem anti-gay discrimination.
Young people, some barely in their teens, are becoming the gay rights movement's newest ambassadors at statehouses from Olympia, Wash. to Montpelier, Vt.
Their advocacy, unheard of as recently as a decade ago, reflects the slowly growing acceptance that is emboldening gays and lesbians to come out of the closet while they are coming of age.
Veteran activists credit the political participation of gay youth, their straight friends and children of same-sex parents with a string of recent legislative victories, including last month's passage of an anti-bullying bill that provides specific protections gay and lesbian students in Iowa.
The law's adoption came after the Iowa Pride Network issued a report saying more than 83 percent of the state's gay, lesbian and transgender students said they had been verbally harassed because of their sexual orientation.
"We kept getting comments from legislators of 'There aren't gay kids in Iowa, this is an East and West coast problem,'" said Ryan Roemerman, the network's director.
The group also arranged a news conference attended by Iowa's lieutenant governor and three students who provided firsthand accounts of discrimination. They included a girl who was kicked out of her Roman Catholic high school after she came out as a lesbian and another who said she wasn't allowed into the locker room to change with other girls.
Brad Anderson, spokesman for Iowa Gov. Chet Culver, said the organized lobbying effort, which also included a 1,000-person rally at Drake University, was "absolutely critical" in getting the legislation approved.
"They added a loud voice, just physically being in the Capitol, and you saw them working all hours of the day lobbying to get this stuff passed," Anderson said.
Lluvia Mulvaney-Stanak, director of Outright Vermont, thinks young people have an advantage when it comes to persuading lawmakers, especially hostile ones, to hear them out. Painful stories of isolation may remind hardened politicians of their own children or awkward adolescence, she said.
"Young people no matter who they are, command this really tangible sense of empathy with adults. We've all been there," Mulvaney-Stanak said. "Maybe we were geeks or the athletes, but when it comes to victims of bullying and harassment, everyone has had a role in that cycle."
Yet the most effective spokespeople are not necessarily gay youth, but the straight students who joined with them to form more than 2,500 high school gay-straight alliance clubs across the country since the early 1990s.
Carolyn Lamb, director of California's Gay-Straight Alliance Network, estimates that up to 40 percent of the 400 high school and college students recently bused to Sacramento for Queer Youth Advocacy Day were not gay, lesbian or transgender.
"Most of the adult-driven (gay) civil rights work doesn't have such large numbers of straight allies who see it as a civil rights cause," she observed.
Children with gay or lesbian parents also have been instrumental in building support for same-sex marriage, said Meredith Fenton, national program director with Children of Lesbian and Gays Everywhere.
"For someone who isn't sure how they feel about gay people, when they are hearing a message about supporting a LGBT family from someone who is really impacted by homophobia even though they are not gay themselves, they can really hear and receive that message in a different way," Fenton said.
While previous generations waited well into adulthood before identifying themselves as gay, the average age at which gay children came out to friends and families in 2005 was 13 years and four months, according to Caitlin Ryan, a San Francisco State University researcher who studies the social and psychological development of gay youth.
"There were never historically any positive role models for LGBT young people," Ryan said. "Now, of course, we see more and more young people coming out because there are ways for them to be who they are, to socialize and live their lives as adolescents instead of coming out as an adult and then going back to live your adolescence."
___
On the Net:
California's Gay-Straight Alliance Network: http://www.gsanetwork.org
The Christian Science Monitor
from the April 02, 2007 edition -
Beyond apology, moral clarity
Urging Japan to apologize for war crimes is not enough. The US must confront its own role in ignoring Asians' suffering.
By Gi-Wook Shin

Stanford, Calif.
The House of Representatives is considering a resolution to urge Japan to acknowledge and apologize for the Imperial Army's forced organization of brothels during the war, staffed by so-called comfort women. It is an overdue but encouraging step, and Congress should pass it.
Japanese Prime Minister Shinzo Abe's drawing of distinctions about the degree of coercion used to bring Korean, Chinese, and even Japanese women to these brothels is an unfortunate response to the proposed resolution. There are certainly areas of ambiguity in the historical record about this and other Japanese war crimes. But the direct involvement of the Japanese authorities, including the military, in the forcible recruitment of comfort women has been well documented, including by Japanese scholars.
Furthermore, the issue is not the degree of criminality but rather the willingness to take clear moral responsibility for a past that continues to cloud the present. Faced with the international criticism of his remarks, Mr. Abe became more "apologetic" recently, but he still has not clearly confronted the issue. It is vital that the Japanese take seriously the pain that still burdens Chinese, Koreans, and other victims of past Japanese aggression.
The reckoning with the past, however, is not simply a matter of passing judgment on Japan's misdeeds. The United States, too, bears responsibility for the failure to fully account for and confront Japanese war crimes. The US is not an outsider to the problems of history arising out of the wars in Asia, and America must confront its role in mishandling Japanese war-crime issues after 1945.
First, the US played a crucial role, whether intended or not, in shaping the process of historical reconciliation (or lack thereof) after the war. Unlike the Nuremberg trials, the Tokyo war-crimes tribunal focused on the actions that most directly affected the Western allies – the surprise attack on Pearl Harbor and the mistreatment of Allied prisoners of war.
The proceedings paid only cursory attention to crimes committed against Asians, such as Japan's invasion of Manchuria in 1931 and the use of forced Korean labor in Japanese mines and factories. The US largely failed to appreciate the massive suffering of Chinese and Koreans at the hands of Japanese invaders and victims' need to dry up the deep well of anger left behind.
Second, and perhaps most significant, was the US decision to preserve the Showa Emperor in the belief that this would facilitate the occupation and reconstruction of Japan. There is still no consensus about the extent of the emperor's responsibility for Japanese militarism and war crimes, although the Japanese people fought in his name. The failure to confront this issue meant, as a recent report by the International Crisis Group put it, "the absolution of the emperor left the country without anyone to blame."
Third, as Japan's importance as a bulwark against communism in the region increased, the US sought to quickly put issues of its historical responsibility aside. The San Francisco treaty of 1951 formally ended the war, settling Japan's obligations to pay reparations for its wartime acts. But China and Korea were not signatories to the treaty, and Japan's responsibility toward those nations was never settled.
The US pushed South Korea to normalize relations with Japan to solidify its cold-war security alliance system. That finally took place in 1965, but historical issues such as disputed territories and Japan's colonial rule were largely swept under the rug.
These unresolved questions now fuel the fires of nationalism in northeast Asia. Anti-Japanese sentiments seem undiminished in China and Korea, particularly among the younger generation. The Japanese suffer from "apology fatigue," questioning why they must continue to repent for events that took place six or seven decades ago.
It is now time for Americans to take issues of historical injustice in northeast Asia seriously. The US has a clear interest in ensuring that the peace and prosperity of a region so vital to its future is not undermined by the past. So it is appropriate that Congress is taking a role in trying to heal the wounds of history. But simply demanding Japan's apology will not be enough. America must also confront its own responsibility in ignoring Asians' suffering. By fully acknowledging what war-crimes victims went through, the US can help bring Japan and its neighbors closer together.
• Gi-Wook Shin is director of Stanford University's Shorenstein Asia-Pacific Research Center and a professor of sociology. He has written extensively on issues of war responsibility and reconciliation in Asia.
The New York Times
Japan's Textbooks Reflect Revised History
By NORIMITSU ONISHI
Published: April 1, 2007

TOKYO, March 31 —
In another sign that Japan is pressing ahead in revising its history of World War II, new high school textbooks will no longer acknowledge that the Imperial Army was responsible for a major atrocity in Okinawa, the government announced late Friday.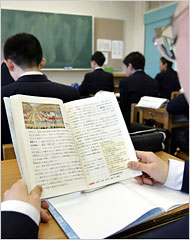 Yuriko Nakao/Reuters
A Japanese junior high school student reads a history textbook.
The Ministry of Education ordered publishers to delete passages stating that the Imperial Army ordered civilians to commit mass suicide during the Battle of Okinawa, as the island was about to fall to American troops in the final months of the war.
The decision was announced as part of the ministry's annual screening of textbooks used in all public schools. The ministry also ordered changes to other delicate issues to dovetail with government assertions, though the screening is supposed to be free of political interference.
"I believe the screening system has been followed appropriately," said Prime Minister Shinzo Abe, who has long campaigned to soften the treatment in textbooks of Japan's wartime conduct.
The decision on the Battle of Okinawa, which came as a surprise because the ministry had never objected to the description in the past, followed recent denials by Mr. Abe that the military had coerced women into sexual slavery during the war.
The results of the annual textbook screening are closely watched in China, South Korea and other Asian countries. So the fresh denial of the military's responsibility in the Battle of Okinawa and in sexual slavery — long accepted as historical facts — is likely to deepen suspicions in Asia that Tokyo is trying to whitewash its militarist past even as it tries to raise the profile of its current forces.
Shortly after assuming office last fall, Mr. Abe transformed the Defense Agency into a full ministry. He has said that his most important goal is to revise the American-imposed, pacifist Constitution that forbids Japan from having a full-fledged military with offensive abilities.
Some 200,000 Americans and Japanese died during the Battle of Okinawa, one of the most brutal clashes of the war. It was the only battle on Japanese soil involving civilians, but Okinawa was not just any part of Japan.
It was only in the late 19th century that Japan officially annexed Okinawa, a kingdom that, to this day, has retained some of its own culture. During World War II, when many Okinawans still spoke a different dialect, Japanese troops treated the locals brutally. In its history of the war, the Okinawa Prefectural Peace Memorial Museum presents Okinawa as being caught in the fighting between America and Japan — a starkly different view from the Yasukuni Shrine war museum, which presents Japan as a liberator of Asia from Western powers.
During the 1945 battle, during which one quarter of the civilian population was killed, the Japanese Army showed indifference to Okinawa's defense and safety. Japanese soldiers used civilians as shields against the Americans, and persuaded locals that victorious American soldiers would go on a rampage of killing and raping. With the impending victory of American troops, civilians committed mass suicide, urged on by fanatical Japanese soldiers.
"There were some people who were forced to commit suicide by the Japanese Army," one old textbook explained. But in the revision ordered by the ministry, it now reads, "There were some people who were driven to mass suicide."
Other changes are similar — the change to a passive verb, the disappearance of a subject — and combine to erase the responsibility of the Japanese military. In explaining its policy change, the ministry said that it "is not clear that the Japanese Army coerced or ordered the mass suicides."
As with Mr. Abe's denial regarding sexual slavery, the ministry's new position appeared to discount overwhelming evidence of coercion, particularly the testimony of victims and survivors themselves.
"There are many Okinawans who have testified that the Japanese Army directed them to commit suicide," Ryukyu Shimpo, one of the two major Okinawan newspapers, said in an angry editorial. "There are also people who have testified that they were handed grenades by Japanese soldiers" to blow themselves up.
The editorial described the change as a politically influenced decision that "went along with the government view."
Mr. Abe, after helping to found the Group of Young Parliamentarians Concerned About Japan's Future and History Education in 1997, long led a campaign to reject what nationalists call a masochistic view of history that has robbed postwar Japanese of their pride.
Yasuhiro Nakasone, a former prime minister who is a staunch ally of Mr. Abe, recently denied what he wrote in 1978. In a memoir about his Imperial Navy experiences in Indonesia, titled "Commander of 3,000 Men at Age 23," he wrote that some of his men "started attacking local women or became addicted to gambling.
"For them, I went to great pains, and had a comfort station built," Mr. Nakasone wrote, using the euphemism for a military brothel.
But in a meeting with foreign journalists a week ago, Mr. Nakasone, now 88, issued a flat denial. He said he had actually set up a "recreation center," where his men played Japanese board games like go and shogi.
In a meeting on Saturday with Foreign Minister Taro Aso of Japan, South Korea's foreign minister, Song Min-soon, criticized Mr. Abe's recent comments on sexual slaves.
"The problems over perceptions of history are making it difficult to move South Korean-Japanese relations forward," Mr. Song said.
Mr. Aso said Japan stuck by a 1993 statement acknowledging responsibility for past sexual slavery, but said nothing about Mr. Abe's denial that the military had coerced women, many of them Korean, into sexual slavery.