S
M
T
W
T
F
S
1
2
3
4
5
6
7
8
9
10
11
12
13
14
15
16
17
18
19
20
21
22
23
24
25
26
27
28
29
30
from the Library of Congress THOMAS as of March 31, 2007
H.RES.121
Title: Expressing the sense of the House of Representatives that the Government of Japan should formally acknowledge, apologize, and accept historical responsibility in a clear and unequivocal manner for its Imperial Armed Force's coercion of young women into sexual slavery, known to the world as "comfort women", during its colonial and wartime occupation of Asia and the Pacific Islands from the 1930s through the duration of World War II.
Sponsor: Rep Honda, Michael M. [CA-15] (introduced 1/31/2007) Cosponsors (77)
Latest Major Action: 1/31/2007 Referred to House committee. Status: Referred to the House Committee on Foreign Affairs.
COSPONSORS(77), ALPHABETICAL [followed by Cosponsors withdrawn]: (Sort: by date)
Rep Ackerman, Gary L. [NY-5] - 2/14/2007
Rep Allen, Thomas H. [ME-1] - 3/28/2007
Rep Baldwin, Tammy [WI-2] - 3/9/2007
Rep Becerra, Xavier [CA-31] - 2/28/2007
Rep Berkley, Shelley [NV-1] - 3/29/2007
Rep Bordallo, Madeleine Z. [GU] - 1/31/2007
Rep Burton, Dan [IN-5] - 2/14/2007
Rep Capps, Lois [CA-23] - 3/9/2007
Rep Capuano, Michael E. [MA-8] - 3/9/2007
Rep Clarke, Yvette D. [NY-11] - 3/28/2007
Rep Cohen, Steve [TN-9] - 3/9/2007
Rep Crowley, Joseph [NY-7] - 2/14/2007
Rep Davis, Danny K. [IL-7] - 2/28/2007
Rep Davis, Tom [VA-11] - 3/5/2007
Rep DeFazio, Peter A. [OR-4] - 3/29/2007
Rep Doyle, Michael F. [PA-14] - 3/26/2007
Rep Engel, Eliot L. [NY-17] - 3/26/2007
Rep English, Phil [PA-3] - 3/26/2007
Rep Eshoo, Anna G. [CA-14] - 3/9/2007
Rep Fattah, Chaka [PA-2] - 3/26/2007
Rep Filner, Bob [CA-51] - 3/29/2007
Rep Fossella, Vito [NY-13] - 2/14/2007
Rep Frank, Barney [MA-4] - 3/29/2007
Rep Garrett, Scott [NJ-5] - 2/28/2007
Rep Grijalva, Raul M. [AZ-7] - 3/5/2007
Rep Hare, Phil [IL-17] - 1/31/2007
Rep Hastings, Alcee L. [FL-23] - 3/28/2007
Rep Holden, Tim [PA-17] - 3/26/2007
Rep Hunter, Duncan [CA-52] - 3/5/2007
Rep Inslee, Jay [WA-1] - 3/5/2007
Rep Israel, Steve [NY-2] - 3/20/2007
Rep Issa, Darrell E. [CA-49] - 3/5/2007
Rep Jackson, Jesse L., Jr. [IL-2] - 3/22/2007
Rep Jackson-Lee, Sheila [TX-18] - 3/6/2007
Rep Jefferson, William J. [LA-2] - 3/26/2007
Rep Johnson, Eddie Bernice [TX-30] - 3/29/2007
Rep Kaptur, Marcy [OH-9] - 3/29/2007
Rep Kennedy, Patrick J. [RI-1] - 3/22/2007
Rep Kilpatrick, Carolyn C. [MI-13] - 3/29/2007
Rep Kucinich, Dennis J. [OH-10] - 2/28/2007
Rep Larson, John B. [CT-1] - 3/26/2007
Rep Lee, Barbara [CA-9] - 3/29/2007
Rep Lofgren, Zoe [CA-16] - 3/5/2007
Rep Maloney, Carolyn B. [NY-14] - 2/14/2007
Rep McCarthy, Carolyn [NY-4] - 3/9/2007
Rep McCaul, Michael T. [TX-10] - 3/29/2007
Rep McCollum, Betty [MN-4] - 3/20/2007
Rep McGovern, James P. [MA-3] - 3/22/2007
Rep McMorris Rodgers, Cathy [WA-5] - 3/5/2007
Rep Meeks, Gregory W. [NY-6] - 3/6/2007
Rep Michaud, Michael H. [ME-2] - 3/28/2007
Rep Miller, George [CA-7] - 2/14/2007
Rep Moran, James P. [VA-8] - 2/14/2007
Rep Napolitano, Grace F. [CA-38] - 2/28/2007
Rep Norton, Eleanor Holmes [DC] - 3/29/2007
Rep Payne, Donald M. [NJ-10] - 3/5/2007
Rep Pitts, Joseph R. [PA-16] - 3/20/2007
Rep Rangel, Charles B. [NY-15] - 3/20/2007
Rep Rothman, Steven R. [NJ-9] - 2/14/2007
Rep Roybal-Allard, Lucille [CA-34] - 3/29/2007
Rep Royce, Edward R. [CA-40] - 1/31/2007
Rep Rush, Bobby L. [IL-1] - 3/22/2007
Rep Sanchez, Linda T. [CA-39] - 3/22/2007
Rep Schakowsky, Janice D. [IL-9] - 3/20/2007
Rep Schiff, Adam B. [CA-29] - 2/14/2007
Rep Scott, David [GA-13] - 3/20/2007
Rep Sires, Albio [NJ-13] - 2/28/2007
Rep Slaughter, Louise McIntosh [NY-28] - 3/6/2007
Rep Smith, Christopher H. [NJ-4] - 1/31/2007
Rep Stark, Fortney Pete [CA-13] - 2/28/2007
Rep Towns, Edolphus [NY-10] - 2/14/2007
Rep Van Hollen, Chris [MD-8] - 3/28/2007
Rep Watson, Diane E. [CA-33] - 1/31/2007
Rep Waxman, Henry A. [CA-30] - 2/28/2007
Rep Wolf, Frank R. [VA-10] - 2/28/2007
Rep Woolsey, Lynn C. [CA-6] - 3/20/2007
Rep Wu, David [OR-1] - 1/31/2007
♪ 現在のオープンリー同性愛者下院議員のB. Frank氏とT. Baldwin氏は両方含まれている。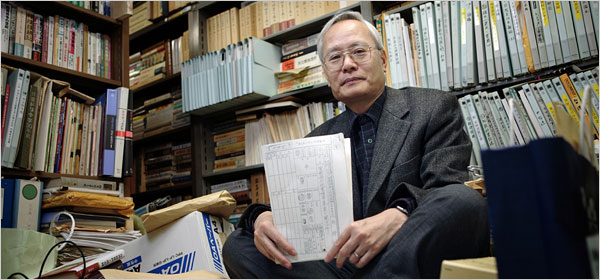 Ko Sasaki for The New York Times
"The Japanese military itself newly built this system, took the initiative to create this system, maintained it and expanded it."
YOSHIAKI YOSHIMI

The Saturday Profile
In Japan, a Historian Stands by Proof of Wartime Sex Slavery
By NORIMITSU ONISHI
Published: March 31, 2007
TOKYO
IT was about 15 years ago, recalled Yoshiaki Yoshimi, a mild-mannered historian, when he grew fed up with the Japanese government's denials that the military had set up and run brothels throughout Asia during World War II.
Instead of firing off a letter to a newspaper, though, Mr. Yoshimi went to the Defense Agency's library and combed through official documents from the 1930s. In just two days, he found a rare trove that uncovered the military's direct role in managing the brothels, including documents that carried the personal seals of high-ranking Imperial Army officers.
Faced with this smoking gun, a red-faced Japanese government immediately dropped its long-standing claim that only private businessmen had operated the brothels. A year later, in 1993, it acknowledged in a statement that the Japanese state itself had been responsible. In time, all government-approved junior high school textbooks carried passages on the history of Japan's military sex slaves, known euphemistically as comfort women.
"Back then, I was optimistic that this would effectively settle the issue," Mr. Yoshimi said. "But there was a fierce backlash."
The backlash came from young nationalist politicians led by Shinzo Abe, an obscure lawmaker at the time in the long-ruling Liberal Democratic Party, who lobbied to rescind the 1993 admission of state responsibility. Their goal finally seemed close at hand after Mr. Abe became prime minister last September.
Mr. Abe said he would adhere to the 1993 statement, but he also undercut it by asserting that there was no evidence showing the military's role in forcing women into sexual slavery. His comments incited outrage in Asia and the United States, where the House of Representatives is considering a nonbinding resolution that would call on Japan to admit unequivocally its history of sexual slavery and to apologize for it.
To Mr. Yoshimi, Mr. Abe's denial sounded familiar. Until Mr. Yoshimi came along 15 years ago, the government had always maintained that there were no official documents to prove the military's role in establishing the brothels. Mr. Abe was now saying there were no official documents to prove that the military forcibly procured the women — thereby discounting other evidence, including the testimony of former sex slaves.
"The fact is, if you can't use anything except official documents, history itself is impossible to elucidate," said Mr. Yoshimi, a history professor at Chuo University here.
The emphasis on official documents, according to Mr. Yoshimi and other historians, has long been part of the government's strategy to control wartime history. In the two weeks between Japan's surrender on Aug. 15, 1945, and the arrival of American occupation forces, wartime leaders fearing postwar trials incinerated so many potentially incriminating documents that the Tokyo sky was said to be black with smoke. Even today, Japan refuses to release documents that historians believe have survived and would shed light on Japan's wartime history.
Although Mr. Yoshimi found official documents showing the military's role in establishing brothels, he is not optimistic about unearthing documents about the military's abduction of women.
"There are things that are never written in official documents," he said. "That they were forcibly recruited — that's the kind of thing that would have never been written in the first place."
John W. Dower, a historian of Japan at the Massachusetts Institute of Technology, said Mr. Yoshimi's "extremely impressive" work has "clarified the historical record in ways that people like Prime Minister Abe and those who support him refuse to acknowledge."
MR. YOSHIMI grew up in Yamaguchi Prefecture in western Japan, in a household with fresh memories of the war. He traces his interest in history to a junior high school lecture on the nation's American-written, pacifist Constitution and its guarantee of human rights. He was impressed that the Constitution "even had something to say about a kid like me in the countryside."
After completing his studies at the University of Tokyo, Mr. Yoshimi concentrated on Japan's postwar democratization. It was while searching for documents related to Japan's wartime use of poison gas in the Defense Agency's library that he first stumbled upon proof of the military's role in sexual slavery.
Mr. Yoshimi copied the document but did not publicize his finding. At the time, no former sex slave had gone public about her experiences, and awareness of wartime sex crimes against women was low.
But in late 1991, former sex slaves in South Korea became the first to break their silence. When the Japanese government responded with denials, Mr. Yoshimi went back to the Defense Agency.
Of the half-dozen documents he discovered, the most damning was a notice written on March 4, 1938, by the adjutant to the chiefs of staff of the North China Area Army and Central China Expeditionary Force. Titled "Concerning the Recruitment of Women for Military Comfort Stations," the notice said that "armies in the field will control the recruiting of women," and that "this task will be performed in close cooperation with the military police or local police force of the area."
In another document from July 1938, Naosaburo Okabe, chief of staff of the North China Area Army, wrote that rapes of local women by Japanese soldiers had deepened anti-Japanese sentiments and that setting up "facilities for sexual comfort as quickly as possible is of great importance." Yet another, an April 1939 report by the headquarters of the 21st Army in Guangzhou, China, noted that the 21st Army directly supervised 850 women.
Mr. Yoshimi went public by telling Asahi Shimbun, a national daily newspaper. The attention led to years of harassment from the right wing, he said, including nightly phone calls.
These documents had survived because they had been moved 25 miles west of central Tokyo before the end of the war, Mr. Yoshimi said. The postwar American occupation forces had then confiscated the documents, eventually returning them to Japan in the 1950s.
DESPITE the government's efforts to hide the past, Mr. Yoshimi succeeded in painting a detailed picture of Japan's wartime sexual slavery: a system of military-run brothels that emerged in 1932 after Japan's invasion of Manchuria, then grew with full-scale war against China in 1937 and expanded into most of Asia in the 1940s.
Between 50,000 and 200,000 women from Japan, Korea, Taiwan, China, the Philippines, Indonesia and elsewhere were tricked or coerced into sexual slavery, Mr. Yoshimi said. Thousands from Korea and Taiwan, Japanese colonies at the time, were dispatched aboard naval vessels to serve Japanese soldiers in battlefields elsewhere in Asia. Unlike other militaries that have used wartime brothels, the Japanese military was the "main actor," Mr. Yoshimi said.
"The Japanese military itself newly built this system, took the initiative to create this system, maintained it and expanded it, and violated human rights as a result," he said. "That's a critical difference."
Mr. Yoshimi said he was unsurprised by the most recent moves to deny the wartime sex slavery. He said they were simply the culmination of a long campaign by nationalist politicians who have succeeded in casting doubt, in Japan, on what is accepted as historical fact elsewhere.
In 1997, all seven government-approved junior high school textbooks contained passages about the former sex slaves. Now, as a result of the nationalists' campaign, only two out of eight do.
"Mr. Abe and his allies led that campaign," Mr. Yoshimi said, "and now they occupy the center of political power."
NYタイムズ、慰安婦で吉見教授の見解紹介

 【ニューヨーク31日共同】
3月31日付の米紙ニューヨーク・タイムズは東京発で、従軍慰安婦に対する旧日本軍の関与を指摘してきた吉見義明・中央大教授(日本現代史)のインタビューを伝え、安倍晋三首相を筆頭とする保守派が教授の見解の否定に躍起になってきたとする記事を、国際面の1ページを使って掲載した。
 記事は、吉見教授が1992年、防衛庁(当時)保管の従軍慰安婦に関する「決定的」資料を発掘し、それが93年の河野洋平官房長官談話につながったと紹介。従軍慰安婦は「旧日本軍が主導的に創設、維持、拡大したシステムで、結果として(女性の)人権を侵害した」との教授の見解を伝えた。
 その上で、従軍慰安婦問題は、資料発掘によって論争に終止符が打たれるとみられたのに、安倍氏に先導された若い民族主義者の政治家らが反発、河野談話の撤回に向けたロビー活動を行ったと報じた。 (10:33)
WORLD
Japan downplays wartime suicides
By Hiroko Tabuchi
Associated Press
Published March 31, 2007

TOKYO --
The Japanese government ordered changes Friday to seven history textbooks describing how the Japanese army forced civilians to commit mass suicide at the end of World War II, the country's latest effort to soften brutal accounts of its wartime conduct.
The high school textbooks say the army -- faced with an impending U.S. invasion in 1945 -- handed out grenades to residents on the southern island of Okinawa and ordered them to kill themselves rather than surrender to the Americans.
The Education Ministry said there was no definitive evidence that the suicides were ordered by the army. The publishers were asked to modify the relevant passages and submit the changes for approval by a government-appointed panel.
"There are divergent views of whether or not the suicides were ordered by the army, and no proof to say either way. So it would be misleading to say the army was responsible," said Yumiko Tomimori, a ministry official.
Since taking office in September, Prime Minister Shinzo Abe has promoted national pride and sought to distance Japan from its post-World War II guilt. His conservative government has bolstered Japan's international military role and amended the constitution to require schools to teach patriotism.
On Friday, Tokyo's education board said it had punished 35 teachers for not standing up to honor the national anthem -- seen by some as a symbol of Japan's military past -- during graduation ceremonies. Three of the teachers will be suspended for up to six months, 12 received pay cuts and 20 were given warnings.
The "Kimigayo" song was adopted as the national anthem in 1999, and four years later, Tokyo's conservative government ordered teachers to honor it during school ceremonies.
The battle in Okinawa raged from late March through June 1945, leaving more than 200,000 civilians and soldiers dead and speeding the collapse of Japan's defenses.
Accounts of forced group suicides on Okinawa have been backed up by historical research and testimony from victims' relatives. Historians say government propaganda led civilians to believe U.S. soldiers would commit atrocities, resulting in many killing themselves to avoid capture.
But in recent years, some academics have questioned whether the suicides were forced, part of the wider push by conservatives to soften criticism of Japan's wartime conduct.
Survivors of the battle criticized the revisions.
"If the [Japanese] soldiers hadn't come, people wouldn't have killed themselves," Fumiko Miyamura, a woman who said she witnessed a group suicide on Okinawa, told public broadcaster NHK. "Are they trying to make us forget about the war?"
Abe set off a storm earlier this month when he said there was no evidence that Japan's army forced women to work in military brothels during World War II. Historians estimate as many as 200,000 women, mostly Chinese and Korean, were forced into prostitution by the military.
Most textbooks approved Friday touched on Japan's wartime brothels but did not discuss whether the women were coerced or whether the Japanese military was involved, Kyodo News agency reported.
Abe's comments backtracked from a 1993 government admission that the Japanese military forced women into prostitution. On Monday, he tried to quell the backlash with an apology to the victims, but stopped short of acknowledging that thousands were forced into sexual slavery.
On Saturday, a private Japanese fund set up in 1995 to help "comfort women" will expire, wrapping up a mission seen as falling short of expectations.
The Asian Women's Fund was created to provide compensation and to heal wounds from Japan's often brutal expansion through the region during the war. But many victims rejected the aid because it neither came directly from the government nor was accompanied by an official apology.
Commentary: Japan's Shameful Revisionist History
The Japanese prime minister and his allies have rewritten painful chapters of the country's past—in an affront to the dignity of those who endured the coercive 'comfort women' brothels and the horrors of Nanking.
WEB-EXCLUSIVE COMMENTARY
By Jeff Kingston
Special to Newsweek
Updated: 1:24 p.m. ET March 30, 2007

March 30, 2007 -
Prime Minister Shinzo Abe has recently rekindled a nasty controversy over Japan's dark past in Asia by questioning the degree of coercion used in recruiting the so-called comfort women: tens of thousands of mostly teenage Korean schoolgirls sent to frontline brothels for Japanese soldiers during the war. Hideaki Kase amplified these doubts, as well as questions about the Nanking Massacre, in his recent commentary ("
The Use and Abuse of the Past
," April 2, 2007).
Let's deal with the history first. The events in Nanking have been painstakingly documented—including by numerous Japanese scholars. Mountains of evidence show that a horrible massacre and countless rapes did take place there and that the Imperial armed forces were responsible. Eyewitness accounts by Japanese soldiers, many written in their own diaries, have corroborated testimony by Chinese survivors. As for the comfort-women system, there is again plenty of evidence, accepted by most historians, that it was established at the behest of the Japanese military and was an institutionalized system of sexual slavery. Abe and Kase's hairsplitting is an affront to the dignity of the elderly survivors and seriously undermines previous attempts by Tokyo to accept and atone for this gross violation of human rights.
For decades after World War II, the Japanese government denied that the problem had ever existed. But in 1993, in the face of mounting evidence, Tokyo issued the informal Kono declaration, admitting state responsibility for the comfort women, acknowledging that coercion had been involved, expressing remorse and promising to pay further attention to this blot on the nation's record. Then, in 1995, the Asian Women's Fund (AWF) was set up to pay compensation to and medical expenses for former victims (a total of $19 million has been disbursed for 364 women). The Japanese public contributed about $5 million to the AWF, but despite getting $31 million in government funds, it remained an awkward quasi-governmental arrangement that allowed the Japanese government to distance itself from the process. The small fraction of victims who accepted the compensation did receive letters of apology signed by the prime minister. But the vast majority of surviving comfort women turned down the money because they were encouraged to do so by the South Korean government, and many felt that the AWF let Tokyo dodge direct responsibility.
Now Abe has undermined the letter of the Kono declaration and the spirit of the AWF by questioning Japan's responsibility for its past crimes. After making his initial statements, he was quickly forced to retreat under a hail of criticism at home and abroad, and he subsequently voiced support for the Kono statement and expressed his remorse. He has now learned the hard way that he cannot unilaterally assert a history to his liking. Merely passing the buck to a study group of his Liberal Democratic Party, however, as Abe has now attempted to do, won't achieve much; his backers embrace an unrepentant view of Japan's wartime past. They seek to rewrite history into a glorious narrative they hope will instill pride in their fellow citizens. But most Japanese have repudiated this attempt, and as the Nobel Prize-winner Kenzaburo Oe has stated, minimizing Japan's wartime atrocities can only bring the country shame.
Abe seems to be bowing to his conservative base—they never accepted the Kono declaration and are committed to retracting it. These conservatives opposed the establishment of the AWF. They have also successfully opposed the inclusion of references to comfort women and Nanking in most school textbooks. Abe disappointed this base when he made fence-mending trips to South Korea and China shortly after taking office. He seems to have decided to try to curry their favor once more to combat his imploding poll numbers (he's dropped from 80 percent approval in October 2006 to 37 percent today) ahead of elections for the upper house of Japan's Parliament in July.
But Abe's about-faces have pleased no one, and only make him look like a man incapable of providing leadership—one who favors expediency over principle. In the process he has damaged Japan's relations with its neighbors and with the United States, where Congress now seems likely to pass a resolution critical of Japan's selective amnesia. The U.S. ambassador to Japan, Thomas Schieffer, has loudly condemned Abe's remarks. Tokyo is all alone on this issue.
The only way forward for Japan is to finally reconcile with its neighbors. This will require an unequivocal recognition of Japan's responsibility for the war, for crimes such as the comfort-women system and Nanking, and sincere gestures of atonement. The victims should also be prepared to accept such gestures. The AWF has been a disheartening experience for the majority of Japanese who accept Japan's guilt and favor compensation. A fitting requiem for the AWF, and a way out of Abe's morass, would be for him to now establish an Asia Future Fund, modeled on the $5 billion German Future Fund, which was created in 2000 by the German government and partially funded by German businesses to compensate former slave laborers in Eastern Europe. Such a scheme has helped Europe repair past wounds and could have a similar effect in Asia. Now is the time, and here is a chance, for Abe to show that he's up to the task.
Kingston is a professor of history and director of Asian studies at Temple University's Japan Campus.
© 2007 Newsweek, Inc.
URL: http://www.msnbc.msn.com/id/17873489/site/newsweek/
Helping to give back the power that is theirs
By ANGELA JEFFS
The Japan Times: Saturday, March 31, 2007
The two small rooms and kitchen occupied by Kalakasan have been bulging at the seams since early morning. First there was a regular staff meeting. In the afternoon, a group of Filipino women providing support to one of their members, came with a distressed mother and teenager. The youngster was raped by four young men.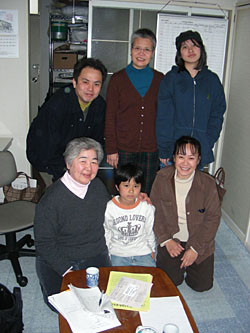 WORKERS AT KALAKASAN help women in need. Pictured (from bottom left, clockwise) are Sister Elizabeth Kato, Ken Suzuki, Leny Tolentino, Mikihiko Yone, Donna Nishimoto and Yuri Miyagi.
"We are trying to persuade her to take proper care of herself so that she can regain herself and press charges," explains full-time staff member Leny Tolentino after the group had gone.
"Afraid and embarrassed, she wants to go back to the Philippines and try to forget it. But we want to help her stay and stand up for herself. That's our work here: to empower women who feel powerless.
Tolentino came to Japan as a lay missionary from the Philippine island of Catanduanes in 1988. She worked at the Yokohama Diocese Solidarity Center for Migrants (SOL) until it closed in 2002.
Concerned with the pastoral care of migrant women, who continued to seek help after the center closed, the idea for Kalakasan -- the Tagalog word for "strength," was born.
"We moved here, near Shin-Kawasaki Station, in August 2002. Initially neighbors were hostile; they complained about the constant comings and goings and the noise the children would make. But this has settled down now. With most of us (the full-time staff) living in the community, there is acceptance."
Sister Elizabeth Kato, a Japanese-American from Hawaii, has also been with Kalakasan since its inception. Her job, she says, is largely administrative. "Maryknoll Sister Missionaries tend to be very hands on," she laughs.
Since her first deployment in Japan in 1967, Kato has studied Japanese in Kyoto, worked at a girls school in Yokkaichi, and spent 10 years supporting day laborers in Sanya. She joined Kalakasan because she saw the need for abused migrant women to reclaim their inner strength that has been smothered by negative experiences in Japan.
Donna Nishimoto arrives, a recovering victim of domestic violence (DV) who is now a full-time staff member. Her story, together with four others, exemplify Kalakasan's process in the book Transforming Lives: Migrant Women Blaze a Trail Towards Empowerment, published last year in collaboration with the International Movement Against All Forms of Discrimination and Racism-Japan Committee (IMADR-JC).
But as Nishimoto explains, she is a victim no longer. "In the beginning I was just angry, angry not only at what I and my children had suffered, but everything and everyone. Though destructive, it was this anger that sustained me." Now she feels her anger evolving whenever she experiences injustice -- injustices that can be found in institutions -- police, immigration -- as well as personal relationships. "Now I can address my anger to the right person in the right way. I am turning my anger into empowerment." Supporting her son here, she is a familiar face at the National Diet building in Nagatacho. Here, she actively lobbies Parliament for changes in laws pertinent to migrant workers in Japan.
"I advocate, I network-- seeking to improve the DV law that in 2001 gave protection to Japanese victims of domestic violence. We worked to change this to include non-Japanese. Yes, it was shameful that the law was not inclusive."
Right now, Nishimoto and her group are lobbying for a national network to support abused migrant women more fully. Women tend to seek support initially when in crisis, either at home or at work. Once the initial crisis has been overcome, they need continued support to rebuild confidence and identity.
After Crisis Intervention (Leny is one of the workers who face-off abusive partners and/or help couples find common ground) comes Follow Up Care, including home visits, healing sessions and training.
Integral to this program, says Nishimoto, are monthly meetings, parenting, theater and dance projects, massage and reflexology sessions, English classes, summer camps, seminars and involvement with International Day on Nov. 25 that marks Violence Against Women.
It is at this moment that part-timer Ken Suzuki -- the only male staff member -- arrives with three or four children in tow, to join those drawing quietly around a table in the second room. Here a blue wall-hanging has the words "Kalakasan -- Migrant Workers Empowerment Centre" marked out in white phone buttons.
"I used to work for a phone company," Nishimoto says, grinning. "It was the children's idea to glue them on." Suzuki, the women point out, won the Kirara Award back in 2003. Awarded by the Kanagawa Coop (a local cooperative movement in the prefecture), he donated the half million yen prize to expand support for Kalakasan.
Producing a statistical summery of 2006, Kato notes that over the year the center helped 286 women, 37 suffering domestic violence, 39 with marital difficulties, 37 involving children (including custody and visiting rights), 23 needing medical advice, 63 with visa issues, five with work-related problems, and 41 Others, including the death of a husband, debts, arrest and detention, housing, and unpaid wages.
In addition, Kalakasan is creating initiatives to further integrate into the community. "For example," says Tolentino, "our children are involved with Agri-garden, a community project near the local JR station where citizens are creating an organic garden and a natural pond as an attempt to reclaim the natural environment."
The women share their leadership training and social justice programs with Filipino women in trouble as far away as Hiratsuka, Shizuoka and Hamamatsu.
Last September, a group of Korean women, led by a Korean married to a Japanese man, visited the center. Staff have since heard that an organization similar to Kalakasan has been set up in South Korea.
Tolentino again: "Apparently there are increasing problems faced by migrant workers married to Koreans or working as entertainers. Their situation is very similar to that faced in Japan."
Tolentino's 'River of Life' project is especially close to her heart. Women gather to tell their stories and share their experiences in workshops, to gain strength from one another.
"We reclaim our creativity by acting out the realities of our lives in paint, song, dance and theater. Our one-day experience of gender-sensitivity was like a gentle brush stroking our skin. We need gentleness. It helps us feel strong again."
KMWEC, KKF Haimu #210, 1-34-8 Kita-kase, Saiwai-ku, Kawasaki-shi 212-0057 Phone: (0440 580-4675; fax 044-580 4676. E-mail: kalakasan@inada-noborito.com
従軍慰安婦問題:官邸に乱れ、批判やまず 首相訪米の際、難題にも
毎日新聞 2007年3月29日 東京朝刊
 いわゆる従軍慰安婦問題が、安倍晋三首相の沈静化しようとする努力にもかかわらずくすぶり続けている。慰安婦の募集で「狭義の強制性」を否定した首相の説明に対し、米有力メディアの批判が収まらないのだ。首相は持論を封印して「おわび」を強調する姿勢に転じているが、今度は側近の下村博文官房副長官が「旧日本軍の関与」を否定する発言をし、「官邸内不統一」にしびれを切らした与党からも批判が噴き出している。首相就任後初の訪米(4月26、27日)でも難題になりかねない状況だ。
 米下院の謝罪要求決議案があったとはいえ、火を付けたのは首相自身の発言だった。3月5日の参院予算委員会。「官憲が家に押し入って連れて行くような狭義の強制性を裏づける証言はなかった」という「独特の理屈」(外務省幹部)が、「元慰安婦らの傷口を再び開いた」(同月8日付米紙ニューヨーク・タイムズ)などと海外から批判された。
 首相は9日夜「大変微妙な時期に私の発言が正しく伝わりにくい状況がある中、議論することは非生産的になる」と記者団に語り、外交関係への配慮から持論を封印。
 さらにシーファー駐日米大使ら米要人らの強い警告を受け、河野談話継承と慰安婦への「おわび」を強調するようになった。米政府も「首相の謝罪を評価する」(ケーシー国務省副報道官)などと火消しに協力している。
 それでもなお、「安倍首相のダブルトーク(でたらめ話)。奇妙かつ不快。拉致問題で国際的な支援を求めるなら、日本自らの犯罪を率直に認め、被害者に謝罪するべきだ」(24日付米紙ワシントン・ポスト)などと、非難報道は容易にやむ気配がない。
 こうしたなか下村官房副長官が26日の記者会見で「(強制連行で旧日本)軍の直接的な関与はなかった」と発言。騒動を蒸し返す結果になった。
 憂慮した自民党町村派幹部が「発言に気をつけろ。誘導質問に乗せられるな」ときつく念を押したが、「若手保守の代表格」を自任する下村氏は「聞かれたから答えた」と弁明したという。
 首相の元々の支持層である保守派には、中国や米国に配慮して持論を封印したり謝罪する姿勢への不満が募っており、下村氏の発言は「保守派の認識を代弁した内容」(閣僚経験者)だった。しかし、国内外に硬軟を使い分ける安倍官邸の外交戦術が、うまくいかない状況に陥っている。
 公明党の北側一雄幹事長も28日の記者会見で「官房副長官は、自分の意見を述べる立場ではない。官邸をしっかり守るのが役割だ。発言は本当に慎重にしてほしい」とクギを刺したが、首相は下村氏を全面的に否定することもできず、対応に苦慮する日々が続きそうだ。【平元英治、高山祐】
==============
  <従軍慰安婦問題を巡る最近の主な動き>
 1月31日 マイケル・ホンダ米下院議員らが日本政府の公式な謝罪を求める決議案を米下院に提出
 3月 5日 安倍首相「官憲が家の中にまで入って連れて行った強制性はなかった。米下院決議案は客観的な事実に基づいていない」(参院予算委員会)
    8日 米紙ニューヨーク・タイムズが「元慰安婦らの傷口を再び開いた」と首相発言を批判
    9日 シーファー駐日米大使「首相が河野談話の継承を表明したことは前向きだ。後退するような印象を与えるべきではない」(日本人記者団に)
   11日 安倍首相「慰安婦の方々が負われた心の傷、大変な苦労をされた方々に心からなるおわびを申し上げている」(NHKの番組)
   24日 米紙ワシントン・ポストが「安倍首相のダブルトーク(でたらめ話)」と批判
   26日 安倍首相「河野談話を継承する。今ここで私が(慰安婦だった方々に)首相としておわびを申し上げている」(参院予算委)
下村博文官房副長官「(強制連行をめぐり)軍の直接的な関与はなかった」(記者会見)
   27日 米国務省のケーシー副報道官「首相の謝罪を評価する。日本政府がこの問題に取り組み続けることが重要だ」(記者会見)
W・ポスト紙に日本大使館が申し入れ 従軍慰安婦問題で
2007年3月28日(水)13:05 朝日
 在ワシントン日本大使館は27日、「従軍慰安婦」問題で安倍首相を「ダブル・トーク(ごまかし)」と24日付の社説で批判した米紙ワシントン・ポストに対して「安倍首相と日本政府の考え方を十分に理解していない」と申し入れた。
 北野充・広報文化担当公使が、同紙のフレッド・ハイアット論説委員長に電話した。日本政府の基本的な立場を「当時の軍の関与の下に多数の女性の名誉と尊厳を傷つけたものと認めている」と説明。93年の河野官房長官談話を継承する立場を強調し、安倍首相が改めて「おわび」を表明した26日の国会答弁も紹介して理解を求めた。
 同紙が社説で「国内で落ち込む支持の回復のため拉致被害者を利用する安倍首相」と記したことには「支持率うんぬんの問題ではない」と反論した。ハイアット論説委員長は朝日新聞の取材に対し「社説に書いたことがすべてだ」と語った。
安倍首相は「二枚舌」と批判、ワシントンポストが社説で
A qualified Abe apology
Japan's premier says he is sorry for the suffering of women exploited for sex during the war. But critics aren't appeased.
By Bruce Wallace, Los Angeles Times Staff Writer
March 27, 2007

TOKYO —
Under harsh questioning in parliament, Japanese Prime Minister Shinzo Abe apologized Monday for the suffering of women exploited for sex during World War II. But senior members of his administration continued to deny that the Japanese military organized the brothel system that recruited the women.
"I express my sympathy for the hardships they suffered and offer my apology for the situation they found themselves in," Abe told the legislature when pressed on what he would say to the aging survivors of the "comfort women" system. "As the prime minister, I am apologizing here."
Government officials say they consider Abe's apology, issued in the capacity of prime minister, to carry more weight than his previous statements of remorse.
In the past, Abe had continually fallen back on the mantra of saying he stood by the 1993 apology issued by then-Chief Cabinet Secretary Yohei Kono. The Kono statement acknowledged that a government study found that "in many cases [the women] were recruited against their own will, through coaxing, coercion, etc., and that, at times, administrative/military personnel directly took part in the recruitments."
But critics argue that Abe has gutted the significance of that apology by also issuing qualifications contending there is no written evidence linking the Japanese military to the coercion of women from across Asia. That position has a large constituency within his ruling Liberal Democratic Party and among many Japanese scholars, who argue that the women were coerced by private profiteers, were sold into sexual slavery by their own families or were prostitutes.
Such a view was reflected in comments made Sunday by Hakubun Shimomura, the deputy chief Cabinet secretary and a member of Abe's inner circle during his rise to power. Shimomura told a radio program, "It is true that there were 'comfort women,' " adding: "I believe some parents may have sold their daughters. But it does not mean the Japanese army was involved."
Shimomura's comments have made it harder for Abe to cut off discussion of the issue, which threatens to cast a pall over his visit to the United States in late April. Abe has tried to put an end to the controversy by refusing to further debate the nature of the coercion of the women.
In parliament Monday, he said he had no comment on whether he considered credible the testimony of surviving comfort women about their experiences.
He also rejected criticism that he was failing to see the moral equivalency between the coercion of the comfort women and the abduction of 17 Japanese civilians by North Korean agents during the Cold War, an emotional issue that Abe has made the centerpiece of his political career.
"The issue of the abductees is an ongoing violation of human rights," Abe said.
"The comfort women issue is not ongoing."
bruce.wallace@latimes.com
Japan's Sex-Slave Controversy Has Economic Costs: William Pesek
By William Pesek

March 28 (Bloomberg) --
These should be sweet days indeed for officials in Tokyo.
A case in point: In 2006, Japan had its first gain in nationwide property prices in 16 years. Last week, that announcement was the icing on the cake for an economy that until recently has had little to celebrate. Stocks also posted the biggest weekly advance in more than a year.
And yet something is crashing Japan's party: the past. Absorbing much of the focus that would otherwise be on improvements in Asia's biggest economy is the brouhaha over its role in forcing women into sexual slavery during World War II.
It's a curious issue for Prime Minister Shinzo Abe to home in on, considering the huge economic to-do list he faces. Sure, Japan is growing again and it's shaking deflation. Yet to keep things moving Abe needs to reduce a massive public debt, increase productivity, boost entrepreneurship, attract more foreign capital, shore up the pension system, raise the national birthrate and better utilize the female workforce.
Abe, premier since September, also faces a challenge his predecessor, Junichiro Koizumi, didn't: keeping Japan growing without the crutch of ultra-low borrowing costs. While Koizumi put Japan on a path toward change, he did so amid zero interest rates. Abe is contending with a Bank of Japan set on raising its overnight lending rate well beyond today's 0.50 percent.
Wrong Focus
Unfortunately, Abe isn't focused on the economic outlook even as China grabs more and more of the spotlight. Instead, he's quibbling with long-accepted historical facts, such as Japan's culpability in setting up wartime brothels. He's also splitting semantic hairs at the expense of Japan's future role in the world's most vibrant region.
The crux of the debate is the word ``coercion.'' Abe is attempting, awkwardly, to argue it means something different to Japan in 2007 than it did in 1993 or 1945. He's playing down Japan's 1993 apology for being directly and indirectly involved in recruiting women against their will. It's raising eyebrows around the globe and causing embarrassment.
On March 26, for example, Abe said he is ``apologizing here and now as the prime minister'' for the sex-slave controversy. Yet he still refused to bow to international pressure to acknowledge that Japan forced as many as 200,000 women into sexual slavery. Bottom line, Abe's so-called apology isn't likely to defuse things in Asia.
Upsetting Asia
All this is enraging officials in China and South Korea, as have Japan's efforts to have things both ways in the region. Abe claims the abduction of 17 Japanese citizens by North Korea is a totally different issue from the contention that the Japanese military forced women into sexual slavery decades ago. Few outside Japan would agree.
Today's feuds are creating an unfortunate distraction from the cooperation Asia needs if it's going to compete with the West.
Japan, China and Korea should be joining forces to sustain rapid growth with free-trade zones, regional bond markets, linked stock markets and standardized accounting. They should be working to cool tensions with a nuclear-armed North Korea. They should be devising ways to bring home more of their nations' vast savings parked in U.S. Treasuries. Instead, Asia's past is imperiling its future.
Window of Opportunity
The prime minister's focus on the sex-slave issue speaks volumes about his dwindling power to accelerate the economic revival. Only after his disapproval rating trumped his support rate did Abe revisit Japan's World War II exploits. A proposed U.S. Congressional resolution demanding that Japan apologize offered an opportunity to do just that.
Today's growth offers Japan a rare window of opportunity to raise its economic game. At a minimum, Abe's government should be using these good times to trim debt. Sadly for investors -- and Japan's 127 million people -- Abe's attention isn't on making Japan more competitive. Nor is it on shaking Japan's addiction to exports.
Just as the U.S. has championed a strong-dollar policy, officials in Tokyo should be open to a rising yen. It would be a sign of confidence and might attract more foreign capital. The inflows would boost the Nikkei 225 Stock Average and enable bond yields to remain low even as the BOJ boosts rates.
By digging up the past, Abe is really signaling that his leadership is in trouble. Whenever Koizumi's poll numbers fell, he played the nationalism card, shifting attention to his visits to Yasukuni Shrine, which includes memorials to convicted war criminals. Abe now seems to be reading from Koizumi's nationalist playbook.
Wrong Playbook
Abe really should be looking more at Koizumi's economic plays. A reminder of that came last week from Heizo Takenaka, one of Koizumi's key reformers. Kyodo News quoted Takenaka as saying that ``the prime minister should demonstrate leadership in driving reforms.''
It always was up to Abe to accelerate the changes Koizumi championed in his five years as prime minister. Koizumi got things moving; Abe's mandate was to bring the process of modernizing Japan's rigid economy to the next level. So far, his government has done nothing of the sort.
More than 60 years after World War II and 15 years since Japan's asset bubble imploded, Abe is anxious to restore his nation's power globally. Quibbling over the past won't get Japan there. If Abe can heal old wounds in Asia and upgrade the economy, the clout Japan desires will follow.
(William Pesek is a Bloomberg News columnist. The opinions expressed are his own.)
To contact the writer of this column: William Pesek in Kuala Lumpur, or through the Tokyo newsroom at wpesek@bloomberg.net
Last Updated: March 27, 2007 16:35 EDT
The New York Times
March 27, 2007
Japan Leader Who Denied State Role in Wartime Sex Slavery Still Apologizes
By NORIMITSU ONISHI

TOKYO, March 26 —
Facing increasing criticism for denying that Japan coerced women into sex slavery during World War II, Prime Minister Shinzo Abe repeatedly refused Monday to acknowledge state responsibility in recruiting the "comfort women," but offered them an apology.
In a debate in Parliament, under intense questioning by an opposition lawmaker, Mr. Abe refused to withdraw a recent statement in which he said there was no evidence that the military had forcibly recruited women to work in brothels established throughout Asia.
But Mr. Abe chose his words carefully on Monday to avoid repeating his earlier denial, saying only, "What I said about coercion during the news conference, all of it became news, so that's the way it was."
When Haruko Yoshikawa, a Communist member of Parliament, asked Mr. Abe whether he considered as proof of coercion the testimony given by former sex slaves in the United States House of Representatives recently, Mr. Abe said he had no comment on their testimony.
The House of Representatives is considering a nonbinding resolution that would call on Japan to unambiguously acknowledge its wartime slavery and apologize for it.
Prompted by Ms. Yoshikawa to make a statement toward surviving sex slaves, who are now mostly in their 80s, Mr. Abe said, "I express my sympathy for the hardships they suffered and offer my apology for the situation they found themselves in."
Mr. Abe said he would adhere to a 1993 government spokesman's statement that acknowledged Japan's role in managing the wartime "comfort stations," as well as in forcibly recruiting sex slaves. But his repeated denial of coercion contradicted the 1993 statement, Ms. Yoshikawa said. The State Department urged Japan to take responsibility for its role in the wartime sex slavery, though on Monday it described Mr. Abe's apology as a "step forward."
"But I think this is a very difficult issue, and we certainly would want to see the Japanese continue to address this and to deal with it in a forthright and responsible manner that acknowledges the gravity of the crimes that were committed," said Tom Casey, a State Department spokesman. That kind of critical language is rarely used against Japan by Washington, which has tried to stay clear of the history-related problems that have roiled East Asia in recent years.
Mr. Abe has been under pressure from his right-wing base to revise or reject the 1993 statement. At the same time, his denial of coercion has sparked outrage in Asia and the United States.
Mr. Abe's ratings have slid drastically since he became prime minister in September, and his comments about the sex slaves have risked undermining his initial success in improving relations with China and South Korea.
His denial of state coercion has drawn charges of hypocrisy, because Mr. Abe won his popularity by championing the cause of 17 Japanese allegedly abducted by North Korea.
But Mr. Abe told reporters that the abductions were "a completely different matter" from the sex slavery matter.