S
M
T
W
T
F
S
1
2
3
4
5
6
7
8
9
10
11
12
13
14
15
16
17
18
19
20
21
22
23
24
25
26
27
28
29
30
The Christian Science Monitor
the March 20, 2007 edition
Honestly, Abe
Japan's leader, Shinzo Abe, challenges the wartime record on sex slaves. This won't build trust in Asia.
The Monitor's View
Last year, before becoming his nation's first premier born after World War II, Shinzo Abe said Japan caused "great suffering" in the war and he would improve ties with Asia. Then why is he now challenging the history of the Imperial Army's use of sex slaves?
The easy answer would be to say that conservatives in his ruling party forced Mr. Abe to contest the testimony of many surviving "comfort women," who were coaxed or coerced into working in brothels set up for Japanese soldiers in Asian lands during the war.
Abe's government is very low in the polls and must win an election this July. A large group of right-wing nationalists within his Liberal Democratic Party want to roll back a 1993 statement by a government spokesman who, based on a study, said wartime military authorities did "undeniably" force the women into sexual bondage. The spokesman also apologized for their "immeasurable pain and incurable physical and psychological wounds."
But political pressure doesn't totally explain why the prime minister would set back his Asia strategy of smoothing ties in the region, starting with China and South Korea – the homeland of many of the estimated 100,000 to 200,000 comfort women.
Last week, Abe (pronounced AH-bay) affirmed his statement, made earlier this month, that government records show no evidence of the soldiers coercing the women. (Many official records had been destroyed.) That compelled even the US ambassador to Japan to criticize this legalistic hairsplitting of the government's immoral role in procuring the brothels and to say that the women were indeed coerced and "raped by the Japanese military."
Perhaps Abe's bigger concern may be that young Japanese are losing pride in their country. He criticizes what he calls a "self-flagellatory" version of history taught in schools, including wartime atrocities. His campaign slogan last year was "beautiful country," which reflects his hope to restore "national self-belief." He and others say Japan has had more than 60 years of pacifism, and it's time to move beyond postwar issues.
Or maybe Abe believes, as many Japanese do, that character is inherited and to admit the sins of one's fathers and grandfathers is to admit one's own.
What makes Abe's challenge so odd is that he became popular on his passionate efforts to free Japanese nationals abducted by North Korea during the cold war. And he says Japan's "great presence" (as the world's second largest economy) forces it to "meet the expectations" of other nations.
One of those expectations is that Japan sincerely stick to past statements of contrition about war behavior, perhaps even reinforcing them with higher official approval. These frequent, right-wing challenges to the historical record must come to an end.
Building trust with its neighbors can't be bought simply with admired exports or hefty aid. Rather, an honest look at history can help Japan, as it did Germany, to move forward in becoming a global leader.
Abe's confusing remarks about the women's coercion and the 1993 statement need to be cleared up.
Japan deserves to become a "beautiful country," one whose pride is anchored in sincerely owning up to the country's past.
The Japan Times
Tuesday, March 20, 2007
FYI
COMFORT WOMEN
Were they teen-rape slaves or paid pros?
By AKEMI NAKAMURA
Staff writer
An international outcry has flared again after members of the U.S. House of Representatives submitted a resolution in January urging Japan to formally apologize for forcing young females across Asia into sexual slavery during the war.

Prime Minister Shinzo Abe has repeatedly said he stands by the government's 1993 statement of apology to the "comfort women" that admitted the Imperial forces' involvement -- directly and indirectly via agents -- in forcing young females into frontline brothels. But Abe also claimed no official document ever surfaced to prove the military coerced them.

Leading historians with conflicting views -- Ikuhiko Hata, a lecturer at Nihon University who denies there were any sex slaves, and Yoshiaki Yoshimi, a Chuo University professor who played a central role in bringing the dark episode in Japan's history out into the open, offer the following:
Where does the term "comfort women" come from?
That is how the military referred to women who worked in its frontline brothels, or "comfort stations."
There were four main reasons for the brothels, according to Hata and Yoshimi. The military reckoned it would prevent soldiers from raping women in the areas they invaded, would prevent venereal disease, would stop soldiers from leaking military secrets to the civilian population by limiting exposure with locals, and the women would bring "comfort" to the soldiers, away from their families.
Why do some Japanese call them "comfort women" and not sex slaves?
A conservative segment is trying to euphemize Japan's wartime deeds as well as erase Japan's war-making from school history texts.
Hata, for example, refers to comfort women and refuses to say sex slaves because he claims the women, and according to historians, girls, were not forced into the frontline brothels. Hata claims the women were trading sex for money.
Yoshimi explicitly refers to them as sex slaves. He says the military forced them into sexual slavery, imprisoning them in brothels.
How many women served soldiers at the brothels?
No official figures have been provided, as there are few documents discovered. Historians have calculated the numbers by tallying how many soldiers were in the field and consulting documents on the ratio of women to soldiers. They also made assumptions about the "replacement rates" of women at the brothels.
Hata has estimated there were up to 20,000 "comfort women," while Yoshimi says the figure was between 50,000 and over 200,000.
Where did the women come from?
They came from Japanese-occupied Korea, Taiwan, French Indochina (now Vietnam), the Dutch East Indies (Indonesia), Burma (Myanmar) and even Japan, according to Yoshimi. He believes the majority were Korean, followed by Chinese, Taiwanese and Filipinos. But there were also Vietnamese and Dutch women, and he said roughly 10 percent were Japanese.
Hata, however, figures about 40 percent of the women may have been Japanese while 20 percent were Koreans and the remainder included Chinese and Filipinos.
How were the frontline brothels run?
According to Yoshimi, the government and military played a major role in operating the brothels. Although private agents were commissioned to round up the women, the military brought the women to frontline brothels and controlled their operations, he said.
But Hata claimed the agents took the initiative because it was their business. The military only played a secondary role, he said, offering facilities for brothels. He also emphasized the business side of it, saying the women had contracts with the agents, not the military.
How did the "comfort women" live?
According to media reports and books by the two scholars, one sex slave, from what is now South Korea, recalled being forced to serve several soldiers a day at a frontline brothel in China when she was 17. Meanwhile, a Filipino testified that at age 14, she was gang-raped by Japanese soldiers and forced to work at a "comfort station" at age 15, where soldiers kept them at gunpoint.
A 1944 U.S. document on 20 Korean "comfort women" and two Japanese civilians in Burma shows the women were given sufficient food and goods while they took part in sports events and picnics with officers and could refuse "customers." Although the women received pay, "the 'house master' received 50 percent to 60 percent of the girls' gross earnings, depending on how much of a debt each girl had incurred when she signed her contract." The master charged high prices for food and other articles, which made life very difficult for the girls, it said.
Hata figured the situation was similar to prostitutes at regular brothels, which were legal those days. However, Yoshimi says the sex slaves were that by definition -- they did not have freedom to leave or refuse sex with soldiers.
Since the early 1990s, some former sex slaves have filed lawsuits demanding the government make an apology and pay compensation. Their suits have been dismissed at the district, high and even the Supreme Court level, usually by a statute of limitations being trotted out.
But the Tokyo High Court acknowledged in a 2003 ruling that the government had failed in its obligation to provide security for South Korean plaintiffs and in another verdict in 2004 that Japanese soldiers kidnapped Chinese women and repeatedly raped them, describing it as a "comfort women" situation.
Did the military or government forcibly take women to frontline brothels?
Yoshimi said the military knew private agents sometimes cheated, kidnapped, traded or forcibly took some women to frontline brothels. Some former sex slaves testified that the military and Japanese police were involved in the coercion, he added. Because the victims were forced to have sex with Japanese soldiers against their will, the "comfort women" system was obviously sex slavery.
But Hata noted no documentary evidence of systematic state or military coercion has been provided, although police and soldiers took it upon themselves to force victims into the brothels. He claimed the "comfort women" at the brothels engaged in the same acts as prostitutes at privately run whorehouses, which were legal. He said criticizing the "comfort women" system by today's standards is unfair.
What steps did the government take after the 1993 apology statement?
After the 1993 statement of apology by then Chief Cabinet Secretary Yohei Kono, in 1994, then Prime Minister Tomiichi Murayama issued a statement expressing his profound and sincere remorse and apologies to the "comfort women."
In 1995, the semigovernmental Asian Women's Fund was created and has delivered compensation to 364 former sex slaves in the Netherlands, the Philippines, South Korea and Taiwan. Letters of apology signed by the serving prime minister were also sent to them. But many ex-sex slaves refused the money because the "atonement" funds were technically not from the government and the apology was not convincing.
On March 11, Prime Minister Abe on an NHK program offered what was reported as a sincere apology to the comfort women for their hardships and incurable scars, although his comments were largely taken as an attempt to douse the ongoing ire.
Did other military forces have a similar system?
According to both Hata and Yoshimi, Nazi Germany had frontline brothels during the war, using women, even by force, in Eastern Europe.
The Weekly Q&A appears Tuesdays (Wednesday in some areas). Readers are encouraged to send ideas, questions and opinions to National News Desk
慰安婦問題:安倍首相の強制否定で拉致支援者に困惑 米紙
毎日新聞 2007年3月19日 10時17分
 【ワシントン及川正也】米紙ロサンゼルス・タイムズ(電子版)は18日、従軍慰安婦問題で安倍晋三首相が「狭義の意味での強制性を裏付ける資料はなかった」との立場を堅持していることについて、「強制性」を否定していることで北朝鮮による日本人拉致問題で日本政府の立場を支持する人たちを「困惑させている」とする記事を掲載した。
 記事は東京発。従軍慰安婦問題と拉致問題への安倍内閣の対応を比較。拉致問題では「北朝鮮を非難」するが、慰安婦問題では「強制を否定している」と指摘。シーファー駐日米大使が米紙に「元慰安婦は旧日本軍によって強姦(ごうかん)された」と発言したことに言及し、「ワシントンの日本の最大の支援者たち」にも困惑が広がっているとの見方を示した。
 また、批評家の見方を引用する形で「首相は旧軍によって恐怖を強いられた多くの女性に対し、(拉致被害者へのと)同じ同情を持てないでいる」と批判している。
Japan's Abe sticks to comments on 'comfort women'
NEWS ANALYSIS
Japan's Abe sticks to comments on 'comfort women'
Premier denies coercion in World War-II era brothels, even as he berates North Korea over kidnappings of Japanese citizens.
By Bruce Wallace, Los Angeles Times Staff Writer
March 18, 2007

TOKYO —
Anyone struggling to understand the Japanese government's position on the morality of kidnapping people, taking them to another country and forcing them to work against their will can be excused for being confused by the declarations coming out of Tokyo these days.
On one hand, Prime Minister Shinzo Abe seems prepared to risk his country's reputation by saying that the Japanese military did not coerce the tens of thousands of women from other Asian countries cast into sexual slavery during World War II.
Yet his government cannot contain its fury over North Korea's failure to "sincerely" face up to its role in kidnapping a handful of Japanese civilians during the Cold War and forcing them to teach Japanese customs and language to North Korean spies.
There is no hint here of any awareness of the irony.
There has been almost no outcry in Japan against Abe's assertion that there is no evidence to implicate the Japanese military in the well-documented system of organized brothels in areas under its control. Major media organizations support Abe's position and have encouraged him to stick by it.
In a sign that it feels no heat at home, the Abe Cabinet issued a statement Friday reiterating that government archives contain no evidence of official military involvement in recruiting what the Japanese euphemistically call "comfort women."
Contrast that with the national anguish over the 17 Japanese allegedly kidnapped by North Korea and who Tokyo says may still be alive. One of the abductees, Megumi Yokota, who was kidnapped at age 13 three decades ago, has become an icon of Japanese victimhood, and Abe has never missed a chance to affix his career to her tragedy. Last week, his government launched a $1-million TV ad campaign extolling its determination to free her and the other abductees.
"The Japanese people have little awareness about human rights," says Yoshimi Yoshiaki, a Chuo University professor and co-chairman of the Center for Research and Documentation on Japan's War Responsibility. He has received many requests about the center's scholarship since the controversy broke — all form abroad. "There was no interest in Japan," he says.
"The Japanese become very emotional about the abductees because the victims are Japanese, but they don't feel so close to other Asian women, whose suffering they see as something in the past," Yoshiaki says. "What Abe is demanding from North Korea, an apology and punishment for the people who did it, should be the same standard he applies on comfort women."
No documentation
But Abe has opted to play the lawyer rather than the moralist on the so-called comfort women. Despite the testimony of women who were victims of the brothels, Abe says there is no paper trail showing coercion in the narrow sense of soldiers breaking into homes and abducting women into forced prostitution. Any such suggestion is a "complete fabrication," he told parliament.
How, critics ask, could a prime minister who came to office vowing to create a "beautiful Japan" that spoke with credibility on global affairs, end up squabbling over details with now-octogenarian women about the degree of coercion that was used to conscript them into a network of serial rape?
Some say it is rooted in his government's falling poll numbers, which has left him vulnerable to attack from the nationalist wing of his party. These conservatives once saw Abe as their champion but accuse him of going soft since becoming prime minister.
Others argue he was merely speaking his mind, noting his record of criticizing what he described as Japan's masochistic culture of endlessly apologizing for World War II and its related crimes.
It's unclear whether Abe knows, or worries, about the damage his obfuscation has done to Japan's image abroad. He has dismissed criticism as Japan-bashing spawned by a misrepresentation of his position by foreign media.
But the sex slavery issue comes at what was supposed to be a shining period of breakthroughs for Japanese diplomacy: a visit by Chinese Premier Wen Jiabao to repair Japan's shaky relations with its Asian rival, and a trip to Washington at the end of April to draw attention to the robust health of the alliance with Japan's one indispensable partner.
Eager to keep warming relations on track, the Chinese government has been muted in its criticism of Abe's statements about the wartime brothels. But the Washington visit seems certain to be dogged by protests by women's groups and to attract sharp questions about whether the United State's firmest ally in Asia is backsliding on a central moral question.
And it will come as Congress considers a resolution introduced by California Democrat Mike Honda of San Jose calling on Tokyo to issue a formal, unconditional apology over the comfort women. Abe has dismissed the Honda resolution as "not based on objective facts" and said his government would not apologize again, whether the resolution passed or not, a statement that cut the legs from under Japan's best supporters in Washington.
"There is no difference of opinion on the issue in the United States," said Thomas Schieffer, the U.S. ambassador to Japan, who said he took the word of the women who recently testified to Congress about their enforced prostitution under Japanese occupation.
"They were raped by the Japanese military," Schieffer said. "I think that happened. And I think it was a regrettable, terrible thing that it happened."
Playing to emotions
Abe's dilemma is that although legalistic hair-splitting about responsibility may play well in Tokyo's political backrooms or with conservative academics, it is volatile material abroad, where Japan's former victims and its current friends alike demand that Japanese prime ministers deliver an unambiguous moral condemnation of the sexual slavery.
And no one knows the emotional potency of defending the victims of kidnapping better than Abe, who fashioned his nationalist career on the back of the abductees' media soap opera. Just days before he stumbled into the sexual slavery fiasco, Abe used the weekly newsletter on his website to gush over a song that Noel "Paul" Stookey of Peter, Paul and Mary fame wrote for Megumi Yokota.
"An image of a happy Megumi together with her family floated before my eyes," Abe wrote after hearing Stookey perform the song to Megumi's parents in "a gentle voice one would use when speaking to a small girl."
"How scared and lonely she must have been, separated from her parents," Abe wrote. "How deep and large the emotional scars must be for parents, whose dear child was taken away."
How true. And how extraordinary, critics say, that Abe was unable to conjure the same sympathy and moral outrage over the horrors inflicted on the thousands of women at the hands of the Japanese military.
bruce.wallace@latimes.com
Kansas City Star editorial
Posted on Sat, Mar. 17, 2007
'Comfort women' denials split hairs, damage credibility
Japan should own up to its sordid actions
Japanese Prime Minister Shinzo Abe has denied that the military was involved in coercing thousands of women to serve as sex slaves during World War II. This is another sad example of Japanese denial over the country's wartime savagery.
Abe seemed to suggest that since the Imperial Japanese Army wasn't directly involved in forcibly rounding up the sex slaves — estimated at 200,000 — Imperial Japan's guilt is somehow diminished, even though the women were confined to brothels patronized by the military.
But in 1993 Tokyo acknowledged that the Imperial Japanese Army did help set up the network of the euphemistically named "comfort stations" in nations invaded by Japan during the war.
Abe now wants to back away from that admission. The latest line: Yes, coercion was involved in rounding up the women, but it was done by private dealers rather than government authorities.
This is a virtually meaningless distinction when discussing countries that fell victim to the ferocious brutality of Japanese troops.
The controversy over wartime atrocities has flared anew in part because of a resolution introduced in the U.S. Congress, urging Japan to acknowledge responsibility for its abuse of the comfort women and to apologize for it.
The Yomiuri Shimbun, echoing Abe's argument, noted that, "The (U.S.) resolution says the Japanese military commissioned the acquisition of comfort women. However, no documents have been found to support this assertion. Historians also accept that no such orchestrated action was undertaken by the Japanese military."
Nonsense. This flies in the face of testimony by the surviving "comfort women" as well as the work of historians — some of them Japanese — who cite statements from military officials and documents from the United States and other countries.
Japan has profoundly damaged its standing in Asia and the world — and undermined its ability to provide leadership commensurate with its economic status — by decades of haggling over its past.
The aspiration of many Japanese is for their country to become a "normal nation." It's not likely to happen as long as Japan continues to deny its own past.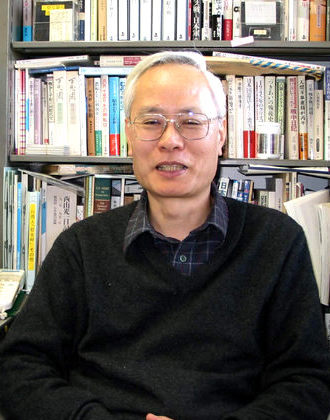 The Hankyoreh
[Interview] Japanese professor calls PM's historical stance 'bizarre'

Prof is expert on issue of WWII sexual slavery by Japan
"It is bizarre that Prime Minister Abe only speaks of whether or not the 'comfort women' were taken forcefully by the Japanese military. Wasn't the very system of 'comfort women' one based upon sexual slavery?"
"Abe said that there were no violent abductions of women, but in fact there were. The 1994 report released by the Netherlands found such actions took place in at least eight separate locations."
An authority on the issue of the comfort women, the over 200,000 foreign women made to serve as sexual slaves for the Japanese military during World War II, Japanese professor Yoshimi Yoshiaki of Chuo University methodically criticized Prime Minister Abe's recent comments and historical consciousness. In reference to the 1993 apology made by Chief Cabinet Secretary Kono Yohei, Yoshimi said "it was unclear who exactly was taking responsibility," and that on the next opportunity, legal responsibility must be clearly assigned and an unambiguous apology must follow.
Professor Yoshimi unearthed official documents from March 1938 sent to the Japanese military stationed in China detailing regulations regarding "comfort stations" and the "recruitment" of women for them. His discovery was carried in the news daily Asahi Shimbun in 1992, and the Japanese government admitted to some degree the reality of the forced abductions the following year via Chief Cabinet Secretary Kono Yohei's statement.
What first drew the professor's interest to the subject was his meeting with Kim Hak-sun, who was forced to serve as a comfort woman and the first one to openly declare this bitter part of her past. "I felt a responsibility as a historian to study the subject when on the NHK network, Kim Hak-sun expressed her desire that Japanese youth be informed about how the Japanese military had commited such vile deeds during the war."
However, his research activities brought him the unwanted attention of Japanese right-wing groups. For some time, the phone would ring at 2 or 3 a.m. As soon as he picked up the receiver, the caller would hang up. Presiding over a document center on the Japanese war, he dug into the reality of the Japanese germ warfare program, as well.
On March 8, Professor Yoshimi spoke at a gathering hosted by a group of Japanese lawmakers, where he sharply criticized Abe's comments.
Question Recently, Prime Minister Abe has repeatedly made apologies in regard to the comfort women issue...
Answer It appears like a temporary retreat on his part. I think he's changing his stripes in view of the American reaction. But his heart has not changed. His stock argument is that there were no forced abductions by Japanese military personnel, and that given that fact, there is nothing else to discuss. In other words, there was no coercion 'in the narrow sense of the term.' His opinion is that civilians managed the activities, and thus the Japanese government and military is exempt from responsibility.
Q There are also scholars who assert, like Prime Minister Abe, that the documents of the Japanese government do not prove such a "coerced agreement" took place.
A Prime Minister Abe is focusing exclusively on the issue of how the comfort women were taken. What is important, however, is whether or not the women wanted to work at the comfort stations. No matter how courteously they were taken away, the things done to them at the stations were criminal. In clause 226 of the old Meiji Constitution, trade in people, kidnapping, and overseas abduction are all outlawed. Yet it seems that Prime Minister Abe does not know these actions were and are criminal, regardless of whether the victims were taken by force. In 1937, the Japanese Supreme Court found a comfort station guilty of kidnapping under clause 226.
There was also a system of licensed prostitution within Japan during the war. The rights of the women working to stop work and leave were acknowledged only on paper, but research shows they were no different from sex slaves. The overseas comfort stations were much more severe. The women there had none of these rights, and endured nothing less than sexual slavery. Some say that there are no documents to prove this, but it is only natural that there are no memorandums ordering the Japanese soldiers to "violently conscript" women.
Q What's your view of the Kono Statement [or the Kono Apology]?
A We must not retreat from the Kono Apology. We must take another step forward. The major problem with the Kono Apology is that it is unclear exactly who is taking responsibility for the human rights abuses. By some interpretations of the statement, the government merely provided a small amount of assistance to civilian enterprises. But it is clear from the historical documents that private companies could not have established the comfort stations singlehandedly. The facilities could not have been made without permission from the military. The comfort station administrators were pawns of the Japanese, whether the military or the police.
Furthermore, the Kono Statement speaks only of moral responsibility, but clearly asserts there is no legal responsibility within its legalese. At this point, though, full responsibility [both moral and legal] needs to be taken and reparations must be paid.
Q What do you think of the resolution before U.S. Congress [to compel the Japanese government to apologize officially]? Prime Minister Abe said there was no further need for apologies...
A The thought behind the U.S. resolution seems to be that insufficient Japanese reflection on the issue of war responsibility is creating an uneasy situation in East Asia. I think of the resolution as less criticism than advice. Indeed, it is advice that Japan needs to hear. Rather than vaguely putting the issue aside, Japan should take this opportunity for the sake of the future to officially record its responsibility and send a message that this must never happen again. Several Prime Ministers have released letters of apology, but they were all tinged with vagueness. After clarifying where responsibility lies, it is right to apologize.
Q I feel that Japan's historical consciousness is on the retreat in view of Prime Minister Abe's statement.
A Me, too. The new consciousness is most clearly rearing its head in school textbooks. The year following Kono's apology in 1993, the comfort women issue was described in all middle school textbooks. But afterwards, people like Abe began a movement to remove this content, and now there is not a single textbook that discusses the issue frankly. There is one textbook that mentions the comfort facilities without elaboration, and there is another that explains that they were coerced into this 'work.' The comfort women have all but disappeared from Japanese books.
Two years ago, Minister of Education, Culture, Sports, Science and Technology [and head of the group of legislators urging the withdrawal of Kono's apology] Nakayama Nariaki declared, "it is a good thing that the number of references to the comfort women has decreased."
But in addition, several Prime Ministers sent separate letters of apology to the victims stating, "the truth of the comfort women must be passed down to future generations," yet they have not lived up to their words.
Q What do you see as the context for the decline of Japanese historical consciousness?
A It seems like it is related to the situation that emerged since the mid-1990s. After the bubble economy collapsed, there were few things on which one could rely and finding regular employment became difficult. It was amidst this atmosphere that the desire for pride took root.
Students these days do not want to reflect upon the past at all, and are unwilling to acknowledge the things that occurred. However, if there were mistakes in the past, then a healthy pride would require one to acknowledge them and vow to never allow them again. Of course, there are many young people who think this way, too.
Another reason is that although the Japanese media prominently covered this issue earlier, now they show hardly any interest. Only recently have they brought up the issue, and only to the extent of covering the U.S. Congressional resolution under debate, as well as Chinese and Korean criticism about the issue.
Kim Do-hyeong, Tokyo Correspondent
Please direct questions or comments to [englishhani@hani.co.kr]
Posted on : Mar.17,2007 14:21 KST Modified on : Mar.17,2007 14:40 KST
© 2006 The Hankyoreh Media Company. All rights reserved.
No part of this material may be reproduced, stored in a retrieval system, or transmitted in any form or by any means, electronic, mechanical, mimeographical, in recorded form or otherwise for commercial use, without the permission of the Hankyoreh Media Company.
Uncomfortable truth for Japan
Ellen Goodman
The Boston Globe
Friday, March 16, 2007
The name is what first grabbed my attention. Comfort women? What a moniker for the sexual slaves who were coerced, confined and raped in the Japanese military brothels strung across Asia during World War II.
The very name reduces the women to the sum of their service. What kind of comfort did they supply? The label is only marginally more humane than the other words for the women listed on the procurement rolls: "items" and "logs."
Now comfort women are back in the news. They're back because California Representative Mike Honda held hearings on a bill asking Japan to finally "acknowledge, apologize, and accept historical responsibility in a clear and unequivocal manner for its Imperial Armed Force's coercion of young women into sexual slavery." They're back because the Japanese prime minister, Shinzo Abe, chose instead to deny that the women were coerced or that the imperial government was to blame.
Abe was hardly the only one in his ruling elite to make such a gaffe. They don't even consider it a gaffe. Another lawmaker, Nariaki Nakayama, breezily dismissed the government's procurement of some 100,000 to 200,000 young women by describing it as a private enterprise. "Where there's demand," he said, "business crops up."
Honda, himself a Japanese-American who spent childhood years in internment camps here, said, "Prime Minister Abe is in effect saying that the women are lying." Mindy Kotler of Asia Policy Point puts it more baldly. Abe, she said, called these elderly survivors "lying whores."
Koon Ja Kim, a Korean, remembers to this day what she was wearing — "a black skirt, a green shirt and black shoes" — when as a 16-year-old girl she was taken to a brothel where she comforted 20 or more soldiers a day. Jan Ruff O'Herne, a Dutch woman taken at 19, remembers beatings and rape even by the doctor who paid calls to the brothels checking for venereal disease. Lee Yong-soo left with venereal diseases and shame for over half a century. Liars all?
This time the denial of history threw Japan's image back 15 years, prior even to the Kono statement, a half- hearted apology to the women, composed in 1993 by a Cabinet member. But it's also a reminder of the distance the world has come on these issues.
This is women's history month, when attention here in the United States is often focused on founding mothers like Susan B. Anthony. But this year, the comfort women are showing the long way we've come from victim to heroine.
For millennia, rape was seen as a side effect, even a perk, of war. As recently as World War II, the Free French gave Moroccan mercenaries license to rape enemy women in Italy. In the 1990s there were rape camps in Bosnia, and sexual assault is a grisly routine in African conflicts.
Nevertheless, wartime rape is becoming less a matter of personal shame and more a matter of international outrage. It's designated as a war crime by the United Nations. And more than one comfort woman, like O'Herne, spoke out after seeing stories about the Bosnian camps.
There are few countries that haven't been complicit in this war crime. But the Japanese military actually planned and managed a vast system of forced brothels complete with scheduled "comfort" appointments for soldiers, visits by doctors and government-issued condoms named "Attack No. 1."
Undeniable? "There is a right wing in Japan," says Kotler, "that we would think of as equivalent to the Holocaust deniers." But Japan is not the only country that wants to rewrite history. If some Japanese leaders talk about the World War II syndrome, some U.S. leaders talk about the Vietnam syndrome. In 2001, a revisionist Japanese textbook excising wartime atrocities caused a furor across Asia. The revisionists argued that history should make children proud of their country. Maybe telling the hard truths would make those children proud.
Abe has backed off his denial inch by inch. On a Japanese television show he even expressed formal, if offhand, sympathy for "the injuries of the heart" of the comfort women. But as Andrew Horvat, an American professor in Japan, says, "If someone has to provide sexual services for 20 soldiers a day, she comes home with more than just 'injuries of the heart.' She comes home sterile, infected with a stubborn STD, and in a state of psychological trauma."
So we have a shrinking, aging cohort of women standing on the cusp of history. It is long past the time for modern Japan to fully apologize and claim responsibility for its past. Maybe there is no final comfort for the comfort women, but there should be justice.
The New York Times
March 17, 2007
Japan Repeats Denial of Role in World War II Sex Slavery
By NORIMITSU ONISHI

TOKYO, March 16 —
The government of Prime Minister Shinzo Abe repeated Friday that there was no proof that the Japanese military forced women into sexual slavery during World War II.
In a written statement endorsed by the cabinet, the government referred to a study from the early 1990s and said that "among the materials it discovered, it did not come across any that directly show that the military or authorities so-called forcibly led away" the women, known euphemistically as comfort women.
The statement was in response to a request from an opposition lawmaker, Kiyomi Tsujimoto, for Mr. Abe to explain remarks in which he had denied that the military coerced the women into working as prostitutes for Japanese soldiers throughout Asia.
The remarks caused a furor throughout Asia as well as in the United States, where the House of Representatives has been considering a nonbinding resolution that would call for Japan to acknowledge and apologize unequivocally for its wartime sex slavery.
The government stated that it would adhere to a 1993 declaration that acknowledged and apologized for Japan's brutal mistreatment of the comfort women. But Mr. Abe, who has been under pressure from the right wing of his Liberal Democratic Party to reject the 1993 declaration's admission of state responsibility, said last week that the women had been coerced by private brokers.
The 1993 declaration said, "The government study has revealed that in many cases they were recruited against their own will, through coaxing, coercion, etc., and that, at times, administrative/military personnel directly took part in the recruitments."
Mr. Abe, whose approval ratings have been plummeting since he took office last September, said that Japan would not apologize even if the House resolution passed.
In a meeting with reporters on Friday, the American ambassador, J. Thomas Schieffer, said he hoped that the government "would not back away" from the 1993 statement.
Mr. Schieffer described as "credible witnesses" former comfort women who recently testified in Congress about being coerced into prostitution by the Japanese authorities.
"I take the word of the women that testified," Mr. Schieffer said.
He added: "I think they were coerced to engage in prostitution. That means they were raped by the Japanese military at that point in time. I think that happened, and I think it was a regrettable, terrible thing that it happened. I think the events speak for themselves."
A group of conservative lawmakers in the Liberal Democratic Party has been leading efforts to soften the 1993 declaration, and is planning to conduct a new investigation into the comfort women issue. Mr. Abe, a founding member of that group in the 1990s, has said that the government will cooperate in the new investigation by providing it with documents.