カテゴリ
以前の記事
検索
最新のトラックバック
その他のジャンル
ファン
記事ランキング
ブログジャンル
画像一覧
In Europe, abortion foes heighten efforts, gain traction
Shifting social policies debated in some countries
By Elisabeth Rosenthal, International Herald Tribune | July 31, 2005
WARSAW -- For most of July, pedestrians in the Polish city of Lodz found themselves face-to-face with 14 grisly billboards pairing images of aborted fetuses with photographs of blood-spattered corpses -- victims of genocide in Srebrenica or Rwanda, toddlers killed in the Oklahoma City bombing attack.
Placed by a Polish antiabortion group, the traveling exhibition, which has moved on to Lublin, personifies an aggressive, well-financed, and growing conservative movement across Europe that not only opposes abortion, but also contraception, sex education, artificial insemination, and gay rights.
Encouraged by the Roman Catholic Church, enabled by the election of conservative governments in many countries, and financed in part by antiabortion groups in the United States, the movement has made powerful inroads in countries where a full array of women's health services were once taken for granted.
These include Poland, Italy, Slovakia, Lithuania, and the Netherlands, where the new Christian Democratic secretary of health has suggested a review of that country's liberal abortion law.
''It's gotten worse in many places over the last two to three years as more Christian Democrat and conservative governments have come to power," said Rebecca Gomperts, founder of the Dutch abortion-rights group Women on Waves.
For example, Anna Zaborska of Slovakia, the new chairwoman of the European Parliament Committee for Women's Rights and Gender Equality, opposes abortion.
''Antiabortion groups have become much more active and successful at influencing public opinion, and they have money and the mobilizing power of the church behind them," Gomperts said.
The consequences are varied but perhaps nowhere more dramatic than in Poland, where abortion was free and freely accessible under Communism. Today, a relatively restrictive abortion law (which refers to the fetus as a ''conceived child"), coupled with strong social stigma and an antiabortion stance among doctors' groups, has led to a situation in which only 174 legal abortions were performed nationwide in 2004 -- and tens of thousands of illegal abortions were carried out, according to the Polish Ministry of Health.
In Poland, the battle is so intense that the country's leading gynecology journal recently refused to publish the World Health Organization's guidelines on ''Safe Practices in Abortion," calling them ''reprehensible."
''Abortion is not safe because a patient who undergoes such treatment always dies," wrote Andrzej Barcz, editor of Practical Medicine-Obstetrics and Gynecology.
International antiabortion groups point out that their influence in Europe -- where abortion has popular support and is generally available -- is still much weaker than in the United States or Latin America. But they are thrilled with the new activity.
''There are now a lot of prolife groups working in Europe, but they are fairly young, formed in the last five or 10 years," said Joseph Meaney, international director of Human Life International, a powerful Catholic antiabortion group based in Virginia.
In France and Italy, youth groups are now lecturing in schools and organizing marches, promoting abstinence and an antiabortion message.
Meaney said this was due, in part, to the ''John Paul II effect," noting that the charismatic late pope, who held appeal for youth, had strongly opposed abortion and contraception.
In Europe, only Ireland, Portugal, Malta, and Poland have strict legal limits on abortion. But many countries that permit abortion are considering new limits on the practice or are restricting payment for both abortion and contraception by national health plans. As in the United States, access to the procedure is also increasingly limited by taboos, costs for patients, and the objections or fears of doctors.
In Poland, the law permits abortion if the woman's health is in danger or if genetic defects have been detected in the fetus. But, said Wanda Nowicka, head of the Federation for Women and Family Planning in Warsaw, ''There is now almost no condition that would allow you to get an abortion here."
Her group is currently bringing a lawsuit on behalf of a woman who is nearly blind because doctors refused to allow her to abort when she fell ill during pregnancy.
Nowicka said 80,000 to 200,000 illegal abortions are performed in Poland every year.
''This country is not conservative, but reproductive health has become highly politicized and stigmatized in the last few years," Nowicka said.
The same trend is apparent in many European countries, with only a few bucking the trend, among them Spain, a Catholic country with a Socialist government.
The Catholic Church has been particularly influential in former Eastern Bloc countries, where it made rapid gains after Communism collapsed more than a decade ago.
Croatia and Slovakia, for example, signed treaties with the Vatican that give the church influence on school curriculums, including sex education. In Slovakia, where abortion is legal, Christian antiabortion supporters mark March 25 as the ''Day of the Conceived Child."
But many also cite global political trends, such as the Bush administration's decision to promote abstinence as the preferred form of birth control.
''Those who oppose a woman's choice have become stronger and louder because the international atmosphere supports them," said Esmeralda Kuliesyte of Lithuania, who leads the Family Planning and Sexual Health Association in Vilnius.
水/地平線(すいへいせん/ちへいせん)
「薬物去勢」支持される理由 コロンビア
 和泉聡 (朝日 2005/07/31朝刊国際面)
 コロンビアの国会で、性犯罪者に対し「薬物去勢」をしようという法案が審議されている。再犯を防ぐため、薬を投与し、性欲に関係する男性ホルモンを抑え込んでしまうという制度だ。米国の一部の州や欧州で、性犯罪者の矯正法などとして採り入れているところがある。
 制度の細部は国会で議論しながら煮詰めていくため、まだ固まっていないが、提案者のカルロス・モレノ・デカロ上院議員によると、自分の意思で承諾した性犯罪者だけを対象とし、見返りとして仮釈放や刑期短縮をする。犯罪の多発で刑務所が不足していることも提案の背景にある。これまで重大な副作用の報告例もないため、人権上の問題は少ない、と同議員は言う。
 強姦(ごうかん)や強制わいせつなど性犯罪は増加傾向で、03年は約1万4200件。人口10万人あたり50件だ。統計の取り方が違うので一概に比較できないが、日本の約4倍。性犯罪者の7割が再犯し、被害者の8割近くが14歳以下と見られている。
 反対意見もある。弁護士のファン・デディオス・トレスさんは「仮釈放などをちらつかせて誘導すれば、強制したも同然になる。肉体刑など残虐な刑を禁止した憲法にも違反する」と言う。
 デカロ議員によると、国会議員の賛否は半々だが、市民の間では賛成が圧倒的だという。「議員の子供たちは警備員に守られているから、ひとごとのように考えている。非力な女性や子供を守ることこそ大事だ」というわけだ。
 刑務所では性犯罪者が最もさげすまれ、同部屋の服役囚からリンチを受けると、南米の国々で聞く。貧民街では麻薬取引や殺人が頻発するのに、性犯罪だけは発生すると大騒ぎになり、住民が総掛かりで犯人を見つけ出す。
 犯罪総数が多いなかで、性犯罪だけは「殺人よりも許せない」という意識が南米に強いのはなぜか。長いこと疑問に思っていた。友人らの意見では「敬虔(けいけん)なカトリック信者が多く、キリスト教の人道主義が絡んでいる」という。しかし殺人も人道主義に反し、あまり説得力がない。
 カーニバルやサッカーで情熱的な男性たちの姿に、過剰なまでに「男らしさ」を重視する空気を感じる。性犯罪ほど男らしくない犯罪はない。「愛する女性を守るためなら何でもする」。そんな女性に優しいラテンの男たちの心抜きには、「薬物去勢」の是非を語れないだろう。
An Employee, Hired as a Man, Becomes a Woman. Now What?
By KELLY PATE DWYER
Published: July 31, 2005 - New York Times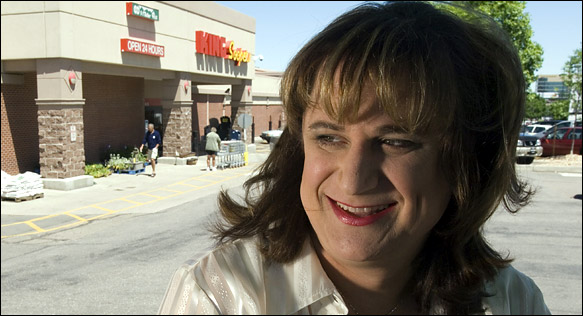 Kevin Moloney for The New York Times
Kim Dower's employer let her wear women's clothes after her doctor wrote a letter.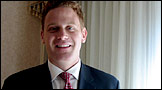 Acing the Interview
Nick Warnock, a contestant on the television show "The Apprentice," talks about the interview process.
On a recent Wednesday, Kim Dower, a Denver pharmacist, arrived at her job of 10 years wearing a cream chiffon blouse, long crepe skirt and black flats.
It was an ordinary day, except that the day before she'd come to work dressed as a man.
Ms. Dower, 51, is a biological male in transition to becoming female.
In the spring of 2004, she told her bosses she wanted to start dressing as a woman, and they said no. She filed discrimination charges against the company, King Soopers, a subsidiary of the Kroger Company, based in Cincinnati. Lawyers were called in and mediation talks were held.
In 2005, Ms. Dower testified before the Colorado State Legislature in support of a proposal that would have banned discrimination based on sexual orientation or sexual identity. The measure passed; the governor vetoed it.
But Ms. Dower, in women's clothes, still has her job.
Although Kroger, like most employers, does not mention transgender people in its antidiscrimination policies, a number of large employers have recently added protections for them.
More legal protections are being added, too. Twenty-eight percent of the population is now covered by laws in cities, states or other jurisdictions that prohibit discrimination against transgender people, up from about 5 percent at the end of 2001, according to the National Center for Transgender Equality in Washington. And lawmakers are debating the issue at the national level. This growing national dialogue is focusing attention on a delicate and often confusing human resource issue.
"It's created some vexing problems for the employer, of respecting the rights of the employee in question and dealing with the employee morale, fears, tensions of co-workers," said Gerald L. Maatman Jr., a Chicago lawyer who has represented employers in five cases involving transsexual employees.
"Transgender" is the broad term covering people who express themselves in the opposite sex, including cross-dressers and transsexuals.
Transsexuals live as the opposite sex, and may opt for hormone therapy and surgery. Doctors generally require transsexuals to dress as their desired sex for a year - at home, at work, everywhere - before surgery.
Even though many employers may never need to deal with the issue of a transgender employee, specialists suggest preparing for the possibility. Mr. Maatman advises clients to make sure their policies at least match the laws in places where they operate.
What restroom will the employee use? Will co-workers and customers feel uncomfortable when John becomes Jane?
The workplace is typically the last place a transsexual "comes out." That's the way it was for Ms. Dower.
As a boy, then a man, she hated herself for feeling female, she said. Only a few years ago, after psychological counseling failed to conquer that feeling, did she consider a sex change - shocking her wife and their adult children.
When Ms. Dower first asked to wear female attire, the company requested access to her medical records. She shared some, and her doctor later wrote the company a letter attesting to her plans for surgery.
Gary Rhodes, a Kroger spokesman, said that after King Soopers received letters from her doctors in May, it granted Ms. Dower's request to dress as a woman at work. Managers asked her to use one of two single-toilet restrooms and told her to report to them if anyone treated her badly, Ms. Dower said.
Customers and co-workers have mostly shown support, but Ms. Dower said she resented that the company initially questioned her choice and commitment. "Who else has to prove who they are?" Ms. Dower asked.
Twice as many Fortune 500 companies had sexual identity in their nondiscrimination policies at the end of 2004 as did a year earlier, according to the Human Rights Campaign, an advocacy group in Washington.
ChevronTexaco, Ernst & Young, Merrill Lynch, Microsoft, Toys "R" Us and Viacom have added sexual identity to their policies this year.
Corporate America may in part be responding to a Sixth Circuit Court of Appeals ruling in 2004 that found that a transsexual firefighter in Salem, Ohio, was a victim of sex discrimination.
But big business has other reasons for making changes. Employees "put a name and face and a story" to a policy issue, said Joe Solmonese, president of the Society of Human Resource Management. .
At Ernst & Young, a gay and transgender employees' group approached the human resources department. "They said 'this is the next frontier' " for discrimination protections, said Maryella Gockel, the company's flexibility strategy leader.
At the Intel Corporation, the company not only has policies that protect transgender workers from discrimination, it has specific guidelines for supporting them, said Pferron L. Doss, a human resources official with Intel in Hillsboro, Ore., who has handled seven cases of sex transition at work.
When approached by transgender employees, he asks what support they need; co-workers are then informed and educated about working with them through the transition.
"I think there's initially a fear of the unknown," Mr. Doss said. "An employee may accidentally say 'he' instead of 'she.' That's part of the educational piece, and you catch yourself and you apologize."
Transgender employees use the restroom of their target sex after a name change and change in dress. A switch in showering facilities follows surgery.
A few co-workers have filed complaints based on their religious beliefs, Mr. Doss said, but no serious problems have resulted.
In addition to 6 states, 74 local jurisdictions, including New York City and the District of Columbia, protect sexual identity and expression. Advocates are pushing for a federal law.
Last year, the Human Rights Campaign in Washington said it would support a federal law that bans discrimination based on sexual orientation only if it also bans discrimination based on sexual identity and expression.
"It's become clear we can only win equality if we fight together," said a spokesman for the group, Jay Smith Brown, a female-to-male transsexual.
Even as advocacy groups push for policy changes, they note that culture is playing a part in changing public attitudes.
Jeffrey Eugenides's Pulitzer Prize-winning novel "Middlesex" and the Tony award-winning "I Am My Own Wife," based on the life of the German transsexual Charlotte von Mahlsdorf - have helped dispel perceptions of transgender people as "freaks on Jerry Springer," as Mr. Brown puts it.
▲
by

alfayoko2005

| 2005-07-31 17:07 | トランス
Editorial
Senator Frist's Stem Cell Shift
Published: July 30, 2005 - New York Times
The Senate majority leader, Bill Frist, deserves credit for moving gingerly toward a more expansive policy on stem cell research. Mr. Frist - the transplant-surgeon-turned-lawmaker who was last seen catering to religious conservatives by questioning whether Terri Schiavo was really in a persistent vegetative state - showed courage and common sense yesterday by endorsing a bill to expand federal financing for embryonic stem cell research. Such research has the potential to provide cures for a range of diseases someday, but it is anathema to the religious right because the stem cells are extracted from microscopic embryos that are destroyed in the process.
Mr. Frist is thus in some danger of alienating a powerful segment of the Republican political base. His stance will also put him at odds with President Bush, who is threatening to veto the measure, but it may enhance his appeal to moderates if he decides to run for president.
Although no federal law bans embryonic stem cell research, federal financing for the research has strict limits, which threaten to slow the development of this highly promising field. Although critics often contend that advances with adult stem cells make research on embryonic stem cells unnecessary, it is notable that Mr. Frist, a physician and a researcher by training, disagrees. He described embryonic stem cells as "uniquely powerful" because they have the capacity to develop into any kind of tissue in the body, potentially enabling them to meet medical needs that adult stem cells cannot.
Under a policy announced by Mr. Bush four years ago, federal money can be used to finance research on only some 22 stem cell lines that had been derived from surplus embryos at fertility clinics before the time of his announcement. Unfortunately, those lines are deteriorating and are potentially contaminated with mouse viruses, limiting their usefulness. A bill approved by the House and pending in the Senate would enlarge the pool by including stem cells from additional surplus embryos that had been donated by fertility clinic patients who would otherwise discard them. Mr. Frist had been supporting the president's policy, but he now plans to support the pending bill, with some reservations.
That is a step forward, but a pathetically small one. The bill would not allow financing for the most promising kind of stem cell research, known as therapeutic cloning, which involves the creation of embryos genetically matched to patients with particular diseases. Even so, the Senate should approve this modest move forward, preferably by a margin large enough to override a presidential veto.
米共和党上院院内総務、ES細胞研究で大統領に反旗
I N S I G H T S T O R Y
The great morality debate
31 July 2005 - stuff.co.nz
Has Labour lost touch with the values of middle New Zealand? And if so, will voters punish them for it? Ruth Laugesen reports.
Among the fast crowd in our own Sin City, Auckland, being unmasked as a prostitute no longer spells the end to a social life.
In fact, it will probably enhance it, says Sunday Star-Times social columnist Bridget Saunders. "Sadly, it's kind of got this radical chic. It's not this shameful thing it once was.
"I think we are going downhill with sexual morality," says Saunders, "at least in the short term. But down the track, I think there will be a reaction."
Sexual displays that were once beyond the pale are considered fun and raunchy. Transsexual MP Georgina Beyer, who once worked the streets, has not only won election to parliament, but was snapped up for TVNZ's Dancing with the Stars.
But is famously liberal and tolerant New Zealand getting fed up with its own broadmindedness? And, with an election looming, does it feel that the Labour-led government has got too PC to be tolerated?
In these times, says emeritus professor of religious studies Lloyd Geering, there are no widely agreed-upon moral absolutes any more. Our moral codes are shifting and it isn't always clear what is right and what is wrong.
At one end are liberals, who say anything goes as long as you don't hurt anyone else. And at the other are religious conservatives, such as Destiny's Brian Tamaki, who point to moral laws laid down by the Old Testament. In between is the all-important middle ground that wins elections.
Opposition politicians believe that by leading the charge on new laws legalising prostitution and allowing civil union for gay couples, Labour may have overreached its liberal agenda of minority rights and alienated key voters. And it isn't just the votes of conservative Christians at stake.
There are signs of irritation even among middle-of-the-road suburban voters at Labour's agenda of social change. Some of that resentment finds its form in a "what about me" feeling that Labour has put too much energy into the rights of marginalised groups, such as gays, and not enough into the concerns of mum, dad and the kids. Others are reacting to Labour's own version of moralising - finger-wagging moves such as banning smoking in bars or the discussion of a ban on smacking.
"I think there will be quite a few voters who think that Labour's social agenda has gone too far and is out of kilter with what the mainstream thinks," says Auckland University professor of politics Barry Gustafson. "There are some who are quite genuine in their concern that the agenda has been taken over by people whose values and priorities are different, and they're going to fight back."
So when bad boy Labour MP John Tamihere pilloried Labour for being too PC, many of the public whooped in agreement. Six out of 10 of those polled in a 3 News/NS poll in April agreed with Tamihere that Labour was "too politically correct".
In America, moral issues stomp all over the political arena. In last year's election the Christian right was crucial in delivering George W Bush a second term, with gay marriage and abortion important election issues. In Australia, politicians are increasingly aware of a well-organised Christian vote.
But in secular, liberal New Zealand, moral issues come with a small "m". Few voters cast their ballot solely on moral issues. Instead, the moral dimension is important in helping shape the way parties and leaders are seen.
Victoria University political scientist Nigel Roberts who, with colleagues, has polled voters all the way back to 1972, says voters have consistently failed to put moral issues on their list of election issues, even in the years when abortion and the Springbok tour dominated debate.
"It's always been a case of the dog that didn't bark in the night," says Roberts.
But, in this year's election, "I do think it's one of the bundle of straws that's been loaded on to voters".
He sees the Budget as having been the final straw in turning the mood against Labour, a Budget that was seen as parsimonious to the point of almost being insulting. "But add to that banning smokers from bars, added to gay rights and things like that, the cumulative effect of those issues is likely to leave people disillusioned with Labour," says Roberts.
This election, a whole variety of parties will make moral appeals, either directly or in a coded form.
The most noticeable shift has been that of National leader Don Brash, an instinctive liberal who in 2003 was one of only six National MPs who voted in favour of legalising prostitution. By last year, Brash had moved to a more conservative position, withdrawing his support for civil union legislation when it came to its final reading.
That repositioning has allowed Brash to pitch himself as a leader for the "mainstream". He accuses Prime Minister Helen Clark of running a government that is not of, or for, the mainstream. Pressed in a radio interview on just what he meant, Brash said he did not believe gays, Maori, or prostitutes or their clients were part of the mainstream. He later tried to backtrack on the comments.
Brian Tamaki's Destiny Church, with its strong pro-family, anti-homosexual message, will also make a political showing this election in the form of Destiny New Zealand.
Winston Peters' New Zealand First also has a moral dimension, with a core message that rejects political correctness and the parliamentary time and effort put into legislation such as the Civil Union bill.
United Future and its leader Peter Dunne aim to embody the appeal of the conventional suburban family. The Greens set out their moral agenda, which is one of tolerance and protection of the environment. Act's moral stance emphasises the uprightness of hard work and self-reliance, and decries bludgers.
Tariana Turia's Maori Party has a moral framework that emphasises Maori's moral right to sovereignty and self-determination, within a setting of traditional tribal values.
Labour's moral appeal has been one of tolerance and inclusiveness. But over the past year it made its own play for the family values vote with its big Working for Families package and with its flying babies billboard. But these appeals to home and hearth have been undercut by other messages, such as Clark's urging earlier in the year for mothers to go out to work.
Striking the right note on these values issues has its perils in the New Zealand electorate. It is an electorate which is broadly liberal, yet one which now seems to feel that liberalism has been pushed too far.
At the same time, any politician pushing for the extreme conservative vote has to be careful not to alienate the broad public. And, as always with moral issues, those who judge come in for harsher judgements themselves.
Brash last year pulled the conservative moral card on Clark, accusing her of atheism, commenting on her abandonment of grace at state functions and "her indifference to the institution of marriage". The attack rebounded on him when Clark observed that her 26-year marriage perhaps set a better example than Brash's divorce and remarriage. As a result, Brash was forced to admit he had had an affair with the woman who is now his second wife, Je Lan.
In New Zealand the hard religious right vote appears to be small - only 10% of New Zealanders believe every word of the Bible is literally true, according to a 1998 polling by Massey University. But to say moral issues are the preserve of extremists, such as those in the Destiny Church, says Victoria University professor of religious affairs Paul Morris, is to "miss the force and real purchase these morally conservative ideas do have, in the broader electorate".
Already, says Morris, Destiny has made it more acceptable to debate the rightness of homosexuality, an issue which many thought was off the agenda for good. What we are seeing, he says, may be an echo of the strengthening of moral conservatism seen in the recent Australian and US elections.
Australian Clive Hamilton, head of the Australia Institute and author of the book Affluenza, says there is a broad disquiet over moral issues in Western society that is waiting to be unlocked by politicians who can find the right language.
He says the liberal movements of the 1960s and 70s have left us with a baby boomer generation that is reluctant to take a moral stance on a range of issues, for fear of being seen as judgemental.
Hamilton, who supports civil unions for gays and legalisation of prostitution, says there are other important moral issues that progressive thinkers should pick up. One is to acknowledge the importance of the family and the raising of children, and not just in a narrow traditional setting.
He thinks the left should also be concerned by the rise by the commodification of sex and sexuality by advertisers, in such a way that it permeates our lives and is difficult for children and young people to avoid. And he is worried by the easy availability of extreme pornography on the internet to teenagers.
"I think there's a deep disquiet out there in the community about a lot of this stuff. But it's uncool to object, it means you've got a hang-up or you're just an old prude," says Hamilton.
Geering says what we are seeing now is a vacuum where once there were moral certainties.
"In the past, moral issues were thought to be determined by reference to absolute standards, many of them thought to be in the Bible. It was an open and shut case.
"In the 20th century we came to see there are no absolutes, only guidelines, and it's left up to society in general and to individuals in particular to work out their answers or solutions to all moral problems. That, of course, is difficult because it makes much more demands than the old traditional system did.
"I think society is slowly waking up to the fact that we're in that situation."
▲
by

alfayoko2005

| 2005-07-31 10:38 | トランス
米メーガン法、登録抹消期に――消えゆく性犯罪者情報(世界いまを刻む)
(日本経済 2005/07/31朝刊)
 再犯防止の観点から、性犯罪歴がある人物の存在を地域住民に知らせることを義務付ける米連邦法、通称「メーガン法」が施行から来年で十年となるのを前に、新たな波紋が広がっている。性犯罪者の個人情報の登録、開示などは各州に委ねられており、厳しさはまちまち。十年で登録が抹消されるケースもあり、一部の州では見直しを求める声も強まっている。
 メーガン法は一九九四年ニュージャージー州の少女メーガン・カンカちゃん(当時7)が、子供への性犯罪歴が二度ある近所の男性に殺害されたのをきっかけに、九六年に制定。有罪が確定した性犯罪者は最寄りの警察署に居住地などを申告。各州政府は情報登録と開示を求められる。
 来年末までに三千二百八十八人の性犯罪者の個人情報登録が抹消される――。今年四月末、ニューヨーク州の地元紙報道で幼い子供の親たちに動揺が走った。
 同州では性犯罪者情報を、再犯危険度に応じ三段階で登録、開示。軽・中度の場合は個人情報の登録義務期間を十年間としている。来年には登録義務が初めて失効する性犯罪者が大量に出る。
 「性犯罪者が近所に越してきたとも知らずに子供を遊ばせるかと思うと恐ろしい」(ロングアイランドの主婦)。こんな地域住民の懸念を受け、ジョージ・パタキ州知事は州法改正案を議会に提出した。
 同州では重度に分類された性犯罪者は、死ぬまで半永久的な登録を義務付け、名前や住所、犯歴などの情報を顔写真とともにインターネット上で公開している。改正案は程度を問わずすべての性犯罪者に半永久的登録義務を課すものだ。
 フロリダやカリフォルニアなど既に規制強化に乗り出した州もある。
 「全国レベルでの登録制度や保釈後の警察監視強化など、欠けている規制をぜひ作ってほしい」。十二歳の娘が仮釈放中の性犯罪者に九三年、誘拐・殺害されたマーク・クラースさん(56)は全米レベルの法改正を強く主張し、自治体や地域団体を訪ねている。
 自治体レベルでの独自の性犯罪防止策導入の動きも出始めた。ニューヨーク州ロングアイランドの公立小・中・高校では、性犯罪者が引っ越してきた場合、各校の校長が警察署からの情報に基づき、保護者に電子メールで注意を促している。電子メール警告システムは市民支援団体「ペアレンツ・フォー・メーガンズ・ロー」が地元警察と協力して構築。この団体のサイト経由で州全体の性犯罪者登録情報にアクセスできる。同団体のローラ・エイハーン代表は「法律と警察に加え、地域支援団体との連携が性犯罪防止には不可欠」と強調する。
 今年六月現在、メーガン法に基づく登録者は全米で五十五万人超。米司法省は今秋から、性犯罪者の情報を全米規模でネット上で公開するシステムを導入する方針だ。
 一方では、刑期を終えた性犯罪者の権利擁護を訴える弁護士グループもあり、「刑に服して社会復帰しているのにプライバシーが守られないのはおかしい」「犯罪者の格付けが客観的ではない」などと訴えている。
 ただ、「幼い命の方が性犯罪者のプライバシーより重要」という市民の声を自治体なども無視できないのが実情だ。日本でも今年六月から法務省が、子供を対象にした性犯罪受刑者の出所情報を警察庁に提供しており、米国の動きは注目を集めそうだ。
(ニューヨーク=伴百江)
【図・写真】保釈後の警察監視強化など法改正の重要性を訴えるクラースさん(米NY州の小学校)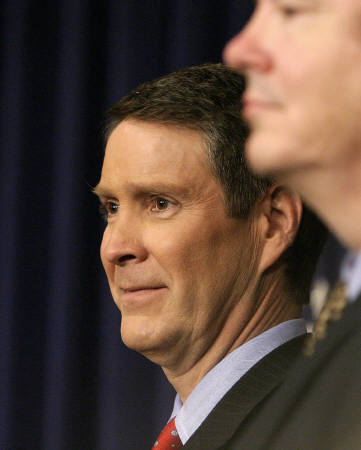 7月29日、フリスト米共和党上院院内総務は連邦予算で行う胚性幹細胞研究を拡大する法案に支持を表明した(2005年 ロイター/Shaun Heasley)
米共和党上院院内総務、ES細胞研究の拡大を支持
(ロイター 2005/07/30)
 [ワシントン 29日 ロイター] フリスト米共和党上院院内総務は29日、連邦予算で行う胚性幹細胞(ES細胞)研究を拡大する法案に支持を表明した。
 今回、上院有力者のフリスト院内総務が同法案を支持したことで、ブッシュ大統領が2001年に発動したES細胞研究に対する規制が覆される可能性がかなり大きくなった。
 同院内総務は上院での演説で、「私は中絶反対派であり、人間の生命は受胎から始まると信じている」と述べた上で、「同様に、ES細胞研究が奨励され支持されるべきだと確信している」と付け加えた。
米上院の共和党リーダー、ES細胞研究で大統領に反旗 (日本経済 2005/07/30)
 【ワシントン=吉田透】米共和党のフリスト上院院内総務は29日、人間の胚(はい)性幹細胞(ES細胞)を利用する医療研究について、規制を緩和して米連邦政府の予算をもっと使いやすくすべきだとの考えを表明した。ブッシュ大統領は生命倫理上の理由でES細胞の研究を厳しく制限しているが、盟友である上院の共和党リーダーが公然と反旗を翻す異例の事態となった。
 大統領は2001年、人間の受精卵を壊さないと作れないES細胞の研究が非倫理的だとして、厳しい規制を課した。この決定以前に作られていたES細胞にしか連邦政府の研究助成金を支給しないとしたため、米国の研究は停滞している。
 米議会では米国内での研究の遅れを懸念する声が強まり、米下院はES細胞研究の規制を緩和して政府研究助成金を使いやすくする法案を可決した。上院にも同様な法案が提出されていたが、フリスト院内総務が法案支持の考えを示したことで審議に大きな影響を与えるのは必至だ。 (23:05)
与党トップが大統領に反旗 万能細胞で、米政権に打撃
(共同 2005/07/30)
 【ワシントン30日共同】 再生医療の切り札と期待される「万能細胞」の研究をめぐり、保守派を支持層とするブッシュ米政権の規制政策に対し、与党共和党のフリスト上院院内総務は29日、規制を緩和する法案を支持すると表明、公然と反旗を翻した。
 規制緩和の法案は既に下院で可決、上院でも可決される可能性がある。大統領は上下両院を通過しても拒否権を行使すると言明、主要な政策課題で大統領と与党トップが対立するのは極めて異例で、ブッシュ政権にとって打撃となりそうだ。
 万能細胞は、胚(はい)性幹細胞(ES細胞)と呼ばれ、あらゆる細胞に成長できるのが特徴。人の受精卵からつくられることから、「生命尊重」を重視するキリスト教保守派を支持基盤とする大統領は連邦予算を使った研究を厳しく規制してきた。
 フリスト氏は同日、上院で演説し「大統領の政策は変更されるべきだ」と主張。背景には、世界的に発展するこの分野の研究で立ち遅れることへの米議会の懸念がある。
Senate leader backs expanded stem cell research
By Joanne Kenen
Fri Jul 29, 3:58 PM ET - Reuters
In a rare break with President Bush and anti-abortion conservatives, U.S. Senate Majority Leader Bill Frist on Friday endorsed legislation that would expand federally funded embryonic stem cell research.
Frist, a Tennessee Republican and surgeon who may seek his party's presidential nomination in 2008, endorsed a bill already passed by the U.S. House of Representatives that would overturn the limits on the research Bush imposed in 2001.
His backing, which could alienate the most staunchly anti-abortion conservatives but attract support from moderates in a potential White House bid, significantly improves chances of the legislation passing.
Bush has vowed to veto the legislation because embryos are destroyed when the stem cells are extracted.
White House spokesman Scott McClellan said Bush had not wavered in his moral opposition to the research but when Frist informed him of his decision by telephone on Thursday night, the president told him, "You've got to vote your conscience."
Patients suffering from diabetes, Parkinson's disease, spinal cord injuries and other debilitating and life-threatening disorders have been clamoring for more federal dollars for stem cell research. Opinion polls show growing support for its expansion, even among many conservatives like Frist who generally oppose abortion.
"I am pro life, I believe human life begins at conception," Frist said in a Senate speech. "I also believe that embryonic stem cell research should be encouraged and supported."
House Majority Leader Tom DeLay and other House conservatives called on Bush to stick to his pledge to veto the bill. DeLay, a Texas Republican, likened "destructive embryonic stem cell research" to abortion and euthanasia.
The bill, approved in the House and likely to come up in the Senate after the August recess, would allow federally funded research on stem cells derived from leftover embryos in fertility clinics. There are currently about 400,000 such frozen embryos, many of which will otherwise be destroyed.
Frist said he wanted to see some relatively minor changes in the bill, but the legislation's authors said his concerns would not complicate or delay passage.
Word of Frist's decision sent shares of companies involved in the field sharply higher.
DIVERSE SUPPORT FOR RESEARCH
Backers of the expanded research were jubilant that Frist had thrown his political and scientific weight behind them.
"It's an earthquake," said Pennsylvania Republican Arlen Specter, a cancer patient who sometimes carries an hourglass with him to stress the need to hasten the research.
"My heart really jumped," said an elated California Democrat Dianne Feinstein.
Frist has been a staunch ally of Bush's and has generally hewed to a conservative, anti-abortion line as Senate leader. He championed broader stem cell research in July 2001 -- but then endorsed the strict limits Bush imposed a month later.
Rev. Patrick J. Mahoney, director of the Christian Defense Coalition, warned that Frist cannot "turn around and expect widespread endorsement from the pro-life community if he should decide to run for president in 2008."
But the moderate Republican Main Street Partnership praised Frist. A group called StemPAC stopped airing an anti-Frist television ad in the key presidential primary state of New Hampshire.
Frist's image as a doctor-politician was marred during the Senate fight last March over the Terri Schiavo case, when he appeared to diagnose the brain-damaged Florida woman on the Senate floor based on a video clip on the Internet.
On stem cells, Frist said he had concluded that Bush's limits were no longer suitable given the promise of the research. The research, he said, holds out too much hope.
At the time Bush set the policy, it was believed that 78 stem cell lines would be available to scientists. In fact there are only 22, and they are poor quality and contaminated with mouse cells.
Expanded cell research is supported by an ideologically, religiously and geographically diverse group, including liberals and conservatives, Republicans and Democrats, Catholics, Protestants, Mormons and Jews. Lead sponsors in the Senate include strongly anti-abortion Republicans Orrin Hatch of Utah and Gordon Smith of Oregon.
Among the bills most prominent supporters is former first lady Nancy Reagan, whose husband, former President Ronald Reagan, died of Alzheimer's in June 2004. She issued a statement saying, "Thank you Dr. Frist for standing up for America's patients."
India to Fight AIDS With Female Condoms
By S.SRINIVASAN, Associated Press Writer
Fri Jul 29, 8:36 PM ET
India will introduce female condoms later this year to help fight the spread of AIDS among its billion-plus population, with cheap supplies available to commercial sex workers, the state-owned contraceptive maker said Friday.
"Female condoms will empower the woman to protect herself from infection," M. Ayyappan, managing director of Hindustan Latex Ltd. told The Associated Press.
A government study in 2004 showed that despite annual sales of 1.6 billion male condoms, cases of HIV in India had reached 5.1 million, second only to South Africa, and that a third of them were women.
According to the study, 15 percent of cases were sex workers and another 22 percent housewives with a single partner.
Ayyappan said some male clients resisted using condoms when they visited sex workers which was one reason why the government's strategy to promote male condoms as the primary protection against infection had achieved only limited success.
"Female condoms will transfer the power of decision-making to women," Ayyappan said.
He said the company's aim was to provide every sex worker with the right to use a condom every time with every client.
HLL will initially import condoms from the London factory of Chicago-based Female Health Co. and start selling them in September, Ayyappan said, without detailing how many would be imported. He said the company would start manufacturing their own condoms at a later date.
A female condom is a lubricated shield that is slipped, closed-end first, into the vagina. The open end remains outside, partially covering the labia.
While a yearlong study funded by the two companies showed that 94 percent of sex workers polled liked and wanted to use the female condom, Ayyappan said one of the difficulties in promoting it would be price.
It will cost the company about $1 to import one condom, while marketing and distribution will add another $1.3, he said.
India's Ministry of Health and Family Welfare has agreed to support the new product as part of the National AIDS Control Program and is considering a subsidy to bring down the price to 12 cents for commercial sex workers.
A typical sex worker gets anywhere between $1 and $23 per client although most women's earnings are nearer the lower end of the range.
Female condoms will also be available over the counter for $2.3 each.
Chandrasekhar Gowda, who heads a non governmental project teaching sex workers how to protect themselves from sexually transmitted infections, including HIV, said that sex workers needed more than just a condom.
"The female condom will give woman a choice. She will no longer be dependent on the man's decision," Gowda said.
"But it can be fully successful only if sex workers are able to negotiate the use of condom with their clients. We must work to increase the negotiating power of sex workers so that men come to accept female condoms. "
On the Net:
Hindustan Latex:
http://www.hindlatex.com
Female Health Co.:
http://www.femalehealth.com
ポスト「エイズ国際会議」 路上の詩人が啓発 (神戸新聞 2005/07/30)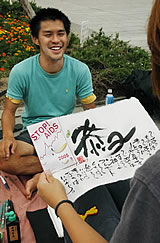 作品に添えて、エイズ啓発のステッカーを手渡す=JR神戸駅前(撮影・水田日出穂)
 路上で詩人や音楽家がエイズの恐ろしさを若者に訴える。そんな光景が神戸市内で広がっている。もっとエイズに関心をもってほしいと、非政府組織(NGO)がストリートの人気者に協力をよびかけた。七月、「アジア・太平洋地域エイズ国際会議」(ICAAP)が開催された神戸。会議でまかれた種を芽吹かせる活動が、地道だが少しずつ広がり始めた。(溝田幸弘)
 「これも読んでおいてくださいね」
 二十九日夜、JR神戸駅前。「路上福詩家」のみつひろさん(24)が、自分の作品とともにカラフルなステッカーを女子大生(20)に手渡した。
 バナナの写真をあしらい、表に赤く大きな文字で「STOP! AIDS」。裏には保健所などエイズ検査・相談の連絡先が記されている。
 目の前の人を見て即興で詩を書き上げ、人気を集めるみつひろさん。これまでエイズとの接点はなかったが、エイズ会議の関連イベント「ひょうごエイズフォーラム」に参加し、同世代の性意識に危機感をもった。
 「セックスは命を生み出す行為だし、エイズは自分の命にかかわる問題。みんな、簡単に考え過ぎているんじゃないか」
 今回の取り組みを発案したのは、性感染症予防啓発ボランティア「BASE KOBE」代表の繁内幸治さん(44)。
 神戸市保健所の助成を得て男女二種類のステッカーを作製、路上の人気者に配ってもらう。みつひろさんのほか、ストリート・ミュージシャン二人が協力している。
 エイズや性感染症に感染する若者が年々増えている日本。「関係ない」「自分は絶対、大丈夫」と考えがちな若者らをどう引き付けるか。
 繁内さんは「各地の路上パフォーマーに働きかけ、活動を広げる。国際会議開催の次を考える出発点にしたい」と話している。
法が広がる(4)埋まらぬ国家と個人の溝――価値観、政治で裁けず
(日本経済 2005/07/30朝刊)
 「どちらかの国籍を放棄しろというのは、自分のアイデンティティーを断ち切られることだ」。父がフランス人、母が日本人のピレー・パトリック淳太さん(19)はあと二年余りでフランス国籍か日本国籍かを選ばなければならないかと思うと悲しくてしかたない。
22歳の選択
 フランスで生まれ育ったが、毎年夏は北海道の母の実家に滞在、学校に通った。妹とは日本語で話し、将来は日本に住むつもりだ。「日本人? フランス人?」との問いに「両方」と答える。
 日本の国籍法は「単一国籍」が原則。自発的に外国籍を取得すると日本国籍を失うし、生まれた時点で二重国籍の人は二十二歳までにいずれかに決めなくてはならない。
 二〇〇〇年に発効した欧州国籍条約は出生時の二重国籍の保持を容認したほか、婚姻による新たな国籍取得も認めた。
 「国籍法を改正してください」。ピレーさんの母、千代美さん(47)は航空会社の客室乗務員。東京に来るたびに国会議員の事務所を回る。
 六月、大阪府岸和田市議会の本会議場は異様な緊迫感に包まれた。可決した住民投票条例は全国で初めて「永住」外国人だけでなく、日本滞在が三年超の「定住」外国人にも投票権を与える内容。採決結果はぎりぎりまで読めなかった。
 最高裁は一九九五年、外国人の地方参政権について「憲法上、禁止されておらず、国の立法施策の問題」との判断を示した。だが、政治の動きは鈍い。対象者が少なく、尽力しても票につながらない。一面の真理だが、それだけではない。
 「永住外国人に資格を与えるのも反対だ」。岸和田市議の一人は匿名を条件に語る。「外国人に政治が乗っ取られてしまう」
 うかがえるのは「日本人とは何か」「国家とは何か」という価値観のぶつかり合いだ。衆院憲法調査会の中山太郎会長は「この議論は憲法調査会でやらねばならない非常に大事な問題」と語る。
 米大統領選は毎回、妊娠中絶の是非を巡り激論となる。価値観の違いこそが政治だ。ところが、日本では踏み込めない分野がまだ多い。生殖補助医療、尊厳死……。
 「夫婦の子供を残すには代理出産という方法しかない」。病気で出産できない三十代の女性は訴える。
 夫婦十組に一組が不妊症とされ、何らかの不妊治療を経て生を受けた人は六十万人を超えた。だが、体外受精や代理出産に関する法律はない。
放置せず議論を
 法務省の審議会は九六年、夫婦別姓を認めた。だが、自民党内には「伝統的な家族像を崩壊させる」との異論が多い。民事局幹部は「道徳観、倫理観に絡んだ問題は議員立法でしか成立し得ない」とあきらめ顔だ。
 近畿大法科大学院の中川淳教授は「国民が困っている問題はとっかかりになる法律だけでも早急につくるべきだ。必要に応じて後から改正すればよい。放置せずに議論すべきだ」と話す。
 自民党は二十二日、子供への移植に道を開くための臓器移植法改正案を了承した。ただ、「脳死は人の死かどうか」の論議はなお続き、人の死であることを前提とした案と、そうでない案の双方を国会提出し、自主投票にすることにした。
 こんな声が出ている。「矛盾する両案とも可決なら、どちらが法律になる?」。調整放棄のツケは子供たちに回る。
=おわり
二重国籍者は原則22歳までに国籍選択する
 大石格、三宅伸吾、吉次弘志、橋本圭子、坂本英二、秋場大輔、犬童文良、柳瀬和央、松浦肇、関口圭が担当しました。
▲
by

alfayoko2005

| 2005-07-30 16:54 | 国内政治