カテゴリ
以前の記事
検索
最新のトラックバック
その他のジャンル
ファン
記事ランキング
ブログジャンル
画像一覧
World > Asia Pacific
from the July 28, 2005 edition
After 26 centuries, is Japan finally fit for a queen?
By Bennett Richardson | Correspondent of The Christian Science Monitor
TOKYO – Japan's monarchy is so woven into the island nation's traditions that it survived defeat in World War II and invasion by the Mongols, and predates the introduction of rice. Now, a 3-year-old girl may be about to bring 2,600 years of male-dominated tradition crashing down.
After months of deliberation and official hearings, an advisory panel to Prime Minister Junichiro Koizumi recommended Tuesday that women be allowed to ascend Japan's imperial throne.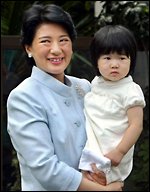 HEIR? Princess Aiko is carried by her mother, Masako.
ERIKO SUGITA/REUTERS/FILE
The move was precipitated by a dearth of male heirs in the royal family and reflects changing perceptions of women in Japanese society. Gender roles changed abruptly after the war when women got the vote and a constitutional guarantee of equality. Attitudes have shifted to such a degree over the past couple of decades that many Japanese women are now spurning marriage and other traditional roles altogether.
Debate surrounding the possibility of a female monarch has grown since 2001, when the birth of Princess Aiko spotlighted the fact that the Chrysanthemum Throne was fast running out of male heirs. Aiko is the only child of the current heir Prince Naruhito and the Harvard-educated Princess Masako.
Naruhito's younger brother Prince Fumihito is second in line for the throne, but beyond him there are only a few elderly uncles and doddering male cousins in the wings. No boy has been born into the family since 1965. Aiko and any of her future offspring are barred under law from becoming monarch because she is a girl. Royal watchers have thus grown anxious that the dynasty could die out unless women are allowed to take the throne.
"People need to wake up to the fact that if the present system continues as it is, there is a real danger of the line ending altogether," says Koichi Yokota, a constitutional law professor at Ryutsu Keizai University near Tokyo.
But a 26-century habit is hard to break - especially in Japan. The panel that will decide the future of the family and the fate of young Aiko is made up of both progressives and conservatives. The progressive camp says the situation leaves no choice but to allow an empress to ensure a stable succession. Furthermore, they argue, Japan has had eight female rulers in the past.
But purists say that these women were simply caretakers and were always succeeded by heirs in the male line of descent, not their own children. "They were extremely unusual cases," says Yasuo Ohara, an expert on religious culture at Kokugakuin University, the school charged with educating the royal family.
The problem will arise, conservatives say, not if Aiko takes the throne, but if her child (presumably fathered by a commoner) becomes ruler. This would transfer succession from the male line to the female line for the first time.
"The tradition of the male line taking priority is a very important historical precedent," Mr. Ohara says. "We have a major responsibility not only to our ancestors, but also to future generations to preserve that."
Although the Japanese Emperor's role as head of state is mainly ceremonial, many still hold the imperial family in awe as an entity that unites the country and makes it uniquely Japanese.
Rather than allowing an empress, the conservatives want to expand the royal family back to its pre-war size. When the current Imperial House Law was enacted in 1947 under US occupation, it not only barred women from the throne but also reduced the royal clan from 14 families to three. By allowing some families to become royalty again, traditionalists hope to ensure a new crop of eligible males.
Such a plan might be accepted over allowing a female ruler. Although the decision-making process has been set in motion, all options remain on the table until a final report that may come as late as November. Details remain to be worked out such as the exact rules of succession, including whether younger males should take precedence over older sisters.
The knight in shining armor that may save Aiko from relegation behind an obscure male cousin is the Japanese people themselves. The panel has said it will base its final decision on three factors: the likely stability of the system, tradition, and public opinion. And public opinion is overwhelmingly in favor of allowing a woman to rule.
Polls generally show such support topping 80 percent. In one survey taken by Nippon Television Network, 92 percent said they thought having a woman on the throne would be desirable while only 5 percent were opposed. Ohara says these numbers are simply due to the fact that Aiko turned out to be a girl, as well as the existence of female monarchs overseas and in Japan's past. "I think the support levels will probably change,"he says.
But even before Aiko was born, support for changing the system to allow for a female ruler was around 70 percent. If the system has to undergo unusual modifications in order to ensure a male ruler, people will simply question what is so essential about having a man on the throne, says Yokota. "It would be very difficult now to build public support for any system other than allowing a female monarch."
Related Stories
Opinion: Time for princess power in Japan
Japan may allow women rulers
米大統領、最高裁新判事を指名――「玉虫人事」民主分断も狙う(ニュースの理由)
(日本経済 2005/07/28夕刊)
 中絶を認めない保守派か、選択の自由に配慮する穏健派か。十一年ぶりに空席が生じた連邦最高裁判所にブッシュ米大統領が選んだ判事の「正体」が憶測を呼んでいる。ベールに包まれたエリートを選んだ大統領の深慮遠謀はどこにあったのか。
 「偉大でスマートな五十歳の弁護士に仕事をお願いしたよ」。十九日昼。ワシントン連邦高等裁のジョン・ロバーツ判事に電話で最高裁判事に指名すると伝えたブッシュ大統領は、ホワイトハウス訪問中のハワード豪首相にこう漏らした。
 今月一日に引退表明したサンドラ・オコーナー判事(75)の後任を巡る憶測に終止符が打たれた瞬間だった。ところが今度は別の憶測が始まった。ロバーツ判事が中絶や同性婚など社会問題でどんな判断を下すかが見えないのだ。
 オコーナー判事はケースによって立場を変えて判決を左右した「中道派」。後任判事が宗教価値観を重視する保守派か、個人の権利を認めるリベラル派かで九人の最高裁判事のバランスが一変するだけに、宗教団体や市民団体は強烈なロビー活動を展開した。
 大統領が下した答えは絶妙だ。ロバーツ氏はハーバード大を優等で卒業し弁護士として頭角を現し、最高裁に次ぐ格式のワシントン連邦高裁の判事に就任したエリート。大企業の弁護経験が豊富で、共和党や右派は「大統領は約束を守った」(ファミリー・リサーチ評議会)と歓迎した。
 ところが民主党にとって、ロバーツ判事は見る角度によって色が違う"玉虫"。父ブッシュ政権時代には政府弁護士として「中絶を合憲とした最高裁判決は覆されるべきだ」とする政府見解をまとめ、中絶反対派にも見える。しかしワシントン法律財団のラミ首席顧問は「見解は政権の意見を代弁しただけ」で、今後の判決を占う材料ではないと指摘する。
 共和党に近いのは事実。だがマイクロソフト分割訴訟で民主党のクリントン政権が弁護士に起用するなど党派色も薄い。
 「オコーナー判事より保守だが強硬派ではない」(ワシントン・ポスト紙)ロバーツ氏の指名に、大統領のしたたかさが隠れている。民主党内は「氏は過激な思想の持ち主ではない」(リーバーマン上院議員)とする評価論から、「あらゆる質問に答えてもらう必要がある」(ケネディ上院議員)とする懐疑論まで、すでに分裂気味。上院での承認審議に臨む対応をまとめるメドが立っていない。
 ブッシュ大統領は三月、次期国連大使にネオコン強硬派のボルトン前国務次官を指名した。ところが民主党の抵抗で共和党が分裂する大誤算で、同氏はいまだに承認されない。今回の「玉虫人事」は最高裁の保守化という大統領の長期戦略に加え、民主党の分断工作という現実的な策略の使命も帯びている。
(ワシントン=加藤秀央)
【図・写真】ブッシュ大統領はロバーツ氏(左)指名に様々な狙いを込める(20日、ホワイトハウス)=AP
▲
by

alfayoko2005

| 2005-07-28 16:23
July 27, 2005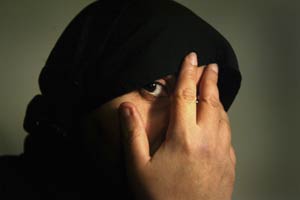 As religious extremism flourishes in Iraq, particularly in the south, more and more women are finding themselves under intense pressure to wear the hijab (GHAITH ABDUL-AHAD/GETTY IMAGES)

The Iraqi women who fear that democracy will crush freedom
From James Hider
Oppression and inequality may be enshrined in the new constitution
SUHAIDA MAYA never used to wear a hijab, the headscarf that Muslim women don as a mark of religious modesty. An English teacher from Shattra, a town in central Iraq, she always wore whatever she wanted.
Now she and her daughter both cover up for fear of the rising number of Islamist puritans in the south.
"We have to cover up. The Islamic parties even come into schools' sports lessons and tell girls that they have to wear skirts over their tracksuits. It's like being in Iran," she said, her defiance shown by the bright pink of her unwanted hijab, and the women's rights group she runs.
Many women in Iraq, especially in the Shia south, are increasingly concerned that Islamic parties are imposing their strict religious ways on women who once enjoyed some of the most liberal rights in the region.
Leaked drafts of Iraq's forthcoming constitution bear out fears that restrictions on their rights may soon be enshrined in the law. The latest copy of the charter, due to be finalised in three weeks, revealed wording that could roll back a 1959 secular law that enshrined women's equality.
Article 19 of the draft states that "the followers of any religion or sect are free to choose their civil status according to their religious or sectarian beliefs". In other words, domestic issues, including the issues of divorce and women's inheritance, could fall under Islamic codes that human rights advocates say would make women second-class citizens.
Under some rigid interpretations of Islamic law, a husband can divorce his wife merely by stating three times in front of her that their union is terminated. Women's testimony in court is also given less weight than men's, at a time when rights groups say domestic violence is rising rapidly. Obtaining convictions in rape cases would be particularly difficult, analysts say.
Another problem would be that many Iraqi marriages are mixed, and it was not clear who would decide which sectarian law would resolve domestic disputes. "These are the dark days we are going through," Yennar Mohammad, the head of the Baghdad-based Organisation of Women's Freedom in Iraq, said. "Imagine you have a committee where half the constitution writers are Islamist groups and some of them are nationalist groups with a tribal mentality. We are looking at a committee, or selected misogynist group, that have only one thing in common . . . that they want to keep women in an inferior status in this society."
A serious concern for Ms Mohammed is the possibility of young girls being married off. She said: "Under Islam, when the Prophet married his last wife, she was nine years old. In the United States they give a name to this kind of sexual union. Under Islam this is legal and anyone can do it."
The issue is symbolic of the dilemma facing Western diplomats, who insist that Iraq has the democratic right to write its own constitution, but worry that dominant religious conservatives may use that very freedom to crush democratic development.
Zalman Khalilzad, the new US Ambassador to Iraq, voiced his fears for women's rights. "A society cannot achieve all its potential if it does things that prevent — weakens the prospects of — half of its population to make the fullest contribution that it can."
Not all women want equal rights, however. Ethar Moussa, the editor of the magazine Our Eve, sponsored by a leading Shia Islamist party, argues that there is no equality in divine law, and creating it could lead to corrupting Western influences.
"When we come to have outright equality, the door would be wide open for many liberties that are basically unacceptable," she said, her face veiled and her body covered. "The Islamic principle states that there should be justice, not outright equality between men and women . . . all we want is justice and this is enough."
That is not enough for Ms Mohammed. She said: "We are practically being turned into slaves by the constitution, by admitting that Islam is the formal religion of the country, and by handing over the writing of it . . . to a bunch of religious bigots who want to see women inferior in society."
Women's advocacy groups have started demonstrating publicly, but they fear that their lobbying is being overshadowed by more pressing issues. "Unfortunately we don't have a militia," Masoon al-Denuchi, the Deputy Minister of Culture and president of the Iraqi Women's Group, said bitterly. "The only thing we can do is lobby and talk and talk and talk."
A LAW UNTO THEMSELVES
- Islamic law, or Sharia, (which means "the way to the water") is enforced in various forms in the Middle East, most notably in Saudi Arabia, where amputations, flogging and the death penalty are variously used for crimes such as rape, drug smuggling, murder or renouncing the Muslim faith
- The laws of the Sunni and Shia branches of Islam are based principally on the Koran, but differ in their use of supplementary religious sources compiled after the death of the Prophet Muhammad
- Sunni law draws also on the
Hadith
(collected sayings of the Prophet), the ijma (consensus of the community), and qiyas (the various forms of reasoning)
- Shia law is also founded on anecdotes from the lives of the 12 imams that followed the Prophet, but the code also has roots in local customs
- Under Shia law, daughters inherit everything their parents leave. Under Sunni rules, daughters share their inheritance with uncles, aunts and grandparents
- Shia Islam allows temporary marriage, in which a man can marry a woman for a short period of time while away from his usual family. Sunni law does not allow the practice
[エイズ・アジアの今](5)ワクチン臨床試験、思わぬ効果(連載)
(読売 2005/07/27朝刊)
 「インドから、エイズ撲滅につながる予防ワクチンの成功を伝えたい」。今月4日、神戸で開かれたアジア・太平洋地域エイズ国際会議で、インドの民間活動団体(NGO)の女性代表ゴパランさんは、同国内2か所で今年から始まったエイズワクチンの臨床試験に込める思いを語った。
 感染者が510万人を超え、感染爆発が懸念されるインド。同国は国際エイズワクチン推進構想(IAVI)など海外や国内のNGOの支援を受け、「予防の切り札」と位置づける臨床試験をスタートさせた。
 まだ安全性を確かめる第1相試験の段階だが、今後、数千人の非感染者を集め、ワクチン投与群とプラセボ(偽薬)群に分けて、予防効果を調べていく。
 タイでは1990年代から複数の予防ワクチンの臨床試験が行われている。中国の広西チワン族自治区でも今年から試験が始まるなど、ワクチンに対するアジアの期待は高まっている。
 しかし、前途は多難だ。ワクチン候補は30種類以上あるが、有効性を確認する大規模試験では思わしい結果はでていない。タイの薬物乱用者約2500人を対象に行った最初のワクチン試験は2003年末に、効果なしと判定された。
 エイズウイルス(HIV)は変異しやすく、抗体などの免疫機能を巧妙にかいくぐるからだ。
 山本直樹・国立感染症研究所エイズ研究センター長は「現在、ポリオ予防などに使われるワクチンは、弱毒化、不活化したウイルスそのもの、またはその一部で効果を発揮したが、エイズウイルスは同じ手法ではだめ」と語る。
 現在、臨床試験が行われるワクチンは、この巧妙なウイルスに対処するため、様々な工夫が見られる。例えばタイで2年前から、1万6000人を対象に始まった第3相試験では、強い免疫を引き出す別のウイルスにHIVの一部を組み込んだものなど2種類のワクチンを組み合わせている。
 効果が確認されるのはまだ先だが、治療薬が簡単に手に入らない貧しいアジアの国々にとって、100億円を超える膨大な予算が投入される臨床試験は魅力だ。病院、施設整備が進み、医療スタッフと地域NGOの連携が強化される。その結果、新規感染率が減少するなど思わぬ成果がでてきたところもある。
 タイ・ラヨン県(バンコク南部)のウィワット保健所長は「地域にワクチン試験の理解を得るための教育の実践で、ピーク時5%のエイズ感染率が1%以下に激減した」と歓迎する。
 主要8か国(G8)は今年の主要国首脳会議でもエイズワクチン開発に前向きに取り組むことを確認した。IAVIのバークレー代表は「新たなエイズウイルス感染の95%は途上国で起きている。感染症の撲滅にワクチンは必要だ。様々なワクチン研究、開発のために世界が一致団結することも不可欠だ」と話す。  
 写真=エイズワクチンを注射するタイの保健所職員(タイ保健省提供)
[エイズ・アジアの今](4)感染女性が自ら情報普及(連載) (読売 2005/07/20朝刊)
映画監督殺害の被告、「反テロ法」で終身刑 オランダ
2005年07月28日00時11分 - 朝日
 イスラム原理主義を批判したオランダの映画監督テオ・バン・ゴッホさん(当時47)を殺害したとして殺人罪などに問われていたモロッコ系移民2世のオランダ人、モハメド・ブイエリ被告(27)に対し、アムステルダムの裁判所は26日、終身刑を言い渡した。
 ブイエリ被告は04年11月2日、アムステルダム市内で、自転車に乗っていたゴッホさんを銃撃し、さらにナイフで刺して殺した。ゴッホさんは19世紀の画家ゴッホの遠縁にあたり、映画でイスラム教を女性の人権を侵害する宗教として描いた。
 オランダは04年、テロの意図があった場合に量刑を重くする反テロ法を成立させており、ブイエリ被告に初めて適用された。
オランダ映画監督殺害で終身刑 対テロ法を適用
2005.07.27
Web posted at: 10:11 JST
- CNN/AP
アムステルダム――オランダ・アムステルダムで2004年11月、オランダ人映画監督テオ・ファン・ゴッホ氏(当時47歳)を殺害した罪で起訴されたオランダ生まれのモロッコ系ムハンマド・ブイエリ被告(27)に対し、アムステルダム地裁は26日、同国で最高刑にあたる終身刑を言い渡した。「テロの意図がある殺人」への量刑を重くする対テロ法が、初めて適用された。
ブイエリ被告は罪状を認め、「ファン・ゴッホ監督がイスラム教を冒とくしたため殺害した」と動機を証言。機会があればまた同じ事をすると述べていた。
判決公判でベンティンク裁判長は「被告はゴッホ氏を『イスラムの敵』だとして無慈悲に殺し、社会に衝撃を与えた」と指摘。被告の罪状はオランダの民主主義や政治体制を損なおうとするもので、全く改悛(かいしゅん)の情を示していないため、社会復帰を認めることはできないと、終身刑を言い渡した。
判決言い渡しを受けたブイエリ被告は、特に感情を見せず、弁護人に握手した。被告は公判中、監督殺害の最中に自分も死に、殉教者となるつもりだったと話していた。
ブイエリ被告は昨年11月、アムステルダムの街中で、ゴッホ監督に向けて繰り返し発砲し、ナイフで刺し、首を切り裂き、犯行声明文をナイフで胸に突き刺した。声明文には、国会議員の殺害予告も含まれていた。
ブイエリ被告はモロッコ移民の息子だが、生まれも育ちもオランダ。それだけに事件はオランダ内外に大きな衝撃を与え、同国内ではイスラム系学校や寺院への放火などが相次いだ。
ゴッホ監督は画家ファン・ゴッホの弟の子孫。2004年の短編映画「服従」では半裸の女性主人公がイスラム社会の女性差別を告発させるほか、イスラム過激主義を強く批判していた。殺害を予告された国会議員は、映画「服従」の脚本をタンとした。
 オランダは2004年10月、テロの意図がある場合には量刑を重くするなどの対テロ法を発効させている。
オランダの映画監督殺害、イスラム過激派に終身刑 2005/07/26
 【ローマ=共同】オランダからの報道によると、アムステルダム地裁は26日、映画監督テオ・ファン・ゴッホ氏を殺したなどとして殺人罪などに問われたイスラム過激派のモロッコ系オランダ人モハメド・ブエリ被告(27)に終身刑の判決を言い渡した。裁判長は判決で「被告のテロ行為は社会に恐怖と不安を与えた。被告は自由になっても同じ犯行をするとしており、終身刑しかない」と述べた。
 公判でブエリ被告は「わたしが従うのはイスラム教を侮辱する者の首を切るという法だ」と話し、反省の態度を示さなかった。 (22:07)
映画監督ゴッホ氏殺害、ブイエリ被告に終身刑
 【ブリュッセル=鶴原徹也】アムステルダムで2004年11月、オランダ人映画監督テオ・ファン・ゴッホ氏(当時47歳)を殺害し、殺人罪などに問われたモロッコ系移民2世、ムハンマド・ブイエリ被告(27)に対し、アムステルダム地裁は26日の判決公判で同国で最も厳しい刑罰である終身刑を言い渡した。
 裁判長は「被告はゴッホ氏を『イスラムの敵』と見なして無慈悲に殺し、社会に衝撃を与えた」などと言及し、「テロの意図があった」と述べた。
 被告は7月中旬の公判で、それまでの沈黙を破り、「信仰に基づく純粋な行為だった。我が身が自由になれば、全く同じ行為をする」と表明。傍聴席にいたゴッホ氏の母親に対しては「あなたは(イスラム)信者ではないから、私は同情を感じない」と述べていた。
 ゴッホ監督は印象派絵画の巨匠ファン・ゴッホの弟の子孫。近年、イスラム過激主義を糾弾し、2004年制作の短編映画「服従」は半裸の女性主人公にイスラム社会の女性差別を告発させる内容で論議を招いた。
 オランダは2004年10月、テロの意図がある場合に量刑を5割重くするなどの内容の対テロ法を発効させており、今回初めて"テロ殺人"が適用された。
(2005年7月26日20時40分 読売新聞)
Iran "hunting more gay teens"
Ben Townley, Gay.com UK
Wednesday 27 July, 2005 12:23
The Iranian government is apparently hunting more gay teens, after publicly executing two boys for having sex with each other last week.
According to campaigners, police officials are searching for three boys connected with the "crimes" of Mahmoud Asgari (16) and Ayaz Marhoni (18), who were hanged last week.
An international protest is being urged in response to the hangings, which were conducted in accordance with the ultra conservative Sharia law.
Campaigners across the globe are calling for more action to be taken against the Iranian government for its actions.
The boys being hunted are thought to have been named by the hanged boys under torture, the Outrage! group claims. They have since disappeared.
It is thought that Asgari and Marhoni were subjected to more than 200 lashings during their 14 months in prison and forced to confess to crimes they may have not committed.
They were also accused of raping a 13-year-old boy, although the majority of press reports have dismissed this charge as an attempt to avoid any censure from international governments or human rights bodies.
"This is just the latest barbarity by the Islamo-fascists in Iran," Outrage! campaigner Peter Tatchell said today.
"The entire country is a gigantic prison, with Islamic rule sustained by detention without trial, torture and state-sanctioned murder."
"According to Iranian human rights campaigners, over 4,000 lesbians and gay men have been executed since the Ayatollahs seized power in 1979. Altogether, an estimated 100,000 Iranians have been put to death over the last 26 years of clerical rule."
A London protest has been organised next month outside the capital's Iranian embassy.
The protest will take place on 11th August between 1-2pm. Those who cannot attend are being urged to email and phone the Iranian Ambassador.
Campaigners across the globe may well join the protest, after action was taken globally on the hangings.
In the UK, the government was criticised for attempting to forge closer links with the Iranian government, while in other European countries gay groups called for an update to asylum legislation regarding lesbian and gay people fleeing conservative regimes.
In the US, Secretary of State Condoleezza Rice was urged to publicly denounce the killings.
Details of the protest:
Protest on 11 August, Iranian Embassy, 1pm to 2pm
Iranian Embassy, 16 Prince's Gate, London SW7 (near Royal Albert Hall).
Iranian Ambassador details:
info@iran-embassy.org.uk
Tel: 020 7225 3000 Fax: 020 7589 4440
Iranian Ambassador Embassy of Iran 16 Prince's Gate London SW7 1PT
An interview with gay activists in Iran - ILGA and Gay Russia
An interview with gay activists in Iran
Some are denying that the boys were persecuted because of being gays and put more emphasis on the boy's crime
26/07/2005
Iran
Asia
ILGA publishes press releases and statements as submitted by its members. Conflicting information has been circulated around this information: it is argued the two boys were hung for having raped a 13 years old boy. The main French LGBT-community magazine "Têtu" has reported that according to the lawyer of the two Iranian boys recently executed in Iran, the boys did not know that homosexual relations and alcohol consumption were illegal. "Homosexuality is a crime in Iran, but the death penalty is usually reserved for cases of rape, armed robbery, adultery, drug trafficking, and renouncing Islam." A third boy, 13 years old, who was with them, was not prosecuted because Iranian law does not consider that a person of that age can consent to sexual acts. This means that any type of sexual contact with a 13 year old is considered rape, and it is for this reason that the two boys were executed.
"The judiciary has trampled its own laws," one of the boys' lawyer, Rohollah Razez Zadeh, was quoted as saying to Irin (a UN news agency), explaining that Iranian courts were supposed to commute death sentences handed to children to five years in jail, but the country's Supreme Court allowed the hangings to proceed.
On this case, apart from this interview below, please also read the statement from other ILGA members
IGLHRC
,
Outrage
and
COC
.
Following, ILGA publishes an interview of MAHA, an LGBT group in Iran.
Project GayRussia.Ru conducted the interview with the publishers and distributors of MAHA, Iran's Homosexual E-Magazine in Persian (it also means "We" or "Us" in Persian language). They are located in Iran and they gladly answered to our questions about the situation of homosexuals in Iran as well as the perception of the recent event that sparked international outrage with Iranian policy.
Can you tell us a bit about the situation in Iran in terms of access to the information for sexual minorities? And also we would like to know about your own MAHA magazine.
Last year, the Persian Internet operator company shut down 15 gay websites in Iran. To strike back and to provide information about GLBT rights in Iran, and to help to create a nationwide network for GLBT in the country, a few gays decided to start publishing a newspaper without a website, as they knew that the authority would close down their website, so they decided to publish a PDF format magazine and send it by email to their readers.
After 8 months of hard work, 8 issues and 4 supplements appeared, covering issues such as gay and family, depression among GLBT, a report about lesbians in Iran, etc. MAHA also publishes a separate supplement for gay aid and to help GLBT to find a friend. Today MAHA has two editors, one gay and one lesbian, and MAHA's readers are all over the country and even some Iranian GLBT in exile. Currently 600 subscribers receive our magazine and we know that more than 1000 people are reading it. This number is growing every day!
PGLO (Persian gays and lesbians organisation) is an Iranian GLBT organisation working from abroad. They publish a PDF format magazine and most important they send a weekly radio program by email to people inside Iran.
Do you have any further details on what happened on July 19th except what was published in the international media?
Unfortunately not much. The authorities try to give as little information as possible about issues which may cause international reaction. And as you may know there is already a worldwide reaction and protests against the execution of the two boys.
We know that the two boys (with the names of Mohammad Askari and Ayad Marhuni) belonged to Iran's Arab minority, which live in Khuzestan province, a province bordering Iraq. During the 8 years war between Iran and Iraq, the Arabs were forced to leave their home and some of them went to Mashhad in North East of Iran. The two boys were from one of these families.
We also know that the authorities have been giving conflicting messages. Some are denying that the boys were persecuted because of being gays and they put more emphasize on the boy's crime (allegedly they have raped a 13 years old boy), but according to the boys lawyer the boys had said that they did not know that such acts (sexual relations with the person of the same sex) were punished by execution. It shows that the boys were executed because of having same-sex intercourse.
The problem in Iran is that there is no harmonised authority in the country and one local authority sometimes makes a decision contrary to the other part of the country.
Do you see a possible link with the killing and the result of the recent presidential elections?
It's hard to say and it's too early to see such a link. We know that the newly elected president is a conservative hardliner, we know that while he was a mayor of Tehran he was very much against cultural activities (such culture activities that promote modern western life style). But we also know that he could not resist the democracy movement and NGO, as we would like to do as the desire for democracy, freedom and separation of religion from politics is indeed strong in Iran.
Was this execution event reported in the media in Iran or not?
Yes, it was reputed and even some of international reaction to the event was reported but as you can guess the media is controlled by the regime to a large extent.
However, inside Iran, there is a large number of NGO like children's rights, women's rights, human rights groups etc. but also Ms. Shirin Ebedadi (peace Noble prize winner) protested against the execution. The situation in Iran is so that no one can talk openly about GLBT rights so those who protested, they protested against execution of children (one of the boys was clearly under 18 years old). The other problem is the conflicting messages from authorities, so no one wants to defend someone who raped a young 13 years old boy, as authority claims now.
What is the situation of gays in Iran? How can gays live in the atmosphere of constant fear?
The GLBT situation in Iran has changed over the past 26 years. The regime does not systematically persecute gays anymore, there are still some gay websites, there are some parks and cinemas where everyone knows that these places are meeting places for gays, furthermore it is legal in Iran that transsexual applies for sex change and it is fully accepted by the government. There are some medias which sometimes (not often) write about such issues. Having said that, the Islamic law, according to which gays punishment is death is still in force but it is thought not much followed by the regime nowadays.
You may remember the Soviet days, there was not much info about homosexuality in your country, families and the society could not accept it and the regime did not allow GLBT to have their organisations or to spread info about the issue. The situation is pretty much the same in Iran today. But thanks to Internet and contact with the International community, people get the info and Iran society has changed a lot and support for GLBT rights is growing in Iran though we still have a long way to go.
In the recent elections there was a candidate who put "RESPECT FOR DIFFERENT LIFE STYLES" in his program. And it was something new. We do not know if he really meant gay life but we know that his front is not anti gay. In addition there is a famous political person, Mr. Akbar Ganji, who also openly talks about RESPECT FOR DIFFERENT LIFESTYLES. Add to that GLBT which is still in the beginning of its journey but it is young and determined to fight for GLBT rights. There are also opposition political groups in exile and some of them voiced their support for GLBT rights in their program.
So, on the whole, we are optimistic about the future as Iran's situation can not continue like that and people are pushing for reforms and changes.
How do Iranian gays live knowing that they fear death penalty in their motherland and that in other countries same sex marriages are already allowed?
Life is not easy, it is mixed with fear, uncertainty and self oppression. The biggest problem we are facing is that GLBT do not have info about their sexual desire. They simply can not find explanation to it. Why they feel as they feel (feeling for persons of the same sex), they do not know what it is. What it's called etc. but when they get the knowledge, then it is becoming much easier. Not all Iranians have access to the Internet, there are no gay bars or clubs, so creating a network of GLBT is very difficult. Bear in mind that after 8 months of publishing MAHA, still a great number of GLBT people have not got the news.
Many GLBT people are living with denial of their own sexuality, or they get married in hope to disguise and hide their deep homosexual desire or in hope to be cured of it.
What can we do from abroad to help you?
You have already done too much for us and we are very thankful for it. Iran's GLBT struggle is in its beginning and no doubt that we have a lot of challenges in front of us and there are a lot of obstacles we have to overcome. The authorities are not going to accept our right easily. And they may even take a hard stand against us. So we are indeed in need of International GLBT support. Please do keep an eye on Iran and demand a better life and respect for Iranian GLBT. Your support means a lot for us and gives us energy and encouragement. Despite the fact that you may not hear from Iran GLBT regarding your support, please rest assured that we hear about it and we welcome it but sometimes it is not easy to work and be in touch with our friends abroad. We would like to take the opportunity and via you say a big THANK YOU to ALL GLBT groups and individuals worldwide who are thinking of us and supporting us.
GayRussia.Ru, interview conducted by Nikolai Alekseev
Project GayRussia.Ru asked people to sign the letter to the Ambassador of the Islamic Republic of Iran and to the Russian President Vladimir Putin against barbarism that took place in Iran, the execution of two young gays on 19 July 2005. The letters were sent last Saturday. When we ask people to support and join our actions and when we ourselves responded to the international appeal of the British gay group Outrage!, we also have the obligation to provide you with some follow up and further investigation into what happened. Here now we offer you the testimony of our contacts inside Iran. For their own safety, we will not publish their photo or contact details. But if you want to send a message to them please e-mail to
contacts@gayrussia.ru
and we will forward your message to Iran. Our contacts in Iran also collect information on the actions of support from different countries connected with the executions of teen gays. Please send us the information you published or campaigns you conducted locally or internationally. We will transfer everything to our contacts in Iran. After that they will be able to include all the information concerning support in the next issue of their electronic magazine. It will show to local Iranian gays and lesbians that they are not alone as they do not have much information from other sources! Write to us at
contacts@gayrussia.ru
Gay Russia.ru
«Gardez un oeil sur l'Iran!»
Entretien avec l'un des responsables du journal LGBT iranien Maha, moins d'une semaine après l'exécution de deux adolescents pour «sodomie».
EU criticizes Iran for executing gay teens - AP
Europe juggles freedom and security
Radicalism grows, and with it, fears for loss of rights
By Tom Hundley
Chicago Tribune foreign correspondent
July 27, 2005
LONDON -- Earlier this year, Britain's Appeal Court upheld one of the nation's core values--freedom of religion--by ruling that a 16-year-old Muslim girl named Shabina Begum had the right to wear a head-to-toe jilbab to her high school in Luton.
Acting in defense of that same freedom, the French National Assembly did exactly the opposite: It passed a law banning head scarves and all displays of religious affiliation from public school classrooms.
The Netherlands, one of the first countries to embrace gay marriage, is justly famous for its tolerance. But after the murder of filmmaker Theo van Gogh by a Dutch-born Muslim extremist of Moroccan heritage, lawmakers are considering ways to limit Muslim immigration. One idea is aimed at preventing Moroccan and Turkish immigrants from taking brides from back home.
As militant mosques and homegrown jihadists proliferate across Europe, political leaders are confronted with a dilemma: How to defend an open society against internal enemies who hide behind that openness.
In the wake of the attacks on the London transport system that left 56 dead, plus the killing of an innocent man by police who mistook him for a suicide bomber, Prime Minister Tony Blair met Tuesday with opposition leaders to discuss a package of anti-terrorism laws that some critics believe mainly is designed to calm a jittery public.
Laws across Europe
Italy and France also have announced a host of new anti-terrorism measures. Italy passed laws that allow authorities to collect saliva samples from suspects for DNA testing and to quickly expel undesirables. France, with some of the most intrusive anti-terrorism laws in Europe, plans to reinforce its information-gathering procedures.
The main provisions of Britain's proposed legislation would toughen existing laws by making it illegal for British residents to attend a terrorist training camp or participate in "acts preparatory to terrorism."
While there appears to be broad political support for those ideas, legal experts are less certain about another proposal that would criminalize "indirect incitement" of terrorism. The government says it wants to crack down on people who praise suicide bombers as "martyrs" or otherwise justify acts of terrorism. Home Secretary Charles Clarke promised to be more specific when the legislation is presented to Parliament in September, but legal experts and civil liberties activists worry about the vagueness of the concept.
"Anything that takes us away from actual activity and locates criminal guilt in the thought processes of suspects should give us pause," said Conor Gearty, a professor of human-rights law at the London School of Economics.
Doug Jewell, spokesman for Liberty, Britain's leading civil liberties organization, said that under the proposed legislation, Cherie Blair, wife of the prime minister and a civil rights lawyer, could have been charged with a criminal offense three years ago when she spoke sympathetically of Palestinian suicide bombers.
If the new statute is too broadly drawn, said Jewell, "it would catch people who made stupid statements."
In the wake of the Sept. 11 attacks and the subsequent invasions of Afghanistan and Iraq, governments across Europe have been scrambling to come to grips with the growing isolation and alienation of their Muslim communities.
All sorts of laws have been passed. The Dutch government recently decreed that residents of the Netherlands could marry foreigners only if their new spouses were over 21 and could pass a Dutch language test.
Although the law applied to all citizens, it was aimed squarely at the large population of male Moroccan and Turkish immigrants who seek teenage brides from their villages back home. The girls rarely learn to speak Dutch, and thus perpetuate "the alienation from Dutch society from generation to generation," according to Maarten Huygen, the editorial page editor of NRC Handelsblad, an influential Dutch newspaper.
He noted that the law was probably a violation of the European human-rights convention.
While the French approach to integration has been to emphasize the "Frenchness" of all citizens by keeping religious distinctions out of the public square, Britain espouses multiculturalism and diversity.
Begum's "multifaith" school in Luton had a dress code that encouraged religious diversity, but it tried to draw a line at the more reactionary Islamic interpretations of female modesty.
Begum, an articulate teenager, argued that this was a form of religious discrimination, which she blamed on "an atmosphere that has been created in Western societies post-9/11, an atmosphere in which Islam has been made the target for vilification in the name of the `war on terror.'"
After the London bombings, Blair launched a high-profile campaign to include Britain's Muslim establishment in the fight against homegrown terrorists. He also has spoken repeatedly of the need to make sure the wider Muslim community was not tarred by the murderous deeds of a few.
Feeling singled out
But the problem, spelled out in a detailed parliamentary report on existing anti-terrorism laws, is that such laws inevitably make the Muslim community feel it is being singled out.
"There is no doubt that the authorities face a real challenge in acting against terrorist suspects from within particular communities, without being seen as targeting-or stigmatizing-that community," the report said. "We do not believe the government has yet found an answer to this question."
Last week, British police chiefs asked for new powers that would allow them to hold terror suspects for up to 90 days without charge, while Conservative Party leader Michael Howard called on the government to reconsider the current ban on phone tap evidence.
Two other controversial proposals are national identity cards and so-called control orders that would allow police to restrict the activities of individuals suspected of having sympathies for outlawed groups or violent ideologies.
The limits of Britain's anti-terrorism laws were established in December when the Law Lords, in an 8-1 verdict, ruled that the indefinite detention of terror suspects at London's Belmarsh prison was unlawful--in effect rejecting the idea of Guantanamo-style detentions.
"The culture here precludes it," said Gearty, of the London School of Economics. "Guantanamo is thought disgraceful here by almost everybody, including the political and legal classes."
Polls after the London terror attacks suggest a nervous public supports tough anti-terror laws, but Jewell, the Liberty spokesman, cautioned that passing more laws offers little protection against the small number of people intent on terrorism.
"There is no legislative cure for terrorism," he said. "Our belief is that the way to deal with this is more targeted policing and putting more resources into intelligence."
----------
thundley@tribune.com
Across Europe, a broad assault by abortion foes
By Elisabeth Rosenthal International Herald Tribune
WEDNESDAY, JULY 27, 2005
WARSAW For most of July, pedestrians in the Polish city of Lodz found themselves face-to-face with 14 grisly billboards pairing images of aborted fetuses with photographs of blood-spattered corpses - victims of genocide in Srebrenica or Rwanda, toddlers killed in the Oklahoma City bombing attack.
Placed by a Polish anti-abortion group, the traveling exhibition, which has moved on to Lublin, is part of an aggressive, well-financed and growing conservative movement across Europe that opposes not only abortion but also contraception, sex education, artificial insemination and gay rights.
Encouraged by the Roman Catholic Church, enabled by the election of conservative governments in many countries and financed in part by anti-abortion groups in the United States, the movement has made powerful inroads in countries where a full array of women's health services were once taken for granted.
These include Poland, Italy, Slovakia, Lithuania and even the Netherlands, where the new Christian Democratic secretary of health has suggested a review of that country's liberal abortion law.
"It's gotten worse in many places over the last two to three years, as more Christian Democrat and conservative governments have come to power," said Rebecca Gomperts, founder of the Dutch abortion rights group Women on Waves.
Anna Zaborska of Slovakia, for example, the new chairwoman of the European Parliament Committee for Women's Rights and Gender Equality, opposes abortion.
"Anti-abortion groups have become much more active and successful at influencing public opinion, and they have money and the mobilizing power of the church behind them," Gomperts said.
The consequences are varied but perhaps nowhere more dramatic than in Poland, where abortion was free - and freely accessible - under Communism.
Today, a relatively restrictive abortion law (which refers to the fetus as a "conceived child"), coupled with strong social stigma and an anti-abortion stance among doctors' groups, has led to a situation in which only 174 legal abortions were performed nationwide in 2004 - and tens of thousands of illegal abortions were carried out.
In Poland, the battle is so intense that the country's leading gynecology journal recently refused to publish the World Health Organization's guidelines on "Safe Practices in Abortion," calling them "reprehensible."
"Abortion is not safe, because a patient who undergoes such treatment always dies," wrote Andrzej Barcz, editor of Practical Medicine-Obstetrics and Gynecology.
International anti-abortion groups point out that their influence in Europe, where abortion has popular support and is generally available, is still much weaker than in the United States or Latin America. But they are thrilled with the new activity.
"There are now a lot of pro-life groups working in Europe, but they are fairly young - formed in the last five or 10 years," said Joseph Meaney, international director of Human Life International, a powerful Catholic anti-abortion group based in Virginia.
In countries like France and Italy, youth groups are now lecturing in schools and organizing marches, promoting abstinence and an anti-abortion message. Meaney said this was due, in part, to the "John Paul II effect," noting that the charismatic late pope, who held appeal for youth, had strongly opposed abortion and contraception.
In Europe, only Ireland, Portugal, Malta and Poland have strict legal limits on abortion. But many countries that permit abortion are considering new limits on the practice or are restricting national health plans' payment for both abortion and contraception. As in the United States, access to the procedure is also increasingly limited by taboos, costs for patients and the objections or fears of doctors.
In Poland, the law permits abortion if a woman's health is in danger or if genetic defects have been detected in the fetus. But, said Wanda Nowicka, head of the Federation for Women and Family Planning in Warsaw, "there is now almost no condition that would allow you to get an abortion here." Her group is currently bringing a lawsuit on behalf of a woman who is nearly blind because doctors refused to allow her to abort when she fell ill during pregnancy.
According to Nowicka, 80,000 to 200,000 illegal abortions are performed in Poland every year.
"This country is not conservative, but reproductive health has become highly politicized and stigmatized in the last few years," Nowicka said.
The same trend is apparent in many European countries, with only a few bucking the trend, among them Spain, a Catholic country with a Socialist government.
The Catholic Church has been particularly influential in former East Bloc countries, where it made rapid gains after Communism collapsed more than a decade ago. Croatia and Slovakia, for example, signed treaties with the Vatican that give the church influence over school curriculums, including sex education. In Slovakia, where abortion is technically legal, Christian anti-abortion supporters mark March 25 the "Day of the Conceived Child."
But many also cite global political trends, like the Bush administration's decision to promote abstinence as the preferred form of birth control.
"Those who oppose woman's choice have become stronger and louder because the international atmosphere supports them," said Esmeralda Kuliesyte of Lithuania, who leads the Vilnius-based Family Planning and Sexual Health Association.
"They are strong because of the Bush administration's policies," Kuliesyte said. "They've become rich. They have magazines and Web pages. It's very hard to fight back."
Anti-abortion groups in the United States are increasingly traveling to Europe to help train local activists. "They bring money, leaflets and little plastic embryos," said Olga Pietruchova, director of Prochoice Slovakia.
Human Life International, the Virginia-based anti-abortion group, has an office for Eastern Europe in Gdansk, Poland, and has sent missions to more than a dozen European countries in the past five years, providing funding and seminars on how to promote anti-abortion positions.
In 2003, the European Union warned member states about the aggressive European activities of U.S.-based anti-abortion groups, whose ultimate goal is "no contraception at all, and sex within marriage only," in the words of Poul Nielsen, who was then the European Commissioner for Overseas Development.
Such groups have taught their pupils well: When reports of the Lodz billboards were posted on religious Web sites, readers responded with comments like, "If only we could do that in the U.S."
But there is much homegrown activity as well. In Croatia, where 86 percent of the population is Catholic, the national bishops' conference has joined with other church groups to demand that Parliament ban abortion. The procedure, which was free 10 years ago, now costs up to $600, more than the average monthly salary.
Croatian schools now use a sex education program called Teen Star that promotes abstinence and teaches that the contraceptive pill is dangerous and that condoms do not protect against disease.
When liberal politicians proposed a measure supporting assisted fertility, the bishops blocked it, saying - despite worldwide evidence to the contrary - such technology "brings to life children who are things and not human beings, usually severely damaged," said Sanja Cesar, head of the Center for Education, Counseling and Research in Bratislava.
Women's groups say that strong anti-abortion positions have been promoted by otherwise mainstream politicians with debts to pay. In Poland, the Solidarity movement, which overthrew decades of Communist rule in 1989, received financial and moral support from the Catholic Church when it was still illegal under Communism.
As a result, "when Communism fell, it seems that the only thing politicians cared about was abortion," Nowicka said. The law limiting abortion was passed in 1993 and has held firm despite challenges ever since.
In Italy, the Catholic Church has used its weight to support conservative politicians as they passed an extremely restrictive fertility law, which bans, for example, egg donations for stem cell research.
When Spain recently passed a law permitting gay marriage, Marcello Pera, speaker of Italy's Senate, condemned the decision, saying: "It is a triumph of secularism that seeks to transfer desires and occasional whims into human rights."
HAYWARD
Transgender teen did nothing 'to deserve death'
But 1 accused killer said he vomited on finding she was male
Kelly St. John, Chronicle Staff Writer
Wednesday, July 27, 2005 - San Francisco Chronicle
One of three men accused of murdering a Newark transgender teen nearly three years ago testified Tuesday that he was disgusted to learn that Gwen Araujo was not the woman he thought he'd had sex with -- but he did not want her to die that night.
"She never should have been killed," said Jose Merel, 25, who was testifying for the first time at his retrial on murder charges. "There was nothing she did to deserve death."
Merel admitted that he had participated in the attack against the 17-year- old Araujo, slapping her twice and striking her head with a frying pan as a show of "solidarity to my friends," he testified. Merel said he was devastated when friends at a party revealed that Araujo -- who called herself Lida and with whom Merel had previously had anal sex -- was biologically male.
"It's hard to explain," Merel said in a Hayward courtroom. "Your whole life you think you're a heterosexual. Then you get pleasure from a homosexual. It disgusted me."
Merel did not testify at the first trial, which ended in June 2004 with the jury deadlocked on charges against him and two other men, Michael Magidson and Jason Cazares, both 25. A fourth man, Jaron Nabors, pleaded guilty to manslaughter and testified against the others. The case, and the mistrial, outraged the transgender community.
The retrial began last month.
Wearing glasses and a white sweater in court, Merel said he had vomited and then cried when a woman at the Oct. 3, 2003, party at his home blurted out that Araujo had male genitalia.
"Emotionally, I was crushed," he said, his voice at times hardly audible. When the two had met months before, Merel said, he thought "Lida" was "very attractive."
"I thought it was impossible to derive pleasure from a man unless you were gay," he said. "I was having serious questions about my sexuality."
Merel said he had slapped Araujo twice as others punched her and pushed her up against a wall. He then went into the kitchen, he said, grabbed a tin can and tried to scare Araujo with it. He then picked up a frying pan and hit her in the head, he said.
Araujo then said, "I told you I was sorry," Merel testified, the last words he heard her speak that night.
Merel said he was scrubbing Araujo's blood from the carpets and couch as Nabors and Cazares watched Magidson bind Araujo's ankles with a rope. He said he then retreated to his room because he did not want to cry in front of his friends again.
When his attorney, William DuBois, asked Merel why he had not done anything to help Araujo, Merel took a long pause.
"I don't know," he answered. "I don't really have an answer to that."
Still, Merel said he thought Araujo was alive until Cazares brought him outside and he saw Araujo's body wrapped in a blanket in the back of Magidson's truck.
"Nobody ever mentioned killing her," he said.
Prosecutors say Magidson pulled a rope toward Araujo's neck after she had been tied up, and the accused killers buried Araujo's body in El Dorado National Forest.
Merel said he felt horrible as he dug Araujo's grave.
"Honestly, to me I was worrying how long it would take for the police to get to the house, how long before we were arrested," Merel said. "Anytime you do a crime, they always find you. It was the worst day of my life."
On the ride home, Merel said, Magidson said he was not sure Araujo had died until she was hit with a shovel. Merel's attorney has seized on that point to try to show that Merel's earlier blows to Araujo's head were only glancing, not fatal as prosecutors have suggested.
Araujo's killing came as Newark Memorial High School prepared a performance of "The Laramie Project," a play about the 1998 killing of gay college student Matthew Shepard in Laramie, Wyo., where he was beaten, tied to a fence and left to die.
Merel will continue testifying today.
E-mail Kelly St. John at kstjohn@sfchronicle.com
Posted on Wed, Jul. 27, 2005
Suspect testifies at murder trial
MAN WHO HAD RELATIONS WITH TRANSGENDER TEEN CALLS SLAYING `WORST DAY'
By Yomi S. Wronge
San Jose Mercury News
Calling the night a transgender teenager was killed ``the worst day of my life,'' Jose Merel took the stand in his own defense Tuesday.
The former furniture delivery man from Newark hung his head at times during his testimony, detailing for jurors how his ego was shattered upon learning that 17-year-old Gwen Araujo, the girl he'd been intimate with, was biologically male.
```I think I was going through some kind of identity crisis because I seriously thought I was gay,'' Merel said. ``Your whole life you believe you are a heterosexual and you find out you've been pleasured by a man. It disgusted me. . . . Emotionally I was crushed.''
Merel, 25, and two of his best friends, Jason Cazares and Michael Magidson, also both 25, are accused of killing Gwen in October 2002. A trial last year against the three ended in a mistrial when a jury failed to agree on whether to convict them on first- or second-degree murder charges. Merel did not testify in that trial.
Jaron Nabors, a fourth man involved, agreed to a plea deal and has testified against the other three.
Merel testified that a short time after meeting Gwen in the fall of 2002, he had sex with her. He is the only defendant to admit warm feelings for the victim, who was born male but identified and lived as a female.
Merel said he found her very attractive. ``She was kind of wild, I guess you would say she wasn't shy,'' Merel said.
Although the question of her biological sex arose sometime before the killing in October of that same year, Merel said it was not a hot topic among his friends. That contradicted other witnesses who have testified that the defendants and Nabors were on a mission to find out the truth.
Merel said during the early morning hours of Oct. 4, 2002, ``I was trying to be funny'' and obnoxious when he began questioning Gwen about her gender and about her insistence on only having anal sex.
Gwen was vague about her answers, Merel said. ``I would think any woman would curse you out or slap you across the face.''
But Gwen didn't do that, and that's when Merel said he first feared that the girl he had been intimate with was a man.
A short time later, when the group of friends discovered that Gwen had male genitalia, Merel said he vomited and burst into tears.
He said he slapped Gwen twice, menaced her with a can of food and hit her lightly on the head with a frying pan.
Merel did not say who actually killed Gwen, but insisted it wasn't him.
At one point that night, Merel said, Gwen threatened the group with retaliation from Norteño gang members if they harmed her. Merel indicated that threat could be one of the reasons she was ultimately killed, instead of merely beaten up.
``I'm sure that had something to do with it,'' he said.
Later, the soft-spoken man said he was compelled to testify because "I don't want to go to jail for something I didn't do.''
Merel said that on the drive home from burying the victim in South Lake Tahoe, he asked his friends why Gwen had to die.
Merel said Nabors answered, `` `Who cares. The bitch needed to be choked out anyway.' ''
He said that Magidson then said to Cazares, ``I wasn't sure she was dead until she was hit with the shovel.'' Cazares has denied he played a direct role in the killing, saying he only helped bury the body out of loyalty to his buddies.
Tuesday, for the first time, Merel publicly expressed remorse.
``She never should have been killed,'' Merel said. ``There was nothing she did to deserve death.''
His testimony continues today in a Hayward court.
Contact Yomi S. Wronge at ywronge@mercurynews.com or (408) 920-5744.

Gwen Araujo case: Accused killer was 'disgusted' that transgender teen was male
▲
by

alfayoko2005

| 2005-07-27 20:14 | トランス