カテゴリ
以前の記事
検索
最新のトラックバック
その他のジャンル
ファン
記事ランキング
ブログジャンル
画像一覧
washingtonpost.com
Access to Abortion Pared at State Level
By Ceci Connolly
Washington Post Staff Writer
Monday, August 29, 2005; A01
This year's state legislative season draws to a close having produced a near-record number of laws imposing new restrictions on a woman's access to abortion or contraception.
Since January, governors have signed several dozen antiabortion measures ranging from parental consent requirements to an outright ban looming in South Dakota. Not since 1999, when a wave of laws banning late-term abortions swept the legislatures, have states imposed so many and so varied a menu of regulations on reproductive health care.
Three states have passed bills requiring that women seeking an abortion be warned that the fetus will feel pain, despite inconclusive scientific data on the question. West Virginia and Florida approved legislation recognizing a pre-viable fetus, or embryo, as an independent victim of homicide. And in Missouri, Gov. Matt Blunt (R) has summoned lawmakers into special session Sept. 6 to consider three antiabortion proposals.
While national leaders in the abortion debate focus on the upcoming nomination hearings of Judge John G. Roberts Jr. to the Supreme Court, grass-roots activists have been changing the legal landscape one state at a time. In most cases, the antiabortion forces have prevailed, adding restrictions on when and where women can get contraceptive services and abortions, and how physicians provide them.
Antiabortion activists say they have pursued a two-pronged approach that aimed to reduce the number of abortions immediately through new restrictions and build a foundation of lower court cases designed to get the high court to eventually reverse the landmark 1973 Roe v. Wade decision making the procedure legal.
On the other side, a handful of states have approved provisions that make it easier for women to get emergency contraception, known as the "morning after" pill. However, two Republican governors, Mitt Romney of Massachusetts and George E. Pataki of New York, vetoed such bills.
Locally, Maryland Gov. Robert L. Ehrlich Jr. (R) has signed legislation that makes a "viable fetus" a distinct victim of a crime such as murder or manslaughter. Virginia did not enact any laws related to abortion.
"Every year, we see a lot of legislation introduced," said Elizabeth Nash, a public policy associate at the Alan Guttmacher Institute, a research group that specializes in family and reproductive health. "This year, we have seen a lot more action than in recent years. The level of bills enacted has been much higher."
David Bereit, director of program development for the American Life League, which opposes abortion in all circumstances, supports both the short-term efforts and the long-term strategy aimed at overturning Roe v. Wade .
"People are becoming frustrated more progress hasn't been made at the federal level and feel they don't have as much control to change things there," he said. "If we can't outright ban abortion, what can we do to make it less prevalent? We see it's much easier to take up funding and parental notification measures at the state level."
In the meantime, "we want to have cases working their way up in the eventuality Roe would be overturned," Bereit said.
South Dakota has been among the most active states, passing five new laws, including a "trigger" law that would impose an immediate abortion ban after any Supreme Court ruling overturning Roe v. Wade .
Last year, "there was an attempt to engage in a full-frontal assault of Roe versus Wade " with an outright ban, said Brock L. Greenfield, a state senator who is director of South Dakota Right to Life. But similar bills have been found unconstitutional, and Gov. Mike Rounds (R) vetoed the bill on technical grounds.
"This year, the pro-life forces united in order to pass some legislation," Greenfield said. The other measures include stricter parental notification requirements and a provision adding an "unborn child" as a distinct victim to the state's criminal code for charges of murder in the first and second degree. In its new informed-consent law, South Dakota requires physicians to tell women seeking an abortion about the "existing relationship between a pregnant woman and her unborn child," and that all abortions "terminate the life of a whole, separate, unique living human being."
The language in that law was written with the expectation it could be used to "help tear down the wall put up by the Roe versus Wade decision," Greenfield said.
For the small and dwindling number of physicians providing abortions, it has been frustrating to encounter new regulations dictating non-medical requirements such as the width of doorways and the size of hallways, said Steven Emmert, executive director of the National Coalition of Abortion Providers.
"Those opposed to abortion are finding new and different ways to increase the roadblocks and the hoops [that] providers and patients have to jump through," Emmert said.
Missouri, for example, has set aside $1 million to encourage low-income pregnant women to carry a pregnancy to full term and potentially give the infant up for adoption.
"A theme we're seeing this session is for legislatures to go back and put on more restrictions," said Katherine Grainger, legislative counsel at the Center for Reproductive Rights. "They passed all these laws, and now they're saying, 'Let's see what else we can get.' "
Lawmakers in several states toughened existing laws affecting girls younger than 18 who seek an abortion. Today, 35 states require parental involvement of some type, according to a tally by Stateline.org, an online public policy journal funded by the Pew Charitable Trusts.
In its end-of-the-session newsletter, Texas Right to Life hinted at the variety of approaches its side pursued.
Supporters "did not muster the strength to pass any of the multiple freestanding pro-life bills," it noted. However, "several major pro-life victories came in the form of 'under the radar' amendments." Those included measures to shift state money to abortion alternatives and health care for unborn children, stricter parental consent requirements and a ban on third-trimester abortions "when the abortion is not necessary to prevent the death of the woman."
Some antiabortion leaders in President Bush's home state attribute their victories to a shift in the political winds.
"Texas, having gone from Democrat to Republican control, makes it much more possible to get into these issues," said state Rep. Will Hartnett (R-Dallas), who sponsored two successful amendments. "Under the Democrats, these died in committee."
Hartnett, who pushed to change the law from requiring parental notification to requiring parental consent, said the earlier language simply "paid lip service" to protecting minors from an unwise decision.
But Emmert, who represents abortion providers, said that in many circumstances, the girl has been impregnated by a male relative or boyfriend of her mother, making parental consent complicated, if not impossible.
Even in some of the 12 states that have state constitutional protections for abortion rights, legislatures have enacted new restrictions, according to the Center for Reproductive Rights. (The 12 are Alaska, California, Florida, Maine, Maryland, Massachusetts, Minnesota, Montana, New Jersey, New Mexico, Tennessee and West Virginia.)
Not all the restrictive measures came from Republican-controlled states. Democratic governors in Kansas and Pennsylvania signed budgets that steer millions of dollars to organizations that provide alternatives to abortion. And in Oklahoma, Democratic Gov. Brad Henry signed a law in May that requires parental notification for minors, deems a fetus a "victim" under assault laws and mandates that abortion providers give specific counseling relating to the developmental stage of a fetus and a list of groups that support women who choose to carry a pregnancy to full term.
California, once deemed a liberal bastion, will consider a ballot question in November proposing to require, for the first time, that most women younger than 18 notify a parent before getting an abortion and to require physicians to report all such abortions.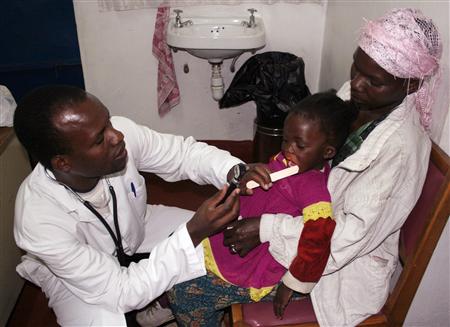 The U.S. government's emphasis on abstinence-only programs to prevent AIDS is hobbling Africa's battle against the pandemic by downplaying the role of condoms, a senior U.N. official said on Monday. Stephen Lewis, the U.N. secretary general's special envoy for HIV/AIDS in Africa, said fundamentalist Christian ideology was driving Washington's AIDS assistance program known as PEPFAR with disastrous results, including condom shortages in Uganda. Activists in both Uganda and the United States say the country is now in the grip of condom shortage so severe that men are using plastic garbage bags in an effort to protect themselves. A Kenyan clinical officer examines an HIV-positive child in Kenya's capital Nairobi August 23, 2005. According to UNAIDS, 88% of the 2.2 million children in the world living with HIV/AIDS grow up in Africa. Photo by Wairimu Gitahi/Reuters
US abstinence drive hurts AIDS fight - UN official
Mon Aug 29, 2005 05:23 PM ET
By Andrew Quinn
JOHANNESBURG (Reuters) - The U.S. government's emphasis on abstinence-only programs to prevent AIDS is hobbling Africa's battle against the pandemic by playing down the role of condoms, a senior U.N. official said on Monday.
Stephen Lewis, the U.N. secretary-general's special envoy for HIV/AIDS in Africa, said Christian ideology was driving Washington's AIDS assistance program known as PEPFAR with disastrous results such as a shortage of condoms in Uganda.
Washington rejected the criticism.
"There is no question in my mind that the condom crisis in Uganda is being driven and exacerbated by PEPFAR and by the extreme policies that the administration in the U.S. is now pursuing in the emphasis on abstinence," Lewis told journalists on a teleconference.
Uganda had been praised for cutting HIV infection rates to around 6 percent today from 30 percent in the early 1990s, a rare success story in Africa's battle against the disease.
But President Yoweri Museveni's government has been criticized for what activists say is a reduction in the number of free condoms available due to pressure from Washington through the PEPFAR program.
A top U.S. official rejected Lewis's criticism and that it had forced Uganda to reduce the condoms available, saying the Bush administration supported condom use as part of a balanced program that included prevention.
"The statements that I have heard are completely untrue and completely mischaracterize effective prevention programs," Mark Dybul, deputy U.S. global AIDS coordinator and chief medical officer, told Reuters by telephone.
As part of President George W. Bush's global AIDS plan, the U.S. government has already budgeted about $8 million this year for abstinence-only projects in Uganda, human rights groups say.
Activists there and the United States say the country is in the grip of a condom shortage so severe that men are using garbage bags in an effort to protect themselves.
"That distortion of the preventive apparatus ... is resulting in great damage and undoubtedly will cause significant numbers of infections which should never have occurred," Lewis added.
Many health experts say condoms are the most effective bulwark against AIDS. Dybul and a Ugandan minister said there was no shortage in the country.
RELIGION
Lewis said the effects of Washington's "obsessive emphasis on abstinence" were most profound in Uganda, where it resonated with strong local religious traditions.
But he said the drive for abstinence was being felt more widely across Africa and threatened to derail or divert more AIDS-fighting programs
"What PEPFAR has done is to have made it possible for a number of Pentacostal and more fundamentalist churches to pursue the abstinence agenda," he said.
Dybul said around 20 percent of the U.S. government partners in fighting AIDS were "faith-based" groups, many of which were in remote locations ignored by other organizations and providing key support for communities.
The Ugandan government recalled free condoms in 2004 over quality fears and activists say it failed to provide alternatives, pushing up the price of them in the shops.
But Uganda's State Minister for Health Mike Makula told the Monitor newspaper there was no shortage, saying the country had 65 million in stock and had ordered another 80 million.
"That there is a condom shortage in the country is just a rumor by people who want to spoil the image of this country," the newspaper quoted Makula as saying.
Dybul said 15-20 million condoms bought with support from the U.S. government were in a warehouse in Uganda awaiting testing following Uganda's rejection of the flawed condoms.
He said the Bush administration supported the so-called "ABC" program -- abstain, be faithful or use a condom -- developed by the Ugandan government.
"The ABC has been a long-standing program which was developed by the Ugandans and is employed throughout the world because of its effectiveness, but to tell the Ugandans how to run their programs is highly paternalistic," Dybul said.
UN AIDS Envoy Blames Bush Administration's Abstinence Policy For Condom Shortage In Africa
by Chris Tomlinson, Associated Press
Posted: August 29, 2005 9:00 pm ET
(Nairobi) U.S. President George W. Bush's administration's international AIDS policies have worsened a condom shortage in Uganda and could lead to an increase in the East African country's HIV infection rate, a top UN envoy said Monday.
Stephen Lewis, the UN Secretary General's special envoy for HIV/AIDS in Africa and a former Canadian ambassador to the UN, said U.S. cuts in funding for condoms and a new emphasis on promoting abstinence had contributed to a condom shortage in Uganda, one of the few countries which had previously succeeded in reducing its HIV rate.
``There is no doubt in my mind that the condom crisis in Uganda is being driven by (U.S. programs),'' Lewis said in a teleconference sponsored by health and human rights groups. ``To impose a dogma-driven policy that is fundamentally flawed is doing damage to Africa.''
A shortage of condoms in Uganda has developed because both the government and its primary donor for HIV prevention, the United States, have allowed condom supplies to dwindle while allocating an increasing proportion of funding for HIV programs to religious groups that oppose condom use, said a report by the Center for Health and Gender Equity.
The group said that while Uganda needs between 120 million and 150 million condoms a year, only 32 million have been distributed since October.
Ugandan officials have denied that there is a problem or a deviation in policy.
``It is not true that there is a condom shortage,'' Health Minister Jim Muhwezi. ``There seems to be a co-ordinated smear campaign by those who do not want to use any other alternative simultaneously with condoms against AIDS.''
Muhwezi said he was co-ordinating Uganda's HIV prevention strategy with the U.S. government, but insisted that condoms remain an important part of their HIV prevention strategy. He said the recent discovery of problems with the quality of condoms imported into Uganda had led to a disruption in supply, but that the problem was sorted out.
Jodi Jacobson, the executive director of the Center for Health and Gender Equity, said all of the evidence collected in Uganda by her group had found that Ugandans had seen a 300 per cent increase in condom prices and free condoms could not be found at the normal distribution points.
Lewis and Jacobson also said that a campaign to discredit condoms and promote abstinence by Ugandan President Yoweri Museveni's wife, was providing misinformation about HIV that could cause an increase in the HIV rate.
``Religious fundamentalists, some financially supported by the U.S. government and the Office of the First Lady Janet Museveni, have become prominent in attacking condoms and those who distribute them,'' the centre's report said.
Muhwezi said the first lady could not be expected to promote condom use.
``Her role is to tell the young people to abstain. She cannot tell young people to use condoms. She is a mother,'' he said.
Bush accused of Aids damage to Africa
Jeevan Vasagar and agencies in Nairobi and Julian Borger in Washington
Tuesday August 30, 2005
Guardian
A senior United Nations official has accused President George Bush of "doing damage to Africa" by cutting funding for condoms, a move which may jeopardise the successful fight against HIV/Aids in Uganda.
Stephen Lewis, the UN secretary general's special envoy for HIV/Aids in Africa, said US cuts in funding for condoms and an emphasis on promoting abstinence had contributed to a shortage of condoms in Uganda, one of the few African countries which has succeeded in reducing its infection rate.
"There is no doubt in my mind that the condom crisis in Uganda is being driven by [US policies]," Mr Lewis said yesterday. "To impose a dogma-driven policy that is fundamentally flawed is doing damage to Africa."
The condom shortage has developed because both the Ugandan government and the US, which is the main donor for HIV/Aids prevention, have allowed supplies to dwindle, according to an American pressure group, the Centre for Health and Gender Equity (Change).
In 2003, President Bush declared he would spend $15bn on his emergency plan for Aids relief, but receiving aid under the programme has moral strings attached.
Recipient countries have to emphasise abstinence over condoms, and - under a congressional amendment - they must condemn prostitution.
Brazil announced last month that it would refuse to accept $40m (£22m) in American aid rather than stigmatise prostitutes who Brazilian health workers said were essential to their anti-Aids strategy. Senegal was also cut off from US aid because prostitution is legal there.
Campaigners accuse Uganda's first lady, Janet Museveni, of being instrumental in the switch towards a policy of abstinence. Ugandan government officials say that her religious beliefs, stemming from being a born-again Christian, are central to her promotion of the message of abstinence. In one poster campaign, signed by the office of the first lady, the slogan alongside the picture of a smiling young woman says: "She's saving herself for marriage - how about you?"
While Uganda needs between 120m and 150m condoms a year, only 32m have been distributed since last October, Change said in a report published yesterday.
Meanwhile, religious groups that oppose condom use are receiving an increased share of funding, the pressure group says. "Religious fundamentalists, some financially supported by the US government and the office of the first lady, Janet Museveni, have become prominent in attacking condoms and those who distribute them," Change's report said.
Officially, Uganda remains committed to the threefold "ABC" policy. The initials stand for "Abstinence, Be faithful, use a Condom". The Ugandan government denied yesterday that there is a scarcity of condoms or a policy change. The health minister, Jim Muhwezi, said: "It is not true that there is a condom shortage. There seems to be a coordinated smear campaign by those who do not want to use any other alternative simultaneously with condoms against Aids."
The minister insisted that condoms remain an important part of their HIV prevention strategy, but said the first lady could not be expected to promote the use of contraceptives. "Her role is to tell the young people to abstain. She cannot tell young people to use condoms, she is a mother," he said.
Uganda has had extraordinary success in reducing adult infection rates from 30% in the early 1990s to below 6% last year. This success is largely credited to its president, Yoweri Museveni, who spoke out about what was considered a shameful disease and told people how to combat it.
The row over Uganda's HIV/Aids strategy comes at a time when the financial management of the country's Aids programmes is under the spotlight. Last week the Global Fund for Aids, TB and Malaria pulled all its funding from Uganda's programmes. After an inquiry by accountants PricewaterhouseCoopers, the Global Fund suspended five grants worth $201m over two years and demanded that the unit within the Ugandan ministry of health that manages them should be disbanded.
An American Aids official last night denied that the US had forced Uganda to reduce the condoms available, saying the Bush administration supported condom use as part of a balanced programme that included prevention.
"The statements that I have heard are completely untrue and completely mischaracterise effective prevention programmes," Mark Dybul, deputy US global Aids coordinator and chief medical officer, told Reuters by telephone.
UN rights chief due in China to push for ratification of convention
Mon Aug 29, 2:24 AM ET - AFP
UN High Commissioner for Human Rights Louise Arbour is due in China for high level talks aimed at pushing Beijing to ratify the UN Convention on Civil and Political Rights.
Arbour will meet with President Hu Jintao and other senior officials during a five-day mission centering on China's compliance with UN recommendations on improving its human rights record, the commission said in a statement.
Rights groups charge that civil liberties have taken a heavy blow despite China's rapid economic progress.
They regularly raise concern about a lack of religious and media freedoms, the situation in Tibet, forced repatriation of North Korean refugees and the bloody supression of protests over rising social problems.
The charges have proved a major headache in China's relations with the United States and Europe, and Hu is expected to be bombarded with protests when he visits Washington to meet counterpart George W. Bush next month.
Human rights concerns have meanwhile delayed a European Union plan to lift its 16-year-old arms embargo slapped on China after its bloody 1989 crackdown on democracy campaigners.
On a visit to Beijing last month, European Commission chief Jose Manuel Barroso suggested China must ratify the UN Convention on Civil and Political Rights, which it signed in 1998, to show it meant business.
"One thing is the ratification of the UN Convention on Civil and Political rights. I'm sure such a decision would be very well perceived by the public opinion and the European parliament," he said.
During her talks, Arbour is expected to ink an agreement aimed at easing Beijing's ratification of the convention, the principal international agreement guaranteeing civil liberties, the commission said.
The agreement is also designed to help China "implement recommendations from the United Nations Committee on Economic, Social and Cultural Rights".
In May, that committee became the first of the UN panels overseeing application of the different human rights treaties to examine and report on China's compliance.
It urged Beijing to tackle 27 points of concern, after highlighting evidence of forced labour, forced abortions, exploitation of children, evictions, discrimination against internal migrants, low wages and other violations.
Besides Hu, Arbour will also meet China's foreign and justice ministers, as well as other officials and Chinese non-governmental organisations (NGOs), the UN human rights office said.
She is due to have a meeting with Hu on Monday during a commemoration of the Fourth World Conference on Women, which was held in Beijing 10 years ago.
Arbour's mission will be the eighth official visit by the UN's top human rights official to China in seven years.
In 1998, her predecessor Mary Robinson gained unprecedented access to senior Chinese officials, enabling her to discuss concerns about reports of repression, torture and other abuse.
The UN's top expert on torture, Manfred Nowak, is due to make an unprecedented visit to China in November to probe reports of torture in the country's detention facilities.
Although China has opened up to some UN human rights experts in recent years, it has never received the world body's specialist in charge of examining allegations of torture.
washingtonpost.com
Tokyo Teacher Is Punished for Pacifist Stance
Refusal to Sing Wartime Anthem Comes As Japanese Schools Push National Pride
By Anthony Faiola
Washington Post Foreign Service
Tuesday, August 30, 2005; A10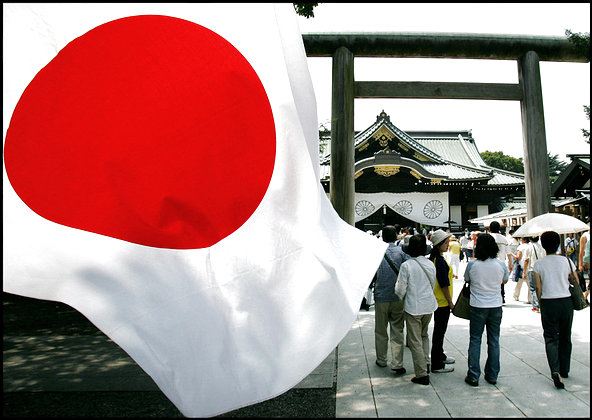 A Japanese national flag flutters in the wind at Tokyo's Yasukuni Shrine, which honors Japan's fallen warriors, including convicted World War II criminals.
Photo Credit: By Kimimasa Mayama -- Reuters Photo
TOKYO -- When the national anthem started playing during a ceremony this year at Tachikawa Daini Junior High School, Kimiko Nezu, a soft-spoken but resolute home economics teacher, refused to stand and kept her mouth shut while others sang around her.
Nezu, a self-described pacifist, said she has done the same thing ever since parliament designated the World War II hymn "Kimigayo" as the national anthem in 1999. She opposes the song, Nezu said, because it was the same one sung as the Imperial Army set forth from Japan calling for an "eternal reign" of the emperor.
Previously, her protest brought nothing more than harsh stares from some students and parents. But the Tokyo school board issued an order in October 2003 that the anthem must be respected. Since then, Nezu, 54, has been punished by frequent transfers from one school to another and with temporary salary cuts. And in May, shortly after the incident at Tachikawa, she was suspended for a month. Officials warned that another offense could lead to her dismissal after 34 years of teaching.
The school board reaction was part of an effort by Tokyo and other school districts to enforce a new sense of pride in being Japanese. The measures were strongly backed by Shintaro Ishihara, the governor of Tokyo and an outspoken nationalist, as a way to strengthen classroom patriotism.
The school board's mandatory rule has had a visible effect. At graduation ceremonies in 2004, 198 teachers refused to stand. After a series of fines and disciplinary actions, Nezu and nine other teachers were the only protesters this year.
"They are trying to weed us out of society," Nezu said. "The pacifists, the people who oppose nationalism in Japan. We are gradually being silenced."
The school board action is at the center of criticism throughout East Asia about rising Japanese nationalism. But it is also part of an ideological battle over the role of patriotism in Japan, where people are especially concerned about how the young will view their country.
"It is time our children learned to be proud of Japan," said Hitomi Nakayama, 48, a council member in Tokyo's Tachikawa City district. Nakayama, whose son has just graduated from the junior high school, has called for an investigation of Nezu's teaching practices.
"There is nothing wrong with paying respect to our flag and our anthem or in taking pride in our nation and heritage," Nakayma said. "Most of the world enjoys that right. Why shouldn't we?"
Displays of overt patriotism were controversial in Japan in the decades after World War II. But public discourse has been changing. When parliament adopted the "Kimigayo" hymn, it also declared the traditional Japanese sun flag, a red disk in a field of white, as the official flag. Until then, the country did not have a legally recognized national flag or anthem.
As Japan has observed the 60th anniversary of the end of World War II in the Pacific this month, nationalist political leaders have gained prominence advocating a stronger role for Japan in the world. In the aftermath of Japan's economic recession in the 1990s, there is a growing popular notion that the country deserves clout commensurate with its position as the world's second-largest economy.
Citing the threat of international terrorism and concerns that North Korea may have nuclear weapons, members of the governing Liberal Democratic Party say part of updating the country's international profile involves military preparedness. They advocate a change in Japan's constitution, which was drafted by the United States after World War II and removed Japan's right to maintain a military or wage war. The change would allow the country to define its Self Defense Forces as Japan's armed forces.
But Japan's dwindling pacifists worry not only about the surge in nationalism but also a trend toward revisionist history that glorifies militarism.
On Aug. 15, the anniversary of Japan's surrender in World War II, a record 205,000 worshipers turned out at Tokyo's Yasukuni Shrine -- a nationalist symbol that honors Japan's fallen warriors, including convicted World War II criminals. That same weekend, the Mainichi newspaper here released a poll of 1,058 Japanese showing that only 43 percent thought the nation's actions during World War II were "clearly wrong," while the rest said the war had been unavoidable or were unsure. The comparable response was even lower among younger Japanese -- 36 percent of 20- to 30-year-olds participating in the poll considered Japan's role in World War II as clearly wrong.
Such views, experts said, are based in part on education, as younger Japanese have been exposed to gradually lower doses of war guilt. Unlike Germany, which still strongly confronts the Holocaust in history classes, Japan's most frequently used history book for junior high schools emphasizes ancient history, spending 15 of 207 pages on wartime aggression and only one paragraph on the Tokyo trials that condemned the nation's war criminals.
Updated textbooks approved by the Education Ministry this year sparked outrage in China and South Korea for glossing over Japanese war crimes. The books dedicate 24 pages to the war period but whitewash the Japanese role and call for a "reconsideration" of the Tokyo trials. Sharp criticism from abroad has seemed to have no effect. Before anti-Japanese street riots erupted in Beijing, Shanghai and Seoul in April, only 14 Japanese schools had adopted the revisionist books. Since then, at least 30 more have approved their use for the coming school year.
"A long time has passed and apologies and compensation have been given," said Yuko Tojo, 66, the granddaughter of Gen. Hideki Tojo, Japan's wartime prime minister. "Our children should now be allowed to honor their country."
As the cherry blossoms bloomed in April outside Tachikawa junior high in west Tokyo, Nezu prepared to make her stand against the school board by simply sitting down. She said she had been directly warned by her superiors about the consequences of violating the new regulations about classroom patriotism.
Nezu said she developed her views on nationalism after graduating from high school, when she read graphically detailed accounts about Japanese atrocities in Korea and China -- in books she had never seen at school. She confronted her father on the issue, she said. He had been a member of the Imperial Army during Japan's campaigns in China but had never spoken in detail about the war with his children, she said. "You were part of it, too, weren't you?" she recalled asking him, saying he fell silent and refused to answer when his teenage daughter looked him in the eye.
Clearly, Nezu has influenced students. Natsuki Tajima, 19, who was in Nezu's 1999-2000 class at Ishikawa Junior High, said many of her classmates had refused to stand and sing the national anthem after hearing Nezu's arguments. The school board transferred Nezu from Ishikawa in 2000, and her influence at the school faded, Tajima said. "I was one of the only ones who continued to sit down by the time I graduated," she said.
Authorities were eager to counteract such influences. "History education is meant to make children love their nation and national land, learn their predecessors' achievements and mistakes, and to think about ways to further advance their accomplishments," Ishihara, the governor, wrote in a 1997 book that discussed developing pride in Japan.
Nezu's struggle has become national news; she has been both demonized by conservatives and supported by pacifist groups and the teachers union. Tokyo school board officials dismiss the contention that they are trampling her rights.
But Nezu and the school board authorities have remained at odds. Like other defiant teachers, she has been frequently transferred from school to school. She was moved four times in five years, often to schools two hours from her home. Nezu has fought back by filing lawsuits against the moves; she has lost one, and at least four other cases are pending. In addition to the salary cuts and the transfers, Nezu is now allowed to teach only when another teacher is present. But she said she is adamant about her stance.
"I feel as if freedom to question authority is being quashed just as it was during the war years," she said in a quiet, studied voice. "But I will never stand for that song, the same one that played when we were invading Asia. Never."
Special correspondent Sachiko Sakamaki contributed to this report.
▲
by

alfayoko2005

| 2005-08-30 12:42 | 国内政治
台湾女性、自由を望む 結婚・離婚(1) (朝日 2005/08/30朝刊「週刊アジア」)
(中略)
 民主化の波は結婚の根本的なあり方にも及んできている。台湾当局は03年、異性間の結婚と同じ権利を同性にも認める「同性婚合法化法案」をまとめた。「アジアで初めて」といわれる。
 「女性同士の結婚も自然なこと」と主張する女性映像作家の江嘉(チアン・チアウェン)さんは、価値観の変化を歓迎する。「だれと、どんな結婚をすれば自分を無理に抑えることなく、伸び伸びと生きることができるのか。もっとみんなが考え直せばいい」
 だが、議会では法案審議のめどさえたっていない。人権の価値や少数派擁護を重視する与党の民進党内部にすら、反発する人が多いからだ。国会議員にあたる同党の侯水盛(ホウ・ショイション)・立法委員(56)=男性=は「結婚の大きな目的は子供を作り、次代を育てることだと思う。同性愛者の結婚など合法化すればあすの台湾はなくなる。亡国ものの法案だ」と語気を強める。
 変わる社会、揺れる価値観。結婚や夫婦、家族とは何か。台湾人の多くが見つめ直している。
小泉流『女性候補』を研究 (東京 2005/08/30朝刊)
 「くノ一」「刺客」などといわれる自民党の女性候補予定者が話題だ。小泉首相はしきりと「改革のマドンナ」と持ち上げて、次々と擁立してきた。確かに、十分なキャリアを持ち、カラフルなスーツに身を包み、いでたちも見栄えがする。マドンナといえば一九八九年の参院選で、大量当選した記憶がよみがえる。だが、当時の女性たちと何かが違う。小泉流「マドンナ」を解剖すると-。
 「ヒットマンとして女性を使うな」(福島瑞穂・社民党党首)。「女性を引っ張り出しても、いじめてポイ捨て」(田中真紀子前議員)。「女性の出馬が難しいとされた自民党なのに、今回に限って女性なら誰でもいいというなら、バカにしないで」(野田聖子前議員)。小泉流の女性候補擁立に、対立する女性たちの反発は強い。
 一般の女性たちも総じて冷ややかだ。東京都内の出版社の女性編集者(32)は、「小泉のために頑張る女性たち、という構図が前面に押し出されていることが一番イヤ。結局、男を助けるために、女であることを強調して立候補するの?と思ってしまう」と話す。
■仕事に家庭に華麗な経歴
 評論家の小沢遼子氏はもっと手厳しい。「(女性候補は)男たちの話題になることを狙っている。ミニスカートに付けまつげの方が、男たちにとっては付き合いやすい。ミスコン(美人コンテスト)みたいなものね」と切り捨てる。
 だが、マドンナたちの経歴は華麗だ。キャリアに加え、結婚や出産を経験している人もいる。
 東京10区に立候補する小池百合子環境相(53)は、アラビア語を話すテレビキャスターとして活躍。九二年の参院選で日本新党から初当選して以来、新進党、自由党、保守党、自民党と渡り歩いてきたが、いずれも党内実力者に近い立場を取ってきた。
 岐阜1区に立候補するエコノミスト、佐藤ゆかり氏(44)は米ニューヨーク大学で経済学博士号を取得。外資系証券会社のチーフエコノミストを務める。
 愛知4区から出る料理研究家、藤野真紀子氏(55)は「カリスマ主婦」。聖心女子大を卒業し、運輸官僚だった藤野公孝参院議員(自民)と結婚。夫の海外赴任先で料理を学び、著書もある。娘が二人いる。
 静岡7区に出馬する前財務省課長、片山さつき氏(46)は、東大在学中にファッション誌のモデルを経験、「東大の山口百恵」といわれた。女性初の主計官として注目を浴びた。夫は産業再生機構執行役員。
 上智大学教授、猪口邦子氏(53)は、比例代表東京ブロック1位で立候補する。外交論が専門で、ジュネーブ軍縮会議の政府代表部大使も務めた。夫は東京大学教授で、娘が二人いる。
 マドンナ旋風といえば、八九年の参院選が有名だ。女性二十二人が当選し、うち十一人が土井たか子委員長(当時)率いる社会党だった。
 当時は、消費税への反発、宇野宗佑首相の女性スキャンダルが重なり、「男性に政治を任せておけない」という世論が高まった。当選した女性議員からも「台所の声を政治へ」「女性の期待を感じた」との言葉が飛び交い、「男性との対峙(たいじ)」が政治姿勢だった。
 革新系女性議員の出身は教員、市民運動家、研究者が多く、保守系は看護師、薬剤師。女性の職種が限定されていた中で、専門職に就き長年、男女平等や女性の社会参加を訴えてきた。
 当時の女性議員から見ても、今回の擁立劇は不満のようだ。八九年の参院選に当選し、現在は日本婦人有権者同盟代表の紀平悌子氏(77)は「票さえ取れればいいと女性を用いることは、男女平等の憲法に沿ったものでも男女共同参画型でもない」と嘆く。出馬する女性に対しても「自分が適任かどうか客観的な目で確認することが必要。男の政治から女の政治へと願ってきた私としては、彼女たちがなぜ受けたのか疑問を持つ」。
 マドンナブームが続いた九〇年から、二期衆院議員を務めた弁護士の伊東秀子氏(62)は「生命、生活、健康など人間の根源にかかわる問題を政治の中心へ持って行こうと、女性たちは切実な思いで選挙に出ていた。リスクを抱えても政治の場で訴えたいことがあるから出るのならいいが、選ばれたタレントのような気持ちでいるのではないか」と批判する。
 一方で、冷静な見方もある。「共通項は『ぶりっこ』。何もかも"女性初"といわれる中で『これを利用しない手はない』と、うまくやってきた人たち。男女雇用機会均等法直前の世代は、輪ゴムで髪をひっつめて頑張るか、ぶりっこするしか生き残る道はなかった」と女性会社員(42)は「同情」を寄せる。
 都内の自営業女性(36)は「利用されているふりをして『バカね、男は』と利用している。ヘッドハンティングされて、次へのキャリアアップ、くらいの考えなんだと思う」としたたかな面をみる。
 銀座のホステス(27)は「テレビや雑誌を見ると、女性候補に批判的で、何を信じていいのかわからない」と距離を置きつつも「女性の議員が増えることはいいと思う」と話す。
 山口県立大学の三宅義子教授(女性学)は「八九年のときは社会進出できない女性の屈折したエネルギーを利用した。当時は喜ばしいことだったし、新鮮でもあった」と話す。今回の女性擁立については「自民党が集票に利用し、女性側もキャリアアップに自民党を利用している」と指摘。
 その背景を「キャリアを持った女性が増えており、それだけ候補者になりうる層が厚くなっていることは事実だ」と社会構造の変化も指摘する。男女雇用機会均等法が施行されてちょうど二十年がたった。
 「女性の社会進出が進み、男女共同参画社会を受け、四十代くらいの働く女性が増えた。男性にも、もっと活躍できる場所があれば転身する人がいるように、女性にもそういう人が増えたということだろう」
 実際、総務省の統計では、八九年はサラリーマン世帯のうち専業主婦世帯は九百十一万世帯、共働き世帯は九百十九万世帯とほぼ同数。それが昨年には専業主婦世帯が八百四十二万世帯に減り、共働き世帯は九百六十一万世帯に増え、働く女性は増加している。
 彼女たちを擁立した"小泉流"に対してNPO法人「女性と仕事研究所」の金谷千慧子代表は「『小泉さんが出ろと言うから』とか『小泉さんの志を全うしたい』とか話しており、自ら国会に出るんだという意思の発露が見えない。小泉さんの戦略にまんまと乗せられている感じだ」と話す。
■ターゲットはやはり男性票
 "小泉流"は時代の最先端といえるかもしれないが、選挙戦で支持は得られるのか。放送作家の山田美保子氏はこう断言する。「今、一般の女性で『私ばっかり損している』と言う人が、すごく多い。何かやれば評価され、キャリアアップしてきた女性候補たちが、日々悶々(もんもん)としている一般の主婦の思いを、どれだけくみ取れるのか。やはり男性票狙いだと思う」
♪ 「東大の山口百恵」
「バカにしないでよ」
「改革のマドンナたち」(ガーディアン)他、日本総選挙についての海外メディアの記事から
▲
by

alfayoko2005

| 2005-08-30 10:45 | トランス
仏社会党の分裂危機深まる、左派との対立解消できず (読売 2005/08/29)
 【ラ・ロシェル(仏西部)=島崎雅夫】フランスの最大野党・社会党は26日から3日間、ラ・ロシェルで、夏季集会を開いた。
 英労働党型の穏健中道左派を目指す党指導部は政権奪回に向けて党の結束を訴えたが、指導部の政治路線を批判する左派との党内対立は解消できず、党分裂の危機を深める結果となった。
 2007年の大統領選をめぐる仏政治情勢は当面、保守陣営・民衆運動連合(UMP)優位で展開しそうだ。
 約1800人の党員らが出席した集会で、オランド第1書記は最終日の28日、総括演説で「国民の側に立った民主主義や福祉を実現できるのは社会党である」と強調、07年の大統領選挙での政権交代に向け党の結束を訴えた。だが、左派勢力を結集して党指導部に対抗するファビウス元首相は総括演説を欠席、党内対立の激化を浮き彫りにした。
 党内対立は、今年5月の欧州連合(EU)憲法をめぐる国民投票で表面化した。党指導部はEU憲法賛成を打ち出したが、ファビウス元首相らは「EU憲法は競争原理に基づく自由主義経済を加速する」として反旗を翻した。結局、国民投票では社会党支持者の約6割が反対票を投じたことがEU憲法批准否決の大きな要因となり、党指導部の求心力の低下が指摘された。
 こうした中で、第1書記を8年間務めるオランド氏に対する退陣要求も出始めた。反主流派グループ「新社会党」のモントブール下院議員は夏季集会で、「オランド第1書記はもはや社会党を率いる資格はない」と即時辞任を要求した。社会党は11月の党大会で大統領選への戦略を固めるが、分裂危機で長期展望を描くのは難しくなっている。
(2005年8月29日22時3分 読売新聞)
仏大統領選複数が意欲 社会党の夏季集会 / 仏大統領候補、サルコジ内相の夫人が「実業家と休日」
猿田玲OFFICIAL SITE
http://www.geocities.jp/saruta_rei
福島瑞穂「国会大あばれ・どきどき日記」
より
8月21日(日)
(中略)
ところで、多様な価値観ということであれば、実は男女平等の考え方もそうである。
社会のなかで、女性も男性もその人らしく生きていけることが必要である。
私自身が男女平等にこだわって生きてきたのは、自分も含めていろんな人が、もっと生き生き、元気になれる社会でなければ、人は生き難いと思うからではないか。
男女平等の考え方は、異質なものを排除しようとする考え方の対極にあると思う。
だからこんなときだけ、小泉さんが女を使うことが、許せないと思う。
多様な意見を許容せず、排除し、たたきつぶすために、女を使っているのであり、男女平等の考え方とは違う。
茨城県の小選挙区から、社民党の予定候補者が出る。
その人は、性同一性障害の人である。
わたしは、こんな予定候補者が社民党から出ることに誇りを持つ。
社民党らしいなあと嬉しくなっている。
性同一性障害の人たちの立法は、国会のなかで、超党派議員の立法として成立した。
しかし問題はもちろんある。
社会のなかに、差別や偏見だって多くある。
もっと言えば、ほとんど知られていないという面もある。
「多様な価値観」という話をしてきたが、多様な生き方、多様な価値観の共存が認められる社会であるべきである。
そんな社民党から性同一性障害の人が、立候補予定ということは、社民党の多様な価値観が許容される社会をつくるということに、合っている。
あした一緒に、記者会見を行う。
8月22日(月)
マスコミの取材。
そして、茨城3区の立候補予定である猿田玲さんと、記者会見。
いろんな生き方を応援できる、社会をつくりたい。
総選挙:猿田氏に関する記事・29日
▲
by

alfayoko2005

| 2005-08-29 21:19 | トランス
Posted on Mon, Aug. 29, 2005
Newest campus minority are kids who shun original sex
BY ALYSON WARD
Knight Ridder Newspapers
FORT WORTH, Texas - (KRT)
- In 2003, when Andrew Jones signed up for campus housing at Collin County Community College, the housing department assigned him to a four-bedroom apartment ... for women.
One of his new female roommates was OK with the set up. But the other two rooms were like a revolving door; women would be placed in the apartment, realize what was going on, and move right back out.
"They couldn't keep anybody in there - I guess (the women) were uncomfortable," Jones says.
It wasn't a computer error. According to school records, Jones was female. But he had renamed himself Andrew and was living and dressing as a man; soon he would start taking hormones that would help him develop even more male traits.
Jones didn't suffer in silence.
"I told them I needed another room," he says.
And the housing department responded: Jones was reassigned to a two-bedroom apartment with a friend of his, another transgender student.
Jones is now a senior at the University of North Texas, where he continues to push for improvements as a part of UNT's transgender student group, Transcending Gender Denton. Established last fall, the group's priorities are to help secure safe and comfortable housing, unisex restrooms, up-to-date health care and moral support for transgender students.
This sort of development is happening on too many campuses to count. Transgender students are becoming a visible - and vocal - presence at universities across the nation, and schools are scrambling to update policies and campus facilities to accommodate them.
In fact, four of those students will be profiled this fall in an eight-part documentary that airs Sept. 20 on the Sundance Channel: TransGenerationfollows four students through a year of their lives, illuminating the struggles they face as college students in Massachusetts, Colorado, Michigan and California.
Why are transgender students becoming so visible? Well, college life is structured by those male-and-female categories: Sports teams. Social organizations, especially sororities and fraternities. Restrooms - in dorms, gyms and elsewhere on campus. And residence halls. Even though coed housing is becoming more common, roommates are almost always the same sex. It just makes sense, right?
It does unless your gender, the social identity that makes you experience the world as a man or a woman, doesn't match your sex, the physical anatomy that makes you male or female.
And if you're, say, a college freshman who has to live in the dorm, to which one should you be assigned - the women's hall or the men's hall? If you're good at soccer, which club team will you play on? At the library, should you go to the men's room or the ladies' room? In years past, if students didn't fit into the boy/girl system, they didn't say much about it. But a new generation is asking schools to make changes - and the schools are responding.
Lucas came to Smith College as a woman, but he graduated last spring as a man. His senior year, he had enough confidence in his new identity to take part in TransGeneration, the upcoming documentary. But it wasn't always this way.
"When I first came to campus, (the transgender community) was almost like a secret society," Lucas says.
But when Lucas was a sophomore, the student government president proposed a change in the wording of the student constitution. Because Smith is a women's college, the constitution was full of feminine pronouns. As a "gesture of good will" to transgender classmates, the students voted (by a slim margin) to replace all shes and hers with gender-neutral wording such as "the student."
"It was a miraculous victory," says Lucas, who campaigned for the change. That victory, he says, emboldened transgender students to become activists. Last year he helped lead a group of Smith "transactivists."
"We realized people are listening," he says. "We don't have to be scared anymore."
The restroom revolution
"This restroom is open to everyone." That's the sign on the door of each gender-neutral restroom at Oberlin College in Ohio. You can find one in the student union building and on some floors of residence halls. And now students hope to have them designated in academic buildings, says Eric Estes, director of Oberlin's Multicultural Resource Center.
Oberlin had what is believed to be the country's first "Trans Awareness Week" back in 1998, a week of discussions and lectures - and the annual Drag Ball. And just last year, the school began to offer a two-hour workshop called Transgender 101.Oberlin isn't the only campus that has changed its facilities to accommodate transgender students. It's just not always as easy to get it done.
In 2001, students at the University of Massachusetts in Amherst staged a "Restroom Revolution," urging the administration to designate one gender-blind restroom in every residence hall.
About 30 students, plus friends who supported them, got organized. They wrote letters. They had meetings. University officials rejected the idea at first, but the school compromised in 2003 by designating unisex restrooms in two dorms and a campus building.
The same sort of student demand has resulted in gender-neutral restrooms at Sarah Lawrence College, the University of New Hampshire, the University of Chicago, Beloit College in Wisconsin and several other schools.
At the University of Pennsylvania, students have the option of gender-neutral housing for the first time this fall. At Brown University, freshmen who entered in 2004 were the first to be offered a gender-neutral option - a dorm with lockable bathroom facilities designed for one person. And the University of Southern Maine also began to offer the option last year; the campus has gender-neutral halls in two of its campus dorms, and more than 40 students lived there last year.
Don't think it's happening only on the East Coast. Ohio State University, the University of Minnesota, the University of Illinois at Chicago, and the University of Wisconsin all have a transgender policy in place and deal with requests on a case-by-case basis. And in Minnesota, Carleton College has a number of special-interest houses for students to choose, including The Q&A House, designed for gay and transgender students.
Texas Christian University and the University of Texas at Arlington report no student requests for gender-neutral housing or other accommodations. But at the University of North Texas, the 15- or 20-member transgender student group is actively working to find housing options on campus, and its Web site offers a list of safe and unsafe (for transgender students) bathrooms on campus, including the university's two unisex facilities.
"We've encouraged, with any new construction and remodeling, for there to be a family restroom, which seems to work really well," says Daniel Emenheiser, UNT's director of diversity education. And though there's no designated housing yet, a request for accommodation is usually granted.
Today, more than 100 U.S. college campuses have professionally staffed offices or centers that handle gay and transgender issues, according to the National Consortium of Directors of LGBT Resources in Higher Education. That's nearly twice the number there were in 2002, so it's growing fast.
The office at the University of Texas at Austin, called the Gender and Sexuality Center, opened just last year. And transgender students have started coming forward to request housing assignments or to voice other needs.
"It's only happened a handful of times, six or seven times," says Ixchel Rosal, the center's director. "But for us, that's a lot, because apparently it never happened before."
It's not that there are suddenly more transgender students than ever before, she says. They're just feeling free to publicize their identities, "to bring their whole selves to campus."
The idea that gender isn't just a male-or-female division but has areas of gray is becoming more widespread not just on campuses, but in American culture in general. We now freely talk about metrosexuals - men with a sense of style that used to be strictly a woman's domain. And now we use "pomosexual" (the "pomo" stands for "post-modern") to describe those who believe in this in-between-gender-roles territory.
"It used to be that you didn't identify as `transgender,'" Rosal says. "If you went through a complete transition, you were just identified as the gender you transitioned to."
But now, "there are so many different ways that people identify," she says. "This opens up a space between male and female for some people."
Of course, not everyone believes in that space.
The issue has drawn the attention of opposing forces. Several prominent conservative leaders have spoken out against the trend already.
Last fall, Albert Mohler Jr., president of the Southern Baptist Theological Seminary, criticized the trend toward transgender-friendly campuses, calling it "moral insanity."
The Rev. Louis P. Sheldon, chairman of the Traditional Values Coalition, published an essay criticizing one school's "attack on the reality of male and female."
And the Washington, D.C.-based Concerned Women for America has spoken out against the "normalizing (of) alternative forms of sexuality," citing accommodations made for transgender college students.
Though the idea doesn't please him, conservative commentator Chuck Colson has declared transgender students "the newest fashionable minority on college campuses." But those involved on campuses say they've seen it coming for a long time.
"These students aren't coming out of the woodwork because it's trendy," Rosal says. "These are issues society has always dealt with - and people have been closeted and have led very small lives as a consequence." It took seven years for the students to gain the "critical mass of support" to get the UT center open, she says.
"My hope is that it's an evolutionary thing," says Shane Whalley, a therapist and a lecturer in UT's School of Social Work. Whalley is leading a workshop about "living in the gender gray" at a national transgender conference in Seattle next week.
Younger generations seem more open, she says, to the notion of a gender gray area.
Laura Michalchyshyn, Sundance Channel's executive vice president of programming and marketing, says that's exactly why Sundance is airing TransGeneration.
"We realized this is a social reality," she says. "It's significant, and it's here to stay."
---
A GENDER-GRAY GLOSSARY
Transgender. Transsexual. Transvestite. What's the difference, you ask? Here are definitions that'll make the whole issue a bit more . . . transparent.
Transgender: This word is used to describe all types of gender-variant people; it's an umbrella term for those who feel their biological sex doesn't fully match their gender identity.
Transsexual: This is a term for people whose gender identity (man or woman) differs from their sexual identity (male or female). They might have undergone surgery and/or hormone treatment to permanently alter their appearance, but not always.
Genderqueer: This term is used by the trans community to describe anyone who falls somewhere in between the black-and-white categories of male and female. This can include transgender people, but other people call themselves genderqueer simply because they don't agree with or fit into the gender roles and expectations set by society. And others believe that gender is more of a spectrum or a continuum and that they are somewhere in the middle.
Ze and Hir: For the most part, when you're referring to a transgender person, use the pronoun that matches their gender identity. If a person considers herself a woman, refer to her as ``she," and vice versa. But some people don't like to be lumped in with one gender or the other. There's a whole new set of pronouns you can use. Spellings vary, but here's a popular version: Use ze instead of ``he" or ``she" - Ze is a freshman this year. And use hir (pronounced ``hear") in place of ``him" or ``her" - Hir dorm room is tiny. These pronouns aren't universally popular yet, so don't look for them in the dictionary.
---
© 2005, Fort Worth Star-Telegram.
Visit the Star-Telegram on the World Wide Web at
http://www.star-telegram.com
.
Distributed by Knight Ridder/Tribune Information Services.
▲
by

alfayoko2005

| 2005-08-29 20:09 | トランス