S
M
T
W
T
F
S
1
2
3
4
5
6
7
8
9
10
11
12
13
14
15
16
17
18
19
20
21
22
23
24
25
26
27
28
29
30
カテゴリ
以前の記事
検索
最新のトラックバック
その他のジャンル
ファン
記事ランキング
ブログジャンル
画像一覧
Japan's diversity problem: Women command few top posts
Monday, October 24, 2005
By Ginny Parker Woods, The Wall Street Journal
TOKYO -- U.S. computer giant Hewlett-Packard Co. knows firsthand the challenge of promoting women to management positions in Japan.
Throughout the company's global operations, women hold some 20 percent of managerial posts. In the U.S., that figure is over 25 percent. But in Japan, women occupy fewer than 4 percent of H-P's management jobs -- so low, in fact, that "we had to do something," says Akiko Kawai, an H-P manager in charge of a new company program to promote Japanese women.
To motivate female employees, Ms. Kawai organized a support group that encourages women to discuss topics like communication skills, time management and balancing work and family life. As a mentoring effort, H-P has also paired up-and-coming women with high-ranking managers -- most of whom by definition are men. One male mentor, Masaru Someya, a marketing director, says of the woman he worked with: "She was very highly skilled, but she didn't realize how good she was."
That professional women lack confidence is just one of the reasons why Japan -- the world's second-largest economy and home to large, global companies like Toyota Motor Corp. and Sony Corp. -- lags far behind other nations when it comes to promoting women in the workplace.
The dearth of Japanese women in managerial roles even goes well beyond the challenge of balancing work and home life -- an issue that confronts female corporate ladder-climbers around the globe. In Japan, professional women face a set of socially complex issues -- from overt sexism to deep-seated attitudes about the division of labor -- problems that are not easily reversed.
Japanese women historically have played a subservient role in society, with advancements coming later than for their counterparts in Europe and the U.S. Women here, for instance, didn't gain voting rights until afer World War II -- and even then only because the law was written into a U.S.-drafted constitution. The country still prohibits women from remarrying for six months after a divorce to ensure that she is not pregnant with her ex-husband's child.
In the 1960s, many women, whose own mothers worked on the farm or at family-owned businesses, deemed it a privilege to focus on the home while their husbands worked long hours in fast-growing companies to keep the nation's economy humming. As the feminist movement in the U.S. emboldened women world-wide to fight for equality, parallel steps for Japanese women focused outside the workplace, with women largely accepting the gender separation of professional roles. Even today, many women in their thirties -- prime career years -- choose to bow out of office life altogether to raise children.
The result: Even as more women graduate from university and make up 41 percent of the work force, including part-timers, the legacy still continues. Men still tend to be hesitant to employ women as managers, assuming women can't handle the responsibility. And women themselves, not seeing many role models, are reluctant to rise to the challenge, thinking they're not cut out to manage.
In a speech last year to students at Japan Women's University, Carlos Ghosn, chief executive of Nissan Motor Co., told the audience that Japanese companies need to increase women's ranks to ensure future profitability and encouraged his listeners to believe in themselves. "The fact that women in Japan lack confidence makes it a very few number of women who take management responsibility," Mr. Ghosn said. "This is a waste, and we are feeling it and intend to make it better." Nissan plans to fill 5 percent of its management posts with women over the next few years from a current 1.6 percent.
Women in managerial positions concede that the burden of change is high. "Doing support-type work is somehow psychologically easier," says Motoko Honma, a 44-year-old H-P marketing specialist. Women in Japan, she believes, tend to see management work as a risk to their personal lives and are dogged by the old-fashioned notion that aggressive behavior is unattractive.
"Men tend to have a very fixed idea of what women are like," says Hitomi Mori, who is in charge of a program to boost the women's ranks at electronics maker Sharp Corp., where currently 21 of 3,412 managers are female. Meanwhile, many women "draw the line on themselves," she adds.
Japan's government -- responding to mounting international criticism about the paucity of women's career opportunities -- has made moves to improve the situation. In 1986, the country passed a law barring sex discrimination in the workplace. But real progress has been limited. In 1985, only 1 percent of division chiefs at Japanese companies of 100 employees or more were women. By 2004, that figure had crept up to just 2.7 percent.
The Japanese government says it wants to boost the ranks of women workers, partly to help solve demographic problems brought on by an aging population. Already, the work force is shrinking as fewer young Japanese enter the professional pipeline. Worker ranks will diminish further starting in 2007, when the first baby boomers retire. Keeping more women on a career track, especially after they have children, could help arrest that trend.
These days, firms from banks to auto makers are rushing to launch new programs to train and retain female managers. Sharp, which wants to triple the ranks of women managers by the fiscal year ending March 2008, created a special division last year for that purpose.
A few months ago, the company began a program for several dozen women with management potential, with plans to give them a three-year career development plan. The company also profiled female employees in an internal magazine -- complete with quotes from male employees praising the female managers they work with. "She reacts quickly and gets the work done effectively," one manager says about a female marketing supervisor. "She's a leader who pulls the team along."
In Japan, Western companies like H-P have typically been more active in adopting policies to encourage women managers. Under a mentoring program that officially began in 2004, the company aims to raise its levels by 1 percent each year by promoting more Japanese women to management posts.
So far, there have been challenges, including the appearance of tokenism. When one Japanese woman was made a manager and encouraged to be a role model, she promptly quit. "She misunderstood and thought that she'd gotten there just because she was a woman," Ms. Kawai says. "This became stressful to her."
A few big firms, like tech company Sanyo Electric Co., have recently appointed women as CEOs. But these are still exceptions. And many critics believe that Sanyo's recent appointment of former journalist Tomoyo Nonaka as CEO was an attempt by the company to impress the public, since she has no management or manufacturing experience. "She's more or less a figurehead," says Mariko Fujiwara, director of the Hakuhodo Institute of Life & Living, a Tokyo think tank that keeps tabs on consumer sentiment and trends.
In a discussion with journalists earlier this year, Ms. Nonaka addressed such detractors: "I know that people think my role is just decorative," she said. "My mission, however, is very important."
Along her own career path, H-P's Ms. Kawai suffered from insecurities. A few years after entering the company in 1974, a boss told her that management was really a man's job. She got discouraged and decided to quit to become a teacher. She changed her mind after a chance encounter with another male manager who encouraged her to stay on.
To keep other women from becoming similarly discouraged, last year she took female employees to an international women's summit in South Korea. Female chief executives and government ministers from other countries chatted with them about their struggles to advance their careers. The Japanese women were surprised at how "regular" these powerful women seemed, Ms. Kawai says. "The women realized that rising to the top is not an impossible dream, but something they can actually do themselves.'"'
(Erin White, Jathon Sapsford and Miho Inada contributed to this article.)
The Financial Times
Comment & analysis / Editorial comment
Normal nationhood
Published: October 24 2005 03:00 | Last updated: October 24 2005 03:00
Fresh from last month's resounding election victory, Junichiro Koizumi, the Japanese prime minister, is understandably piqued at his government's inability to secure a permanent seat for Japan on the UN Security Council.
Mr Koizumi has swiftly revived Japanese demands for a cut in the country's UN contributions, although Japan denies a direct link with the stalled efforts to reform the council. Nobutaka Machimura, the foreign minister, told the Financial Times that Japan would be "proactively involved" in talks next year to renegotiate payments for 2007-2009. In arithmetical terms, the Japanese argument is unassailable. It is unjust that Tokyo should pay 19.5 per cent of the UN budget - more than the combined payments of four of the five permanent Security Council members - rather than the 14 per cent indicated by its share of global income.
However, a good case for a seat on the Security Council or for lower UN fees is no substitute for good foreign policy - and that is what Mr Koizumi needs if he is to achieve his aim of making Japan a "normal" nation.
Mr Koizumi's visit last week to the Yasukuni shrine, which commemorates war criminals as well as other Japanese soldiers, undid the diplomatic good done on the war's 60th anniversary by his full if formulaic apology to victims of Japanese aggression.
China and South Korea reacted to Mr Koizumi's latest Yasukuni visit by cancelling ministerial meetings with Japan, once again leaving regional relations in a frosty state unhelpful for economies so dependent on each other for trade and investment. Resurgent nationalism is a dangerously potent force in all three countries.
With Yasukuni and the lack of remorse it implies, Japan provides its enemies with the perfect excuse to thwart its UN ambitions.
China, which has campaigned against Japan's bid for a Security Council seat, must still share the blame for the resulting tension. Beijing's complaint that Mr Koizumi visited Yasukuni to detract attention from the return to earth of two Chinese astronauts says more about the prickliness of Chinese nationalists than any cunning on the part of Mr Koizumi.
The Japanese people remain deeply divided over whether their country should do more to atone for its wartime record and it was notable that Mr Koizumi - although his annual visit to the shrine is an unnecessary provocation in itself - made an effort this time to diminish its political significance. Among other changes, he went to ­Yasukuni in a personal capacity and did not add "prime minister" to his signature in the visitors' book.
Such gestures will not secure Japan a Security Council seat or cut its UN dues but they are the kind of small, conciliatory steps that could undermine the ritualistic posturing on all sides over Yasukuni and so promote lasting peace in north-east Asia.
日本は近隣諸国と対話を 靖国参拝で英紙社説
(共同 2005/10/24)
 【ロンドン24日共同】24日付の英紙フィナンシャル・タイムズは、小泉純一郎首相の靖国神社参拝に中国や韓国が反発していることを取り上げ、日本が「普通の国家」として受け入れられたいならば、近隣諸国との対話を進めなければならないとの社説を掲載した。
 同紙は、国家間の緊張を高めたとして中国の対応を非難しつつも、小泉首相の靖国参拝が、日本の国連安全保障理事会の常任理事国入りに反対する国々に「完ぺきな口実」を与えたと強調。
 戦後60年の終戦記念日に小泉首相が出した「痛切な反省と心からのおわび」の談話の外交的成果も台無しになったと指摘した。
靖国を巡る争いで、米は綱渡り - IHT
▲
by

alfayoko2005

| 2005-10-24 13:21 | 国内政治
Transsexuals Call for Equal Treatment
By Chung Ah-young
Staff Reporter
(Photo) Harisu, a popular transsexual model, actress and singer, got permission from a local court in 2002 to change her official gender from male to female. However, as many transsexuals have struggled to switch their official documents with the courts.
/Reuters
A 54-year-old who underwent a transsexual operation in 1992 looks no different than any other middle-aged man.
However, he has had difficulties at work and in his marriage because he is still a woman on the family register.
His application to change his registered gender from female to male was turned down by the court in 2003.
Lower courts dismissed the suit, saying that a masculine appearance does not determine a person's gender.
Recently, three transsexuals have brought their cases to the Supreme Court in their desperate bid to change their officially registered genders.
The court said that earlier next year, it will make a ruling, which will be a precedent for the top court's decision on transsexuals.
In 2002, a court permitted Harisu, a celebrity transsexual, to change her officially registered gender from male to female after having a sex-change operation.
A total of 81 transsexuals applied for changes to their gender registration between 2000 and 2004.
Among them, 41 transsexuals have been permitted to change their recorded gender.
Currently, there are an estimated 4,000 to 10,000 people in Korea with gender identity disorder, who believe they were born the wrong sex.
However, Han Chae-yoon, head of the Korean Sexual Minority Culture and Rights Center (KSCRC), said that in Korea, their official genders, even after surgery, depend on judges' decisions because of the lack of legal ground.
``Being determined a man or a woman in society can determine an individual's happiness over her or his entire life,'' Han told The Korea Times.
``It is nonsense for judges to decide one's gender at their own mercy in accordance with their tastes and values because of the absence of a relevant law,'' she added.
Lee Moo-sang, professor at the college of medicine at Yonsei University, said at a forum on transsexuals that people have been able to change their registered genders in Germany since 1980.
About 30 judges and medical experts on transsexual surgery took part in the forum held on Sept. 13.
In Korea, some lawmakers proposed a bill for transsexuals to have the right to change their registered gender in 2002.
However, a move to improve the rights of sexual minorities has hit a snag since the bill could not be passed in a regular session.
Han said that many transsexuals have continued to appeal to the authorities to get legal permission to change their official gender long before Harisu was allowed to change hers.
``For many years, transsexuals have struggled to change their registered sex in the courts. But the courts have not listened. The case of Harisu is just the tip of the iceberg among many transsexuals deprived of their right to happiness,'' she said.
Lee estimates that hundreds of people undergo sex change operations every year.
``Many transsexuals don't want to come out publicly and helplessly accept the courts' decision without appealing to a higher court when they apply to change their registered gender,'' Lee said.
For that reason, there is no precedent in the Supreme Court since so many are reluctant to appeal, he added.
In 1996, a man who sexually assaulted a transsexual woman was not charged with rape because the victim was deemed by the court not to be a woman.
The court first allowed a transsexual to change the registered gender in Korea in July 2002.
Sweden was the first country to set up a law concerning transsexuals in 1972.
chungay@koreatimes.co.kr
10-23-2005 17:12
▲
by

alfayoko2005

| 2005-10-24 11:00 | トランス
教育と自治・埼玉ネットワーク
October 24, 2005
珍問答@新座市議会
 以下は、今年(2005年)3月の新座市議会定例会での質議です。「ジェンダーフリー」について保守系議員から質問が出され、教育長と学校教育部長が答弁していますが、これが「珍問答」であることには、多弁を要しないと思います(下に見るように、質問は6項目ありますが、そのうち、「ジェンダーフリー」にかかわる部分を掲載しています。やりとりの全文は、「新座市議会会議録検索システム」で読むことができます)。
つづき
埼玉県新座市 - TransNews
ポーランド 大統領に保守強硬派 (東京 2005/10/24夕刊)
 【ワルシャワ=熊倉逸男】任期満了に伴うポーランド大統領選の決選投票は二十三日夜(日本時間二十四日未明)、投開票され、自主管理労組「連帯」系の保守政党「法と正義」の候補者、レフ・カチンスキ・ワルシャワ市長(56)の当選が確実となった。
 暫定公式集計(開票率約91%)によると、得票率はカチンスキ氏が約54%で過半数を確保。同じく連帯系の中道政党「市民プラットフォーム」の候補者、ドナルド・トゥスク党首(48)は約46%だった。カチンスキ氏は「みなさんに感謝する」と勝利宣言し、トゥスク氏も敗北を認めた。
 カチンスキ氏は、対ドイツやロシアへの強硬路線を主張。死刑制度の支持や同性愛者の権利制限など、欧州連合(EU)の方針に反する考えも表明しており、ポーランドをめぐる外交や経済関係が緊張する可能性も出てきた。
 同氏は当初、トゥスク氏に10ポイント以上リードされていたが、低所得者層への優遇税制などを打ち出して支持を拡大。極右政党の「自衛」や「家族連盟」、独立系カトリック系放送局「ラジオ・マリア」など、反EU的な主張をする勢力の支持も取り付けて挽回(ばんかい)。昨年五月の同国のEU加盟への批判票も集めた格好になった。
 先月の総選挙で第一党となり、次期政権を担う「法と正義」党首のヤロスワフ氏は、カチンスキ候補の双子の兄にあたる。兄弟で政治的実権を握ることになったが、ヤロスワフ氏は世論に配慮し、首相には就任しない考えを明らかにしている。大統領の任期は五年。首相の任命権、政策立案への関与、法案への拒否権など、幅広い政治権限をもつ。
ポーランド次期大統領、レフ・カチンスキ氏――党首の兄と二人三脚(登場)
(日本経済 2005/10/24夕刊)
 「経済自由化に一辺倒より弱者に優しい公正な国を」――。選挙戦で自由化のひずみを巧みに突いた。トゥスク候補の単一税率構想やユーロの早期導入計画を「富裕層優遇で弱者に一段と痛みを強いる」と批判した。
 欧州連合(EU)加盟後、西欧の生活水準に追いつくのがポーランド政府目標だったが、社会に改革に耐えるだけの体力がないとみて、緩やかな改革を唱えた。財政規律などを伴うユーロ導入には慎重で導入目標時期すら示していない。
 東欧民主化の先駆けである自主管理労組「連帯」のワレサ議長(前大統領)の顧問として、共産政権打倒に尽くした。外交ではクワシニエフスキ現大統領の米国重視路線を継承する。
 「法と正義」の党名同様、汚職と腐敗の追及に力を入れる。一九九〇年代に法相のほか、閣僚などを監視する最高監督会議の議長も務めた。愛国心と家族重視を訴え、同性愛反対、死刑制度復活を支持するなど保守的な一面を併せ持つ。
 寡黙な双子の兄と性格は反対で雄弁。六二年、子供向け映画「月を盗んだ二人」に兄弟で子役として出演して国民的人気を博した。再びコンビを組むひのき舞台が訪れた。56歳。
(ワルシャワ=桜庭薫)
保守派市長の勝利確実に ポーランド大統領選
 【ワルシャワ23日共同】23日実施されたポーランド大統領選挙の決選投票は、公共テレビなどが発表した出口調査に基づく推計によると、保守系政党「法と正義」のレフ・カチンスキ・ワルシャワ市長(56)が約54%を得票、「市民プラットフォーム」のトゥスク党首(48)の約45%を大きく上回り、勝利を確実にした。
 同市長は支持者に「この成功をもたらしたみなさんに感謝する」と勝利宣言。トゥスク党首も敗北を認めた。公式集計結果は24日午後(日本時間同日深夜)に発表される。
 9月の総選挙では両党が第1、2党となり、ベルカ首相の旧共産系政権を倒した。ともに自主管理労組「連帯」を母体とする両党は週内にも連立政権を発足させる方針で、大統領選は昨年に欧州連合(EU)入りしたポーランドの非共産系体制確立を決定づける動きとなった。
Polish right takes all as Kaczynski wins run-off
Sun Oct 23, 2005 11:15 PM BST
Related Articles
Poland may hold euro referendum-Kaczynski
By Pawel Sobczak
WARSAW (
Reuters
) - Conservative Lech Kaczynski won Poland's presidential run-off on Sunday on a platform combining traditionalist Catholic values with promises to curb corruption and shore up the welfare state.
Partial results showed Kaczynski, a tough-on-crime Warsaw mayor, captured more than 54 percent of the vote, an eight-point advantage over his pro-business ally-turned-rival Donald Tusk.
Kaczynski's victory seals a swing to the right in the European Union's biggest ex-communist newcomer after his Law and Justice and Tusk's moderate Civic Platform crushed the ruling left in general elections last month.
A moderate nationalist who is wary of deeper European integration, Kaczynski replaces veteran leftist Aleksander Kwasniewski, who could not run after two five-year terms.
Kaczynski said that the EU newcomer may hold a referendum on adopting the euro in 2010.
"The question of the euro should be resolved through a referendum, which could take place in 2010," Kaczynski told Reuters in a brief interview.
Kaczynski has expressed reservations about euro zone entry, but said the referendum was necessary because adopting the single currency meant giving up part of national sovereignty.
The race between Tusk and Kaczynski, former activists in the pro-democracy Solidarity movement that toppled communism in 1989, became a plebiscite on whether the country of 38 million needs more free-market medicine or more welfare.
Kaczynski, who portrayed Tusk as a heartless free-market zealot, extended an olive branch to his defeated rival. He urged him to join forces in government after coalition talks between their centre-right parties stalled during the campaign.
"I want to call ... for us to quickly conclude work on the government. I will approach Donald Tusk, who fought superbly in this campaign," Kaczynski told supporters.
FOURTH REPUBLIC
In the presidential and parliamentary campaigns, the Kaczynskis combined patriotic rhetoric and traditional Christian values with scepticism of free markets -- a message which appealed to many poor, less educated Poles.
They promised to build a "Fourth Republic" in a clean break with the corruption that characterised the post-communist "Third Republic".
Sleaze and political patronage peaked during the four-year rule of the social democrats, whose popularity sunk to all-time lows despite their success in bringing Poland into the EU.
Transparency International rates Poland the most corrupt nation in Europe, putting it in 70th place in its 2005 ranking of perceptions of corruption worldwide.
The double crown won by Law and Justice in both elections is a sweet reward for the Kaczynski twins, 56, after years of never quite making it to the top in politics.
The former child-stars of a popular 1962 movie called "The Two Who Stole The Moon", the brothers were kingmakers in previous centre-right governments but were shunned for top posts due to their combative, all-or-nothing style.
The president is commander-in-chief of the army, can propose or veto legislation, nominate prime ministers -- who hold most executive power -- and, in some cases, dissolve parliament.
He influences the government's foreign policy, a field where Kaczynski faces a steep challenge after irking big neighbours Germany and Russia with scathing remarks during the campaign.
He has raised eyebrows in Europe by courting the religious right with his anti-gay remarks and pro-death penalty talk.
GOVERNMENT TALKS
The financial markets rooted for Tusk, seeing him as a counterbalance to Kaczynski's ambivalence about the need for fiscal reforms and liberal economic policies.
Analysts expect the zloty and Polish bonds to dip on Monday but losses will not be deep if coalition talks make headway.
"The main focus remains the coalition talks and the market still basically trusts that the two parties will come to some sort of a compromise," said Tania Kotsos, currency strategist with RBC in London.
Tusk's Civic Platform said they will not give up on their campaign pledge to lower taxes and cut red tape to spur growth and reduce Poland's 18 percent unemployment, the EU's highest.
(Additional reporting by Malgorzata Rakowiec in Gdansk)
The Times October 24, 2005
Firebrand wins power after surge in support
From Kamil Tchorek in Warsaw
THE conservative Mayor of Warsaw has been elected President of Poland despite trailing in opinion polls for weeks.
Unofficial exit polls in yesterday's runoff gave Lech Kaczynski, 56, a seemingly unassailable six-point lead over Donald Tusk, 48, the founder of the centrist Civic Reform party. The official result is expected later today.
The last-minute change in voter sentiment came about after Mr Kaczynski softened his usually firebrand tone in television debates while simultaneously alerting Poland's poorest voters to the dangers of free-market ideology.
Mr Tusk campaigned on a low-tax, low-spend platform for weeks and seemed about to take Poland down a course of fast eurozone entry, privatisation and foreign direct investment. He conceded defeat last night and told glum supporters: "Today I must tell myself I did not make it." Mr Kaczynski appealed to the 18 per cent of the Polish population that are unemployed and the large agricultural and heavy-industry sectors. He was also endorsed by a former rival candidate, the populist Andrzej Lepper, who has a working-class support base.
During the campaign an aide to Mr Kaczynski accused Mr Tusk's family of ties with the occupying Nazi forces during the Second World War.
Mr Tusk vehemently denied this, until evidence was produced that his grandfather had been a member of the Wehrmacht. He had been forced to enlist from a concentration camp.
Mr Kaczynski is strongly pro-church, against abortion and gay rights and has banned Warsaw's gay pride parade for the past two years. He also wants Poland to become the first EU country to reinstate the death penalty.
The results echo the general election a month ago, when Law and Justice — the party that Mr Kaczynski helped to found in 2001 — emerged victorious after trailing Civic Reform for weeks. The two parties will today begin coalition talks that had been delayed by the presidential runoff following the first election on October 9.
Mr Kaczynski, who has a tough attitude towards Germany and Russia, said last night that Mr Tusk had "fought superbly" in the campaign and offered to make him parliamentary speaker, which is a powerful post.
Poland's two top political jobs will now be in the hands of the Law and Justice party. Mr Kaczynski's twin brother, Jaroslaw, who heads the party, had been expected to become Prime Minister, but declined the job to give his lookalike a better chance of winning the presidency.
PARALLEL LIVES
Lech Kaczynski is a former child actor who, age 12, starred with his identical twin brother Jaroslaw in the 1962 film The Little Hoodlums Who Tried to Steal the Moon

Both studied law at Warsaw University and were involved in the anti-communist opposition and the Solidarity trade union movement. They became senators in the first free elections in 1989

In 2001 they founded the Law and Justice party, which won the most seats in last month's parliamentary election

Lech Kaczynski was elected Mayor of Warsaw in 2002. He saw the job as a stepping stone to the presidency

The brothers are sons of a Polish resistance fighter during the Second World War. They helped to establish the Warsaw Uprising museum
U.S. walks fine line in shrine fight
By Brian Knowlton International Herald Tribune
THURSDAY, OCTOBER 20, 2005
WASHINGTON
The Bush administration has taken a decidedly low-key approach to the bitter controversy over Prime Minister Junichiro Koizumi's visits to the Yasukuni shrine in Tokyo, which many Asians view as tantamount to an endorsement of the Japanese imperialism under which they once suffered.
At the shrine, the spirits of Japan's war dead - including 14 judged as war criminals - are worshiped. But while Beijing and Seoul reacted angrily to Koizumi's visit Monday, the United States was cautious.
"We would hope that countries in the region could work together to resolve their concerns over history in an amicable way and through dialogue," the State Department spokesman Sean McCormack said Monday.
"I think that everybody understands some of the sensitivities and concerns in the region," McCormack said. "And we would just hope that those with concerns about this issue could work together with the Japanese government to resolve any of those concerns through the use of dialogue and in the spirit of friendship." He would not be drawn to say much more.
The United States stands uncomfortably in this dispute between vitally important friends and trading partners, but also not detached - because of its own wartime struggle against Japan - from the historical roots of the matter.
"We're treading a really fine line on this, and there is a debate among people in Washington about what we should do," said Derek Mitchell, a former special assistant to the U.S. defense secretary for Asian affairs. "Some people think we're sort of implicated in this by our silence, by not coming out more forcefully in principle," he said.
Sensitivities in the region in many ways remain sharper than they do in the United States.
"It is extraordinarily difficult for the United States to step in on an issue between valuable allies," said Charles Pritchard, a former special U.S. envoy for negotiations with North Korea and a former director for Asian affairs in the National Security Council. "It is a no-win situation."
"If speaking out is not the right way to go, keeping silent is not helping the relationship, particularly with the South Koreans," he said. "So I think the administration would prefer that the Japanese take a good look at this situation and try to resolve it."
But another analyst, John Tkacik, a former U.S. diplomat in China and Taiwan, said he believed that the administration was most concerned not with the past but its present vital alliance with Japan.
"I think American policy makers are looking at a far broader context," he said - an underlying interest in having a U.S.-aligned and democratic Japan in Asia, a country not unduly fearful of China.
Tkacik, a senior research fellow at the politically conservative Heritage Foundation, said that "there is a very palpable feeling among a lot of U.S. policy makers that China is basically picking its scabs on the Yasukuni shrine thing - that this doesn't need to be an issue and the Chinese are making it an issue." In his view, the shrine visits are "simply a statement that Japan continues to mourn its dead and it will not be lectured to by any other country," particularly not a Chinese Communist leadership that has not always had clean hands.
"There is no sentiment in the administration for humoring the Chinese," Tkacik said.
Mitchell agreed that the fundamental U.S. interest was in maintaining close relations with Japan - but without needlessly offending China or South Korea.
"We have a vision we're implementing of a much more active and robust U.S.-Japanese alliance in the region that is constructive and helps provide peace and stability," said Mitchell, the senior fellow for Asia at the Center for Strategic and International Studies. "To the degree that Japan is not seen as constructive, as having not dealt with its past, and therefore not welcome to be involved in the region, it hurts us."
The controversy is wrapped in an older debate over how Washington and Tokyo - close allies now, bitter enemies then - should mark the end of World War II, without ignoring Japanese atrocities or the atomic bombings of Japan.
The debate periodically resurges, as in the controversy in Washington in the 1990s over how frankly and fully to portray a Smithsonian Institution display of the Enola Gay, the B-29 bomber that dropped an atomic bomb on Hiroshima.
Koizumi's latest visit to the shrine brought a quick reaction: China on Tuesday postponed a scheduled visit by the Japanese foreign minister, Nobutaka Machimura, and South Korea's foreign minister, Ban Ki Moon, canceled a planned visit to Japan.
とても孤独な日本 - Newsweek
▲
by

alfayoko2005

| 2005-10-23 21:39 | 国内政治
A Very Lonely Japan
The country's inability to come to grips with its past has long infuriated the region. But now it's starting to threaten Tokyo's once unquestioned influence.
By Christian Caryl
Newsweek International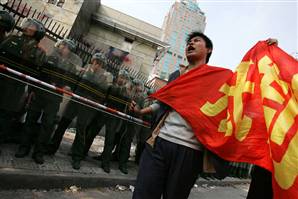 Andrew Wong / Getty Images
Angry Chinese
Oct. 31, 2005 issue - The Japanese tend to expect diplomatic bouquets from even the most insignificant of their foreign visitors. So imagine the audience reaction when German ex-chancellor Helmut Schmidt, invited to give a lecture in Tokyo last month, treated his hosts to an exercise in bluntness. He accused the Japanese of soft-pedaling their country's responsibility for its wartime past—and came to a devastating conclusion: "Sadly, the Japanese nation doesn't have too many genuine friends in the world outside." It was a syndrome he blamed on "the ambiguity of the Japanese public when it comes to acknowledging the conquests, the start of the Pacific war and the crimes of the past history." His listeners didn't appear to find much consolation in Schmidt's concession that his own country had committed "even worse crimes within Europe."
Small wonder, perhaps, that no Japanese media picked up on the content of the speech. But the Japanese had better get used to dire verdicts on their handling of history, because there's plenty more to come. After Japanese Prime Minister Junichiro Koizumi last week paid yet another visit to Yasukuni Shrine—the Tokyo war memorial that honors 2.47 million wartime dead, including 14 class-A war criminals—his country can look forward to a deepening of the remarkable diplomatic isolation that has enveloped it in recent years. China and South Korea expressed their anger in fiercely worded statements and canceled planned diplomatic meetings in protest. Even some of Japan's erstwhile allies in Asia, Malaysia and Singapore, also registered their disapproval.
Sixty years after the end of World War II, Japan's wartime past has never mattered so much. Last week's Yasukuni visit didn't prompt ferocious street protests as previous ones had, but each such incident further cements the widespread view that Japanese expressions of regret over the war are insincere. Beyond that, Japan has territorial disputes with almost all of its neighbors, a situation unique among the leading industrialized nations; a dispute with China over drilling in the East China Sea flared just last week. And perhaps most bitter of all for Tokyo's bureaucrats is the resounding failure of Japan's recent bid to win a permanent seat on the U.N. Security Council—an ambition that no significant Asian nation supported, despite the billions in investment and aid Tokyo has spread around the region in the last half century. "To be honest I was totally surprised," says leading diplomatic commentator Yoichi Funabashi. "It was a complete disaster."
Until recently, Japan could to a certain extent ignore the suspicion and resentment it inspired across Asia. The country was an economic powerhouse, bolstered by its alliance with the United States. But now that animosity threatens Japan's further progress, at a time when the country finds its claim to regional leadership increasingly challenged by the rising might of Beijing. In effect, the country that spent most of the 20th century aspiring to a leadership role in East Asia now finds itself virtually relegated to a corner for bad behavior. And that's the last thing the region needs at a time when there is already plenty of instability to go around, thanks to a rapidly modernizing Chinese military, a nuclear-armed North Korea and a variety of potentially explosive territorial disputes. "The wounds of war remain and haven't been healed in neighboring Asian countries," says Tomiichi Murayama, the former Japanese prime minister whose 1995 apology to the victims of Japanese wartime conquest set the gold standard for all future public expressions of remorse. "They still lack confidence in Japan."
Why is that? Hasn't the country's postwar pacifism become so deeply rooted that a resurgence of Japanese militarism is unthinkable? And hasn't Japan apologized for its wartime actions over and over again? True enough. Tokyo University scholar Sven Saaler points out that public-opinion surveys consistently show that most Japanese accept the description of their country's military campaigns from 1931 to 1945 as "wars of aggression." Meanwhile, a new museum devoted to the fate of foreign women recruited as sex slaves by the Japanese Army during the war opened in Tokyo at the beginning of August. And on the anniversary of the Pacific war's end this summer, the very same Koizumi who can't stay away from Yasukuni gave a much-noted speech reaffirming his country's readiness to acknowledge its responsibility for the war.
And yet a significant portion of the Japanese population does not agree on the precise parameters of Japan's war guilt. Koizumi's visit certainly destroys any good will occasioned by his Aug. 15 speech. For every Japanese bureaucrat or politician who expresses remorse for the war, there is another who will make an inflammatory remark. During the past year, Education Minister Nariaki Nakayama has several times lauded a revisionist history textbook that minimizes the Japanese military's role in forcible wartime prostitution. Notes Jeff Kingston, a professor at Temple University in Tokyo: "The bottom line is that there is no consensus in Japan on war responsibility. If there's no consensus on memory, you can't assume responsibility—and without responsibility, you can't move to reconciliation."
The question is why all this is flaring up now. That lack of consensus, after all, has held true for decades. But two things are different. First, a new generation of Japanese without personal memories of the war are revolting against what they see as the "masochism" of institutionalized self-reproach and U.S.-imposed pacifism. Young conservatives, including Koizumi, have vowed to transform Japan into a "normal country"—a pledge that includes pursuit of a more assertive international role for Tokyo and the revision of the pacifist Constitution to acknowledge the country's considerable armed forces. Koizumi's insistence on visiting Yasukuni reflects a growing refusal among ordinary Japanese to kowtow to foreign sensitivities.
The external environment has changed, too. Back when Japan was the region's sole economic dynamo, other countries often accepted economic aid from Tokyo in return for tacitly agreeing to avoid bringing up the war. Now that years of prosperity have bred substantial and increasingly assertive middle classes in both China and South Korea, history is returning to the agenda. In September, South Korean Prime Minister Lee Hae-chan said: "We're not asking for money from the Japanese government. We have enough money. What the Korean government wants from Japan is truth and sincerity, and [a commitment] to help develop healthy relations between the two countries." What's more, both Chinese and Korean leaders have powerful domestic reasons to bash Japan—it's a surefire tool for garnering popular support.
The past few months abound in evidence that disagreements over the past can have perceptible economic and political effects. The anti-Japanese riots in China in April of this year triggered sharp falls on the Tokyo stock market. Japanese companies have been reassessing their strategies for investment in China, and many are already relocating factories to countries viewed as less politically sensitive. Japanese business leaders had lobbied Koizumi vigorously to stay away from Yasukuni, for the sake of good relations with China—a sign of how high the stakes are for them.
The continuing tensions also hobble Japan's diplomatic clout. The country's whole postwar diplomatic strategy has been about projecting soft power. Tokyo has focused much of its foreign-policy energy on issues like human rights or climate change, precisely as a way of soothing foreign qualms about Japan's economic might. And Tokyo has been a major supporter of the United Nations. Japan's campaign for a permanent spot on the U.N. Security Council was motivated partly by the fact that Tokyo contributes about 20 percent of the U.N.'s annual budget—more than four of the UNSC's five members. (Japan is second only to the United States.) Yet only three Asian countries—Afghanistan, Bhutan and the Maldives—proved willing to offer official support for the Japanese bid when a formal proposal was put forward in August. (The measure, which also envisioned seats for India, Brazil and Germany, never came to an actual vote.)
Japan's failed U.N. bid was partly due to intensive lobbying by Beijing, which happily used the history issue to blacken Japan's image. Notes Funabashi: "It all leaves China looking like it has moral superiority over Japan"—a powerful edge at a time when both countries are engaged in a struggle for political and economic superiority within Asia.
So how can Japan extricate itself from the mess? Some, predictably, are arguing that the fault lies entirely with Japan's critics. A prominent group of ex-government officials and military men, including Masahiro Sakamoto, vice president of the Japan Forum for Strategic Studies, assert that Japan should respond to China by being tougher diplomatically. They point out that the Chinese Communist Party suffers from much historical amnesia itself. The Japanese Foreign Ministry, for its part, has been shifting the emphasis to public diplomacy. It recently started a new Internet offensive designed to promote a positive Japanese image. The effort will include posting copies of original Japanese Foreign Ministry documents on the site as a way of explaining policy.
Neither of those approaches seems designed to foster what is most needed: a broader spirit of reconciliation and historical awareness. Andrew Horvat of the International Center for the Study of Historical Reconciliation at Tokyo Keizai University points out that one reason why Germans succeeded so well at reconciling with their neighbors after the war was because they made lots of nongovernmental contacts with other Europeans. The cross-border contacts ranged from church and civic groups to trade unions and academic institutions. In Japan, by contrast, restrictive legislation on nonprofit organizations (including tough rules on tax-exempt status) has stunted the growth of civil organizations that might bond with counterparts abroad. "Communication is crucial," says Wang Jin, a 30-year-old Chinese woman studying for her M.B.A. at Waseda University in Tokyo. "If Chinese people have a chance to come here [to Japan], they [might] change their opinions." Wang says she spends much of her time correcting misperceptions about Japan and China to angry friends in both countries. "It's very sad," she says. "I want to have Japan and China be like Germany and France. They have a good relationship. They became stronger even though they had a bad experience."
As Saaler of Tokyo University points out, one reason that Japan hasn't come to terms with Asian countries is that it's long been a staunch ally of the United States. With a superpower as a geopolitical partner, Japan didn't really feel the need to reach out. Back in the 1950s, '60s and '70s none of the other Asian countries mattered economically—now Japan has very intimate economic relations with all of them. China recently surpassed the United States as Japan's top trade partner.
A planned east Asian summit in Kuala Lumpur this December might help forge a new spirit of cooperation. The confab is aimed at laying the groundwork for a new East Asian Community loosely modeled on the European Union. Japan has been pushing the idea of stronger Asian integration for years, and with security anxieties growing apace, the time might be ripe for a new regional alignment. It would be unfortunate if Tokyo's desire to shape that future were to be derailed by its inability to come to grips with its past.
With Hideko Takayama and Kay Itoi in Tokyo
© 2005 Newsweek, Inc.
© 2005 MSNBC.com
URL:
http://msnbc.msn.com/id/9785603/site/newsweek/
ボストングローブ社説:日本の悪い記憶力
▲
by

alfayoko2005

| 2005-10-23 18:05 | 国内政治
Transsexual insists on going to women's jail
'It's a matter of principle,' says woman after court treats her as still being a man
Henry McDonald, Ireland editor
Sunday October 23, 2005
The Observer
Denise Martin is fighting for the right to go to jail - as long as it's a women's prison. Martin, one of Ireland's first transsexuals who had a full sex-change operation 22 years ago, faces a prison sentence next month after refusing to pay a fine over a breach of the peace offence in her home town of Larne.
The slender, 45-year-old bleached blonde could find herself in the all-male top-security Maghaberry jail outside Belfast.
'It's a matter of principle,' she said in between sips of latte inside a hotel overlooking a windswept North Antrim coast on Friday.
'At my first hearing in Larne last month the court referred to me as "Mr Martin" or "he", because on my birth certificate I'm still Douglas Martin. But as you can see by looking at me, I haven't been Douglas for over 20 years.
'On my British passport it states that I'm Denise, and that's who I have been for all these years. But if the next court appearance in Ballymena treats me like a man, then I'm in danger of going to an all-male prison.'
What began as a 'cat fight' between Denise and a middle-aged transvestite in Larne last April may end up in the European Court of Human Rights. If Martin refuses to pay the fine at her next court appearance on 7 November, she risks a custodial sentence.
'My solicitor told me I would have 28 days to appeal, and in that period I would go to a higher court to see if they can change my status to that of a woman. I don't believe I did anything wrong, but I won't pay and am prepared to go to jail, as long as it's a woman's jail.
'If they refuse, I have instructed my solicitor to fight this all the way to the European Court of Human Rights. I didn't go through years of psychiatric counselling, a painful operation and the entire trauma through my life to let the courts deny who I am today.
'I don't care if they fine me £30 or £3,000, I won't pay and I won't rest until they recognise me as Denise.'
The transsexual who says she is a normal heterosexual woman has other reasons to challenge the court's definition of her sexuality.
'My partner, who prefers to maintain his privacy, and I want to get married next year. I'm fighting this case partly for him as well. The law, or at least the courts, still sees me as a man and I don't want my partner being branded as someone who has married a man. He met me as a fully functioning woman, not as Douglas but as Denise. This fight is as important for him as it is for me.'
After the court cases and the marriage, the couple are planning to move to London. Asked how her family felt about her going public, Martin said: 'Obviously back in the early days there was a lot of hurt and confusion. But they have finally accepted me as Denise, and they know because I am a very cocksure person that I speak my mind and don't let people walk all over me.'
Aside from challenging the legal system, Martin will soon pose a dilemma for her local Anglican church where she wants to marry. 'I'm a very religious person,' she says, fiddling with a holy medal on a chain around her neck, 'It's extremely important for me to have my marriage blessed in the church as well as recognised in law.'
Martin claims that she was born as a woman trapped inside a man's body: 'I didn't have a sex change, I had a sex realignment. All the surgeons did was to correct my anatomy.
'I have been on a long, painful journey to arrive at the woman I am today. It's for that reason mainly that I will not allow the law to ignore who I now am.'
A spokesman for the Northern Ireland Human Rights Commission said it would be monitoring Martin's case and would be happy to speak with her if and when her challenge reaches the European court.
Sexual minorities in socially conservative Northern Ireland have used the European courts before to challenge domestic law. In the early 1980s gay rights activist Jeff Dudgeon won his case in Europe against the British government over the criminalisation of homosexuality in the north of Ireland.
Special report
Gender issues
▲
by

alfayoko2005

| 2005-10-23 17:03 | トランス
BOSTON GLOBE EDITORIAL
Bad memory in Japan
October 23, 2005
IT IS not always fair, but the actions of democratic leaders are often taken as a reflection of the people they represent. This is the case each time Japan's Prime Minister Junichiro Koizumi visits the Yasukuni Shrine to Japanese war dead, as he did for the fifth year last week, angering Japan's Asian neighbors and shaming those Japanese who are willing to acknowledge the World War II crimes of the Japanese empire.
Koizumi's subtle stylistic alterations of this year's visit to the shrine, where 14 Class A convicted Japanese war criminals lie buried, are not likely to make the symbolism of his gesture any less offensive to Koreans and Chinese, whose memories of Japanese cruelty have been passed down from one generation to the next.
In previous visits, he had worn either morning dress or traditional Japanese formal attire. This time, to imply he was honoring the spirits of the war dead as a private citizen and not in his official role as head of government, Koizumi arrived in a simple gray suit. In those earlier visits, he signed the visitors' book ''Prime Minister Junichiro Koizumi," but this time he declined even to sign the book. On Monday he also broke from his past practice by not observing the strict Shinto style of worship and by not paying for wreath-laying and sacred Shinto tree branches.
These nuanced signals may have meant something to Japanese who do not want Koizumi to kowtow to right-wing nationalists in his own Liberal Democratic Party, but outside Japan, Koizumi's refinements of style were meaningless. Particularly since top leaders in South Korea and China had repeatedly asked Koizumi to cease paying tribute to what they regard as a blatant symbol of Japanese militarism, pretending it was a private visit free of any political significance seemed only to exacerbate the offense to Japan's neighbors.
China's ambassador to Japan said, ''Koizumi must shoulder the historical responsibility for damaging Sino-Japanese relations" and called the visit to the shrine a ''serious provocation." South Korea's foreign minister said, ''We strongly protest the visit to Yasukuni Shrine despite our request" and called Koizumi's visits to the shrine ''the biggest stumbling block to South Korea-Japan relations."
With a summit meeting coming up in November of the Asia-Pacific Economic Cooperation Forum, the first East Asia Summit scheduled in December, and with grave issues such as avian flu, terrorism, nuclear proliferation, and conflicts over energy resources requiring regional cooperation, Koizumi's obtuse refusal to respect the feelings of other Asians is not merely inopportune; it paints the Japanese people, however unfairly, as unwilling to accept the truth of their neighbors' historical experience.
NYタイムズ・編集者へのレター:日本の戦争神社
▲
by

alfayoko2005

| 2005-10-23 14:42 | 国内政治