カテゴリ
以前の記事
検索
最新のトラックバック
その他のジャンル
ファン
記事ランキング
ブログジャンル
画像一覧
Court: Underage sex laws can't be harsher on gays
Saturday, October 22, 2005 Posted: 1208 GMT (2008 HKT)
RELATED
•
Kansas Judicial Branch
TOPEKA, Kansas (
AP
) -- The Kansas Supreme Court on Friday unanimously struck down a state law that punished underage sex more severely if it involved homosexual acts.
The court said "moral disapproval" of such conduct is not enough to justify the different treatment.
In a case closely watched by national groups on all sides of the gay rights debate, the high court said the law "suggests animus toward teenagers who engage in homosexual sex."
Gay rights groups praised the ruling, while conservatives bitterly complained that the court intruded on the Legislature's authority to make the laws.
The case involved an 18-year-old man, Matthew R. Limon, who was found guilty in 2000 of performing a sex act on a 14-year-old boy and was sentenced to 17 years in prison. Had one of them been a girl, state law would have dictated a maximum sentence of 15 months.
The high court ordered that Limon be resentenced as if the law treated illegal gay sex and illegal straight sex the same. He has already served more than five years.
Limon's lawyer, James Esseks of the American Civil Liberties Union's Lesbian and Gay Rights Project, said: "We are very happy that Matthew will soon be getting out of prison. We are sorry there is no way to make up for the extra four years he spent in prison simply because he is gay."
Kansas Attorney General Phill Kline said in a statement that he does not plan to appeal.
Landmark Texas decision cited
A lower court had ruled that the state could justify the harsher punishment as a way of protecting children's traditional development, fighting disease or strengthening traditional values. But the Supreme Court said the law was too broad to meet those goals.
"The statute inflicts immediate, continuing and real injuries that outrun and belie any legitimate justification that may be claimed for it," Justice Marla Luckert wrote for the court. "Moral disapproval of a group cannot be a legitimate state interest."
The Kansas court also cited the landmark 2003 U.S. Supreme Court decision that struck down a Texas law against gay sodomy.
Limon and the other boy, identified only as M.A.R., lived at a group home for the developmentally disabled. Limon's attorneys described their relationship as consensual and suggested that they were adolescents experimenting with sex.
Kline's office described Limon as a predator with two previous such offenses on his record. Kline contended that such a behavior pattern warranted a tough sentence and that courts should leave sentencing policy to the Legislature.
Kansas law prohibits any sexual activity involving a person under 16.
However, the state's 1999 "Romeo and Juliet" law specifies short prison sentences or probation for sexual activity when an offender is under 19 and the age difference between participants is less than four years -- but only for opposite-sex encounters.
Matt Foreman, executive director of the National Gay and Lesbian Task Force, said the Texas decision and Friday's ruling "shore up the principle that gay people are entitled to equal protection."
"But no one's quite sure how firm that foundation is," he said.
Mathew Staver, attorney for the conservative Orlando, Florida-based Liberty Counsel, said the different treatment was justified by the state's interest in protecting children and families. He also said the court does not have the right to rewrite the statute.
"That's a legislative function," he said. "This is clearly a sign of an activist court system."
Patricia Logue, a senior counsel for the gay rights organization Lambda Legal, said she hopes the decision will slow efforts in various states to enact legislation targeting gays.
"A lot of the reasoning used here by the state comes up again and again," she said. "What the court is saying is, `If you've got a better reason, you would have told us by now. The ones you've come up with are not good enough, and they amount to not liking gay people."'
Battle lines drawn after Kansas gay-sex ruling
Sat Oct 22, 2005 05:34 PM ET
By Ros Krasny
CHICAGO (
Reuters
) - Gay activists applauded a Kansas Supreme Court decision throwing out a measure that allowed vastly harsher punishment for older teenagers who have consensual sex with underage teens of the same gender.
But conservatives cast the ruling as a victory for supporters of a creeping gay-rights agenda.
"This is legislating from the bench that does not reflect the rule of the citizenry," Jerry Johnston, pastor of the First Family Church in Overland Park, Kansas, told Reuters on Saturday.
The state's top court ruled 6-0 on Friday that different penalties for underage homosexual and heterosexual sex violate the U.S. Constitution's clause barring states from denying people equal protection of the laws.
Matthew Limon has served more than five years of a 17-year prison sentence for criminal sodomy after performing a consensual oral sex act on a 14-year-old boy in 2000, when he was 18.
Had the boy been a girl, Limon would have faced a maximum of just 15 months behind bars under a so-called "Romeo and Juliet" law that allows lighter punishment for teenagers 18 or younger who have sex with 14- and 15-year-olds of the opposite sex.
It is illegal to have sex with anyone under age 16 in Kansas.
'MORAL DISAPPROVAL'
A lower court had ruled that the state could justify the harsher punishment for gay sex as a way of fighting disease or strengthening traditional values.
"The only reason for writing into law different penalties for different people is that some people disapprove of gay sex," said Matt Coles, director of the American Civil Liberties Union's Lesbian and Gay Rights Project, which handled Limon's appeal.
Kansas Justice Marla Luckert wrote in the ruling that "moral disapproval of a group cannot be a legitimate governmental interest."
The losing attorney, Kansas Attorney General Phill Kline, said he had no plans to appeal the U.S. Supreme Court.
The court found the Kansas statute violated the U.S. Supreme Court's 2003 ruling, Lawrence vs. Texas, that overturned state sodomy laws making it a crime for gays to have consensual sex in their own bedrooms.
It was the first time the Lawrence case, seen as a milestone for gay rights, has been translated into a favorable ruling in the lower courts.
Kansas Rep. Lance Kinzer, a Republican, said he feared the ruling could be used as a basis to challenge the ban on same-sex marriage passed in Kansas in April.
"If I was a proponent of same-sex marriage in Kansas, I would be extremely encouraged," Kinzer said.
Limon, who suffers from a mild form of mental retardation, was a student at a state residential school for developmentally disabled youth in 2000. That year, he was convicted of having oral sex with a fellow student who was one month short of his 15th birthday.
The ACLU said it hoped to quickly obtain Limon's release.
"He has long since paid his debt to society, and we're thrilled that he will be going home to his family soon," said Lisa Brunner of the ACLU.
The New York Times
October 22, 2005
Kansas Law on Gay Sex by Teenagers Is Overturned
By ADAM LIPTAK
Matthew R. Limon had just turned 18 when he had consensual oral sex with a boy just shy of 15 at a Kansas school in 2000. He was convicted of criminal sodomy and sentenced to 17 years in prison. Had the sex been heterosexual, the maximum penalty would have been 15 months.
Yesterday, the Kansas Supreme Court ruled that the starkly different penalties violated the federal Constitution's equal protection clause. It said the state's "Romeo and Juliet" statute, which limits the punishment that can be imposed on older teenagers who have sex with younger ones, but only if they are of the opposite sex, must also apply to teenagers who engage in homosexual sex.
Mr. Limon will soon be released, his lawyer, James D. Esseks, said. "He's spent an extra four years and five months in jail only because he's gay," said Mr. Esseks, a lawyer at the American Civil Liberties Union.
In 2003, in a decision called Lawrence v. Texas, the United States Supreme Court struck down a Texas law that made gay sex between adults a crime. But a Kansas appeals court ruled last year that the Lawrence decision did not affect Mr. Limon's case, reasoning that it did not involve minors and involved, for the most part, privacy rights rather than equal protection.
The two appeals judges in the majority offered various justifications for the differing punishments.
One judge, Henry W. Green Jr., said the Kansas law promoted "traditional sexual mores," "the traditional sexual development of children," marriage, procreation and parental responsibility. Judge Green added that the law helped protect minors from sexually transmitted diseases, which he said were more generally associated with homosexual than with heterosexual activity.
A second appeals court judge, Tom Malone, endorsed only the final rationale, though he called it tenuous. A dissenting judge, G. Joseph Pierron Jr., wrote that "this blatantly discriminatory sentencing provision does not live up to American standards of equal justice."
In its decision yesterday, the Kansas Supreme Court ruled that the Lawrence case required reversal of the lower-court decision in Kansas. The State Supreme Court rejected all justifications offered by the appeals court. "The moral disapproval of a group cannot be a legitimate state interest," Justice Marla J. Luckert wrote for the unanimous court.
Justice Luckert rejected the argument that homosexual sex is more likely to transmit diseases.
"The Romeo-and-Juliet statute is overinclusive because it increases penalties for sexual relations which are unlikely to transmit H.I.V. and other sexually transmitted diseases," Justice Luckert said, referring to the oral sex in the Limon case and sex involving two women. "Simultaneously," she continued, "the provision is underinclusive because it lowers the penalty for heterosexuals engaging in high-risk activities," notably anal sex.
The fit between the law and the rationales offered for it is so poor, she concluded, that it violates the Constitution's equal protection clause.
In a brief filed in the case, Phill Kline, the Kansas attorney general, said a ruling in Mr. Limon's favor would "begin a toppling of dominoes which is likely to end in the Kansas marriage law on the scrap heap."
"Sexual desires rather than communal and historical sensitivities would then define the marital relationship," Mr. Kline added, "allowing such combinations as three-party marriages, incestuous marriages, child brides and other less-than-desirable couplings."
Mr. Esseks called the argument "patently ridiculous," saying, "Their premise seems to be that gay people have to stay in prison, be made invisible and not have any degree of rights or else gay people will be able to get married."
In a statement issued yesterday, Mr. Kline was more conciliatory. He said that he had voted against the law as a state legislator, "as I did not support the public policy of providing a lengthier sentence for same-sex exploitation as contrasted with opposite-sex exploitation." He added that his office would probably not appeal to the United States Supreme Court.
Bias Ruled in Law On Same-Sex Rape
Court Cites Inequities in Kansas Statute
By Charles Lane
Washington Post Staff Writer
Saturday, October 22, 2005; A03
The Kansas Supreme Court yesterday struck down a state law that penalized same-sex statutory rapes by 18-year-olds much more harshly than heterosexual cases, ruling that the law unconstitutionally discriminated against gays.
In a 6 to 0 opinion, the court said its decision was required by the U.S. Supreme Court's 2003 ruling in Lawrence v. Texas , a landmark victory for gay rights that abolished all state laws criminalizing sodomy between consenting adults.
Yesterday's ruling was the first time after several attempts that gay rights advocates had managed to translate their Lawrence victory into a favorable ruling on another issue in the lower courts. In 2003, the Massachusetts Supreme Judicial Court established same-sex marriage, based on the state's constitution, not Lawrence.
Under the logic of the Kansas ruling, "not only this law but a lot of other laws that treat gay people badly would fall," said James D. Esseks, a lawyer for the American Civil Liberties Union's Gay and Lesbian Rights Project.
Esseks acknowledged, however, that only one other state, Texas, has a statutory rape law like Kansas's. There are no court challenges pending in Texas. The Kansas ruling would not apply in another state.
Esseks argued the case on behalf of Matthew Limon, who will be released after serving five years of a 17-year sentence under the Kansas law. His sentence would have been 15 months at most if he had been convicted of a heterosexual act.
Kansas Attorney General Phill Kline (R) said the state probably would not appeal to the U.S. Supreme Court, noting that, as a state legislator, he had voted against the disputed provision. In a prepared statement, he said that "it appears the Court has limited its holding," preserving the state's option to criminalize conduct like Limon's even if the sentence must be the same.
Still, at a time when the role of the courts in social issues is at the heart of debate over President Bush's nomination of Harriet Miers to the Supreme Court, the ruling was likely to raise conservative concerns.
"The court acted like a legislature when it attempted to rewrite the statute," said Mathew Staver, president and general counsel of Liberty Counsel, a conservative litigation organization that supported Kansas in the case.
In 2000, when Limon was 18 and a student at a state residential school for mentally disabled youth, he was convicted of having oral sex with a fellow student who was one month shy of his 15th birthday.
There was no claim the sex was coerced. Kansas, like many other states, criminalizes voluntary sex between adults and minors. But in 1999 it enacted a "Romeo and Juliet" law that set a lower penalty for a statutory rape involving an 18-year-old having sex with a 14- or 15-year-old. The lighter punishment applied only to "members of the opposite sex."
Limon appealed to the U.S. Supreme Court, claiming unconstitutional discrimination. The court held the case until it had decided Lawrence , then sent the issue back to the Kansas courts with instructions to review it in light of the new precedent.
Kansas's lower appeals court once again upheld the law, finding it constitutional because it was connected to the state's interests in protecting the normal sexual development of children and preventing sexually transmitted diseases.
But the Kansas Supreme Court said that, under Lawrence , Kansas may not use its laws to express "moral disapproval" of homosexuality -- denying any "rational basis" for the Kansas law's distinction between homosexual and heterosexual acts.
"Neither the court of appeals nor the state cites any scientific research or other evidence justifying the position that homosexual sexual activity is more harmful to minors than adults," the court said.
同性愛犯罪への厳罰判決を無効と判断―カンザス州最高裁 (世界日報 2005/10/22)
 【ニューヨーク21日内藤毅】米中部のカンザス州最高裁は21日、同州で未成年男子と同性愛関係を持ち実刑判決を受けた男性が再審理を求めていた裁判で、判決無効の判断を下した。同州では、異性の未成年者と性的関係を持った新成人(18歳)は15カ月から4年間に及ぶ禁固刑に処せられるが、この被告の場合、相手が同性だったため、地裁で禁固17年を言い渡されていた。
 カンザス州最高裁はこの日、「一部の人々の道徳的判断を、州の法的利益とみなす事はできない」として、地裁に同被告の裁判やり直しを命じた。
 この判決は主要メディアを通じ、全米で大きく報じられたが、今後、国内の保守・リベラル層対立の新たな火種になることが予想される。一方、被告が当該の事件以前にも2件にわたるわいせつ事件を起こしていること、また、被害者の少年が知的障害者であり、同被告自体も軽度の知的障害をもっていることなどの事実が、この裁判を二重、三重に複雑なものとしていた。
HIV感染者、1000万人の恐れも・中国、2010年に (共同 2005/10/22)
 【北京22日共同】新華社電によると、中国衛生省のエイズ専門家委員会は22日、適切な予防策を実施できた場合、国内のエイズウイルス(HIV)感染者を2010年の時点で150万人以下に抑えられるが、実施できなかった場合は1000万人に達する恐れがあるとの予測を発表した。
 中国のHIV発症者は約8万人、感染者は約84万人。同委員会の専門家はコンドーム使用の徹底など「予防策の強化が不可欠」と訴えた。 (01:49)
China warns HIV cases could exceed 10 mln by 2010
Mon Oct 24, 1:45 AM ET
Reuters
China, once accused of being slow to acknowledge the threat of AIDS, could have as many as 10 million HIV carriers in five years if no effective preventive measures are taken, state media said on Monday, echoing a grim UN warning.
China says it has 840,000 HIV-AIDS cases among its 1.3 billion population, but experts say at least a million poor farmers were infected in botched blood-selling schemes in the central province of Henan alone.
"If the preventive measures are slack, the number of people infected by HIV could reach 10 million by 2010," Dai Zhicheng, director of the Health Ministry's Committee of AIDS Experts, was quoted by the Xinhua Daily Telegraph as saying.
Dai said the number could be kept under 1.5 million if the right steps are taken and there are sufficient funds.
The United Nations has also said the number could rise to 10 million by the end of this decade if the epidemic is not treated seriously.
After initial reluctance to even talk about AIDS, China has poured millions of dollars into public awareness campaigns and providing free antiretroviral treatment.
State leaders have also made headlines shaking hands and chatting with AIDS patients, trying to remove the social stigma attached to the disease.
But public fear and ignorance remain strong and the government continues to be suspicious of volunteers and non-governmental organizations trying to help spread AIDS awareness.
Increasing social mobility and 25 years of economic reforms have also added extra difficulties -- 120 million of the rural population have swarmed into cities looking for work and drug abuse and prostitution have flourished.
The New York Times
October 21, 2005
Methodist Divisions Over Gays Intensify
By NEELA BANERJEE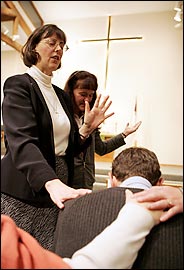 Kevin P. Casey for The New York Times
Cathy Bihler, left, who left the United Methodist Church in Edmonds, Wash., because of its acceptance of gays, with her new prayer group.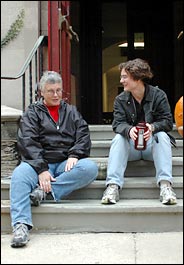 Sabina Louise Pierce for The New York Times
Barbara Revere, left, chats with the Rev. Irene Elizabeth Stroud, a lesbian who is fighting a bid to defrock her.
WASHINGTON, Oct. 20 - In Virginia, the pastor of a United Methodist church is challenging a decision by his peers to suspend him for a year without pay because he barred a gay man from joining his congregation.
In California, a regional conference of the church voted to protect openly gay clergy members from discrimination and dismissal. And in Pennsylvania, the Rev. Irene Elizabeth Stroud is fighting a ruling by the church to defrock her after she disclosed to her congregation that she was a lesbian in a long relationship with another woman.
The confluence of the cases underscores the intensifying debate within the denomination on the role of gay men and lesbians in the pews and in the pulpit. The highest judicial body of the United Methodist Church is expected to rule on them when it meets in Houston for one of its two annual gatherings, starting Oct. 27.
The United Methodist Church, the country's third-largest denomination, has struggled for 30 years to define and then further refine its stance on homosexuality. But in its effort to accommodate disparate views, it has fashioned a position that some clergy members say is ambiguous, even contradictory, and people are demanding clarification.
The church's official policy is to welcome all people, regardless of sexual orientation, into its congregations. Gay people can also serve in the clergy, as long as they are celibate. But church rules ban "self-avowed, practicing homosexuals" from the ministry.
"I'm sure there will be more of these cases and they will accelerate because the issue is not at all resolved in the church," said the Rev. Richard S. Parker, a retired Methodist minister in Babylon, N.Y.
Mr. Parker, a former chairman of the church and society committee in the denomination's General Conference in the 1980's, when the church articulated rules on gay clergy members, said, "Those of us who support full inclusion of gays, lesbians, bisexuals and transgender people are not interested in backing off."
Neither are those who would like to limit the involvement of gays in the church. In Edmonds, Wash., for example, about 200 people left the Edmonds United Methodist Church in late 2003 because of its support for an openly gay music director, said Cathy Bihler, one of those who left and a board member of Good News, a conservative Methodist group.
"Those of us who agree with the authority of Scripture and traditional Christian doctrine cannot condone a practice incompatible with church teaching," Ms. Bihler said.
The Judicial Council will also review a case filed by Ms. Bihler and her minister, the Rev. Rick Vinther, pastor at Woodinville Community United Methodist Church in Washington, that opposes a resolution passed by their regional conference this year asserting tolerance for the plurality of views about sexual orientation.
Ms. Bihler and Mr. Vinther maintain that such a resolution contradicts Methodist teachings. The Rev. Dean Snyder, pastor of the liberal Foundry Methodist Church in Washington and the moderator of a Web log,
www.untiedmethodist.com
, said that on his site "there is increased attention to the issue, an increase in openness to gays and an increase in resistance, all at the same time."
The Rev. Thomas W. Ogletree, a Methodist minister and professor of theological ethics at the Yale School of Divinity, noted that at the church's last General Conference in 2004, a coalition of churches was beginning to emerge that threatened to leave the denomination because of its tolerance toward gay men and lesbians.
When Ms. Stroud, 35, revealed to her congregation in April 2003 that she lived in a long-term relationship with her partner, Chris Paige, she acknowledged in a sermon that she risked losing her credentials as an ordained minister. But she added, "I have realized that not telling the whole truth about myself has been holding me back in my faith."
In December 2004, a jury of 13 clergy members in eastern Pennsylvania found her guilty of violating church law and ordered her defrocked. An appeals committee overturned that decision in April because of legal technicalities, and Ms. Stroud's bishop took the case before the Judicial Council, akin to the Supreme Court and made up of nine clergy members and lay people.
Church experts said they thought the council would probably strip Ms. Stroud of her ordination. But even if she wins, Ms. Stroud says she does not expect the larger question of whether to exclude practicing gay people from the ministry to be addressed. Instead, she said, a victory would probably rely on technicalities like the vagueness of the church's definition of practicing homosexuals. She said she expected the next General Conference in 2008 would move to close such loopholes.
The rule to keep practicing homosexuals from the ministry has passed by a slimmer and slimmer margin at each General Conference, said Mr. Snyder, indicating a dwindling of resistance. But some, like the Rev. Edward Johnson of South Hill, Va., are standing firm against a change in the rules.
Mr. Johnson refused to admit a gay man into the congregation of South Hill United Methodist Church, said Carole Vaughn, a spokeswoman for the church's Virginia Annual Conference, its regional governing body. After trying to persuade Mr. Johnson, the church's pastor for six years, to change his mind, his peers in the conference voted in June to place him on "involuntary leave of absence" for a year. If he loses his appeal before the Judicial Council and does not change his position, he will probably be let go, Ms. Vaughn said. Mr. Johnson could not be reached for comment.
The Judicial Council will also be looking at the legality of a resolution made by the clergy of the California-Nevada Annual Conference to prohibit discrimination on the basis of sexual orientation anywhere in the church, including among clergy.
The conference stated that sexual orientation should be considered an innate characteristic, like race. Bishop Beverly J. Shamana, head of the California-Nevada conference, who does not vote on issues, said the resolution was only a guideline and did not challenge or supersede church law and it was being reviewed as a matter of course. But other clergy members and lay people said they saw it as a jab at church policy.
In the shadow of these cases, anxiety is growing among some Methodists that the church could split over homosexuality, as it did over slavery in the mid-1800's. The likely outcome, some clergy members said, is that those who oppose liberalizing the church's position on gays will leave.
"I wouldn't be surprised if a split happened over this," Mr. Ogletree of Yale said. "The Methodist Church will get through this, of course, but we will have a big challenge holding things together."
Clark plans a purge with dignity
21 October 2005
By TRACY WATKINS - Dominion Post
Prime Minister Helen Clark wants her aging MPs to leave with dignity.
But the lesson from the cleanout of National's ranks in the lead-up to the 2002 election is that party purges are often messy and rarely dignified.
When National Party President Michelle Boag moved to trim deadwood from the party list, National was plunged into crisis. Ms Boag began in much the same way as Miss Clark has – with backroom chats with individual MPs, leaving some in no doubt that it was time to move on.
Ms Boag, who campaigned on a promise to "stop the rot", raised hackles. Miss Clark has been equally open about the need for Labour to rejuvenate and that could also raise dissent.
Former police minister George Hawkins and former trade negotiations minister Jim Sutton are the first public casualties – both have been retired from the Cabinet and associate minister Dover Samuels is likely to follow. He was expected to be dropped from the executive but appears to have been returned after indicating that he is likely to leave Parliament next year.
Mr Samuels is refusing to say if that is his plan. He has apparently been offered a diplomatic posting, to Niue, but turned it down. Mr Sutton has rejected a diplomatic post in Canada.
Others who may be in Miss Clark's sights include MPs who lost seats on election night but survived on the party list. They are Mita Ririnui (formerly Waiariki MP), Jill Pettis (Whanganui), Dianne Yates (Hamilton East) and Ann Hartley (Northcote). Another may be list MP Georgina Beyer, who planned to stand down but changed her mind.
National's purge claimed former cabinet ministers and even MPs in safe seats. It included John Luxton, Max Bradford, Warren Kyd, Doug Kidd, Brian Neeson, Annabel Young, Marie Hasler, Arthur Anae and Belinda Vernon. Others, such as Maurice Williamson and Clem Simich, were thought to be on Ms Boag's list but outlasted her.
Miss Clark is hinting at mid-term departures – which may be a cleaner way of clearing out the party's ranks.
National's rejuvenation drive resulted in bitter battle-lines between MPs, who ended the term hopelessly divided. The heavy 2002 election defeat finished what Ms Boag started by reducing the caucus to a shadow of its usual self. The dividend was finally delivered this year – the National caucus, with 21 new faces, several of them stars.
Labour's lineup of hopefuls is topped by Wellington lawyer Charles Chauvel, who ran a strong campaign in the Ohariu Belmont seat won by United Future leader Peter Dunne. Mr Chauvel, 35, was on state-owned Meridian Energy's board but stood down for the campaign. He is deputy chairman of the Lotteries Commission and has held company directorships.
Unionist and former party official Lesley Soper would be next in line, then sportswoman Louisa Wall and South Auckland city councillor Su'a Williams and Brendon Burns, a former Marlborough Express editor who headed a Beehive press unit.
▲
by

alfayoko2005

| 2005-10-22 14:10 | トランス
大峰山に登ろう!

大峰山に登ろう!
世界遺産
にも登録された「大峰山」に、みんなで登りませんか。ただ、困ったことにこの「大峰山」は「女人禁制」となっています。この「女人」っていったいどういう基準なのでしょう。そしてなぜ「女人禁制」なのでしょう。その他にもわからないことがたくさん。そこで実際に「大峰山」に登って、質問状をお渡ししようと思います。一緒に楽しく「大峰山」に登って下さる参加者の方を募集いたします。なお、個人の性自認、性指向、戸籍上の性別、肉体上の性別はとくに問いません。あわせて、この登山の賛同人になっていただける方を募集します。
登山の予定
集合日時:11月3日(祝) 09:20  (雨天順延 11月6日)
集合場所:洞川温泉 バス停 (当日はメディアの方にもきていただく予定)
連絡先:「大峰山」に登ろう実行委員会
つづき(館長雇止め・バックラッシュ裁判を支援する会(略称ファイトバックの会)blog)
参考記事(
太字
は引用者)
Peak's spiritual tradition raises hackles
No women allowed on Japan's holy Mount Omine
Bruce Wallace, Los Angeles Times
Sunday, September 5, 2004
Mount Omine, Japan
-- At 5 a.m. on a summer day already sticky with humidity, three dozen ascetic priests known as yamabushi -- "those who lie down in the mountains" -- have gathered at the foot of this mountain in western Japan to pray before climbing its sacred slopes.
Peaking at 5,640 feet, Mount Omine is far from the highest mountain in Japan. But the yamabushi who follow the Japanese religion of Shugendo and other pilgrims have been climbing it since the ninth century, drawn by a belief that the two-hour ascent up its rocky trails will help them touch the spiritual world above, while leaving their worldly concerns below.
And that means leaving women behind, as well.
Women are not welcome on Mount Omine. Never have been. For 1,300 years, only men have been allowed to huff and puff the rutted paths leading to the Buddhist temple at the top.
With a final clap to draw the attention of the mountain's spirit, the yamabushi pass without pause through the "Off Limits to Women Gate" that demarcates where the men-only turf begins.
The barrier is hardly imposing, little more than a stumpy marker forged from three old logs. But in a culture where conformity rules and few dare to cross its invisible lines, the gate is a psychological maze of barbed wire.
The ban's logic is rooted in sex. The yamabushi and, later, trainee Buddhist priests on the mountain, were supposed to be engaged in a test of strict self-denial -- at least until they came down to avail themselves of the numerous brothels awaiting them at the bottom. Women on the mountain would be a distraction.
"We still believe this, that the mountain is only for men," says Kosho Okada, a 34-year-old Buddhist monk who is deputy to the chief priest at the Ominesanji Temple that crowns the mountain. "We have been protecting this mountain for some time now, and we are going to defend its tradition."
The gender ban persists despite an 1872 Japanese government decree that struck down ancient conventions keeping women off many of the country's mountains -- including national icon Mount Fuji. Across the mountain-ripped Japanese landscape, only Mount Omine has ignored that order, its uniqueness nurtured by generations of like-minded monks and municipal officials who insist they are defending tradition, not discriminating against women.
The locals can now point to a 21st century endorsement of their views, from an unlikely source. This summer,
the U.N. Educational, Scientific and Cultural Organization, or UNESCO
, declared
the entire Mount Kii range
-- which encompasses the men-only pocket of Mount Omine --
a World Heritage
site.
The United Nations said the sacred sites and pilgrimage routes across the mountain range reflected Japan's fusion of Shinto and Buddhist spirituality, and that universal access was not a requirement for World Heritage status. The decision dismayed Japanese women's groups that had lobbied the Japanese government and the United Nations against enshrining what they see as discrimination on Mount Omine.
"UNESCO didn't even seem to think this was an issue," says Junko Minamoto, 57, of the Institute of Human Rights Studies at Kansai University. Minamoto said her interest in the mountain was stirred by her academic study of Buddhism, which alerted her to what she saw as the religion's enduring bias against women and its tenets requiring women to be obedient to men.
There is virtually no sign of sympathy for her crusade in Dorokawa, the one-street town at the base of Mount Omine, where local businesses are wondering whether the U.N. designation will usher in a tourist boom.
"This is a convention, a custom we have kept for 1,300 years, and we are happy the U.N. has decided to help us preserve and recognize it," says Genichi Masutani, head of the innkeepers' association in Tenkawa and the local official most identified with the push for World Heritage status.
Some women do occasionally sneak onto the mountain -- activist Minamoto walked unimpeded across the demarcation line along with seven other women one sunny October afternoon a few years ago. They took pictures to document their act of defiance and left without climbing to the top.
So the mountain is not just for Japanese men, then? Foreigners are welcome to climb?
"Of course," Masutani says, with a huge smile.
Muslims?
"Yes, yes."
Jews?
"If they are men," he says, laughing.
Homosexuals?

"Of course."
Dogs?
"Yes."
Female dogs?
"Fine." He is laughing hard now.
"Look, we've even had men on the mountain dressed as women. That's OK, too."
But no women?
"Never."
関連記事
The New York Times
International
March 26, 2000
Governor Butts Heads With Sumo Ban on Women
By CALVIN SIMS
OSAKA, Japan, -- In one of her first public acts as Japan's first woman governor,
Fusae Ota
, weight 97 pounds, was to enter the ring at the Spring Grand Sumo Tournament on Sunday and bestow prizes on competitors up to five times as hefty.
Every year since 1953, it has fallen to the governor of Japan's second-largest prefecture, a tough commercial region 250 miles southwest of Tokyo, to award the prizes at the spring sumo competition. But there has never been a woman governor before. And so, just a month after taking office, Ms. Ota found herself battling not just the sumo wrestlers' ban on women in their hallowed ring, but also the centuries of tradition that have accorded her sex a distinctly second-class place in Japanese politics.
Hundreds of years of custom dictate that women may not enter the dohyo, the 15-foot diameter ring of sandy clay in which the sumo wrestlers grapple. At first, Ms. Ota aggressively challenged the rule. Eventually, after a tense standoff with Akebono, the 500-pound heavyweight of sumo wrestling's governing body, she backed down, agreeing that her male deputy would present prizes in her place, but vowing to pursue the matter again next year.
For the advocates of equal opportunity, the affair was cause to ponder just how far Japanese women have come, despite Governor Ota's election victory -- after her male predecessor was forced to step aside over charges of sexually harassing a 21-year-old female campaign worker.
"We were all so elated over Governor Ota's victory, not only because she was the first woman, but also because she was the best qualified candidate for the job," said
Kiyoko Yamanaka
, a woman who is a member of the Osaka prefecture's legislature. "But this sumo confrontation was like being splashed with a bucket of cold water. We suddenly realized that basically nothing had changed."
Only 7 percent of Japan's legislators are women, and the country, which has the world's second largest economy, ranks 140th among all nations in terms of participation of women in politics, she said.
An official of the Japan Sumo Association said that banning women from entering the sumo ring had nothing to do with sexism but rather was an age-old tradition that should be honored.
Sumo's ancient roots are entwined with Japan's indigenous Shinto religion that detests defilement, especially death and blood. Sumo wrestlers toss salt into the ring in a ritual meant to purify the ground at the start of each match.
"In my opinion, the sumo association is perfectly justified in maintaining its own traditional culture at a time of constantly changing views on values and history," Katsuo Tokitsukaze, the association's chairman, told Ms. Ota according to local news reports of a telephone conversation in which he persuaded her not to press her case. But Mr. Tokitsukaze left the door open for further discussions, saying, "It is also important to hear others' opinions on the issue."
Governor Ota, a former senior official of the Ministry of International Trade and Industry, declined to be interviewed for this article, citing a busy schedule of budget meetings with the prefecture legislature.
Ms. Yamanaka, who described herself as a feminist legislator, said that the sumo association's tradition was problematic because it perpetuates the notion in Japan that women are unclean and therefore not as worthy as men.
She cited other examples of traditions that have excluded women, including one at Mount Ominesan in Nara prefecture, which for religious reasons has been off-limits to women for centuries.
A group of 10 female teachers climbed the mountain last year, much to the consternation of local priests who said the women had "trampled underfoot the faith of believers." The teachers' union later apologized.
In a public opinion poll conducted recently by the newspaper
Asahi Shimbun
, 47 percent of people surveyed said that Governor Ota should be allowed inside the ring, while 37 percent backed the sumo association and the remainder were undecided. Forty-eight percent of the men and 45 percent of women polled sided with the governor, while 39 percent of men and 35 percent of women supported the association.
Outside the stadium where the tournament is being held, sumo fans voiced differing opinions on the issue. "Tradition is often difficult to explain, but no one is trying to hurt women or deprive them of something by keeping them out of the ring," said Shigehiro Yonezu, a businessman. But his daughter, Kiyo, 25, disagreed. "No, papa, you have to understand that this tradition was created by a male-dominated society," she said.
The controversy comes at a time when the popularity of sumo wrestling is declining, especially among young Japanese, and the sport's credibility has been damaged by charges of bout-fixing.
For the first time in years, there are empty seats at major sumo tournaments, which have traditionally been sold out. Faced with hard economic times, many Japanese are unwilling to shell out the $50 needed for a decent seat.
Television ratings are also declining. More Japanese have come to prefer baseball and soccer and the $100 million-a-year sport now faces an uncertain future.
Many people still recall an incident in 1991 that was a severe blow to sumo's reputation. In grade school, boys and girls practice sumo together. A 10-year-old girl became the champion in Tokushima prefecture but a boy who came in second place was awarded the medal and allowed to attend the national championship.
At the sumo stables, where wrestlers rise every morning at the crack of dawn to practice, there were no words of support for Governor Ota's effort to step inside the ring. "I'm all for women's rights but the dohyo is a place where only men fight and if a woman steps inside I'm not going to wrestle there anymore," said Dejima, a 360-pound champion.
"You must understand that we've devoted our lives to these traditions, which encompass so much more than just keeping women out of the ring," he added.
Makiya Saito, Governor Ota's husband, said that his wife was very surprised and upset over what he said was the sumo association's narrow-mindedness. "On the surface it seems like a ridiculous issue, but it has big significance," Mr. Saito said. "It shows just how backwards Japanese society is when it comes to women's rights."
Mr. Saito, who refers to himself as Japan's "First Husband," said that since his wife's election, Japanese men keep asking him "what kind of man are you?"
"I'd like to tell Japanese men that I am secure enough in my manhood to support my wife and fulfill my official duties as husband to the governor," said Mr. Saito, who operates an optical lens company.
Norio Tsuboi
, a popular television announcer, offered a comical solution to the dilemma: "We should strap the governor into a harness that hangs from the ceiling of the stadium and gradually lower her into the ring, stopping just before her feet touch the ground."
Firms see sales boosted by a woman's touch
The Yomiuri Shimbun
More women shop assistants are now helping men choose a suit, tie or car as female workers find positions in workplaces that are traditionally male-dominated.
When it comes to buying a suit or car, a man's partner has a strong say in the choice. And a saleswoman is often better suited than her male colleagues when it comes to exchanging opinions with the male customer's wife or girlfriend.
In August, Aoyama Trading Co. decided to appoint an all-female staff--including the manager--at the Miyanosawa branch of Aoyama Suits Kobo Sapporo, one of its outlets in Sapporo.
At the outset, about half of the employees were female, just like at other Aoyama stores. The change to an all-female staff was an experiment to try to make the store stand out from its rivals.
"We've tried to create a relaxed atmosphere," said Midori Uesugi, the 27-year-old manager. Being attentive to the store's interior decor, she put flowers at the entrance and a flower-patterned cloth over a table by the cash register.
All products at the store are for men, but many customers come in with their partners to shop. It is often the partners who have the final say on what the man buys.
According to Uesugi, male clerks tend to have the same point of view as male customers and usually recommend products that are conservative in design and color. On the other hand, female clerks can suggest a look that appeals to women, and also chat with the man's partner. As a result, female employees are more likely to feel confident in recommending goods that are pricier, she said.
"Women still have the feeling that they can't beat men. But when we're among only women, we get competitive. This leads us to work harder," Uesugi said.
She added: "Men are concerned about the hierarchy in the workplace. Women are not so worried about that, which makes decision-making faster."
The store's sales were up 39.8 percent in September compared with the same period last year, although before the personnel change the figure usually remained little changed, year on year.
Aoyama Trading will watch the store's performance for the next couple of years and then decide whether to staff its other stores exclusively with women.
This summer, Nissan Motor Co. announced that it would increase the number of female employees at its 2,600 dealerships.
By 2007, Nissan plans to increase to 10 percent the proportion of its female "car life advisers," a position held by only 3.6 percent of its female employees last year. The ratio of women serving as technical advisers, who offer consultations on shaken vehicle inspections, will be increased from 7 percent to 10 percent in the same period.
Nissan will ask its dealerships to work toward realizing the goal by transferring female workers in management or desk jobs if finding suitable female recruits is difficult.
The firm issued a handbook in September instructing its dealership managers on issues related to using female employees to better effect. The 37-page manual covers topics such as child care leave.
The firm's salespeople have traditionally been male because its customers are mostly men. According to a survey conducted by Nissan, however, the decision on which vehicle model to buy was made by the male customer's family in 30 percent of cases, with the wife usually having the last word. Fewer men bought cars based only on their own preferences.
With this trend in mind, a Nissan employee said, "We want to get ahead of the competition by expanding the number of our female sales personnel. It's unbalanced if we only have salesmen."
Prof. Machiko Osawa of Japan Women's University pointed out that as more women are making decisions on their families' consumption, a salesperson needs to feel empathy with them, and so companies have decided that female workers tend to best at playing this role.
"It will create an environment in which positions will open up for women in male-dominated companies. Hopefully, it will lead to the realization of gender equality in the workplace," she said.
(Oct. 22, 2005)
Sex inequality slows growth
By CESAR CHELALA
Special to The Japan Times
NEW YORK -- A growing number of countries have adopted population and development policies to meet the health-care and education needs of women, including their reproductive health needs. In spite of that, gender inequality persists in most countries around the world. According to the United Nations Population Fund (UNFPA) state of world population report 2005, gender inequality hinders not only the growth of affected individuals but also the evolution of societies and the development of countries.
Greater equality in the power relations between women and men, combined with increased access to adequate reproductive health services would save the lives of thousands of women. In addition to its effects on health of women, gender inequality undermines the possibility of reducing their poverty. Several studies have shown that societies with the greatest gender discrimination are poorer, have slower economic growth and lower quality of life than those with with less discrimination.
Although 99 percent of maternal deaths during pregnancy and delivery are preventable, it has been estimated that 529,000 women died from complications of pregnancy and childbirth in 2000. That is the equivalent of one maternal death every minute, almost all occurring in developing countries. In addition, for every woman who dies during pregnancy and delivery approximately 20 more suffer serious harm -- adding up to between 10 and 20 million mostly preventable injuries a year. Maternal deaths are practically nonexistent in industrialized countries.
Maternal death has both immediate and long-term consequences on families and communities. The death of a mother increases the risks of infant and child mortality. Because of their role in maintaining family cohesion, the death of a mother can have devastating psychological and economic consequences affecting the futures of surviving family members.
Education is another area with significant disparities between men and women. There are 600 million illiterate women compared to 320 million men. While access to primary education has increased in total numbers, still only 69 percent of girls in Southern Asia and 49 percent in sub-Saharan Africa are able to complete primary school. The percentages are even lower for when secondary-level education is considered.
Higher education levels in women are associated with better economic prospects, better reproductive health and higher awareness of the dangers posed by risky behaviors that lead to HIV/AIDS. Children of educated mothers also benefit, since for every year of a mother's education there is a 5 to 10 percent drop in the risk of their child dying before their fifth birthday.
Good reproductive health can also result in economic benefits through what has been called the "demographic dividend." Smaller families mean that a higher proportion of young parents enter their reproductive years with fewer dependents to support. Smaller families mean slower population growth, which in turn diminishes competition for natural resources. Economists attribute the unprecedented growth of East Asian economies between 1965 and 1990 to a lower birthrate.
From the economic point of view, much of women's work is still unrecognized and poorly paid, even though in developing countries rural women are responsible for 60 to 80 percent of food production. According to the World Bank, women still earn an average of 75 percent of men's pay for the same jobs.
Violence against women continues to be a curse worldwide, affecting all societies and all social strata. The toll of violence on women's health is greater than that of traffic accidents and malaria combined. Gender-based violence can take many forms and includes domestic violence, rape, female genital mutilation, and "honor" and dowry-related killings.
To achieve a more equal and just society means addressing all forms of gender inequality, which in turn can improve as access to health care, to economic and educational opportunities and lead to greater respect for every woman's human rights.
Ensuring equality of rights between men and women in terms of education, health, jobs, property and credit, as well as fostering women's participation in public life will contribute to reduce child mortality, improve public health, slow population growth and stimulate economic growth. Societies should be judged for their efforts to lower the gap between women and men's rights.
Cesar Chelala is an international public health consultant and the author of "Maternal Health," a publication of the Pan American Health Organization.
The Japan Times: Oct. 22, 2005
Asia falls for a girl band of former boys
By Elizabeth Davies
Published: 22 October 2005 - The Independent
They strut their stuff and shake their booties as well as any pop band worldwide, and their infectious dance tunes are taking the Asian music scene by storm.
But in one crucial respect Lady, the hottest music act to come out of South Korea in years, are not your average girl group. They may have looks that many women would die for - but none of these four singers was born as a lady.
Shinae, 29, Sahara, 25, Binu, 22, and Yoona, 21, have all undergone sex change operations and used their new, curvaceous physiques to propel them to stardom. Earlier this year, to a frenzied fanfare of television appearances, newspaper interviews and even the odd nude photo shoot, Lady became Korea's first transgender pop group.
"We love chocolate, shopping and gossip. Mentally we were always women, the only difference being that we changed something physical, simply we are women with an extra scar," one of the girls told Chosun Ilbo newspaper.
And with their debut album Attention flying off the shelves in their native country and concerts lined up in China, Japan, Hong Kong and Taiwan, Lady's risqué dance act is blowing a breath of fresh air into the traditionally conservative world of Asian music. The girls are seeking to follow in the footsteps of Harisu, Korea's most successful transgender singer, whose song "Foxy Lady" is popular from Bangkok to Beijing.
But the group's path to stardom hasn't been entirely smooth. Lady have come in for scathing criticism from the media, who accuse their record company of trying to cash in on the novelty of "sex change stars" and of manufacturing a pop act whose selling point, they claim, lies in sexual status rather than in musical talent.
The girls, however, remain defiant.
"Soon," they proclaim, "we'll show everyone what we've got on stage."
They strut their stuff and shake their booties as well as any pop band worldwide, and their infectious dance tunes are taking the Asian music scene by storm.
But in one crucial respect Lady, the hottest music act to come out of South Korea in years, are not your average girl group. They may have looks that many women would die for - but none of these four singers was born as a lady.
Shinae, 29, Sahara, 25, Binu, 22, and Yoona, 21, have all undergone sex change operations and used their new, curvaceous physiques to propel them to stardom. Earlier this year, to a frenzied fanfare of television appearances, newspaper interviews and even the odd nude photo shoot, Lady became Korea's first transgender pop group.
"We love chocolate, shopping and gossip. Mentally we were always women, the only difference being that we changed something physical, simply we are women with an extra scar," one of the girls told Chosun Ilbo newspaper.
And with their debut album Attention flying off the shelves in their native country and concerts lined up in China, Japan, Hong Kong and Taiwan, Lady's risqué dance act is blowing a breath of fresh air into the traditionally conservative world of Asian music. The girls are seeking to follow in the footsteps of Harisu, Korea's most successful transgender singer, whose song "Foxy Lady" is popular from Bangkok to Beijing.
But the group's path to stardom hasn't been entirely smooth. Lady have come in for scathing criticism from the media, who accuse their record company of trying to cash in on the novelty of "sex change stars" and of manufacturing a pop act whose selling point, they claim, lies in sexual status rather than in musical talent.
The girls, however, remain defiant.
"Soon," they proclaim, "we'll show everyone what we've got on stage."
▲
by

alfayoko2005

| 2005-10-22 09:08 | トランス
Bloomberg Columnists
William Pesek Jr. is a columnist for Bloomberg News. The opinions expressed are his own.
`Womenomics' Good for Japan and Investors: William Pesek Jr.
Oct. 21 (Bloomberg) -- In August 1999, Kathy Matsui raised many a male eyebrow in Japan with a report on how the future of the No.2 economy was in women's hands. Goldman Sachs (Japan) Ltd.'s chief strategist called the phenomenon ``womenomics.''
Part of Matsui's analysis was that tapping just the male half of Japan's population lowered the quality of the national labor pool and, ultimately, gross domestic product. Discrimination also exacerbates Japan's biggest long-term challenge: a low birthrate.
It came out at a time when politicians were increasingly deriding career women who don't bear children as selfish and overeducated. Young women refusing to marry and have kids -- many of whom live with their parents -- were labeled ``parasite singles.''
Yet six years on, Matsui senses some promising cracks in Japan's glass ceiling, especially now with the economy on the mend.
``While much more progress still needs to be made at both the public and private sector levels to foster greater female labor participation, we believe Japan is finally moving in the right direction,'' Matsui says.
Moreover, investors should begin looking at industries poised to benefit from her view that ``womenomics is likely to become a secular investment theme.'' Notice Matui's use of the word ``secular,'' not ``cyclical.''
Women Power
In a new report, Matsui recommends a basket of 115 companies that may get a boost from increased female purchasing power. They include industries related to daycare, nursing care, real estate, financial services, online and mail-order retailing, beauty, prepared foods, apparel and accessories, furniture, entertainment and placement agencies. (The list of companies is attached to this column).
Women are still an under-utilized asset in this nation of 127 million people and they are paid a fraction of what men get. Japan's glass ceiling still keeps many well-educated, experienced and ambitious women out of corporate boardrooms, unless they're serving tea to the men running sitting around the table.
Also, the lack of an affordable infrastructure for women who want to work and raise children means motherhood is often a career-ending prospect. Until more mothers can have careers too, the birthrate won't increase, leaving Japan with a long-term labor shortage. What politicians don't realize is that the low birthrate is a form of rebellion.
Investors Get Ready
Quietly, though, things may be improving, a trend personified by Fumiko Hayashi and Tomoyo Nonaka. Earlier this year, Hayashi, 59, was named chief executive of retailer Daiei Inc. and Nonaka, 51, became chief executive of Sanyo Electric Co. They're the first women to run major Japanese companies.
Prime Minister Junichiro Koizumi also has realized women deserve better. In late 2004, he announced the government would ``provide assistance so that women can exert their talents and take on challenges in various areas, including business.'' In last month's elections, Koizumi encouraged a number of female candidates to run for office.
Anecdotal data also tell the story. ``Out of economic necessity or as a result of lifestyle choices, an increasing portion of Japanese women are actively participating in the workforce and becoming a very important source of income and consumption growth,'' Matsui points out.
Gender and GDP
Women have been a powerful economic force for some time. Since many single females live with their parents, they pay little rent and have a disproportionate amount of disposable income. Take away their spending at department stores, travel agencies and fancy eateries and some of the men standing in the way of gender equality probably wouldn't have jobs.
That dynamic will only grow as companies warm to entrusting key jobs to women, especially now that Japan's recovery is encouraging employers to hire again. That's an important development in a nation that's reluctant to ease immigration laws to import labor.
As of 2004, the ratio of women in the labor force was still low by developing-nation standards at 55 percent. That compares with 62 percent in the U.S. and 61 percent in the U.K. If the female labor participation rose toward U.S. levels, Matsui says, Japan would add between 1.2 percent and 1.5 percent to GDP.
Further to Go
All this has more to do with Japan's debt woes than many economists acknowledge.
During the 1990s, Japan built roads, bridges and dams to create jobs -- all of it financed with public borrowing. Politicians used untold amounts of taxpayer funds bailing out deadbeat companies and supporting the banks propping them up. The result wasn't rapid growth or surging stocks, but deflation and a debt load of roughly 150 percent of GDP.
Things might have turned out differently if Tokyo had tried a solution many international economists -- including those at the Organization for Economic Development and Cooperation -- said might help: empowering women.
Politicians and business leaders need to get more serious about tapping the female workforce. If not, growth may underperform and Japan's debt may be harder to reduce. It comes down to a simple choice: more babies or more bonds?
Were Japanese female labor participation rates to hit U.S. levels, per capita income would be 5.8 percent higher, Matsui says. Such girl power would provide a nice boost to Asia's biggest economy.
To contact the writer of this column:
William Pesek Jr. in Tokyo at
wpesek@bloomberg.net
Last Updated: October 20, 2005 21:18 EDT
The New York Times
Editorials/Op-Ed
Letters
October 21, 2005
The Japanese War Shrine
To the Editor:
Re "Asians Angered, Again, by Visit to War Shrine by Japan Leader" (news article, Oct. 18):
If Prime Minister Junichiro Koizumi seeks to use the Yasukuni visit to demonstrate his personal principle and fortitude, he has picked the wrong fight, because its diplomatic cost clearly outweighs its domestic benefits. Placating Japan's far-right and "war aggrieved" communities, the visit further strains Japan's relations with its neighbors, raises questions about Japan's honesty with its wartime past, and hinders Japan's quest to become a "normal nation."
Mr. Koizumi can better demonstrate his leadership by honoring Japan's war dead at a less controversial monument or publicly disassociating the 14 Class A war criminals from the other 2.5 million souls. He should do this because it's the right thing to do, not because China demands it.
Vincent Wei-cheng Wang
Richmond, Va., Oct. 18, 2005
The writer is an associate professor of political science and international studies, University of Richmond.
NYタイムズ社説:東京の無意味な挑発
▲
by

alfayoko2005

| 2005-10-21 13:34 | 国内政治