カテゴリ
以前の記事
検索
最新のトラックバック
その他のジャンル
ファン
記事ランキング
ブログジャンル
画像一覧
Report: $13M Spent on Gay Marriage Fight
By ROBERT TANNER, AP National Writer
Tue Jan 24, 10:00 AM ET
The 2004 election campaigns that ultimately banned same-sex marriages in 13 states were funded by a mix of national groups, churches and individuals, with ban supporters narrowly outraising opponents and total contributions breaking $13 million, according to a new analysis of state-level fundraising.
Supporters of the state constitutional amendments raised $6.8 million for ballot committees; opponents raised $6.5 million, according to the study by The Institute on Money in State Politics, a nonpartisan research organization in Helena, Mont.
The single largest block of givers were advocates of gay and lesbian rights, donating more than $3 million.
Conservative organizations affiliated with a network called the Arlington Group gave nearly $2 million, the report found. Churches also invested heavily, contributing $1.9 million, overwhelmingly in favor of bans on same-sex marriage.
Despite the nearly even split of the $13.3 million raised by ballot committees, the amendments passed overwhelmingly, sometimes by as much as a 3-to-1 ratio. The closest vote, in Oregon, passed with 57 percent in favor of a ban and 43 percent against.
The two sides together spent more than $2 million in each of several battleground states, including Michigan, Oregon and Ohio. But much less went into campaigns elsewhere, with under $100,000 spent in a half-dozen states, and less than $10,000 total in Mississippi and North Dakota.
The fight over gay marriages isn't over. Texas voters in November approved a constitutional ban on same-sex marriage, though Maine voters rejected a conservative push to repeal a new law that outlawed discrimination based on sexual orientation.
Efforts have begun to put same-sex bans before voters in at least seven more states, according to the report.
"There was a coordinated effort to bring this issue to the ballot in a number of states," said research director Sue O'Connell.
Conservative groups affiliated with the Arlington Group included Focus on the Family and the Family Research Council, whose leaders had been outspoken against gay and lesbian marriages after Massachusetts' high court found that the state constitution allowed same-sex marriages.
Among the big-spending advocates of gay and lesbian rights were the Human Rights Campaign and the National Gay & Lesbian Task Force.
In all, 19 states have passed constitutional amendments outlawing same-sex marriage. Only one state — Connecticut — has enacted a law legalizing civil unions without a court order.
同性婚禁止の勢いとどまらず~改憲案可決は19州に (USフロントライン 2006/01/24)
 2004年の選挙で同性婚の禁止を支持した候補者への寄付額が、わずかに反対派への寄付額を上回っていたことが分かった。
 AP通信が報じた超党派研究機関、政治資金研究所(IMSP)の調査によると、同性婚禁止を条項に盛り込む改憲案の支持派は680万ドル、反対派は650万ドルを資金として集めた。
 最も高額の寄付は同性愛者の人権支援団体で、300万ドルだった。改憲支持派では、アーリントン・グループと呼ばれるネットワークに属する保守系団体が200万ドル、教会が190万ドルを集めた。
 両派でほぼ同額の資金が集められたにもかかわらず、投票では支持票3に対し反対票1など圧倒的な比率で改憲案を可決した州が多かった。最も僅差だったオレゴン州でも、支持票が57%を占めた。
 オレゴンやミシガン、オハイオなど激戦州では、同性婚をめぐってそれぞれ200万ドル以上の資金が費やされた。一方、他の6州では10万ドル以下、ミシシッピとノースダコタでは1万ドル以下しかキャンペーンに充てられなかった。
 同性婚をめぐる論争はまだ終わったわけではない。テキサス州は昨年11月、住民投票で改憲案を承認したが、メイン州は同性愛者差別禁止法を撤廃しようとした保守派の提案を拒絶した。さらに7州が、改憲案を住民投票にかける予定だ。
 これまでに改憲案を可決した州は19州に達している。しかし、シビル・ユニオン(結婚とほぼ同等の権利を認める制度)を合法化した州はコネチカットのみだ。
EDITORIAL
More women taking charge
The Japan Times: Jan. 25, 2006
January has been a precedent-setting month for women. Ms. Michelle Bachelet was elected Chile's first female leader, becoming South America's second woman elected head of state, while Ms. Ellen Johnson-Sirleaf took office as president of Liberia, Africa's first elected female head of state.
While both have made history at home, they are part of a growing number of female politicians claiming national office around the world. This tide still lags expectations, though, and many more women need seats in government before politicians truly reflect the societies they represent.
The election results in both Chile and Liberia were surprises. Chile is one of Latin America's most conservative countries, and Ms. Bachelet, a socialist doctor and divorcee, ran an uneven campaign. But she was also a former defense minister who benefited from aligning herself closely with outgoing President Ricardo Lagos and the record of success that the center-left alliance has created during its 15 years in power.
Ms. Johnson-Sirleaf is a 67-year-old Harvard graduate, former World Bank economist and ex-finance minister. Despite that record, she was another long shot, not only because of her gender, but because she was running against Mr. George Weah, an international soccer star who is wildly popular in his home country. She prevailed in a runoff vote.
More important than the two women's professional accomplishments was what they represented: reconciliation for two deeply divided societies. Ms. Bachelet was imprisoned, tortured and exiled under the military dictatorship of Gen. Augusto Pinochet. Her father, a general himself, died in jail after being tortured, for alleged leftist sympathies, by men he and his daughter considered friends. A former lover was also tortured by the government. And yet Ms. Bachelet still served as defense minister and used that post to seek reconciliation, not revenge, with the institution that had brought her so much pain.
Ms. Johnson-Sirleaf was twice exiled, was under house arrest for a time, and was sentenced to 10 years in prison, a term that was shortened when she agreed to leave the country. In both Chile and Liberia, the two new presidents represent a turn from the violence and bloodshed that have dominated the past and an attempt to heal wounds that have divided their countries.
For Ms. Bachelet, the task is easier: Chile has had over 15 years of successful rule by the left, which was once outlawed by the junta. Although income equalities remain, and some pockets of resistance battle against a full accounting of the Pinochet years, both are gradually diminishing. Her pragmatism, like that of her predecessors, will help win over resistance.
Ms. Johnson-Sirleaf's job is much more challenging. Two decades of civil war have virtually destroyed Liberia: Over 150,000 lives have been lost in the conflict and the country, once one of the most stable in Africa, is now a basket case. The country needs to be rebuilt from the ground up. Even though last year's elections were relatively peaceful, former dictator Samuel Doe threatens to return and destabilize the country.
A growing number of women are taking charge of governments. Ms. Angela Merkel was elected Germany's first female chancellor in November. Ms. Tarja Halonen is expected to win upcoming Finnish national elections. Women lead 11 of the world's 193 countries. By contrast, only 45 served as presidents or prime ministers in the half century prior to 2000. Today, women hold 6,690 seats in national parliaments, an all-time high. There are 43, another record, in Japan's Lower House.
Those gains represent attempts to increase the number of women in national politics. A decade ago, at the U.N. Conference on Women, attendees set a goal of having women hold at least 30 percent of seats in national parliaments. Seventy countries have set hard quotas or voluntary goals for women's participation. Yet the gains to date only underscore how low the starting point was and how far there still is to go: Today's "all time high" represents only 16 percent of the seats in national legislatures.
Ms. Bachelet has pledged to bring more women into Chilean politics and promised that women would get half the posts in her Cabinet. She will be assisted by the perception that women are less corrupt (a perception that is based on fact, according to a World Bank study), less divisive, inclined to more inclusive and participatory politics, and have more empathy for the less fortunate. Similar thinking propelled Ms. Johnson-Sirleaf into office. Of course, the record of their male predecessors also contributed.
Women are not a cure-all for the ills of the political world. There have been plenty of female leaders that have defied these generalizations and ruled, well, just like men. Still, gender alone should not disqualify an individual from office. The evidence shows there is still a long way to go.
The Japan Times: Jan. 25, 2006
The New York Times
January 22, 2006
Op-Ed Contributor
Three Decades After Roe, a War We Can All Support
By WILLIAM SALETAN

Washington
EVERY year, on the anniversary of Roe v. Wade, pro-lifers add up the fetuses killed since Roe and pray for the outlawing of abortion. And every year, pro-choicers fret that we're one Supreme Court justice away from losing "the right to choose." One side is so afraid of freedom it won't trust women to do the right thing. The other side is so afraid of morality it won't name the procedure we're talking about.
It's time to shake up this debate. It's time for the abortion-rights movement to declare war on abortion.
If you support abortion rights, this idea may strike you as nuts. But look at your predicament. Most Americans support Roe and think women, not the government, should make abortion decisions. Yet they've entrusted Congress and the White House to politicians who oppose legal abortion, and they haven't stopped the confirmations to the Supreme Court of John G. Roberts Jr. and, soon, Samuel A. Alito Jr.
You can tell yourself that the pro-choice majority stayed home in the last election, or that they voted on other issues, or that Democrats botched the debate. But those excuses are getting tired. Sixteen years ago, as the behavior of voters and politicians showed, abortion was clearly a winning issue for you. Now it isn't. You have a problem.
The problem is abortion - the word that's missing from all the checks you've written to Planned Parenthood, Naral Pro-Choice America, the Center for Reproductive Rights and the National Organization for Women. Fetal pictures propelled the Partial-Birth Abortion Ban Act and the Unborn Victims of Violence Act through Congress. And most Americans supported both bills, because they agree with your opponents about the simplest thing: It's bad to kill a fetus.
They're right. It is bad. I know many women who decided, in the face of unintended pregnancy, that abortion was less bad than the alternatives. But I've never met a woman who wouldn't rather have avoided the pregnancy in the first place.
This is why the issue hasn't gone away. Abortion, like race-conscious hiring, generates moral friction. Most people will tolerate it as a lesser evil or a temporary measure, but they'll never fully accept it. They want a world in which it's less necessary. If you grow complacent or try to institutionalize it, they'll run out of patience. That's what happened to affirmative action. And it'll happen to abortion, if you stay hunkered down behind Roe.
Roe is 33 years old today. It freed us from ham-fisted criminal laws that pretended to solve the abortion problem. But it didn't solve the problem, and it never will. It gave us the opportunity - and the challenge - to help women exercise choice before, not after, fetal development. In the moral arc of history, abortion was a step forward from infanticide. Abortion pills that act early in pregnancy are the next step, followed by morning-after pills, which prevent implantation. The ultimate destination is contraception or abstinence.
For several decades, abortion-rights advocates have tried to change the subject. The real question, they argued, was who should make the abortion decision, not what that decision should be. With the question put that way, they won. But they never faced the question of abortion's morality. So the debate became a contest between the two questions. A decade ago, with the coinage of "partial-birth abortion," pro-lifers gained the upper hand. President Bush focused the debate on a culture of life. When the question is "what" instead of "who" - morality instead of autonomy - pro-lifers win.
The lesson of those decades is that you can't eliminate the moral question by ignoring it. To eliminate it, you have to agree on it: Abortion is bad, and the ideal number of abortions is zero. But by conceding that, you don't end the debate, you narrow it. Once you agree that the goal is fewer abortions, the only thing left to debate is how to get there. As a politician might put it: "My opponent and I are both pro-life. We want to avoid as many abortions as we can. The difference is, I trust women to work with me toward that objective, and he doesn't."
Isn't that better than anything you heard from John Kerry?
The problem with using restrictions to reduce the number of abortions isn't that the restrictions are judgmental. It's that they're crude. They leap too easily from judgment to legislation and criminalization. They drag police officers, prosecutors and politicians into personal tragedies. Most people don't want such intrusion. But you lose them up front by refusing to concede that there's anything wrong with abortion. You have to offer them anti-abortion results (fewer abortions) without anti-abortion laws.
The pro-choice path to those results is simple. Help every woman when she doesn't want an abortion: before she's pregnant. That means abstinence for those who can practice it, and contraception for everybody else. Nearly half of the unintended pregnancies in this country result in abortions, and at least half of our unintended pregnancies are attributable to women who didn't use contraception. The pregnancy rate among these women astronomically exceeds the pregnancy rate among women who use contraception. The No. 1 threat to the unborn isn't the unchurched. It's the unprotected.
Solutions are already on the table. Give more money to Title X, the federal program that finances family-planning. Expand health insurance and access to morning-after pills. Educate teenagers about sex, birth control and abstinence. Many of these ideas are in the Prevention First Act, which Democrats ritually file and Republicans ritually ignore. Some pro-choice activists would go further, by pushing for more contraceptive diligence in the abortion counseling process, especially on the part of those women who come back for a second abortion. What's missing is a clear anti-abortion message to unite these proposals.
A year ago, Senator Hillary Clinton marked Roe's anniversary by reminding family planning advocates that abortion "represents a sad, even tragic choice to many, many women." Some people in the audience are reported to have gasped or shaken their heads during her speech. Perhaps they thought she had said too much.
The truth is, she didn't say enough. What we need is an explicit pro-choice war on the abortion rate, coupled with a political message that anyone who stands in the way, yammering about chastity or a "culture of life," is not just anti-choice, but pro-abortion. If the pro-choice movement won't lead the way, politicians just might.
William Saletan, Slate's national correspondent, is the author of "Bearing Right: How Conservatives Won the Abortion War."
January 24, 2006
Roe v. Wade, Beyond the Extremes (6 Letters)
To the Editor:
Re "Three Decades After Roe, a War We Can All Support" (Op-Ed, Jan. 22):
William Saletan is correct that "it's time for the abortion-rights movement to declare war on abortion." Doing so would make it the voice of many women who have been unrepresented in the virulent shouting match that the abortion debate has become.
As one who has long been pro-choice but anti-abortion, I long for honest discussion about options for women that both respect their right to make their own reproductive decisions and encourage practices that are life-affirming.
Unfortunately, fear on the left that any move from a rigid "abortion on demand with no restrictions" position will take women back to the back alleys makes discomfort with abortion unspeakable in that quarter.
Equally difficult are the folks on the right who steadfastly refuse to accept the use of contraception under any circumstance, thus taking the main means of preventing abortion off the table.
If the debate is to change, more reasoned voices in the middle will have to raise the volume enough to be heard over the screaming extremes.
(Rev.) Anne-Marie Hislop
Davenport, Iowa, Jan. 22, 2006
•
To the Editor:
William Saletan's assessment of the politics and morality of abortion is on target in every way but one. What we call the abortion conflict is not just about abortion; it is about sexuality in general and women's sexuality in particular. A thought experiment will make this clear.
Suppose the pro-choice forces offered the pro-life forces a truce. Under its terms, both sides would cease all activities pertaining to abortion itself. Instead, they would devote their full resources of money, political clout, moral authority and volunteer time to promoting universal sex education and easy access to contraception, with the goal of eliminating abortion by preventing unwanted pregnancies.
Whichever side of the debate you are on, can you imagine the pro-life movement accepting this plan, even if its success were somehow guaranteed?
Mr. Saletan dismisses "yammering about chastity" as if it were the least of our worries. That, alas, is wishful thinking.
James Trilling
Providence, R.I., Jan. 22, 2006
•
To the Editor:
While I was thrilled to read William Saletan's argument for a more anti-abortion approach to the pro-choice movement, he did not mention another very important reason to consider this ideological shift: viability.
Roe v. Wade rests upon the idea that a fetus is not a "person" until it is able to survive outside the womb. As technology pushes that point of viability back, the time at which a woman may legally abort will be pushed back as well.
Because of this, the pro-choice movement has always been on the road to certain demise. It's critical that we start to focus our energies on the real problem: unwanted pregnancies.
Amy DiTullio
New York, Jan. 22, 2006
•
To the Editor:
William Saletan gets it mostly right but doesn't mention one crucial factor in unwanted pregnancies. Most are the result of a man's refusal to wear a condom.
Any fair and honest war against abortion and unwanted pregnancies must insist that both partners - not just the woman - use contraceptives.
Judith Raddue
Chicago, Jan. 22, 2006
•
To the Editor:
I agree with William Saletan that pro-choice groups need to target women before they are pregnant.
The pro-choice position has evolved over the years into a stance that is untenable for most reasonable adults, which is that not only are abortions O.K., but hey, they're great! Or at least that there are few if any negative consequences to them.
But why insist that abortions are O.K. to get when we have this thing called birth control. Yes, it's true - you can actually prevent pregnancy and avoid abortion.
I am 32 and had my first child last October. I never got pregnant accidentally before that because I made very, very sure that I always practiced safe sex.
On two occasions, just to be safe after an "accident," I took the morning-after pill. On one of those occasions, when I had just moved to New York and didn't have a doctor or insurance yet, I bought a prescription online and had the pills the same day.
Why was I so careful? Because I never wanted to have an abortion.
For the number of abortions to start going down, we need a culture not of "life," but one of personal responsibility.
Laurie Gigliotti
Venice, Calif., Jan. 22, 2006
•
To the Editor:
It is impossible not to agree with William Saletan that abortion is bad. Contrary to the popular belief, it is not a judgment forced on us by the "Christian right"; it is not even a religious issue per se, merely that of basic fairness, decency and humanness.
No cultures known to mankind, including non-Christian and pre-Christian ones, would have allowed the mere thought of killing a new life in the mother's womb.
With life, liberty and the pursuit of happiness as core rights, the right of a fetus to be born clearly trumps the mother's liberty to choose otherwise.
Alas, discussion is of no use. The solutions offered by Mr. Saletan will lead to nowhere for a very simple reason: abortion is far more than a "choice" as professed by its advocates; it is the only ace card of the feminist establishment in asserting power in the face of male "chauvinist" dominance, and it will fight tooth and nail to the last to preserve it.
Andre Huzsvai
Boston, Jan. 22, 2006
The New York Times
January 23, 2006
Editorial
Judge Alito's Radical Views
If Judge Samuel Alito Jr.'s confirmation hearings lacked drama, apart from his wife's bizarrely over-covered crying jag, it is because they confirmed the obvious. Judge Alito is exactly the kind of legal thinker President Bush wants on the Supreme Court. He has a radically broad view of the president's power, and a radically narrow view of Congress's power. He has long argued that the Constitution does not protect abortion rights. He wants to reduce the rights and liberties of ordinary Americans, and has a history of tilting the scales of justice against the little guy.
As senators prepare to vote on the nomination, they should ask themselves only one question: will replacing Sandra Day O'Connor with Judge Alito be a step forward for the nation, or a step backward? Instead of Justice O'Connor's pragmatic centrism, which has kept American law on a steady and well-respected path, Judge Alito is likely to bring a movement conservative's approach to his role and to the Constitution.
Judge Alito may be a fine man, but he is not the kind of justice the country needs right now. Senators from both parties should oppose his nomination.
It is likely that Judge Alito was chosen for his extreme views on presidential power. The Supreme Court, with Justice O'Connor's support, has played a key role in standing up to the Bush administration's radical view of its power, notably that it can hold, indefinitely and without trial, anyone the president declares an "unlawful enemy combatant."
Judge Alito would no doubt try to change the court's approach. He has supported the fringe "unitary executive" theory, which would give the president greater power to detain Americans and would throw off the checks and balances built into the Constitution. He has also put forth the outlandish idea that if the president makes a statement when he signs a bill into law, a court interpreting the law should give his intent the same weight it gives to Congress's intent in writing and approving the law.
Judge Alito would also work to reduce Congress's power in other ways. In a troubling dissent, he argued that Congress exceeded its authority when it passed a law banning machine guns, and as a government lawyer he insisted Congress did not have the power to protect car buyers from falsified odometers.
There is every reason to believe, based on his long paper trail and the evasive answers he gave at his hearings, that Judge Alito would quickly vote to overturn Roe v. Wade. So it is hard to see how Senators Lincoln Chaffee, Olympia Snowe and Susan Collins, all Republicans, could square support for Judge Alito with their commitment to abortion rights.
Judge Alito has consistently shown a bias in favor of those in power over those who need the law to protect them. Women, racial minorities, the elderly and workers who come to court seeking justice should expect little sympathy. In the same flat bureaucratic tones he used at the hearings, he is likely to insist that the law can do nothing for them.
The White House has tried to create an air of inevitability around this nomination. But there is no reason to believe that Judge Alito is any more popular than the president who nominated him. Outside of a small but vocal group of hard-core conservatives, America has greeted the Alito nomination with a shrug - and counted on senators to make the right decision.
The real risk for senators lies not in opposing Judge Alito, but in voting for him. If the far right takes over the Supreme Court, American law and life could change dramatically. If that happens, many senators who voted for Judge Alito will no doubt come to regret that they did not insist that Justice O'Connor's seat be filled with someone who shared her cautious, centrist approach to the law.
▲
by

alfayoko2005

| 2006-01-24 15:23
Japan's Male Crisis May Give The 'Weaker Sex' the Throne
Japan Ponders Letting Women Rule, or Concubines
By CHARLOTTE SECTOR - ABC News

Jan. 23, 2006
— - Faced with no male heirs, Japan's boy-only emperor club may have to crack its doors and let women in.
Prime Minister Junichiro Koizumi has pledged to submit a bill to change the constitution and let female heirs ascend to the imperial throne. But he gave no specific date for the bill nor said exactly how it would be written.
That means 4-year-old Princess Aiko has a chance of becoming an empress, since she's the only child of Crown Prince Naruhito. She's got some time to prepare, since her father has first dibs on the throne.
Not everyone in Japan agrees with women sitting on the throne, but with no male heir born to the royal family since 1965 and with little chance of getting one (both princes are in their 40s), Koizumi is betting on the future with women.
Naruhito has a younger brother, Akishino, but he and his wife have two daughters.
Male Crisis
Women have been barred from succeeding to the throne under a law passed in 1947. That same law also automatically strips female royals of all royal advantages when they get married.
Two months ago, Aiko's aunt, Princess Sayako, married a "commoner" and bid farewell to her family and her royal title.
After 36 years of pampered life, Sayako had no chance to rule the country, so she gave it all up for her 40-year-old hubby. Out went privilege, in came housework.
In his keynote speech to parliament, Koizumi said that changes must be made "in order that the imperial throne be continued into the future in a stable manner."
After all, women have worn the crown before. The last empress ruled the Land of the Rising Sun from 1762 to 1770.
My Favorite Concubine
Some say that maintaining male lineage trumps all, and that the princes should use concubines to pop out male heirs.
The current emperor's cousin, Prince Tomohito of Mikasa, favors male bastards to blue-blooded women.
Japan's priests also oppose letting the "weaker sex" take the reins of the country. The Shinto priest association said the bill would "damage national respect for the throne."
No word on whether they advocate Tomohito's take on the issue with preapproved mothers-to-be, but it may never come to that.
A recent poll revealed that 80 percent of the Japanese public wants Aiko to become empress.
As modernity trumps tradition, maybe Aiko can give everyone a jolt by taking on male concubines when she rules.
Marriage proposal: Why not privatize?
Partnerships could be tailored to fit
- Colin P.A. Jones
San Francisco Chronicle
Sunday, January 22, 2006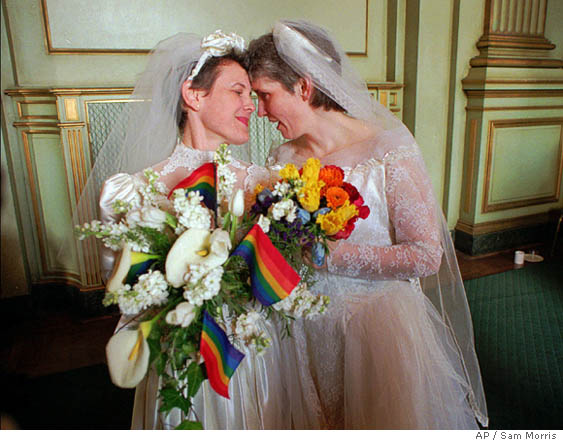 Jan Stafford (right) and Maxine Kincora celebrate their union at City Hall in the mid-'90s under a new San Francisco ordinance. Associated Press photo, 1996, by Sam Morris
A fundamental problem with marriage is that it only comes in one size. As a legal relationship, matrimony is a monopoly product supplied by the government.
At the same time, however, as a personal relationship, the institution has unique, personal importance to those who partake of it. To some it even has deeply felt religious significance.
Thus, there is a mismatch between what is demanded of marriage and what is supplied. It is this imbalance that makes the prospect of same-sex unions a seemingly intractable problem.
Because there is only one legally sanctioned version of marriage, those who personally view homosexuality as a mortal sin (rightly or wrongly) are hostile to the prospect of sharing it with gay couples.
As with many things in life, a free-market solution that offers people choice may provide a solution.
Subject to certain statutory constraints, businesspeople have long been free to form whatever sort of partnership they felt appropriate to their needs. Why not make the same possible for marriage, which is a partnership based on one of the oldest types of contractual relationships?
We are already there in some respects -- no-fault divorce states such as California already treat the dissolution of a marriage largely in the same way as the dissolution of a corporate partnership.
Couples entering into marriage should be able to use a partnership agreement that is tailored to their own circumstances and aspirations, one that reflects the values and expectations that they themselves attach to marriage.
Of course, it will be impractical to expect everyone to be able to draft a workable partnership agreement that will govern a (hopefully) lifelong relationship. Off-the-shelf marital partnership kits would be developed by lawyers and other private enterprises to fill this need. Customized products would be available, too.
Even greater participation could be achieved through the establishment of marital corporations (MCs), which could have hundreds or thousands of couples as shareholders, all sharing common values about marriage.
Couples getting married would subscribe to the shares of an existing marital corporation. Its charter documents would set forth the terms of the marriage to which the subscribing couples agree.
Here is where a plethora of choices would become available to prospective newlyweds.
A Catholic marital corporation would forbid its members from divorcing. Progressive marital corporations would allow gay marriage. Islamic or Mormon fundamentalist marital corporations could allow polygamy. Plain vanilla marital corporations would probably be popular among people who just want to get married without thinking about it too much.
Consideration of the wide range of available options might actually encourage people to think about what they want out of their marriage. And once those with strong feelings about homosexuals, divorcees, Republicans or whatever, are able to exclude such people from their own version of marriage by joining a like-minded marital corporation, they are less likely to object to same-sex couples joining more-accepting ones (or even ones that accept only homosexuals).
Exclusivity and the use of choice to define one's identity are at the core of modern consumer society. Extending this to marriage is only logical. Marital corporations would be a huge boost to the multibillion-dollar wedding industry, while opening up a vast range of possible business opportunities throughout society.
Some could be established as nonprofit organizations that also work in furtherance of social or environmental causes about which some couples have strong feelings.
Others might become investment vehicles, whose assets form the marital nest egg. Still others might charge a subscription fee that would then be invested to pay dividends to lasting marriages upon significant anniversaries.
Very exclusive branded MCs could charge extravagant membership fees; getting married through say, the Tiffany Marriage Corp., could be a huge status symbol for which some people might pay a hefty premium.
Some might become social clubs through which like-minded couples can develop friendships or business contacts. With incentives to develop marital corporations that cater to all sectors of society, marriage would turn into an even bigger business than it already is. This is usually what happens when you offer consumers more choice.
Numerous issues would have to be worked out, of course. Just as with any contractual relationship, minors below a certain age would be excluded from joining a marital corporation.
Exemptions to securities laws would be needed to free marital corporations from having to register with the Securities and Exchange Commission. Marital corporation shares would not be freely transferable, except perhaps to children (as precious family assets, like Mom's wedding ring).
The messy issues that arise in a divorce would still be there, just as they are in any bankruptcy or corporate dissolution.
And what do you do if you want to get divorced and remarry but have done your first marriage through a marital corporation that does not permit it?
Subscribe to a marital corporation that allows polygamy, perhaps, or at least be willing to assume whatever financial liabilities a breach of the shareholder terms of your first marital corporation requires.
Freedom of choice means freedom of contract, and freedom of contract includes the freedom to breach a contract if you are willing to accept the consequences.
But because the marital corporation charter would also be a perfect place to include prenuptial terms, divorce might actually be simplified, as more people would be likely to have at least some terms in place clarifying their rights and obligations when the union goes bad.
The reproductive aspects of marriage will also cause issues. Not because marital corporations will change the way the law deals with children in divorce situations (and I am not suggesting we incorporate the parent-child relationship), but because allowing same-sex unions (either through a marital corporation regime or the ad hoc approach some states are already following) will eliminate the presumption of reproduction that underlies traditional marriage.
Big deal, respond gay marriage proponents, who will point out that nobody looks at the reproductive capabilities of male-female couples before allowing them to marry, even after child-bearing age.
However, this argument ignores the fact that reproduction is only a presumption of marriage, but a very useful one, just like the presumption that minors (no matter how precocious) are incapable of consenting to sexual intercourse. If the presumption of reproduction is no longer needed, then there is no real reason to prevent incestuous marriages.
This too may sound like a typical alarmist "slippery-slope, where will it end?" argument against gay marriage, but that is not the intent. Marriage may be about a lifelong loving relationship, but in today's world, it is also about benefits.
I have an unabashedly heterosexual friend who works for a major corporation. Because she lives in Massachusetts, where gay marriage was recently legalized by judicial fiat, she has started talking about marrying one of her best girlfriends for the sole purpose of giving her friend access to her company's health care benefits.
Fraudulent, some might say, but why not? Does anyone want to get into the business of determining who is really gay and who isn't?
And once gays can get married in same-sex unions, why can't heterosexuals? And if my friend can marry her friend to get spousal benefits, why can't I do the same thing for my widowed mother? Or my sick, unemployed brother?
If marriage is not at least presumptively about reproduction anymore, there is no real reason to disallow any of these things. This is not an endorsement of incest, but if marriage is no longer about sex (hetero, reproductive or otherwise), intra-family marriages cease to be a problem.
While people would be free to use a marital corporation to enter into whatever type of marriage they wish for, governments and corporations would be able to limit the types of marital corporations they will recognize for benefits purposes.
Marital corporations that wish to be eligible for federal spousal benefits might be required to have mandatory provisions in their corporate charters that, for example, prohibit gay unions but permit interracial ones.
Such limitations may reflect public policies, economic realities or both, but at least it will enable us to get the government out of the business of deciding who can and who can't get married.
Just as corporations will be able to "choose" marital corporations for benefits purposes, employees will be able to choose, too. Businesses that are too restrictive in the range of spouses they offer benefits to will find themselves having trouble attracting qualified employees. The marital corporation regime will not satisfy everyone. But more people will be at least partially satisfied, which is a sign of a good compromise, and will surely be an improvement over the simplistic "marriage/not marriage" dichotomy that currently defines the institution.
More important still, people will be able to exercise some choice in how their marriage is treated, rather than having the result imposed by the government. Yes, you can have a polygamous marriage, but you do so on the understanding that you may sacrifice your access to spousal benefits.
There are, after all, as many types of marriage as there are marriages. Recognizing this reality in the law would doubtless save us all from endless strife among those who would seek to turn the institution into something that they control through defining what it is.
The tremendous business opportunities that privatizing marriage would create would be a happy side benefit.
Colin P.A. Jones is a U.S. lawyer and professor at Doshisha University Law School in Kyoto, Japan. A longer version of this article will appear in the Summer 2006 issue of The Independent Review. Contact us at insight@sfchronicle.com.
Page D - 1
URL: http://sfgate.com/cgi-bin/article.cgi?file=/c/a/2006/01/22/ING6FGOLVA1.DTL
La propuesta matrimonial: ¿Por qué no privatizarla?
22/1/2006
Colin P.A. Jones
San Francisco Chronicle
TIME
Sunday, Jan. 22, 2006
Making a Man of Her
A woman puts on stubble and pants and spends a year living, bowling and dating as a guy
By LEV GROSSMAN
God gave Norah Vincent A gift: huge feet. She wears a size 11 1/2. Men's 11 1/2. That is not something she has necessarily always felt grateful for. "A lot of times I have to buy men's shoes," she says. But those big dogs wound up coming in handy when she spent 18 months dressing, talking, working and dating as a man.
Vincent didn't cross the great gender divide for the sheer fun of it. In fact, she found the experience extremely painful. "Looking back on it now," she says, "I never would have done it if I had known what it really was. I had no idea that it would take this big a toll." She did it in order to write a book, Self-Made Man (Viking; 290 pages), about how the other half lives. Kind of like Maureen Dowd but with research.
In person, Vincent is affable and articulate. She is neither an avenging feminist valkyrie nor a Coulteresque apologist for the patriarchy. She's more like a neutral anthropologist, genuinely curious about what on earth could possibly make men act the way they do. Vincent doesn't look especially masculine, although she is on the tall side--5 ft. 10 in. and lanky--and her voice is somewhat south of the alto range. (And there's the feet.) So she created an alter ego whom she named Ned.
Ned looked a lot like Norah but with accessories: a sports bra to keep her breasts under wraps, a manly new flat-top haircut, a weight-lifting routine to bulk out Norah's girly shoulders, and a prosthetic penis to fill out his/her crotch. And Vincent hired a voice coach to teach her to talk like a guy--slowly, with as little expression as humanly possible, keeping those emotions under wraps and the hand gestures to a minimum.
Ned also came with a dusting of fake stubble for Vincent's smooth, pink, ladylike cheeks--"I was always thinking, Is it coming off? I always had this little hanky. I'm sure people thought it was really affected. I was always going to the bathroom to check it." Plus, Ned had a brand-new manly attitude. "One of the things I picked up as a man was projecting a certain confidence and authority and entitlement," Vincent says. "As a woman, you're often apologizing for things."
For Vincent, putting on Ned's costume almost every morning was like descending into the ocean in a bathysphere or hacking her way into the interior of the Amazon jungle, only that jungle is all around us every day. Ned took her places most women don't go, or can't, or wouldn't if you paid them. She joined an all-male bowling league. She ordered lap dances at strip clubs. She went on an Iron John--style men's retreat. She even spent three weeks in a Catholic monastery, in which she found that the ancient question "Ginger or Mary Ann?" was still being debated.
Of course, the chapter you flip to first is the one about dating. Vincent speed-dated. She hit on chicks in singles bars. (Vincent is gay, so it's not so big a stretch as you may think.) She went on dozens of Internet dates. Looking out from behind Ned's stubble, she was surprised at how much sexual power women have over men, even when women may feel disempowered in other ways, and how icily they wield it. She was also surprised how tough it was to keep up the façade of bluff, jocular arrogance that both sexes demand from men at all times. "Every man's armor is borrowed and 10 sizes too big," she writes in Self-Made Man, "and beneath it, he's naked and insecure and hoping you won't see."
If you're picking up on an undertone of empathy with the hairier sex, you're right. This isn't a we-are-the-world book in which Vincent rejoices in our common humanity. It's too subtle for that, too smart and too honest. If anything, she found the gender gap to be even more unleapable than she had expected. But she did come to believe that some feminist sniping at men is just too easy, that if women tried harder to understand men, they'd realize that men too are trapped by patriarchal prejudices in their own way. "I think men have been sort of forced to learn women's language, through the feminist movement," she says, "but women haven't seemed to evince a curiosity in learning men's language. Men have ways of communicating that women don't understand. And we think, because it's not our way, that nothing is being said." Ned would probably agree. Even though he's way too manly to say so.
'Self-Made Man: One Woman's Journey Into Manhood and Back Again,' by Norah Vincent
▲
by

alfayoko2005

| 2006-01-23 12:41 | トランス
The New York Times
Books
'Self-Made Man: One Woman's Journey Into Manhood and Back Again,' by Norah Vincent
Male Like Me
Review by DAVID KAMP
Published: January 22, 2006
Don't judge this book by its cover. It features two photographs of the author, Norah Vincent. In the first, she's a brassy, attractive woman with short, upswept hair and a confident smirk on her face. In the second, she's done up in man drag, with poindexter eyeglasses, a day's worth of stubble and a necktie. There's your premise in a nutshell: assertive, opinionated Vincent, best known as a contrarian columnist for The Los Angeles Times, goes undercover as a man to learn how the fellas think and act when them pesky broads ain't around. Flip the book open, and the first thing you come to is its dedication: "To my beloved wife, Lisa McNulty, who saves my life on a daily basis." Yes, ladies and gents, the author is a self-proclaimed "dyke."
Michele Asselin/Corbis
Norah Vincent.
SELF-MADE MAN
One Woman's Journey Into Manhood and Back Again.
By Norah Vincent.
290 pp. Viking. $24.95.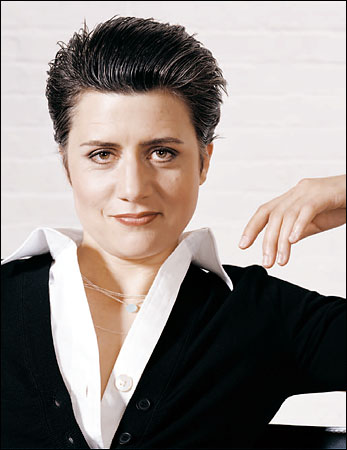 Michele Asselin/Corbis
Norah Vincent.
But "Self-Made Man" turns out not to be what it threatens to be, a men-are-scum diatribe destined for best-seller status in the more militant alternative bookstores of Berkeley and Ann Arbor. Rather, it's a thoughtful, diligent, entertaining piece of first-person investigative journalism. Though there's plenty of humor in "Self-Made Man," Vincent - like her spiritual forebear John Howard Griffin, the white journalist who colored his skin and lived as a black man in the South for his 1961 book "Black Like Me" - treats her self-imposed assignment seriously, not as a stunt.
All that said, it was a stunt that led to Vincent's undertaking her journey into Testostoland. One night a few years ago, she explains in the first chapter, a "drag king" friend of hers dared her to dress as a man and go for a walk in New York's East Village. Vincent pasted on some false facial hair, threw on some loose jeans and a baseball cap, and spent a few hours wandering the neighborhood. With the help of the evening darkness, which concealed the shoddiness of her disguise, Vincent didn't get found out, though she admits she barely interacted with anyone. But the very fact that no one paid her any mind was a small revelation. Vincent had lived in the East Village for years. "As a woman," she writes, "you couldn't walk down those streets invisibly. You were an object of desire or at least semiprurient interest to the men who waited there, even if you weren't pretty." But in her makeshift man drag, she found that the same stoop-sitters and bodega loiterers didn't stare at her. "On the contrary," she says, "when they met my eyes they looked away immediately and concertedly and never looked back. It was astounding, the difference, the respect they showed me by not looking at me, by purposely not staring." If this halfhearted attempt at gender switching could provide such insight, imagine what a year-plus immersion in manhood might yield.
And so Norah transforms herself into Ned. Ned comes into being via a flat-top haircut, a new wardrobe of sports jackets and rugby shirts, a pair of rectangular glasses, workouts to build up the shoulders and add 15 pounds of bulk, a cupless sports bra to flatten the breasts, a convincing layer of facial stubble (made of something called wool crepe hair and applied with an adhesive called stoppelpaste) and some lessons in male speech patterns with a Juilliard voice coach. For verisimilitude, Vincent also acquires a prosthetic member from a sex shop - though, the author takes pains to explain, it's a flaccid version designed specifically for cross-dressers, not an outsize toy for bedroom kicks.
Vincent's status as a "masculine woman" abets this transformation, but the subject of her lesbianism falls away, more or less, once her adventures as Ned begin. Indeed, one of the great attributes of "Self-Made Man" is its lack of agenda or presuppositions. To be sure, Vincent's status as a woman is what makes her observations of male behavior fresh - introducing herself to some guys in a bowling league, she's touched by the ritual howyadoin', man-to-man handshake, which, "from the outside . . . had always seemed overdone to me," but from the inside strikes her as remarkably warm and inclusive, worlds away from the "fake and cold" air kisses and limp handshakes exchanged by women. But in its best moments, "Self-Made Man" transcends its premise altogether, offering not an undercover woman's take on male experience, but simply a fascinating, fly-on-the-wall look at various unglamorous male milieus that are well off the radar of most journalists and book authors.
That bowling league, for example. Norah-as-Ned commits to it for eight months, becoming the weak link on a four-man team of working-class white men. (Vincent has changed the names of the characters and obscured the locations to protect the identities of her subjects.) The resultant chapter is as tender and unpatronizing a portrait of America's "white trash" underclass as I've ever read. "They took people at face value," writes Vincent of Ned's teammates, a plumber, an appliance repairman and a construction worker. "If you did your job or held up your end, and treated them with the passing respect they accorded you, you were all right." Neither dumb lugs nor proletarian saints, Ned's bowling buddies are wont to make homophobic cracks and pay an occasional visit to a strip club, but they surprise Vincent with their lack of rage and racism, their unflagging efforts to improve Ned's atrocious bowling technique and "the absolute reverence with which they spoke about their wives," one of whom is wasting away from cancer.
Compelling in a rather different way is Vincent's account of working as a salesman for one of those shady, Mamet-ready outfits that advertise in the classifieds, offering $$$ to "high-powered" prospects, no experience necessary. Answering such an ad, Ned lands a thankless job going door-to-door selling "entertainment books" filled with coupons for discounts at local businesses. The raw, malevolent arrogance of Ned's fellow salesmen, who actually psych themselves up by shouting out such idiotic motivational acronyms as Juice (for Join Us In Creating Excitement), can't hide their desperation. Vincent scares herself when, dressed up in one of Ned's power blazers, she submits to the Juice mentality and actually succeeds at being a feral-jerk saleswolf, earning her boss's praise as "a highly motivated type a guy."
Ned's whistle-stop tour of modern manhood also takes him to a Roman Catholic monastery, a lap-dance club, a men's consciousness-raising group and on a series of awkward dates with women. (Amusingly, Vincent is utterly astounded by the amount of rejection and hauteur that heterosexual men put up with.) Conspicuously absent from "Self-Made Man," though, are men leading full, contented lives. Perhaps this is a function of the limitations of Vincent's experiment - after all, a "man" created out of thin air and stoppelpaste can't very well insinuate himself into an elegant country club or a loving nuclear family.
But the pervasive melancholy of the milieus that Ned inhabits colors Vincent's conclusions too much. She is, I dare say, too respectful of the "men's movement" instigated by the publication of Robert Bly's "Iron John" in 1990. Attending a retreat with her men's group, she's detached enough to ridicule the tribal drums and plastic swords wielded at the retreat's climactic "spirit dance," but she still buys into the movement's victimography and faux-purgatory nonsense. "I passed in a man's world not because my mask was so real, but because the world of men was a masked ball," Vincent writes. "Only in my men's group did I see these masks removed and scrutinized."
After 200-odd pages of honest and often sympathetic but never mawkish portraiture of the men in Ned's life, this folie à twaddle is a tad disappointing. But what comes before is so rich and so audacious that I'm compelled to remove my critic's mask and reveal to you the supine, unshaven male reader, hooked from Page 1.
David Kamp, a contributing editor to Vanity Fair, is at work on a book about the American food world, to be published later this year.
▲
by

alfayoko2005

| 2006-01-23 12:31 | Books