カテゴリ
以前の記事
検索
最新のトラックバック
その他のジャンル
ファン
記事ランキング
ブログジャンル
画像一覧
タワレコ初のライフスタイル・マガジン「yes」、第2号発行。表紙は映画「Brokeback Mountain」主演のHEATH LEDGER
2006-02-20 掲載 - bounce
昨年12月に創刊したタワーレコード初のライフスタイル・マガジン「yes」。LGBT(L=レズビアン、G=ゲイ、B=バイセクシャル、T=トランスジェンダー)のセンス、視点を包含した新メディアとして多くの反響をいただいたこの雑誌の第2号がめでたく発行される運びとなりました。  
 3月15日発行となる第2号の表紙には、ゴールデン・グローブ賞で最多4部門を獲得しアカデミー賞の最有力候補ともされる映画「ブロークバック・マウンテン」の主演俳優ヒース・レジャーが登場。そのほか大特集としては、イギリスにて昨年12月より施行された同性カップルの結婚を認める〈シビル・パートナーシップ法〉について、エルトン・ジョン、ジョージ・マイケルほかの動向から、英国の実情までをドキュメントします。音楽、ファッション、映画、アートほかの最新情報も盛り沢山で詳細は下記の通り。ぜひご期待ください。    
 ・「yes」第2号 掲載予定記事
 - 表紙:ヒース・レジャー
 - Special Feature:「ブロークバック・マウンテン」
 ヒース・レジャー インタビュー  
 - 大特集:「パートナーズ:同性婚というかたち ロンドンルポ」  
 - 小特集:「ペアで楽しむグッズ」
 宝飾時計、ベルト、シューズ、リング など  
 - 小特集:ミュージカル映画「RENT」
 映画化されたブロードウェイの人気ミュージカルについて、主演俳優インタビューを交え紹介  
 - ファッショングラビア:DIESEL2006年夏コレクション
 モデル・菅原卓磨(「男たちの大和」ほか)  
 - PICK UP:
 マドンナ、ジョージ・マイケルからの来日メッセージ
 企業と社会、LGBTマーケットとのパートナーシップ(ボディショップ、外資系証券会社)  
 - カルチャーレビュー:
 音楽:アンソニー・アンド・ジョンソンズ、ルーファス・ウェインライト、センティ・トイをGreat3片寄明人が紹介、タワーレコード新宿店コーナーとの連動による〈Rainbow Tower〉コラム ほか
 映画:「プロデューサーズ」、「ウォレスとグルミット」 ほか
 DVD、アート、BOOK、STAGEの注目作品紹介  
 - ライフスタイルコラム
 インテリア:新生活に備えて
 ミール:注目のアイスクリームショップ
 フィットネス:2人でエクササイズ
 ビューティ:春先のフェイス・ウォッシュ
 イベント:お台場で開催される大規模クラブミュージック・イベント〈渚音楽祭〉
 クッキング:「ブロークバック・マウンテン」気分で楽しむ野外パーティ  
 - 連載コラム:鏡リュウジ(占い)、橋口亮輔(映画監督)、しりあがり寿(漫画エッセイ)  
 ※記事のタイトル及び、内容については変更となる可能性があります。予めご了承ください。
・タワーレコード初のライフスタイル・マガジン「yes」2005年12月8日創刊!!
The New York Times
Within Islam's Embrace, a Voice for Malaysia's Women
By JANE PERLEZ
Published: February 19, 2006
KUALA LUMPUR, Malaysia, Feb. 12 — Sometimes it seems that Zainah Anwar — articulate, a little brassy, a presence wherever she goes — single-handedly keeps the flame for women's rights alive in Malaysia, a country that portrays itself as the model of a progressive Muslim society.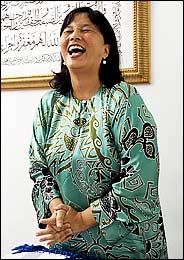 Tara Sosrowardoyo for The New York Times
Zainah Anwar, a founder of Sisters in Islam, a women's advocacy group.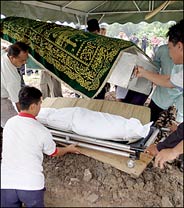 Reuters
Islamic authorities in Malaysia recently ordered that a well-known Malaysian Hindu be buried as a Muslim, against the wishes of his wife.
With the acid touch that has made her an accomplished campaigner, Ms. Zainah calls the officials in the government religious departments "those Taliban-minded bureaucrats." Then skittering back from the precipice of real trouble, she notes that nearly 50 percent of Malaysian women work, some in top jobs, including the governor of the Central Bank.
Ms. Zainah, one of her nation's best known figures, is a founder of Sisters in Islam, sassily known as SIS, which has for nearly 20 years lobbied for justice for women, always within the framework of Islam and the words of the Koran.
In doing so, her group confronts the conundrum that is Malaysia: a relatively prosperous, politically stable nation of 24 million yet one where powerful Islamic Affairs Departments in the 13 states and a federal jurisdiction that includes the capital, Kuala Lumpur, run Shariah courts that administer Islamic affairs, including matters of marriage, divorce and death.
"I want an Islam that upholds the principles of justice, equality, freedom and dignity," she said. "There is nothing contradictory between wanting these principles to guide and govern your life and being a good Muslim."
In her latest victory, Ms. Zainah forced the government to step back from amendments to the family law that made it easier for men to practice polygamy and to divorce.
Her group fought the amendments not only because they represented a backward step, but also because the governing party of Prime Minister Abdullah Badawi insisted that the women in the Senate who personally opposed the new amendments vote in their favor.
"Senators were told to vote against their conscience," said Ms. Zainah, 51, who attended graduate school in the United States. "Can you imagine, in the debate, one minister apologized to her daughter for having to vote with the party whips. She was in tears."
The Parliament passed the amendments just before the end of the year, and Ms. Zainah began a strong opposition campaign that was covered in the news media. In mid-January, the government announced that the cabinet would review the measures. Ms. Zainah and members of other women's groups and the bar association were invited to join a broad commission to find a compromise.
"The cabinet ordered the attorney general — and not the religious department — to find solutions," she said triumphantly. "They recognized that the religious department and its obscurantist apparatchiks are the source of the problem." It was the first time, she said, that the forces of progress were sitting in the same room "on equal terms" with Islamic clerics and scholars.
As satisfying as the win might be, it illustrated the extent of the opposition Ms. Zainah and her supporters still face.
The politics of Islam in Malaysia are defined by the hand of former Prime Minister Mahathir Mohamad, who governed for 22 years before stepping aside in 2004. He left a country that, in contrast to many others in Southeast Asia, gives the impression of actually working — big roads, new factories — and that recovered smartly from the regional economic downturn of the late 1990's.
In order to keep at bay the leading Islamic party, Parti Islam se-Malaysia, Mr. Mahathir poured resources into the religious bureaucracy, giving it powers in the states and at the federal level on all matters to do with Islam. Malaysia is an Islamic state, unlike neighboring Indonesia, which rejected Islam as part of its Constitution at independence from the Dutch.
When Mr. Abdullah took over as Mr. Mahathir's successor in 2004, he was seen as a reformer who would soften the increasingly rigid Islam of the religious courts. But so far, Mr. Abdullah has taken few steps to curb the powers of the religious leaders.
Instead, the government closed a provincial newspaper, The Sarawak Tribune, on Feb. 9 after it published the Danish cartoons of the Prophet Muhammad, and made it an offense to own or copy the cartoons.
But Ms. Zainah said she believed that Mr. Abdullah would be forced to moderate the policies of the religious leaders to save Malaysia's reputation. She also said the prime minister, who is chairman of the Organization of the Islamic Conference, is genuinely progressive.
In an embarrassing incident last month, Islamic religious authorities insisted on giving a Malaysian celebrity an Islamic burial, even though his family testified that he remained a Hindu until his death. The man, known simply as Moorthy, was the first Malaysian to scale Mount Everest. After Muslim authorities took away his body for burial, his wife appealed to a civil court. Her plea was refused.
But soon after, the prime minister announced that the attorney general would consult with a cross section of society to establish a new policy on the conversion of non-Muslims to Islam.
"A model progressive Muslim country," Ms. Zainah observed, "cannot show the world that it makes laws that discriminate against women and that allows its religious authorities to snatch away the body of a dead man from his grieving Hindu family."
As Ms. Zainah, a graduate of the Fletcher School of Law and Diplomacy at Tufts University, goes into battle, she holds some formidable cards. Chief among them are candor, not caring what others think and a refusal to be intimidated. She has not married, and said, "I don't want to be a slave to a man."
Another advantage: Ms. Zainah is close to two progressive women with powerful connections, Marina Mahathir, the daughter of the former prime minister, and Nori Abdullah, the daughter of the current prime minister. "He gets an earful from her," Ms. Zainah said, referring to Mr. Abdullah and his daughter.
At the end of a conference here on Islam and the West organized by New York University and the Malaysian government, the former president of Iran, Mohammad Khatami, asked to see Ms. Zainah and her colleagues.
What did she think of Mr. Khatami? "He failed to deliver," she said after their encounter. "When you govern in the name of Islam and fail to deliver on the aspirations of the people, Islam is seen to have failed. You bring disrepute to the religion. They found out Islam does not, after all, have the answers."
男女共同参画、東アジア担当相で議論 東京で国際会議へ
2006年02月20日08時42分 朝日
 内閣府が今夏に、東アジア各国の男女共同参画担当相による国際会議を東京で開く方針であることが、分かった。ジェンダー(社会的性別)の平等や仕事と家庭の両立などについて、自国の取り組みの成果や課題を話し合う目的で、今後各国に対して正式に参加を要請する。
 内閣府男女共同参画局によると、6月か7月に、東京都内で2日間程度を予定している。参加を呼びかけるのは中国、韓国のほか、東南アジア諸国連合(ASEAN)など十数カ国。すでに内々に打診している。
 同局は「東アジアには伝統的に男性の立場が強い国が多く、女性の社会進出も欧米に比べ遅れている。共通の基盤を持つ地域で集まり、情報や経験を交換する意義は大きい」としている。
 これまでアジア太平洋経済協力会議(APEC)のジェンダー担当官会合など事務レベルでは開かれているが、東アジアの担当閣僚らが集まるのは「過去にはなかったのではないか」という。
少子化対策など議論 4県の知事らと会談 (東京新聞茨城版 2006/02/20)
男女共同参画をテーマに講演する猪口大臣=水戸市で
 猪口邦子少子化・男女共同参画担当相が十九日に来県し、茨城、埼玉、千葉、栃木の四県内の自治体関係者と意見を交わした。
 茨城県庁で行われた「男女共同参画にかかわる研修会」で、猪口大臣はジェンダー(社会的性別)の定義などを説明。地方自治体への期待として「国は二〇二〇年までに、指導的地位に女性が占める割合を30%にするのが目標。民間にお願いしている以上、公的部門は率先して取り組むべきだ」と訴えた。県や市町村の職員らが熱心に聴き入った。また、少子化対策をテーマに、四県の知事らと会談し、国の考え方や地方の実情、要望を話し合った。終了後に会見した猪口大臣は「少子化問題に取り組む知事の熱意とリーダーシップを感じ取れた」と述べた。 (生島 章弘)
Los Angeles Times
February 19, 2006 latimes.com
EDITORIALS
Embracing an empress
JAPAN LOOKS LIKE A MODERN nation, with its sophisticated financial system, advanced technology and robust public healthcare. Yet in the arena of women's rights, stubborn traditions keep Japan lagging behind its Asian neighbors. A simple, symbolic step would be to allow a woman the right to ascend to the throne.
Imperial succession in Japan is not exactly a pressing matter. Emperor Akihito, 73 and in good health, has an eldest son standing by: Crown Prince Naruhito, who is 45. Yet the nation has taken extraordinary interest in the absence of male heirs in the following generation. Naruhito and his younger brother, Akishino, only have daughters.
Without any imperial grandsons on the horizon, Prime Minister Junichiro Koizumi recently offered a bill in Japan's parliament to make a constitutional change to allow for a female emperor. In a nation where women get second-class treatment in the workplace and at home, many politicians agreed that it is time to do away with a male-only right to the Chrysanthemum Throne, which has been politically powerless since the end of World War II. Polls show support for such a change.
Until a surprise arrived. On Feb. 7, it was announced that Akishino and his wife, Kiko, whose daughters are 14 and 11, were expecting a third child. It's still early in the pregnancy, and there's no word on whether a boy or girl is coming. Still, parliament erupted into cheers when the news broke. The prime minister set aside his proposed bill. Public support for the constitutional change slipped away.
Japan's imperial family may look dull compared with its British counterpart, but its own drama has ridden on the promise, and disappointment, of Naruhito and his wife, Masako. Naruhito was seen as something of a loser when he remained unmarried into his 30s, but his standing skyrocketed when it was revealed that he refused to consider all proposed brides because he was waiting for his secret love, an independent-minded and Harvard-educated diplomat. Their marriage in 1993 signaled the rise of the cosmopolitan, career-minded woman.
But the conservative bureaucrats of the Imperial Household Agency, which controls the family's purse and daily schedule, seemed threatened by the notion of change.
The agency punished Masako for her inability to produce a son, making her a virtual prisoner inside the Imperial Palace. She disappeared from public view in 2003, and her husband issued a rare public rebuke to the agency when it blocked Masako from traveling abroad with him.
Whether the emperor gets a grandson or granddaughter, Japan can take a step forward by embracing the legality, if not the reality, of equal rights for women, even on the imperial throne.
大阪府議・尾辻かな子さん:「性の多様性知り、広げてほしい」--浜松で講演 /静岡
 同性愛者であることを昨年8月に公表した大阪府議、尾辻かな子さん(31)の講演会が18日、浜松市城北の静岡大学で開かれた。県内外から約40人が訪れ、「性の多様性を知って、広げてほしい」と話す尾辻さんの言葉に熱心に聴き入っていた。
 講演は県男女共同参画センターなどの主催。尾辻さんは「『虹色』の社会をめざして」と題して、性的マイノリティーに関する基礎知識や公表した自身の体験、現在の思いなどを語った。
 尾辻さんは、人口の約1割いると言われる日本での同性愛者らの状況について、「差別や偏見を恐れて公表しにくく、社会の中で存在が明かされにくい」と指摘。当事者に対しては、「一人で悩みを抱えこまず、孤独にならないでほしい」と訴えた。さらに東海地震など災害時などについて「地域とのつながりを持ちにくい同性愛者が、救助されにくい状況になるのでは」と不安を話した。
 議員として公表してから半年が経過した。「政治の現場では、男女共同参画へのアレルギーが依然として強い。今後は行政が性の多様性についての教育体系を作っていくべきだ」と課題を挙げ、「社会はもっと同性愛嫌悪の問題と向き合う必要がある」と強調した。
 26日には静岡市駿河区馬渕の同センターで、午後1時半から都内の同性愛者団体代表、石坂わたるさんと母のモモさんが講演する予定だ。【望月和美】
毎日新聞 2006年2月19日
「常和の命水」にクラシック聴かせる
波動値が世界でトップクラス (伊那毎日新聞 2006/02/19)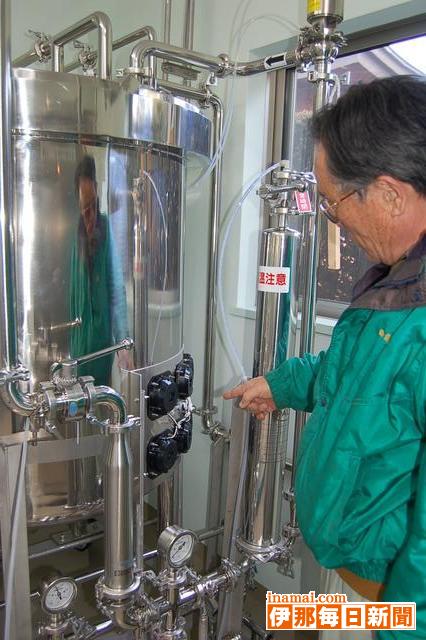 タンクにスピーカーを取りつけ、クラシックを聴かせる。「ありがとう」の言葉も添える
(2006/2/19)
 伊那市にある建設業「織建」の織井常和社長が代表を務める水製造・販売「いすゞ」は2月から、クラシック音楽を聴かせた南アルプスの深層水「常和の命水(ときわのめいすい)」を郵送用に売り出している。波動値が自然水の中で世界トップクラス。波動値は、人間も含めて物質が発している目に見えない超微弱エネルギー(波動)を数値化したもので、健康な人は高いといわれる。味も「さらっとしてまろやか」と評判だ。
 クラシックを聴かせたワインや焼酎、牛乳などがあることから、水はどうかと考えた。心をいやすモーツァルトの交響曲第40番を選び、命水が入った500リットルタンクにスピーカー12個を取り付け、振動で30分以上、音楽を聴かせる。水に取り組んだのは日本で初めてという。
 東京都にある波動値の検査機関に命水の測定を依頼したところ、自然水の中で波動値が高い結果が出た。命水と比べても23%アップ。水道水と違い、音楽を聴かせた後も波動値の高さが持続する。
 命水は織井代表の自宅敷地内の地下100メートルからくみ上げ、非加熱ろ過充填したもので、昨年6月に発売。活性酸素の一つ、一重項酸素(肌の老化やがんを促進する物質)を除去する能力が高い特性などを持つ。カルシウムが多いものの、マグネシウムやナトリウムが少なく、成分のバランスがいい。
 発売から半年以上が経ち、利用者から「医者に通わなくて済むようになった」と体調の改善効果など喜びの言葉が多く届き、命水の機能が実証された形。
 織井代表(67)は「寄せられた声は信じられない話ばかり。確実に口コミで広がっている」と予想以上の反響に驚き、周囲からも「『名物水』として地域の産業振興につながる」と期待が寄せられる。
 命水は、同社やインターネットで販売。郵送用は2種類(自然水のまま、クラシックを聴かせた自然水)のうち、どちらかを選ぶことができる。価格は同じで、20リットル入りは2千円。音楽を聴かせた水には「こころいやす音楽を覚えた」と記したシールをはっている。
 問い合わせは「いすゞ」(TEL77・9113)へ。
♪ 「聞かせる」のは結構だけど、交響曲第40番って言うのは…
▲
by

alfayoko2005

| 2006-02-19 11:18 | Music
Last Updated: Friday, 17 February 2006, 22:02 GMT
Italy rape ruling draws criticism
By Christian Fraser
BBC News, Rome
The Supreme Court in Italy has ruled the rape of a young girl was a less serious offence because she was already sexually active.
The case involved the appeal of a 40-year-old man who had sexually abused his girlfriend's 14-year-old daughter.
The ruling has been criticised by politicians and child-welfare agencies.
A lower court had ordered the man to serve three years and four months, but his appeal has so far lasted four years and he has yet to spend a day in jail.
On Friday Italy's highest court ruled the sentence was excessive, given the extenuating circumstances of the case.
'More developed'
In a written decision, which will now be sent back to the lower court in Cagliari for consideration, the five Supreme Court judges decided the rape of a minor was a more moderate offence if the child involved was no longer a virgin.
This girl comes from a socially-deprived background, they said, and her personality, from a sexual point of view, was more developed than one would normally expect of a child that age.
The ruling has brought a furious reaction from politicians and child-protection agencies across Italy.
Maria Gabriella Moscatelli, the president of a women's helpline called The Pink Telephone, said the decision had put her country back 50 years.
"It's incomprehensible," she said. "I feel like I've been punched in the stomach."
It was particularly hard to take, she added, given that in the last year her helpline had recorded three times as many allegations of sexual violence as in the previous year.
Italy court draws fire with sex abuse ruling
Fri Feb 17, 2006 7:46 PM GMT

ROME (Reuters)
- Sexually abusing a teenager is less serious a crime if the girl is not a virgin, Italy's higher court said on Friday in a controversial ruling that immediately drew a barrage of criticism.
The court ruled in favour of a man in his forties, identified as Marco T., who forced his 14-year old stepdaughter to have oral sex with him after she refused intercourse.
The man, who has been sentenced to three years and four months in jail, lodged an appeal arguing that the fact that his stepdaughter had had sex with men before should have been taken into consideration during his trial as a mitigating factor.
The supreme court agreed, saying that because of her previous sexual experiences, the victim's "personality, from a sexual point of view, is much more developed than what would be normally expected of a girl of her age".
"It is therefore fair to argue that (the damage for the victim) would be lower" if the abused girl was not a virgin, Italian news agencies quoted the court as saying.
This means the man could now be handed a lighter sentence.
News of the ruling immediately drew fire.
"I think we have gone back 50 years," said Maria Gabriella Carnieri Moscatelli, head of the Telefono Rosa association that helps sexually abused women.
"It is inconceivable that such a serious crime that ruins the life of a woman, irrespective of her age, might be considered in a different light depending on whether she is a virgin," she said.
Female politicians from across the political spectrum also strongly condemned the court's decision.
"This is a shameful, devastating ruling," said Alessandra Mussolini, grand-daughter of wartime fascist dictator Benito Mussolini. "The real problem is that there are no women in the supreme court."
Luana Zanella of the Greens opposition party called the court's arguments "abominable".
The supreme court is no stranger to controversial judgements.
In recent years it has ruled that "an isolated and impulsive" pat on a woman's bottom at work did not constitute sexual harassment, and returned a verdict that a woman could not have been raped because she was wearing skin-tight jeans.
Somaly Mam: a message peace - AFESIP News 2006/02/17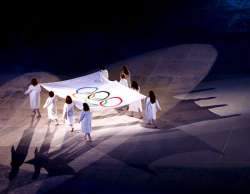 Somaly Mam: "On this special occasion and with this great honour given to me, I would like to take this opportunity to express my dream for this world. My dream is that this world should be one of peace, freedom and dignity for all. I hope for a better world with no war, suffering and pain. I will continue to give my life to help those in pain and suffering and respectfully call upon all those who have love to give, to give wholeheartedly for those less fortunate. On this great occasion of the Olympics, when each corner of the world is represented and the sacred and symbolic ceremony of the opening ceremony, representing the undeniable unity of this world, I call upon all those who share this dream to actively strive towards it. Let us join hands to make this world a better place for our children, women and men, where social justice is held as an inalienable core value in our communities."
Somaly Mam, President and Co-founder of AFESIP (Agir pour les Femmes en Situation Precaire) was given the honour to be one of the 8 Olympic flag bearers at the opening ceremony of the Torino Winter Olympics on 10 February 2006. The other seven women were Sophia Loren (Actress, Italy) Susan Sarandon (Actress, USA), Wangari Maathai (Nobel Peace Prize Winner for her Environmental work, Kenya), Isabel Allende (Writer, Chile), Manuela Di Centa (Olypmic gold medal winner Athlete, Italy), Nawal El Moutawakel (Olympic gold Medal winner, Morocco) and Maria Mutola (Olympic Gold medal winner, Mozambique).
These 8 women, from different backgrounds and countries carried the symbolic Olympic flag around the stadium to the flagpole. This is the first time in history that 8 women were specially invited to carry the Olympic flag to the pole.
Bunny love
She's the rabbit with two dots and a cross who became a cult figure, even more popular with pre-teens than the pre-schoolers for whom she was designed. And now Miffy's 50. Lisa Allardice meets her creator, Dick Bruna
Lisa Allardice
Wednesday February 15, 2006
Guardian
Every morning Dick Bruna cycles along the canals of the pretty Dutch town of Utrecht to his studio; at exactly eight o'clock he stops for a cup of coffee at the same cafe, where a couple of Japanese girls will be waiting for him. At 78, with a silvery moustache and spectacles, he seems an unlikely target for groupies, many of whom have travelled almost halfway round the world just for his signature and the chance to have their photograph taken with him.
Bruna is the creator of Miffy, or Nijntje (pronounced nein-che, "little rabbit") as she is known in Holland. You may have missed it, but last year Miffy turned 50. For anyone unfamiliar with Miffy, here is a run-down of her globetrotting CV. Since her first appearance in 1955, Miffy has starred in 115 books, which have been translated into 40 languages and sold more than 85m copies worldwide. She has become a cult figure, perhaps more popular among pre-teens than the pre-school market for whom she was originally designed. From the shopping malls of Tokyo to Topshop in Oxford Circus, Miffy merchandising is big business; she is one of Holland's biggest exports, reaching those places that even her main rival, Heineken, cannot reach.
In total, she is worth around $300m (£172m) a year. In Japan, Miffy mania is such that in 1999 giant rabbit-shaped tulip fields were planted in six major cities; and she is so hip that in 2004 she was appointed the official family tourist ambassador to New York City. She might be 50, but this bunny still rocks. As the bestselling writer and British children's laureate Jacqueline Wilson says, "Miffy is an elderly bunny now, but she still looks ultra-chic and stylish." And only the other day, a little girl pulled up alongside Bruna on her bike to tell Bruna, "Miffy is cool!"
This week sees the culmination of her birthday celebrations with the opening a of museum in her honour - the Dick Bruna Huis in Utrecht. As befitting an international style icon of her stature, the museum has been designed by the Amsterdam-based American architect Sherrie Zwail, who recently created the flagship shop for the clothes designers Viktor and Rolf in Milan.
With a permanent collection of his work, Bruna takes his place alongside other Dutch masters, Rembrandt, Mondriaan and Van Gogh; and some of the most prestigious figures in the Netherlands, including members of the Dutch royal family, will be attending the launch.
While Miffy might be an international celebrity and Bruna a millionaire, he is one of the most unassuming men you could ever meet. "I just see it as a very ordinary job. There is nothing else I can do, apart from make little drawings and stories," he says modestly. Entering the studio, where he has worked for more than 30 years, is like walking into a Miffy picture book - everything is white, with splashes of primary colour in the cushions and posters. It is spotlessly clean and tidy, with even the freshly sharpened pencils in neat rows. Among the many drawings from young readers all round the world, there is a cabinet devoted to gifts from Japan, all of them exquisitely handmade: a family of miniature origami Miffys; clay Miffys; Miffy in an embroidered kimono. A few years ago, one Japanese couple even took their honeymoon in Utrecht, turning up on Bruna's doorstep with a Miffy-shaped cake.
All twinkling eyes and gentleness, Bruna is rather like the kindly old puppet-maker Gepetto in Pinocchio; to him, Miffy has become like a little granddaughter. "It seems a little bit silly, but I find it very hard to do even Miffy. I've done so many drawings of her, but every day I try to do it a little bit better than yesterday."
For every Miffy there will have been hundreds of sketches; his wife of more than 50 years, Irene, has the final say on whether Miffy is ready to leave the studio. "I am very nervous. It is like sitting an exam. I can always see on her face if it is a yes or a no. Only if it is yes do I allow the book to be published."
Miffy's eyes and mouth are the hardest. "That's all you have. With two dots and a little cross I have to make her happy, or just a little bit happy, a little bit cross or a little bit sad - and I do it over and over again. There is a moment when I think yes, now she is really sad. I must keep her like that."
Making Miffy sad can take days. Bruna begins with five or six tears and while he is working, he takes a tear away. "At the end I have one big tear, and that is the saddest tear you can have."
What to the untrained eye might look like a bunny with a permanently startled expression is, in fact, a meticulously refined modernist work. Although following a long line of rabbits in children's literature, Bruna's white rabbit is more closely related to the white doves of Matisse and Picasso than Lewis Carroll's white rabbit or Beatrix Potter's Peter Rabbit. Matisse, he says, was his teacher. It was during a trip to Paris to gain experience in publishing, so he could join his father's business, that he first discovered the modernist artists. He was particularly struck by the simplicity of Matisse's collages: "I thought, if I could work like that I would be very, very happy."
Much closer to home, he was also influenced by the developments in Dutch graphic design of the De Stijl Movement, in particular the work of architect Gerrit Rietveld, and his world-famous Schröderhuis, also in Utrecht. And so he embarked on his lifelong quest for ever greater simplicity of form and purpose. And you thought Miffy was just a cartoon bunny.
Miffy began life - like AA Milne's Winnie the Pooh - in stories Bruna made up for his son, Sierk. "It was during the summer of 1955. We had hired a little apartment by the sea, and very often we saw a rabbit running around, so I started to tell him little stories about that rabbit before he went to sleep. Because I was an artist I thought it might be nice to try and draw the rabbit." The result was Miffy at the Seaside. But Miffy was by no means an overnight success. Parents weren't at all impressed: "They said, 'Oh, that's too simple. The colours are too bright and I don't like blue and green together.' But I thought it was nice to make everything as simple as possible to give children lots of room for their own imagination."
In her earliest incarnations, Miffy was simply a nijntje, little rabbit. She was Le Petit Lapin in France and Usako in Japan, where the books were first published in 1964. It was her first English translator, Olive Jones, who christened her Miffy, after deciding that Nijntje was too difficult for non-Dutch readers to pronounce. And it was not until drawing the sixth book, Miffy's Birthday in 1970, when Bruna gave her a dress with flowers on, that he decided "Yes, from now on she's a girl." Over the years she has evolved to become increasingly human: her windsock ears have been tamed, her head is rounder, her features stronger. One thing that hasn't changed, however, is her quizzical gaze. You will never catch Miffy in profile - she is always looking straight out of the page at you.
After noticing that his books were too tall for tiny hands, Bruna simplified even the shape, settling upon the ideal size of 16x16cm. He then found that dividing a sheet from the printers provided him with 12 squares; and he now sees each story as a series of a dozen pictures - any more and it is too long. He still does the black Matisse-inspired outlines with a brush and poster paint, and then transfers them to film. He spent years finding just the one red, blue, green and yellow - now known as the Bruna colours - later expanding his palette for the characters Snuffy Dog, Boris Bear and Poppy Pig, but again agonised over the right shade of grey, brown or pink.
For Dina Rabinovitch, the Guardian children's book critic, "The appeal is in the illustrations rather than the text: stark primary colours on a clean white background - minimalism, loft- living for toddlers - making them immediately identifiable and collectable."
And while it is true that you are unlikely to remember the Miffy books for their stories, which are almost haiku-like in their four-line rhyming scheme, Bruna has tried to keep up with the times in his books, tackling more complicated issues, including race, disability and even death. He is particularly proud of Grandma Bunny, about Miffy coming to terms with the death of poor old Grandma Bun, which won the Silver Slate Award in 1997. "I've never tried to teach children," he insists. "Really, I'm not very good with children, you know. Sometimes I go to schools and I read the story and I'm quite nervous." His favourite title is Miffy at the Gallery, perhaps the most knowing and humorous of all his books, which shows a thoughtful Miffy contemplating works by his heroes Mondriaan, Calder and, of course, Matisse.
It is the graphic austerity of his work that makes Bruna so popular in Japan. An exhibition, Fifty years with Miffy, held at Tokyo's Matsuya department store last year, attracted nearly 200,000 visitors in just two weeks. According to the curator, Daisuke Kusakari, "People of all ages, and even men, buy Miffy products. Japanese people traditionally like simple things, which you can see in old Japanese paintings, architecture and Zen gardens. There are many famous Japanese artists and graphic designers who are influenced by Bruna's creation."
Despite their similarities, Miffy is never to be confused with the Japanese character Hello Kitty, who celebrated her 30th birthday in 2004, and whose popularity rivals even Miffy's. Hello Kitty is bubblegum pink. Miffy wouldn't be seen dead in pink. "It's not a proper colour," decrees Bruna.
Every Miffy product has Bruna's final approval and over the years he has vetoed requests for her to appear on toy guns, racing cars and lingerie. Recently a filmmaker from the Netherlands even proposed an X-rated Porn Miffy: "He was very happy about that, and I was not."
Combined with the books sales, Miffy merchandise has made Bruna extremely rich. "That's what they tell me," he says. But his lifestyle is as simple as his art. He still lives in the same house he bought 40 years ago and he still works seven days a week. Rising at five every morning, he draws a little picture for his wife of something related to her day, a visit to the doctor, a game of bridge; this morning it was a pair of curtains. And every day he cycles back so they can have lunch together. In the evenings he has "a bowl of soup and a nice glass of wine. That's something I like very much".
He owns a small house among vineyards in the south of France, where he goes three times a year and spends the summers with his grandchildren. Are they Miffy fans? Yes, but they read lots of other books too. He doesn't like to push it.
According to the children's author and illustrator Anthony Browne, the picture-book market is in crisis, a result of the trickle-down effect of the Harry Potter phenomenon, with parents expecting ever more sophisticated stories even for very small children. Ironically, as picture books have gone out of fashion, Miffy has become increasingly fashionable; Miffy the icon has almost eclipsed Miffy the character. Emma Arnold, fashion and beauty editor of Girl Talk magazine, aimed at seven to 12-year-olds, often features Miffy items in her fashion shoots. She thinks, "Girls see her as a cute little kitsch symbol. Far from being deemed babyish, she has gained a following of tweens who associate her more with fashion than with pre-school picture books." Sally Johnson, a 12-year-old fan from Wiltshire, says Miffy is both "cool and sweet. I don't think anyone can ever grow out of Miffy. Little children love her because of the books, and I think older people just like her because of the way she looks."
Even Bruna is still perplexed as to why she has been quite such a hit. "When I see children, I think, yes, that is wonderful, but then I just come to the studio and do my work like everybody else. Of course I'm happy that Miffy became quite famous, but if she hadn't I would have carried on just the same. When I am working, I always think I am making a picture book just for myself, for the little boy you have inside yourself."
Naturally, he is thrilled at the opening of the Dick Bruna House: "It's a dream for an artist to have their own museum and for most it happens after they have been dead for a long time. It is very nice to have it during my lifetime. I'm very happy."
So, after more than 50 years, does he think he's finally created the perfect Miffy? "No, I'm going to try and do better today, tomorrow. I just try to make a nice shape, the nicest Miffy I can."
· The Dick Bruna House, Agnientenstraat 2, Utrecht, opens on February 18. See info@dickbrunahuis.nl Happy Birthday Miffy! A celebration of the work of Dick Bruna is at the Ferens Art Gallery, Hull, until April 2 and then tours to galleries in Manchester, London and Edinburgh until June 2007. See www.miffy.com.
昨年、同性愛者8人が転役
中央日報・日本語版
昨年、現役兵士として服務した同性愛者8人に転役措置が取られた。
陸軍関係者は16日、「この1年間に同性愛などを理由に現役服務非適合判定を受け、軍服務を中断した兵士は計8人いた」と明らかにした。
これら8人に適用された規定の一つは、軍人事法施行規則56条の「変態的性癖者」だ。 集団生活をする軍の特性上、明らかな同性愛者の軍服務は問題があると見なしている。
しかし、部隊指揮官との相談で同性愛者であることを明らかにする「カミングアウト」だけでは転役措置を受けることはない。 精神科治療記録など同性愛を立証する明白な証明書類があったり、同性愛で刑事処罰を受けたりした場合に限り、現役服務不適合判定を受ける。 昨年、同性愛で転役措置を受けた兵士の多くも、軍矯導所から出た後に転役措置が取られたという。
国防部の関係者は「兵役忌避に悪用されるおそれがあるため、本人が同性愛者と明らかにするだけでは、1・2・3軍司令部に設置された現役服務非適合審議委員会で転役措置を取らない」と説明した。
国家人権委員会や同性愛者人権連帯などの軍刑法92条廃止要求に関し、「同性愛者のための代替服務制導入など、同性愛を認める方向で法律を改正するのは難しい」と述べた。
また軍入隊不適合を判定する身体検査でも、同性愛という事由だけでは現役不適格判定を下すことができないというのが兵務庁の立場だ。 芸能人ハ・リス氏のように性転換手術を受けるなど、外見上で確認できてこそ、国防部令590号を適用して入隊免除措置を取れるということだ。
国防部令590号は同性愛者を「性主体性障害」「性的選好障害」と規定し、精神科治療で軍入隊に適合するかどうかを判断することにしている。
キム・ミンソック軍事専門記者
2006.02.17 04:45:00
記事入力 : 2006/02/17 10:44
「同性愛者」を理由に転役された兵士、昨年は8人
朝鮮日報・日本語版
 昨年、兵士8人が自ら同性愛者であることを明らかにしたことによる偏見から、転役措置されていたことがわかった。
 陸軍関係者は16日、「昨年、同性愛を理由に現役服務への非適合判定を受け、軍服務を中断した兵士は8人に上る」と話した。
 同関係者は「これら兵士は自身の部隊指揮官との相談で同性愛による苦しみを告白したほか、軍は規定と手続きにより現役服務への不適合判定審議を経て転役するよう措置した」と語った。
 軍当局は同性愛者に対し軍人事法施行規則第56条の「変態的な性的傾向をみせる者は現役服務不適合者に該当する」との規定により、転役措置を下している。
 一方、国防部関係者は、国家人権委員会や同性愛者人権連帯などが軍の刑法第92条が同性愛者への偏見と差別を内包しているとし、これを廃止するよう要求したことに対し、「同性愛を認める方向で法律を改正するのは困難」との立場を示した。
 軍の刑法第92条は単純な同性愛だけではなく、非正常的な方法による性的行為者についても1年以下の懲役刑に処するよう記している。
朝鮮日報
8 Gay Soldiers Discharged From Military in 2005
By Jung Sung-ki
Staff Reporter
Korea Times 2006/02/16
A total of eight gay soldiers, who came out of the closet, were discharged from the military last year, the Army said Thursday.
The personnel who ``came out'' underwent counseling and turned out not to be fit for military service in accordance with relevant military law, an Army official said.
Under the law, those who have abnormal sexual identities, such as homosexuality and bisexuality, are not allowed to serve in the military.
Human rights for gay soldiers have recently stirred up controversy. On Wednesday, civic groups called on military authorities to make efforts to protect homosexual soldiers who they claim are vulnerable to abuse during their service period.
They urged the government to consider adopting alternate forms of military service for gay soldiers, as well as to define homosexuality as a disease or mental disability.
gallantjung@koreatimes.co.kr
02-16-2006 22:29
Eight S. Korean Soldiers Discharged For Homosexuality
The Associated Press (apwire)

SEOUL, South Korea
Eight soldiers were discharged from South Korea's military in 2005 for homosexuality, the army said Friday, its first-ever disclosure of such statistics.
According to South Korean military regulations, gay men aren't allowed to serve. The figure of those who were discharged was reported by local media, and the army confirmed it when asked. It said it hasn't tracked or released such statistics in the past.
All South Korean men are required to serve as conscripts, and officers consult fellow soldiers and seek diagnosis from doctors to determine whether someone is trying to evade service by claiming he is gay.
Gay rights groups, however, say that can lead to demeaning practices and exclude those who want to serve their country.
Hwang Jang-kwon, an official at Solidarity for Lesbian Gay Bisexual Transgender Human Rights of Korea, said a gay soldier sought the group's help earlier this month after being forced to provide photographic evidence that he was involved in homosexual relations. He said he was also forced to take an AIDS test without his consent.
The soldier wanted to finish his service, but his privacy wasn't protected by the military and the group is now seeking to get him an early discharge, Hwang said.
This week, the Korea Sexual Violence Relief Center also blasted discrimination against gays in the army and called for changes to regulations banning them from duty.
Homosexuality has only in recent years gained some acceptance in South Korean society, with its strict Confucian traditions and strong Roman Catholic Church. The biggest current hit movie in the country, "King and the Clown," centers on a gay love triangle involving a despotic king and two court jesters.
2006/02/17 오후 3:59
© 2006 Ohmynews