カテゴリ
以前の記事
検索
最新のトラックバック
その他のジャンル
ファン
記事ランキング
ブログジャンル
画像一覧
Rape victim vs. 'wall of bureaucracy'
Woman fights for justice after Japanese police, U.S. forces decline to act
By SARAH SUK
The Japan Times: Feb. 17, 2006
In the early hours of an April day in 2002, an Australian woman claims she was raped by a U.S. sailor inside her van in a parking lot in Yokosuka, Kanagawa Prefecture.
After getting what she termed an indifferent response from police, learning there was no 24-hour rape crisis center in Japan, and finding that neither Japanese prosecutors nor the U.S. Navy intended to press charges against the alleged perpetrator, she decided to take action so future victims would not have to go through what she did.
The woman filed a lawsuit seeking damages from the sailor, who was stationed aboard the aircraft carrier USS Kitty Hawk. In November 2004, the Tokyo District Court declared in the suit that the man, named as the defendant, had raped the woman and ordered him in absentia to pay 3 million yen in compensation.
But the woman has no way of collecting from the man because he left Japan before the suit ended, was discharged in 2002 and his whereabouts is now unknown.
The woman's fight has been a difficult one, as her mostly single-handed efforts have often brought her up against a wall of bureaucracy in both Japan and the United States. Being an Australian residing in Japan has also complicated matters.
"There are three countries involved, but who will help me?" asked the woman, who recently wrote a letter to U.S. Defense Secretary Donald Rumsfeld and Rear Adm. James Kelly, commander of the U.S. Navy in Japan, seeking a prompt and thorough investigation.
She also wrote to Australian Prime Minister John Howard, asking for her government's assistance in facilitating the probe, but she had not received a substantive reply from any of them as of Feb. 12.
"How many more people have to be murdered and raped before someone does something?" the woman asked, referring to continued crimes involving U.S. military personnel in Japan, including the Jan. 3 robbery-murder of a Japanese woman in Yokosuka for which a U.S. sailor has been charged.
"The American military is supposed to be here to protect us, but they're obviously not protecting us," she said.
Masahiko Goto, a lawyer in Yokosuka, said one of the difficulties in resolving cases such as the woman's is the Japan-U.S. Status of Forces Agreement, which prevents Japanese authorities from assuming sole jurisdiction.
"The problem is that we have a situation in which jurisdiction and the right to investigate lie both on the Japanese and American sides, creating a vacuum in which some victims cannot obtain legal redress," Goto said.
"Once they (the perpetrators) escape into the U.S. bases, it becomes very difficult for Japanese police to investigate, and if they return to the United States, it becomes even more difficult, so the victims often have to concede."
The Public Affairs Office of the commander of the U.S. Naval Forces in Japan confirmed the sailor was discharged in October 2002 and said the incident was treated as closed because Japanese authorities decided not to indict him and the navy also determined a court-martial was not warranted.
The office declined comment on the civil case, calling it a private matter between the plaintiff and the defendant.
Former U.S. Air Force Capt. Dorothy Mackey, allegedly a victim of multiple rapes and abuse by fellow military personnel, claimed it is "standard operating procedure" for the U.S. government and military "to hide, destroy or ignore evidence and protect its own military criminal members."
She also expressed disappointment with the Japanese prosecutors' decision not to charge the sailor in the Aussie woman's case, saying their actions "have resulted in leaving every person in Japan open to brutal attack" by U.S. service members.
Mackey, who runs a group in the U.S. called Survivors Take Action Against Abuse by Military Personnel, warned that rapists who go unpunished are likely to repeat the offenses.
The Australian, who is in her 40s and has lived in Japan for more than 20 years, also hopes to have Japan's laws and procedures changed so police can deal with rapes properly, ensuring, for example, that victims receive immediate medical attention.
When she went to Yokosuka police just after the assault, she wanted to go to a hospital immediately to be examined and treated for the injuries and bruises she had sustained over her body.
But she said police told her she had to go and look for the perpetrator and took her back to the parking lot where they had her explain everything that happened and asked her to re-enact the crime. When she refused, they had an officer play her part as she reluctantly directed.
"I knew they weren't going to help me. I wanted to pick up the phone inside the police office and call the police to ask them to come and get me out of there," she said.
A Japanese woman who was raped in Tokyo in 2002 by a man she did not know said she also went through what is often called a "second rape" by police.
She said a male officer told her she should not dress in a way that stimulates men, while a female officer tried to convince her to give up pursuing the case because the most she would get out of it was a two-year prison term for the assailant.
"They don't consider us as victims. It seems they look at it like, 'Oh well, you just had sexual intercourse.' They don't seem to understand the seriousness of this type of crime," said the woman, who ended up not pressing charges.
She said although the female officer was nicer to her than the male officer, it appeared she was under pressure from her male superiors to downplay the incident.
The victim said it would probably be better if there were more policewomen in senior positions who could take proactive roles in such cases.
The National Police Agency has drawn up policies for victim support, including efforts to help victims of sex crimes and to lessen their psychological burdens, and it has set up a support office in each prefectural force.
But it was only about 10 years ago that police set forth the policies, and the new approach is slow to change police practice on the ground.
"Police probes have traditionally centered on conducting investigations to find the culprit, so officers may not necessarily be used to paying attention to the victim's situation," said Nobuho Tomita, a professor of criminology and victimology at Tokiwa University.
"But the situation is gradually getting better and police are becoming more flexible," Tomita said, while noting the victim-support office will probably respond more positively to victims' needs than officers on duty at this stage.
The Australian pledged to keep fighting until she gets justice and expressed hope that more people will become concerned with situations like hers because, she warned, "The next victim could be you or your sister or your mother or someone you know."
The Japan Times: Feb. 17, 2006
更新2006年02月14日 13:39米国東部時間
「禁欲教育」効果ない74% エイズ防止策でNGO調査
 「結婚前の性交渉を禁じるのはエイズ防止策として有効でない」と考える人が74%に上ることが14日、発展途上国の人口問題に取り組む非政府組織(NGO)の
財団法人「家族計画国際協力財団」(東京、略称ジョイセフ)
の調査で分かった。
 調査は昨年12月、インターネットを使い、国内各地の20~59歳の男女1043人から回答を得た。
 エイズのまん延を防止するために何が有効かを尋ねたところ、最も多かった答えは「コンドームの使用を広める」で、93%が回答(複数回答)。次いで89%が「思春期の性に関する相談体制を充実させる」、86%が「学校外で避妊の意識、知識を広める」、85%が「学校でコンドームを含む性教育を充実させる」と答えた。
 しかし、「結婚前は性交渉しないようにさせる」と答えた人は26%にとどまった。「性交渉の相手を1人にするよう勧める」も45%と低かった。
 若者の性をめぐっては、中教審の専門部会が昨年7月、高校生以下の子どもの性行為を容認するべきではないとの立場で指導することで一致。こうした「禁欲教育」について性教育の専門家からは「現実の状況からすると、性感染症や望まない妊娠を防ぐには性衝動を抑えさせるより、性の情報を適切に与えるべきだ」との批判も出ていた。
 ジョイセフの石井澄江事務局長は「多くの人は現実的な見方をしているようだ」と話している
。(共同)
婚前交渉禁止より性教育充実を…エイズ意識調査の結果
(2006年2月15日0時34分 読売新聞)
 結婚前の性交渉を禁じるのは、エイズの流行防止策として有効ではないと考える人が7割以上に達するという調査結果がまとまった。
 日本の民間活動団体「ジョイセフ」(JOICFP=家族計画国際協力財団、東京)が14日発表した。
 昨年12月、全国の20~59歳を対象にインターネット調査を実施、1043人から回答を得た。エイズの流行防止策として学校でコンドームなどを使った性教育を充実させることについて「有効だと思う」と回答した人は85・4%に上った。
 「思春期における性に関する相談態勢を充実させる」「学校外で避妊の意識・知識を広める」「コンドームの使用を広める」も9割前後の人が「有効」と答えた。反対に「結婚前には性交渉をしないようにさせる」は74・2%が「有効ではない」とした。
USA > Society & Culture
from the February 15, 2006 edition
New flash point in sex ed: gay issues
Skirmishes include one in Massachusetts, where a health-education bill has ignited debate among parents.
By Sara Miller Llana | Staff writer of The Christian Science Monitor
BOSTON –
When David Parker opened up the book "Who's in a Family?" given to his 5-year-old son last year at Estabrook Elementary School, he was livid.
The school said the book, which portrays contemporary family structures including those headed by same-sex parents, was part of a broader array of materials intended to promote diversity in the Lexington, Mass., school district. But to Mr. Parker and his supporters, the book is part of a "homosexual agenda" inappropriately peddled in the classroom.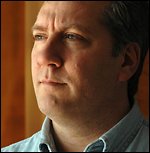 A FATHER'S FIGHT: David Parker objected to a book given to his young son at school that included portrayals of same-sex parents.
JOHN NORDELL - STAFF


His fight in Massachusetts has become a rallying call among conservatives, some radical, across the country. Last summer, the Westboro Baptist Church from Kansas came to Lexington to picket outside its schools and churches. In the fall, Parker visited Maine in support of a religious group trying to overturn a law banning discrimination in places such as work because of sexual orientation.
But nowhere has he been more galvanizing than in the arena of sex education. He is at the center of opposition to a new bill in Massachusetts that would lift the status of health classes, including sex education, to that of science, math, and other core subjects.
State codification to teach about homosexuality will only embolden gay rights advocates, he says. "They are trying to force their own views, views that are controversial in the adult world, upon young children."
His opponents maintain that in a changing world, in which same-sex couples can legally marry in Massachusetts and gay coupling is broadcast on prime-time TV, comprehensive education is crucial to end discrimination and create safe schools.
The debate here echoes disputes in other towns, from Montgomery County, Md., to Spokane, Wash.
While sex education has been firmly entrenched in American public schools since the 1980s, says Jeffrey Moran, who wrote on the politics of sex education in his book "Teaching Sex," same-sex issues have become a new lightning rod for conservative groups. "It is the organizing principle for them attacking sex education in general," he says.
Nearly 20 bills have surfaced in each of the past three years attacking sex education, with increasing scrutiny of gay, lesbian, bisexual, and transgender issues, according to Rebecca Fox, assistant director for public policy at the Sexuality Information and Education Council of the US (SIECUS). She says debates have arisen in conservative enclaves and liberal townships alike.
In Massachusetts, some parents are upset by the new health-education bill because it recommends teaching young children about homosexuality. It also would include lessons on nutrition and violence prevention, among other topics.
The state's public schools would not be mandated to teach the courses, and parents, could opt their children out of sex-education classes, as they can now, under state law.
The "opt out" right is at the center of the debate in Lexington. When Parker inquired about pulling his son out of any discussion of homosexuality at the school, he says, he was told it was not an option because such scenarios would not be related to sexuality but to diversity.
The clash culminated in his arrest last April, after he refused to leave a meeting at the school until his demands were met.
Some parents feel that he is purposely confusing diversity with sex education to push his agenda, and that his request is unfeasible. "Kindergartners talk about their families every five minutes in class," says Laura Tully, spokeswoman of Lexington C.A.R.E.S, a group formed in response to Parker's arrest so that all students, it says, feel welcome in the school district. "These are real families that are in our classrooms. This is not some abstract culture-war issue."
Parker's case may be dramatic, but similar skirmishes are happening across the country. Most of them are at the local level. In Spokane, for example, the school board last summer rejected a revised curriculum that included materials on gay and lesbian subjects because it felt the material was not objective enough, says Scott Stowell, who coordinates the health and science curriculum for the district. He says he was surprised to see a band of parents opposing the revised curriculum at the board meeting.
The situation has become more heated in Montgomery County. Its board of education voted to permit teachers to initiate discussions about homosexuality in 2004. A group of parents called the Citizens for a Responsible Curriculum responded by suing the school district. The district has since scrapped its plan and is writing another curriculum.
Michelle Turner, president of the group, says she has sent six children through Montgomery schools and, until now, she never had problems with the sex- education curriculum. She, like many critics, says she is tolerant of people's personal choices, but resents what she sees as gay advocacy groups wanting children to validate and celebrate those lifestyles. "It's just gone too far," she says.
Groups that support sex education, including information on homosexuality, say the goal is awareness and safety, not indoctrination. "There is this whole myth of the homosexual agenda," says Ms. Fox of SIECUS. "But really it's about keeping young people safe" from situations such as antigay bullying.
Despite increasing calls and funding for abstinence education, the majority of Americans favors not just sex education, but also discussions of homosexuality if it's presented in a "neutral manner," according to a 2004 poll by the Kaiser Family Foundation, Harvard University, and National Public Radio.
Even as society becomes more open to alternative lifestyles, Parker says, the classroom does not have to reflect that acceptance. "People from the other side say society is changing," he says. "That may be the case ... but it doesn't mean everything goes in talking to young people."
Related Stories

Campus Christians: not always at ease 01/25/05

Religious upsurge brings culture clash to college campuses 12/10/03

Debate on gay unions splits along generations 07/07/03
質問本文情報
平成十八年二月二日提出
質問第四一号
小泉内閣の『ジェンダー・フリー』及び女性学についての認識に関する質問主意書
提出者  辻元清美
小泉内閣の『ジェンダー・フリー』及び女性学についての認識に関する質問主意書
 東京都国分寺市は、東京都の委託で計画していた人権学習のテーマで東京都に概要の内諾を得た上で、市民を交えた準備会をつくり高齢者福祉や子育てなどを題材に計一二回の連続講座を企画した。上野千鶴子・東京大学大学院教授(社会学)に、人権意識をテーマに初回の基調講演を依頼しようと二〇〇五年七月、国分寺市が東京都に講師料の相談をしたところ、東京都が候補人選に難色を示し、事実上、上野千鶴子教授を替えない限り国分寺市との委託契約を結ぶことはできないと告げられた。そのため国分寺市が同八月、委託の申請を取り下げたため、講座そのものが中止になった。

 この講座は、文部科学省が昨年度から始めた「人権教育推進のための調査研究事業」の一環で、同省の委託を受けた都道府県教育委員会が区市町村教育委員会に再委託しているものだ。

 上野千鶴子教授を採用しない理由として、東京都の教育庁生涯学習スポーツ部は、「上野さんは女性学の権威。講演で『ジェンダー・フリー』の言葉や概念に触れる可能性があり、都の委託事業に認められない」と説明している。

 東京都教育委員会は、二〇〇四年八月に「(ジェンダー・フリーは)男らしさや女らしさをすべて否定する意味で用いられていることがある」として、「男女平等教育を推進する上で使用しないこと」との見解をまとめている。

 当事者である上野千鶴子教授は、国分寺市の「人権に関する講座」準備会のメンバーおよび、二〇〇五年一一月二〇日に開催された「人権を考える市民集会」参加者から経過説明を受けた。その後、上野千鶴子教授は、二〇〇六年一月一三日に東京都知事、東京都教育長などに公開質問状を提出した。新聞報道「『ジェンダー・フリー』使うかも、都『女性学の権威』を拒否」(二〇〇六年一月一〇日付け毎日新聞夕刊)によって、都の発言内容が一部明らかになり、また、一月二八日付け朝日新聞にも研究者一八〇八人が署名した抗議文を東京都に提出したことが大きく報道された。この問題は、教育現場における『ジェンダー・フリー』をめぐる論争とも密接に関連しており、大変、社会問題化している。

 従って、以下、質問する。
一 前記の件で問題とされた「ジェンダー・フリー」という言葉について、政府の考えを述べられたい。また、東京都の示した「ジェンダー・フリー」についての認識を知っていたか。知っていた場合は、それについての政府の見解を示されたい。
二 前記の件で問題とされた「女性学」について政府の見解を示されたい。
三 東京都が上野千鶴子教授を講師として承諾するのを拒否した理由を、政府は正当であると考えるか。また、そのように判断する理由を示されたい。
四 東京都が国分寺市に対してとった措置は、委託事業の実施と講師選定にあたって、国が東京都に示した「要綱」と「運用指針」にそった行動であると考えるか。そうでないと考える場合、政府は自治体に対してどのような対処をすべきであると考えるか。
五 予定された講師が特定の用語を自治体とは違う見解をもって使うかもしれないという理由で講演を中止させるのは、憲法第一九条「思想及び良心の自由は、これを侵してはならない」、あるいは、第二三条「学問の自由は、これを保障する」に反する行為ではないか。
 また、憶測や偏見に基づいた判断によって、学者や知識人の言論に対して圧力がかけられるような状況を放置してはならないと考えるが、この点に関して政府の見解を示されたい。
 右質問する。
経過へ
Ignored epidemic: violence against women in Russia
By CESAR CHELALA
The Japan Times: Feb. 15, 2006
Special to The Japan Times
NEW YORK -- It is under-recognized and under-reported. It is also one of the most significant epidemics in the Russian Federation today. It is gender violence, manifested essentially as violence against women. A recent report by Amnesty International, "Russian Federation: Nowhere to Turn to: Violence against women in the family," calls renewed attention to the phenomenon and to the urgent need to adopt more effective policies for combating it.
The statistics are frightening. It is estimated that each hour one woman in the Russian Federation dies at the hand of a relative, her partner or a former partner. Violence against the family occurs in all 89 regions of the Russian Federation, affecting all ethnic backgrounds and social spheres.
According to Natalia Abubikirova, executive director of the Russian Association of Crisis Centers, "The number of women dying every year at the hands of their husbands and partners in the Russian Federation is roughly equal to the number of all Soviet soldiers who died in the 10-year-long war in Afghanistan."
Worldwide, violence is as common a cause of death and disability among women of reproductive age as cancer is, and it is a greater cause of ill health than traffic accidents and malaria put together. No wonder public health experts consider violence against women a public health issue.
Various cultural, economic and social factors, including shame and fear of retaliation, contribute to women's reluctance to denounce these acts. In Russia, as in other countries, domestic violence is not only widespread but also considered a private matter, which makes it very difficult for women to obtain an appropriate police response.
Nicola Duckworth, Europe and Central Asia Program Director at Amnesty International, states in the Amnesty report: "Violence against women in the family is not a private matter and there is no justification for it. It is a human-rights abuse that states are obliged to act against under international law."
According to studies carried out by the Council for Women of Moscow State University, 70 percent of women interviewed in a survey said they had been subjected to some form of violence (psychological, sexual, physical or economic) by their husband. Ninety percent of the respondents said they had either witnessed scenes of psychological violence between their parents, or had experienced such violence in their current marriage.
The experience of violence makes women more susceptible to a variety of health problems such as depression, suicide, and alcohol and drug abuse. Sexual violence increases women's risk of contracting sexually transmitted diseases, including AIDS (because of forced sexual relations or the difficulty in persuading men to use condoms). It also increases the number of unplanned pregnancies, and may lead to various gynecological problems such as chronic pelvic pain and painful intercourse.
Although there are shelters, hotlines and crisis centers for female victims of violence in some regions and cities, an adequate systematic approach to the problem does not yet exist in the Russian Federation. Even Moscow, the capital city, doesn't have such shelters.
The World Organization Against Torture has expressed concern over the high levels of violence against women in Russia. That organization also indicated that while Russia has a duty under international law to prevent, investigate, prosecute and punish all forms of violence against women, this obligation has not yet been fulfilled.
It is necessary to enact and enforce legislation that criminalizes all forms of violence against women, including marital rape. At the same time, it is important to protect from intimidation and reprisal not only the victims of violence but also witnesses and other people during investigations and prosecution.
The government should raise public awareness of the problem and ensure that women's needs are addressed and that women are protected. For too long violence against women in the Russian Federation has been ignored. It is time to air it and deal with it effectively.
Dr. Cesar Chelala is an international public health consultant and a winner of an Overseas Press Club of America award for an article on human rights.
The Japan Times: Feb. 15, 2006
記事入力 : 2006/02/15 17:54
「性交渉時の写真提出せよ」・・・同性愛兵士の人権被害深刻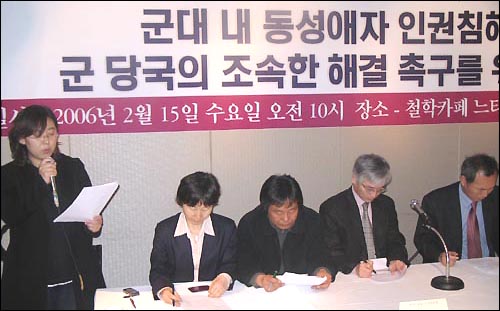 人権運動愛の部屋など44の社会市民団体の集まりである「人権団体連席会議」は15日、ソウル鍾路区安国洞のヌティナムカフェで記者会見を開き、「軍隊内の同性愛者の人権被害を糾弾する」とし、早急な解決を求めた。
 同会議は「昨年6月に入隊したある兵士が、自分が同性愛者であるという事実を明らかにし、軍隊内でカウンセリングを求めたが、軍当局はこのような事実に対し秘密維持の約束を守らなかっただけでなく、同意なしでエイズ検査を受けさせたほか、同性愛者であることを証明するため、性交渉の際の写真まで提出させたという内容が同性愛者人権連帯に受け付けられた」と主張した。
 「この報告により、軍隊内で同性愛者がどんなに差別を受け、抑圧的な環境におかれているのかが分かる」とし、軍当局の無責任な行動を批判した。
 同性愛者人権連帯の関係者は「男性の同性愛者らが軍入隊を避けることができないという状況の中、同性愛者らはいつもセクハラの加害者として扱われ、自分が同性愛者であるという事実をあたかも罪人のように隠し続け、2年間の兵役に耐えなければならない」と話した。
 同会議はまた、「軍当局は同性愛行為の処罰条項である軍刑法第92条と、同性愛を病気または心身障害に規定している国防部令第556号、徴兵身体検査など検査規則を即時廃止し、性的少数者がこれ以上軍隊内で差別と抑圧を受けることがないよう、人権教育と指針、人権ガイドラインをまとめるべき」と主張した。
 これに対し軍の関係者は「現在、該当兵士に対する国家人権委員会の真相調査を行われている」とし、「人権委員会の調査結果が出次第、後続措置を取る方針」とした。
朝鮮日報
english.chosun.com
Updated Feb.15,2006 18:18 KST
Group Denounces Abuse of Gay Conscript
A coalition of civic groups has denounced the treatment of gays in the Korean military. The leader of Solidarity for Lesbian Gay Bisexual Transgender Human Rights of Korea, one of the groups, on Wednesday told reporters of the case of one private who asked to speak to his superiors about his homosexuality and was asked to bring photographic evidence showing him having sex with another man. "He was in effect the victim of sexual harassment," the leader said.
The Human Rights Network called on the government to resolve the issue, saying the incident was "a clear example that the military is in a blind spot in terms of human rights abuses, and demonstrates just how serious human rights abuses of homosexual soldiers have become." A spokesman for the military said the forces await for the outcome of an inquiry by the National Human Rights Commission. He said the private petitioned the NHRC on Feb. 9, and the watchdog has been investigating the facts at the unit where the incident took place since Tuesday. Depending on the results, the military will decide whether to launch its own investigation.
(englishnews@chosun.com )
The Korea Times
Civic Groups Urge Better Protection of Gay Soldiers
By Kim Tong-hyung
Staff Reporter
Human rights advocates Wednesday called on Korean military authorities to make more effort to protect gay soldiers who, they claim, are vulnerable to abuse in the barracks.
At a news conference in Seoul, leaders of an alliance of 35 civic groups, led by the Solidarity for LGBT (for lesbian, gay, bisexual and transgender) Human Rights of Korea, announced the results of their studies of the human rights situation of gay soldiers in the military based on counseling records.
Among the cases of harassments made public by the groups was one of an army counselor who refused to counsel a gay solider unless the soldier submitted a photo of him having sex with a male partner to prove his homosexuality.
Other cases involved gay soldiers being urged to have blood tests to confirm AIDS infection or to reveal the number of times they had sex with male partners.
The groups urged the Ministry of Defense to take measures to protect the human rights of gay and bisexual men drafted into the military. They also asked the government to consider adopting alternative service to regular military service for gay men.
Members of the groups said they will submit the issue to the National Human Rights Commission for further review.
``The cases unearthed by our counseling efforts indicate that gay soldiers are vulnerable to a serious level of physical and mental abuse in the military,'' said Hwang Jang-kwon, an official from the Solidarity for LGBT Human Rights of Korea.
``To eliminate these types of sexual harassment in the military, the nation's draft system should be considered, and alternative civil services should be provided not only for conscientious objectors but also for gay men,'' he said.
Hwang also called on the ministry to scrap an article from its ordinance that defines homosexuality as a disease or mental disability and requires army officers to immediately transfer soldiers confirmed to have conducted homosexual acts in the barracks.
The ministry declined to officially comment on the issue, saying that will decide whether to conduct an investigation of the alleged violations only if the commission requires them to do so after its review of the cases reported.
thkim@koreatimes.co.kr
02-15-2006 22:15
163-参-内閣委員会-2号 平成17年10月27日
○黒岩宇洋(当時無所属・現在は民主党に所属)君 
(中略)
 さて、時間も迫ったんで、ひとつこれお聞きしたいんですけれども、今申し上げたファッションヘルスとか、まあソープランドもそうなんですが、今日も話題になりましたデリバリーヘルス、これは法文上すべて異性の客に対してだけ、異性の客に対してだけ規制が掛かっているんですよ、これ同性は含まれないんですね。これは何でなんですか、何で同性は含まれないんですか。
○政府参考人(竹花豊(警察庁生活安全局長)君) 確かに、風営法上異性によるものが規制の対象となっておりますのは、実態上同性による接待等については現実の問題として大きな問題でないという、そういう実態に基づいているものでございます。
○黒岩宇洋君 今日、お手元に新聞のちょっと広告欄をお出しした、お手元に渡してあるんですけれども、これ急遽、昨日私の秘書に何紙かコンビニに買いに行かして、だれでも買える新聞ですよ。ちょっとはぐっただけでも、これオレンジでくくっておりますけれども、これニューハーフとかいろんな表現ですけれども、これ男性が男性に対するサービスなんですよ、これ一切風営法の規制に掛からないんですよね。局長、大した問題になってないと言いながら、かなりの紙面を割いて、これ女性がじゃなくて男性が男性に対するサービスですよ、今日、まあ御婦人の委員もいるんであれなんですが。そうなりますと、これ、先ほど申し上げた低照度飲食店とか同伴喫茶とか、全国に六軒しかないとか十七軒ないのに比べれば、はるかにこの手の風俗営業というものがまかり通っているわけですね。
 これ、平成十年の改正時にも議論になりました。同性を含めないのはなぜかといったら、局長と同じ答えでしたよ、今の局長と当時の局長が。余りないと、ほとんど見受けられないと言っているんですけれども。あれから七年たって、もう今のようにかなり性の多様化ということで、こういった同性に対するものがもうこれだけ出ているわけですよ。これに対して規制の網がなくて、先ほど申し上げた低照度飲食店にはあるわけですよ。これ、いかにも私は不合理だと思っているんですけれども、いかがでしょうか。
○国務大臣(村田吉隆(国家公安委員会委員長)君) 私もこんなにあるとは存じなかったわけでございますが、一つは異性との関係でそうしたことを売り物にするということになった場合に、被害者が女性になる被害というものが出るということを、そういう実態が非常に招来する可能性が高いということで多分対象にしたんだろうと、こういうふうに思います。加害者と被害者という関係が異性同士の場合、特に女性を被害者になる蓋然性が高いということを考えたのではないかなというふうに思います。
 しかし、風営法の法の目的というのは、先ほど来何回も申し上げているような風俗という、そういうことでございますので、今局長が御答弁申し上げたように、それが善良な風俗を侵すというような実態になれば、そういうことが全体的に社会の通念としてそういうものはもう耐え難いということになれば、法律としても対象としなければ、規制の対象としなければいけないことになるんだろうと、こういうふうに思います。
 私もちらっと、さっきからずっと法文を読んでおりまして、店舗型についてはそういう規定があるんですわ。二条の六項の最後の方に、二条の六項の六号に規定がありまして、前項に掲げるもののほか、店舗を設けて営む性風俗に関する営業で、善良の風俗、清浄な風俗環境又は少年の健全な育成に与える影響が著しい営業として政令で定めるものと。政令はないんでございますけれども、風営法の観点から申しまして、異性ということで、これは多分、私、私見でございますけれども、女性が被害者になる蓋然性が高いということで、これは禁止、規制をしなきゃいけないという観点。それからもう一個は、もちろん善良な風俗等が害される場合ということでもって規定がありますので、私は、社会通念上、そういうことが善良な風俗を害するものとして耐え難いという程度になった場合には我々も考えなきゃいかぬ事態にあるんではないかなというふうに私は考えておるわけでございます。
○黒岩宇洋君 今大臣のおっしゃった、女性だって言いますけれども、ここをごらんになって分かるとおり、多分ニューハーフと言われる方はそれなりの手術を受けて、身体的にはともすれば男性よりははるかに力とかも強くない人たちもいるわけですよ。
 平成十年、法改正された直後に、名前は申し上げられませんけれども、ある大変ヒットした日本の映画の主題歌を歌った男性歌手ですけれども、この方が男性のデリバリーヘルスを呼んで、そこで暴行事件を起こしたという、これ実は示談で済んだんで事件とは言えないかもしれませんけれども、そういうことも起きているわけですね。これはもう氷山の一角ですよ。
 だから、そういうことを含めて、女性が云々だとかいうことじゃなく、それ、先ほど大臣おっしゃった六号の何とかなど、平成十年にもこれ議論されているんですよ。既にこんなことは議論されているんです。でもはっきりと、この一号や二号に異性というものを省けばいいわけですよ、単純に。
 だから、これについては、もう時間ないんで最後にお聞きしますけれども、更に踏み込んで、もう速やかにこれ取り掛かるべきですよ。もうこれだけはんらんしているわけですから。だから、七年前も研究するって書いてあるんですけれども、まだ研究するんですか。もうかなり実態は進んでいるんですよ。研究している場合じゃないですよ、大臣。もうちょっと踏み込んで、これすぐに手を打つと、そこまでおっしゃっていただきたい。大臣、お願いいたします。
○国務大臣(村田吉隆君) それでは、研究するから進みまして、検討をさせていただきたいと思います。
○黒岩宇洋君 終わります。
▲
by

alfayoko2005

| 2006-02-15 15:57 | トランス
The Standard (Hong Kong)
Gays await official word on UK union

Legal recognition, or a costly divorce - all the joys and sorrows of a marriage could be the lot of many homosexual couples in Hong Kong, pending a decision from the Hong Kong government on whether or not the British Consulate can conduct civil unions on its premises.
Wednesday, February 15, 2006
Legal recognition, or a costly divorce - all the joys and sorrows of a marriage could be the lot of many homosexual couples in Hong Kong, pending a decision from the Hong Kong government on whether or not the British Consulate can conduct civil unions on its premises.
According to the UK's Civil Partnership Act - which came into force last December - all "British nationals" can register for a same-sex civil union in a British embassy or consulate, as long as the local jurisdiction does not object.
This does not mean recognition under SAR law, but the UK consulate behind Pacific Place has already had several inquiries about the possible service, said its spokeswoman.
She said the consulate has so far been unable to offer such a service because of the lack of a formal "no objection" from the SAR government.
A Home Affairs Bureau Protocol Division spokeswoman said the government "is still considering the matter."
The decision would be particularly meaningful in Hong Kong, which is home to nearly four million British passport holders.
Japan, Vietnam, Venezuela, Turkmenistan, Colombia and Belarus are just a few of the countries where the local authorities have not objected to British embassies formalizing same-sex unions.
The Civil Partnership Act was passed in the UK in November 2004, and the consulate here had informed local authorities at least "before last December," the consulate spokeswoman said.
The consulate, however, is not giving up. "We hope that this is something that we can offer," she said.
Under the new law, homosexual couples in a civil union receive essentially the same rights in the UK as heterosexual marriage partners.
The BBC has estimated that 1,200 ceremonies have been scheduled to take place in the UK. Most famously, Elton John and David Furnish recently wed under the new law.
Any hesitancy from the Hong Kong government may relate to the fact that about 3.5 million Hong Kong citizens hold British National (Overseas) passports - the special traveling document granted to Hong Kongers who did not want to become SAR Chinese citizens - and about 200,000 full British citizens live in Hong Kong.
On the face of the the UK law - which makes reference to "British Nationals" - the different grades of citizenship should all be covered by the law, said the spokeswoman.
According to the consulate Web site: "British law allows for couples, where at least one partner is a British national, to register their partnership overseas, if the local authorities do not object to us doing so.
A request has been made to the Hong Kong authorities asking for agreement for us to provide this service in Hong Kong.
"We await the response. Until we have confirmation that the Hong Kong authorities are content, we will be unable to provide this service in Hong Kong."
The Web site provides details about how gay couples can effect a civil union in other countries with a British embassy or consulate.
Vietnam and Japan are the closest to Hong Kong.
The Hong Kong administration's lack of response, however, is puzzling given that the rights recognized be the UK law need not be recognized in Hong Kong, where the age of consent for homosexual intercourse is still at issue, let alone gay civil unions.
Bar Association chairman and Senior Counsel Philip Dykes said there's no difference between flying to England to be wed and having the union conducted in a consulate in Hong Kong.
"So what's the problem?" he asked. No Hong Kong government entity recognizes such partnerships sanctioned abroad.
Michael Vidler, who represented the litigant who won a court declaration that the current age of consent laws for homosexual intercourse were unconstitutional, said what happens in the British Consulate should not be subject to Hong Kong authorities.
The UK law notes that civil unions should be conducted after there is "no objection" from local authorities, but this should merely be a "diplomatic measure," said Vidler, since the intention cannot have been to empower local authorities to define what the embassies can or cannot do according to British law.
Gay activist and Civil Rights for Sexual Diversities chairman Roddy Shaw said he knew of gay British citizens who had made inquiries with the consulate and called the SAR's lack of response "very interesting."
"British subjects should be given their rights irrespective of their place [of residence]," Shaw said. "Not respecting those rights can be divisive for families."
But Helen Fu, of the conservative Catholic Society for Truth and Light, urged the government to deliberate further and gather public support before granting a "no objection" to the British Consulate, given the number of people that may be covered by the UK law.
Embracing controversial issues may "disrupt social harmony," she said.
Public debate about gay marriage in Hong Kong is almost non-existent, said Fu, and although her organization has no fixed policy on the issue, she stressed that society placed a lot of emphasis on "family values."
The diplomatic and policy deadlock brings to the surface the Hong Kong government's ambivalent attitudes to wards homosexuality. While homosexuality has been decriminalized since 1991, laws said to be discriminatory of gays have been left on the books.
Last August, Justice Michael Hartmann ruled that existing laws are "demeaning of gay men," stereotype them as "deviant," and interfere with their private lives on the assumption that homosexuality is "morally reprehensible."
The government is appealing that decision, and the hearing is scheduled in July.
Scandinavian countries as well as France, Belgium, New Zealand, Canada and Spain already allow gay civil unions.
The French Consulate said it offers a similar service for its nationals, though fewer than than three people a year take advantage of it.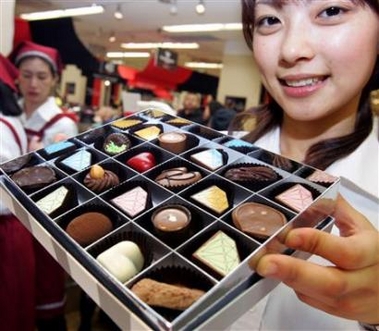 Reuters - Tue Feb 14, 12:08 AM ET
A salesperson displays a box of Chocolatier Antwerpen's chocolates at a department store ahead of Valentine's Day in Tokyo February 8, 2006. Makers of 60 premium chocolate brands have set up special booths at Takashimaya Co., a department store in central Tokyo, where boxes of chocolates costing as much as 10,000-20,000 yen ($84-$168) are selling briskly, helped by Japan's economic recovery. (Yuriko Nakao/Reuters)
Japanese women treat themselves on Valentine's Day
By Miho Yoshikawa
Mon Feb 13, 8:09 AM ET

TOKYO (Reuters)
- It used to be Japanese women gave men a gift of chocolates on Valentine's Day.
These days, they're more likely to buy pricey chocolates costing up to $200 a box as a treat for themselves.
"It's a small luxury that I allow myself," said 39-year-old Reiko Nozawa, who usually buys champagne truffles for herself and a few other chocolates to share with her husband.
Nozawa is not alone.
Makers of 60 premium chocolate brands have set up special booths at Takashimaya Co., a department store in central Tokyo, where boxes of chocolates costing as much as 10,000-20,000 yen ($84-$168) are selling briskly, helped by Japan's economic recovery.
"There's been a trend the past two or three years for women to buy chocolates for themselves, as a sort of pat on the back for having worked hard," said Takashimaya spokeswoman Yoko Yanagisawa.
That can be on top of what they spend on others.
"I think I'll buy some premium chocolates for myself," said Yoshiko Okajima, a fashionably attired working mother, as she checked out chocolates for herself after spending 7,000 yen on her husband and 8-year-old son.
Tokyo is filled with Valentine Day chocolate ads in the days leading up to February 14, and some manufacturers rake in about 20-30 percent of their annual sales in a few short weeks.
Until recently, most Japanese women bought cellophane-wrapped sweets in bulk from drugstores to give to colleagues or school friends as an "obligatory chocolate" on Valentine's Day.
A month later on "White Day" men return the favor by giving women gifts -- usually sweets but sometimes lingerie.
Confectionary maker Morozoff Ltd. is widely credited with having introduced Valentine's Day to Japan in a 1936 advertisement for chocolates.
"If we'd been a florist, no doubt we would have tried to sell flowers," Morozoff spokesman Kazuo Kojima said.
Some two decades later, Mary Chocolate Co. Ltd. used Valentine's Day as a sales promotion for its chocolates, in what is generally believed to be the first such commercial endeavor. The company only sold three chocolate bars during the three-day event in February 1958. Total sales -- 150 yen.
Almost a half-century later, Japan's Valentine Day chocolate sales have blossomed into a 50-billion-yen market.
WORTH IT
Upscale chocolate boutiques have sprouted all over Tokyo to cash in on increasingly sophisticated palates.
At Belgium-based Pierre Marcolini in Tokyo's trendy Ginza district a steady flow of customers peer at ribboned gift boxes in a glass display.
Customers are ushered in by a young woman whose task is to ensure the softly lighted, modest-sized store doesn't get too cramped.
"It is pretty expensive, but I think they are worth the price and I like them," said a 36-year-old junior high school teacher carrying a sweet-filled bag marked with the store's logo.
Such consumers are likely to help Japan's market for chocolate sweets, some 235,487 tons in 2004/05, and cocoa, roughly 56,634 tons, grow at a modest pace, said Kenji Kaminaga, executive director of the Chocolate & Cocoa Association of Japan.
"I think sales of premium chocolates are definitely helping to support the market," Kaminaga said.
Premium chocolates are often imported from countries like Belgium and France, with imports worth 36.8 billion yen in 2004/05, up about 36 percent from a decade ago, according to association estimates.
Chocolate aficionados are also beginning to favor high-quality sweets with a high cocoa content and complex tastes, achieved by blending bulk beans with prized flavor beans from countries like Venezuela and Ecuador.
The Japanese, however, are still modest chocolate consumers by global standards, swallowing about 4.85 pounds per person each year, compared to Switzerland's 24.9 pounds and Germany's 23.1 pounds.
Frist plans June vote on gay marriage
Aides say election-year push for constitutional ban likely to fail
From Ed Henry
CNN
Tuesday, February 14, 2006 Posted: 0017 GMT (0817 HKT)
WASHINGTON (CNN) -- Senate Majority Leader Bill Frist said Monday he plans a vote in early June on a constitutional amendment banning same-sex marriage, a move likely to fail but sure to spark a fiery election-year debate.
Frist, a Tennessee Republican, told CNN he's planning the vote for the week of June 5 because he wants to deal with the issue "as early as possible" before the Senate calendar fills up in a busy election year.
Frist said he doesn't know how many votes the ban will receive, but Republican and Democratic aides privately acknowledged the vote will probably fall far short of the 67-vote supermajority needed to advance a constitutional amendment.
When the Senate last voted on the issue in July 2004, a procedural motion to consider the ban received 48 votes -- well short of the number needed to send it on to the House of Representatives and then to all 50 states for ratification.
A spokesman for Senate Minority Leader Harry Reid, a Nevada Democrat, charged that Frist is wasting valuable time on the Senate floor in order to rally conservative voters in the midterm elections.
"At a time when we have so many other pressing issues facing the country, I'm not sure where this falls in the list of priorities," said Reid spokesman Jim Manley.
Frist has been mentioned as a potential presidential candidate in 2008, but a poll taken in December showed him trailing several other possible GOP nominees. (
Full story
)
Republican supporters of the constitutional ban insist they are not motivated by the politics of the issue and are solely focused on keeping the matter on the national agenda, hoping they can get closer to 67 votes over the next few years.
Achieving that goal, however, has been complicated by the fact that six Republicans -- including Sen. John McCain of Arizona -- voted against the ban in 2004.
President Bush has expressed support for a constitutional ban on gay marriage.
In last month's State of the Union address, he said many Americans are "discouraged by activist courts that try to redefine marriage."
The issue played a prominent role in the 2004 election campaign, with voters in 11 states considering amendments to state constitutions codifying marriage as an exclusively heterosexual institution. The measures passed in each state.
In 2005, Texas voters overwhelmingly approved an amendment banning same-sex marriage. (
Full story
)