S
M
T
W
T
F
S
1
2
3
4
5
6
7
8
9
10
11
12
13
14
15
16
17
18
19
20
21
22
23
24
25
26
27
28
29
30
カテゴリ
以前の記事
検索
最新のトラックバック
その他のジャンル
ファン
記事ランキング
ブログジャンル
画像一覧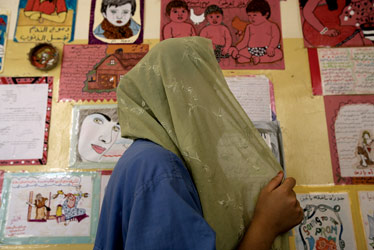 YURI KOZYREV FOR TIMESHROUDED: Amna, 18, says she was sent to work in brothels in three cities.
TIME
Sunday, Apr. 23, 2006
Stolen Away
As criminal gangs run amuck in Iraq, hundreds of girls have gone missing. Are they being sold for sex?
By BRIAN BENNETT/BAGHDAD
The man on the phone with the 14-year-old Iraqi girl called himself Sa'ad. He was calling long distance from Dubai and telling her wonderful things about the place. He was also about to buy her. Safah, the teenager, was well aware of the impending transaction. In the weeks after she was kidnapped and imprisoned in a dark house in Baghdad's middle-class Karada district, Safah heard her captors haggling with Sa'ad over her price. It was finally settled at $10,000. Staring at a floor strewn with empty whiskey bottles, the orphan listened as Sa'ad described the life awaiting her: a beautiful home, expensive clothes, parties with pop stars. Why, she'd be joining two other very happy teenage Iraqi girls living with Sa'ad in his harem. Safah knew that she was running out of time. A fake passport with her photo and assumed name had already been forged for her. But even if she escaped, she had no family who would take her in. She was even likely to end up in prison. What was she to do?
Safah is part of a seldom-discussed aspect of the epidemic of kidnappings in Iraq: sex trafficking. No one knows how many young women have been kidnapped and sold since the fall of Saddam Hussein in 2003. The Organization for Women's Freedom in Iraq, based in Baghdad, estimates from anecdotal evidence that more than 2,000 Iraqi women have gone missing in that period. A Western official in Baghdad who monitors the status of women in Iraq thinks that figure may be inflated but admits that sex trafficking, virtually nonexistent under Saddam, has become a serious issue. The collapse of law and order and the absence of a stable government have allowed criminal gangs, alongside terrorists, to run amuck. Meanwhile, some aid workers say, bureaucrats in the ministries have either paralyzed with red tape or frozen the assets of charities that might have provided refuge for these girls. As a result, sex trafficking has been allowed to fester unchecked.
"It is a problem, definitely," says the official, who has heard specific reports from Iraqi aid workers about girls being kidnapped and sold to brothels. "Unfortunately, the security situation doesn't allow us to follow up on this." The U.S. State Department's June 2005 trafficking report says the extent of the problem in Iraq is "difficult to appropriately gauge" but cites an unknown number of Iraqi women and girls being sent to Yemen, Syria, Jordan and Persian Gulf countries for sexual exploitation. Statistics are further made murky by tribal tradition. Families are usually so shamed by the disappearance of a daughter that they do not report kidnappings. And the resulting stigma of compromised chastity is such that even if the girl should resurface, she may never be taken back by her relations.
A visit to the Khadamiyah Women's Prison in the northern part of Baghdad immediately produces several tales of abduction and abandonment. A stunning 18-year-old nicknamed Amna, her black hair pulled back in a ponytail, says she was taken from an orphanage by an armed gang just after the U.S. invasion and sent to brothels in Samarra, al-Qaim on the border with Syria, and Mosul in the north before she was taken back to Baghdad, drugged with pills, dressed in a suicide belt and sent to bomb a cleric's office in Khadamiyah, where she turned herself in to the police. A judge gave her a seven-year jail sentence "for her sake" to protect her from the gang, according to the prison director.
Two other girls, Asmah, 14, and Shadah, 15, were taken all the way to the United Arab Emirates before they could escape their kidnappers and report them to a Dubai police station. The sisters were then sent back to Iraq but, like many other girls who have escaped their kidnappers and buyers, were sent to prison because they carried fake passports. There, they wait for the bureaucracy to sort out their innocence. What happened to the gang that took them? The sisters hear rumors that the men paid their way out of jail and are back on the streets. "I don't know what to do if the prison administration decides to release me," says Asmah, pushing back her gray head scarf to adjust her black hair. "We have no one to protect us."
Women's advocates are trying to set up halfway houses for kidnap survivors. The locations are secret to keep the women safe from both trafficking gangs trying to cover their tracks and outraged relatives who may try to kill the women to restore their clans' reputation. But the new Iraqi government has set up several bureaucratic roadblocks. Even organizations that do not receive government money have to secure permission from four ministries and the Baghdad city council for every shelter they hope to operate. Wringing her hands in exasperation, activist Yanar Mohammed says, "They want to close our women's shelter and deny our ability to open more."
That means that for girls like Safah, there are few havens left in Baghdad. In 2003, after Safah's father died, her grandmother took her to House of Children No. 2 orphanage in Adhamiya without the knowledge of most of her family. At the orphanage, she was befriended by an affable nurse who spent hours chatting up Safah, a fresh-faced girl whose fingers are still pudgy with baby fat. The nurse's modest hijab framed a sweet face that made Safah feel that the nurse was a good, spiritual woman, one she could trust. The nurse convinced Safah that she could be killed over the shame her disappearance had brought to her family. The nurse offered to adopt her. But official channels would have taken too long, so the nurse told Safah to hold her lower-right abdomen, scream and writhe on the carpet of the orphanage director's office, pretending to have appendicitis and requiring emergency medical assistance. Once at the hospital, the nurse whisked Safah into a waiting car.
The next three weeks were the worst in Safah's life. "I was tortured and beaten and insulted a lot in that house," Safah says. She wouldn't provide many details about what happened in the whiskey-soaked den in Karada. But she says that when it became apparent to her that she was about to be sold to Sa'ad, the man on the phone from Dubai, she became desperate. She passed word of her confinement to a neighborhood boy, who reported it to the local police station. Officers raided the place and arrested the nurse. Bureaucratic red tape somehow kept Safah and the nurse in the same prison for six months before Safah was finally released back into the custody of the orphanage a month ago.
At the orphanage, nestled behind a 10-ft. wall on the breezy banks of the Tigris, Safah can take computer classes, practice sewing and paint portraits of the family she wishes she had. But she doesn't feel as safe as she used to there. A social worker tells her that the nurse wasn't at the Khadamiyah Women's Prison during her last visit. Suddenly Safah rushes out of the room, crying and beating her head with her hands in the hallway. "If she is released," says Safah, her eyes darting back and forth in a panic, "I'm not staying here." But deep down she knows she has nowhere else to go.
With reporting by With reporting by Yousif Basil/ Baghdad, Assad Majeed/ Baghdad
TIME
Web Exclusive| World
The Most Homophobic Place on Earth?
Crimes against gays are mounting in Jamaica and across the Caribbean
By TIM PADGETT/KINGSTON
Tourism: A Welcome Mat for Gays?
Posted Wednesday, Apr. 12, 2006
Brian wears sunglasses to hide his gray and lifeless left eye—damaged, he says, by kicks and blows with a board from Jamaican reggae star Buju Banton. Brian, 44, is gay, and Banton, 32, is an avowed homophobe whose song Boom Bye-Bye decrees that gays "haffi dead" ("have to die"). In June 2004, Brian claims, Banton and some toughs burst into his house near Banton's Kingston recording studio and viciously beat him and five other men. After complaints from international human-rights groups, Banton was finally charged last fall, but in January a judge dismissed the case for lack of evidence. It was a bitter decision for Brian, who lost his landscaping business after the attack and is fearful of giving his last name. "I still go to church," he says as he sips a Red Stripe beer. "Every Sunday I ask why this happened to me."
Though familiar to Americans primarily as a laid-back beach destination, Jamaica is hardly idyllic. The country has the world's highest murder rate. And its rampant violence against gays and lesbians has prompted human-rights groups to confer another ugly distinction: the most homophobic place on earth.
In the past two years, two of the island's most prominent gay activists, Brian Williamson and Steve Harvey, have been murdered — and a crowd even celebrated over Williamson's mutilated body. Perhaps most disturbing, many anti-gay assaults have been acts of mob violence. In 2004, a teen was almost killed when his father learned his son was gay and invited a group to lynch the boy at his school. Months later, witnesses say, police egged on another mob that stabbed and stoned a gay man to death in Montego Bay. And this year a Kingston man, Nokia Cowan, drowned after a crowd shouting "batty boy" (a Jamaican epithet for homosexual) chased him off a pier. "Jamaica is the worst any of us has ever seen," says Rebecca Schleifer of the U.S.-based Human Rights Watch and author of a scathing report on the island's anti-gay hostility.
Jamaica may be the worst offender, but much of the rest of the Caribbean also has a long history of intense homophobia. Islands like Barbados still criminalize homosexuality, and some seem to be following Jamaica's more violent example. Last week two CBS News producers, both Americans, were beaten with tire irons by a gay-bashing mob while vacationing on St. Martin. One of the victims, Ryan Smith, was airbused to a Miami hospital, where he remains in intensive care with a fractured skull.
Gay-rights activists attribute the scourge of homophobia in Jamaica largely to the country's increasingly thuggish reggae music scene. Few epitomize the melding of reggae and gangsta cultures more than Banton, who is one of the nation's most popular dance-hall singers. Born Mark Myrie, he grew up the youngest of 15 children in Kingston's Salt Lane — the sort of slum dominated by ultraconservative Christian churches and intensely anti-gay Rastafarians. Banton parlayed homophobia into a ticket out of Salt Lane. One of his first hits, 1992's Boom Bye-Bye, boasts of shooting gays with Uzis and burning their skin with acid "like an old tire wheel."
Banton's lyrics are hardly unique among reggae artists today. Another popular artist, Elephant Man (O'Neil Bryant, 29) declares in one song, "When you hear a lesbian getting raped/ It's not our fault ... Two women in bed/ That's two Sodomites who should be dead." Another, Bounty Killer (Rodney Price, 33), urges listeners to burn "Mister Fagoty" and make him "wince in agony."
Reggae's anti-gay rhetoric has seeped into the country's politics. Jamaica's major political parties have passed some of the world's toughest antisodomy laws and regularly incorporate homophobic music in their campaigns. "The view that results," says Jamaican human-rights lawyer Philip Dayle, "is that a homosexual isn't just an undesirable but an unapprehended criminal."
Meanwhile, gay-rights activists say Jamaican police often overlook evidence in anti-gay hate crimes, such as the alleged assault by Banton in 2004. His accuser, Brian, says cops excised Banton's role from their reports of the 2004 beating. A police spokesman denies that. But in dismissing the case earlier this year, the judge in the trial warned Banton to avoid violence and "seek legal recourses" when he has complaints against gays in the future. Banton refused TIME's request for an interview. His manager, Donovan Germain, insists that the singer is innocent and that "Buju's lyrics are part of a metaphorical tradition. They're not a literal call to kill gay men."
There are some signs that Jamaica may soften its approach. Jamaica's ruling party last month elected the nation's first female Prime Minister, Portia Simpson Miller, a progressive who gay-rights supporters hope will eventually move to decriminalize homosexuality. She hasn't yet said that, but Jamaica's beleaguered gays say they at least have reason now to hope their government will change its tune before their reggae stars ever do.
Music Bird
モーツァルト生誕250年記念~カウント・ダウン・モーツァルト 投票結果発表
「私の好きなモーツァルト」にたくさんの投票、ありがとうございました。
集計の結果、上位20曲は以下の通りとなりました。
★第1位 アイネ・クライネ・ナハトムジーク(セレナード第13番ト長調K.525)
第2位 ピアノ・ソナタ第11番イ長調「トルコ行進曲付」K.331
第3位 歌劇「魔笛」K.620
第4位 アヴェ・ヴェルム・コルプスK.618
第5位 交響曲第40番ト短調K.550
第6位 クラリネット五重奏曲イ長調K.581
第7位 交響曲第41番ハ長調「ジュピター」K.551
第8位 歌劇「フィガロの結婚」K.492
第9位 レクイエム ニ短調K.626
第10位 フルートとハープのための協奏曲ハ長調K.299
第11位 ピアノ協奏曲第20番ニ短調K.466
第12位 ピアノ・ソナタ 第15番ハ長調K.545
第13位 クラリネット協奏曲イ長調K.622
第14位 セレナード第10番 変ロ長調K.361「グラン・パルティータ」
第15位 ディヴェルティメント ニ長調K.136
第16位 交響曲第25番ト短調K.183
第17位 協奏交響曲変ホ長調K.364
第18位 音楽の冗談K.522
第19位 幻想曲ハ短調K.475
第20位 弦楽四重奏曲第19番ハ長調「不協和音」K.465
英クラシックFMリスナーが選ぶ、モーツァルト人気曲トップ40
▲
by

alfayoko2005

| 2006-04-23 03:59 | Music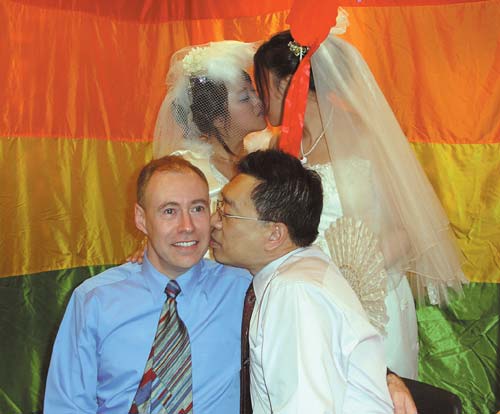 Taiwanese novelist Hsu You-sheng, right, kisses his American spouse Garry Harriman in Taipei yesterday to celebrate their 10th wedding anniversary and declared their plan to organize a group wedding in September this year. They encouraged homosexual couples to join the coming event./CENTRAL NEWS AGENCY
Society Saturday, April 22, 2006
'Married' gay couple celebrates anniversary, seeks legal rights
2006-04-22 / taiwan news, STAFF REPORTER / Jenny W. Hsu
Instead of a fancy restaurant or a favorite romantic spot, a couple decided to celebrate their tenth wedding anniversary at a press conference yesterday. Although two witnesses were present at the wedding as the laws required, the union of the two lovebirds has never been legally recognized in Taiwan.
Hsu You-sheng, a popular gay Taiwanese novelist met Gary Harriman in New York City eleven years ago. The two quickly fell in love and decided to tie the knot the year after they laid eyes on each other.
"However, although we followed the standard procedure according to the law, we are not considered a married according to the Taiwanese government," said Hsu.
He says it is a violation of basic human rights to prohibit same-sex marriage.
"To encourage all gay couples to bravely admit to their sexuality," said Hsu, "Gary and I want to take this opportunity to invite all the same-sex couples to join us in a group wedding in our upcoming gay pride parade," he continued.
Gender/Sexuality Rights Association Secretary General Wang Ping (王蘋) said marriage between any two people is a form of commitment, regardless of sexual orientation.
"It is a shame that our government still refuses to recognize same-sex marriage while many other countries such as Belgium, Canada, and the United Kingdom have already done so," said the gay activist.
She went on to say that the gay community in Taiwan is very "unsatisfied" with the indifferent attitude of the government on this matter.
J.J. Lai, an openly gay bookstore owner said that although society has only a negative image of gays, this fear and the stereotype are a manifestation of society's ignorance about "his kind."
"For example," Lai said, "people tend to think that gay men are promiscuous, but this is only a small portion of the gay population. The media amplifies this small group of people and perpetuates the myth that all gay men and lesbians sleep around," he said.
Although he does not want to get married or have children, Lai said it is the government's responsibility to protect the rights of citizen to marry and have children.
"People have the right to form the family they wish to have," he said.
Ashley Wu, the director of a gay right group Tongzhi Hotline Association said that in order to raise people's awareness concerning the gay community's desire have legal marriage, the theme for this year's gay pride parade will be "family."
"Many gay people are alienated and ostracized from their families and friends. All they want is to have the same rights as everyone else - the right to form their own families," Wu said.
The route and the date of the parade is yet to be decided, said Wang, but said that couples who choose to get married during this year's parade will also have a chance to try to register their marriage at city hall that day.
"It is not just for fun or just to make a statement. We are serious about making same-sex marriage legal in this country," said Wu, "and we will remain optimistic about the prospect."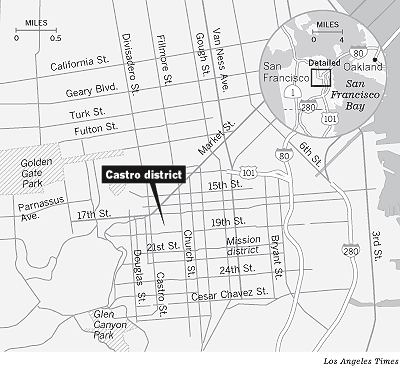 Castro district
April 21, 2006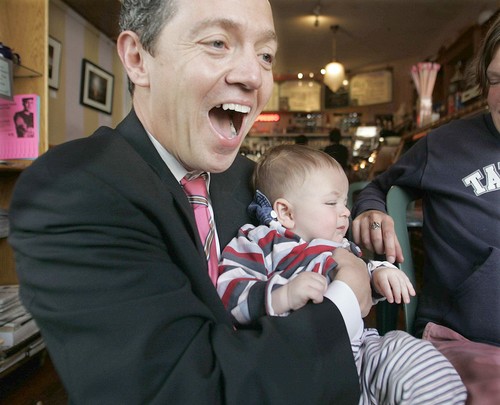 Bevan Dufty, left, who is gay and a member of the San Francisco Board of Supervisors, holds ten-month-old Joseph Richard Bikahi in a Castro District coffee house.
(Robert Durell / LAT)
March 21, 2006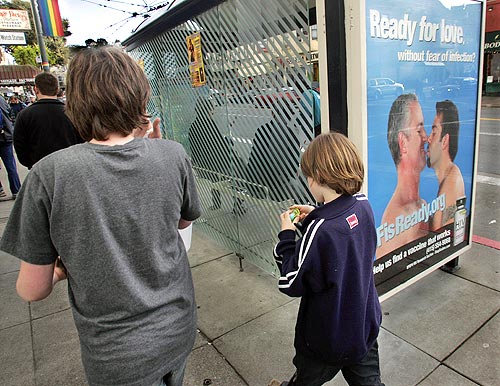 IN THE OPEN: Brody Paul, 12, left, and his brother Zander, 8, pass a bus shelter with an ad for HIV awareness in the Castro District.
(Robert Durell / LAT)
March 21, 2006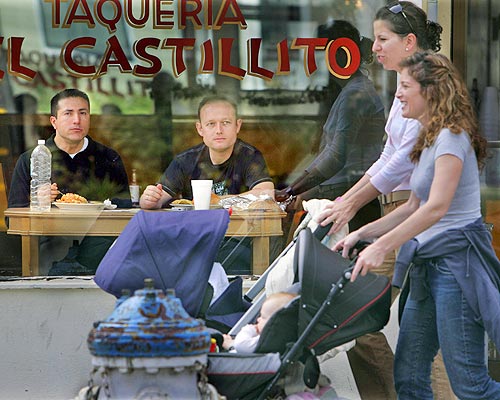 NEW NEIGHBORS: Diners Joe Magellan, left, and Dale Barton, who are gay, watch as two members of the Noe Valley Stroller Group take their weekly lunchtime walk through the Castro.
(Robert Durell / LAT)
March 21, 2006
From the Los Angeles Times
COLUMN ONE
A Haven's Sex and Sensibility
Protective parents -- straight and gay -- are objecting to racy storefronts in S.F.'s Castro district. Some merchants are defiant.
By John M. Glionna
Times Staff Writer
April 21, 2006

SAN FRANCISCO
— Brody Paul and his kid brother Zander are making their after-school rounds in this city's Castro district — one of the most openly gay neighborhoods in America.
Brody, 12, shops for mouthwash and Clearasil. His brother wants No. 2 pencils. Veterans of tolerant San Francisco, they're unfazed by the two women holding hands and the graffiti etched into the sidewalk: "Nick Loves Olaf."
But along Castro Street, the main business drag just two blocks from their home, the boys encounter images more difficult for children to digest. A video store where they regularly rent Disney films stocks triple-X gay porn flicks in plain view. Across the street, next to their favorite pizza joint, the front window of a gay sex shop called Rock Hard displays a large Day-Glo purple sex toy, leather trusses and graphic manuals.
"It's scary. It kind of makes you shudder," says Zander, who just turned 8.
"It's not scary," Brody corrects, offering a typical child's view of anything sexual. "It's just gross."
Although the Castro has long been called Boys Town, that moniker has assumed an ironic new meaning: The gay bastion is now an unlikely hub for families with children.
For more than a decade, heterosexual parents have been drawn to the quarter-mile-square Castro to raise their families in its quaint Victorian homes and small-town atmosphere. In recent years, the Castro's same-sex couples have also increasingly chosen to become parents, a revolution that has brought even more children.
In the Castro, restaurants oriented toward gay singles now offer child-size portions and even highchairs. One coffee shop features a hot chocolate "Castro Kids Special," a popular item during the morning rush that the owners call the "stroller hour."
At Cliff's Variety store, children shop for toy unicorns and jasmine-scented clay putty alongside cross-dressers perusing feather boas and rhinestone tiaras. And at this year's Gay Pride Parade in June, one float will celebrate gay families, featuring kids clad in construction-worker outfits and singing Village People songs.
But this new Castro has not emerged without tensions.
The racy storefront displays have pitted protective parents against equally militant gay residents. Many parents — both heterosexual and gay — say the suggestive ads are inappropriate for children. Gay activists want to preserve a sexually liberated atmosphere that embraces such gay-themed holidays as "Leather Day" and — in celebration of hairy men — "Bear Day."
Some complain that gay culture itself, which has long celebrated free sexual expression, is under attack — not just by straights, but by gays and lesbians as well.
Last year, a lesbian mother of two, now 6 and 2, complained about a sadomasochistic tableau in a clothing shop window that featured a male mannequin chained to a toilet. "As an adult I find this disgusting," she wrote in an e-mail to city officials. "As a parent I find it unconscionable."
After failing to persuade merchants to post suggestive ads above the line of sight of small children, the mother, who asked not to be identified, said she plans to move from the Castro.
Another parent complained when an antiques store displayed a kitschy life-size statue of an aroused naked man. Owner Robert Hedric said he reluctantly covered the offending portion after police intervened.
Hedric, who is gay and said he moved from Germany to the Castro for its lively gay culture, worries that family-friendly sensibilities will quash the neighborhood's spirit. "What surprise is next? Are they going to outlaw the Gay Pride Parade?" he asked. "This is the Castro, not the Vatican."
Jeremy Paul, the father of Brody and Zander, doesn't expect Castro Street to be St. Peter's Square. But he was offended by syphilis-prevention ads posted around the neighborhood that featured a happy, tune-whistling cartoon penis. He was particularly incensed when a flier was left on the windshield of the family car, where his children found it.
"I'm happy people can enjoy a lifestyle that's denied to them back home in Kansas, but there are appropriate standards of behavior, regardless of your sexual orientation," said Paul, a building permit consultant.
Mark Welsh, the gay manager of Rock Hard, has toned down his displays — but is now drawing a line. "I have always pushed the envelope to show what I can because if there's one place on the planet to flaunt sex, it's here," he said. "There's a place for these ads. Sex is why the Castro was founded."
Welsh, 50, who favors leather vests and form-fitting jeans, was once married and has an 18-year-old daughter who lived with him in the Castro for a decade. He said he never stopped her from wandering the neighborhood out of fear she might see a lurid window display — even his own. "I raised her to know that it was OK for men to kiss and hold hands in public," he said.
He said parents calling for change are a minority — and that "nobody, whether gay or straight, is going to tell me what to wear, what to say, how to act or what to display in my own shop. Gay culture will survive."
In the middle is Supervisor Bevan Dufty, whose district includes the Castro. Dufty, who is gay, wants to start a neighborhood gay family resource center. But he also supports merchants who want to feature racy displays. He wants to keep the Castro "sustainably gay."
Dufty, a 51-year-old New York native who sometimes models underwear for gay fundraisers, sees both sides of the issue.
For two years he's been trying to become a parent; he recently used in-vitro fertilization with a longtime lesbian friend, who is pregnant. After the birth, the pair plan to live together but lead separate romantic lives. "I think bringing a child into this world is one of the most fulfilling things you can do in a lifetime — I'm ready," Dufty said. "Ours will be one of the many nontraditional families peopling the Castro."
At a Castro coffee shop, he was recently approached by parents who knew of his quest to become a father. "Am I doing this right?" he asked as he held a squirming infant. "Am I holding his head right?"
The Castro has always been evolving. In the 1970s, the former Irish-Catholic enclave saw the arrival of gay-owned bars such as Toad Hall and the Missouri Mule. The neighborhood soon became a haven for gays who were attracted by a buzzing new counterculture that was defiantly outside the mainstream. In the 1980s, the Castro endured the AIDS epidemic, struggling to remain a bohemian stronghold for gay bartenders, artists and musicians. But rising rents in the 1990s drove out blue-collar veterans, leaving only the wealthiest. Then came young families.
Twelve years ago, Jeremy Paul and his wife, Lyssa Kaye Paul, were among a wave of heterosexual parents to colonize the Castro. They embraced the neighborhood's flair. But sometimes they didn't feel welcome. Gay waiters scowled while taking their order. Men sneered at them on the street.
The cold shoulder got considerably warmer a few years ago as more gay couples had their own children, part of the so-called Gayby Boom.
Now more than 250,000 children nationwide — 47,000 in California — are being raised by same-sex parents. "Many gay people once referred to couples with children as 'breeders,' a term with considerable bite to it," said Thom Lynch, executive director of the Gay Lesbian Bisexual and Transgender Community Center. "It's rarely used anymore. Now many gays are breeders as well."
But the gay civic leader says the Castro's parenting trend still irritates some. Asked if he wanted to become a father, Lynch responded icily: "I had the urge once. But it passed like gas."
Sande Leigh, principal of the Harvey Milk Civil Rights Academy, a public school named in honor of the slain gay supervisor, recalled how during her first year at the school, in 1997, she rerouted the Halloween Parade: "We had to move the children to the other side of Castro Street because of the suggestive posters."
Despite the Castro's sexual edge, Leigh calls the neighborhood a perfect spot for her school, which attracts many gay volunteers. Welsh, the Rock Hard manager, raises money for toys and supplies.
"We're not about censoring the Castro," Leigh said, "and the Castro is not about censoring us as a place for kids."
The editor of a publication aimed at gay mothers and fathers thinks Castro parents should accommodate the neighborhood, not the other way around. "That culture existed long before they arrived," said Angeline Acain, a New Yorker who's editor and publisher of Gay Parent, a nationally circulated magazine. "If you see a window display you find offensive, don't take your kid down that block."
Parents counter that the Castro should be sensitive to the needs of children. They say bouncy castles have a place — just like gay bars.
"Our kids need a place in the community," said July Appel, executive director of the nonprofit Our Family Coalition and a lesbian mother of two. "The Castro is big enough for everyone. Gay cruising has its place. But so do playgrounds."
Fred Kirkbride, who owns a Castro Street antiques store, said that a community that has for years argued for tolerance by heterosexuals should be more accepting. "Isn't it amazing how long we fought to be accepted by straight society? Now we want to keep straights and their children out of here," he said.
Kirkbride agreed that many store displays have gone too far. "I used to keep my parents away from those windows," he said. "I didn't want them to think all gays were into animal bestiality."
Slowly, both sides have shown compromise. Because children often accompany their parents to the Gay Lesbian Bisexual and Transgender Community Center, the facility now forbids nudity in the hallways — requiring the center's bondage classes to stay behind closed doors. "Twenty years ago we couldn't have had such a rule," said center director Lynch. "People would have fought it."
Nancy Koch, a lesbian mother, noted that a clothing store manager recently warned her about taking her 12-year-old daughter into a back room where suggestive leather outfits were displayed. As more families move in, she said, businesses that accommodate the sensibilities of families will survive, while those that are less child-friendly will not.
The mother maintained that exposure to the racy ads has not harmed her daughter. "There's not much to shock her," Koch said. "Sex has been in her peripheral vision for a long time."
Organizers of the two-day gay pride event near City Hall, the nation's most prominent gay celebration, now provide a children's area with licensed day care. They also encourage families to attend on Saturday, which they have arranged to feature fewer risque events than Sunday. "It's important that the gay community has this place to express itself," said event organizer Lindsey Jones. "We don't want to put too many parameters around that."
But Jeremy Paul says the Castro still has a way to go. His younger son, Zander, recoils at seeing men wearing leather chaps and little else at a local gay-oriented street fair: "He'll say, 'Dad, do I have to see those flabby butts again?' "
Welsh winces when he hears that. He says children have no place at the fair anyway: "It's an adult event. It's for us. Kids should stay home."
For now, many men will remain annoyed each time they spot another baby stroller invading their beloved gay mecca.
"We're not going to neuter ourselves for anybody," said Joe Gallagher, a gay barber who often runs raunchy ads featuring muscular men in the local gay press. "We're not going to jump just because these people complain. The rest of the country isn't big enough? They've got to try and take over the Castro as well?"
Zander Paul says he is comfortable with his Castro childhood. "I'm not bothered by living near gay people. It's natural," he said. "For me, the word 'gay' has two meanings. One is you're happy. The other is you like boys."
Angus Reid Global Scan : Polls & Research
Spaniards Back Government on Same-Sex Marriage
April 20, 2006

(Angus Reid Global Scan)
– Many adults in Spain believe their current administration was right in granting legal recognition to homosexual partnerships, according to a poll by Instituto Opina released by Cadena Ser. 61 per cent of respondents agree with the government's decision to legalize same-sex marriage.
José Luis Rodríguez Zapatero was sworn in as president of the government in April 2004, following a victory for the Socialist Worker's Party (PSOE) in the legislative ballot. The conservative Popular Party (PP) had administered the government under José María Aznar since 1996.
In April 2005, the PSOE-dominated Congress of Deputies approved a bill that would allow gay and lesbian couples to marry, divorce and adopt children. In June, the bill became law after a 187-147 vote. Spain became the third country in Europe—after Belgium and the Netherlands—to permit same-sex marriage.
In the first six months since the same-sex marriage law was sanctioned in Spain, 425 homosexual couples from all over the country were married.
Polling Data
Do you agree or disagree with the government's decision to legalize same-sex marriage?
Agree
61.0%
Disagree
32.3%
Not sure
4.7%
No reply
2.0%
Source: Instituto Opina / Cadena Ser
Methodology: Telephone interviews with 1,000 Spanish adults, conducted on Mar. 30, 2006. Margin of error is 3.1 per cent.
Gay Couples in Belgium Get Adoption Rights
Friday April 21, 2006 6:16 AM

BRUSSELS, Belgium (AP)
- The Belgian parliament has narrowly approved a bill to grant same-sex couples equal rights in adoption.
Senators backed the proposal Thursday by a vote of 34 to 33 with two abstentions. The House had earlier voted 77-62 in favor of the bill.
With the adoption of the bill, Belgium becomes the fourth European Union member state to allow same-sex couples equal rights in adoption, after Spain, the Netherlands and Sweden.
Up to now, only heterosexual couples or single people were granted adoption rights.
``It is a memorable day for the children of gays. Finally they earn the right of a worthy legal link with both their parents,'' said Mieke Stessens of the Belgian Federation of Gays.
Belgium OK's Co-Parenting For Gay Couples
by Malcolm Thornberry, 365Gay.com European Bureau Chief
April 21, 2006 - 12:01 am ET
(Brussels)
The Belgian Senate on Thursday passed legislation recognizing the rights of same-sex couples to be parents. The measure passed the lower house in December.
The law will recognize both partners where one is the biological parent and allow couples to jointly adopt children.
The bill passed by only one vote in the Senate.
In the case of adoption, the law will cover children from Belgium or who were adopted abroad.
"This bill means children can enjoy a genuine statute, which is essential for their development. Their situation is not a shameful one," Justice Minister Laurette Onkelinx told the Senate.
LGBT rights groups had been fighting for the change in the law ever since Belgium became the second country in the world to permit same-sex marriage, arguing that many gay and lesbian couples are already raising children but that those children are not protected by law.
The new law will provide for custody, visitation and child support when a same-sex couple breaks up and provides rights for non biological parents if the other parent should die.
Belgium legalized same-sex marriage in 2003 but the law did not permit co-parenting.
中傷的標語含むTシャツの公立校での着用禁止令認める、米裁判所
2006年 04月 21日 金曜日 15:53 JST
 [サンフランシスコ 20日 ロイター] 「ホモセクシュアルは恥ずべきこと」と書かれたTシャツを学校に着用してきた生徒をめぐり行われてきた裁判で、米連邦控訴裁判所は20日、公立の学校において、中傷的なスローガンが書かれた洋服の着用禁止を学校側が生徒に命じることができるという判決を下した。
 第9巡回区控訴裁判所の3人の裁判官は、学校側がホモセクシュアルを中傷するメッセージの書かれたTシャツを脱ぐよう生徒に指示できるとした主張を2対1で認め、学校側が提示するドレスコードは言論や宗教の自由を侵害するものとの生徒側の訴えを退けた。 
 この学校では以前から同性愛者と非同性愛者の間で衝突が発生しており、生徒着用のTシャツのスローガンが双方の緊張を高めるのではとの懸念から、着用禁止命令を出したという。
Court Lets Schools Ban Inflammatory T-Shirts
A federal appeals panel rules that an anti-gay slogan sported by a San Diego-area high school student interfered with others' right to learn.
By Henry Weinstein, Los Angeles Times Staff Writer
April 21, 2006
Schools in the Western United States can forbid a high school student to wear a T-shirt with a slogan that denigrates gay and lesbian students, a sharply divided federal appeals court in San Francisco ruled Thursday.
In a 2-1 decision, the U.S. 9th Circuit Court of Appeals said that a T-shirt that proclaimed "Be ashamed, our school embraced what God has condemned" on the front and "Homosexuality is shameful" on the back was "injurious to gay and lesbian students and interfered with their right to learn." Wearing such a T-shirt can be barred on a public high school campus without violating the 1st Amendment, the court said.
In numerous instances, the U.S. Supreme Court has held that Americans must tolerate offensive speech, including permitting marches by Nazis through a community with a substantial Jewish population. However, the majority ruled in this instance that some limitations were permissible in a public secondary school setting.
The court concluded that San Diego-area high school student Tyler Harper's donning of the T-shirt "collides with the rights of other students in the most fundamental way," wrote 9th Circuit Judge Stephen Reinhardt.
"Public school students who may be injured by verbal assaults on the basis of a core identifying characteristic such as race, religion, or sexual orientation have a right to be free from such attacks while on school campuses," Reinhardt said. "Being secure involves not only the freedom from physical assaults but from psychological attacks that cause young people to question their self-worth and their rightful place in society."
Judge Alex Kozinski issued a strong dissent. "While I find this a difficult and troubling case," the Poway Unified School District has "offered no lawful justification for banning Harper's T-shirt."
There was no evidence that gay students were harmed by derogatory messages of the type conveyed on Harper's T-shirt, Kozinski said.
Moreover, Kozinski, an appointee of former President Reagan, said there was no indication that a discussion that Harper had with other students about the T-shirt "turned violent or disrupted school activities."
In fact, Kozinski said, "while words were exchanged, the students managed the situation well and without intervention from the school authorities. No doubt, everyone learned an important civics lesson about dealing with others who hold sharply divergent views."
Thursday's ruling comes amid a growing campaign across the country to force public schools, state universities and private companies to annul policies protecting gays and lesbians from harassment. Plaintiffs in several lawsuits are seeking to knock out tolerance programs on the grounds that they violate their religious beliefs, which condemn homosexuality.
The sharply clashing views of Reinhardt and Kozinski, who usually agree on free speech cases, reflects that the case poses "an enormously difficult issue — the tension between schools wanting to create a more tolerant learning environment and the important value of protecting the free speech of students," said Erwin Chemerinsky, a constitutional law professor at Duke University in North Carolina. He said that in recent years appellate courts had overwhelmingly sided with school officials who had restricted the speech of high school students.
But UCLA constitutional law professor Eugene Volokh said he found the majority opinion "very troubling…. This is very much contrary to basic principles that the 1st Amendment is viewpoint neutral. It protects hostile viewpoints as well as tolerant ones," Volokh said. He predicted that the issue would reach the U.S. Supreme Court.
The 9th Circuit decision stemmed from an incident in April 2004, when Harper, then a sophomore at Poway High School, wore the T-shirt to protest a Day of Silence at the campus intended, in the words of a school official, to "teach tolerance of others, particularly those of a different sexual orientation."
A teacher at the school told Harper that he believed the shirt was inflammatory, violated the school's dress code and "created a negative and hostile working environment for others." When Harper refused to remove the shirt and asked to speak to a school administrator, the teacher gave him a dress-code violation card to take to the front office.
After meeting with Harper, school Principal Scott Fisher said Harper could not wear the shirt on campus but declined to suspend him as Harper requested. Rather, Fisher required Harper to stay in the school's front office the remainder of day. He was not disciplined in any other way.
About six weeks later, Harper, represented by two Christian-oriented legal organizations, sued the school district, contending that both his right to free speech and freedom of religion had been violated. Harper asserted that wearing the T-shirt was "motivated by sincerely held religious beliefs" regarding homosexuality and that the school "punished" him for expressing them. He also said the school had "attempted to change" his religious views.
U.S. District Judge John Houston in San Diego ruled that Harper was not entitled to a preliminary injunction barring the district from enforcing its dress code. The 9th Circuit majority upheld Houston and rejected all of Harper's arguments. The panel has jurisdiction over federal appeals in California and eight other Western states.
At this stage, the 9th Circuit was reviewing Houston's ruling on the preliminary injunction. He is still considering Harper's larger constitutional challenge. However, Thursday's ruling will shape the rest of the case in a profound way.
Both Reinhardt, an appointee of former President Carter, and Judge Sidney R. Thomas, a Clinton appointee who joined the majority opinion, are strong supporters of the 1st Amendment. Their opinion emphasized that it was limited to high schools and elementary schools, and that the T-shirt would be permissible on a college campus.
The majority cautioned that "it is essential that students have the opportunity to engage in full and open political expression" and that "limitations on student speech must be narrow…. Accordingly, we limit our holding to instances of derogatory and injurious remarks directed at students' minority status such as race, religion and sexual orientation."
The ruling came just a few days before Poway High is scheduled to have its next Day of Silence, which will be followed by a Day of Truth. Harper's photograph appears on the Day of Truth website, which says the day was "established to counter the promotion of the homosexual agenda and express an opposing viewpoint from a Christian perspective."
The website encourages students to wear Day of Truth T-shirts and to hand out cards (not during class time) saying, among other things, that "Silence isn't freedom. It's a constraint. Truth tolerates open discussion, because the truth emerges when healthy discourse is allowed."
Harper is now a senior at Poway High and will be heading off to college in the fall.
Both his lawyer, Robert Tyler, and an attorney for the school district, Jack M. Sleeth, said Harper was an excellent student and had no disciplinary record.
Sleeth said the case clearly had broad ramifications. "This is not just about Poway; it is about the rights of various people, including gay students in schools everywhere and students with religious opinions," he said.
Tyler, general counsel of Advocates for Faith and Freedom, said he was disappointed with the majority ruling and had not decided whether to appeal.
Even in the midst of his blistering dissent, Kozinski acknowledged that he had sympathy for the position of Poway officials "that students in school are a captive audience and should not be forced to endure speech that they find offensive and demeaning."
"There is surely something to the notion that a Jewish student might not be able to devote his full attention to school activities if the fellow in the seat next to him is wearing a T-shirt with the message 'Hitler Had the Right Idea' in front and 'Let's Finish the Job!' on the back," Kozinski said.
"This T-shirt may well interfere with the educational experience even if the two students never come to blows or even have words about it."
Nonetheless, Kozinski chided the majority for concluding that it was permissible to suppress points of view while extolling the virtues of tolerance. "One man's civic responsibility," he wrote, "is another man's thought control."
U.S. APPEALS COURT
Public schools can ban anti-minority messages
- Bob Egelko, San Francisco Chronicle Staff Writer
Friday, April 21, 2006
Public schools can prohibit students from displaying messages that attack gays or other persecuted minorities, a divided federal appeals court ruled Thursday in the case of a Southern California youth whose T-shirt proclaimed that "homosexuality is shameful.''
In a 2-1 decision, the Ninth U.S. Circuit Court of Appeals in San Francisco said a high school sophomore in San Diego County was unlikely to be able to show at trial that his rights were violated when school officials ordered him to remove the shirt in April 2004, the day after an event at the school promoting gay-straight tolerance.
"Public school students who may be injured by verbal assaults on the basis of a core identifying characteristic such as race, religion or sexual orientation have a right to be free from such attacks while on school campuses,'' Judge Stephen Reinhardt wrote in the majority opinion.
Reinhardt said students' constitutional right of free speech does not prohibit school officials from restricting "student speech that intrudes upon the rights of other students.''
Judge Alex Kozinski dissented, saying the majority was relying on pop psychology to create a new right for certain groups of students to be protected from offensive speech.
"I have considerable difficult with giving school authorities the power to decide that only one side of a controversial topic may be discussed in the school environment because the opposing point of view is too extreme or demeaning,'' Kozinski said.
The Alliance Defense Fund, a conservative organization that represented the student in the case, said it would ask the full appeals court to order a new hearing by a 15-judge panel.
"Students do not give up their First Amendment rights at the schoolhouse door,'' said attorney Kevin Theriot. "This panel has upheld school censorship of student expression if it is the Christian view of homosexual behavior.''
He contrasted the ruling with a 2001 decision by another federal appeals court, written by then-Judge Samuel Alito -- now a Supreme Court justice -- overturning on free-speech grounds a school district's harassment policy that included bans on anti-gay slurs.
The San Diego student, Chase Harper, wore his shirt at Poway High School in protest of the annual "day of silence'' sponsored by the school's Gay-Straight Alliance. The same event a year earlier had been the occasion of confrontations between students, some of them wearing T-shirts with derogatory comments about homosexuals, the court said.
The back of Harper's shirt read, "Homosexuality is shameful,'' with a biblical citation; the front read, "Be ashamed, our school embraced what God has condemned."
Kozinski, in dissent, said Harper did not intend to demean other students but to dispute the viewpoint expressed in the "day of silence." Silencing Harper's message amounts to unconstitutional "viewpoint discrimination," Kozinski said.
A teacher sent Harper to the principal's office, where Principal Scott Fisher told him the shirt was inflammatory and asked him to remove it. The student asked to be suspended instead, but the principal kept him in the office for the rest of the day without disciplining him.
Harper's suit, filed in June 2004, claimed violations of freedom of speech and religion. Thursday's ruling upheld a federal judge's denial of an injunction that would prohibit the school from enforcing its policy.
Reinhardt, joined by Judge Sidney Thomas in the majority opinion, said the Supreme Court's landmark 1969 ruling on free speech in public school -- allowing a student to wear a black armband in class to protest the Vietnam War -- left room for school officials to limit expression that disrupts education or violates other students' rights.
Those rights, he said, include the right of a historically persecuted minority group to be free from "psychological attacks that cause young people to question their self-worth and their rightful place in society.'' He also said requiring Harper to remove his T-shirt did not interfere with his religious beliefs or practices.
E-mail Bob Egelko at begelko@sfchronicle.com.
Page B - 6
URL: http://sfgate.com/cgi-bin/article.cgi?file=/c/a/2006/04/21/BAGBGICPFJ1.DTL
IGLHRC Calls for Immediate Investigation into Reports of Gay Iraqis Targeted for Violence, Kidnappings and Murder
Date: April 20, 2006 Middle East » Iraq » Press Release
After reports from the United Nations Office for the Coordination of Humanitarian Affairs (UNOCHA) that gay Iraqis are increasingly targeted for violent threats, kidnappings, attacks, and murder solely because of their sexual orientation, the International Gay and Lesbian Human Rights Commission (IGLHRC) has written to the Secretary of State Condoleezza Rice and called on the Bush Administration to take all appropriate measures to publicly condemn the escalation of violence against gay men and lesbians in Iraq and take all possible measures to ensure their protection.
In addition to the letter to the State Department, Paula Ettelbrick, executive director of IGLHRC, has issued the following statement:
"IGLHRC is alarmed by the documented escalation of violence against gay people in Iraq. We call on the United States, political leaders around the world, and Iraqi authorities to take responsibility for speaking out and stemming the targeting of gay people for kidnapping and murder, and seeing that those committing these crimes are punished.
"The acts of violence within the Iraqi community are part of a larger pattern of violence that has arisen out of the current war and sectarian tensions. We believe it is the responsibility and obligation of the United States, considering its present involvement in Iraq, to protect and support the most vulnerable and marginalized populations being targeted for this violence.
"It has been well documented and observed that war, particularly one as chaotic as the one in Iraq, leads to targeting and violence against groups that are more marginalized. The rape of women being used as a weapon of war in Bosnia and the targeting of gay people in addition to millions of Jews during the Holocaust in Europe are only two such horrific examples. The violent atmosphere of war often provides cover for more personalized violence, such as that against LGBT people.
"We are grateful to the United Nations Office for the Coordination of Humanitarian Affairs for reporting on the targeting of lesbian, gay, bisexual, transgender (LGBT) people in Iraq for violence and abuse. We expect that the US State Department will condemn these acts as it recently has condemned homophobic acts in Nigeria and the United Arab Emirates.
"Whenever public leaders—whether political or religious—espouse homophobia one can expect an increase in violence against our community. Their calls for discrimination or murder of LGBT people create an atmosphere of impunity, as police and the public in general get the message that they won't be punished for kidnapping or torturing someone who is gay. By the same token, the leaders who condemn such brutality have the power to stop it.
IGLHRC will diligently follow up on these reports and offer whatever strategic assistance we can to Rainbow for Life, the Iraqi LGBT group cited in the UNOCHA report."
(A copy of the full letter to Secretary of State Rice is available on IGLHRC's hompage, at www.iglhrc.org.