カテゴリ
以前の記事
検索
最新のトラックバック
その他のジャンル
ファン
記事ランキング
ブログジャンル
画像一覧
浅野温子 念願の難役 性同一性障害に理解を
「薔薇の微笑―」日テレ系、4日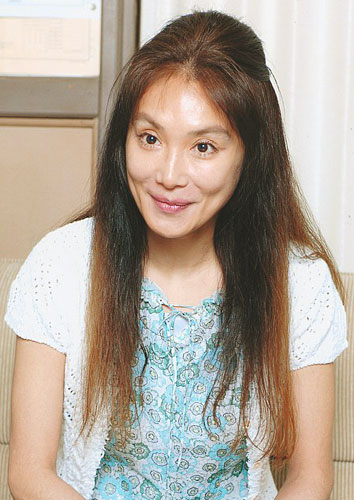 「長年の念願だった役を演じられてうれしい」と語る浅野温子
 女優・浅野温子が、7月4日午後9時から日本テレビ系で放送されるドラマ「薔薇(ばら)の微笑 愛すれど心哀(かな)しく」に主演する。演じるのは、性同一性障害に悩む雪乃役だ。女性の心を持ちながら男として生まれたため、性転換手術まで受け、懸命に"女の幸せ"をつかもうとするヒロインを熱演している。(市原尚士)
「本人のつらさ伝えたい」
 原作は、夏樹静子が1975年に発表した「黒白の旅路」。性同一性障害は、脳が認識する心理的な性と肉体的な性が一致しない疾患で、小説が刊行された当時は、まだ奇異の目で見られていた障害だった。しかし、最近では、障害を持つ児童を小学校が受け入れたり、競艇の女子選手が男子選手として認められたり、市民権を獲得しつつある。
 高橋秀明プロデューサーは、「興味本位で面白おかしくとらえるのではなく、まじめにこの障害をテーマにしたドラマを作りたかった」と話す。主人公は、男と女両方のキャラクターを演じ分けなければならない難しい役どころとなるだけに、配役にも「視聴者が『なるほど、この人なら』とうなずける俳優でなければだめだった」と話す。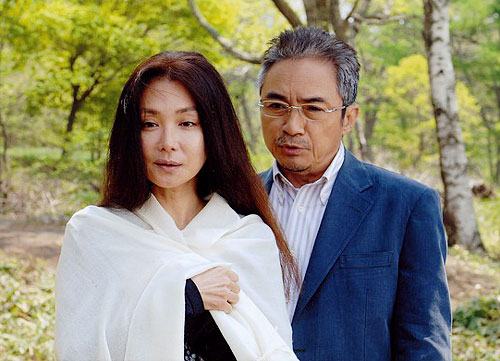 障害を乗り越え、愛を成就させる朝永(西郷輝彦)と雪乃(浅野温子)
 偶然、浅野は10年前から「はっきりした理由は分からないけど、ずっと性同一性障害の役に挑戦したかった」といい、周囲にもそう話していた。これを聞きつけた高橋プロデューサーが「しっかりした演技力を持つ浅野さんに、ぜひ演じてほしい」と依頼した結果、快諾が得られた。
 難役に挑んだ浅野は「女性の弱さを感じさせる、『守ってあげなきゃ』と思ってもらえるような女性を演じる必要があった。30年女優をやってきて初めての経験で、とっても新鮮に演じられた」と振り返る。男役も初挑戦で、ドラマの中でスーツ姿を披露しているが、「着心地はすごく良かった」と笑う。
 高橋プロデューサーと浅野の共通認識は、「性同一性障害のつらさは本人にしか分からない」という点だ。障害に苦しむ主人公の姿を見てもらうことで、「社会的な認知度がより高まり、周りの理解が得られるようになれば」と浅野は期待している。
〈あらすじ〉 行方不明になった義兄・岩田(デビット伊東)を捜していた一級建築士の滝井(岡田浩暉)は、岩田が会社社長の朝永(西郷輝彦)宅に出入りしていたとの目撃情報を入手。しかし、滝井の質問に、朝永の内妻・雪乃(浅野温子)は「岩田をまったく知らない」と答える。そんな中、朝永の刺殺体が伊豆の天城山中で見つかる。
(2006年6月29日 読売新聞)
▲
by

alfayoko2005

| 2006-06-30 14:54 | トランス
Japan host clubs provide ersatz love for a price
By Linda Sieg | June 29, 2006

TOKYO (Reuters) -
Dressed all in white and smiling, Yuka and Manato stand side-by-side before a pyramid of champagne glasses, framed in an arch of white, pink and red balloons.
"I really love Manato," says Yuka, while a score of black-suited young men kneel before them, chanting loudly.
"I'll never forget this day," he replies.
The scene in the dark, smoky night club seems modeled
on a wedding, but no nuptials are under way.
Instead, Yuka is paying around 1 million yen ($8,700) for the champagne the pair pour into the tower of glasses to mark Manato's 25th birthday at Club Raphael, a "host club" where women are pampered by the men of their dreams -- for a price.
Around 150 such host clubs dot the streets of Tokyo's Kabukicho entertainment district, ranging from small ones like Club Raphael to the famed Ladies' Club Ai a few blocks away, where more than 170 gigolos are employed in a glitzy night spot complete with dance floor and band.
"Hosts say things that ordinary guys are too embarrassed to say. They are sweet-talk professionals," says Yuka, 27, fingering the beads adorning her dyed-brown hair.
"This place isn't real," she added. "It's like Neverland."
Host clubs have been around for decades, but in recent years have become the focus of a media blitz that has made them seem more mainstream, if not necessarily respectable.
The TV drama "Yaoh," based on a popular manga comic, was a big hit with viewers before its tale of a host dedicated to "making every woman happy" ended in March.
Internet sites and magazines devoted to the topic provide a plethora of information for would-be hosts and nervous novice clients.
"It used to be that women were afraid of getting caught going to a host club, so they went in the back way. Not anymore," Takashi Aida, 66, who founded Club Ai in 1971 and now owns five night clubs in Kabukicho, told Reuters in an interview.
"Now everyone comes in the front," says Aida, flashing four diamond rings, a diamond-studded watch and a diamond tie clip.
FOR LOVE OF MONEY
For hosts like Manato, who worked a string of low-paid jobs before becoming a gigolo, the attraction of the job is clear.
"I'm not very bright, so this is the only way I can make a lot of money," says Manato, his dyed-brown hair pulled up in a partial top-knot and wearing a subtle smidgen of lipstick.
Popular hosts at Club Raphael can average around $25,000 a month, while stars at Club Ai rake in as much as $45,000 -- almost entirely from commissions on the liquor they persuade their female customers to buy, managers at the clubs said.
"I made as much last month as in three years at my old job," says 25-year-old Kiyomaru, a slender high school dropout who became the top host at Club Ai just 10 months after starting.
Whether hosts provide after-hours services is up to them.
"If customers have money, they can do what they want with the host -- go on dates, go out to dinner, have a physical relationship," Kiyomaru says.
Many hosts drift into the job. Others are looking for a quick fix of funds to start their own business. Some say they enjoy the attention they get, but still don't plan to hang around long.
"I've been on TV. I've been in magazines. People I don't know, know me. I can do what I like. I can be famous," said Kiyomaru. "Now I've reached the top, I need to find a new goal."
LONELY WOMEN
Many hosts, though, drop out after the merest taste of a tough apprenticeship that begins with scrubbing toilets and can include trolling the streets to solicit or "catch" customers.
Even successful hosts tend to quit the business after a couple of years, worn out by the heavy drinking and late hours.
The appeal for female customers is more of a mystery, for all the hosts' talk of making the women feel like princesses.
Night club hostesses and sex industry workers looking to turn the tables after an evening of catering to men account for a large percentage of the clientele, those in the business say.
"I come for a change of pace. Maybe there are people here who want to deceive me, but as long as I know what I'm doing I can enjoy myself," said Reika, 56, a long-time Club Ai customer who runs her own night club nearby.
Students and office workers looking for a thrill and middle-aged housewives and businesswomen with money to spend can also be found smoking and drinking with a bevy of hosts.
"It's the mirror image of hostess clubs," said John Clammer, a sociology professor at Tokyo's Sophia University. "You've got a lot of working women, single, getting a bit older and probably not going to get married, and they can afford it."
($1 = 115.08 yen)
Gwen Araujo Justice for Victims Act Advances in CA Senate
by Chris Daley
Wednesday Jun 28th, 2006 11:05 PM
California took another step towards becoming the first state to meaningfully respond to strategies that blame transgender people for their own murders. The Gwen Araujo Justice for Victims Act (AB 1160), authored by Assemblymember Sally Lieber and sponsored by Equality California, passed through the Senate Public Safety Committee on a 4-2 vote yesterday afternoon.
June 28, 2006 – San Francisco – California took another step towards becoming the first state to meaningfully respond to strategies that blame transgender people for their own murders. The Gwen Araujo Justice for Victims Act (AB 1160), authored by Assemblymember Sally Lieber and sponsored by Equality California, passed through the Senate Public Safety Committee on a 4-2 vote yesterday afternoon. Sylvia Guerrero, testifying about the bill named after her murdered transgender daughter, spoke about the need for educating juries about bias in order to prevent defendants from successfully blaming their victims for their own murders through use of the so-called "panic strategies."
"Since my daughter was killed, my family and I have spent literally thousands of hours working hard to make sure that California is a state where everyone is respected and treated fairly. The Gwen Araujo Justice for Victims Act will really help us in our work," said Guerrero. "[The bill] will give jurors the information they need to better understand their obligation to make decisions free of bias against the victim."
AB 1160 now moves to the Senate Appropriations committee for consideration of a new provision earmarking $125,000 for the creation of educational materials about panic strategies to be distributed to District Attorneys' office throughout the state. This provision responds to a 2005 decision by the Fresno County District Attorney to agree to a plea bargain resulting in a 4 year sentence for a person believed to have stabbed a transgender person 20 times with a pair of scissors. When asked about this light sentence for a homicide, an attorney from the DA's office is reported to have attributed it, in part, to use of panic strategies.
"Outcomes like these turn our state's hate crimes and anti-discrimination laws on their heads," said Christopher Daley, Director of the Transgender Law Center. "The Gwen Araujo Justice for Victim's Act is a logical step forward in ensuring that such outcomes, based on the bias we've already outlawed in employment, housing, education, insurance, and public accommodations, don't put transgender people and others at risk for violent crimes."
# # # 30 # # #
Transgender Law Center (http://www.transgenderlawcenter.org) TLC is a civil rights organization advocating for transgender communities through direct legal services, education, community organizing, and policy and media advocacy.
Mother Of Murdered Trans Teen Pleads With Calif. Senate To Pass 'Gay Panic' Bill
by 365Gay.com Newscenter Staff
June 28, 2006 - 11:00 am ET
(Sacramento, California)
The mother of Gwen Araujo made a passionate plea Tuesday before a California Senate committee for support of legislation curbing the so-called gay panic defense.
"Since my daughter was killed, my family and I have spent literally thousands of hours working hard to make sure that California is a state where everyone is respected and treated fairly," Sylvia Guerrero. told the Senate Committee on Public Safety.
The Gwen Araujo Justice for Victims Act would place restrictions on the way the defense tactic is presented to juries.
If a defense attorney attempted to use the argument that a client committed a crime out of panic because the victim were gay or trans a judge would be required to instruct the jury that the use of societal bias, including so-called "panic strategies," to influence the proceedings of a criminal trial is inconsistent with the public policy of the State of California.
The bill, authored by Assemblymember Sally Lieber (D-San Jose) also includes funding for training district attorneys in how to address attempts to use the "panic strategy."
"By providing funding to train district attorney's on how to effectively deal with the so-called "panic strategy" and telling juries that they cannot allow bias against the victim due to their gender, sexual orientation, race or religion to influence their verdict, this legislation is an important step forward in the effort to ensure that those who commit hate crimes are properly punished," said Equality California Legislative Advocate Alice Kessler who testified along with Sylvia Guerrero.
The bill passed by a 4-2 margin and now moves to the Senate Appropriations Committee in August. The measure passed the Assembly in January.
Araujo was a transgender 17-year old teenager from Newark, Calif., who was attacked and killed in 2002. The men beat her to death and then buried her in a shallow desert grave.
On January 27, 2006, three of the four defendants were sentenced in the slaying. Michael Magidson and Jose Merel, were convicted of second degree murder and sentenced to 15 years to life and Jason Cazares, received a six-year term.
Defense lawyers claimed their clients acted out of panic after having sex with the teen and then discovering she was born biologically male.
The fourth man, Jaron Nabors, pleaded guilty and received an 11-year sentence in exchange for testifying against his accomplices.
Documents associated with AB 1160 in the 2005-2006 Session
▲
by

alfayoko2005

| 2006-06-29 19:32 | トランス
HRES 759 IH
109th CONGRESS
2d Session
H. RES. 759
Expressing the sense of the House of Representatives that the Government of Japan should formally acknowledge and accept responsibility for its sexual enslavement of young women, known to the world as `comfort women', during its colonial occupation of Asia and the Pacific Islands from the 1930s through the duration of World War II, and for other purposes.
IN THE HOUSE OF REPRESENTATIVES
April 4, 2006
Mr. EVANS (for himself and Mr. SMITH of New Jersey) submitted the following resolution; which was referred to the Committee on International Relations
RESOLUTION
Expressing the sense of the House of Representatives that the Government of Japan should formally acknowledge and accept responsibility for its sexual enslavement of young women, known to the world as `comfort women', during its colonial occupation of Asia and the Pacific Islands from the 1930s through the duration of World War II, and for other purposes.
Whereas the Government of Japan, during its colonial occupation of Asia and the Pacific Islands from the 1930s through the duration of World War II, organized the subjugation and kidnapping, for the sole purpose of sexual servitude, of young women, who became known to the world as `comfort women';
Whereas the `comfort women' tragedy was one of the largest cases of human trafficking in the 20th century;
Whereas the enslavement of comfort women was officially commissioned and orchestrated by the Government of Japan to include gang rape, forced abortions, sexual violence, human trafficking, and numerous other crimes against humanity;
Whereas the comfort women included girls as young as 13 years of age and women separated from their own children;
Whereas the comfort women were either abducted from their homes or lured into sexual servitude under false pretenses;
Whereas many comfort women were eventually killed or driven to commit suicide when the hostilities ceased;
Whereas the use of `comfort women' is considered a current as well as past human rights issue;
Whereas the shame connected to their ordeal caused many comfort women to conceal it and caused many others to come forward about their experiences only in recent years;
Whereas historians conclude that as many as 200,000 women were enslaved, but very few of them survive today;
Whereas the Government of Japan did not fully disclose these war crimes during negotiations for reparations with its former enemies and occupied countries;
Whereas some textbooks used in Japanese schools minimize the `comfort women' tragedy and other atrocities, and distort the Japanese role in war crimes during World War II; and
Whereas Japanese Government officials, both elected and career, as recently as June 2005, praised the removal of the term `comfort women' from Japanese textbooks: Now, therefore, be it
Resolved, That it is the sense of the House of Representatives that the Government of Japan--
(1) should formally acknowledge and accept responsibility for its sexual enslavement of young women, known to the world as `comfort women', during its colonial occupation of Asia and the Pacific Islands from the 1930s through the duration of World War II;

(2) should educate current and future generations about this horrible crime against humanity;

(3) should publicly, strongly, and repeatedly refute any claims that the subjugation and enslavement of comfort women never occurred; and

(4) should follow the recommendations of the United Nations and Amnesty International with respect to the `comfort women'.
END
The New York Times
Anglican Plan Threatens Split on Gay Issues
By LAURIE GOODSTEIN and NEELA BANERJEE
Published: June 28, 2006
In a defining moment in the Anglican Communion's civil war over homosexuality, the Archbishop of Canterbury proposed a plan yesterday that could force the Episcopal Church in the United States either to renounce gay bishops and same-sex unions or to give up full membership in the Communion.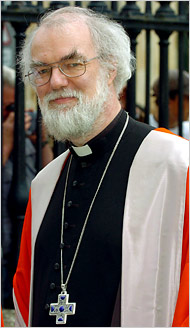 Chris Radburn/Press Association, via Associated Press
A proposal by the Archbishop of Canterbury, the Most Rev. Rowan Williams, was hailed by conservatives.


Related
Statement by the Archbishop of Canterbury: Text | Audio
Stay Tuned, as 2 Churches Struggle With Gay Clergy (June 24, 2006)
Church Urges Its Dioceses Not to Elect Gay Bishops (June 22, 2006)
For an Episcopal Pioneer, the Challenge Is to Unite (June 21, 2006)
Woman Is Named Episcopal Leader (June 19, 2006)
The archbishop, the Most Rev. Rowan Williams, said the "best way forward" was to devise a shared theological "covenant" and ask each province, as the geographical divisions of the church are called, to agree to abide by it.
Provinces that agree would retain full status as "constituent churches," and those that do not would become "churches in association" without decision-making status in the Communion, the world's third largest body of churches.
Conservatives hailed the archbishop's move as an affirmation that the American church stepped outside the bounds of Christian orthodoxy when it ordained a gay bishop three years ago.
The archbishop wrote, "No member church can make significant decisions unilaterally and still expect this to make no difference to how it is regarded in the fellowship."
Leaders of the Episcopal Church — the Communion's American province, long dominated by theological liberals — sought to play down the statement's import, saying it was just one more exchange in a long dialogue they expected to continue within the Communion.
The archbishop said his proposal could allow local churches in the United States to separate from the Episcopal Church and join the American wing that stays in the Communion. But that process could take years, and some American parishes are already planning to break from the Episcopal Church. Entire dioceses may announce their intention to depart, as soon as today.
The 38 provinces that make up the global Communion have been at odds since 2003, when the Episcopal Church ordained Bishop V. Gene Robinson, a gay man who lives with his partner, as bishop of the diocese of New Hampshire.
The archbishop's statement is the most solid official step yet in a long march toward schism. Twenty-two of the 38 provinces had already declared their ties with the American church to be "broken" or "impaired," but until now the Communion had hung together, waiting for guidance from the Archbishop of Canterbury. He is considered "the first among equals" in the Communion but does not dictate policy as the pope does in the Roman Catholic Church.
For the proposal to be enacted would take at least half a dozen major church meetings spread out over at least the next four years, the Rev. Canon Kenneth Kearon, secretary general of the Anglican Communion, said in a telephone interview.
What should be included in a covenant could become the next focus of debate. The idea of a covenant was first proposed in the "Windsor Report," issued in 2004 by a committee commissioned by the archbishop. Canon Kearon said, "Many churches welcome the idea of a covenant, but they didn't particularly welcome the text that was proposed." He said he did not regard the archbishop's proposal as a step toward schism but as a means to clarify "identity and common decision-making procedures" in the Communion.
Church liberals said that any "covenant" would be crafted with the participation of the American church and other provinces that favored full inclusion of gay people.
"I think the archbishop takes a long view and underscores the fact that we are involved in a process rather than a quick fix," Presiding Bishop Frank T. Griswold of the Episcopal Church said in a telephone interview.
Several church officials in communication with the archbishop's office said he wrote his six-page communiqué, which he called a "reflection," after the close of the Episcopal Church's convention last Wednesday in Columbus, Ohio.
At the convention, the church fell short of the demands in the Windsor Report for an explicit apology and a full "moratorium" on ordaining gay bishops. Instead, the church approved a conciliatory statement encouraging American dioceses to refrain from ordaining gay bishops.
But the convention also offended the conservatives by electing a new presiding bishop, Katharine Jefferts Schori of Nevada, who has been an outspoken advocate of full inclusion for gay people and who allows gay union ceremonies in churches in her diocese.
Bishop Jefferts Schori, who takes office after Bishop Griswold retires in November, will represent the American church in meetings with the world's primates, some of whom do not approve of women as priests or bishops.
She said in an interview yesterday that she was heartened by Archbishop Williams's comments in the letter that he would not be able to mend rifts over sexuality single-handedly.
"There were expectations out there that he would intervene or direct various people and provinces to do certain things, and he made it quite clear that it's not his role or responsibility to do that," Bishop Jefferts Schori said.
The Anglican Communion has about 77 million members in more than 160 nations. Members in conservative provinces far outnumber those in the liberal provinces. The Episcopal Church has about 2.3 million members but contributes a disproportionate amount to Anglican Communion administration, charities and mission work. The Anglican Communion Network, a group leading the conservative response, said it had 200,000 members last year.
The archbishop's proposal was greeted with satisfaction by conservative leaders in the United States, who had formed a powerful alliance with prelates in many of the provinces in Africa and in Asia, and in some parts of Latin America. The conservatives have insisted all along that it is the American church that destabilized the Anglican ship and should be pushed overboard if it will not relent.
The Rev. Canon David C. Anderson, president of the conservative American Anglican Council, said: "We really believe that the Episcopal Church wants to follow a course that takes it out of both Anglicanism and Christianity, as Christianity is historically known. So a two-tier approach looks good in theory."
Canon Anderson said the plan could be difficult in actuality, because many parishes and dioceses were ready to sever ties with the Episcopal Church now, years before the archbishop's plan for reorganization could take effect. He said that churches and dioceses had already asked to be put under the authority of bishops in Africa and Latin America and that many more would do so in coming months.
"The floodgates are starting to open," he said.
The division has already led to legal battles over church property. Under Episcopal Church bylaws, parish assets belong to the dioceses, but churches in some states have challenged that in court.
Archbishop Williams said in his statement, "The reason Anglicanism is worth bothering with is because it has tried to find a way of being a church that is neither tightly centralized nor a loose federation of essentially independent bodies."
But that decentralization will continue to be a cause of conflict unless it is addressed, he said, adding, "What our Communion lacks is a set of adequately developed structures which is able to cope with the diversity of views that will inevitably arise in a world of rapid global communication and huge cultural variety."
Head of Anglicans Seeks End to Divisions on Gay Clergy
By Alan Cooperman
Washington Post Staff Writer
Wednesday, June 28, 2006; Page A11
The archbishop of Canterbury called yesterday for Anglicans around the world to forge an agreement on issues that divide them, including the roles of gay clergy and women in the church, and suggested that the U.S. Episcopal Church could be relegated to second-tier status if it is unwilling to sign the proposed covenant.
Leading conservative Episcopalians cheered the "Reflection" by Rowan Williams, head of the 75 million-member Anglican Communion, the worldwide family of churches descended from the Church of England. They said it could lead within a few years to the moment they have long anticipated, when the 2.3 million-member Episcopal Church USA is forced either to renounce its 2003 decision to consecrate an openly gay bishop or face expulsion from the communion.
Liberals in the U.S. church noted that Williams did not specify what the covenant would say about homosexuality. They said drafting the document would involve lengthy negotiations and might result in a nuanced agreement the U.S. church could sign. And if the Episcopal Church could not join the covenant, some said, it might be content with some kind of "associate" status.
"I don't see this as leading to the Episcopal Church being expelled. I see it as meaning we might need to sit on the sidelines for a time, and that's not necessarily a bad thing, because it would . . . allow us to set the divisive issues to the side and focus on our work, which is the Gospel," said the Rev. Tobias S. Haller, vicar of St. James Church in the Bronx and author of a liberal Episcopal blog called "In a Godward Direction."
Williams wrote his Reflection in response to last week's General Convention of the Episcopal Church in Columbus, Ohio, where delegates elected Nevada Bishop Katharine Jefferts Schori as the first woman to head any of the communion's 38 member churches. Thirteen of the 38 do not ordain women as priests or bishops.
The convention also called on U.S. dioceses not to consecrate any more bishops "whose manner of life presents a challenge to the wider church." That language fell short of a clear moratorium on installing more gay bishops, which conservative Anglicans sought.
Despite his limited powers, Williams has sought to bridge the divisions caused by the consecration three years ago of V. Gene Robinson as bishop of New Hampshire.
"It seems to me the best way forward," he wrote yesterday, is to draft a covenant on key theological and governing principles. Member churches that do not sign the agreement could end up with associate status, "still bound by historic and perhaps personal links" but "not sharing the same constitutional structures," he wrote.
Conservatives particularly rejoiced over Williams's warning that no member church "can make significant decisions unilaterally and still expect this to make no difference to how it is regarded in the fellowship."
Bishop Robert Duncan of Pittsburgh, leader of a group of conservative U.S. dioceses, said that "for the first time, the archbishop himself is acknowledging that some parts of the communion will not be able to continue in full membership if they insist on maintaining teaching and action outside of the received faith and order."
Archbishop of Canterbury - 'Challenge and hope' for the Anglican Communion
27th June 2006
Vatican worried about positions on family
By MARIA SANMINIATELLI, Associated Press Writer
Wednesday, June 28, 2006
The Vatican is worried its opposition to abortion, embryonic stem cell research and gay marriage could one day land it before an international court of justice, a senior Vatican official said in an interview published Wednesday.
Cardinal Alfonso Lopez Trujillo, who heads the Pontifical Council for the Family, reiterated traditional Roman Catholic Church positions and criticized some European countries, including Belgium, the Netherlands and France, for giving legal recognition to civil unions.
"We worry especially that, with current laws, speaking in defense of life and the rights of families is becoming in some societies sort of a crime against the state," Lopez Trujillo told the Catholic news magazine Famiglia Cristiana for its issue scheduled to hit the stands Thursday. The remarks were posted online on Wednesday.
"The church is at risk of being brought before some international court if the debate becomes any tenser, if the more radical requests get heard," the cardinal said, speaking ahead of the Roman Catholic Church's World Meeting of Families in Valencia, Spain from July 1-9.
Lopez Trujillo did not comment further about any legal problems the Vatican could face, but his words touched upon a concern among religious organizations everywhere: the right of religious freedom versus countries' anti-discrimination laws.
Chai Feldblum of Georgetown University's Law Center said the chances of the church being punished for stating its beliefs were slim to none, at least in the United States, though its stances could lead to Catholic organizations losing state funding.
"I cannot fathom a religious organization being punished for speaking its belief against abortion or gay marriage," said Feldblum, a veteran gay rights advocate.
"What is illuminating is not the reality of the legal penalties they face, but an acknowledgment that public morality is shifting under their feet," Feldblum said.
In recent years, the Netherlands, Belgium, Spain and Canada legalized same-sex marriage, while Britain and several other European nations now give such couples the right to form partnerships that entitle them to most of the same tax and pension rights as married couples — laws the church is firmly against.
In the interview, Lopez Trujillo reiterated that according to church rules, women who have abortions, the doctors and nurses who help them and the father, if he is going along with it, are excommunicated. The same goes for embryonic stem cell research.
"It's the same thing. Destroying the embryo is equivalent to abortion," Lopez Trujillo said.
He also criticized what he described as a movement to impose new human rights.
"It's happening for abortion, which is a crime, and instead it's becoming a right," the cardinal said.
He also compared gay marriage to "absolute emptiness," saying the only possible couple is made up of a man and a woman.
Earlier this month, the Pontifical Council for the Family issued a 57-page document in which it said that the traditional family has never been so threatened as in today's world. It also lashed out against contraception, abortion, in vitro fertilization and same-sex marriage.
The Vatican's document did not break any new ground, but marked the first sweeping comment on the issues during Pope Benedict XVI's papacy.
同性愛者のパレード、全米各地で盛大に
2006.06.26
Web posted at: 20:57 JST
- AP

ニューヨーク(AP) 
ニューヨークからサンフランシスコまで、全米各地の都市で25日、毎年恒例の同性愛者によるパレード「ゲイプライド」が繰り広げられた。参加者は思い思いの衣装に身を包み、多様性の象徴とされる虹色の旗を掲げて、同性愛への理解を訴えた。
ニューヨークでは「愛と命のための戦い」をテーマに、マンハッタンの繁華街を多数の山車やバンドが行進。大通りは虹色で埋め尽くされた。参加者の中には、同性愛を公言しているクイン市議会議長の姿も。今月10日に若者グループの襲撃を受けて負傷した同性愛の歌手ケビン・アビエンスさんも、サーカスをテーマにした山車に乗って登場し、沿道からの声援に手を振ってこたえた。
今年で36回目を迎えたサンフランシスコのパレードにもさまざまな山車が登場し、数千人の観衆が沿道を埋めた。今年はスポンサーとして大手企業の名を掲げた山車が目立った。パレードはジョージア州アトランタ、オハイオ州コロンバスなどでも盛大に行われ、工夫を凝らした衣装や山車が注目を集めた。
パレードの起源は1969年にさかのぼる。ニューヨークで同性愛者の集まるバーが警察の捜索を受け、集まっていた客がこれに抵抗したのをきっかけに暴動が発生。翌年には同性愛者による記念デモが実施され、この動きが各地に広がった。
性的少数派:米各地でプライド・パレード、数十万人が参加
(写真)25日、ニューヨークでの「プライド・パレード」で、手を振る歌手のケビン・アビエンスさん=AP
 【ニューヨーク支局】ニューヨークやサンフランシスコなど米国各地の大都市で25日、同性愛者など性的少数派らが社会的な権利を訴える「プライド・パレード」が行われた。AP通信によると、全米で計数十万人が参加した。
 パレードは、ゲイの人権運動の発端になった1969年6月のニューヨーク「ストーンウォール暴動」をきっかけに毎年開催されている。
 ニューヨークでの今年の標語は「愛と生活のための戦い」。マンハッタンで今月10日夜、歌手ケビン・アビエンスさんが少年らに襲撃された事件など、相次ぐ性的少数派への嫌がらせに抗議の声が上がった。
毎日新聞 2006年6月26日 10時57分 (最終更新時間 6月26日 11時30分)
Gay rights on parade in cities across America
by Catherine Hours
Sunday June 25, 2006
AFP
Thousands of marchers from New York's homosexual community took part in the city's annual Gay Pride parade, although high spirit were dampened slightly by recent conservative efforts to reverse political gains by US gays and lesbians.
Paraders, in the customary display or flounces and finery generally were in a jubilant mood. But some revelers said they were mindful that the parade this year coincides with the 25th anniversary of the emergence of the deadly AIDS epidemic that decimated America's gay communities.
The theme of this year's procession is "The Fight for Love and Life" marking the somber anniversary.
"AIDS isn't over until it's over for everyone," read one banner. New York Mayor Michael Bloomberg, meanwhile, in his weekly radio address urged city residents to undergo HIV testing.
"AIDS has taken the lives of nearly 90,000 New Yorkers. We should never forget that for too long, fear, ignorance, and neglect allowed AIDS to flourish, contributing to its deadly toll in our communities," the New York mayor said.
In the middle of the afternoon Sunday, the celebrating paused for a minute of silence in honor of those who have died from the dread disease.
America's gay communities have been rocked by several setbacks in recent weeks.
The US Episcopal Church backtracked Wednesday by asking its local diocese to "exercise restraint" in the controversial ordination of gay clergy, in an attempt to avoid a split in the global Anglican church.
And gay rights activists were outraged last week after a controversial Pentagon document reaffirmed a finding that classified homosexuality as a "mental disorder," along with mental retardation and personality disorders.
And while the US Senate earlier this month narrowly rejected a measure calling for a constitutional amendment banning gay marriage -- a measure strongly backed by conservative US President George W. Bush -- Christian conservatives bent on outlawing same sex marriage have prevailed in numerous individual US states in recent months.
Massachusetts is the only state to allow gay marriage after its supreme court legalized it in May 2004.
Six states are scheduled to vote on same-sex marriage bans in November of this year -- Idaho, Virginia, Wisconsin, South Dakota, South Carolina and Tennessee -- and all are deemed likely to pass the prohibitions on gay marriage.
The gay marriage issue in particular seemed to be on the minds of many protesters who streamed along the length of 5th Avenue, New York City's Main Street, with some participants wearing tee shirts declaring "Marry Me: It's about time."
"It's a hot topic, because it's like the last hurdle before we can achieve equal rights," said Phil Mannino, co-chair of New York's "Heritage of Pride" group which organized the gay pride march.
He blamed the George W. Bush administration's conservative policies for much of the retrenchment gay people are experiencing.
"He tries to use this thing to try to distract the public from other things like the war in Iraq or the growing gasoline prices," Mannino said, adding that on the long list of issues that ail America "is a larger problem than same-sex marriage.
Hugh Lukehart, who attended the march with his wife Tracy who sported a "Dykes Against Bush" tee shirt, railed against what he said was the current administration's anti-gay policies.
"I'm for equal rights, and I'm very unhappy (with the government). They're using a fear factor, they capitalize on fear," he said.
Another marcher, Sandy Colon, who has lived with her partner for some 22 years, said that gay marriage is a top concern for her too.
"Love is love, and we just want equal rights like anybody else," said Colon, who is raising a four-year old daughter with her partner.
Observers said that even as gay people proudly celebrate their sexual identity every June -- gay pride month -- they know it is also a month when they have to be on their guard.
The pointed to the case of Kevin Aviance, a celebrated gay singer who was attack and badly beaten in Manhattan earlier this month by four youths shouting anti-gay slogans.
Gay pride parades held across nation
By ADAM GOLDMAN, Associated Press Writer
Sunday, June 25, 2006
Hundreds of thousands of raucous parade-goers took to the streets from New York to San Francisco on Sunday for annual gay pride parades, just weeks after an attack on a popular gay singer in New York and the 25th anniversary of the start of the AIDS epidemic.
Outrageous costumes were the norm along the parade routes.
In New York, the floats and marchers turned Fifth Avenue into a sea of rainbows.
"Everyone else has a chance to express their affection freely, and for one day in New York, you can be free and not feel ashamed or embarrassed," said Roberto Hermosilla of Miami, who was attending his ninth parade.
Thousands lined Market Street for San Francisco's 36th annual Gay Pride parade. Marching bands, dancers and floats bearing corporate logos of such companies as Delta Airlines and Wells Fargo streamed by.
"There's much greater acceptance in corporate America," said Michael Crowe, 63, who said high-profile corporate sponsorship is new to the event.
One float carried a bearded man, wearing a white lace miniskirt and fishnet stockings, who sang Madonna's "Like a Virgin" as a band backed him. A half-dozen men dressed in underwear and top hats danced behind him.
The New York parade marked the very public and triumphant return of singer Kevin Aviance, who rode atop a fake pachyderm and a circus-themed float weeks after the drag queen was viciously beaten. Police have charged four young men, ages 16 to 20, with assaulting the artist while yelling anti-gay slurs.
Wearing a top hat, jacket, red stilettos, and little else, Aviance waved to the crowds, his mouth still wired shut from a fractured jaw he suffered in the attack.
The theme of New York's Lesbian, Gay, Bisexual and Transgender Pride March was "The Fight for Love and Life," but there was plenty of talk about hate following the Aviance attack. The city's police department said reports of anti-gay bias crimes totaled 25 through mid-June — compared with 19 over the same period in 2005.
"A few hateful homophobes will not set us back," said City Council Speaker Christine Quinn, who is openly gay and marched in the parade.
The parades took place just weeks after the 25th anniversary of the start of the AIDS epidemic, and city leaders used the event to call for a greater focus on combating HIV and AIDS.
In Atlanta, one of the largest parades in the country moved through the city as thunder clouds threatened_ what some saw as a metaphor for the legal storm brewing this week over gay marriage.
Georgia's Supreme Court on Tuesday will hear arguments on whether to reinstate a constitutional ban on gay marriages.
"I have a lot of friends that are gay, and I would like to see them enjoy the same kind of equality and benefits as everyone else," said Laura Martin, 25, an Atlanta waitress dressed in black lingerie who rode on an adult novelty shop float featuring a large bed.
Thousands gathered for the 25th Stonewall Columbus parade in Ohio. Michael Eblin, marching in his first parade, followed a black Hummer pulling a float of men. A cross-dresser in a beaded white gown perched atop the vehicle, holding a sign reading "The Closet."
"For the first time, I'm going to be part of a majority," the 18-year-old Eblin said just before the parade began.
A boy along the route wearing blue tie-dye held up a sign: "2 Moms. 2 Dads. Too Cool."
The parades commemorate the Stonewall uprising of 1969, when patrons of a New York gay bar resisted a police raid.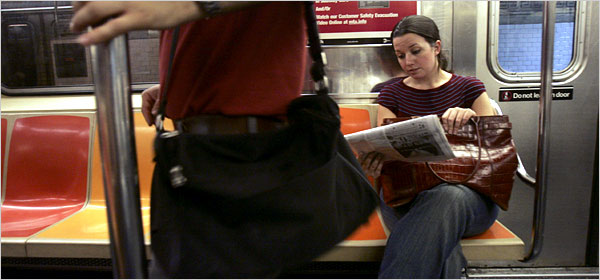 Hiroko Masuike for The New York Times
Sara Payne, who rides the No. 1 train to work in the Bronx, says she has been flashed six times in eight years.
The New York Times
N.Y./Region
Women Have Seen It All on Subway, Unwillingly
By ANEMONA HARTOCOLLIS
Published: June 24, 2006
It is a hidden reality of the New York City subway system, and perhaps mass transit systems everywhere since the first trolley car took to the tracks. It begins with a pinch or a shove, someone standing too close. But it can be much worse.
This week, as the Police Department announced the arrest of 13 men charged with groping and flashing women in the subways, women around the city nodded. Yes, they said, this had happened to them. Yesterday. Last month. Last fall. Twenty years ago.
"Every girl I know has at least one story," said Barbara Vencebi, 23, a studio photographer standing outside the No. 6 train station at 116th Street in East Harlem yesterday.
It is a crime abetted by the peculiar landscape of the underworld that is the subway system, by the anonymity of a crowded car where everybody is avoiding eye contact. And by the opportunity for a quick escape at the next stop, to disappear behind a pillar, into a tunnel, up an escalator.
An impromptu survey of riders during the morning rush yesterday found that, for many women who have experienced it, the worst part of the crime is the sense of helplessness. What is the right way to react to a humiliating, but not life-threatening, situation? Should you announce to an entire car of strangers that you have just been violated?
Most of the time, the women said, they seethe inwardly but say nothing.
"I looked back and I couldn't do anything because a lot of people were behind me," said Suany Baca, 32, a waitress who was going up the stairs at 86th Street in the No. 6 train station last November, when she was groped by a man who passed her going down.
"I pretended like it didn't happen," she said. "I don't know what they get out of it."
Those who single out women on the subways do not care about race, if yesterday's interviews were any indication — black, Asian, Hispanic and white women all had stories to tell. But they do seem to discriminate by age.
Most of the women who reported recent incidents were in their 20's and younger. But the experience, women said, is so universal, and so scarring, that they continue to feel paranoid and to put on their body armor — the big bag, the bad face — no matter how old they get.
Women know the drill. Just as some men reflexively check to see if they have their wallets on a crowded train, women check their bodies.
Pull in your backside and your front. Wedge a large bag for protection between yourself and the nearest anonymous male rider, who might, just might, be planning something. Put on your fiercest face, and brace yourself for contact that seems too deliberate to be accidental, too prolonged to be random.
And not just in New York. Mexico City and Tokyo have reacted to subway gropers by instituting all-female subway cars. But as one New York woman said yesterday, wouldn't that make a nice target?
The crackdown in New York followed a number of highly publicized cases in which women helped the police arrest flashers by snapping pictures of them with their cellphone cameras.
Some women said yesterday that they did not expect the police effort — 13 suspected gropers and flashers were arrested over 36 hours last month — to make a big dent in the problem. But, they added, it was a start.
"I feel better they caught these guys," said Juliette Fairley, 35, an actress who said that she encountered a flasher on her N train at 42nd Street not long ago. "But there will always be people out there like this."
Some crime and subway experts with long memories offered a cautionary tale yesterday. A subway police squad in 1983 and 1984 looking for lewd behavior led to the false arrest of scores of men, most of them black and Hispanic. The men were accused of "bumping," the jargon for men who rubbed up against women, and other petty crimes.
The arrests turned out to be part of a scheme by transit police officers to inflate their productivity and win promotion, and it became a major scandal. "It is extremely hard in a crowded subway station to tell right from wrong when somebody is up close to somebody else," Richard Emery, a lawyer who won a class-action suit on behalf of the falsely arrested men, said yesterday.
Any sting operation, he said, has to be carefully planned. Stan Fischler, a subway historian and author of "The Subway and the City," made a similar point. The IRT cars of the kind used on the No. 1 line, he said, are skinnier than those used on the IND and BMT lines, and it is almost impossible during the morning and evening rush not to rub up against someone. "Half the time you don't know whether it's accidental or not," he said.
Jenna Caccaro, 22, a fashion student who lives in Brooklyn, said she was first flashed on the subway when she was 15. She thought it might have been because she was wearing her Catholic school uniform. "I thought that maybe I'd done something to attract him," she said, "but my family reassured me he was just a sleaze."
Sara Payne, 25, of Manhattan, who takes the No. 1 train to work for a jewelry company in the Bronx, said she has been flashed about six times on the subway in the eight years she has lived in New York. She said it happened more when she was a freshman in college than it does now.
"Maybe I'm a little more confident now," she said, "so people are less prone to try and intimidate me."
Vivian Lynch, 68, used to take the F train home to Queens. She shivered at the memory. "It happened to me in the 70's," she said. "Men used to touch women on the train and stand close to them and ruin their clothes."
In some ways, groping seems almost an accepted part of subway culture. Stephanie Vullo, 43, said she had dealt many times with men rubbing up against her or trying to touch her on crowded No. 4 or 5 trains in the morning when she takes her daughter to school. "It's worse in the summer months when everyone is wearing less clothing," she said. "The first time I turned around and yelled at the guy, but with my daughter, I don't want to get her upset."
Many women said they were not so much frightened by the subway encounters as they were appalled that men would do something so pathetic.
Like Ms. Fairley, the actress. "All of a sudden," she said, "this man moved into my frame of reference, and I was staring at a penis. I couldn't believe it."
Ms. Fairley said she was embarrassed, but felt even worse, in a way, for the man. "They need help, bless their hearts," she said.
Sarah Garland, Kate Hammer and Emily Vasquez contributed reporting for this article.
Posted on Sun, Jun. 25, 2006
As gay pride hits stride, transgendered find more acceptance
LISA LEFF
Associated Press

SAN FRANCISCO -
A granite historical marker installed in San Francisco's seedy Tenderloin District this week would be unremarkable if it didn't honor men who dressed in women's clothes and once walked the streets selling sex.
The tired travestites who clashed with police at an all-night greasy spoon here in 1966 never would have expected the city's political elite to show up for a dedication ceremony honoring their struggle as a civil rights milestone.
Yet there, at the site of the Compton's Cafeteria riot, among a crowd of unusually tall women and noticeably short men were a pair of city supervisors, the district attorney, the police chief, and a transsexual police sargeant. The California Assembly and the mayor sent proclamations
"Trans has become part of polite society," said Susan Stryker, the local historian and transgender activist who spent nine years uncovering the Compton's Cafeteria saga and making it into a documentary called "Screaming Queens." "You can't be openly anti-trans the way you could before."
Until Stryker teased it out, the story of the Compton's Cafeteria riot remained as hidden as its main characters' true identities and carefully concealed razor stubble. Now the event is quietly challenging New York's 1969 Stonewall Riots as the dawn of the modern gay rights era.
Thursday's event reflects the mainstream's growing awareness, if not acceptance, of people who identify as "transgender." The umbrella term, which came into common usage a decade ago, covers cross-dressers, transsexuals and others whose outward appearance doesn't match their gender at birth.
While not every city is ready to celebrate the contributions of its cross-dressing citizens, San Francisco - which in 2001 extended its health insurance to cover sex reassignment surgeries for municipal employees - is no longer alone in left field. Across the nation, one of America's most maligned minority groups is quickly winning rights and recognition it began to demand only recently.
In the last two years alone, New Mexico, Illinois and California have updated their anti-discrimination laws to protect transgender home buyers and renters; colleges in Vermont and Iowa have dedicated "gender neutral" dorm rooms; and corporations have adopted policies for helping employees stay on the job during sex changes.
"When we are getting phone calls from people who have lost their jobs, and e-mails from people who are facing violence, it's sometimes easy to think everything is still really bad," said Mara Keisling, executive director of the National Center for Transgender Equality in Washington, D.C.
"But to see that people were able to stand up for themselves 40 years ago is a very wonderful reminder to us of how far we've come."
The change is especially obvious this month as U.S. cities observe gay pride events. Although so-called "drag queens" have been a visible part of pride marches since the 1970s, gay and lesbian groups were long afraid to embrace transgender causes for fear of being tainted by the more extreme prejudice they provoked, said Matt Foreman, executive director of the National Gay and Lesbian Task Force.
"There was a time when nobody wanted to even mention transgender issues or have transgender people accompany you on lobbying visits to members of your state assembly because that was pushing the envelope too far," Foreman said. "There was a myth in our community, and frankly I was part of that myth, that including transgender people would set our cause back."
But gender identity still raises thorny questions for gay activists. For example, should women who were born as men be admitted to lesbian music festivals? But the annual pride party has become much more transgender inclusive, Keisling said.
This month, transgender people were chosen as grand marshals for pride parades in Albuquerque and Seattle, while Boston and Houston joined New York, Los Angeles and San Francisco in making trans-specific entertainment part of the official pride festivities.
"The history of transgender civil rights and Pride was that it was OK as long as it was gay men in dresses and it was about spectacle," said Chris Daley, director of the National Transgender Law Center in San Francisco. "The shift we are seeing is that the broader LGBT community has been able to embrace not only the more comfortable parts of the community, but everybody."
Observing the range of lawyers, entertainers and openly transgender professionals who were on hand as the sidewalk plaque marking the Compton's Cafeteria riot was installed, Stryker was struck by how much had changed in the last 40 years.
"Back then, you couldn't be out as trans without huge costs," she said. "To see all these people honoring a bunch of drag queens who rioted against the cops is amazing."
ON THE NET
http://www.screamingqueensmovie.com
▲
by

alfayoko2005

| 2006-06-26 16:21 | トランス
フランス:ロワイヤル氏 同性愛者の結婚や養子縁組はOK
(写真)07年仏大統領選の左派陣営有力候補、セゴレーヌ・ロワイヤル元家庭・児童担当相=AP 
【パリ福井聡】来春のフランス大統領選挙に向けた支持率調査でトップを走る野党・社会党のロワイヤル元家庭・児童担当相(52)が、同性愛者向け雑誌「テチュ」とのインタビューで「同性愛者の結婚や養子縁組は認められるべきだ」と発言し、波紋を広げている。与党の保守・国民運動連合はいずれも認めておらず、大統領選の争点の一つに浮上しそうだ。
 ロワイヤル氏は以前、同性愛者同士の結婚や、同性愛者が養子を迎えることに疑問を投げかけていた。ところが今月21日発売の同誌のインタビューでは立場を転換。「来春の大統領選で勝利すれば、社会党は平等と相互尊重の名の下に同性愛者の結婚を合法化するだろう。両親が同性愛者であれ異性愛者であれ、養子縁組は家族の問題であり、同性愛者が家族と認められた時点で彼らの養子縁組も認められるべきだ」と明言した。
 これに対してドビルパン首相は、同性愛カップルが同せいする場合の一部財政支援は認めているが、「子供には父親と母親がいた方がいい」として、同性愛者の結婚と養子縁組には反対している。
 仏調査機関BVAによると、フランス人の6割は同性婚に賛成だが、うち半数は同性愛者の養子縁組には反対しており、世論も割れている。
毎日新聞 2006年6月26日 10時42分 (最終更新時間 6月26日 10時56分)
France's Royal says supports gay marriage, adoption
Mon Jun 19, 2006 3:15 PM BST

PARIS (Reuters) -
Segolene Royal, the Socialist frontrunner for France's 2007 presidential poll, has said gay couples should be allowed to marry and adopt children, laying out her position on what could become a divisive election issue.
Royal said France needed to do a lot more work to make sure homosexuals were treated fairly.
"It is essential that everybody has equal rights and dignities and the chance to express themselves freely," Royal told the gay magazine Tetu in an interview to be published on Wednesday.
The issue of gay marriage caused a stir in France two years ago when a maverick mayor performed the country's first gay wedding. The marriage was promptly declared illegal.
Prime Minister Dominique de Villepin's conservative government opposes gay marriages and does not allow same-sex couples to adopt children, but has given homosexual couples who form a civil union more financial rights.
Royal, who leads opinion surveys on who should be the Socialists' presidential candidate, said her party would make gay marriage legal if it was elected in 2007.
"Opening up marriage to same-sex couples is needed in the name of equality, visibility and respect," she said.
But Royal, who never married the father of her four children -- Socialist Party leader Francois Hollande -- said it was surprising that marriage, "a so-called 'bourgeois' institution", was at the heart of the controversy.
Party rivals have accused Royal of trying to win voters on the political right with tough proposals on law and order and by questioning the effects of the 35-hour work week, a Socialist touchstone reform.
During the debate about gay marriage two years ago, Royal expressed caution over homosexual couples adopting children, contrasting with the stand she took this week.
"Whether the parents are homosexual or heterosexual, adoption is above all a family project. From the moment a same-sex couple is recognised as a family, this family has the right to conceive of family projects," she told Tetu.
Conservative Family Minister Philippe Bas said on Monday he was strictly against gay couples marrying or adopting.
"I think today, the findings of modern psychology -- which can certainly develop -- indicate that it is better for a child to have a dad and a mum," Bas told Canal+ television.
A BVA survey this month showed that 6 out of 10 French people are in favour of gay marriages, but half of those questioned said they were against homosexual couples adopting children.
Same-sex couples can already marry in several countries, including Belgium, the Netherlands and Spain.
The Independent
Presidential front-runner Royal backs gay marriage
By Clémentine Gallot
Published: 24 June 2006
Ségolène Royal, the Socialist front-runner for next year's presidential race in France, has said she supports civil unions for homosexuals in a policy U-turn on the eve of today's Gay Pride march in Paris.
She told Têtu, the leading gay and lesbian magazine, that "opening up marriage to same-sex couples is needed in the name of equality, visibility and respect". She said that she also supported gay adoption.
According to a recent poll, 60 per cent of the French support gay marriage, which is legal in countries such as the Netherlands, Belgium and Spain.
Ms Royal, who has four children with her partner, François Hollande, who heads the Socialist Party, argued that "whether the parents are homosexual or heterosexual, adoption is above all a family project".
Her comments, published before today's Gay Pride event, which is expected to draw half a million people, were welcomed by leaders of the French gay community. Her stand, described as a "conversion" by the daily newspaper Libération, took French public opinion by surprise. Ms Royal, 52, has issued some tough statements recently on law and order, and has often been criticised for her conservative positions. Only two years ago, she had been more reticent about the divisive issue of gay marriage.
But after the Socialist Party adopted a platform that includes gay marriage and adoption, Ms Royal had no choice but to stick to the party line.
Even though her approval rating keeps on rising, she still needs to fight to win the Socialist nomination in November for the presidential candidacy in a party where most leaders resent her for stealing the limelight.
France (Politique)
Interview exclusive: Ségolène Royal se prononce pour le mariage des homos dans «Têtu»
Têtu 2006/06/20
Angus Reid Global Scan : Polls & Research
French Opposed to Same-Sex Marriage
June 23, 2006

(Angus Reid Global Scan) –
Many adults in France are against allowing homosexual couples to legally marry, according to a poll by TNS-Sofres published in Le Nouvel Observateur. 51 per cent of respondents oppose same-sex marriage.
France has allowed civil unions for gay and lesbian couples since 2000. In June 2004, Begles mayor and Green party politician Noël Mamère conducted the country's first ever same-sex wedding, claiming that there are no regulations in the country or the European Union (EU) that could thwart such a ceremony.
Interior minister Dominique de Villepin eventually suspended Mamère from his post as mayor for four weeks, citing a "grave misunderstanding of the duties of his office." At least 56 per cent of respondents in France express opposition to allowing a gay or lesbian couple to adopt children.
Same-sex marriage is currently legal in the Netherlands, Belgium, Spain and Canada, and at least 18 countries offer some form of legal recognition to same-sex unions. More than half of all respondents in France are against same-sex couples resorting to artificial insemination in order to have children.
Earlier this month, prospective presidential candidate Ségolène Royal of the Socialist Party (PS) voiced her support for same-sex marriage, saying, "It is essential that everybody has equal rights and dignities and the chance to express themselves freely. Opening up marriage to same-sex couples is needed in the name of equality, visibility and respect."
Polling Data
Do you favour or oppose each of the following?
Favour
Oppose
Same-sex marriage
45%
51%
A female couple resorting to artificial
insemination in order to have children
42%
54%
The adoption of children by a
female homosexual couple
41%
56%
The adoption of children by a
homosexual couple (any gender)
36%
60%
The adoption of children by a
male homosexual couple
35%
62%
A male couple resorting to the
artificial insemination of a woman
in order to have children
33%
63%
Source: TNS-Sofres / Le Nouvel Observateur
Methodology: Face-to-face interviews with 1,000 French adults, conducted from Jun. 7 to Jun. 9, 2006. No margin of error was provided.