カテゴリ
以前の記事
検索
最新のトラックバック
その他のジャンル
ファン
記事ランキング
ブログジャンル
画像一覧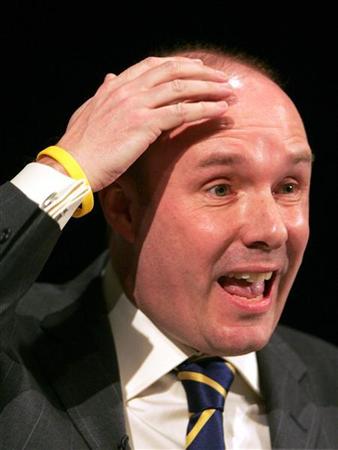 Liberal Democrat Party leadership candidate Mark Oaten speaks at a conference at the London School of Economics in central London January 14, 2006. Oaten withdrew from the Liberal party's leadership contest earlier this year after a newspaper revealed he had paid a gay prostitute for sex announced on Tuesday he would step down at the next election. REUTERS/Toby Melville

MP in gay prostitute scandal to step down
Tue Jul 25, 2006 8:54 PM BST
LONDON (Reuters) - An MP who withdrew from the Liberal party's leadership contest earlier this year after a newspaper revealed he had paid a gay prostitute for sex announced on Tuesday he would step down at the next election.
Married father of two Mark Oaten, 42, MP for Winchester, briefly ran for the leadership of the Liberal Democrats in January, but shelved his bid after a newspaper disclosed his affair with a 23-year-old "rent boy".
He said in a statement on Tuesday he would not seek a fourth term at the next election, expected in 2009.
"I will continue to work for all my constituents both locally and at Westminster where I also hope to focus on human rights and third world development issues," he said.
A political high flyer from a young age, Oaten had become party spokesman on law and order and had campaigned for the party leadership as a family man, inviting cameras into his house, before the tabloid furore wrecked his career.
The scandal came at a difficult time for the Liberal Democrats -- long time leader Charles Kennedy had just resigned over alcoholism, and one of the other leadership candidates later confessed that he too had lied when denying being gay.
Oaten and his wife have since both gone on to give high profile magazine and newspaper interviews about their marriage, and Oaten has made numerous appearances on television talk shows. Some in the media expect him to seek a TV career.
The Japan Times: Friday, July 28, 2006
Fast lane toward femininity
By GIOVANNI FAZIO
Moving right along from the "gay Western" ("Brokeback Mountain"), next up is a "transsexual road movie."
Transamerica Rating: (3.5 out of 5)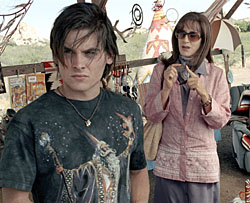 Kevin Zegers (left) and Felicity Huffman in "Transamerica" (C) TRANSPARENT FILMS LLC
Director: Duncan Tucker
Running time: 103 minutes
Language: English
Now showing (July 28, 2006)
[
See Japan Times movie listing
]
"Transamerica," which bears a very high-concept title for an indie flick, comes across as another gender-bending, genre-destroying moment in film history, but it's not, really. While the Western was an inherently conservative genre, just crying out to be queered, the road movie has always been more flexible, having already accommodated hippies ("Easy Rider"), feminists ("Thelma & Louise"), gays ("The Living End"), leftists ("The Motorcycle Diaries") and surrealist caricatures ("Wild At Heart").
"Transamerica" is basically a comedy of errors involving the question: What if long-lost dad turns up and now he's long-lost mom? Director Duncan Tucker fashions a safely liberal film, finding humor in the meeting of repressed straights and their more free-thinking queer/transgender counterparts. Much of the film, as you might expect, is dedicated to the idea of humanizing a transsexual protagonist, and -- like "Boys Don't Cry" -- this approach paid off with an Oscar nomination for its lead actress Felicity Huffman.
Huffman is so good that, if you didn't know better, you'd swear it was a man in her role. Huffman plays Bree, formerly known as Stanley, a transsexual pre-op who's going through hormone therapy and is on the verge of completing her transformation with a sex-change operation. (Excuse me, "gender realignment").
With perfectly bad timing, she gets a phone call from the son she didn't know she had, resulting from a rare use of her male plumbing some 17 years earlier. While Bree has attempted to disconnect from her past -- referring to it in the third person as "Stanley's life" -- her therapist refuses to OK her operation until she has dealt with these past "issues."
Infinitely annoyed -- and Huffman wears this face of sour distaste for much of the film -- Bree boards a plane to New York, where she hopes to throw some money at her son problem and watch it go away. She learns that she has to bail her son, Toby (Kevin Zegers), out of jail, where he has been picked up for shoplifting. Beyond that, he works as a rent boy and is addicted to drugs.
Bree realizes she has to do something, but reluctant to reveal her identity, she passes herself off as a social worker from, ahem, "The Church of the Potential Father." She buys a beatup old car with the idea of driving cross-country, and hopefully dropping Toby off in his hometown with his mother and stepfather. Ideally, all this will be done in time for Bree to dismember her most private of parts.
Director Tucker uses the road-movie format to intersperse scenes of Bree and Toby bonding and spatting in the car, with a series of encounters on the road: Toby's neighbor and stepdad in rural Kentucky, Bree's transgender friends in Dallas, a hitchhiker straight out of "Thelma & Louise," and finally Bree's estranged parents at their mansion in Phoenix, Ariz.
As is usual in such indie films, it's the "normal" residents of suburbia who come off as all messed-up: Bree's mom (Fionnula Flanagan) is an overly madeup, neurotic harpy, while dad (Burt Young) is passive and emasculated, and sis (Carrie Preston) is a barely recovering alcoholic. The twist is that Bree, with her prissy demeanor and disapproving take an Toby's debauched lifestyle, may be the most conservative character on-screen. Certainly, her church-lady taste in frocks, pink and covering every bit of skin up to the chin, reinforces that impression.
It's possible to see the casting of a woman in the role of Bree as a copout, a safety-zone for audiences who might be more uncomfortable with a man underneath the makeup and dresses. One can only argue with results, though, and Huffman is entirely convincing as a man trying too hard to be feminine in some ways -- the raised pinkie while holding a coffee cup, the all-pink wardrobe -- because he can't pass in others, like the tenor voice or the awkward posture, unsure of how to be comfortable in his own body.
"Transamerica" builds some good drama out of Bree's emotional journey: She starts off by lying to Toby and not caring all that much, but she ends up caring all too much, and not knowing how to tell him the truth. Huffman's performance is a winner, and aimed directly at the heart of "Oprah"-era America. She gives us a character so solipsistically wrapped up in solving her own "issues" that she has no sympathy for others. It's only when she allows herself to open up to her son's troubles that she becomes, well, a likable person.
The Japan Times: Friday, July 28, 2006
(C) All rights reserved
CNN LARRY KING LIVE with Felicity Huffman
Larry Discusses Transgender Individuals
Aired February 15, 2006 - 21:00 ET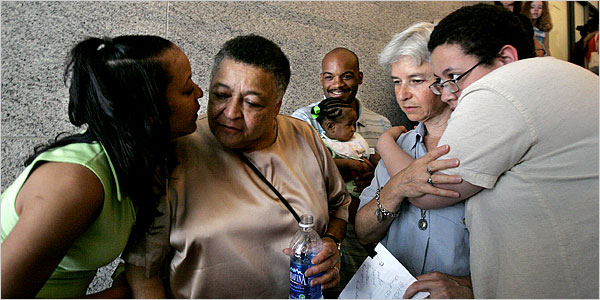 Elaine Thompson/Associated Press
Barbara Steele, second from left, and Beth Reis, second from right, were comforted by family members in Seattle Wednesday. They were plaintiffs challenging a same-sex marriage ban. They lost the case.
The New York Times
Washington Court Upholds Ban on Gay Marriage
By ADAM LIPTAK and TIMOTHY EGAN
Published: July 27, 2006
In an angrily divided 5-to-4 decision, the Washington Supreme Court yesterday upheld a state law banning same-sex marriages.
Related
Text: Washington Supreme Court Opinions
House G.O.P. Lacks Votes for Amendment Banning Gay Marriage (July 19, 2006)
New York Judges Reject Any Right to Gay Marriage (July 7, 2006)
Readers' Opinions
Forum: Gay Rights
The justices issued six opinions in the case, with some in the majority emphasizing that the Legislature remained free to extend the right to marry to gay and lesbian couples.
The four dissenting justices said the majority relied on speculation and circular reasoning to endorse discrimination.
Massachusetts remains the only state that sanctions same-sex marriages. New York's highest court, by a vote of 4 to 2 earlier this month, upheld state laws limiting marriage to opposite-sex couples. The New Jersey Supreme Court is expected to rule soon on the legality of same-sex marriages there.
Legal scholars said the closeness of the Washington and New York decisions suggested that the legal status of same-sex marriages would remain unsettled and controversial. That alone, they said, represents a significant change in public and judicial attitudes.
When the Washington courts last addressed the question of same-sex marriage in 1974, by contrast, an appeals court unanimously voted against the plaintiffs and the State Supreme Court refused to hear the case.
"You've gone in 32 years from something that was more or less a slam dunk to where the court is almost evenly and very bitterly divided," said William B. Rubenstein, a law professor at the University of California, Los Angeles, and author of "Sexual Orientation and the Law." "The issue is in play."
Opponents of same-sex marriage said yesterday's decision demonstrated that the public and the courts remained opposed to altering the traditional definition of marriage.
"Today is a great day for marriage and the family," said Mathew D. Staver, the chairman of Liberty Counsel, a group that opposes the legal recognition of same-sex marriages. "We are pleased that this latest attempt by the homosexual agenda to radically redefine our culture has been stopped dead in its tracks."
The decision consolidated two cases in which state trial courts had struck down a 1998 state law prohibiting same-sex marriages. The cases were brought by 19 gay and lesbian couples seeking the right to marry or to have their marriages from other jurisdictions recognized. State and local laws in Washington protect people there from discrimination based on sexual orientation and provide some benefits to same-sex couples, but the state has no civil-union law.
Beth Reis, one of the plaintiffs, said the decision was a setback for her, her partner, Barbara Steele, and their four children.
"We are saddened that the court has said that my 28-year committed relationship and my children, grandchildren and great-grandchildren aren't entitled to the same legal protections and obligations as other Washington families," Ms. Reis said.
The controlling opinion in yesterday's decision, signed by three justices, reversed the lower court's, holding that the 1998 law, the Washington Defense of Marriage Act, was supported by rational reasons.
"Limiting marriage to opposite-sex couples," Justice Barbara A. Madsen wrote in that opinion, "furthers procreation, essential to the survival of the human race, and furthers the well-being of children by encouraging families where children are reared in homes headed by the children's biological parents."
In a dissent signed by three other justices, Justice Mary E. Fairhurst questioned the logic of that assertion. "Would giving same-sex couples the same right that opposite-sex couples enjoy injure the state's interest in procreation and healthy child rearing?" Justice Fairhurst asked.
Justice Bobbe J. Bridge, also dissenting, equated the majority's position with the endorsement of racial discrimination. The majority, Justice Bridge wrote, contended "that it is not our place to require equality for Washington's gay and lesbian citizens." Under that reasoning, she said, "there would have been no Brown v. Board of Education," the 1954 United States Supreme Court school desegregation case.
Justice Madsen repeatedly emphasized the limited nature of the court's ruling. All that was required for the 1998 law to pass constitutional muster, she wrote, was some rational basis.
"We see no reason, however," Justice Madsen added, "why the Legislature or the people acting through the initiative process would be foreclosed from enacting the right to marry to gay and lesbian couples in Washington."
The justices who signed the controlling opinion said they were sympathetic to the fact that "many day-to-day decisions that are routine for married couples," including ones involving children, health care and death, "are more complex, more agonizing and more costly for same-sex couples."
The decision seemed to invite targeted constitutional challenges to the denial of equal treatment to homosexual couples.
Jane Schacter, a law professor at Stanford, said the reaction to the 2003 decision of the Massachusetts Supreme Judicial Court legalizing same-sex marriage there might have left other courts gun-shy about making sweeping rulings.
"There is a real self-consciousness in this decision and the New York decision about the role of the courts," Professor Schacter said. "We've traditionally looked to the courts to buck public opinion to defend liberty and equality, but we're not seeing that here."
Gary Randall, the president of the Faith and Freedom Network and Foundation, a Washington religious group, took the opposite view, saying the decision was "a decisive victory that upholds the values of the faith community."
Two justices in the majority, James M. Johnson and Richard B. Sanders, took a harder line in opposing same-sex marriage in a concurring opinion. There is, Justice Johnson wrote, "a compelling governmental interest in preserving the institution of marriage."
"This conclusion," he continued, "may not be changed by mere passage of time or currents of public favor and surely not changed by courts."
Washington State Upholds Ban on Same-Sex Marriage
By Blaine Harden
Washington Post Staff Writer
Thursday, July 27, 2006; A03
SEATTLE, July 26 -- Deferring to state lawmakers and agreeing with most other U.S. courts, the highest court in Washington state on Wednesday upheld a state law that bans same-sex marriage.
The Washington Supreme Court, though, was bitterly divided in its 5 to 4 decision, producing six separate opinions in rejecting the claim of 19 gay couples that they are victims of state-sanctioned discrimination that harms their children and their financial security.
In its lead opinion, the Washington court insisted repeatedly that elected lawmakers have wide discretion to define marriage -- while judges do not.
"At the risk of sounding monotonous," the lead opinion said, "legislative bodies, not courts, hold the power to make public policy determinations." It added that where "no fundamental right is at stake, that power is nearly limitless."
The court ruled that gay couples challenging Washington's 1998 Defense of Marriage Act had failed to show that it denies them either a "fundamental right" or equal protection under the law.
"Although marriage has evolved, it has not included a history and tradition of same-sex marriage in this nation or in Washington State," the opinion said. It added that because state law prevents both sexes from entering into a same-sex marriage, it does not discriminate on the basis of sex.
The opinion dismissed a lower-court ruling, which had found a fundamental right to same-sex marriage, as "astonishing, given the lack of any authority supporting it."
Only one state, Massachusetts, allows same-sex marriage, and then only for its own residents. If the Washington court had overturned the ban, state law here would have allowed nonresident gay couples to come here and get married. Earlier this month, the high courts in New York and Georgia also ruled against same-sex marriage. At least a half-dozen other states have legal challenges about same-sex marriage pending.
Wednesday's decision here shows the continued difficulty that proponents of same-sex marriage have in their legal challenges.
The Washington court's lead opinion suggested several times that the majority of justices may disagree with the state's ban on same-sex marriage but that they had ruled narrowly on its constitutionality. The decision "is not based on an independent determination of what we believe the law should be," the opinion said.
A sharply worded dissent, written by Justice Mary E. Fairhurst and signed by three other justices, said the court was using "the excuse of deference to the legislature to perpetuate the existence of an unconstitutional and unjust law."
The majority ruling condoned "blatant discrimination against Washington's gay and lesbian citizens in the name of encouraging procreation" and raising children in homes with opposite-sex parents, Fairhurst wrote. She argued that the court ignored "the fact that denying same-sex couples the right to marry has no prospect of furthering any of those interests."
Senior political leaders in Washington state, where Democrats control most top offices, were critical of the much-anticipated ruling on a case that was heard by the state's high court more than 15 months ago.
Arguing that marriage "is not the business of the state," Gov. Christine Gregoire said she does not believe government should discriminate against any citizen. But she urged respect for the ruling "whether we agree with it or not."
At a news conference in downtown Seattle, King County Executive Ron Sims, who two years ago had encouraged gay couples to sue him to overturn the state ban on same-sex marriage, stood with dozens of disappointed plaintiffs and compared Wednesday's decision to the U.S. Supreme Court's ruling in Plessy v. Ferguson , which affirmed the principle of separate but equal in race relations.
"This is an unwise decision," said Sims, who is black and who said that gays must continue to fight for change, just as blacks did. "Sometimes it takes longer than we might like to bring about needed social change."
As for the plaintiffs, they said they were surprised and angry, and determined to press the state legislature to overturn the marriage law.
"We are reeling today," said Elizabeth Reis, a Seattle health teacher who has been together with her partner, Barbara Steele, a retired researcher in communicable diseases, for 29 years. They raised four children together and have 14 grandchildren and two great-grandchildren.
"Courts have said you can get married if you have been married six times before," Reis said. "Courts have said you can get married if you owe your children entire childhoods of back child support. But this court says I cannot marry a woman I have loved nearly my entire adult life."
Washington Court Upholds Gay-Marriage Ban
In a 5-4 ruling, the state Legislature's 1998 ban is upheld. But three judges in the majority call on lawmakers to revisit the issue and its effects.
By Sam Howe Verhovek, Los Angeles Times Staff Writer
July 27, 2006

SEATTLE —
Opponents of gay marriage racked up another legal victory Wednesday, as the highest court in Washington state ruled 5 to 4 that there was no constitutional right for people of the same sex to marry each other.
But even as the state Supreme Court upheld the Legislature's 1998 Defense of Marriage Act, three judges in the majority urged lawmakers to revisit their ban on same-sex marriage and the "clear hardship" it imposed on gay people and their children.
The ruling in liberal-leaning Washington echoed one this month in New York, and it left opponents of same-sex marriage elated and hopeful that the national movement was sputtering to an end.
"Christians all over the state have been praying for this decision, and there is a sense of joy," said Rick Kingham, senior pastor of the Overlake Christian Church in Redmond, Wash., and a leader of Allies for Marriage and Children, a citizens group. "We would truly say that God has intervened in the affairs of man."
For gay-marriage supporters, the ruling was a major setback. It overturned pro-gay-marriage decisions by two lower-court judges and leaves Massachusetts as the only state in the nation with legally sanctioned same-sex marriage.
But they seized hopefully on the narrow margin and the majority judges' call to lawmakers to revisit the issue as indications that their side would prevail.
"If the Legislature does not make changes first, I firmly believe that a future court will take up this issue again," said King County Executive Ron Sims, the chief elected official in a jurisdiction that includes Seattle and several eastern suburbs.
"And on that day," Sims said, "a wiser and more enlightened generation will overturn this ruling."
Sims and other gay-rights supporters had likened the struggle over same-sex marriage to earlier civil rights battles — such as school segregation and bans on interracial marriage — in which the courts stepped in to undo discriminatory laws.
But the majority of judges concluded that the matter of whether gay people should be able to marry was up to an elected legislature, or even directly up to the people via a popular referendum.
"While same-sex marriage may be the law at a future time, it will be because the people declare it to be, not because five members of this court have dictated it," wrote Justice Barbara A. Madsen in one of two opinions that made for a majority in the case.
"There is evidence that times are changing," added Madsen, "but we cannot conclude that at this time the people of Washington are entitled to hold an expectation that they may marry a person of the same sex."
In an unusual split among the majority, two justices, who are generally regarded as conservative, issued what was effectively a blistering critique of Madsen's times-may-change argument.
Those two justices, James M. Johnson and Richard B. Sanders, described their opinion as "analyzing and rejecting all constitutional claims to achieve finality" in resolving the contentious issue.
"This conclusion may not be changed by mere passage of time or currents of public favor and surely not changed by courts," wrote Johnson.
Four justices dissented altogether from the majority ruling.
"Unfortunately," Justice Mary E. Fairhurst wrote, those in the majority "are willing to turn a blind eye to DOMA's discrimination because a popular majority still favors that discrimination."
The Defense of Marriage Act, or DOMA, was passed by the Legislature in 1998 over the veto of then-Gov. Gary Locke, a Democrat.
The current governor, Chris Gregoire, also a Democrat, maintained the sort of above-the-fray approach she has taken on the issue, in which she has suggested it was fundamentally religious, not legal.
"On the issue of gay marriage, Washington is a very diverse state, and there are many strongly held opinions and personal feelings on this issue," she said in a statement responding to the court's decision.
Gregoire said the state should provide the "same rights and responsibilities to all citizens." At the same time, she said, "the sacrament of marriage is between two people and their faith; it is not the business of the state."
In news conferences and interviews Wednesday, same-sex marriage opponents emphasized what they called the positive nature of the ruling.
"We are not against anyone. We are for marriage," said Jeff Kemp, president of Families Northwest, son of former Rep. Jack Kemp (R-N.Y.) and a driving force in Allies for Marriage and Children.
"What the state is saying is that there is an ideal form of family. In this ideal we have a mother and a father," Kemp said at a rally and news conference at Seattle's Westin hotel.
But in equal measure, people on the other side of the issue — including the 19 gay and lesbian couples who were plaintiffs in the case, all seeking the right to marry — described painful feelings of exclusion upon hearing of the justices' ruling.
"There aren't words to describe how hurt people in the gay and lesbian community are," said state Rep. Ed Murray, a Seattle Democrat who is one of four openly gay members of the state Legislature. "There's a lot of tears and a lot of anger right now."
米ワシントン州最高裁「同性婚を禁じる州法は合憲」 1
Broad opposition to World Pride in Jerusalem
Religious, gay leaders criticize international event; crisis in Lebanon ends parade plans
- Wyatt Buchanan, San Francisco Chronicle Staff Writer
Wednesday, July 26, 2006
An international gay pride event scheduled to take place in Jerusalem in less than two weeks is facing unprecedented opposition not only from religious leaders in the city, but from elements of the gay, lesbian, bisexual and transgender communities worldwide.
Already, the violence between Israel and Hezbollah in Lebanon has led to the cancellation of a planned parade, the centerpiece of the five-day World Pride Week. With many of the security personnel needed to guarantee the safety of marchers diverted to northern Israel, city police denied the parade a permit.
The first attempt to hold World Pride in Jerusalem in 2005 was postponed until this year because of tensions surrounding Israel's withdrawal from the Gaza Strip.
But organizers remain determined to hold the weeklong event in the Holy City, a place of "intense bigotry and opposition," said Hagai El-Ad, executive director of Jerusalem Open House, the gay and lesbian community center in the city that is hosting World Pride.
"People who come to Jerusalem and participate in World Pride are here for a great variety of reasons. The major one that brings us all together is making a powerful statement in the world's city of Jerusalem, claiming this powerful symbol for what we believe in," El-Ad said during a press conference Tuesday.
This will be the second World Pride event. The first took place in Rome in July 2000, during the Roman Catholic Church's Jubilee celebration and was condemned by the pope.
The organizers would not estimate how many people they expect to attend this year's week, which starts Aug. 6. It includes an interfaith conference on religious participation, a youth day with a meeting at the Knesset and a rally at the wall that separates Israel from the West Bank. About 60 Bay Area residents plan to attend, according to a San Francisco organizer.
Organizers are devoting a day of the pride week to "... express(ing) our solidarity with our community's members who will not be able to be part of World Pride," and many mainstream gay and lesbian organizations in the United States support the event.
But the barrier Israel is constructing to create a de facto boundary with the West Bank and the limits Israel places on who can enter the country have alienated some gay, lesbian, bisexual and transgender groups that might have taken part in the event.
Gay and lesbian rights groups in Middle East countries outside Israel have declared they will not participate.
"At the same time that we celebrate our pride, the Palestinians are going to suffer and be under curfew," says a statement from a Palestinian lesbian group called Aswat (Voices).
The Lebanese gay, lesbian, bisexual and transgender group Helem is calling for a boycott:
"Human rights are universal, indivisible and interdependent, and the rights of gays, lesbians, bisexuals and transgender (people) should not be placed in competition with the long struggle of the Palestinian people, including Palestinian LGBT people."
Given the barrier and tight border security, some of the groups opposed to the event have called its theme -- "Love Without Borders" -- unfortunate.
On one Web site calling for a boycott of the event, 22 organizations offer their support, including Queers Undermining Israeli Terrorism, a Berkeley group, Queers for Peace and Justice and left wing and pro-Palestinian groups.
Executive director Paula Ettelbrick of the International Gay and Lesbian Human Rights Commission in New York City said, "With all respect to the organization, they put the World Pride event in a city that so many people in the region can't travel to. A lot of people are staying away from the whole thing; it's problematic for a lot of people."
The World Pride name is lent to the event by InterPride, an organization of local pride committees from around the world. Groups that want to host the event apply to the organization for permission, and activists from Jerusalem made the only application after the Rome event, said Russell Murphy, co-president of InterPride.
In addition to the gay and lesbian opposition, religious leaders have called for a counterprotest to the event that could draw as many as a half-million people.
"Even if it's 100,000 to 200,000, that is still the largest anti-gay demonstration in the world ever," said San Francisco resident Julie Dorf, co-leader of U.S. organizers of World Pride.
One orthodox rabbi in New York has blamed the event for the current violence with Hezbollah. Jewish, Muslim and Christian leaders in Jerusalem have united to oppose it.
The U.S. State Department is warning citizens to "weigh carefully the risk of traveling to Israel or Jerusalem" and to "remain vigilant while traveling anywhere in Jerusalem." It strongly urges Americans to not travel to the Gaza Strip or the West Bank.
E-mail Wyatt Buchanan at wbuchanan@sfchronicle.com.
Page A - 2
URL: http://sfgate.com/cgi-bin/article.cgi?file=/c/a/2006/07/26/MNG3HK5LC71.DTL
イスラエル・エルサレム:8月開催予定のワールドプライド、中止決定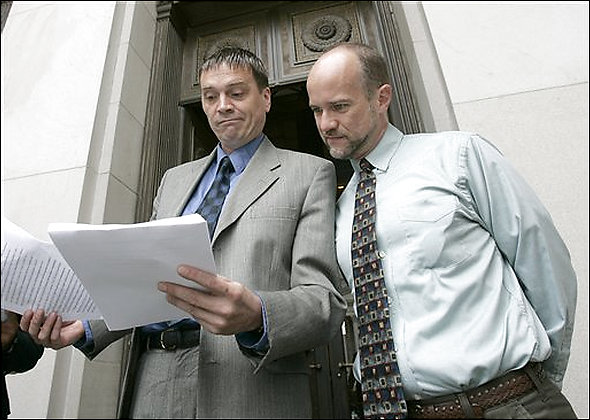 Jeff Kingsbury, left, and his partner Alan Fuller, look over the Washington State Supreme Court ruling that upheld the state's ban on gay marriage Wednesday, July 26, 2006 at the Capitol in Olympia, Wash. Kingsbury and Fuller, who live in Olympia, Wash., and say they have been a couple for 14 years, were plaintiffs in a lawsuit against the state that led to the ruling. The 5-4 decision leaves Massachusetts as the only state to grant full marriage rights to gay and lesbian couples. (AP Photo/Ted S. Warren)
Wash. court upholds gay marriage ban
By CURT WOODWARD, Associated Press Writer
Wednesday, July 26, 2006

OLYMPIA, Wash. -
The Washington Supreme Court upheld the state's ban on gay marriage Wednesday, dealing the gay rights movement its second major defeat in less than a month in another liberal-leaning state that had been regarded as a promising battleground.
Massachusetts is still the only state that allows same-sex couples to wed.
In a 5-4 decision, the court said lawmakers have the power to restrict marriage to a man and a woman, and it left intact the state's 1998 Defense of Marriage Act.
Earlier this month, New York's high court dealt gay couples a similar blow when it upheld a state law against gay marriage.
Wednesday's ruling surprised and delighted gay-marriage opponents, given Washington state's liberal politics, particularly in Seattle.
"This is more than we could have imagined. We are shocked, and pleasantly shocked. We were prepared for the other direction," said Jon Russell, field director for the conservative Faith and Freedom Network.
Disappointment was perhaps greatest in Seattle, home of the state's most visible gay community.
"There aren't words to describe how hurt people in the gay and lesbian community are. There's a lot of tears and a lot of anger right now. Emotion is raw," said state Rep. Ed Murray, a Seattle Democrat and one of four openly gay state lawmakers.
The state Supreme Court overruled two lower courts that had found the ban violated the Washington Constitution's "privileges and immunities" section.
The gay-marriage ban "is constitutional because the Legislature was entitled to believe that limiting marriage to opposite-sex couples furthers procreation, essential to survival," Justice Barbara Madsen wrote in the controlling opinion.
However, Madsen and other members of the majority invited the Legislature to take another look at the "clear hardship" that the ban causes for same-sex couples.
In a dissent, Justice Mary Fairhurst said the majority improperly bowed to public opinion. "Unfortunately, the (majority) are willing to turn a blind eye to DOMA's discrimination because a popular majority still favors that discrimination," she wrote.
The 19 gay and lesbian couples who sued to overturn the law were dismayed by the ruling.
"I believe that our constitution should treat all of its citizens the same, and in this case the court was willing to treat my family differently than other families," said Brenda Bauer of Seattle, who sued along with her partner, Celia Castle. "Today's a pretty sad day for our family."
Leaders in the Legislature and Gov. Chris Gregoire — all Democrats — did not commit themselves to any course of action.
"Just as the public is divided over the issue, so is the Legislature," said Senate Majority Leader Lisa Brown. Gregoire said: "The Supreme Court has ruled, and we must accept their decision whether we agree with it or not."
In Seattle, King County Executive Ron Sims, who backed the push to legalize marriage for same-sex couples, said his next step would be to press for civil unions. They give gay couples many of the rights that come with marriage and are allowed in Vermont and Connecticut.
"There's still hope in the long run," Sims said. "I still dream for a just society."
Forty-five states have laws banning marriage between same-sex couples or limiting marriage to between a man and a woman.
In other recent rulings on the issue, courts reinstated voter-approved bans on gay marriage in Nebraska and Georgia, and Tennessee's Supreme Court ruled that voters there should have a say on allowing marriage for same-sex couples.
___
Associated Press writers David Ammons in Olympia and Donna Gordon Blankinship in Seattle contributed to this report.
___
On the Net:
Supreme Court of Washington: http://www.courts.wa.gov
Wednesday, July 26, 2006 · Last updated 7:12 p.m. PT
Washington's gay marrige ban upheld
By THE ASSOCIATED PRESS
WEDDING BELL BLUES: Washington's high court upholds the state's 1998 Defense of Marriage Act, which defines marriage as the union of a man and a woman. Both sides had predicted the ban would be thrown out.
SHATTERED COURT: The vote was 5-4, but six separate opinions were handed down. Three justices, led by Barbara Madsen, wrote the main opinion dismissing the constitutional challenges to the ban, but inviting the Legislature to address the issue. Two other justices forged a bare majority by voting to affirm DOMA. The chief justice wrote a separate concurrence. Four justices, led by Mary Fairhurst, wrote a ringing defense of marriage equality. Three justices elaborated in individual dissents.
EARLY REACTION: Foes of gay marriage were jubilant, but gay activists said the fight will continue. Gov. Chris Gregoire said she favors giving gays the same civil and legal rights as heterosexuals, but said marriage is the province of people and their churches.
NEXT STEP? It could be a hot topic on the campaign trail, including three Supreme Court races, and in the 2007 legislative session. Gregoire and Senate Majority Leader Lisa Brown, D-Spokane, said they expect a range of ideas to be discussed, including civil unions, overturning the marriage ban, and a constitutional amendment to enshrine the ban in the constitution. Brown and House Speaker Frank Chopp, D-Seattle, indicated lawmakers are split and that there aren't enough votes to change the status quo right now.
A LITTLE LIGHT READING? Wait for Cliff's Notes. The six opinions total 207 pages. Undaunted? Click on http:http://www.courts.wa.gov
Washington state supreme court rejects gay marriage
Wednesday, July 26, 2006
AFP
In another setback for defenders of same-sex marriage, the US state of Washington ruled that a law defining marriage as strictly between a man and a woman does not violate the state constitution.
The Washington court narrowly rejected arguments by a group of same-sex couples who said they were unfairly denied full marriage rights by the state's Defense of Marriage Act of 1998.
The act, which defines marriage as being between a man and a woman, was upheld by the court by a vote of 5 to 4.
"The legislature was entitled to believe that limiting marriage to opposite sex couples furthers the state's legitimate interests in procreation and the well-being of children," wrote Justice Barbara Madsen in the decision.
Dissenting Justice Mary Fairhurst disagreed with this logic. "Denying same-sex couples the right to marry has no prospect for furthering any of those interests," she wrote.
The plaintiffs, 19 same-sex couples, sought full marriage rights, not civil unions as are offered in the states of Vermont and Connecticut. Many gays criticize civil unions as not carrying all the benefits and rights of marriage.
The Supreme Court of the State of New York earlier this month also ruled a state law constitutional which defined marriage as between a man and a woman.
Although the US Congress recently voted down a proposal for a constitutional amendment that would ban gay marriage, 45 of 50 states have laws that limit marriage as only between opposite-sex couples. Massachusetts is currently the only US state that currently allows gay marriage.
Washington's top court upholds same-sex marriage ban
- Matthai Chakko Kuruvila, San Francisco Chronicle Staff Writer
Wednesday, July 26, 2006
(07-26) 09:07 PDT OLYMPIA, WASH. -- A narrowly divided Washington state supreme court upheld the state's ban on gay marriages today, dashing activists' hopes for a ruling that could have changed the landscape of same-sex marriages around the nation.
The 5-4 ruling upheld the state's Defense of Marriage Act, which defines the institution as a relationship between one man and one woman.
The majority opinion said the state constitution and case law demanded such a decision, arguing that the definition of gay marriage should be left to the legislature or voters. In doing so, the court left open the possibility that gay marriages could someday be allowed in the state.
"While same-sex marriage may be the law at a future time, it will be because the people declare it to be, not because five members of this court have dictated it," Justice Barbara Madsen wrote in the opinion.
Washington state allows nonresidents to obtain marriage licenses. Many had believed that -- if the court ruled in favor of same-sex marriage --
gay couples from around the country would marry in Washington and then demand recognition of their union in their home states.
That, in turn, would have led to an almost automatic challenge to the 1996 federal law that allows states to ignore same-sex marriages from other states or countries.
Currently, Massachusetts is the only state that allows gay couples to marry, but the right is limited to state residents.
Read the full ruling here:
www.courts.wa.gov/newsinfo/content/pdf/759341opn.pdf
.
E-mail Matthai Chakko Kuruvila at mkuruvila@sfchronicle.com.
URL: http://sfgate.com/cgi-bin/article.cgi?file=/c/a/2006/07/26/MNG4VK5PT54.DTL
Washington state court upholds gay marriage ban
By Daisuke Wakabayashi
Wed Jul 26, 4:56 PM ET
Reuters
Washington state's highest court upheld a ban on same-sex marriage on Wednesday, ruling by a 5-4 majority that the legislature had the power to limit marriage to one man and one woman.
Nineteen gay and lesbian couples had challenged the constitutionality of the Defense of Marriage Act, a law passed by the state legislature in 1998 to restrict marriage to heterosexual couples.
The state Supreme Court's lead opinion stressed it was ruling on the constitutionality of the law, not on the issue of gay marriage itself. It saw no reason why the rights of marriage should not be extended for gays and lesbians through a state ballot.
"It is important to note that the court's role is limited to determining the constitutionality of DOMA," Justice Barbara Madsen wrote. "Our decision is not based on an independent determination of what we believe the law should be."
The court's ruling was the latest blow to U.S. gay marriage advocates. Earlier this month, New York's highest court ruled that the state Constitution does not guarantee same-sex couples equal access to the rights and privileges of marriage.
The Georgia Supreme Court on July 6 reinstated a gay marriage ban that had been thrown out by a lower court. Voters in Alabama also approved a constitutional amendment banning same-sex marriage.
"Today is a triumph for marriage," said Kristen Waggoner, an attorney representing Allies for Marriage and Children. "This (decision) is an action that is right in line with what other courts have been finding all around the nation."
LEGAL IN MASSACHUSETTS
Gay rights advocates had hoped that Washington would have been the second U.S. state after Massachusetts to legalize same-sex marriage.
"A defeat like today is immensely disappointing," said Jennifer Pizer, senior legal counsel for gay rights group Lambda Legal. "We learn from history that social change takes time ... and public support has been growing quite quickly."
In one of the dissenting opinions, Justice Bobbe Bridge said the ruling condoned blatant discrimination against the state's gay and lesbian citizens and does not achieve a goal of encouraging marriages that result in children.
"We should not have to go through the same painful process of waiting for popular opinion to catch up with the constitution to declare denial of the right to marry unconstitutional," Bridge wrote in a lengthy dissent.
Nancy Sigafoos arrived at the Washington Supreme Court building in Olympia with her partner Tina Witcher-Sigafoos and their daughter, Harper, hoping to be among the first to know if homosexual couples can marry legally, but the pair left upset.
"I feel really angry. I've been in a relationship for 14 years. I have a child with my partner. I'm struggling not to use any expletives right now," Sigafoos said.
In 2003, Massachusetts' Supreme Judicial Court ruled in favor of gay marriage, leading to America's first same-sex marriages the following year. The U.S. Supreme Court has not taken a case on gay marriage, leaving states to decide the issue.
Marriage between same-sex couples is currently legal in Canada, Belgium, the Netherlands and Spain. It is expected to be legalized in South Africa before the end of the year.
(Additional reporting by Tom Banse in Olympia, Elaine Porterfield in Seattle)
Seattle Post-Intelligencer
Seattle Times
撤去書名の公表求め提訴へ 著者の上野東大教授ら (共同 2006/07/27)
 福井県が社会学者・上野千鶴子東大教授らのジェンダー関連の本約150冊を県の施設から一時撤去したことをめぐり、上野教授や市民団体のメンバーら20人が27日までに、県に撤去対象となった全書籍名を公開するよう提訴することを決めた。8月26日に福井地裁に訴状を提出するという。
 県は今年3月、同県の生活学習館の書架から上野教授の著書などを撤去。県の男女共同参画推進員から「内容が過激で男女共同参画に不適切」などの指摘があったためで、その後、市民から抗議が出たため再び書架に戻した。
 上野教授らは6月、県に撤去した書籍のリストの公開を請求したが、県は「著者の利益を害するおそれがある」として書名、著者名、出版社などの開示を拒否した。
(共同)
<ジェンダー>撤去された書籍の著者らが福井県提訴の方針 (毎日 2006/07/27)
 福井県生活学習館がジェンダー関係の書籍約150冊を一時撤去したことから、撤去された本の著者とされる社会学者の上野千鶴子さんら20人が来月26日に同県を相手取り、撤去した本の書名の公開を求める訴訟を起こす方針を決めた。県民活動課は「本の内容にひぼう中傷のような表現がないか確認しただけ」としている。
福井の図書一時撤去問題、書名公開求め提訴へ
2006年07月27日09時29分 朝日
 福井県の女性センターからジェンダーや性教育に関する本が一時撤去された問題で、著者とされる社会学者の上野千鶴子さんら20人が26日、県を相手取り、撤去された書名などの公開を求める訴訟を8月、福井地裁に起こすことを明らかにした。
 今年初めまでに、県の男女共同参画推進員が「不適切で内容が過激」と、リストを挙げて撤去を求めた。県は3月、リストの書物を撤去したが、市民から抗議が出て戻した。
 上野さんや地元市議らは6月、リストの情報公開を請求した。県は書名と著者名、出版社名を塗りつぶして公開。上野さんらは、「書名が公開されなければ、著者は対抗する手だてがない」として、全面開示を求め提訴することにした。
みどりの一期一会 2006-07-27 07:14:03
速報!上野千鶴子さんら公開求めて提訴!8月26日にイベントも/福井ジェンダー図書排除事件
てらまち・ねっと 2006/07/27
◆ジェンダー。福井県の図書排除問題。リストの公開を求め提訴へ。上野千鶴子・信田さよ子トークも
Christie's employee Romilly Collins models the dress worn by Audrey Hepburn in the 1961 film "Breakfast At Tiffany's" outside a cafe in west London, July 26, 2006. The Givenchy dress will be auctioned for charity at Christie's in December and is expected to fetch between 50,000 and 70,000 pounds ($92,025 and $128,863). REUTERS/Toby Melville

Audrey Hepburn's iconic black dress to go on sale
Wed Jul 26, 2006 6:53 PM IST

LONDON (Reuters) -
The iconic black dress worn by Audrey Hepburn in the 1961 film "Breakfast at Tiffany's" will go on sale in December with an estimated price tag of 50-70,000 pounds ($90-130,000), Christie's auctioneers said on Wednesday.
The dress, designed by Givenchy and worn by Hepburn in the memorable opening scene of the classic romantic comedy, is being auctioned on behalf of the City of Joy Aid charity which helps underprivileged children in India.
It is the star lot of the annual film and entertainment sale at Christie's, in London's upmarket South Kensington, held this year on Dec. 5.
Hepburn, who plays Holly Golightly in the movie, emerges from a cab onto a deserted, early-morning 5th Avenue in New York and peers through the window of jeweller Tiffany's while she eats her breakfast from a brown paper bag.
BBC
Last Updated: Wednesday, 26 July 2006, 11:54 GMT 12:54 UK
Hepburn dress in charity auction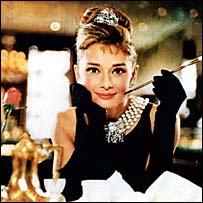 The money will be given to the Indian charity City of Joy Aid


The black dress worn by Audrey Hepburn in Breakfast at Tiffany's is to be auctioned for a charity which helps under-privileged people in India.
The outfit was designed by Hubert de Givenchy, who was in charge of Hepburn's wardrobe in the 1961 film.
The actress played Holly Golightly and is seen in the dress in the opening scene as she emerges from a taxi.
It is expected to fetch between £50,000 and £70,000 when sold by Christie's in London on 5 December.
Hepburn was born in Brussels in 1929, and died from colon cancer at the age of 63.
She had spent her later life concentrating on humanitarian work, including a role as a goodwill ambassador for Unicef, which began in 1989.
Breakfast at Tiffany's was adapted from a novel by Truman Capote and also starred George Peppard, Patricia Neal and Mickey Rooney.
こんな極悪カルト教団に扇動されてるようではオシマイです。諦めましょう。
平成18年7月24日世界日報
盛り上がる共学化阻止-宮城県
在校生がデモ、OBは訴訟
♪ 上記記事中
前知事と過激フェミニストの裏取引説も

知事選の前に、ジェンダーフリー(性差否定)を主張する過激なフェミニストから成る「男女共同参画社会」推進派メンバーが強硬に一律共学化を主張。浅野前知事は得票のために、選挙前に裏取引をしていたのではないか、とみられている。
の部分は名誉毀損の疑い濃厚。
(名誉毀(き)損)
刑法第230条
1 公然と事実を摘示し、人の名誉を毀(き)損した者は、その事実の有無にかかわらず、三年以下の懲役若しくは禁錮又は五十万円以下の罰金に処する。
2 死者の名誉を毀損した者は、虚偽の事実を摘示することによってした場合でなければ、罰しない。
(公共の利害に関する場合の特例)
第230条の2
1 前条第一項の行為が公共の利害に関する事実に係り、かつ、その目的が専ら公益を図ることにあったと認める場合には、事実の真否を判断し、真実であることの証明があったときは、これを罰しない。
2 前項の規定の適用については、公訴が提起されるに至っていない人の犯罪行為に関する事実は、公共の利害に関する事実とみなす。
3 前条第一項の行為が公務員又は公選による公務員の候補者に関する事実に係る場合には、事実の真否を判断し、真実であることの証明があったときは、これを罰しない。
(親告罪)
第232条
1 この章の罪は、告訴がなければ公訴を提起することができない。
(不法行為による損害賠償)
民法第709条
故意又は過失によって他人の権利又は法律上保護される利益を侵害した者は、これによって生じた損害を賠償する責任を負う。
(財産以外の損害の賠償)
第710条
他人の身体、自由若しくは名誉を侵害した場合又は他人の財産権を侵害した場合のいずれであるかを問わず、前条の規定により損害賠償の責任を負う者は、財産以外の損害に対しても、その賠償をしなければならない。
(名誉毀 [き]損における原状回復)
第723条
他人の名誉を毀 [き]損した者に対しては、裁判所は、被害者の請求により、損害賠償に代えて、又は損害賠償とともに、名誉を回復するのに適当な処分を命ずることができる。
市長が国会議員候補者から金をもらった等の事実を「人の噂であるから真偽は別として」という表現を用いて摘示した場合、刑法230条の2の事実証明の対象となるのは風説そのものの存在ではなく、その風説の内容たる事実である。 (最決昭43・1・18刑集二二・一・七)
THE ZEIT GIST
Lesbian mothers' twin tasks
Societal attitudes add to parenthood challenge
By THOMASINA LARKIN
Motherhood can be daunting under even the best of circumstances, but, as a lesbian, considering starting a family brings with it a whole new set of difficulties.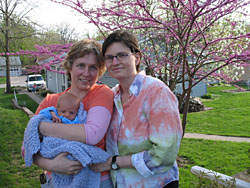 Heidi Bean and Robin Tierney, who met in Japan in 1997, will move back here later this month with son, Max. PHOTO COURTESY OF HEIDI BEAN
The Japan Times talks to three women who have sought to overcome the hurdles presented by raising a family in Japan within a gay partnership.
Mia Japanese, 33
The main difficulty faced by Mia is other people's attempts to identify her sexuality. She's been living with her Japanese female partner for 10 years, but has simultaneously had a relationship with a German man for the past six years.
"In the lesbian community, I'm really quickly asked, 'Are you lesbian or not? Are you bisexual or not? Is there jealousy from your partners?' " says Mia.
She met her male partner while he was here on business. Although he was "too heterosexual" to imagine a long-term relationship, she had a strong instinct about having his baby. She began an affair, but was always very open about everything with both partners. About four months later, she became pregnant.
Wary of the financially difficult and sometimes lonely life of single mothers, Mia spent years building her own Web-based company and seeking to create understanding and supportive relationships with both partners and friends.
"Lots of people who don't know me well think I'm an egoist," says Mia. "They say I'm in the best position because I have both a male and female partner, and it's really hard to hear that, because I used a lot of energy to build this relationship."
Two weeks after her son was born, the fragility of the complex situation she was in was brought home to her.
Her male partner, who could not bear seeing the family unit include Mia's female partner, left Japan.
"I was alone with my girlfriend and I realized there's always the risk that she too could suddenly leave me," says Mia.
At this point, many same sex couples would debate marriage. While the Netherlands, Belgium, Spain, Canada and the U.S. state of Massachusetts recognize same-sex marriages, and about 20 other countries allow civil unions, Japan has not yet reached that point.
So Mia took matters into her own hands. "I made a private contract with my girlfriend, officially with my lawyer, so that she or I have rights if something happens to one of us, because my parents were against our relationship," she says.
Though Mia's girlfriend isn't legally bound to her son, they would like to add this right to their contract. However, they always try to maintain a clear distinction about who the mother is.
"A mother is a biological role, so it's not real that he has two mothers," says Mia.
"We don't want to make him call me 'mom' and my girlfriend 'mother,' or something like that. So my girlfriend is called by her name, I'm "okachan" and my boyfriend is 'otochan.' "
Although her boyfriend lives in Germany, he visits a few times a year for about a month each time.
Finding a nursery school that would respect Mia's lifestyle was imperative, so while she was pregnant she searched for one that fit her criteria, explained her situation, was accepted and moved to that ward so her son could officially enroll when the time came.
"I had lots of worry about him starting school because I write a blog with my own name and my sexuality. I'm very open; I'm not closeted. Anyone from the kindergarten can look," says Mia.
"My son has really mild gender roles. I have lots of transgender friends and gay and lesbian friends, as well as heterosexuals. We are really mixed and open. I think my son's classmates are learning gender roles from their own parents and are bringing this way of thinking into the kindergarten, and it's new and unknown for my son. He often asks me if he's allowed to cry as a man, so I say, 'you can cry as a boy, it's okay to cry.' "
Tina Australian
In the case of Tina and Bette (names have been changed), things are a little more straightforward.
The pair took the route of finding a sperm donor through an Australian-based Web site and the process went through without a hitch. However, when they started dealing with matters in Japan, things got just a tad sticky.
"Bette told this Japanese doctor she wanted to bring her partner in and when I went, he was visibly shocked and very uncomfortable. So we changed doctors," says Tina.
"We also had to find a midwife who was open enough to accept us, and a hospital where they would accept me as the next of kin to advise or make decisions. The midwives we met were very open and treated us like any other couple."
Soon after their son was born, Tina had a job interview for a Japanese company, which put her in the awkward position of her having to hide one of the most loved and important persons in her life.
"I said I had a son, so instantly they assumed I was married and said, 'Wow, you're looking good for someone who just gave birth.' That was uncomfortable. Do I tell the truth or do I just sort of go along with their assumption?" says Tina. "In that type of situation I tell them I'm not married, but I don't tell them that I'm not married to a woman. I just go along with it, but I don't say anything that's a lie. I don't say 'he, my partner.' I just say 'my partner.' "
Though Tina can't be out at work, the two mothers coo over their five-month-old son very openly in public. "At the end of the day I don't think there's any real difference (between heterosexual and gay parents)," says Tina.
"The difference is going to come when he starts school and realizes he lives with two mothers, whereas other kids have a mother and father living with them. Questions are going to come up and we'll answer them as honestly as we can."
"I think the environment we're in and the people around us are going to determine a lot about how we raise him and what we'll say to him. Bringing him up at school is going to be the hardest."
He could get teased and we're very concerned about that. I think there are ways around that, I just don't know what yet."
Heidi Bean American, 37
Heidi Bean and Robin Tierney, 40, who met in Japan in 1997, live in Ohio, but will move back here later this month for a year.
Residence in Ohio helped smooth their route to parenthood. Bean became artificially inseminated and during her pregnancy Tierney started the adoption process.
"In Iowa, adoption by same-sex parents is not protected, but it's not banned either.
"So same-sex adoption, or what's officially called 'second-parent adoption,' is generally accepted by the local courts. So we are both now his legal mothers," says Bean.
Bean says their past experience here has prepared them for what lies ahead.
"Frankly, the first time I was in Japan I developed a pretty thick skin to being thought of as a 'henna gaijin,' " says Bean, who is not overly concerned about what lies ahead in Japan.
"When it comes to acceptance by society and rights, in Japan (Max) will be too young for (isolation) to be an issue. I think my concerns might be very different if Max was of school age.
"Robin and I also have the advantage of not having to worry about being out in Japan because we don't have professional jobs or family reputation to protect. If one of us were working at a Japanese company, my attitude would likely be very different," says Bean.
"When I lived in Japan in the 1990s, I was out at my teaching job but not at the job I had at a Japanese technology company. So I can imagine having a child -- which in a way 'outs' you -- while working in a conservative setting would be stressful. Robin and I are fortunate not to have to worry about that."
However, one worry remains. Though Bean and Tierney are both Max's legal parents, they are not married and fear Japan won't recognize them as a family.
"Robin is coming on a research visa and since Max is legally her child, he can come as her dependent. But I have no legal relationship to Robin. We're trying to make a case to let me into the country as Robin's dependent, but I don't know if immigration will be okay.
"If not, I'll have to come on a tourist visa, which is a bit risky since we plan to be there for a year."
Although same-sex families are not completely accepted socially and legally in America, Bean and Tierney feel lucky to live in as open an environment as they do.
Perhaps over time, they, and others like them, will find the same openness and understanding here.
Send comments to: community@japantimes.co.jp
The Japan Times: Tuesday, July 25, 2006
(C) All rights reserved
chicagotribune.com >> Editorials
Federalism and marriage
Published July 24, 2006
Last month, a proposed constitutional amendment to outlaw same-sex marriage failed in the Senate. But that didn't affect the plans of House Republicans, who insisted on having their own, irrelevant vote on the issue. Last Tuesday, the amendment fell 47 votes short of the two-thirds majority required for passage.
It's a mystery why opponents of gay marriage wanted to spend more time and energy on a fight they had already lost--particularly when they are winning many other fights.
The real battle is taking place in the legislatures, not Congress. Regulation of marriage has traditionally been a state responsibility, with states differing on the minimum age and the rules for obtaining a divorce, and nothing about this particular aspect suggests it can't be addressed adequately at that level. Twenty states have constitutional provisions prohibiting same-sex marriage, and another 25 have laws to the same effect.
All the momentum here is on the side of those who want to keep marriage exclusively heterosexual.
Last week, a federal appeals court upheld a ban approved in 2000 by voters in Nebraska, overturning a lower court decision ruling it unconstitutional. In Tennessee, meanwhile, the state Supreme Court agreed to let voters decide in November whether to incorporate its statutory ban into the state constitution.
Those came on the heels of a decision by the highest state court in New York. It rejected claims that the existing ban violates the state constitution by infringing on the right of homosexuals to equal treatment.
As Frank Sinatra might say, if gay marriage can't make it there, it can't make it anywhere. Even, possibly in Massachusetts--the only state so far that has legalized it. Recently, the state's Supreme Judicial Court unanimously agreed that Bay State citizens may vote on a constitutional amendment to outlaw same-sex marriage, which means a referendum could be held in 2008 if the legislature approves.
Opponents had argued it was unconstitutional to let the electorate vote an initiative to overturn a judicial decision, but the court disagreed.
"The plain language of [the constitution] does not bar the people from using the initiative process to amend the constitution," it said.
All this should be good news for anyone who thinks marriage should be restricted to one man and one woman. But it's even better news for supporters of federalism--which holds that many important responsibilities ought to be entrusted to state governments and their people.
There is no obvious reason for the federal government or the federal constitution to dictate a policy on this issue. If residents of New Hampshire disagree with the policy in Massachusetts, they are free to chart their own course.
In the first place, they have the right to decide policy for marriages taking place within their borders. And federal law explicitly stipulates that states may refuse to recognize those from other states.
States have shown that they are more than willing to act to uphold marriage strictly in its traditional form. The puzzle is why opponents of gay marriage want to get in their way.