S
M
T
W
T
F
S
1
2
3
4
5
6
7
8
9
10
11
12
13
14
15
16
17
18
19
20
21
22
23
24
25
26
27
28
29
30
カテゴリ
以前の記事
検索
最新のトラックバック
その他のジャンル
ファン
記事ランキング
ブログジャンル
画像一覧
「トランスアメリカ」 (アメリカ)
「性同一性障害」への偏見を容赦なく暴く(2006年7月24日 読売新聞)
 生物学的に男性に生まれても、心は女性……。そんな男性(といっても外見は女性)を主人公にした、父と子の旅の物語である。「トランスアメリカ」、つまり「アメリカ横断の旅」は、〈性〉を自由に行き来する「トランスセクシュアル」に掛けた言葉。悩み、傷つき、のたうち回りながらも自分の生き方を変えようとする「女性誕生」の物語なのだ。
 この旅のきっかけとなるのは、ニューヨークの拘置所から主人公のブリー(フェリシティ・ハフマン)にかかってきた一本の電話。その電話の主は「17年前に生まれた、あなたの息子だ」という。男性時代(?)のたった一度の過ち。が、ブリーは自分が父親であることを明かさぬまま、ケンタッキー州にいるという継父のもとに送り返すために、保釈金を積んで出所させた息子と二人で旅に出る。
 髪形もメークも服装も女性のブリー。息子は彼女を教会のボランティアと思い込むが、やがて二人でブリーの実家を訪ね、自分の祖父母と叔母に初めて対面することに。
 自分の性に耐えられないほどの違和感を覚える性同一性障害。ここでは、自ら決着をつけるために性転換手術を受ける寸前という設定で、身も心もすっかり女性なのだ。しかし、進歩的な大都会ならまだしも、保守的な西部にある実家では常に好奇な目にさらされ、次第に窮地に追い込まれていく。
 そのあたりの、あからさまな差別意識と性同一性障害に対する根強い偏見を、ダンカン・タッカー監督は容赦なく暴く。頭から否定するのでもなく、変にわかったふりをするのでもなく、異次元の出来事として笑い飛ばすのだ。ブラックコメディーというにはあまりにも残酷に映るが、そこから逆に、世間の無知と無理解に対する怒りと哀しみがにじみ出す。
 容姿だけでなく声質まで変えて「完全に女性になりきっていない男性」という難役をモノにしたハフマンが、すごい。今年のアカデミー主演女優賞の候補(ゴールデングローブ賞は主演女優賞を受賞)になったが、「ひょっとして男性では」と思わせるほどのきわどさ。でも、そこには〈性〉を超えた生身の人間がいる。
 ――東京のシネスイッチ銀座ほかで公開中。(映画評論家 土屋好生)

(2006年7月24日 読売新聞)
トランスアメリカ (米)
女になりたい父との旅 (2006年7月21日 読売新聞)
女性になる最後の手術を控えたブリー(フェリシティ・ハフマン=右)の前に、実の息子トビー(ケヴィン・ゼガーズ)が現れる 思春期の子供と親の関係は難しいもの。父親が「女性になりたい男性」だったら、なおのこと。
 そんな父子がアメリカ横断の旅を通して、自分を受け入れるまでを描く、笑って泣けるロードムービーだ。
 男性であることに違和感を持ち、女性になるための最終的な手術を控えるブリー(フェリシティ・ハフマン)。ある日、男性だったころに出来た息子トビー(ケヴィン・ゼガーズ)が現れる。ブリーを教会派遣の女性と勘違いしているトビーを、ブリーは養父のもとへ送り返そうとする。
 心は女性、体は男性、息子への思いは父という、複雑な役に挑んだ女優のハフマンが見事。どこから見ても女性を演じる男性にしか見えず、心情表現もリアルだ。ドラマ「デスパレートな妻たち」の元キャリアウーマン役とは思えない。
 ブリーに淡い慕情を寄せ始めるトビーとのやり取り、老カウボーイとのひとときの交歓、立ち寄った実家の両親の動揺と孫の存在を知っての有頂天ぶりなど、旅の途中の挿話もおかしく、切ない。心と体の不一致は、それだけでドラマチックであり、人間関係を描くのに適した"要素"なのだと改めて実感した。ドリー・パートンのおおらかな主題歌も旅のテンポにぴったりで、気持ちがいい。
 ダンカン・タッカー監督。1時間43分。シネスイッチ銀座など。(津久井美奈)
(2006年7月21日 読売新聞)
Travelin' Thru
By Dolly Parton
Well I can't tell you where I'm going, I'm not sure of where I've been
But I know I must keep travelin' till my road comes to an end
I'm out here on my journey, trying to make the most of it
I'm a puzzle, I must figure out where all my pieces fit
Like a poor wayfaring stranger that they speak about in song
I'm just a weary pilgrim trying to find what feels like home
Where that is no one can tell me, am I doomed to ever roam
I'm just travelin', travelin', travelin', I'm just travelin' on
Questions I have many, answers but a few
But we're here to learn, the spirit burns, to know the greater truth
We've all been crucified and they nailed Jesus to the tree
And when I'm born again, you're gonna see a change in me
God made me for a reason and nothing is in vain
Redemption comes in many shapes with many kinds of pain
Oh sweet Jesus if you're listening, keep me ever close to you
As I'm stumblin', tumblin', wonderin', as I'm travelin' thru
I'm just travelin', travelin', travelin', I'm just travelin' thru
I'm just travelin', travelin', travelin', I'm just travelin' thru
Oh sometimes the road is rugged, and it's hard to travel on
But holdin' to each other, we don't have to walk alone
When everything is broken, we can mend it if we try
We can make a world of difference, if we want to we can fly
Goodbye little children, goodnight you handsome men
Farewell to all you ladies and to all who knew me when
And I hope I'll see you down the road, you meant more than I knew
As I was travelin', travelin', travelin', travelin', travelin' thru
I'm just travelin', travelin', travelin', I'm just travelin'
Drifting like a floating boat and roaming like the wind
Oh give me some direction lord, let me lean on you
As I'm travelin', travelin', travelin', thru
I'm just travelin', travelin', travelin', I'm just travelin' thru
I'm just travelin', travelin', travelin', I'm just travelin' thru
Like the poor wayfaring stranger that they speak about in song
I'm just a weary pilgrim trying to find my own way home
Oh sweet Jesus if you're out there, keep me ever close to you
As I'm travelin', travelin', travelin', as I'm travelin' thru
トランスアメリカ監督ダンカン・タッカーインタビュー
The Times July 24, 2006
Battle of the sexes leaves men groping for equality
By Leo Lewis in Tokyo
SMACKING her lips, Yukari Suzuki, a young housewife, descends the steps of the Men-ya Sora noodle house in Kanda. She has enjoyed some of the finest
ramen
in Tokyo and, even more delicious, the knowledge that her gourmet lunch was a privilege of gender.
For the Men-ya Sora, like a growing number of Japanese shops, restaurants, cinemas and services, has turned "women only" — welcoming to its upstairs dining room the free-spending fairer sex, but turning away its supposedly more uncouth counterpart.
What started as a desperate measure to protect women from gropers on trains has blossomed into a fully fledged movement. Single-sex places have become a lifestyle choice for many women and a source of outrage for men.
Once women-only carriages became standard on many Japan Railways services and the Tokyo Metro, other businesses quickly followed. Spas and gyms were among the first to pick up the trend, with restaurants, comic-book cafés and convenience stores joining the no-men-allowed movement.
Hotels, apartment blocks and pachinko gambling parlours are experimenting, and restaurants that do not exclude men have taken to giving free desserts to women.
The "women only" trend flies in the face of a massive government effort to put Japanese men and women closer together. Facing tumbling birth rates and a potential demographic crisis, the Government has tried to promote marriage matchmakers and encouraged companies to give staff time off for dating.
"If men want not to be discriminated against, they should have better manners," Ms Suzuki said. "They sit so they take up lots of space, read newspapers wide open, leaf through pornography in public and some are really arrogant, too."
Takashi Naito, the male owner of Men-Ya Sora, said: "I wanted to have as many repeat customers as possible and I noticed that female diners often asked me to give them a table away from men who were drunk and noisy."
The emergence of single-sex restaurants has created an unprecedented storm of fury on 2Channel, Japan's biggest internet chat room, where the majority of comments denounce the trend as unnecessary and discriminatory. Establishments such as the Men-Ya Sora are described as
O-oku
, the old word for the living quarters of royal concubines.
Academics believe that the trend will hurt society. Asaho Mizushima, a Professor of Law at Waseda University, says the rot set in with single-sex railway carriages, which implied that women needed protection from men in general, rather than from a few criminals.
"Women's cars may work as a psychological shelter to women who fear groping, but it doesn't decrease gropers," he wrote on his website. "But one clear result is that men are rejected from particular carriages just because they are men."
Who Won in Bernstein-Gould Spat Over Brahms?: Norman Lebrecht

July 21 (Bloomberg) --
Imagine a conductor coming on stage and telling his national audience on a live broadcast that he heartily disagrees with what the soloist is about to do in the concerto but he is going to let him do it anyway.
And then the soloist gives an intermission interview insisting that ``part of the concerto idea is the sense of non- collaboration.''
Well, it wouldn't happen today in our homogenized concert world, where no maestro steps out of line for fear of offending the sponsors, but on Aug. 6, 1962, Leonard Bernstein and Glenn Gould fell out publicly in Carnegie Hall over the Brahms D-minor concerto and the results can be heard on a first authorized record release, on a Sony-BMG CD out later this month.
Bernstein's introduction was deftly worded. ``A curious situation has arisen,'' he tells the audience. ``This is a performance distinctly different from any I've ever heard -- or even dreamt of for that matter -- in its remarkably broad tempi and its frequent departures from Brahms's dynamic indications. What am I doing conducting it?''
Nervous laughter ripples through the hall. ``I am conducting it,'' he continues, ``because Mr. Gould is so valid and serious an artist that I must take seriously anything he conceives in good faith, and his conception is interesting enough so that I feel you should hear it too.''
The pianist, for his part, holds the upper hand for much of a lopsided account of the epic work, played from his usual hunched position below keyboard level and with a sonority that is unique.
Gruesome Taste
There are moments when the tempo stalls to the point of stasis and the structure feels as if it is about to topple over. There are moments, too, of gruesome bad taste, smeary pianissimi, willful clangor, indifferent patches from the New York Philharmonic and surreal revelations of color and feeling.
Such impressions are invariably subjective. When you check timings against other, more orthodox accounts by Artur Rubinstein, Emil Gilels or Daniel Barenboim, Gould is never more than a minute outside average movement length. The only variable is inspiration, and that is a factor that Gould and Bernstein were prepared to indulge liberally without regard for personal vanity or critical reaction.
Harold Schonberg in the New York Times let rip next day with a rabid letter to his legendary piano teacher Osip Gabrilowitsch: ``Between you and me and the lamppost, Osip, maybe the reason he plays it so slow is that maybe his technique is not so good.''
`Masculine-Feminine Approach'
Gould, interviewed on air, said: ``It was in no way a particularly unusual performance except for one factor. There was less divergence between the masculine-feminine approach of the piano concerto, between first theme and second theme, between the barking of the orchestra and the placidity of the piano.
``It was a much more tightly welded unit, what I wanted to do. Lenny felt that in order to preserve the antagonism of orchestra for piano there ought to be greater contrast. He was more in favor of the tradition, I wished to break with it.''
The two men parted the best of friends and there was only one winner from their live contest: the listener.
Brahms Piano Concerto No. 1, Glenn Gould piano. New York Philharmonic. Leonard Bernstein, conductor, Sony Classical Great Performances: 82876 787532.
(Norman Lebrecht is a critic for Bloomberg News. The opinions expressed are his own.)
To contact the writer on this story:
Norman Lebrecht at norman.lebrecht@virgin.net.
Last Updated: July 21, 2006 01:01 EDT
Editorial
In the hearts of leaders
The New York Times
Published: July 22, 2006
For years, the prime minister of Japan, Junichiro Koizumi, has been making a pilgrimage to a shrine to the war dead that includes 14 Class A war criminals from World War II, seven of whom were hanged.
This shameless pandering to the right outrages China and other victims of Japanese imperialism and makes many Japanese fear that Koizumi is embracing the old militarism. Yet Koizumi is believed to be planning another of these visits to Yasukuni Shrine before he steps down in September. And his likely successor, Shinzo Abe, has said he would do the same. (Abe also recently suggested that Japan should attack North Korea's missiles on the launch pad.)
Last week, a Japanese newspaper added to the national anxiety over this issue by publishing portions of a diary of a former member of the imperial household. He revealed that Hirohito, the emperor who led Japan into a Nazi alliance and a drive to rule Asia, stopped going to the shrine in 1978 after it added the war criminals to the list of thousands of souls lost in Japan's wars. "This is from my heart," Hirohito was quoted as saying.
One would think this would have some effect on Koizumi and his supporters. But he told reporters dismissively that "everyone has their own feelings" and that the emperor's remorse would have no effect on him.
The emperor almost certainly committed war crimes himself, which were ignored only because of the exigencies of the postwar era. But apparently this elderly product of an imperial age had more room in his heart for doing the right thing than a self-styled modern reformer, international leader and Elvis lover.
▲
by

alfayoko2005

| 2006-07-24 10:21 | 国内政治
QUESTIONS & ANSWERS / SAME-SEX MARRIAGE
Flurry of Court Rulings, with More Ahead, on Gay Unions
STEPHANIE SIMON, Los Angeles Times Staff Writer
July 23, 2006
Gay marriage came roaring back into the headlines this month with a series of court decisions and a congressional vote. Here's a look at what happened.
Question: What did all the court rulings mean?
Answer: Opponents of gay marriage won six cases in July. However, they acknowledged that only two of them were substantive. The most important victory came in New York on July 6, when the state's highest court ruled that same-sex couples do not have a right to marry. Another key victory came in Nebraska on July 14 when a federal court upheld that state's constitutional amendment banning same-sex marriage. The amendment was the broadest and most restrictive in the nation, so both sides considered it the most vulnerable to a court challenge. "If Nebraska can survive, they all will," said Jordan Lorence, a senior attorney with the Alliance Defense Fund, which opposes gay marriage.
Q: What about the other four decisions this month?
A: In Georgia, Tennessee and Massachusetts, courts upheld the legality of past or pending ballot initiatives to ban same-sex marriage. All three cases, however, hinged on technicalities in state law, not on sweeping constitutional issues. In Connecticut, a trial court upheld a state law banning same-sex marriage. But that was a lower-court ruling, almost certain to be appealed, so neither side in the debate has put much stock in the decision.
Q: Does this string of victories for traditional marriage settle the question?
A: Far from it. Advocates on both sides are anxiously awaiting two rulings expected any day, from the state high courts in New Jersey and Washington. If either court rules in favor of same-sex marriage, it could have broad ramifications. Both states grant marriage licenses to nonresidents, so same-sex couples from across the country could arrange weddings there. When they returned to their home states, they could sue for the right to have their marriages recognized. That would touch off a new line of litigation. "The last 10 days have been pretty good for [traditional] marriage, but history's taught us that things can turn around pretty quickly," said Gary Schneeberger, a spokesman for Focus on the Family, a conservative advocacy group.
Q: What if New Jersey and Washington state rule against gay marriage? Would that settle this debate?
A: Gay-rights activists say two more decisions against them would be a serious blow to their cause. Even so, it would not end the legal wrangling. Gay-marriage cases are pending in California, Iowa, Maryland and Oklahoma, and activists are sure to file others. "We've known for a long time that we would have a lot of setbacks on the way to full equality," said Toni Broaddus, executive director of the Equality Federation, a gay-rights group. "We're in this for the long haul."
Q: What's happening in California?
A: Last week, an appeals court panel heard five hours of oral arguments for and against California's law banning same-sex marriage. (The law was passed in 1977 and reaffirmed by voters in 2000 through Proposition 22.) A ruling is expected this fall; the case will then likely go to the California Supreme Court. Regardless of how the courts rule, liberal lawmakers are expected to try again next year to legalize same-sex marriages. They passed such a bill last year, but it was vetoed by Gov. Arnold Schwarzenegger.
Q: Can't the U.S. Congress get involved to preempt all this bickering and suing on the state level?
A: Opponents of gay marriage would love Congress to get involved. Their goal is to amend the U.S. Constitution to declare that "marriage in the United States shall consist only of the union of a man and a woman" and to make plain that no state need extend the benefits of marriage to same-sex couples. In 2004 and again this year, the "Marriage Protection Amendment" failed to get the two-thirds majority needed to pass Congress. Conservatives say such an amendment is vital. Liberals call it divisive and hateful.
Q: With all this tumult in the courts, what is the status of gay marriage today? Is there any place that same-sex couples can marry?
A: A few states, including California, offer civil unions or domestic partnerships for gay and lesbian couples, but Massachusetts is the only state to permit same-sex marriage. More than 8,000 gay and lesbian couples have exchanged vows since a landmark ruling from the state's highest court in late 2003. Because of a provision in state law, however, only couples who live in Massachusetts can get married there. Voters will likely get a chance to ban same-sex marriage in the state with a ballot initiative in 2008.
Q: Ballot initiatives to ban same-sex marriage swept the country a few years ago. Are they still popular?
A: Yes. So far, voters in 20 states have amended their state constitutions to ban same-sex marriage. The amendments have passed overwhelmingly in every case, often supported by 70% or more of voters. At least seven states will hold popular votes on same-sex marriage bans this fall: Arizona, Idaho, South Carolina, South Dakota, Tennessee, Virginia and Wisconsin. In addition, such bans are pending before lawmakers in half a dozen states.
Q: If both judges and voters keep rejecting their claims, why do gay couples persist in pushing for the right to marry?
A: As a practical matter, legal marriage confers hundreds of benefits under state and federal law, affecting tax rates, immigration status, Social Security benefits, even the right to visit a dying loved one in the hospital. Same-sex couples can secure some of those rights through domestic partnerships, where available, or through legal documents granting their partner power-of-attorney or next-of-kin status. But such protection is uneven and incomplete.
Beyond such pragmatic concerns, many gays and lesbians see marriage as a fundamental civil right. They compare their campaign to the movement in the 1950s and '60s to overturn state laws banning interracial marriage. And they're prepared to keep at it for decades, if need be, pressing their case through the political system and the courts.
Q: What about other countries? Is this as much of an issue internationally?
A: Debates about gay marriage have been raging for decades, not only in the United States but in Europe as well. Five countries permit same-sex couples to marry: Belgium, Canada, the Netherlands, South Africa and Spain.
Gay-wed split hurts cause, proves no guarantees in love
By Margery Eagan
Boston Herald Columnist
Sunday, July 23, 2006
Just two years ago Julie and Hillary Goodridge - with their girl-next-door good looks and adorable child - became the perfect poster family for gay marriage in Massachusetts. They were the lead plaintiffs, in fact, in the case Goodridge vs. Department of Public Health.
But now the couple so publicly wed is separating. And that private, personal decision has become, like their decision to marry, a subject of contentious public debate.
Alex Westerhoff is tough and critical. With his spouse, Tom Lang, he publishes names of anti-gay-marriage citizens on their Web site, Know thy Neighbor.org. Westerhoff called the separation "irresponsible. It hurts the cause, especially since the decision was named after them."
At Jimmy Tingle's Off Broadway theater in Somerville, gay comedian Julie Goldman just performed a very funny bit about her conservative Jewish mother coming to terms with her daughter, the groom. Yet Goldman worries, too, that the split of the gay movement's star couple does matter, "even though half of heterosexual marriages end in divorce."
One of those divorced heterosexuals admitted Friday that he's reveling, perversely - taking the misery-loves-company perspective on the Goodridge breakup. What bothered him in news about gay marriage were all these gay couples proclaiming everlasting, deep, abiding, unending love.
"Nice to know it doesn't last for them, either," he said.
Whatever the Goodridges' specific problems (they did not respond to a Herald interview request) one aspect of their relationship is decidedly not the same.
They married at the end of a crusade. They were pioneers in a social revolution. As one gay woman who knows them put it Friday, "Most couples don't have to declare their perfect love, to talk about it publicly in endless poetic terms" to prove to a suspect, doubting world that they are worthy of matrimony.
"In some sense," the friend said, "they volunteered to be used by a social movement that needed just such a regular couple. We took advantage of that, and that's part of why I feel why bad. No one can ever anticipate the toll (public scrutiny) can take." Or the stress of maintaining that public image.
Clearly at some point one or both women decided that the public image and private reality were painfully at odds. One or both decided to do something about it. Then came what's common ground in any family breakup: the withering sense of loss, failure and disorientation.
Gloria and Linda Bailey-Davies also were among the original seven couples who sued the state to marry. Gloria Bailey-Davies says it's important to remember, "No matter what happens, that Julie and Hillary Goodridge made a huge contribution to equal rights." That if they were not married, there would not now be the same legal protections for their little girl or each other.
"It works both ways," she said. "Protections if we stay married or if we break up."
Bailey-Davies also remembered how everybody swarmed the Goodridges during the gay marriage rallies.
"Everyone wanted to talk to them, and so they became the couple who bared their soul," she said.
Google their names. They're everywhere - in People magazine, in Spanish and French newspapers. Theirs became the international image of wedded gay bliss: two joyous young women running across Beacon Street in white pants suits, holding hands and spring bouquets on their wedding day, driving off with their laughing daughter in a blue VW Beetle, "Just Married" on the window and cans trailing.
Yet in only two years, something changed. Said Bailey-Davies, "They love each other very much. . . . It's very sad."
EILEEN MCNAMARA
A heavy, symbolic load
By Eileen McNamara, Boston Globe Columnist | July 23, 2006
No married couple is meant to live under a microscope. Not Brad and Jen, not Charles and Diana, not Julie and Hillary Goodridge.
The separation of the Jamaica Plain couple would be a private family matter had the Goodridges not lent their name to the lawsuit that led to the state Supreme Judicial Court's landmark decision legalizing gay marriage in Massachusetts. Because they invited us to the wedding, we feel entitled to the details of any possible divorce. A place in history has a price, and that price in modern America is privacy.
This is what happens when a nation, shaped by complex ideas, devolves into a tabloid culture preoccupied with personal narratives. A social movement gains legitimacy only when it can be personified on the cover of People magazine.
The Goodridges were the poster couple for same-sex marriage, chosen by lawyers as schooled in public relations as they were in discrimination law. Attractive, professional women -- 49-year-old Julie runs an investment firm, and Hillary, 50, works for the Unitarian Universalist Funding Program. Telegenic and articulate, they had been together as a committed couple for 17 years before the state legally recognized their union. Living in a lovely Victorian house, they had been parenting their daughter, Annie, for seven of those years.
The lawsuit that would win them the right to marry would confer that same right on the men in boas marching in the annual Gay Pride parade, but it was the Goodridges that were meant to be the face of same-sex marriage.
Gay rights activists had learned something about marketing from the abortion rights movement. They wanted to avoid another Norma McCorvey. McCorvey was a 21-year-old waitress, pregnant and unmarried, when she agreed to become the lead plaintiff in a class-action suit challenging a Texas antiabortion statute. Three years later, as the Jane Roe in Roe v. Wade, she made history when the US Supreme Court overturned the Texas statute in the milestone decision that legalized abortion in every state .
Norma's hard luck story found a receptive audience among abortion-rights supporters, eager to portray abortion as a necessity for poor, desperate women rather than a convenience for unhappily pregnant college students, even though the reality encompasses both.
Twenty-two years later, Operation Rescue set up shop next to the clinic in Dallas where McCorvey worked, and the other side seized the opportunity to use her for its own ends. McCorvey soon was denouncing abortion as murder; the networks carried news of her baptism in a Dallas swimming pool. In interviews, she suggested that abortion providers were bombing their own clinics to collect insurance money. One of her former attorneys wished aloud that she had chosen her plaintiff more carefully.
It was an unfair burden for McCorvey then, and it is an unfair burden for Goodridges now. It takes broad shoulders to carry a social movement. No single person, no single couple should bear that load alone, even symbolically.
More than 7,000 couples have married since same-sex marriage won legal recognition in Massachusetts. Most of those unions are the successful culmination of deep and abiding commitments. Some of those unions have frayed at the edges. But no marriage carried the dual pressure of private promise and public symbol as that of Julie and Hillary Goodridge.
Their long-established relationship insulates them from the inevitable ugliness that comes in the wake of their separation when gay marriage is again on the public agenda as opponents work to place a constitutional amendment on the 2008 ballot that would outlaw same-sex unions in Massachusetts. ``The timing of the split is causing many to wonder if their `love' at the time of the lawsuit was a sham," sneered the haters at the right-wing website MassNews.com .
Honorable people know better. Their separation, as much as their marriage, underscores how similar the Goodridges are to the heterosexuals next door.
Eileen McNamara is a Globe columnist. She can be reached at mcnamara@globe.com.
米マサチューセッツ州同性婚合法化の立役者、グッドリッジ・カップルが別居状態 2
23.07.2006 09:51 Uhr
Christopher Street Day in Berlin
Drag-Queens, Beats und Politik
450.000 Menschen haben sich diese Show nicht entgehenlassen: Neben aufregenden Kostümen waren aber auch politische Themen von Belang.
Drag-Queens, Discobeats und die politischen Belange der Homosexuellen haben am Samstag in Berlin wieder Hunderttausende auf die Straße gelockt: Beim Christopher Street Day (CSD) säumten nach Veranstalterangaben 450.000 Schaulustige die Paradestrecke.
Trotz tropischer Hitze hatten sich viele Drag-Queens wieder in aufwendige Abendkleider geworfen. Andere Besucher passten ihre Kleidung den hochsommerlichen Temperaturen an und tanzten ausschließlich mit hautengen Leder-Shorts und einer Federboa bekleidet über den Kudamm.
"Verschiedenheit und Recht und Freiheit" lautete das Motto bei der traditionellen CSD-Parade, mit der Lesben und Schwule für mehr Gleichberechtigung und größere Toleranz werben. Berlins Regierender Bürgermeister Klaus Wowereit (SPD), der sich offen zu seiner Homosexualität bekennt, sagte bei der Abschlusskundgebung an der Siegessäule, der CSD sei nicht nur "eine machtvolle Demonstration für Gleichberechtigung, gegen Diskriminierung und für Toleranz", sondern auch eine "Demonstration aller anständigen Menschen".
Mit dem CSD erinnern Schwule und Lesben jedes Jahr an die Polizeieinsätze gegen die Homosexuellen-Szene in New York im Juni 1969. Daher hat die Parade auch einen starken politischen Charakter - erst recht, seit in den vergangenen Monaten in einigen osteuropäischen Staaten zunehmend Repressalien und tätliche Übergriffe gegen Homosexuelle zu verzeichnen waren.
mehr zum Thema
Love Parade
Grüner Plüsch und harte Beats
So mischten sich auch zahlreiche Lesben und Schwule aus Polen unter die Teilnehmer, denn für sie ist Berlin eine Art liberale Zufluchtsstätte. Der Grünen-Politiker Volker Beck war kürzlich bei einer Schwulen- Demonstration in Moskau verletzt worden, und erhielt dafür in Berlin den Zivilcouragepreis des CSD.
Auch die bevorstehende Wahl zum Berliner Abgeordnetenhaus prägte die Parade. Nicht nur Wowereit zeigte Präsenz, sondern auch sein CDU- Gegenkandidat Friedbert Pflüger. Man solle Wowereit nicht wählen, bloß weil dieser schwul ist, sagte Pflüger.
Der Familienvater zeigte zwar Verständnis für den Wunsch von Schwulen und Lesben, Kinder zu adoptieren, warb aber gleichzeitig für das klassische Mutter-Vater-Kind-Modell.
Vor allem Party
Wowereit machte sich für mehr Toleranz und gegenseitigen Respekt in der Gesellschaft stark: "Es geht nur gemeinsam - und dazu gehört es, dass wir uns gegenseitig respektieren." Trotz der politischen Botschaft zeigte sich der CSD aber vor allem als große Party, die einige Parallelen zu anderen Umzügen in Berlin aufwies.
Wummernde Discobeats und leicht bekleidete Tänzer erinnerten viele Beobachter an die Love Parade, die eine Woche zuvor durch den Tiergarten gezogen war. Von vielen Wagen wurde auch Kondome geworfen - ähnlich den "Kamelle" beim jährlichen Karnevalsumzug.
Und auch die Fußball-Weltmeisterschaft zeigte ihre Nachwirkungen: Eine Drag-Queen präsentierte sich im Kunstrasen-Kleid mit Fußbällen als Brüsten, und der Wagen der Berliner Verkehrsbetriebe war mit Luftballons geschmückt - in den Farben Schwarz, Rot und Gold.
(dpa)
Berlin revelers mark Christopher Street Day
July 22, 2006, 9:20 AM EDT
AP

BERLIN --
Tens of thousands of gays, lesbians and other revelers packed downtown Berlin on Saturday for the German capital's annual gay pride celebration, which draws its name from a street in New York.
An estimated 150,000 people turned out for the city's colorful Christopher Street Day parade, as several dozen floats carrying dancers _ some bedecked in feathered, rainbow costumes, others wearing almost nothing at all _ wove through the heart of the city.
Berlin's openly gay mayor, Klaus Wowereit praised the peaceful party mood, stressing it was a "true chance to really fight for tolerance."
Christopher Street Day commemorates the start of the gay rights movement in New York's Greenwich Village in 1969. The parade generally draws large crowds in Berlin, which has a history as a gay metropolis that goes back as far as the 19th century.
This year's parade was held later than usual, due to Germany's hosting of the soccer World Cup.
隔数日刊 | Daily Bullshit
By Yuji Kitamaru
2006年07月22日
トランスアメリカ
日本でもついに公開になりましたね。「トランスアメリカ」。
これは、"父"と息子のアメリカ横断(トランスアメリカ)の物語と同時に、トランスセクシュアルを取り巻くアメリカ(トランスアメリカ)の現状と希望とを描いた佳作です。
監督のダンカン・タッカーに、この5月、日本公開に先駆けてマンハッタン・グリニッジヴィレッジの老舗カフェ「ラファエラ」でインタビューをしました。その内容をここで公開しますね。映画鑑賞の参考にしてください。
つづき
トランスアメリカ――抑制した演技、荒野にマッチ(シネマ万華鏡) (日本経済 2006/07/21夕刊)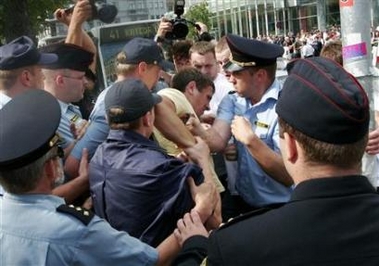 Police officers restrain a protester outside the Reval Hotel in Riga, Latvia July 22, 2006 where 'Latvia Pride - Riga Pride 2006' participants gathered for a meeting. Gay pride participants said they were pelted with eggs and bags of excrement on Saturday as they left a service at the Anglican Lutheran church in the old town of the Latvian capital Riga. (Ints Kalnins/Reuters)

Latvian gay priders hit with eggs and excrement
By Jorgen Johansson
Sat Jul 22, 11:41 AM ET
Reuters
Gay pride participants said they were pelted with eggs and bags of excrement on Saturday as they left a service at the Anglican Lutheran church in the old town of the Latvian capital Riga.
The Reverend Maris Sants, co-organizer of the gay pride festival, told Reuters that security police had been informed about the church service but failed to provide protection.
"There were seven or eight of them waiting for us outside the church and as soon as we came out I was hit with a bag full of sh*t and had to go wash up," Sants said, adding that several other people were hit by similar projectiles and eggs.
Police later confirmed that five people were arrested in connection with the incident.
A Latvian court upheld on Friday a ban on a gay pride parade in the capital imposed by centre-right leaders for what they said were security reasons.
Organizers of the festival decided to go ahead with other activities surrounding the event.
The European Union, the European Parliament and civil rights groups have criticized Poland and Latvia for banning gay pride marches and for worrying signs of growing homophobia, mainly in new EU members in central and eastern Europe.
At a news conference for gay pride, Spanish European Parliament member Raul Romeva said the European Union was founded on equal rights and freedom for all.
"We are asking for more respect, including respect for our sexual orientation," he said.
Outside, some 80 protesters had gathered to shout derogatory names at people representing the Organizers of the festival.
Antons, 27, who declined to give his last name but is a member of anti-gay protest group No Pride, said he was protesting against the popularization of homosexuality.
There has been scant comment by politicians on the gay pride events, but Interior Minister Dzintars Jaundzeikars earlier this week said the parade should be canceled for security reasons.
Last year, Latvia's first gay pride parade was met with fierce protests from hundreds of people.
Latvian gays dodge protestors to stage pride event
by Karin Zeitvogel
Sat Jul 22, 4:36 PM ET

RIGA (AFP)
- Latvian gays and lesbians along with supporters from the European Union and the United States dodged anti-gay protestors in Riga to stage alternative gay pride events after a parade was banned.
Around 50 gays and their supporters, including Dutch European lawmaker Sophie Int'Veld, were blockaded inside a church where they had gathered for a morning service to show solidarity with sexual minorities by an angry mob.
The mob chanted anti-homosexual slogans and pelted some of the church-goers with human excrement when they left the mass.
This year's gay pride march was to have taken place in the capital on Saturday but was banned by Riga city council earlier this week, over an alleged high-level security threat.
The organizers hastily put on an alternative event, at a large hotel in central Riga, to show "we are not defeated and will not be defeated in the long term," said Linda Freimane of the gay and lesbian support group, Mozaika, which organized the banned parade.
"Homosexuals are dirty sinners. They are immoral people and they don't have a place in normal society," said Viktors Birze, leader of the Latvian national radical organisation NSS said.
Pastor Juris Calitis, who led the service, was among the worshippers hit by eggs and bags of excrement as they left.
"When we came out of the church, about 15 to 20 protesters threw human excrement on us. I was covered with it from head to foot. It was quite smelly," Calitis told a news conference in Riga.
Ivan Arenas, from the United States, was also hit by a bag of excrement.
"You can see the cowardice -- I got hit in the back with an egg as I left and when I turned around to ask what was going on, I got hit by a bag of excrement," he told AFP afterwards.
Outside the hotel, around 200 anti-gay protesters gathered, mostly Russian Christian fundamentalists and Latvian nationalists.
They spat at people as they entered the hotel and threw eggs at them as they left.
One woman prostrated herself on a car in which two of the gay pride organizers were leaving. Clutching an icon of St John, the patron saint of Riga, she screamed out prayers as the crowd shouted "No pride".
Ivans Goloveckis had brought his two sons, aged eight and 12, to the protest because he was "worried for their future."
"My ideology is based on the Bible, which says homosexuality is a sin and a man should love a woman. If we allow them to continue," he said, gesturing towards the second floor of the hotel, where the gay event was being staged, "my children will have no future."
Latvian folk singer Kaspars Dimiters said he was protesting because the gay pride organisers had ignored the wishes of Latvians in organising their march.
"There was no dialogue about the gay march. That's why I am against it. They (the organisers) ignored that we are a conservative society. We can't adopt European values and rights overnight," said Dimiters.
The march that was to have taken place Saturday would have been the second gay pride parade staged in Latvia, which joined the EU in 2004.
"The fact it's banned for security reasons says a lot about the climate in Latvia at the moment," Tjeerd Herrema, deputy mayor of the Dutch city of Amsterdam, told AFP.
"I really get the feeling that the security issue is used as a cover not to hold the march," said Herrema.
Fourteen people were detained during the protests. One of them faces criminal charges while the others would just be fined, the police said.
Calitis, the pastor at the church where gays and their supporters were assaulted, blamed Saturday's unrest on "leaders of our society who incite hatred."
"I want to very specifically say that responsibility for this lies with politicans, the church and media who have been expressing views of hatred," he said.
European lawmaker Int'veld condemned not only the banning of the parade but also the attacks on gays and their supporters.
"I had the dubious pleasure to see again today with my own eyes how people can be driven by hatred and fear," she said.