カテゴリ
以前の記事
検索
最新のトラックバック
その他のジャンル
ファン
記事ランキング
ブログジャンル
画像一覧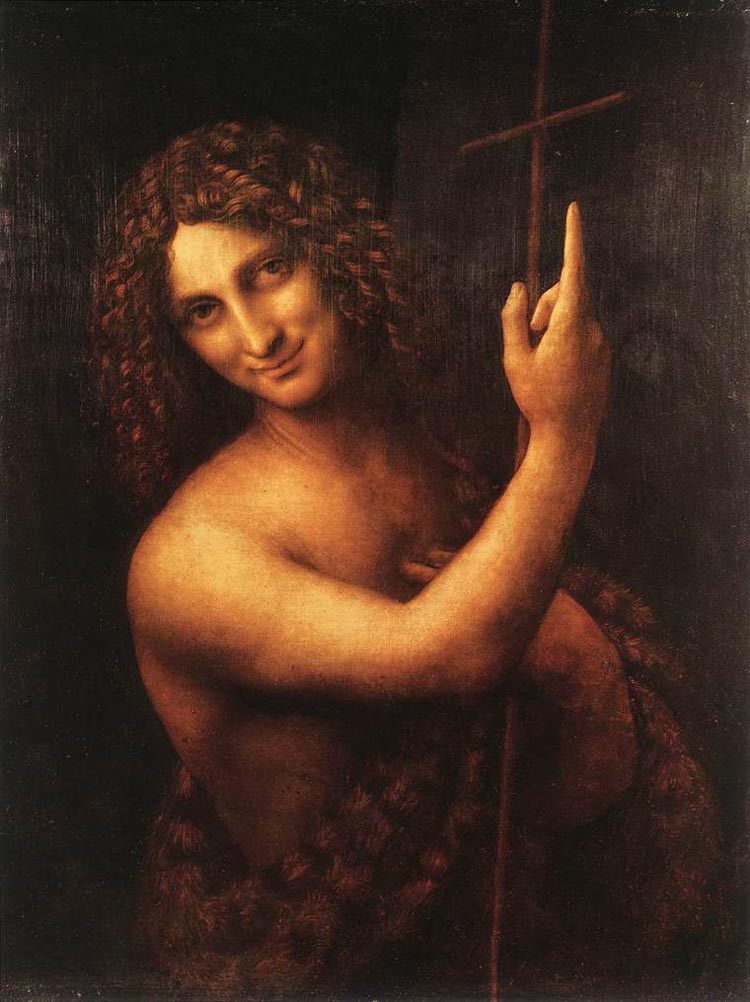 洗礼者聖ヨハネ(San Giovanni Battista)1513-1516年
69×57cm | Oil on panel | Musee du Louvre, Paris
(一五一三―一六年ごろ、板に油彩、六九×五七センチ、パリ、ルーヴル美術館蔵)
謎めいた図像は十九世紀のデカダン詩人に大きな影響を与えた。人差し指をさす手はレオナルド作品で繰り返し現れる。キリスト誕生を告知しているといった解釈がある。
レオナルドの眼(3)「顔」の発明――習作の果て到達した理想(美の美) (日本経済 2006/07/23朝刊)
 レオナルド・ダ・ヴィンチが描く人間の顔つきはどこか変わっている。男なのか女なのか、わからないことが多い。見る人を幻惑させる「顔」こそ、余人になし得ない発明だった。
 一度見てしまったら、夢に出てきそうな絵だ。この微笑は人の心を波立たせ、不安にさせる。レオナルドの絵画の中でもっとも評判がよくないとさえ、いわれている。けれど、これはまぎれもない傑作なのだ。
 傑出しているゆえんは、有名なスフマートと呼ばれる技にある。線を用いず、光と影の効果だけで立体を表現する。レオナルドは指までつかって、古代から伝わる描法をきわめた。
 油絵の具の色に影響しない透明な塗料を辛抱づよく何層も塗りかさねる。ほのかな陰影が生まれ、輪郭はあいまいになる。限りなくうすく塗るから、絵肌が盛りあがることはない。「洗礼者聖ヨハネ」はスフマートの最高の達成なのである。
 聖書によれば、はじめに言葉があり、その言葉は神とともにあった。万物は言葉によって成り、言葉のうちに命があり、命は人間を照らす光であった。その光の証しをするため神から遣わせられたのが、洗礼者ヨハネである。いわば光の証人だ。
 絵の中の洗礼者ヨハネは暗黒の世界でまさに光を発している。画面の外から来る光を反射する。これは人物像でありながら、光の像でもあるのだ。
 それにしても、この絵が映す含み笑いは謎めいている。
 ここでは高名な美術史家ケネス・クラーク氏の解釈を紹介しておこう。あくなき自然の探究者レオナルドは、光の秘密にかかわる洗礼者ヨハネの幻にとりつかれていたというのだ。
「ヨハネは事あるごとにレオナルドの耳元に口をよせ、解けない謎を問いかける霊であり、スフィンクスの微笑を浮べ、取りついて離れない幻影のような力をもつ旧知の者なのだ」(『レオナルド・ダ・ヴィンチ』第2版)
 スフィンクスとは、ギリシャ神話の怪物。通行人に謎をかけ、答えられないと殺した。本来は上半身が女で、下半身はライオンだが、レオナルドの観念にすみついたスフィンクスはこんな顔つきをしていた。そう、クラーク氏は言いたいわけだろう。
 トスカーナの農村で生まれたレオナルドはフィレンツェに出て、ヴェロッキオの工房で学んだ。三十歳になる年にミラノへ移り、宮廷芸術家として二十年近くを過ごす。フランス軍侵攻を機にミラノを脱出してフィレンツェに帰る。ミラノ、ローマを転々とした後、最晩年はパリ近郊で暮らした。
□   ■
 レオナルドの人生の軌跡は、それほど複雑ではない。だが試みたあれこれを拾いあげようとすると、あまりに膨大で書きつくすのは難しい。
 まず戦車をはじめとする数々の兵器を構想した。イタリアは都市国家の間で抗争が絶えない時代だったからだ。ヘリコプターや潜水艦の技術を研究し、ミラノを理想都市にするため都市計画にかかわった。アルノ川を改修し、運河を造ろうとしたこともある。
 音楽家でもあった。ヴァイオリンの前身のような楽器を自ら作り、歌った。音楽、演劇、祝祭などの催事をとりしきる宮廷の総合的なデザイナーを務めていた。
 画家で美術史家のヴァザーリが書くとおりだったのだろう。
「もしあれほどに多様で変わりやすい性格でなかったならば、偉大なる成果をあげていただろう。彼は多くのことを学ぼうとして、始めたかと思うとすぐやめてしまうのだった」(『ルネサンス画人伝』)
 あふれるばかりの創意をもったレオナルドは、やりとおすことができない性質だったらしい。デッサンの片隅や手稿に、こんな言葉をくりかえし走り書きしている。
「教えてくれ、これまで何かやりとおしたことがあるのか」
 レオナルドが書きなぐる「教えてくれ……」には、なんだか鬼気せまるものがある。放心したように、そうつぶやいたとき、レオナルドの瞳に洗礼者ヨハネの幻影が映じたのだろうか。
 レオナルドの絵画作品(デッサンをのぞく)で全画面が真作と断定できるものとなると、十もない。そんな貴重な絵画の最後を飾るのが「洗礼者聖ヨハネ」であり、六十七歳で亡くなる数年前に描かれた。レオナルドが最後の最後に到達した顔が、これだったことだけは確かだ。
 果たしてこの顔、男なのか、女なのか。
 ▼聖書の中のヨハネ 洗礼者ヨハネはイエスの先駆者。人々に罪の悔い改めを説教し、洗礼を授けた。イエスも洗礼を受けた一人。サロメは継父のユダヤ王ヘロデに、その首を求めた。一方、十二使徒のヨハネは大ヤコブの弟で、若年ながらイエスの信頼を一番得ていた。第四の福音書、黙示録の著者。イエス死後、エルサレム教会の指導者となった。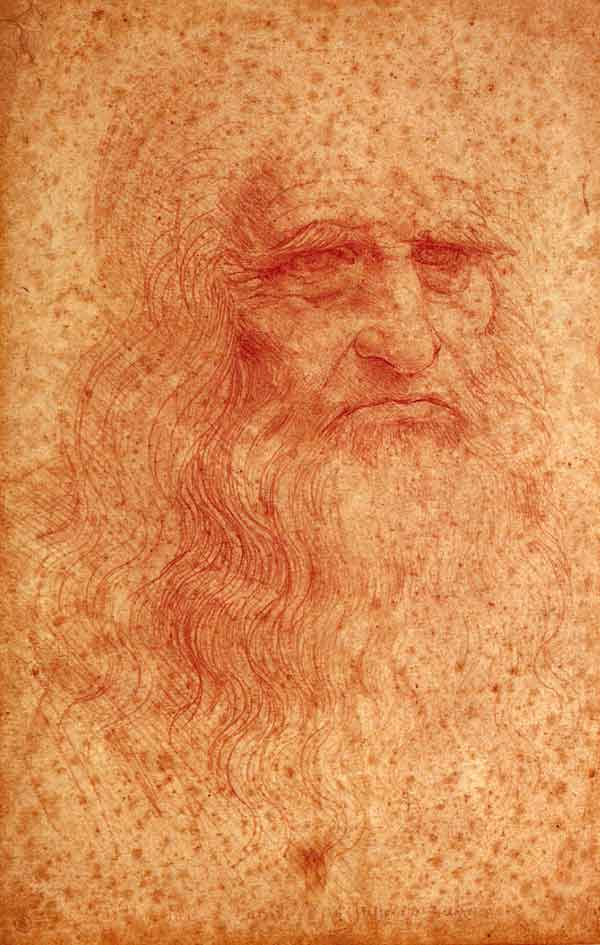 「レオナルドの肖像」
(1510―15年ごろ、赤チョーク、33.3×21.5センチ、トリノ、王立図書館蔵)
レオナルドの自画像とされるが、後年の偽造作品との説も。魔術師的イメージを広めた。
レオナルドの眼(3)「顔」の発明――性差超えた笑み、何を映す(美の美) (日本経済 2006/07/23朝刊)
 あらためて画集を繰ってみると、レオナルドは男か女かわからない人物をしきりに描いている。たとえば、最初期の作品「受胎告知」の大天使ガブリエル。この顔は男だと言われれば、そう見える。女であると言われたら、どうか。そう見えなくもない。
 ドイツの神学者がまとめた近刊の『天使の文化図鑑』によると、中世に男性の姿をとっていたキリスト教の天使はしだいに女性化した。ガブリエルの場合、ルネサンス時代にはほとんど女性になった。ところがレオナルドのガブリエルは、どちらともいえない。
 「洗礼者聖ヨハネ」も、やはり性差はないと見るべきだろう。男でも女でもない両性具有的な存在だというのが定説だ。どう考えたら、いいのか。
 顔から性差が消える理由の一つとして指摘されているのが、レオナルドの同性愛。古代ギリシャの社会では、同性愛は異性愛にまさる高貴なものだった。キリスト教会はこれを禁じたが、ギリシャの文化に深い影響を受けたルネサンスの都フィレンツェでは、大目に見られる雰囲気だったという。
 二十代半ばのレオナルドが少年とあさましい行為をしたとの告発状を出され、あやうく罪を免れた逸話は有名だ。三十代後半になると、美少年を家に入れた。それから二十年あまり一緒に住むことになる。盗みをくりかえすこの少年をサライ(小悪魔)と呼んでかわいがり、画家に育て、遺言で土地も分け与えている。記録を洗っても、レオナルドの生涯に女のかげはない。
「(同性愛の)証拠は彼の作品の多くに内在していて、なぜ彼が好んで描く人物像が男女両性型なのか、なぜ彼が描く人体が一種のけだるさをただよわせているのかを説明している。そしてこのような人体や人物像は、敏感な人ならば、他人から指摘されるまでもなく、すぐそれとわかるものなのだ」(ケネス・クラーク『レオナルド・ダ・ヴィンチ』第2版)
□   ■
 こんな言い方もできる。レオナルドは、デッサンに次ぐデッサンによって顔の形をこしらえた。それらのサンプルを視覚として完全に記憶していたが、顔の習作が理想の形に達すると、性差がなくなる――。
「よく見てください。こちらは『岩窟(がんくつ)の聖母』のマリア、こちらは『最後の晩餐(ばんさん)』の使徒ヨハネ。並べてみると、そっくりでしょう」
 レオナルド研究の権威アレッサンドロ・ヴェツォシ氏は、そう言って画集を開いた。
「レオナルドはデッサンによって描く顔を作りあげる。それをいろいろな画面にあてはめていく。だから、その顔が聖母マリアであるか使徒ヨハネであるか、男であるか女であるか、そうしたことに深い意味はありません」
 「洗礼者聖ヨハネ」の顔についても、別の絵の天使が変じたものだという説がある。レオナルドの場合、はじめに顔ありき、なのである。
 レオナルドは言われるとおり「なにも完成しなかった」(ヴァザーリ)のだろうか。たしかに夢想した飛行機や潜水艦は造れなかった。だが男でも女でもない「顔」ばかりは、たしかな発明品として後世に残すことができたのではないだろうか。
 レオナルドがこだわったのは、顔だけではない。人体研究にかけても、疲れを知らない男だった。冬の夜長は夏に描きためた裸体画から一番立派な肉体を選んで練習し、覚えこむことが大切だと手記に書く。裸体画の裏づけは、死体の解剖によってなされた。
「どうして画家は解剖学を知る必要があるのか――裸体の人々によってなされうる姿勢や身振りにおける肢体を上手に描くためには、腱や骨や筋や腕肉の解剖を知ることが画家には必要である」(『レオナルド・ダ・ヴィンチの手記』)
 まったくもって、ルネサンスはすごい時代である。画家が絵を描くために死体を解剖することは珍しくなかった。レオナルドは腐臭をものともせず、約三十体もの解剖をおこなっている。人間の腕と猿の腕、人間の足と馬の足を比較研究したりしている。だれそれの体、だれそれの顔というより、ヒトの体と顔を描いている感じなのだ。
 「洗礼者聖ヨハネ」の天をさす指と腕はまさに……。
 美術評論家の布施英利氏(美術解剖学)は、医学部の研究室でレオナルドの解剖を追体験したことがある。デッサンのとおりに切断するのは重労働で、めまいがした。手首を握っていると、「ああ、これはまぎれもない人間の体だったんだ」というリアルな感触を味わったという(『君はレオナルド・ダ・ヴィンチを知っているか』)。
 その布施氏に聞いてみた。
「彼の絵を見ていると、死体を見ているような気がする」
 開口一番、死体という言葉を口にした布施氏はつづけた。
「レオナルドは手首を回転させるとき、骨がX状に動くさままでデッサンしている。そこまで解剖図にした人は、当時いなかったんじゃないかなあ。内側から構造的に人体を把握している。美術館で見ても、他の画家の作品とはジャンルがちがう。他の画家の作品が絵だとすれば、彼のは設計図です」
 レオナルドの探究は、世界で一番有名な絵に結実する。文・内田洋一
「受胎告知」
(1473―75年ごろ、板に油彩、テンペラ、100×221.5センチ、フィレンツェ、ウフィツィ美術館蔵)
右は大天使ガブリエルの部分。下は全図。他の画家との共作との説が根強いが、ガブリエルと背景はレオナルドの筆とみなされている。全図の右に位置する書見台のあたりに遠近法の誤りが指摘されてきた。所蔵元では「絵の右側数メートル先から斜めに見るように描かれたもので、全画面がレオナルドの真筆」(担当学芸員アントニオ・ナターリ氏)と主張している。
男?女? レオナルドの「顔」は性差を超える
 上の二つの顔は性別はちがっても顔がそっくりな例。左が「岩窟の聖母」(ルーヴル美術館蔵)のマリア、右は「最後の晩餐」(ミラノ、サンタ・マリア・デッレ・グラツィエ修道院)の使徒ヨハネ。キリスト最愛の年若い使徒ヨハネに、聖母の顔をあてはめたとすると、レオナルドが少年に理想美を見いだしていたとも考えられる。
「美の巨人たち」―テレビ東京系列ほかで、毎週土曜日に放映中
The Times July 22, 2006
First US gay couple to marry have broken up
From James Bone in New York
THE lesbian couple who pioneered gay marriage in America have split up, saying that their marital troubles show that they are no different from heterosexual partners.
Julie and Hillary Goodridge led the legal battle that forced Massachusetts to become the first state in the US to allow same-sex marriage. The two, who met 21 years ago at a Harvard University course on disinvestment in South Africa, became the public face of a loving, financially stable, committed same-sex couple.
As lead plaintiffs in the landmark case, they were featured in People magazine. Julie, 49, is president of an investment advisory firm, and Hillary, 50, is a grants manager for the Unitarian Universalist Association. The pair went to court after a hospital refused to allow Hillary to see Julie when she suffered complications during the birth of their daughter, now 10.
They wed in Boston on May 17, 2004, the first day of legal gay marriage in America. "Next to the birth of our daughter, Annie, this is the happiest day of our lives," Julie said. Two years later, however, the couple have broken up. "Julie and Hillary Goodridge are amicably living apart," Mary Breslauer, a spokeswoman, said.
A survey undertaken by the Boston Globe indicated that about 7,300 same-sex couples have obtained licences since gay marriage was legalised in Massachusetts, and about 45 have divorced. The news of the break-up comes as gay rights activists have suffered a series of setbacks in their campaign for same-sex marriage.
Gay 'marriage' first couple splits up in Massachusetts
By Cheryl Wetzstein
THE WASHINGTON TIMES
Published July 22, 2006
Hillary and Julie Goodridge, the namesake couple in the landmark lawsuit that introduced same-sex "marriage" in Massachusetts two years ago, have separated.
The Goodridges are "amicably living apart," said Mary Breslauer, a friend and communications specialist who has been acting as the couple's spokeswoman.
The couple, who have a 10-year-old daughter, are seeking to maintain their privacy as they sort things out, Ms. Breslauer said.
"It's very sad," she said, adding that the couple has been receiving a tremendous amount of support from friends and family.
The Goodridges' breakup was first reported Wednesday in Bay Windows, New England's major newspaper for homosexuals. The paper said a breakup had been rumored for months, but the women had worked to time release of the news in the best way to protect their daughter.
Ms. Breslauer yesterday declined to discuss why the Goodridges have broken up but said that, despite their nationally covered marriage in 2004, "they are real people with real lives."
"Our marriages are not unlike everyone else's marriages, which is that they are both precious and fragile," Ms. Breslauer added. "I think the significant difference with our marriages is that ours are constantly under attack."
Shannon Minter, spokesman for the National Center for Lesbian Rights in San Francisco, said that while the breakup was "very sad news," "same-sex couples are no more immune to the possibility of divorce than heterosexual couples."
Being in the public eye was probably "particularly difficult" for the Goodridges, "but they are still conducting themselves with integrity and dignity," he said.
It is also good, he added, that they have the protections of wedlock "as now they and their daughter will have all of the security and clear rules that married couples benefit from when they do divorce."
Conservative observers expressed concern for the family, especially the daughter, noting that research points to instability in many homosexual relationships.
"Of course, we don't take any pleasure in the sadness of any individual or couple, and I don't believe one couple's experience necessarily proves anything," said Peter Sprigg of the Family Research Council.
But there is research indicating that homosexual relationships are less likely to be monogamous or lifelong than heterosexual relationships, he said.
"I think it demonstrates again why we are so concerned for children in inherently unstable relationships," said Jan LaRue of Concerned Women for America. Recent court decisions have recognized that homosexual unions "are not the equivalent of heterosexual marriage" and "it's better for children to be in stable, heterosexual marriage with a mom and a dad," she said.
The Goodridges and six other homosexual couples sued Massachusetts for the right to "marry" in 2001. They won when the Massachusetts Supreme Judicial Court ruled 4-3 in their favor in November 2003.
The court stayed its ruling until May 17, 2004, to allow the state to prepare for the unprecedented nuptials. The Goodridges, who had been together about 17 years at the time, were among the first same-sex "marriages" that day.
Julie Goodridge, 49, is president of an investment advisory firm, and Hillary Goodridge, 50, is program director for a Unitarian Universalist Association funding program.
Ms. Breslauer said they have not filed to end their union.
A 2006 Boston Globe survey said 7,300 same-sex couples have "married" and 45 have formally ended their union.
July 22, 2006
Same-sex marriage plaintiffs separate
Women won right to wed in Massachusetts; split after 2-year marriage is called amicable
By Katie Zezima
New York Times

BOSTON --
The lead plaintiffs in the lawsuit that made same-sex marriage legal in Massachusetts have separated, their spokeswoman said Friday.
The couple, Julie and Hillary Goodridge, separated after nearly two decades together, including just over two years of marriage, the spokeswoman, Mary Breslauer, said.
"They are amicably living apart," Breslauer said. "Plaintiff couples, even those who have that kind of spotlight, have real lives, and they're not immune from the ups and downs and stresses that any relationship faces."
The couple and their daughter, Annie, 10, became spokeswomen of sorts for same-sex marriage in Massachusetts, making their lives public in an effort to show they were like any other couple who wanted to marry.
The women were married May 17, 2004, the day same-sex marriage became legal in the state.
Breslauer said neither woman had filed for divorce. Bay Windows, a weekly gay and lesbian newspaper, first reported the news.
The Goodridges and six other couples filed the lawsuit, Goodridge v. Department of Public Health, in 2001 after being denied marriage licenses. The case made its way to the state's highest court, which ruled in November 2003 that the Massachusetts Constitution guaranteed same-sex couples the right to marry. The first same-sex marriages took place six months later.
More than 8,000 same-sex couples had married in Massachusetts as of May, said Carisa Cunningham, a spokeswoman for Gay and Lesbian Advocates and Defenders, which argued the case. A Boston Globe survey this year said about 45 of those couples had divorced.
The Relationship Is Over for a Pair of Gay Pioneers
The two women at the center of Massachusetts' landmark marriage ruling have separated.
By Elizabeth Mehren, Los Angeles Times Staff Writer
July 22, 2006
BOSTON — The couple who lent their name to the lawsuit that legalized same-sex marriage in Massachusetts have separated, a family spokeswoman confirmed Friday.
Julie Goodridge, 49, and Hillary Goodridge, 50, were married on May 17, 2004, the first day that same-sex couples were permitted to wed in Massachusetts under the terms of the court case Goodridge vs. Department of Public Health.
The landmark 4-3 decision by the state's Supreme Judicial Court made Massachusetts the first state to extend marriage rights to gay and lesbian couples.
No other state has followed suit, although Connecticut has legalized same-sex civil unions, which already were permitted in Vermont when the Goodridge decision came down.
On the heels of the Goodridge decision, 20 states have passed constitutional amendments to classify marriage as a union between a man and a woman, and at least 19 states including Massachusetts are exploring such constitutional amendments.
The Goodridges, who selected a common surname after perusing their families' histories, declined to comment Friday on the split. They have a 10-year-old daughter, Annie.
Family spokeswoman Mary Breslauer said Friday: "Julie and Hillary Goodridge are amicably living apart. As always, their No. 1 priority is raising their daughter.
Like the other plaintiff couples in this case, they made an enormous contribution toward equal marriage, but they are no longer in the public eye and request that their privacy be respected."
Breslauer would not speculate whether the pressures associated with the legal battle had contributed to the Goodridges' breakup. Seven same-sex couples acted as plaintiffs in the Massachusetts lawsuit.
"I think this is much more about recognizing that plaintiff couples, even those that are at the center of the storm, are simply at the end real people with real lives," Breslauer said.
"Relationships and marriages are both precious and vulnerable, all at the same time, and theirs is no different."
The Goodridges have not filed for divorce, Breslauer said.
More than 8,000 same-sex couples have traded vows in Massachusetts since the Goodridges walked down the aisle of a Unitarian Universalist church as wedding guests merrily sang "Here Come the Brides." About 45 gay and lesbian couples have divorced, according to state figures.
Among activists on both sides of the marriage issue, reaction to the Goodridges' split was muted.
Said communications director Lisa Barstow of the Massachusetts Family Institute, which is heading the move to end same-sex marriage in the state: "Our thoughts and prayers are with Annie, the Goodridges' 10-year-old daughter, and that's really all we choose to say about this. This is a personal matter, and I think we need to treat it with that kind of dignity."
Matt Foreman, executive director of the National Gay and Lesbian Task Force in Washington, also declined to discuss what he called "a personal thing between the Goodridges," except to say he did not think their split would hamper the broader same-sex marriage effort.
"It will have no impact on the struggle for marriage equality," he said. "This is a long-term struggle, and we're going to have advances and setbacks along the way."
At Gay and Lesbian Advocates and Defenders — the Boston-based nonprofit that brought the historic lawsuit on behalf of the seven same-sex couples, Executive Director Lee Swislow said: "We're just very sad…. We care so much about Hillary and Julie. They were so brave and so powerful, and they made a difference."
米マサチューセッツ州同性婚合法化の立役者、グッドリッジ・カップルが別居状態
|| News ||
07/22/06-07/24/06
WorldPride canceled due to Israeli-Hezbollah conflict
With the crisis in the Middle East approaching an all-out war between Israel and Hezbollah in Lebanon, organizers of WorldPride in Jerusalem have announced the cancellation of the pride parade in August. But organizers vow that other events in the festival will go on as planned.
In a statement released Friday, Jerusalem Open House cochair Hagai El-Ad said, "These are not the times for festivities." With a large portion of the Israeli army massing along the Lebanese border, WorldPride organizers said they were forced to cancel the gay pride parade because there aren't enough soldiers left to protect the marchers.
In a show of unity atypical for the region, radical Jewish, Muslim, and Christian groups all came together to condemn WorldPride and threaten violence against anyone in the parade. WorldPride insists that it is the threat of war—not the threats of violence from extremist clerics—that forced the parade's cancellation.
Many of the WorldPride events will go on as planned, however, including a multifaith gay clergy conference, a gay film festival, and other activities. Cathy Renna, spokeswoman for WorldPride, says that thousands are still expected to attend those events, which will run on schedule August 6–12.
WorldPride is held in a different city around the globe every four years. WorldPride postponed festivities in Jerusalem last summer after Israel pulled out of the Gaza Strip. (Sirius OutQ News)
WorldPride Parade Cancelled
by 365Gay.com Newscenter Staff
July 21 2006 - 1:00 pm ET
(Jerusalem) Organizers of WorldPride to be held next month in Jerusalem on Friday cancelled the pride parade but say other events will go ahead as planned.
WorldPride is scheduled to be held in Jerusalem from August 6 - 12.
Police denied Jerusalem Open House a parade permit saying that they are unable to provide a safe environment for the march in light of the current hostilities in the region and the excessive stress it puts on the police's manpower.
"We feel it would be neither responsible nor appropriate to hold the march until such time that circumstances allow for a safe and peaceful gathering for all," said a statement from Open House co-chair Hagai El-Ad.
El-Ad said though that the cultural aspects of WorldPride are going ahead.
Those events include an Multifaith LGBT Clergy Conference, an outdoor festival, Human Rights Day, LGBT Health Day, an International LGBT Youth conference, and an LGBT Film Festival.
The event which is held in a different world city every four years was to have been in Jerusalem last summer but postponed due to the Israeli pullout from the Gaza.
WorldPride spokesperson Cathy Renna in New York told 365Gay.com that despite the situation in the Middle East there have been few cancellations.
She said that thousands of people from around the world will attend.
WorldPride has been under fire from conservative religious groups including Muslims, Jews and evangelical Christians.
On Thursday the head of an extreme Orthodox group blamed WorldPride for the ongoing attacks on Israel by the Islamist terror group Hezbollah. (story)
"We have not protested enough against this parade of abomination and therefore we have received this warning," Rabbi Moshe Sternbuch, who heads the Eda Haredit rabbinic court.
"Who knows where things will get to if we do not act further and more stringently against it," he said in a hand-written message to his followers.
Last month a Moslem leader, sheik Ibrahim Sarsur who is also a member of the Knesset, warned gays that "if they dare to approach the Temple Mount during the parade – they will do so over our dead bodies."
Jerusalem World Pride 2006 (August 6-12)
患者数など初の実態調査 性同一性障害で厚労省 (共同 2006/07/22)
 厚生労働省は21日までに、生まれながらの肉体的な性に強い違和感を持ち別の性になることを望む性同一性障害の実態調査に乗り出した。同省として初の公式調査。患者保護など今後の対策に役立てるため、患者数、年齢分布や男女比など基礎的なデータ収集が必要と判断した。
 現在、性同一性障害の患者は特例法で成人になれば、配偶者と子どもがいないなどの条件を満たせば、戸籍の性別を変更できるが、来年に見直されることになっている。患者からは性別変更の条件が厳しすぎるとの指摘があり、条件緩和を求める意見が出ている。
 調査は、性同一性障害に関する委員会が設けられている日本精神神経学会に厚労省が依頼して実施、今夏にも終える。
(共同)
▲
by

alfayoko2005

| 2006-07-22 07:19 | トランス
トランスアメリカ――抑制した演技、荒野にマッチ(シネマ万華鏡) (日本経済 2006/07/21夕刊)
 男の肉体に女が閉じ込められている。あるいは、女の身体に男が幽閉されている。当人にとっては難題だろうが、ケース・スタディの形でこれを示されても、示されたほうは困惑する。
 賢明な作家ならば、この事情をただちに見抜く。性同一性障害や性転換の主題はべつに楽しくないが、この難問を抱えた主人公の冒険となれば、話は異なる。
 ブリー(フェリシティ・ハフマン)は性転換手術を一週間後に控えている。彼女はスタンリーという男として生まれ、その宿命を逃れたい一心で生きてきた。ホルモン剤を常用し、声やしぐさを厳密にコントロールし、世間に嘲(あざけ)られぬよう万全の注意を払っている。
 だがブリーは、十七年前に男の子を作っていた。成長した息子トビー(ケヴィン・ジーガース)はくだらない罪で逮捕されている。ブリーは、ロサンジェルスからニューヨークへ飛び、トビーを引き取る。
 奇妙な味のロードムービーはここから始まる。トビーはゲイだ。ブリーは父親を名乗れない。ふたりの関係はぎくしゃくする。題名が示すとおり、彼らはアメリカ大陸を横断していく。監督のダンカン・タッカーは、新人離れした落ち着きで、おかしさとせつなさのブレンドを怠らない。
 映画の推進力はなんといってもハフマンの演技だ。女になろうとしている男を女が演じるという困難に直面して、彼女はまったくひるまない。主人公のブリー同様、観察力と自制心を最大限に働かせ、ときおり訪れる「乱れ」も緻密に設計する。騒々しいゲイ芝居や不用意な感情的暴発は、当然回避されている。
 この抑制が、ぶっきらぼうな荒野の風景と不思議にマッチする。重心の低い抒(じょ)情(じょう)が画面に沁(し)みていき、観客はブリーを信頼しはじめる。この監督は、ブリーをケース・スタディの対象と見ていない。彼女のパーソナリティを熟視し、観客の共感を獲得している。1時間43分。★★★★
(映画評論家 芝山 幹郎)
【図・写真】(C)2005 Transparent LLC
響けわが町にハーモニー(14)花開く地域オペラ、鹿児島(ドキュメント挑戦) (日本経済 2006/07/21夕刊)
性差問題扱い快打放つ
 鹿児島オペラ協会は創立三十周年の二〇〇一年、民話題材の地域オペラに反旗を翻した新作「ミスター・シンデレラ」を初演、各地から集まったオペラ関係者に衝撃を与えた。三年後の〇四年には日本オペラ協会と共催し新国立劇場での東京公演も成功させている。
 妻の薫は蜂(はち)の性ホルモンを研究するエリート。さえないミジンコ学者の夫、正男との関係は冷え、米国帰りの垣内教授に色目を使う。薫の留守中、正男はドリンク剤と間違え女王蜂の性ホルモンを飲み、潮の満ち干とともに絶世の美女へ変身する術を身につけ、薫と垣内に仕返しを企てる。
 強烈な鹿児島弁のせりふ、歌や踊りに興じる大学生たちが彩りを添えながらドタバタ劇が進み、最後は夫婦が真実の愛に目覚めるというハッピーエンドの物語だ。
 現代を題材にした創作オペラ自体が珍しい上、トランスジェンダー(性差の超越)という今日的題材に正面から挑んだ喜劇仕立ての台本(高木達)、ミュージカルに一脈通じる軽快な音楽(伊藤康英)を組み合わせたのが幸いした。開演前から幕が上がり、普通のマンションの一室で、パジャマ姿の歌手がいきなり語り出すのも意表をつく始まりで、鹿児島の観客は一気に創作オペラの世界へ引き込まれた。
 三十周年記念事業の準備会議は一九九九年に開かれた。「創立十周年で石井歓さんに委嘱した創作の『カントミ』と同じく、東京公演が可能な作品。しかも民話にこだわらない普遍のテーマを採用し、場合によっては現代を舞台にする、と壮大な目標を掲げた」。初演以来の正男役の一人で鹿児島オペラ協会副会長のテノール、西澤明(鹿児島国際大学教授)は当時の状況をこう説明する。「地方に埋もれるような作品は最初からつくるつもりがなかった」
 記念公演に携わることになった指揮者の坂本和彦、演出家の松本重孝は「こっけいなようでいて中身があり、心を打つ台本をすでに書いている人がいる」として、劇団青年座に所属する高木をつないだ。さらに吹奏楽作品で頭角を現していた伊藤に、初のオペラを作曲する機会を与えた。
 西澤ら鹿児島の当事者は「これがオペラか」「鹿児島をばかにしているのではないのか」と議論を重ねながら、作品の完成度を高めた。一方、県と市、地元経済人を巻き込んだ実行委員会を組織して万全を期した。
 協会は誕生二年後の七三年、ロッシーニ作曲の「セビリアの理髪師」で第一回の公演を打った。当初から鹿児島オペラ協会合唱団を併設、前後して発足したアマチュアの鹿児島交響楽団とともに三位一体の体制を整え、演出や指揮には全国的に実績のある指導者を招き、質を高めてきた。「ミスター・シンデレラ」は"中間決算"に当たる快打で、全国の地域オペラ界にも一石を投じた。=文中敬称略
(編集委員 池田卓夫)
【図・写真】性差の問題に挑んだ鹿児島オペラ協会の「ミスター・シンデレラ」
After 2 years, same-sex marriage icons split up
Were plaintiffs in landmark case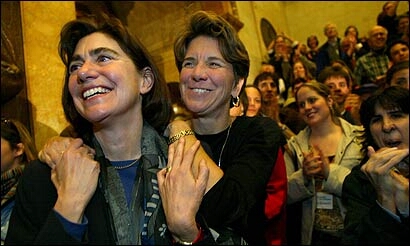 Julie and Hillary Goodridge attended a gay marriage rally held at the State House on Feb. 20, 2004. They married that May. (Globe Staff File Photo / Bill Greene)
By Michael Levenson, Boston Globe Staff | July 21, 2006
They told the world that their relationship was like any other and that's why they should be allowed to marry. Now, friends say, they are showing once again that they are just like any other couple: Two years after getting married, Julie and Hillary Goodridge, lead plaintiffs in the state's landmark gay marriage case, are splitting.
Mary Breslauer, a spokeswoman for the couple, confirmed the separation last night. She said the couple are focused now on trying to do what is best for their daughter, Annie, 10.
``Julie and Hillary Goodridge are amicably living apart," Breslauer said in a telephone interview. ``As always their number one priority is raising their daughter, and like the other plaintiff couples in this case, they made an enormous contribution toward equal marriage. But they are no longer in the public eye, and request that their privacy be respected."
Breslauer said they have not filed for divorce. She would not comment on their plans and offered no other details.
Supporters of gay marriage had cast them as the face of their cause: happily together for two decades, financially stable, loving parents, and in 2004, able to legally wed. Julie Goodridge, 49, is president of NorthStar Asset Management, an investment advisory firm, and Hillary, 50, is program director for the Unitarian Universalist Funding Program.
``I just think this really doesn't say anything," Breslaeur said yesterday when asked by a reporter about the significance of the separation. ``Our families, like other families, can face tough times, with many making it through those moments, but some not."
Since gay marriage was legalized in Massachusetts in May 2004, about 7,300 same - sex couples have obtained licenses, according to a Globe survey earlier this year. There have been about 45 divorces; the number of separations has not been reported.
``Unfortunately, lesbian and gay couples break up just as heterosexual couples," said Joyce Kauffman, a Cambridge lawyer who specializes in gay and lesbian family law. ``It's a fact of life. There are stresses and strains on all of us. And sometimes relationships can't beat that stress. It happens to gay people just as well straight people."
The separation was first reported yesterday by Bay Windows, a gay and lesbian newspaper based in Boston.
Kris Mineau, president of the Massachusetts Family Institute, a conservative public policy group that is trying to get an amendment on the 2008 ballot that would repeal same-sex marriage rights in the state, said he did not believe the couple's separation would become an issue in the campaign.
``It's certainly not something we're going to make an issue out of," he said. ``We are opposed to homosexual marriage because we are concerned about the impact on children. So our thoughts and prayers go out to their little child, a little girl named Annie -- 10 years old, I believe. And this is just bringing more grief upon her life, I'm sure."
The Goodridges met 21 years ago in a class at Harvard that focused on divesting from South Africa. An intense courtship followed. Long before gay marriage became legal, they said they had considered themselves committed partners.
About a dozen years ago, they bought a century-old Victorian on a quiet street in Jamaica Plain; a decade ago, when Annie was born, they took the same last name. Five years ago, they and six other couples joined with a gay rights group, Gay and Lesbian Advocates and Defenders, in filing a lawsuit seeking the right to marry in Massachusetts. Three years ago, the Supreme Judicial Court ruled in their favor, vaulting Goodridge v. Dept. of Public Health into history by making Massachusetts the first state in the country to recognize gay marriage.
Gay marriage opponents had long argued that legalizing same - sex marriage would break down a centuries - old institution. But the Goodridges disputed that in frequent public appearances.
``It's impossible for me to understand how Julie and I being married contributes to the breakdown of anything," Hillary Goodridge said in an interview two months after the ruling. ``It contributes to our economic and social well-being, it certainly contributes to the strength of our family and our enduring love for each other."
On May 17, 2004, when gay marriage became officially legal, they marched into Boston City Hall, mobbed by news media and guarded by police, and became one of the first couples in the state to apply for a marriage license.
Later that day, the Rev. William G. Sinkford, president of the Unitarian Universalist Association, officiated at their wedding at the church's building on Beacon Street. The couple wore matching white pantsuits. Friends threw confetti in a rainbow of colors. Annie served as ring-bearer and flower girl. And jubilant friends sang: ``Here come the brides, so gay with pride. Long may you be, legally free. Finally hitched by a 4-3 decree."
Images of the couple leaving the wedding, showered in confetti, became part of the iconography of gay marriage, reproduced in newspapers and on television shows across the globe.
And yesterday, news of the split shook many who knew them.
``I'm sad," said Mary L. Bonauto, who was the lead lawyer in the case.
``There are now thousands of couples who are married in Massachusetts . . . so I continue to feel like we owe them a huge debt."
Same-sex marriage pioneers separate
Thursday, July 20, 2006
AP
The lesbian couple whose lawsuit led to legal same-sex marriage in Massachusetts have announced they have separated.
"Julie and Hillary Goodridge are amicably living apart," Mary Breslauer, a local political consultant, said Thursday night on their behalf. Breslauer declined to comment on how long they had been separated or whether the couple planned to divorce.
The Goodridges were among seven gay couples whose lawsuit helped thrust Massachusetts into the center of a nationwide debate on gay marriage. The state's Supreme Judicial Court issued its narrow 4-3 ruling in November 2003 in their favor — saying gays and lesbians had a right under the state constitution to wed.
The Goodridges were married May 17, 2004, the first day same-sex marriages became legal under the court ruling, by a Unitarian Universalist minister. Their daughter, Annie, now 10, served as ring-bearer and flower girl.
Now, Breslauer said, for Annie's sake, the Goodridges want privacy.
The child figured prominently in the Goodridges' case. When Julie Goodridge gave birth by cesarean section, there were complications. Hillary Goodridge, at the time having no legal relationship with mother or child, said she was barred several times from seeing her daughter and partner.
"Even though their number one priority was their daughter," Breslauer said, "marriage makes her also their legal obligation. Their daughter is more protected because they are married."
Julie Goodridge declined to comment, saying Breslauer was the family's acting spokeswoman. Hillary Goodridge did not return a telephone message left at a business listing Thursday night.
"The plaintiff couple in this case are real people with real lives. They're not immune from life's ups and downs," Breslauer said. "Certainly over the course of time there will be same sex couples that separate just as happens in other marriages."
Massachusetts same-sex marriage pioneers split up
Fri Jul 21, 11:25 AM ET
Reuters
The lesbian couple whose landmark lawsuit helped Massachusetts become the only state in America where same-sex couples can marry legally have split up, a spokeswoman said on Friday.
Julie and Hillary Goodridge and six other gay and lesbian couples sued Massachusetts for the right to marry and won when the state's highest court ruled narrowly for them in 2003.
Their suit helped spark a nationwide debate on gay marriage.
The women "are amicably living apart," Mary Breslauer, a spokeswoman for the couple said. "As always their number one priority is raising their daughter, and like the other plaintiff couples in this case, they made an enormous contribution toward equal marriage. But they are no longer in the public eye, and request that their privacy be respected."
They have not filed for divorce.
Julie and Hillary Goodridge married on May 17, 2004, the first day same-sex couples were allowed to wed, in a festive ceremony attended by dozens of journalists.
Their daughter, Annie, accompanied the women down the aisle serving as ring bearer and flower girl while guests hummed "Here Come the Brides."
News of their split upset many who had supported their quest for same-sex marriage. "We are very sad for them," said Carisa Cunningham, a spokeswoman for the Gay and Lesbian Alliance Against Defamation.
Two states -- Connecticut and Vermont -- have legalized same-sex civil unions. California, Hawaii, Maine, New Jersey and Washington, D.C., offer gay and lesbian couples some legal rights as partners.
The debate over gay marriage recently has heated up again in Massachusetts after the state's Supreme Judicial Court last week ruled that voters can decide whether to ban same-sex unions.
If enough lawmakers in the state's legislature approve the measure, it will be put on the 2008 ballot for a popular vote.
Same-sex split for same-sex marriage pioneers
Fri Jul 21, 4:04 PM ET
AFP
Two lesbians who led the fight for same-sex marriage in Massachusetts are splitting up two years after they became one of the first gay couples to legally exchange vows.
Julie and Hillary Goodridge, lead plaintiffs in the civil lawsuit that forced Massachusetts to recognize same-sex marriages, have separated but not filed for divorced, Mary Breslauer, a spokeswoman for the couple, told the Boston Globe on Friday.
Breslauer said the two women were focused on trying to do what is best for their 10-year-old daughter, Annie.
Carisa Cunningham, a spokeswoman for the gay rights legal group that represented the Goodridges, said she was saddened by the news.
"We're sad for them and feel that their priority, as it always has been, is their daughter," Cunningham told AFP.
"We respect their desire for privacy right now and we respect everything they've done for the community," she added.
In 2004, Massachusetts became the first US state to permit same-sex marriage after its high court ruled that preventing such unions violated the state constitution.
Same-sex marriage advocates estimate that thousands of gay couples have since tied the knot in the state.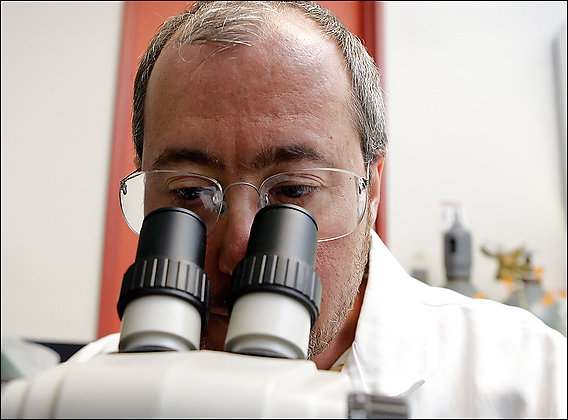 Ben Barres, a neurobiologist at Stanford University's Medical Center, looks through a microscope in his lab on Tuesday, July 11, 2006. Barres switched sexes from female to male with a round of hormones in 1997. Barres has recently written an opinion piece which attributes institutional bias as the reason for the shortage of women in the sciences.
Photo Credit: AP Photo
Male Scientist Writes of Life as Female Scientist
Biologist Who Underwent Sex Change Describes Biases Against Women
By Shankar Vedantam
Washington Post Staff Writer
Thursday, July 13, 2006; A10
Neurobiologist Ben Barres has a unique perspective on former Harvard president Lawrence Summers's assertion that innate differences between the sexes might explain why many fewer women than men reach the highest echelons of science.
That's because Barres used to be a woman himself.
In a highly unusual critique published yesterday, the Stanford University biologist -- who used to be Barbara -- said his experience as both a man and a woman had given him an intensely personal insight into the biases that make it harder for women to succeed in science.
After he underwent a sex change nine years ago at the age of 42, Barres recalled, another scientist who was unaware of it was heard to say, "Ben Barres gave a great seminar today, but then his work is much better than his sister's."
And as a female undergraduate at MIT, Barres once solved a difficult math problem that stumped many male classmates, only to be told by a professor: "Your boyfriend must have solved it for you."
"By far," Barres wrote, "the main difference I have noticed is that people who don't know I am transgendered treat me with much more respect" than when he was a woman. "I can even complete a whole sentence without being interrupted by a man."
Barres said the switch had given him access to conversations that would have excluded him previously: "I had a conversation with a male surgeon and he told me he had never met a woman surgeon who was as good as a man."
Barres's salvo, bolstered with scientific studies, marks a dramatic twist in a controversy that began with Summers's suggestion last year that "intrinsic aptitude" may explain why there are relatively few tenured female scientists at Harvard. After a lengthy feud with the Faculty of Arts and Sciences, Summers resigned earlier this year.
The episode triggered a fierce fight between those who say talk of intrinsic differences reflects sexism that has held women back and those who argue that political correctness is keeping scientists from frankly discussing the issue.
While there are men and women on both sides of the argument, the debate has exposed fissures along gender lines, which is what makes Barres so unusual. Barres said he has realized from personal experience that many men are unconscious of the privileges that come with being male, which leaves them unable to countenance talk of glass ceilings and discrimination.
Barres's commentary was published yesterday in the journal Nature. The scientist has also recently taken his argument to the highest reaches of American science, crusading to make access to prestigious awards more equitable.
In an interview, Nancy Andreasen, a well-known psychiatrist at the University of Iowa, agreed with Barres. She said it took her a long time to convince her husband that he got more respect when he approached an airline ticket counter than she did. When she stopped sending out research articles under her full name and used the initials N.C. Andreasen instead, she said, the acceptance rate of her publications soared.
Andreasen, one of the comparatively few women who have won the National Medal of Science, said she is still regularly reminded she is female. "Often, I will be standing in a group of men, and another person will come up and say hello to all the men and just will not see me, because in a professional setting, men are not programmed to see women," she said. "Finally, one of the men will say, 'I guess you haven't met Nancy Andreasen,' and then the person will turn bright red and say, 'Oh Nancy, nice to see you!' "
Summers did not respond to a request for an interview. But two scientists Barres lambasted along with Summers said the Stanford neurobiologist had misrepresented their views and unfairly tarred those who disagree with crude assertions of racism and sexism. Harvard cognitive scientist Steven Pinker and Peter Lawrence, a biologist at Britain's Laboratory of Molecular Biology in Cambridge, said convincing data show there are differences between men and women in a host of mental abilities.
While bias could be a factor in why there were fewer women at the pinnacles of science, both argued that this was not a primary factor.
Pinker, who said he is a feminist, said experiments have shown, on average, that women are better than men at mathematical calculation and verbal fluency, and that men are better at spatial visualization and mathematical reasoning. It is hardly surprising, he said, that in his own field of language development, the number of women outstrips men, while in mechanical engineering, there are far more men.
"Is it essential to women's progress that women be indistinguishable from men?" he asked. "It confuses the issue of fairness with sameness. Let's say the data shows sex differences. Does it become okay to discriminate against women? The moral issue of treating individuals fairly should be kept separate from the empirical issues."
Lawrence said it is a "utopian" idea that "one fine day, there will be an equal number of men and women in all jobs, including those in scientific research."
He said a range of cognitive differences could partly account for stark disparities, such as at his own institute, which has 56 male and six female scientists. But even as he played down the role of sexism, Lawrence said the "rat race" in science is skewed in favor of pushy, aggressive people -- most of whom, he said, happen to be men.
"We should try and look for the qualities we actually need," he said. "I believe if we did, that we would choose more women and more gentle men. It is gentle people of all sorts who are discriminated against in our struggle to survive."
Barres and Elizabeth Spelke, a Harvard psychologist who has publicly debated Pinker on the issue, say they have little trouble with the idea that there are differences between the sexes, although some differences, especially among children, involve biases among adults in interpreting the same behavior in boys and girls.
And both argue it is difficult to tease apart nature from nurture. "Does anyone doubt if you study harder you will do better on a test?" Barres asked. "The mere existence of an IQ difference does not say it is innate. . . . Why do Asian girls do better on math tests than American boys? No one thinks they are innately better."
In her debate with Pinker last year, Spelke said arguments about innate differences as explanations for disparities become absurd if applied to previous eras. "You won't see a Chinese face or an Indian face in 19th-century science," she said. "It would have been tempting to apply this same pattern of statistical reasoning and say, there must be something about European genes that give rise to greater mathematical talent than Asian genes."
"I think we want to step back and ask, why is it that almost all Nobel Prize winners are men today?" she concluded. "The answer to that question may be the same reason why all the great scientists in Florence were Christian."
Source: Stanford University Medical Center
Posted: July 14, 2006
Transgender Experience Led Stanford Scientist To Critique Gender Difference
Science Daily
Ben Barres has a distinct edge over the many others who have joined the debate about whether men's brains are innately better suited for science than women's. He doesn't just make an abstract argument about the similarities and differences between the genders; he has lived as both.
Barres' experience as a female-to-male transgendered person led him to write a pointed commentary in the July 13 issue of Nature rebuking the comments of former Harvard University president Lawrence Summers that raised the possibility that the dearth of women in the upper levels of science is rooted in biology. Marshalling scientific evidence as well as drawing from personal experience, Barres maintained that, contrary to Summers' remarks, the lack of women in the upper reaches of research has more to do with bias than aptitude.
"This is a street fight," said Barres, MD, PhD, professor of neurobiology and of developmental biology and of neurology and neurological sciences at the Stanford University School of Medicine, referring to the gang of male academics and pundits who have attacked women scientists critical of arguments about their alleged biological inferiority.
Where Summers sees innate differences, Barres sees discrimination. As a young woman—Barbara—he said he was discouraged from setting his sights on MIT, where he ended up receiving his bachelor's degree. Once there, he was told that a boyfriend must have solved a hard math problem that he had answered and that had stumped most men in the class. After he began living as a man in 1997, Barres overheard another scientist say, "Ben Barres gave a great seminar today, but his work is much better than his sister's work."
From Barres' perspective the only thing that changed is his ability to cry. Other than the absence of tears, he feels exactly the same. His science is the same, his interests are the same and he feels the quality of his work is unchanged.
That he could be treated differently by people who think of him as a woman, as a man or as a transgendered person makes Barres angry. What's worse is that some women don't recognize that they are treated differently because, unlike him, they've never known anything else.
The irony, Barres said, is that those who argue in favor of innate differences in scientific ability do so without scientific data to explain why women make up more than half of all graduate students but only 10 percent of tenured faculty. The situation is similar for minorities.
Yet scientists of both sexes are ready to attribute the gap to a gender difference. "They don't care what the data is," Barres said. "That's the meaning of prejudice."
Blinded them with bias
Barres doesn't think that scientists at the top of the ladder mean harm. In fact, quite the opposite. "I am certain that all of the proponents of the Larry Summers hypothesis are well-meaning and fair-minded people," he wrote in his Nature commentary. Yet because we all grew up in a culture that holds men and women to different standards, people are blind to their inherent biases, Barres said.
In his commentary Barres points to data from a range of studies showing bias in science. For example, when a mixed panel of scientists evaluated grant proposals without names, men and women fared equally well. However, competing unblinded, a woman applying for a research grant needed to be three times more productive than men to be considered equally competent.
Further evidence comes from Mahzarin Banaji, PhD, professor of psychology at Harvard. She and her colleagues have devised a test that forces people to quickly associate terms with genders. The results revealed that most people—men and women—are less likely to associate scientific words with women than with men.
Given these and other findings, Barres wondered how scientists could fail to admit that discrimination is a problem. He arrived at an answer: optimism. Most scientists want to believe that they are fair, he said, and for that reason overlook data indicating that they probably aren't.
Unfortunately, this optimism prevents those at the top of the field from taking steps needed to eliminate a bias they don't acknowledge. "I think people can't change until they see there's a problem," he said.
Barres' colleague Jennifer Raymond, PhD, assistant professor of neurobiology, said she's grateful to Barres for speaking out. "Most people do think there is a level playing field despite all the data to the contrary," she said.
Picking fights
Inequality in science bothers Barres for several reasons. First, as a minority, he'd like to see his science stand on its own. But Barres' concerns go beyond his own advancement.
Pointing to his own large office, replete with comfortable furniture and a coffee table, Barres said, "I have everything I need." As a tenured professor at Stanford, he's not fighting for himself. "This is about my students," he said. "I want them all to be successful."
And he wants science to move forward, which means looking beyond the abilities of white men, who make up 8 percent of the world's population. The odds that all of the world's best scientists can be found in that small subset is, at best, small, he said.
With that in mind, Barres has been at the forefront of the fight to make science fairer for all genders and races. One focus is eliminating bias from grant applications, especially for the most lucrative grants where the stakes are highest.
Last year, Barres convinced the National Institutes of Health to change how it chooses talented young scientists to receive its Director's Pioneer Award, worth $500,000 per year for five years. In 2004, the 64-person selection panel consisted of 60 men—all nine grants went to men. In 2005, the agency increased the number of women on the panel, and six of the 13 grants went to women. Barres said that he has now set his sights on challenging what he perceives as male bias in the lucrative Howard Hughes Investigator program, an elite scientific award that virtually guarantees long-term research funding.
In his commentary, Barres listed additional ideas for how to retain more women and minorities in science, above and beyond the standard cries to simply hire more women. He suggested that women scientists be judged by the quality of their science rather than the quantity, given that many of them still bear the brunt of child-care responsibilities. He proposed enacting more gender-balanced selection processes for grants and job searches, as was done with the Pioneer award. And he called on academic leaders to speak out when departments aren't diverse.
Barres said that critics have dismissed women who complain of discrimination in science as being irrational and emotional, but he said that the opposite argument is easy to make. "I t is overwhelmingly men who commit violent crimes out of rage and anger," he wrote. "If any one ever sees a women with road rage, they should write it up and send it to a medical journal."
He continued, "I am tired of powerful people using their position to demean me just because I am different from them. ... I will certainly not sit around silently and endure them."
Dismissing 'Sexist Opinions' About Women's Place in Science
▲
by

alfayoko2005

| 2006-07-20 07:21 | トランス
講演:「地域をともに生きる同性愛者たち」 尾辻かな子さんが講演--金沢 (毎日・石川版 2006/07/19朝刊)
 同性愛者であることを公表した大阪府議、尾辻かな子さん(31)の講演会とフリートーク「We are everywhere!~地域をともに生きる同性愛者たち」(金沢大経済学部地域経済情報センターなど主催)が15日、金沢市武蔵町のITビジネスプラザ武蔵であった。
 講演に先立ち、同センター長の碇(いかり)山洋・経済学部教授が「さまざまな立場の人を理解し共存共栄する多様性豊かなコミュニティー作りは、地域経済発展への第一歩でもある」と企画の趣旨を説明。
 講演で尾辻さんは、同性愛や性同一性障害を含む性的マイノリティーの基礎知識を説明。自分が同性愛者であることを認めるのに5年間悩んだことなど、当事者たちを取り巻く差別やタブー視される現状、同性婚などを認める外国の法制度について話した。
 続くフリートークでは、金沢市のカウンセラー、あねざきしょうこさんとの対話形式で最近の活動などについて話し、「交通手段が車に限られる場所では、自分の性に悩む10代の子が親に知られず今日の講演会に来ることも難しい」と、地方に生きる難しさについても触れた。【泉谷由梨子】
Republicans hope to motivate loyal voters
By JIM KUHNHENN, Associated Press Writer
Wednesday, July 19, 2006
With votes this week on gay marriage, stem cell research and the Pledge of Allegiance, the Republican-controlled Congress is systematically working through an agenda of conservative causes, eager to mobilize hard-core voters in the months before the midterm elections.
The votes are part of an "American Values Agenda" designed by House Republican leaders to distinguish GOP lawmakers on social issues that are heartfelt by a small but active segment of the Republican electorate. Those voters will be crucial this year when turnout is expected to be low and when Republicans are facing a headwind of public antipathy.
As expected, the House on Tuesday failed to pass a constitutional amendment that would let Congress ban gay marriages. The 236-187 vote in favor of the constitutional change fell short of the necessary two-thirds majority.
Several other items on the Republican list of priorities are also bound to fail. But party strategists believe that even doomed legislation is worth the recorded vote.
"You get a better snapshot of a member of Congress by looking at their voting record," said Rep. Todd Tiahrt (news, bio, voting record), R-Kan., a member of the leadership's vote-counting operation. "They serve a purpose even in failure."
Republicans in the Senate were unable to block legislation Tuesday that would expand federally funded research of human embryonic stem cell lines, a step vigorously opposed by social conservatives. The House passed the same bill last year. But the legislation faces a certain veto from President Bush and the majorities in the House and Senate are not large enough to override him.
In a nod to conservatives, congressional leaders permitted votes on bills that would encourage scientists to find alternatives to embryonic stem cells and to prohibit inducing pregnancies to obtain stem cells from an embryo. Both those measures passed the Senate on Tuesday. In the House, the latter measure passed, but the first bill failed.
On Wednesday, the House was scheduled to vote on legislation that would prevent federal courts from hearing lawsuits challenging the Pledge of Allegiance. The legislation is a response to a federal appeals court decision in 2002 that the pledge's reference to "one nation under God" is unconstitutional. The Supreme Court overturned the decision in 2004 on technical grounds. House Speaker Dennis Hastert, R-Ill., allowed a floor vote on the bill, even though it failed to win enough votes to get out of the House Judiciary Committee.
Republicans on Tuesday also recommended a $100 million plan that would allow poor children to attend private schools. Such a private school "voucher" plan has long been a central element of conservative education policy, but has faced steadfast opposition from liberals and teachers' unions.
Democrats also have tried to ignite their liberal base of voters, calling attention to the war in Iraq and by pushing for an increase in the minimum wage. An Associated Press-Ipsos poll last week found that 51 percent of registered voters surveyed favor Democrats for Congress and 40 percent favor Republicans. But the poll also found that only 27 percent of the public approves of the work of Congress.
Strategists believe such low ratings will depress voter turnout more than usual for a midterm election, though some Democrats believe that the war in Iraq will drive war opponents to the polls.
As a result, loyal, motivated voters are crucial to both parties. By driving a new social agenda, Republicans are also seeking to appease conservative activists who complained last year that the party was not living up to conservative pledges made in the 2004 presidential election.
"The clock is always a great motivator and the clock is ticking before the next election," said Tony Perkins, head of the Family Research Council, a conservative advocacy group. But Perkins welcomed the timing, saying that in times of world instability the American public seeks solace by turning to issues of personal values.
Whether the agenda will stimulate conservative voters, Perkins said, "I don't think Republican should count their chickens before their eggs hatch, but there is action in the hen house."
Not all Republicans are pleased with the social priorities. Several Northeast Republicans are facing strong Democratic challenges in moderate to Democratic-leaning districts where topics such as gay marriage find little resonance.
"This type of social agenda or social policy-making at the congressional level is of no interest to me," said Rep. Rob Simmons, R-Conn., who is in a tough re-election fight. "They may be successful in certain districts, but they certainly aren't successful in my district. My constituents are well-informed and well-educated and prepared to make a lot of these decisions themselves and they don't want the government to be involved."
米連邦下院も同性婚禁止憲法修正案を否決