カテゴリ
以前の記事
検索
最新のトラックバック
その他のジャンル
ファン
記事ランキング
ブログジャンル
画像一覧
The Scotsman
'Women only' signs make Japan's men fume
JULIAN RYALL IN TOKYO
AT THE time, most people agreed it seemed a good idea: carriages on Japanese commuter trains set aside specifically for females would dramatically reduce the number of women being molested by the chikan who get their kicks by having a sly fondle among the tightly packed bodies. And it worked.
The idea was so effective that it was quickly adopted by numerous train companies across the country, with pink signs adorning certain carriages warning men to keep their distance.
What is less welcome, however, is the sudden embracing of an entire male-free environment by whole sectors of the Japanese service industry.
It has become so common to see "no males" signs outside stores, restaurants, hotels, spas and even entertainment outlets that the victims of this policy are beginning to grumble that they are becoming second-class citizens.
"I completely supported the whole thing with women-only train carriages, even though it made my commute more difficult because there always seemed to be room in those carriages while us men were squeezed together tighter than ever," one Tokyo businessman said.
"But now it's just getting silly. I couldn't even get into my gym at my regular time last week because they have introduced a 'women-only' hour in the early evening."
Responding to a survey in the weekly news magazine Aera, 55 per cent of men said matters have gone too far. Perhaps surprisingly, 40 per cent of women agreed, saying the complete exclusion of men amounts to sex discrimination.
Men turning up at restaurants are being turned away because the women-only lunch special is on the menu, while convenience stores, cinemas and even pachinko parlours - the pinball gambling game that is the staple for the weary workers - are out of bounds for the boys, either permanently or for parts of the day.
"All these other establishments are simply jumping on the women-only bandwagon because they see an economic opportunity in it," says Toshiko Marks, a professor of multicultural understanding at Shumei University.
"It's well-known that single women today have a lot of money, so companies are exploiting that. Men are definitely starting to complain."
This article: http://news.scotsman.com/international.cfm?id=1047972006
Last updated: 19-Jul-06 01:46 BST
House rejects gay marriage ban amendment
By JIM ABRAMS, Associated Press Writer
Tuesday, July 18, 2006
The House rejected a proposed constitutional amendment to ban gay marriage on Tuesday, a setback that conservatives hope to turn to their advantage in the fall elections.
"Be assured that this issue is not over," said House Speaker Dennis Hastert, R-Ill.
The vote was 236-187 with one member voting "present," a slight improvement over the last House vote just before the 2004 election but still 46 short of the two-thirds majority needed to advance a constitutional amendment.
Supporters argued that Congress must trump the actions of judges around the country who have ruled in favor of gay marriages. "We must not allow an institution of such great importance to be arbitrarily redefined for the entire nation by a small number of unelected judges," said Rep. Joe Pitts, R-Pa.
Opponents, including 27 Republicans, argued that the measure was meaningless — the Senate rejected the amendment last month, effectively killing it for this session of Congress — as well as unneeded and mean-spirited.
"This is a partisan effort by Republicans to divide the American people rather than forge consensus to solve our urgent problems," said Democratic leader Nancy Pelosi of California.
Democrats argued that the House's focus on the GOP's "American values agenda," which includes votes this week on a pledge protection bill and a vote on President Bush's expected veto of an embryonic stem cell bill, was a distraction at a time the nation faced serious domestic and international problems.
Rep. Barney Frank (news, bio, voting record), D-Mass., one of just a few openly gay members of Congress, said he took the proposal personally. "I think this is motivated, frankly, by a dislike of those of us who are gay and lesbian," he said, and he objected to "people taking batting practice with my life."
The defeat in the House followed a series of victories at the state level where courts, legislatures and voters have come out for gay marriage bans.
Forty-five states have either constitutional amendments banning gay marriage or statutes outlawing same-sex weddings. Even in Massachusetts, the only state that allows gay marriage, the state's high court recently ruled that a proposed constitutional amendment to ban future gay marriages can be placed on the ballot.
Bush has advocated, and the Republican Party's conservative base has demanded, that the ban be extended to the federal level. "The administration believes that the future of marriage in America should be decided through the democratic constitutional amendment process, rather than by the court orders of a few," the White House said in a statement.
Rep. Mike Pence (news, bio, voting record), R-Ind., the leader of House conservatives, argued that the vote was a "successful failure."
"We poured a little more concrete in the footings of a building that will be built," Pence said.
Tony Perkins, president of the Family Research Council, a leading supporter of the amendment, said his group will put out a voter scorecard that will go to millions of Americans before this November's election. "This will be a very prominent issue," he said.
"The overwhelming majority of the American people support traditional marriage," said Rep. Marilyn Musgrave (news, bio, voting record), R-Colo., sponsor of the amendment. "And the people have a right to know whether their elected representatives agree with them."
The proposed amendment says that "marriage in the United States shall consist only of the union of a man and a woman. Neither the Constitution, nor the constitution of any state, shall be construed to require that marriage or the legal incidents thereof be conferred upon any union other than the union of a man and a woman."
The House vote in 2004 was 227-186 in favor of the amendment, 49 short of the needed majority.
"They have now failed twice in their shameful election-year ploys, using gay and lesbian families as punching bags," said Joe Solmonese, president of the Human Rights Campaign, the nation's largest gay rights group. "We didn't see any traction" in Tuesday's vote, he said.
The Constitution has been amended only 27 times, including the 10 amendments of the Bill of Rights. In addition to two-thirds congressional approval, a proposed amendment must be ratified by three-fourths of the states.
___
The amendment is HJ Res 88.
___
On the Net:
Family Research Council: http://www.frc.org/
Human Rights Campaign: http://www.hrc.org/
House rejects Bush-backed bid to ban gay marriage
By Thomas Ferraro
Tue Jul 18, 3:18 PM ET
Reuters
The Republican-led House of Representatives on Tuesday failed to pass a proposed constitutional amendment to ban gay marriage but forced Democrats to stake out a position on the divisive issue before U.S. congressional elections.
The vote to approve the measure backed by President George W. Bush was 236-187, 46 votes short of the two-thirds majority needed. Most Republican lawmakers voted for it and most Democrats against.
The religious right and other social conservatives vow to make same-sex marriage an issue in the November elections when control of the Republican-led U.S. Congress will be at stake.
With polls showing broad discontent with lawmakers, Democrats have accused Republicans of pushing hot-button issues like this one to try to rally their conservative base and divert attention from other matters like the Iraq war.
Last month, the Senate rejected constitutional amendments to ban gay marriage and outlaw burning the American flag.
"This is about the Republican majority -- once again -- trying to divide and polarize the nation," said Democratic Rep. James McGovern (news, bio, voting record) of Massachusetts, the only state to fully recognize same-sex marriage and where about 8,000 gay couples have wed since 2004.
The White House said in a statement backers were forced to take the action to try to stop "activist judges" from redefining traditional marriage.
"The administration believes that the future of marriage in America should be decided through the democratic constitutional amendment process, rather than by the court orders of a few," the White House said.
According to a June poll by the Pew Research Center, 55 percent of Americans oppose same-sex marriage, down from 60 percent in August 2004.
The survey also found that Americans rank many issues as more important, including the economy, war on terror, health care and education.
The House defeated the same proposal in 2004 on a vote of 227-186, and proponents said they were encouraged they gained ground this year.
"We knew from the beginning that this was going to take time," said Tom McClusky, a lobbyist with the conservative Family Research Council.
To become law, a proposed constitutional amendment must be approved by two-thirds of the House and Senate and then be ratified by three quarters of the states.
Forty-five states have passed laws or amended their constitutions to prohibit same-sex marriage. The 1996 U.S. Defense of Marriage Act allows states to refuse to recognize marriages performed elsewhere.
In recent years, state judges have struck down five state gay-marriage bans, though three were reinstated on appeal. There are now court challenges in six states.
While Massachusetts fully recognizes same-sex marriage, six other states and the District of Columbia offer same-sex couples some legal protections.
US lawmakers reject proposed ban on gay marriage
Tue Jul 18, 8:37 PM ET
AFP
A proposed constitutional amendment banning gay marriage failed to pass on in a vote in the US House of Representatives, though the issue is expected to remain a hot political topic in November legislative elections.
The proposed ban, which is highly popular among the religious right that forms the base of support for President George W. Bush and his fellow Republicans in Congress, garnered 236 votes in favor, short of the 290 votes needed.
The same proposal failed in the Senate last month, 49-48.
A two-thirds majority is needed in each chamber of Congress before the question of amending the Constitution may be taken up by the 50 states.
State courts meanwhile in New York and Georgia ruled this month that same-sex couples have no right to marry.
With Bush's Republicans facing difficult legislative elections in November, the president has repeatedly expressed his opposition to gay marriage, faulting "activist" judges who he says have overstepped their authority and undermined the traditional definition of a union between a man and a woman.
Conservative activists say they plan to place a high priority on the issue as they seek to preserve a Republican majority in Congress.
Gay marriage is recognized only in the state of Massachusetts, while Vermont and Connecticut recognize civil unions that offer gays many of the same rights as heterosexual couples.

Optimism on Both Sides of Gay-Marriage Debate
State Votes Will Show Whether Bans Are Losing Steam or Gaining Ground
By T.R. Reid
Washington Post Staff Writer
Tuesday, July 18, 2006; A04
DENVER -- The safest bet in American politics in recent years has been a state ban on same-sex marriage. Since 1998, proposals to outlaw such unions have appeared on the ballot in 20 states, both red and blue, and they have passed everywhere by big margins.
Accordingly, opponents of same-sex marriage -- who prefer to call the issue "protection of marriage" -- are confident these days as they look ahead to the eight (or possibly nine) states in which the ban is expected to be on the ballot in November.
"It costs some time and money to collect the signatures to put it on the ballot," said Bill Moeller of the Arlington-based citizens group American Values. "But once it's there, it tends to win with large numbers."
And yet, supporters of same-sex marriage -- who prefer to call the issue "marriage equality" -- are also optimistic as they look forward to this fall's campaigns. "Attitudes are changing, as people come to see this as a civil rights issue," said Brad Luna, of the Human Rights Campaign. "All the indicators show Americans are moving in the direction of marriage equality."
Among other things, proponents of same-sex marriage think they have a chance this November, for the first time, to defeat a ban on a state ballot. A nonpartisan poll in Wisconsin last month showed voters evenly split on the issue, with 49 percent favoring such a ban and 48 percent opposed. Gov. Jim Doyle (D) and four former governors from both parties have come out against the amendment.
Polling in Arizona and Colorado also suggests fairly close divisions. But opponents of same-sex marriage note that polls usually understate the actual vote for such a ban.
Beyond that, efforts to put a ban on state ballots are starting to fall short, both in the legislatures and in citizens' initiatives. In eight states, including Maryland, Pennsylvania and West Virginia, proposals calling for a ballot referendum banning same-sex marriage failed to pass the legislature this year. In California and Florida, opponents of same-sex marriage were unable to collect enough signatures to put an initiative on the ballot this fall.
In Illinois, groups opposing same-sex marriage submitted 347,000 signatures for their ballot proposal, but volunteers who support the unions scrutinized every name and challenged so many that the State Board of Elections refused to certify the proposal. Opponents are appealing that ruling.
Opponents of same-sex marriage have been cheered by a series of recent court decisions in their favor. On Friday, a federal appeals court upheld a measure approved by Nebraska voters in 2000 that bars same-sex marriage and also denies gay partners legal benefits that come with marriage. That reversed the ruling of a lower federal court, which had voided the Nebraska law.
Tennessee's Supreme Court, also on Friday, ruled that a proposal to ban same-sex marriage can be on the November ballot.
Earlier this month, the highest state courts in New York and Georgia rejected arguments that a denial of marriage rights to gays violates the principle of equal rights under law.
In the electoral arena, most of the ballot issues this November fall into two categories. One approach is a simple definition of marriage. For example, the wording suggested by Colorado-based Focus on the Family declares, "Only a union of one man and one woman shall be valid or recognized as a marriage in this state."
Other measures go further, outlawing "civil unions" and denying same-sex couples the legal and tax benefits that married heterosexual couples receive.
The most complex ballot this year on the issue will be in Colorado, where at least two and perhaps four competing measures will face voters.
Opponents there are expected to put up a one-sentence initiative defining marriage as a union of one man and one woman. Supporters decided that they probably could not defeat that proposal, so they put a separate measure on the ballot that would legalize "domestic partnerships" for same-sex couples, giving them various financial, insurance and family benefits restricted to married heterosexual couples.
"We've decided to put most our money and effort into the campaign for domestic partnerships," said Sean Duffy, a Republican consultant in Denver who heads Coloradans for Fairness and Equality, which supports same-sex marriage. "It's possible that we could defeat one-man one-woman here, but we've decided to focus our effort on passing our domestic-partnership plan instead."
To counter the domestic-partnership proposal, opponents of gay rights are soliciting signatures for a "no legal status" ballot initiative, which would prohibit the state from "creating any legal status similar to marriage." If that measure makes the ballot, Duffy said, his side will put up another initiative designed to exclude domestic partnerships from the no-legal-status law.
Opponents of same-sex marriage have repeatedly failed to win enough support in Congress for a federal constitutional amendment banning such unions. The Senate did not approve such an amendment last month. Nonetheless, the House has scheduled a vote for today, and there, too, the measure is expected to fall well short of approval.
As a result, opponents of same-sex marriage see state elections as the place to make their stand. "We expect to win every ballot issue this fall, as we've done in the past, and keep our momentum for protecting traditional marriages," said Moeller, of American Values.
But supporters are seeking a breakthrough this year. "I think Americans look at Massachusetts and say, 'Well, Massachusetts is different,' " said Luna, of the Human Rights Campaign. "But let it happen in Washington or Wisconsin and people will say, 'Okay, this isn't so different, it's not the end of the world to give everybody equal marriage rights."
米カリスマ司会者オプラさん、同性愛のうわさを否定
2006年07月18日16時27分

 [ニューヨーク 17日 ロイター] 
米人気テレビ司会者のオプラ・ウィンフリーさん(52)が、雑誌「O, The Oprah Magazine」の8月号で、自分は同性愛者ではないと語っている。
 ウィンフリーさんは、30年にわたって親しい付き合いをしている同誌編集者のゲイル・キングさんと自身の関係について、一緒に居る場面が多く目撃されたことで、一部の人が同性愛だと誤解していると語った。
 その上で、そう思われることは理解できるとしている。
 ウィンフリーさんは「私たちの文化には女性同士のこういう絆についての定義がないのよ。性的な関係なしにあんなに仲がいいわけがないって決め付けるのは分かるわ」と語った。
 一方、キングさんは「もし、私たちが本当に同性愛者だったら、そう言うわ。だって同性愛者であることは悪いことでも何でもないもの」と語っている。
 記事の中でウィンフリーさんとキングさんは、2人の30年間の友情についてや、「1日に4回かける電話」について明かしている。
Gay marriage amendment faces uphill battle
By JIM ABRAMS, Associated Press Writer
Tuesday, July 18, 2006
A proposed constitutional amendment to ban gay marriages is expected to fail again in the House, frustrating conservatives who have made it a legislative priority but also giving them an issue they can put before voters in November.
The House vote scheduled for Tuesday has little legislative significance because the Senate has already effectively killed the proposal for this waning session of Congress. But President Bush has asked, and social conservatives demanded, that gay marriage be on the agenda in the run-up to the election.
Democratic opponents criticized the timing of the vote, which Rep. John Conyers (news, bio, voting record) of Michigan, top Democrat on the Judiciary Committee, said was "an obvious ploy by the majority to play on the worst fears" of voters before an election.
The same-sex marriage debate mirrors that of the 2004 election year, when both the House and Senate fell well short of the two-thirds majority needed to send a constitutional amendment to the states. But the issue, in the form of state referendums, helped bring conservative voters to the polls.
One result has been that, while Congress stayed on the sidelines, state legislatures moved aggressively to define marriage as a union between a man and a woman.
Forty-five states have either state constitutional amendments banning gay marriage or state statutes outlawing same-sex weddings. Even in Massachusetts, the only state that allows gay marriage, the state's high court recently ruled that a proposed constitutional amendment to ban future gay marriages can be placed on the ballot.
"Our momentum in the states is extremely strong and Washington is playing catch-up," said Matt Daniels, president of the Alliance for Marriage.
Daniels, who was involved in drafting the amendment's language, said it was essential that Congress eventually set a national standard. Members of Congress are "the only hope for seeing marriage protected in this country and they should be on record."
But Rep. Barney Frank (news, bio, voting record), an openly gay Democrat from Massachusetts, said the amendment would prevent states such as his own, where thousands of same-sex couples have married over the past 2 1/2 years, from making decisions on what constitutes marriage.
"I do not understand what motivates you," Frank said Monday, addressing Republicans on the Rules Committee. "I don't tell you who to love."
The proposed amendment says that "marriage in the United States shall consist only of the union of a man and a woman. Neither the Constitution, nor the constitution of any state, shall be construed to require that marriage or the legal incidents thereof be conferred upon any union other than the union of a man and a woman."
One conservative group, the Traditional Values Coalition, said it was a "good thing for traditional marriage" that the measure was unlikely to pass because it wasn't clear enough in ruling out civil unions between gays.
"We have just won several important court decisions in the past few weeks," said the coalition's executive director, Andrea Lafferty, but the amendment's proponents "are still playing 'Let's make a deal' with the liberals and the homosexual lobby."
The Senate took up the measure last month but fell 11 short of the 60 votes needed to advance the legislation to a final vote. The last House vote on the issue, just a month before the 2004 election, was 227-186 in favor of the amendment, 39 short of the two-thirds majority needed to advance a constitutional amendment.
The U.S. Constitution has been amended only 27 times, including the 10 amendments of the Bill of Rights. In addition to two-thirds congressional approval, a proposed amendment must be ratified by three-fourths of the states.
___
The amendment is HJ Res 88.
On the Net:
Alliance for Marriage: http://www.allianceformarriage.org/
Traditional Values Coalition: http://traditionalvalues.org/
The New York Times
Dismissing 'Sexist Opinions' About Women's Place in Science
By CORNELIA DEAN
Published: July 18, 2006
Perhaps it is inevitable that Ben A. Barres would have strong opinions on the debate over the place of women in science. Dr. Barres has a degree in biology from M.I.T., a medical degree from Dartmouth and a doctorate in neurobiology from Harvard. He is a professor of neurobiology at Stanford. And until his surgery a decade ago, his name was Barbara, and he was a woman.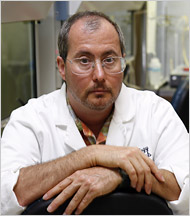 Ben A. Barres recently.



Related
Editor's Summary of 'Does Gender Matter?' (Nature)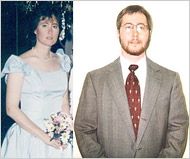 Courtesy of Ben A. Barres
NOW AND THEN Ben A. Barres as Barbara, age 34; and as Ben at 42.
Now he has taken his unusual perspective to the current issue of the journal Nature, in a commentary titled "Does Gender Matter?"
Dr. Barres (pronounced BARE-ess), 51, who grew up in West Orange, N.J., said he had been thinking about the gender issue for over a year, since Lawrence H. Summers, then the president of Harvard, gave a talk in which he suggested that one explanation for women's relative absence at the upper ranks of science might be innate intellectual deficiencies. Assertions of innate differences by other researchers — "sexist opinions," Dr. Barres calls them — fueled his anger, especially because they came from scientists.
Dr. Barres discussed his commentary, his career and sexism in science in a telephone interview from his home in Stanford, Calif.
Q.
What's your response to people who say you rely too much on your own experience and should take scientific hypotheses less personally?
A. They should learn that scientific hypotheses require evidence. The bulk of my commentary discusses the actual peer-reviewed data.
Q.
Why do some people attribute differences in professional achievement to innate ability?
A. One of the reasons is the belief by highly successful people that they are successful because of their own innate abilities. I think as a professor at Stanford I am lucky to be here. But I think Larry Summers thinks he is successful because of his innate inner stuff.
Q.
What about the idea that men and women differ in ways that give men an advantage in science?
A. People are still arguing over whether there are cognitive differences between men and women. If they exist, it's not clear they are innate, and if they are innate, it's not clear they are relevant. They are subtle, and they may even benefit women.
But when you tell people about the studies documenting bias, if they are prejudiced, they just discount the evidence.
Q.
How does this bias manifest itself?
A. It is very much harder for women to be successful, to get jobs, to get grants, especially big grants. And then, and this is a huge part of the problem, they don't get the resources they need to be successful. Right now, what's fundamentally missing and absolutely vital is that women get better child care support. This is such an obvious no-brainer. If you just do this with a small amount of resources, you could explode the number of women scientists.
Q.
Why isn't there more support for scientists who have children?
A. The male leadership is not doing it, but women are not demanding it. I think if women would just start demanding fairness, they might get it. But they might buy in a little bit to all this brainwashing. They are less self-confident. And when women speak out, men just see them as asking for undeserved benefits.
Q.
Why are you a scientist?
A. I knew from a very young age — 5 or 6 — that I wanted to be a scientist, that there was something fun about it and I would enjoy doing it. I decided I would go to M.I.T. when I was 12 or 13.
Q.
As a girl, were you pressured not to try for M.I.T.?
A. Of course. I was a very good math and science student, maybe the best in my high school. And despite all that, when it came time to talk to my guidance counselor, he did not encourage me. But I said, I want to go to M.I.T.; I don't want to go anywhere else. So I just ignored him. Fortunately, my parents did not try to dissuade me.
Q.
Were there girls at M.I.T. then?
A. Very few, but M.I.T. from its very start took women. I loved it. I am not saying it is perfect, but it was a great place to go to school.
Q.
Why did you decide to specialize in neuroscience? Did the fact that you were a transgendered person spark your interest in the brain?
A. I think all transgendered people and gay people are aware from childhood that something is going on. But I thought I would be a chemist or an engineer. It was when I took a course from a fabulous neuroscientist that I just got interested in understanding the brain and how disease affected the brain.
Q.
When you were a woman did you experience bias?
A. An M.I.T. professor accused me of cheating on this test. I was the only one in the class who solved a particular problem, and he said my boyfriend must have solved it for me. One, I did not have a boyfriend. And two, I solved it myself, goddamn it! But it did not occur to me to think of sexism. I was just indignant that I would be accused of cheating.
Then later I was in a prestigious competition. I was doing my Ph.D. at Harvard, which would nominate one person. It came down to me and one other graduate student, and a dean pulled me aside and said, "I have read both applications, and it's going to be you; your application is so much better." Not only did I not win, the guy got it, but he dropped out of science a year later.
But even then I did not think of sexism.
Q.
Why didn't you see these episodes as sexism?
A. Women who are really highly successful, they are just as bad as the men. They think if they can do it, anyone can do it. They don't see that for every woman who makes it to the top there are 10 more who are passed over. And I am not making this up, that's what the data show.
And it may be that some women — and African-Americans, too — identify less strongly with their particular group. From the time I was a child, from the littlest, littlest age, I did not identify as a girl. It never occurred to me that I could not be a scientist because I was a woman. It just rolled off my back.
Now I wonder, maybe I just didn't take these stereotypes so seriously because I did not identify myself as a woman.
Q.
As a transgendered person, are you viewed as having an unusually valuable perspective?
A. I think because I am transgendered some people view anything I say with suspicion. I am very different from the average person. But I have experienced life both as a woman and as a man. I have some experience of how both sexes are treated.
Q.
What about the idea that male scientists are more competitive?
A. I think that's just utter nonsense. Men just make this stuff up. But when women are made to feel less confident, they are less likely to enter the competition. I think a lot of this is just the way men and women are treated from the time they are very young.
Take my experience with M.I.T. If I had been a guy who had been the only one in the class to solve that problem, I am sure I would have been pointed out and given a pat on the back. I was not only not given positive feedback, I was given negative feedback. This is the kind of thing that undermines women's self-confidence.
Q.
What about the idea that women are too emotional to be hard-headed scientists?
A. It is just patently absurd to say women are more emotional than men. Men commit 25 times the murders; it's shocking what the numbers are. And if anyone ever sees a woman with road rage, they should write it up and send it to a medical journal.
Q.
Are men more careerist?
A. I think people do what they are rewarded for doing, and I think women realize, whether it's conscious or unconscious, they are not going to get the rewards. So they put the hours into their families or whatever. That's just a guess.
Science is like art, it's just something you have to do. It's a passion. When I go into a lab, I'll go without sleep, I'll go hours and hours, day after day. And I think women would do that if they weren't given so much negative feedback.
Q.
You write that as a man, you can complete a sentence without being interrupted. Are you treated differently in other ways?
A. It's when people don't know that I was a woman that I can really see the difference. Even in just stupid things. You go into a department store and people are more likely to wait on you.
Q.
As a woman and then as a man, you have been a scientist for about three decades. Do you see things improving for women in science?
A. Slowly, but not nearly at the rate one would expect. In biology, something like 50 percent of the best postdocs are women. It's still very bad in physics and engineering and chemistry, but even in biology you don't see women making the leap to tenure. And this disturbs me greatly. These women have worked very hard. They have fulfilled their side of the social contract. I think what we've got is just a lot more highly trained, frustrated women.
A New View of the Boys Club
▲
by

alfayoko2005

| 2006-07-18 13:26 | トランス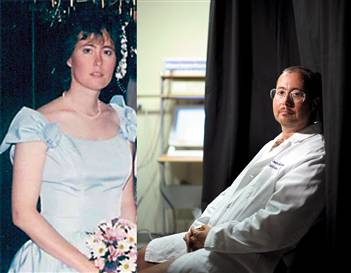 Courtesy of Ben A. Barres (left); Timothy Archibald for Newsweek
Before and After: Barres as a bridesmaid in 1988 (left) and today, as professor of neurobiology at Stanford

A New View of the Boys Club
A transgendered Stanford professor speaks out against discrimination in the sciences.
By Claudia Kalb
Newsweek

July 24, 2006 issue -
Ben Barres knows how it feels to be treated like a girl. Back in high school, Ben—who at that point was a girl named Barbara—was desperate to ditch sewing and cooking class for the "boy" stuff: woodworking, mechanical engineering, auto mechanics. Every year, Barres asked to join the guys; every year, the answer was "No." Same thing when it was time for college. A top science student and captain of the math team, Barres dreamed of going to MIT, but her guidance counselor winced. " 'Oh no'," Barres recalls him saying, " 'you'll never get in there'."
Barres did get in there and today, with a B.S. from MIT, an M.D. from Dartmouth and a Ph.D. from Harvard, Barres, 51, is a leading neuroscientist and tenured professor at Stanford. He's also a female-to-male transgendered person (Barbara became Ben in 1997) who is speaking out about discrimination against women in science—on behalf of his former female self and the young female scientists he mentors. Last week, in a commentary published in the journal Nature, Barres took aim at the gender-gap-in-science debate sparked in 2005 by the then Harvard president Lawrence Summers. Summers suggested that differences in "intrinsic aptitude" between men and women might explain why fewer women rise to the top. Barres says the problem isn't brain power, it's discrimination. The "Larry Summers Hypothesis" has no data to support it, Barres writes, and "amounts to nothing more than blaming the victim."
Barres's unique perspective began in childhood. Young Barbara wanted to join the Boy Scouts and hang out with her brother's friends, not her sisters'. For Halloween, she dressed as a football player. Dresses and jewelry? Not interested. Early on, says Barres, "I knew that there was something very different about my gender." The feeling persisted into adulthood. Dr. Martin Raff, Barres's postdoc adviser at University College London, remembers his student feeling "remarkable discomfort as a woman." Much about her seemed male, says Raff. The way she dressed (T shirts and jeans), the way she walked. If she had to put a dress on, says Raff, "it would bother her for days beforehand."
Gender, however, had always taken a back seat to science, as Barres excelled in the study of glial cells in the brain. It was his student's sharp intellect and boundless passion for science, says Barres's graduate adviser at Harvard, David Corey, that stood out from the start. Barres spent days and nights in the lab. Not infrequently, Raff remembers, Barres slept on the floor in his office. Romance never held much appeal. OK, Barres has always loved Tom Cruise ("He's cute"). But he's never been strongly attracted to either sex. "I used to try to go out on dates," says Barres, "but I'd always think, 'Gee, I wish I was in the lab'."
The scientist's physical transformation began at the age of 40, when Barres was diagnosed with early-stage breast cancer. When doctors recommended a mastectomy, Barres made a startling request: take the healthy one, too. With his cancer cured, Barres sought testosterone treatments to change his sex from female to male. He says he's lost the ability to cry (or at least cry a flood of tears), which he believes is purely biological. But the "psychic relief" of finally feeling comfortable in his own skin is huge: "I'm so much happier now."
Barres is speaking out because of his deep commitment to science and because he believes he and other senior faculty have a responsibility to help women rise through the ranks. Yes, there are clearly physical differences between the sexes, says Barres, but there's no evidence that those differences are relevant to academic achievement. At Barres's alma mater, half of the undergrad science majors are women, says MIT biology professor Nancy Hopkins, but women account for only 13 percent of the faculty. The disparity exists nationwide. "It's leakage along the pipeline all the way," says Stanford president John Hennessy. In his commentary, Barres says selection committees need to be diversified, women need help in balancing family with career (Barres wants to start a foundation to fund child care) and academic leadership needs to break the silence about sexism.
Given his accomplishments, Barres says it would be hard to argue that he suffered severe discrimination himself. But he experienced enough bias as Barbara to know how it feels. And he hears enough to know it hasn't gone away. After his article came out, Barres's in box was flooded with e-mails from female scientists sharing stories about the barriers they face. "It's time for women to stand up in one strong voice and demand their rights," he says. With a man named Ben Barres cheering them on.
URL: http://www.msnbc.msn.com/id/13879349/site/newsweek/
SEEING THE WORLD FROM BOTH SIDES
▲
by

alfayoko2005

| 2006-07-18 04:39 | トランス
The New York Times
July 15, 2006
In Nebraska and Tennessee, More Setbacks to Gay Rights
By PAM BELLUCK and GRETCHEN RUETHLING
Opponents of same-sex marriage won victories yesterday in Nebraska and Tennessee, with courts in both states siding with efforts to amend state constitutions to prohibit such unions.
In Nebraska, a federal appeals court, the highest-level federal court to take up the issue, reinstated a ban on same-sex marriage that had been approved by voters in 2000. A federal district judge had overturned the ban last year, saying it was discriminatory and punitive.
In Tennessee, the State Supreme Court ruled that a proposed constitutional amendment against same-sex marriage could stay on the November ballot. The American Civil Liberties Union had sued to block the measure on technical grounds, saying the state had not met notification requirements. The court dismissed the suit, saying the A.C.L.U. had no standing.
The rulings came a week after courts in New York and Georgia sided with opponents of same-sex marriage. The New York Court of Appeals, the state's highest court, ruled that the State Constitution did not require same-sex marriage. The Georgia Supreme Court reinstated a constitutional amendment banning same-sex marriage and legal benefits to same-sex couples in civil unions.
This week, the highest court in Massachusetts, which ruled in 2003 that same-sex marriage was legal, declined to block a ballot measure for a constitutional amendment to ban same-sex marriage. The legislature in Massachusetts, the only state where gay men and lesbians can marry, will vote on the measure in November. If the measure gets 50 lawmakers' votes this year and again next year, it can appear on the ballot in November 2008.
"No doubt it's been a tough week," said Matt Foreman, executive director of the National Gay and Lesbian Task Force. "But each one of these decisions stands on its own. This isn't some tidal wave against us."
The Nebraska case could be particularly significant because advocates of same-sex marriage could decide to appeal to the United States Supreme Court. The amendment, passed by 70 percent of voters, was more far-reaching than most other marriage bans because it denied same-sex couples who were state employees domestic-partner benefits, visitation rights and other benefits. In May 2005, Judge Joseph F. Bataillon of Federal District Court ruled that the amendment went "far beyond merely defining marriage as between a man and a woman."
Judge Bataillon said it "imposes significant burdens on both the expressive and intimate associational rights" of gay men and lesbians "and creates a significant barrier to the plaintiffs' right to petition or to participate in the political process."
And Judge Bataillon added that the evidence suggested that the adoption of the amendment "was motivated, to some extent, by either irrational fear of or animus toward gays and lesbians."
The United States Court of Appeals for the Eighth Circuit disagreed, ruling unanimously that "laws limiting the state-recognized institution of marriage to heterosexual couples are rationally related to legitimate state interests and therefore do not violate the Constitution of the United States."
David Buckel, senior counsel at the Lambda Legal Defense and Education Fund, which helped challenge the amendment, said no decision had been made on an appeal.
"It will take a while to understand exactly what the court did here," Mr. Buckel said. "What struck me more than anything else was I couldn't find our case in the decision. The decision seems to be about marriage, but our case wasn't about marriage."
Mr. Buckel said the plaintiffs' case had focused on asking the court to set aside the amendment to give their clients time to press for legislation to allow domestic-partner benefits for same-sex couples.
Jon Bruning, the Nebraska attorney general, said, ""Today the Eighth Circuit Court of Appeals affirmed Nebraskans' right to modify their Constitution as they see fit."
Opponents of same-sex marriage celebrated yesterday's rulings.
"We are pleased that this latest attempt by the homosexual agenda to radically redefine our culture has been stopped dead in its tracks," Mathew D. Staver, founder and chairman of Liberty Counsel, said in a statement. "For the past two weeks, the same-sex marriage movement has been rocked backward by stunning court decisions in favor of traditional marriage."
James Esseks, a litigation director for the A.C.L.U.., acknowledged that the Nebraska decision might embolden other states to pass more restrictive laws.
"What's at stake here is the ability to participate in the political process equally and seek protections we think we ought to be able to have," Mr. Esseks said. "We were seeking some protection for families that may be short of nothing. Nebraska says you get nothing. That's astonishing."
Monica Davey contributed reporting for this article.
Posted on Sun, Jul. 16, 2006
SEEING THE WORLD FROM BOTH SIDES
By Yomi S. Wronge
San Jose Mercury News
When a Stanford University neurobiologist made a case this week that discrimination, not genetics, keeps women out of science, his comments carried more weight than usual.
Ben A. Barres spent most of his life -- and his career as an accomplished scientist -- as a woman. Only nine years ago did he complete the process of changing into a man; only recently, he says, did he begin to realize how bias holds women back.
``I definitely think experiences I've lived as a woman and now as a man have led me to feel very strongly about this,'' said Barres, 51, who has gotten calls from journalists across the United States and Europe and been asked to write a book since his commentary was published in the journal Nature.
And now that he's got the floor, Barres is ready to move the gender debate beyond words.
One idea: to give female scientists with young children $25,000 stipends for child care. Barres is talking about starting a foundation to do just that and wants to name it after Denice Denton, the former University of California-Santa Cruz chancellor, scientist and champion of women's rights who apparently committed suicide last month.
``She was one of these women who was a hero,'' Barres said, ``a pioneer for opening doors for women in science and engineering.''
Barres said he also wants to direct attention to bias in prestigious grant competitions and job searches, saying that women often have to go above and beyond to compete and too often are shut out.
Debate at Harvard
Barres wrote the article in response to the debate then-Harvard President Lawrence Summers ignited last year when he said that difference in ``intrinsic aptitude'' among men and women might explain why fewer women excel in scientific careers.
Barres grew up in West Orange, N.J., the daughter of a salesman and a homemaker. ``From the time I was 5 or 6 -- I don't know how I even knew what a scientist was -- I was playing with science toys and kits and got this idea that being a scientist was fun,'' he said.
He excelled at mathematics and attended the Massachusetts Institute of Technology. From there he went to medical school and received a doctorate at Harvard.
Although Barres said he never had a strong sense of being discriminated against as a woman, he recalls an experience at MIT in which he solved a complicated math problem but was told by a professor that ``my boyfriend must have solved it for me,'' he wrote in Nature.
And he still bristles at losing a fellowship at Harvard to a man who had published less work and later dropped out of science.
``Women and minorities are being indoctrinated from a very young age that they are less good,'' Barres said.
But those slights are not the reason he made the transition from female to male, he said: ``I changed sex because of a very deep sense of gender dissonance I had as a small child, and the second I realized I was transgender and could change sex, I did it instantly.''
That was nine years ago. Barres had already achieved tenure at Stanford and therefore said he has nothing to gain or lose by speaking out about the bias he still sees.
In his commentary, Barres cites several studies showing little difference in mathematical ability between the sexes.
Yet women comprise only about 26 percent of the country's employed science and engineering doctorate holders, according to a 2001 survey by the National Science Foundation.
In four-year colleges and universities, the foundation found that men were more likely than women to hold high-ranking faculty positions. Women are also more likely to be assistant professors than full professors.
``We can teach young scientists how to survive in a prejudiced world,'' Barres wrote in Nature, adding that he and other senior scientists are in a position to do that.
Beth Stevens, a post-doctoral student in Barres' lab at Stanford, said he has taught her how to prepare for a career in academia and stay one step ahead in a highly competitive field.
When she looks for a permanent job over the next year, the 36-year-old who wants to one day be a mom said she will take note of the number of women who are already on the faculty.
If there are only one or two, she said. ``I think it would be a little bit discouraging. That would be a red flag for me.''
Barres said he believes that work-life balance is a major factor holding women back.
``A day in the life of a young female assistant professor with children here would kill the average man,'' he said.
He points to Jennifer Raymond, an assistant professor of neurobiology at Stanford. She's the only woman in her department, mother of a 2-year-old daughter and expecting her second child. Between running her lab, writing grants and juggling family, Raymond said, she is pushed to the limit and starting to notice the difference between herself and her male colleagues. She said even men with children don't bear the same child care responsibilities she does.
Still, falling behind is not an option.
`I'd rather play'
``If the choice is to play on a playing field that's not level or don't play, I'd rather play,'' said Raymond, 40. ``Having children really makes a big difference. Then it's playing on an uneven playing field with one hand tied behind my back.''
That there are such serious barriers for women scientists should not come as a shock, said Nancy Hopkins, a biology professor at the Massachusetts Institute of Technology, who has spent the past decade studying gender bias in science.
One challenge she sees is getting women to acknowledge that bias exists.
``It took me 20 years to realize the things that were making my life really hard were discrimination,'' she said.
When people hold the view that women are innately less able than men ``it undervalues your work,'' she said.
Barres, she said, is in a unique position to affect change.
``This problem stagnates, lurches forward, stagnates. But I think he's going to have big impact. He's a real pioneer,'' Hopkins said. ``Until we can get men to join with women on this issue, we can't win. There aren't enough of us.''
--------------------------------------------------------------------------------
Mercury News Staff Writer Kendra Marr contributed to this report. Contact Yomi S. Wronge at ywronge@mercurynews.com or (408) 920-5744.
Neuroscientist, once a woman, says he saw gender bias firsthand
▲
by

alfayoko2005

| 2006-07-16 21:33 | トランス
'Comfort women' issue far from closed
By CESAR CHELALA
Special to The Japan Times
NEW YORK -- V-Day, a global movement to stop violence against women and girls, is putting the "comfort women's" crusade for reparations in its spotlight for 2006. As part of the activities, in the summer of 2006 the Global Campaign will include celebrity benefit performances of "The Vagina Monologues" in Seoul and Tokyo, with the voices of comfort women in a monologue written by playwright and V-Day founder Eve Ensler. The organization's goal is to draw international attention and support to what many consider one of the most serious crimes against women in the 20th century.
Japan's continuing refusal to reach an agreement with the former "comfort women" has been sharply criticized by Amnesty International. In a report issued at the end of 2005 titled "Still Waiting After 60 Years: Justice for Survivors of Japan's Military Sexual Slavery System," this organization calls on the Japanese government to accept full responsibility for crimes committed against women condemned to sexual slavery by their Japanese recruiters. These so-called comfort women were recruited from several countries, mainly Korea, during World War II, and forced to serve as sexual slaves for the Japanese soldiers.
Among the estimated 100,000 to 200,000 women recruited from different countries, 80 to 90 percent were from Korea. Girls as young as 11 were forced to serve between 5 and 40 soldiers a day, and almost 100 soldiers on weekends. Those who resisted were often beaten, burned or wounded. During the Japanese retreat many were left to starve or were executed to eliminate any trace of the atrocities they were subjected to by the Japanese military.
For many years after the end of World War II, the government of Japan had insisted that the "comfort stations" were in fact private brothels that had been administered by private citizens. Only in 1993 did the government admit that the Japanese military had been "directly or indirectly" involved in establishment and operation of "comfort stations" and in transportation of the women. The Japanese government also said that private citizens, at the request of the military, had been mainly involved in recruitment of the women.
The first Korean former comfort woman to tell her story was Bae Bong Ki, in 1980. After her, Kim Hak Soon, who died in 1997, related in 1991 how she was abducted by Japanese soldiers when she was 17 years old, and forced to carry ammunition by day and serve as a prostitute by night. Her testimony sparked several other testimonies by women who were obliged to work as sexual slaves in military comfort stations. Evidence of such stations has already been found in the Koreas, China, Malaysia, the Philippines, Singapore, Indonesia, Thailand, Myanmar, New Guinea and Okinawa.
Illustrative of the ordeal comfort women went through is the testimony of Chung Seo Woon in the book titled "Making More Waves" (Beacon Press, Boston, 1997). Chung was an only child born in Korea to the family of a wealthy landowner. Because of his activities against colonial rule, her father was sent to prison and badly tortured. When she was 16 she was allowed to visit her father. The same Japanese official who allowed her to see her father came later to her house. He told her that if she went to work in Japan for two years her father would be released. Despite strong objections from her mother, she agreed to do so.
Chung was placed on a ship with many other girls and women. She was hopeful that at the end of the two years her father would be released from prison, as she had been told by the officer. After being taken to Japan, the women were sent to several other countries and a group of them left in each country. After reaching Jakarta, the group that included the young Chung was taken to a hospital where she was sterilized.
The group was then taken to Semarang, a costal city in Indonesia, and placed on a row of barracks. From then on they were obliged to perform sexual intercourse every day with dozens of soldiers and officers. In the process, she was forced to become an opium addict. Chung attempted to commit suicide, by swallowing malaria pills.
Two of her friends reported her to the authorities, she was revived, and, she remarks, "It was then that I made up my mind to survive and tell my story, what Japan did to us." When the war ended and she returned home, she found her house deserted. From neighbors who came to help her she learned that her father had died while in prison. Her mother, humiliated by the Japanese soldiers' attempt to rape her, committed suicide.
Chung decided rid herself of the opium addiction. She managed this after eight months and she worked hard to regain her dignity as a human being. She was never able to attain a normal sex life, but found companionship and care from a physician who had had a nervous breakdown after serving in the Japanese Army.
In November of 1994, an International Commission of Jurists stated that, "It is indisputable that these women were forced, deceived, coerced and abducted to provide sexual services to the Japanese military . . . [Japan] violated customary norms of international law concerning war crimes, crimes against humanity, slavery and the trafficking in women and children . . . Japan should take full responsibility now, and make suitable restitution to the victims and their families."
Still unresolved is a formal, clear and unambiguous apology to the victims of sexual abuse by Japanese soldiers, an adequate monetary compensation to the victims by the Japanese government, and the punishment of those involved.
In 1995, the Japanese government introduced the Asian Women's Fund as a response to strong international criticism. However, the fund is widely perceived by the survivors as a way for the Japanese government not to fulfill its legal responsibilities toward those women. As Purna Sen, director of Amnesty International's Asia-Pacific Program has stated, "The Japanese government must finally right the wrongs of over 60 years by providing full reparations to the survivors of this horrific system of sexual slavery."
There is an important symbolic meaning related to the issue of monetary compensation. During her testimony at the Fourth World Conference on Women held in Beijing in 1995, Chung declared, "I might be poor, but not that poor. I demand the compensation that is rightly due to me, even if I would burn the money after it is in my hand. It is not a matter of money but of principle. The Japanese have defiled my body but not my spirit. My spirit is strong, rich, and proud."
Dr. Cesar Chelala is a winner of an Overseas Press Club of America award for an article on human rights.
The Japan Times: Saturday, July 15, 2006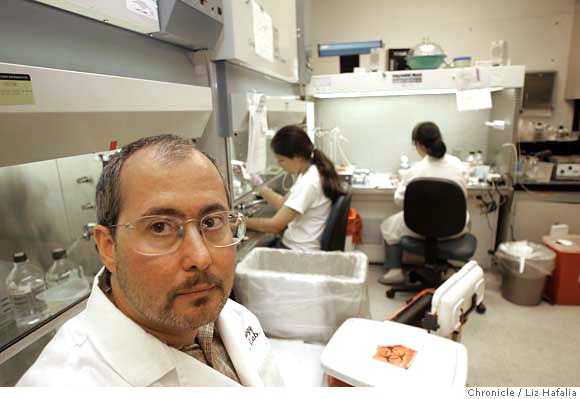 Ben A. Barres, a neurobiologist, has written about barriers women face in the sciences from a unique perspective. Chronicle photo by Liz Hafalia

STANFORD
Transsexual tackles sexism in sciences
- Keay Davidson, Chronicle Science Writer
Thursday, July 13, 2006
The debate over men's and women's roles in scientific research is drawing insights from an unusually well-qualified source, a Stanford scientist who has lived on both sides of the gender fence -- Ben A. Barres, a female-to-male transsexual.
In January 2005, then-Harvard President Lawrence Summers caused a brouhaha when he publicly suggested that women are naturally, perhaps genetically, less inclined than men to seek scientific careers. The furor climaxed with his resignation in February.
In an essay published in today's issue of the journal Nature, Barres charges that Summers' suggestion is sexist nonsense that exposes public and academic insensitivity to the severity of discrimination against female science students and scientists.
Barres, a neurobiologist at Stanford Medical School, knows what it's like to be a female scientist and a male one: He is a former female named Barbara who underwent a sex change nine years ago.
Since he became male, "people who don't know I am transgendered treat me with much more respect. I can even complete a whole sentence without being interrupted by a man," Barres writes in his Nature article.
Now 51, Barres grew up in New Jersey, where "I'd dress up like a football player for Halloween." The daughter of a salesman and a housewife, Barres recalls her mother gently smacking her legs to encourage her to sit more like a girl -- demurely, with her legs snugly together -- than like a boy with his legs and arms sprawling all over the chair.
As a girl, Barres sensed she was somehow different from other people. In retrospect, he said in an interview, he is amazed that he didn't realize he had something in common with the many highly publicized transsexuals of the 1960s through the 1980s, such as male-to-female transsexual tennis player Renee Richards and Caroline Cossey, a fashion model and James Bond girl.
"I thought these people were freaks," Barres admitted thinking at the time.
A decade ago, Barres developed breast cancer and had a double mastectomy. When a surgeon advised her she could undergo surgery to regain breast tissue, she fired back, "No way!"
"I was so delighted to have my breasts cut off," he recalled as he lounged in an easy chair in his Stanford office Tuesday.
For decades, the most highly publicized transsexuals have been males to females. They include such notables as former top computer scientist Lynn Conway of Xerox Palo Alto Research Center, who is now a professor of electrical engineering and computer science at the University of Michigan, Stanford biology professor and author Joan Roughgarden, and University of Illinois economist Deirdre McCloskey.
The big turning point for Barres came in 1997, when she "got really excited" while reading in The Chronicle about James Green, an Oakland native and female-to-male transsexual. Inspired, Barres consulted with a local specialist on sex reassignment, who began treating her with testosterone to masculinize her body.
She became he: With dark body hair and some thinning on top, Barres would be indistinguishable from most any middle-aged man except for one notable difference: He looks more like 31 than 51.
At Stanford, Barres is a tenured professor of neurobiology who studies cells of the nervous system. He also acts as a mentor to students eager to pursue scientific careers.
So he was flabbergasted by Summers' remarks in early 2005. Barres was even more stunned when some well-known male academics either defended the president's remarks or accused those who criticized him of repressing his free speech.
"Like many women and minorities ... I am suspicious when those who are at an advantage proclaim that a disadvantaged group of people is innately less able," Barres wrote in his four-page essay for Nature.
He said he's haunted by memories of sexist bigotry during his female youth: "As an undergrad at the Massachusetts Institute of Technology," Barres wrote, "I was the only person in a large class of people of nearly all men to solve a hard math problem, only to be told by the professor that my boyfriend must have solved it for me. I was not given any credit."
In his essay, Barres calls for specific efforts to improve science opportunities for female students and academics, including running fair job searches, improving women's chances of winning research grants, and making it easier for women to cover day care costs for their children.
It's also helpful to cultivate male supporters, he said. "It has been 30 years since I was a medical student," Barres recalled, "but I still recall with gratitude the young male student who immediately complained to a professor who had shown a slide of a nude pinup in his anatomy lecture."
Barres also treasures memories of his Harvard doctoral supervisor, David Corey, who encouraged the shy Barres to imitate aggressive male students by approaching distinguished scientific lecturers and asking them questions. Barres said such forthrightness pays off in any career, including science.
"Life, even in science, is a popularity contest," Barres observed.
E-mail Keay Davidson at kdavidson@sfchronicle.com.
Page B - 1
URL: http://sfgate.com/cgi-bin/article.cgi?file=/c/a/2006/07/13/BAGIDJU67A1.DTL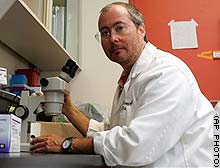 Neurobiologist Ben Barres attributes institutiional bias as the reason for the lack of women in the sciences.
Studies showing sex bias are ignored, says transsexual professor
By Roger Highfield, Science Editor
(Filed: 13/07/2006)
The Telegraph
Women are not advancing in science because of discrimination, says a male professor who has an insight into the debate on whether male brains are better suited to science.
Prof Ben Barres, 51, knows only too well how the male-dominated scientific establishment treats women compared with men.
Nine years ago he was called Barbara. Today, he draws on his own experience as "a female-to-male transgendered person" to write a remarkable commentary in the journal Nature.
Lawrence Summers, a former Harvard University president, caused a furore when he raised the possibility that the dearth of women in the upper levels of science is rooted in biology, whether due to a lack of drive or a fundamental difference in the wiring of their brains.
Marshalling scientific evidence as well as drawing from personal experience, Prof Barres maintains that, contrary to this idea, the lack of women in the upper reaches of research has more to do with bias than aptitude, adding that discrimination is present in Britain as well as the United States.
"I have learned that when it comes to prejudice it doesn't seem to matter so much what the facts are - many men have already decided that women are innately less good at this or that, and data saying otherwise won't always get them to change their minds," says the professor of neurobiology, developmental biology and neurology and neurological sciences at the Stanford University School of Medicine.
Was he driven to change sex to succeed?
"The answer is no," Prof Barres says. "I had made it all the way through to tenure before changing sex, so there would not have been any career advantage to changing sex at that point.
''Also, as you may know, transsexuals are highly discriminated against, and alas becoming a transsexual is simply an opportunity to face even more discrimination.
''I have been lucky in this regard that my colleagues at Stanford have been absolutely terrific."
Where some scientists see innate differences between men and women, Prof Barres sees discrimination.
As a young woman - Barbara - he was discouraged from setting his sights on the Massachusetts Institute of Technology, where he ended up receiving his bachelor's degree.
Once there, he was told that a boyfriend must have solved a hard mathematical problem that he had answered and that had stumped most men in the class.
After he began living as a man in 1997, Prof Barres overheard another scientist say: "Ben Barres gave a great seminar today, but his work is much better than his sister's work."
From Prof Barres's perspective his science is the same, his interests are the same and he feels the quality of his work is unchanged since his days as a woman.
That he could be treated differently makes Prof Barres angry. What is worse, he says, is that some women do not recognise that they are treated differently because, unlike him, they have never known anything else.
Prof Barres says those who argue in favour of innate differences in scientific ability do so without scientific data to explain why women make up more than half of all graduate students but only 10 per cent of tenured faculty.
Yet scientists of both sexes are ready to attribute the gap to a gender difference.
"They don't care what the data is," Prof Barres says. "That's the meaning of prejudice."
"I am certain that all of the proponents of the Larry Summers hypothesis are well-meaning and fair-minded people," he writes in his Nature commentary.
But he cites data from a range of studies showing bias in science.
For example, when a mixed panel of scientists evaluated grant proposals without names, men and women fared equally well.
However, competing unblinded, a woman applying for a research grant needed to be three times more productive than men to be considered equally competent.
Prof Barres says most scientists want to believe that they are fair, and for that reason overlook data indicating that they probably are not.
Neuroscientist, once a woman, says he saw gender bias firsthand
By Marcella Bombardieri, Boston Globe Staff | July 13, 2006
PALO ALTO, Calif. -- After Stanford neuroscientist Ben A. Barres gave a talk at the Whitehead Institute in Cambridge, Mass., some years back, a colleague is said to have overheard another scientist remarking that ``Ben Barres gave a great seminar today, but then his work is much better than his sister's."
Ben Barres, however, didn't have a sister in academia. The scientist was referring to MIT and Harvard graduate Barbara Barres, who later changed her gender. And became Ben.
In an interview with the Globe, Barres said his understanding of what it's like to be a woman and a man in the sciences proves that women face significant discrimination. But he did not become an active feminist until January 2005, when Harvard president Lawrence H. Summers, who stepped down two weeks ago, suggested that women lack the same ``intrinsic aptitude" for science as men.
Barres has responded with a brash attack on Summers and others in a commentary in today's issue of the scientific journal Nature. Already, two Harvard professors criticized in Barres's article have responded angrily when queried by the Globe, with Harvey C. Mansfield calling Barres ``a political fruitcake," and Steven Pinker saying that Barres has ``reduced science to Oprah." Summers did not respond to requests for comment.
The statements that Summers, Pinker, and Mansfield made about women ``are all wrongful and personal attacks on my character and capabilities, as well as on my colleagues' and students' abilities and self-esteem," Barres wrote in Nature. ``I will certainly not sit around silently and endure them."
With a beard, widow's peak, and middle-aged paunch, Barres, 51, looks and acts convincingly male. Someone who didn't know he was transgendered would probably fail to question his raspy voice, delicate fingers, or skinny but hairy legs. He didn't change gender until he was over 40 and already had tenure, but says he would have done so earlier if he had understood why he felt so uncomfortable in a woman's body.
People in his lab say they never think about Barres being transgendered except when he brings it up. What they notice is a classic science nerd with oversized glasses and boundless enthusiasm for research and for his students. He works around the clock, but finds time to roast gourmet coffee beans that he distributes to people in his lab.
Barres says he always wanted to be a scientist and never felt that being female was an obstacle. It's only in hindsight that Barres sees sexism in a series of slights over the years.
Barbara's high school guidance counselor told her that ``you'll never get in" to the Massachusetts Institute of Technology, even though she had top grades and led the math team. She applied anyway and was accepted, graduating in 1976.
Barres loved MIT, even though the student body was only 5 percent female at the time. But one experience stands out: He vividly recalls toiling all day on a take-home math exam, finding an elegant solution to the hardest problem.
The professor told the class that no one had solved the problem, so Barres went up to him afterward. The professor, Barres says, looked at Barbara with disdain and told her that ``my boyfriend must have solved it for me."
Barres wasn't given credit. He says he doesn't recall the name of the professor.
Barbara Barres noticed she was frequently interrupted while speaking. But now, Barres wries, ``I can even complete a whole sentence without being interrupted by a man."
Barres counts himself lucky for his high-flying scientific career, but also says he was in denial about gender bias until Summers's talk and a couple of other events of last year.
In his speech, Summers said that ``my sense is that the unfortunate truth" is that difference in aptitude and women's greater involvement with family explain the dearth of women at the top of the scientific establishment. He said he guessed that discrimination was a lesser factor.
Summers has apologized many times for the impact of his words, and he spoke later about the large impact of discrimination. But he has not totally repudiated the substance of his original remarks, which Barres finds galling.
Barres said he began to ask male scientists -- friends and colleagues -- what they thought of Summers's remarks. ``I was shocked by how many of them agreed," he said. ``I've had people say to me, `There's a reason these stereotypes exist.' "
Barres acknowledges that ``anecdotes . . . are not data," so in Nature he also highlights a number of studies that point to gender bias.
But Pinker, a psychology professor and author of ``The Blank Slate," said that Barres's review of scientific studies is one-sided and that it is irresponsible of Barres to lean so heavily on his own idiosyncratic experience. Pinker called ``a simple lie" Barres's suggestion that those who write about gender differences are ``suggesting that a whole group of people is innately wired to fail."
Pinker said studies indicate that women are better at some tasks and men are better at others, and that a wider variation in male abilities, at both the low and high end, may make for more top male scientists.
But he said he is not saying that any woman is wired to fail. ``It seems to me he's suggesting scientists should not look at the facts and should just look at what hurts Ben Barres's feelings," Pinker said.
Mansfield complained that Barres vastly oversimplified views on gender differences the Harvard government professor expressed in his recent book, ``Manliness."
Barres said his activism has only begun. He wants to start a foundation to raise money for day-care support for talented young female scientists. He was one of a number of critics who convinced the National Institutes of Health that the review process for a new award was biased against women, according to an NIH official. And Barres is campaigning for changes to avoid bias in a major award given by the Howard Hughes Medical Institute .
Most importantly, he wants to prod women out of their denial, arguing that they could do more to further their own careers if the spoke out more as a group.
Jennifer L. Raymond, the only woman in Barres's department at Stanford, said he has inspired her to reflect more on her past experiences.
``There are not many controlled experiments like [Barres's career] where people have been on both sides," she said. ``Women can internalize things and say `it's me,' but he can show it's not. His efforts have made me think more about sexism than I ever had before."
Bombardieri can be reached at bombardieri@globe.com.
© Copyright 2006 Globe Newspaper Company.
US: Transgender professor Ben Barres defends female scientists
▲
by

alfayoko2005

| 2006-07-13 17:45 | トランス