カテゴリ
以前の記事
検索
最新のトラックバック
その他のジャンル
ファン
記事ランキング
ブログジャンル
画像一覧
Threat Is Seen to Free Speech in Japan
Politician targeted by an arsonist after criticizing the premier calls for an end to the intimidation.
By Bruce Wallace, Los Angeles Times Staff Writer
August 30, 2006

TOKYO —
An outspoken politician whose mother's house was burned to the ground after he criticized Prime Minister Junichiro Koizumi's visits to a controversial war shrine warned Tuesday that increasing intimidation by right-wing extremists was casting a chill over free speech in Japan.
"There is less freedom than before to express one's feelings," said Koichi Kato, a onetime senior member of the governing Liberal Democratic Party, or LDP. Kato has become a target of hard-line nationalists for his criticism of Koizumi's visits to Yasukuni Shrine, which honors the souls of 2.5 million of the country's war dead, including 14 convicted war criminals from Japan's imperial era.
Many politicians, academics and journalists have been cowed into silence by the threat of nationalist violence, suffocating a crucial debate on Japan's relations with China, Kato said.
"I am one of the few [lawmakers] who dares to say things on the record," he said.
Kato, 67, made his comments flanked by bodyguards at a crowded Tokyo news conference on the day police arrested a 65-year-old man for the arson attack two weeks ago. Masahiro Horikome was accused of setting the fire that gutted a building in Kato's hometown of Tsuruoka, which the lawmaker used as both an office and a home for his 97-year-old mother.
Onobu Kato was out for an evening walk when the fire started. She was not hurt.
Horikome was discovered at the scene with stab wounds to his stomach, suggesting he had tried to commit suicide in a ritual disembowelment. He was treated in a hospital and was formally arrested Tuesday once his condition improved.
The arson attack came just hours after Kato appeared on national television accusing Koizumi of "destroying Japan's diplomacy toward Asia" by visiting Yasukuni on Aug. 15, the anniversary of Japan's World War II surrender.
The latest of Koizumi's annual visits was hailed by Japanese nationalists, for whom the date is laden with symbolism, and condemned by both China and South Korea, whose governments say the prime ministerial pilgrimages amount to denials that Japan was the war's aggressor.
Koizumi, whose term ends soon, denies his Yasukuni visits repudiate Japan's guilt and says they have not contributed to what pollsters and observers here see as a rise in nationalism.
"Absolutely not," Koizumi said Monday when asked by reporters whether he was trying to stir Japanese nationalism by going to Yasukuni. "But it is true that there are people who are trying to do so."
Koizumi also condemned the arson attack for the first time. "Using violence to suppress speech is unforgivable," he said. "We must ensure the public understands the importance of respecting freedom of speech."
Koizumi and Kato once shared an ambition to remake the deeply conservative LDP into a more modern party but broke over the prime minister's free-market economic policies and his hard line on relations with China. Party members who call for greater accommodation with Beijing have been ostracized under Koizumi and face continued exile if, as expected, he is succeeded next month by Shinzo Abe, widely regarded as an even stronger nationalist.
Kato and other critics say the whiff of violence in the political atmosphere has curbed dissent on the hard-line approach with China. They point to the closing this month of a purportedly independent journal published by an institute funded by the Ministry of Foreign Affairs after it ran an article critical of Koizumi's foreign policy. The article raised the ire of nationalist media commentators, who called it "anti-Japanese" and ran a campaign that resulted in the journal suspending publication.
Koizumi appeared to applaud that move when he admonished reporters this week to "stop making reports that lead to our country being criticized by other countries, or encourage it [nationalism] in other countries."
Most observers here say the nationalist violence lacks the systemic intimidation that characterized Japanese militarism of the 1930s.
Kato says it has been "sporadic." He suggested that the arson attack was "probably a solitary act" by someone on the fringes of the right-wing movement rather than part of an organized conspiracy.
"There are right-wing organizations that have principles and the right way of responding" to criticism, he said. "The problem is small organizations with a patriotic and nationalist bent that tend to operate on their own.
"We are a society where people can be moved to anger very quickly," he said.
日本では開かれた議論が危機にさらされている - 産経・古森義久による言論弾圧事件 2
Asia Times
Open debate under threat in Japan
By Sheila A Smith and Brad Glosserman
Japan is debating its place in the region and the world. Or so it seems. There is no mistaking the attempt by some Japanese officials and intellectuals - from Prime Minister Junichiro Koizumi on down - to redefine Tokyo's international role. That makes it critical that there be tolerance of free and open discussion of issues.
This process is behind the prime minister's controversial visits to Yasukuni Shrine, the historic deployment of the Self-Defense
Forces to aid coalition forces in Afghanistan and Iraq, and the redefinition of the US-Japan security alliance that has been laid out in various documents, most notably the "2+2 meetings" of the two allies' leading foreign-policy and defense officials.
Japan's new debate on its postwar history (not to mention the more politically sensitive topic of its prewar history) and the broad range of questions about the institutions and the practices that have accompanied that notion of a postwar Japan are, for many, well overdue. But they are also for many - inside and outside Japan - a topic fraught with social tension and contest.
This debate shakes the core understandings of several generations within Japan, and of an international audience that is nervous about where and how its outcome might affect the rest of the world. Japan's debate over its past and its prescriptions for a new foundation for its foreign policy are deeply intertwined. And this discussion will inevitably bare deep social scars and involve heated emotions.
We have great faith in Japanese democracy and believe this debate is for the good of the country. We believe that this discussion will strengthen the foundation of Japanese foreign policy and the US-Japan alliance.
But we are also concerned by recent developments. Last week, the Japan Institute for International Affairs (JIIA), a Foreign Ministry-managed think-tank, suspended publication of a commentary series that focused on Japanese foreign policy.
The suspension followed criticism of its contents by prominent journalist Yoshihisa Komori, who took offense at such comments as "Japan-watchers [in foreign countries] increasingly blame the deterioration in Sino-Japanese relations on Japan, describing Japan's China policies as mindless and provocative, self-righteous and gratuitous. But in the country itself, there is scant awareness that Japan is perceived [by some countries] as being nationalistic, militaristic or hawkish," and "Critics see in Prime Minister Koizumi's stance on Yasukuni a lack of repentance for past imperial aggression in Asia, about which Japan has long been silent."
The Ministry of Foreign Affairs has, since the 1970s, played a key role in providing English-language materials, written by Japanese, that would otherwise be unavailable to an international audience. It publishes Japan Echo, which compiles and translates into English excerpts of articles in leading Japanese journals such as Bungei Shunju, Chuokoron, and Shokun. It also publishes Gaiko Forum, a journal that focuses exclusively on Japan's foreign policy. Thus JIIA's new initiative is part of a long-standing effort to bring the range of Japanese views and insights to a growing and increasingly interested international audience.
Behind this incident are old feuds, intellectual antagonisms that are reflected in labels such as "progressive left" and "conservative right". These markers of the so-called 1955 system (after the year the Liberal Democratic Party, or LDP, was formed) are used today as accusations to denounce individuals rather than to look at the merits of their arguments. At precisely the time when the debate over ideas in Japan is so fluid, this lingering impulse to shut down the opposition must be resisted. Indeed, what was so encouraging about the JIIA commentary series was that it moved away from the "progressive left-conservative right" dichotomy and brought a fresh analytical perspective to the conversation.
All three protagonists in this story have spent much of their careers abroad, and they have been active participants in shaping the debate on Japan's foreign policy.
The president of JIIA, Yukio Sato, Japan's former ambassador to the United Nations, is one of the country's leading diplomats, and a policy intellectual who has published and actively participated in international relations debates in Japan, Europe and the United States. The editor of the commentary series, Masaru Tamamoto, is an internationally respected academic and essayist on Japan's domestic debates over its national identity and its role in the world. The critic, Yoshihisa Komori, is an outspoken senior journalist for the Sankei Shimbun who has served in Washington and Beijing and who has in the past demonstrated sensitivity to international criticism of Japan's new debate over its history. Yet the three have very different takes on Japan's national-identity debate.
This incident has provoked heated debate among Japan watchers and has occasioned provocative statements suggesting that it recalls earlier periods of Japanese history. Inside Japan, however, commentary on websites has taken Komori's criticism to heart. Sato has formally responded to his critic in the Sankei, and suspended publication until he revamps the editorial procedures for the JIIA series.
For now, criticism that JIIA should not be producing material that is perceived as critical of Japan seems to have held the day. But the sensitivities that prompted the suspension of JIIA's online commentary deserve greater attention. Is this an isolated event prompted by long-standing intellectual antagonisms? Is it a difference of opinion over the legitimacy of a government-sponsored research institute hosting a forum for contending perspectives over Japan's foreign policy? Or is this a sign of an increasingly intolerant political climate within Japan?
The suspension of the JIIA commentary is troubling because it provides fodder for those who suggest that unaccountable, behind-the-scenes forces are shaping Japan's current foreign-policy debate. An editorial criticizing a think-tank's commentary would not, in most democratic societies, be cause for shutting down the commentary and a public apology by its director. Rather, it would be cause for more debate backed, one would hope, by reasoned consideration of alternative viewpoints. The timing of this incident is important, however.
At precisely the time when open debate over questions such as Yasukuni Shrine visits, constitutional revision, and Japan's foreign-policy priorities would be most welcome, there seems to be a growing hesitancy in the public discourse. Sensitivities over the public mood in Japan, coupled with the demonstrated behavior of some rather murky and unaccountable self-proclaimed "right wing" forces, are creating limitations for those whose participation in the public-policy debate is vital - Japan's political leaders and foreign-policy practitioners.
More disturbing than the criticism of JIIA are the "incidents" in recent years that imply threats and sanction - even violence - against individuals with public responsibility for articulating Japan's foreign-policy goals. In September 2003, Ministry of Foreign Affairs official Hitoshi Tanaka, then responsible for Japan's negotiations with North Korea, received death threats after Koizumi's visit to Pyongyang failed to bring home all of the Japanese citizens abducted by North Korea. Shintaro Ishihara, Tokyo's controversial governor, told reporters that this death threat was "only natural", suggesting that the threat of violence against a public official was tolerable. Surprisingly, there was no rebuttal to Ishihara from Japan's political leadership.
Last week, the home and office of Koichi Kato were burned by a self-proclaimed "rightist" after criticism by the politician, a longtime advocate of closer Japan-China relations, of the prime minister's visits to Yasukuni. Fortunately, Kato's 90-year-old mother was not home. Yet again, Japan's top government leaders were silent. This silence does not befit a democracy and undermines Tokyo's moral authority. Worse, it feeds the exaggerated claims of critics who fear that the country has not learned lessons from its prewar experience.
Next month, the LDP will hold its presidential election. Koizumi's successor as president of the party and, hence, prime minister of the country will take on the challenge of crafting and leading Japan's future. Leadership carries with it the responsibility of participating in and shaping a public-policy agenda. It will be incumbent upon the new prime minister, and indeed upon all of Japan's political leaders, to draw the line between, on the one hand, vigorous and open debate over the ideas and principles that will shape the future and, on the other, a debate that carries with it the threat of public rebuke - or worse yet, violence. They must stand up for the norms of acceptable behavior in a modern democracy.
Silence in the face of intolerance and intimidation will only erode confidence in Japan's democracy, most importantly within Japan but also beyond its borders. Japan's government leaders must speak out against potential censorship and implicit threats against those who hold divergent viewpoints, and must condemn without reservation politically motivated violence.
Sheila Smith (SmithS@EastWestCenter.org) is a researcher at the East-West Center. Brad Glosserman (bradg@hawaii.rr.com) is executive director at the Pacific Forum CSIS. Opinions expressed are those of the authors.
(Used by permission of
Pacific Forum CSIS
)
日本「思想警察」の台頭~産経新聞・古森義久による言論弾圧事件
♪ 「超右翼」「自民党・靖国利権ご用達」産経新聞や古森義久のペテン振りを明らかにした重要論説。
The Rise of Japan's Thought Police
By Steven Clemons
Sunday, August 27, 2006; B02
The Washington Post
Anywhere else, it might have played out as just another low-stakes battle between policy wonks. But in Japan, a country struggling to find a brand of nationalism that it can embrace, a recent war of words between a flamboyant newspaper editorialist and an editor at a premier foreign-policy think tank was something far more alarming: the latest assault in a campaign of right-wing intimidation of public figures that is squelching free speech and threatening to roll back civil society.
On Aug. 12, Yoshihisa Komori -- a Washington-based editorialist for the ultra-conservative Sankei Shimbun newspaper -- attacked an article by Masaru Tamamoto, the editor of Commentary, an online journal run by the Japan Institute of International Affairs. The article expressed concern about the emergence of Japan's strident new "hawkish nationalism," exemplified by anti-China fear-mongering and official visits to a shrine honoring Japan's war dead. Komori branded the piece "anti-Japanese," and assailed the mainstream author as an "extreme leftist intellectual."
But he didn't stop there. Komori demanded that the institute's president, Yukio Satoh, apologize for using taxpayer money to support a writer who dared to question Prime Minister Junichiro Koizumi's annual visits to the Yasukuni Shrine, in defiance of Chinese protests that it honors war criminals from World War II.
Remarkably, Satoh complied. Within 24 hours, he had shut down Commentary and withdrawn all of the past content on the site -- including his own statement that it should be a place for candid discourse on Japan's foreign-policy and national-identity challenges. Satoh also sent a letter last week to the Sankei editorial board asking for forgiveness and promising a complete overhaul of Commentary's editorial management.
The capitulation was breathtaking. But in the political atmosphere that has overtaken Japan, it's not surprising. Emboldened by the recent rise in nationalism, an increasingly militant group of extreme right-wing activists who yearn for a return to 1930s-style militarism, emperor-worship and "thought control" have begun to move into more mainstream circles -- and to attack those who don't see things their way.
Just last week, one of those extremists burned down the parental home of onetime prime ministerial candidate Koichi Kato, who had criticized Koizumi's decision to visit Yasukuni this year. Several years ago, the home of Fuji Xerox chief executive and Chairman Yotaro "Tony" Kobayashi was targeted by handmade firebombs after he, too, voiced the opinion that Koizumi should stop visiting Yasukuni. The bombs were dismantled, but Kobayashi continued to receive death threats. The pressure had its effect. The large business federation that he helps lead has withdrawn its criticism of Koizumi's hawkishness toward China and his visits to Yasukuni, and Kobayashi now travels with bodyguards.
In 2003, then-Japanese Deputy Foreign Minister Hitoshi Tanaka discovered a time bomb in his home. He was targeted for allegedly being soft on North Korea. Afterward, conservative Tokyo Gov. Shintaro Ishihara contended in a speech that Tanaka "had it coming."
Another instance of free-thinking-meets-intimidation involved Sumiko Iwao, an internationally respected professor emeritus at Keio University. Right-wing activists threatened her last February after she published an article suggesting that much of Japan is ready to endorse female succession in the imperial line; she issued a retraction and is now reportedly lying low.
Such extremism raises disturbing echoes of the past. In May 1932, Japanese Prime Minister Tsuyoshi Inukai was assassinated by a group of right-wing activists who opposed his recognition of Chinese sovereignty over Manchuria and his staunch defense of parliamentary democracy. In the post-World War II era, right-wing fanatics have largely lurked in the shadows, but have occasionally threatened those who veer too close to or speak too openly about sensitive topics concerning Japan's national identity, war responsibility or imperial system.
What's alarming and significant about today's intimidation by the right is that it's working -- and that it has found some mutualism in the media. Sankei's Komori has no direct connection to those guilty of the most recent acts, but he's not unaware that his words frequently animate them -- and that their actions in turn lend fear-fueled power to his pronouncements, helping them silence debate. What's worse, neither Japan's current prime minister nor Shinzo Abe, the man likely to succeed him in next month's elections, has said anything to denounce those trying to stifle the free speech of Japan's leading moderates.
There are many more cases of intimidation. I have spoken to dozens of Japan's top academics, journalists and government civil servants in the past few days; many of them pleaded with me not to disclose this or that incident because they feared violence and harassment from the right. One top political commentator in Japan wrote to me: "I know the right-wingers are monitoring what I write and waiting to give me further trouble. I simply don't want to waste my time nor energy for these people."
Japan needs nationalism. But it needs a healthy nationalism -- not the hawkish, strident variety that is lately forcing many of the country's best lights to dim their views.
steve@thewashingtonnote.com
Steven Clemons is director of the American Strategy Program at the New America Foundation and co-founder of the Japan Policy Research Institute.
エグイ文章を見つけた。
(上記記事の日本語訳など)
Don't Forget Asia: The Return of Thought Control in Japan
By Steve Clemons
How Japan Imagines China and Sees Itself
Masaru Tamamoto
(PDF)
共同参画本撤去 県の迷走強く非難 福井で抗議集会 問題追及の構え (日刊県民福井 2006/08/27)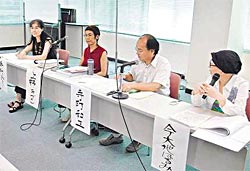 ジェンダー図書排除問題を話し合う上野千鶴子教授(左から2人目)たち=福井市の県民会館で
 ユー・アイふくい(県生活学習館)のジェンダー関連図書約百五十冊を県が一時撤去した問題で、著者で社会学者の上野千鶴子・東京大学教授ら関係者が二十六日、福井市内で抗議集会を開いた。非公開としていた撤去図書名を県が突然公開したことから、会場はさながら主催者側の"勝利集会"の様相を呈した。
 福井市の県民会館で開かれたこの集会には、県内外から百八十人が参加。県を相手取り、撤去図書名の公開を求めて福井地裁に提訴する方針を決めていた原告団が主催した。県が十一日に図書名を公表したことから提訴は見送ったが、原告団メンバーは県男女共同参画審議会を通して一連の問題をさらに追及する構えを見せている。
 集会ではまず、原告団メンバーだった今大地晴美敦賀市議らが一連の経過を報告。引き続き、上野教授は「私たちの勝利だ。不当なのは県と、撤去を求めた男女共同参画推進員だが、今回のことは人ごとではない」とし、全国に広がりつつある男女共同参画への不当な批判や圧力に抵抗するよう呼び掛けた。
 この後行われた上野教授と臨床心理士の信田さよ子氏の対談に引き続き、撤去図書の著者や関係者らによるメッセージが次々と紹介された。この中では、一時的にせよ図書を撤去し、図書名の公開をめぐって迷走した県の一連の対応を強く非難する意見が際立った。
 一方、集会には図書撤去を申し入れた男女共同参画推進員の男性も参加。上野教授の著書の記述の一部を批判し、賛同者がヤジを飛ばして騒然となる場面もあった。
 上野教授は「突然の方針変更に対する市民オンブズマンの質問に県はきっちり答えてほしい。撤去という意思決定を行った県はおかしい。私たちが問題にしているのは行政権力だ」と述べた。 (永井寛郎)
県生活学習館の性差書籍撤去:「社会を後退させないために」上野さんら集会 (毎日・福井版 2006/08/27)
 ◇ジェンダー本撤去
 福井県生活学習館(福井市下六条町)が県民からの指摘でジェンダー(性差)関係の書籍約150冊を一時撤去し、そのリストを非公開にしていた問題で、社会学者の東大教授、上野千鶴子さん=写真左から2人目=らのグループが26日、福井市内で、「ジェンダー図書排除問題を問う」と題した抗議集会を開いた。
 もともと26日に、県を相手取り撤去した本の書名公開を求める訴訟を福井地裁に起こし、その後に「提訴集会」を開く予定だった。今月11日に県が一転して、書名の全面公開を決めたため、集会のテーマを変更した。
 上野さんをはじめ、グループのメンバー4人が一般参加者約100人に、経緯や今後の対応、問題の背景について説明し、意見を述べ合った。
 上野さんは「きょうの集会は私たちの勝利の証し。県は、言論を制限するというナチス・ドイツと同じ過ちを犯した。社会を後退させないためにも、みんなで頑張っていきたい」と話した。同グループは、今後「男女共同参画施策に関する苦情申出書」を県に提出する。【松井聡】
毎日新聞 2006年8月27日
ジェンダー本撤去問題 上野東大教授ら抗議集会 (2006年8月27日 読売新聞福井版)
 県生活学習館が、フェミニズム関係の書籍約150冊を一時撤去した問題で、対象となった本の著者の上野千鶴子・東京大教授らが26日、福井市の県民会館で抗議集会を開き、「対抗勢力に負けず、(男女共同参画の)声を上げていくことが大切だ」と訴えた。
 約180人が参加。今大地晴美・敦賀市議らが一時撤去した書籍名の公表を情報公開制度を使って県に迫り、実現した経緯などを説明。撤去を繰り返さないよう県に求める苦情申出書への署名を呼びかけた。
 上野教授は「福井は本の撤去で目立ったが、(フェミニズムに対する)バックラッシュ(揺り戻し)の動きは根が深い。特に東京都は教育現場が委縮しており、今後どこに広がるか分からない。今日は(書籍名などの全面公開を引き出し)勝利した証しの集会が出来てうれしい」と述べた。
 参加者が意見を述べるリレートークでは、本の撤去を申し入れた県男女共同参画推進員の男性も発言。「理解不能な言葉や写真が使われており、男女共同参画にふさわしいのか」とした。
 これに抗議する側から「バッシングを身近に感じる」「この問題をきっかけに、対抗するネットワークを広げたい」などの声が上がり、同教授も「獲得したものは闘わないと失う。女はおとなしく台所に引っ込んでいろという声から守り抜いて」と話した。
「福井だけの問題でない」 男女共同参画本撤去で抗議集会 (日刊県民福井 2006/08/27)
 「福井単独の問題ではない」「離婚やシングルマザーを危険ととらえる勢力がある」-。県生活学習館の男女共同参画関連の蔵書百五十三冊が撤去された問題について、二十六日に福井市の県民会館で開かれた抗議集会では、全国的に目立つバックラッシュ(揺り戻し)を懸念する発言が相次いだ。
 県内外から約百八十人(主催者発表)が参加。著書が一時撤去の対象となり、問題を「福井発『焚書坑儒(ふんしょこうじゅ)』」として批判している上野千鶴子・東大教授は、「言論人にとっては著書を届けられず口を封じられるのは、生き埋めになったのと同じ」と説明。「福井県は一度入れた本を撤去するという目につくことをやりすぎただけ。全国的に、ジェンダーやジェンダーフリーに対するバックラッシュが広がっている」と述べ、今回の"事件"が、福井県に限定した問題でないことを強調した。
 その上で、「潮目が変わると、一気に取り返しのつかない状況になる。どんなサインも見逃さず、もぐらたたきのように一つ一つつぶしていかなくてはならない」と呼びかけた。
 当初から、この問題にかかわってきた今大地晴美・敦賀市議も「県は、しっかりと説明責任を果たすべきだ。批判がネットワークでつながりここまで来た。一人一人が事件について考え、今、何をするべきかを考える必要がある」と話した。
 一時撤去のきっかけとなったリストを提出した男性も出席。マイクを握り「リストの本は、理解不能で生活学習館に置くことにふさわしくない。本の内容を議論するべきだ」と発言すると、一部から発言に同調する大声のやじが飛び、騒然とする一幕もあった。
 集会は、図書リストの公開を求めて県を相手に提訴する準備を進めていたグループなどが主催。リストを事実上非公開とする決定をした県は、提訴予定日を前に方針を一転、今月十一日に公開した。
 (北村剛史)
[迫る米中間選挙](4)シュワ知事"変節" 時には大統領も批判(連載) (読売 2006/08/26朝刊)
 「最近、妻に『ケネディに似てきた』って言われるんだ。どのケネディ、って聞いたんだけれど……」
 ロサンゼルスで開かれた同性愛者団体の集会。元映画スターでカリフォルニア州知事のアーノルド・シュワルツェネッガー氏がこんな雑談で演説を始めると、約300人のメンバーがどっとわいた。リベラル色が強い聴衆に、妻のマリアさんが民主党のケネディ元大統領一族であることを強調する発言だった。
 今秋の中間選挙に向け、同知事の共和党らしからぬ選挙戦略が際だっている。
 急増する中南米系住民の集会にもたびたび出席し、「私もオーストリア出身の移民」とアピールする。
 カリフォルニア州は民主党の牙城(がじょう)。そして、州上下両院での「民主党支配」を支えているのが中南米系住民らだ。知事の狙いは、「少数派擁護」を掲げる同党の支持基盤を切り崩すことにある。州民の関心が強い環境問題にも力を入れ、ブッシュ大統領の地球温暖化問題に対する姿勢を公然と批判する。
 これに対し、民主党の対立候補で元州財務長官のフィル・アンジェリデス氏は、「選挙のため中道的に振る舞っているだけで、実態は違う」と苦々しげだ。
 確かに、知事は昨年9月、州議会が可決した同性婚を認める法案の承認を拒否。メキシコ国境で不法移民を取り締まる自警団「ミニットマン」を賛美するなど、昨年までは強硬な言動が目についた。
 そんな知事を変えたのが昨年11月に行われた住民投票での挫折だった。州予算の支出額に限度を設けるなど、共和党色の強い行財政改革案はすべて否決された。財政再建は前知事のリコールで2003年に初当選した際の公約だっただけに、「明日からやり直す」と敗北を認めた。
 それからの動きは素早かった。元民主党幹部の女性を選挙キャンペーン責任者に任命し、民主党優勢の議会との対決姿勢も改めた。巨額の州債を発行し、交通、教育などで大幅な支出増を図ることも約束した。
 その後、急落していた支持率は回復。アンジェリデス氏が公約した企業や富裕層への増税策が不評なこともあり、戦いを有利に進めている。当初、「変節」を批判した共和党のレイ・ヘインズ州下院議員も、「大統領批判なんて普通の知事ではできないが、この州では中道的に振る舞わないと当選できない」と理解を示す。
 一方、南カリフォルニア大のジョン・マツサカ教授は、史上最高額の州債発行について、「昨年までの政策と矛盾するので驚いた」と指摘する。地元紙には「どれが本当のアーノルド?」との見出しも躍る。
 ブッシュ政権に逆風が吹く中、選挙向けの超党派路線だけで逃げ切れるか。「タレント候補」脱却をめざす知事の正念場だ。(ロサンゼルス 古沢由紀子、写真も)  
 〈知事の公約〉
 約380億ドルの財政赤字を抱え、前知事がリコールされたのを受け、歳出を大幅に削減し、増税なき財政再建を行うと訴えて当選。就任直後には、自動車税の増税撤回などを実現させた。  
 図=シュワルツェネッガー知事の支持率推移   
 写真=ロサンゼルス近郊で開かれた中南米系住民の集会で笑顔を見せるシュワルツェネッガー知事(右)
Man gets 11 years in transgender death
Fri Aug 25, 9:51 PM ET
AP
A 23-year-old man who pleaded guilty to manslaughter in the killing of a transgender teen was sentenced to 11 years in prison on Friday.
Jaron Nabors, of Newark, Calif., pleaded guilty to voluntary manslaughter early in the case. He admitted to aiding and abetting Gwen Araujo's murder and showed authorities where the teen's body was buried.
"There's nothing that can be done that will take away from the immense pain of the family of the victim, but Jaron did the best he could after he had participated in this horrible event," Nabors' attorney Annie Beles said after the hearing.
Araujo, 17, was beaten, tied up and strangled on Oct. 4, 2002, after men she had sexual encounters with learned she was biologically male, according to authorities.
Araujo was born a boy named Edward but grew up to believe her true identity was female.
Two men were sentenced to 15 years to life in prison after being convicted of second-degree murder in the slaying. A fourth man pleaded no contest to manslaughter and was sentenced to six years in prison.
▲
by

alfayoko2005

| 2006-08-26 21:03 | トランス
処方なしで緊急避妊薬 米医薬品局が18歳以上に  2006/08/25 10:41

 【ワシントン24日共同】
米食品医薬品局(FDA)は24日、18歳以上の女性であれば、性交後に服用して妊娠を防ぐ緊急避妊薬を医師の処方なしで薬局で購入することを認めると発表した。
 望まない妊娠を回避できる可能性が高い一方で、安易に使用することで性感染症の拡大を招くなどとして、米国内で3年にわたって論争が続いていた問題が決着した形だ。
 この緊急避妊薬は、女性ホルモンの一種が主成分で排卵を抑制する効果がある「プランB」。17歳以下については医師の処方が必要なため、薬局では薬剤師が年齢を確認する。
緊急避妊薬を条件付きで販売許可・米FDA 日本経済 2006/08/25
 米食品医薬品局(FDA)は24日、米製薬のバー・ファーマシューティカルズの緊急避妊薬「プランB」を18歳以上に限り一般医薬品として販売することを認めた。性交後72時間以内に服用すれば、妊娠確率を大きく下げることができる。店頭で写真付きの身分証明書を提示すれば買える。
 一部の州を除き医師の処方せんが必要な薬として販売していたが、病院が閉まる週末や休日などに買えないため、バーが認可を求めていた。ブッシュ大統領が「未成年者への処方せんは必要」と注文を付け、結局、17歳以下は従来通り処方せんが必要となった。
 同薬の認可を巡っては薬の安全性の議論だけでなく、早期の承認を求める民主党などの中絶容認派と、慎重な対応を促す反対派の間で論争に発展。FDAの新局長人事の承認が議会で進まない最大の要因になっていた。(ワシントン=藤井一明)
米『緊急避妊薬』承認 処方せんなしで販売へ (東京 2006/08/25)
 【ワシントン=松川貴】米食品医薬品局(FDA)は、「モーニングアフターピル」と呼ばれる緊急避妊薬プランBの処方せんなしでの販売を承認した。製造元のバール医薬品が二十四日、明らかにした。ブッシュ政権の支持基盤である保守派が強く反対していたが、販売対象を十八歳以上に限定し、妥協が成立したとみられる。
 プランBは性交後七十二時間以内に服用すれば、89%の確率で避妊が可能。このため女性団体が、米国内で年間三百万件に及ぶ"望まない妊娠"を回避するために、処方せんなしでの販売を強く働きかけてきた。
 しかし、ブッシュ政権は「容易な性行為」が広がることを懸念する保守派や受精から生命が始まると考える妊娠中絶反対派の意向で、承認を先延ばしにしてきた。
 今回の承認では、十七歳以下に対しては購入に処方せんが必要。また、販売も薬局のカウンターに限定し、購入の際に年齢証明が求められる。
 バール社は二〇〇三年に処方せんなしでの販売をFDAに申請。民主党のヒラリー上院議員らが強く承認を働きかけ、政治対立点となってきた。
Yahoo! News Full Coverage - Birth Control
中学生の妊娠 性教育は勇気を持って (中国新聞 '06/8/21)
 広島市の女子中学生が、この夏出産する。相手も中学生。うわさによって周囲が妊娠に気付いた時には、中絶できる時期を過ぎていた。生まれる赤ちゃんは、女子中学生の親が育てるという。
 望まない妊娠は、本人を傷つけるだけでなく、多くの人を困惑させる。みんなの祝福を受けずに生まれた子のハンディも大きい。きちんとした性教育によって、こうした事態を防ぎたい。
 十代の妊娠を数多く見てきた広島市の産婦人科医師、河野美代子さんは、避妊せずに性交をすれば妊娠につながる―という実感が、女の子にあまりに薄いと感じる。
 男の子から迫られると「嫌われたくない」「断りにくい」とつい体を許す。問題も起こさず成績もいいような子ほど、妊娠したことを誰にも言えず、結果として手遅れになりやすい。
 開業から十年で、中学生は三十五人が妊娠し、五人が産んだ。高校生は三百九十三人で、三十五人が出産した。ほかの病院も含めるとどれほどの数字になるのか。
 望まぬ妊娠で体と心に負担がかかるのは圧倒的に女生徒の方だ。だからこそ女生徒には身を守る判断力を、男生徒には相手を思いやる自制心を育て、仮に合意して性行為に至っても確実な避妊をするよう教えるのが性教育だろう。
 性交まで教えるのはまだ早い、と大人は思っていても、ネットや雑誌などにはいびつな性情報があふれている。その気になればすぐ手が届く危うさ。その前に正しい性知識を勇気を持って伝えるのが、子どもを守る近道と考える。
 こうした考えから独自の教材による性教育を手がける学校も、一時は全国的に広がっていた。ただ残念なのは、コンドームなどを取り上げたことで「過激な性教育」と誤解を受けたこと。二〇〇三年にはバッシングが起こり、各地の教育委員会は神経質になった。
 広島市でも、市教委が学校から報告書を出させて「指導要領からの逸脱」を正したり、前年まで続けていた民間の性教育セミナーの後援を打ち切ったりした。過剰防衛とも見える対応だった。
 そうした流れに教師の多忙も手伝い、今は性教育は切り捨ての傾向だ。「性教育の時間があったころは保健室で生徒がフランクに性の話をしてくれていた。今はそんな雰囲気がなくなった」とある中学校の養護教諭は憂う。
 それでいいのか。あらためて産婦人科の現実を直視したい。
Controversial gay-rights bill OK'd
Measure would ban demeaning actions in public schools.
By Jim Sanders -- Sacramento Bee Capitol Bureau
Published 12:01 am PDT Tuesday, August 22, 2006
California public schools could not demean gay, bisexual or transgender orientation under fiercely controversial legislation approved Monday by the Assembly.
The measure, Senate Bill 1437, has become a lightning rod in a bitter struggle between gay-rights advocates and critics who claim their moral values are under attack.
Assembly Speaker Fabian Núñez, D-Los Angeles, hailed the bill as a way to make schools safer.
"We'll send a message here that California is above it, that each and every person in our schools is going to be treated with the love and respect they deserve," Núñez said.
But Assemblyman Dennis Mountjoy, R-Monrovia, called the measure a dangerous form of "social experimentation."
"This is not about discrimination, it's about acceptance," he said. "You want us in society to accept homosexuality as normality -- and it's not."
SB 1437 would ban teachers, textbooks, instructional materials or school activities from reflecting "adversely" upon people who are gay, lesbian, bisexual or transgender.
Following Monday's Assembly vote, 46-31, the bill will return to the Senate for what is expected to be routine concurrence in amendments before reaching the desk of Gov. Arnold Schwarzenegger.
The measure initially was wider in scope, seeking changes in social science curriculum to recognize the contributions of gay, lesbian, bisexual and transgender individuals.
Sen. Sheila Kuehl, a Santa Monica Democrat who crafted SB 1437, amended the bill after Schwarzenegger indicated that he would veto it.
"I think it's a small step forward, but it's a very important step," Kuehl said.
Margita Thompson, Schwarzenegger's spokeswoman, said the Republican governor has not said whether he will sign the narrowed SB 1437.
But Thompson said the governor continues to have concerns and "will not sign a bill that micromanages textbook selection."
SB 1437 applies to public school teachers, not those on privately funded campuses.
Violations of SB 1437 could be reported to the state Department of Education for possible reprisals.
Current California law provides similar prohibitions against teaching, activities or textbooks that discriminate on the basis of race, sex, color, creed, handicap, national origin or ancestry.
SB 1437 adds sexual orientation to the list of protected classes.
Under Kuehl's bill, public school teachers could not inform their students, for example, that homosexuality is immoral or wrong.
But SB 1437 does not specify what kinds of statements or activities would "reflect adversely" upon gays.
Campaign for Children and Families, a nonprofit advocacy group, claims that SB 1437 would ban textbooks that define marriage as between a man and a woman; or sex education that displays traditional examples of male and female sexual development; or homecoming games that feature only a male king and a female queen as campus representatives.
"If you can't say anything negative (about homosexuality) … that means you have to promote it," said Randy Thomasson, president of the group.
Kuehl, one of a handful of openly gay legislators, called such characterizations ridiculous.
"It's balderdash," she said.
Asked what the bill would ban, Kuehl said it might prevent a teacher from stating inaccurately that AIDS would not exist if not for gays, for example, or prohibit school field trips to any group that's "organized to bash gay people."
"It's really stopping the use of taxpayer money for hate speech and discrimination," said Geoff Kors, executive director of Equality California, the bill's sponsor.
But critics said state law already protects students against discrimination of any kind.
SB 1437 "seems to be a bill in search of a problem that doesn't exist," said Assemblyman Chuck DeVore, R-Irvine.
About the writer:
The Bee's Jim Sanders can be reached at (916) 326-5538 or jsanders@sacbee.com.
Same-sex marriage is surely a civil right
Updated 8/22/2006 4:57 PM ET
By Sheryl McCarthy
USA Today
As the debate rages over whether gays and lesbians should be allowed to marry, I'm disappointed whenever I hear other African-Americans say, "No, they shouldn't."
We're more opposed to same-sex marriage than whites are, according to a June survey by the Pew Research Center for the People and the Press, which found that 65% of African-Americans are against it compared with 53% of whites.
I understand the reasons.
African-Americans are overwhelmingly Christians, and many of us believe that the Bible condemns homosexuality. Beyond that, even suggesting that the struggle of gays and lesbians for the right to marry is similar to our own civil rights struggle is often perceived as an insult.
I've heard the most racially militant blacks argue that the gay struggle is different from our own because we have no choice about being black while gays can choose whom they want to sleep with. This reasoning persists despite growing scientific evidence that people's sexual orientation is innate and that they don't choose it any more than they choose their sex or race.
Some African-Americans also argue that gays and lesbians were never slaves or victims of a system designed to keep them in their place, and that while homosexuals have the option of keeping their sex lives private, few blacks can hide their race.
A comparable struggle
Even some civil rights leaders, such as Jesse Jackson, have tried to put distance between the black and gay struggles. And black ministers, among them the Rev. Bernice King, Martin Luther King Jr.'s daughter, have led protests to fight efforts to legalize same-sex marriage.
The fight for gay rights is like our civil rights struggle, however, and it's hypocritical for groups that have had to fight long and hard to win their own constitutional rights to turn around and try to deny them to the next group. We're seeing this in the descendants of immigrant groups that were despised and vilified during their early days in this country, and that now want to deny recent immigrants the means to become lawful citizens.
This hypocrisy was apparent to me as I was growing up in a black Baptist church. I routinely heard ministers condemn gays from the pulpit, even though half the male choir members, the choir director, the flower arranger and plenty of other male church members were obviously gay. The church would have had difficulty functioning without them.
Because it's difficult enough to be black in this country, I know that black communities would prefer not to have to deal with the added stigma society attaches to homosexuals, and the obvious link to HIV and AIDS. And with stable heterosexual marriages rare enough in black communities, some African-Americans think that encouraging same-sex marriage would only complicate the situation.
Nonetheless, the main argument used against same-sex marriage is that the Bible says it's wrong. We point to the Scriptures, to the story of Adam and Eve (and the absence of Adam and Steve), to the retribution inflicted on the sinners of Sodom and Gomorrah, and to depictions of male-on-male sex in Leviticus and Romans as being so perverse that it warranted death.
I won't attempt to argue with the Scriptures, other than to say they reflect the mores and biases of the times they were written. And just as there are Scriptures ordering slaves to obey their masters, cautioning women to be silent in church and submissive at home, and applauding the persecution of the Jews because they killed Jesus, none of these positions is argued by enlightened people today.
I won't dismiss the beliefs of blacks who believe that homosexuality is immoral, but I'd caution them that morality has often been used as a cloak for old-fashioned bigotry, fear and discomfort with people and behaviors that are different.
But what about religion?
How can African-Americans reconcile religious beliefs with acceptance of same-sex marriage?
I asked the Rev. James Forbes, pastor of The Riverside Church in New York. Forbes is black, and his diverse congregation has gone on record as supporting same-sex marriages — and all other families that are based on the principles of love and justice. Forbes says acceptance might increase as African-Americans become more aware of scientific evidence that suggests sexual orientation is innate — and not a choice.
As for the Bible's apparent disapproval of homosexual behavior, Forbes says it's a matter of how one reads the Bible.
"What is clear," he says, "is that the Bible says the highest principle is love. Once it becomes clear that our sexual orientation is more or less a given, I think black people will begin to recognize that including all in the family of God is a more righteous principle than the abhorrence of gay love."
I see marriage as a civil right, and no group's religious beliefs should be allowed to deny the rights of others. And because blacks have suffered from bigotry and injustice that were cloaked by religion and morality, we should avoid doing the same thing to others.
Sheryl McCarthy is a freelance writer and columnist for Newsday on Long Island, N.Y.She's also a member of USA TODAY's board of contributors.
Posted 8/21/2006 10:29 PM ET
Updated 8/22/2006 4:57 PM ET