カテゴリ
以前の記事
検索
最新のトラックバック
その他のジャンル
ファン
記事ランキング
ブログジャンル
画像一覧

The Japan Times: Friday, Oct. 27, 2006
ON THE 'RIGHT' TRACK
Abe to play hardball with soft education system
By AKEMI NAKAMURA
Staff writer
This is the first of a three-part series examining expected changes in three areas -- education, gender-equality and media -- under Prime Minister Shinzo Abe, who took office a month ago.
When Prime Minister Shinzo Abe took office last month, he promised to make education reform a priority in his plan to create a "beautiful country," overhauling a 1947 law to this end and possibly steering Japan onto a nationalist course.
The new prime minister has vowed to reorganize the public school system to boost students' academic performance and to foster a newly defined sense of "patriotism," something critics also fear may make speaking out by those opposed to this bent a social taboo.
Both his supporters and detractors agree on one point: Abe's planned changes are going to have a huge impact on the nation.
"Even though we may not see the signs immediately, Abe's reform could change the very nature of Japanese society," said Takashi Narushima, a professor on education law at Niigata University.
While many warn that this combination of a more rigorous academic study and pumped-up nationalism is a dangerous mix, there are others who argue that the current education system is responsible for everything from flagging academic and physical skills to eroding morals and even violent crime, not to mention classroom chaos.
It's not just seniors complaining that young people can't write kanji or use the abacus. In the most recent global survey, in 2003, of the academic achievement of 15-year-olds by the Organization of Economic Cooperation and Development, Japanese students dropped out of the top spot for mathematics, held in 2000, to sixth place and fell to 14th from eighth in reading.
Tamae Shintani, head of the Elementary School Parents and Teachers Association Congress in Tokyo, has watched the education system closely for more than a decade and feels politicians haven't paid enough attention to it.
She is excited to see Abe leading the country.
"Japan's education system hasn't been overhauled since the war," said Shintani, a mother of three whose oldest child is in college. "But now we have Abe."
In a Kyodo News national survey conducted in March 2005, 75.1 percent of 1,015 respondents blamed reduced hours in the classroom and easier textbook content -- part of a more relaxed public education system introduced in 2002 -- for the poor academic performance and said this approach should be reassessed.
Part of Abe's plan to fix that problem will be to reinstate rigid academic standards.
The first step is a bill to revise the 1947 Fundamental Law of Education. Discussions on the bill, submitted by the ruling Liberal Democratic Party and coalition partner New Komeito in April, will begin in the Diet next week.
The bill would change the law to require that schools "cultivate a respect for tradition and culture, and love for the nation and homeland that have fostered them."
If the Diet passes the revision bill, other education-related laws and academic guidelines would be revised in line with its principles.
Another result, critics say, would be an increasing nationalistic slant to school history texts, already a key bone of contention because some appear to whitewash Japan's past atrocities.
However, the Abe government position is part of a larger conservative swing in recent years.
Publishers of junior high school history textbooks have softened their descriptions of Japan's wartime aggression in Asia under pressure from various groups on the right.
Not one of the eight history textbooks approved by the education ministry in 2005 mentions the women from occupied nations forced into sexual slavery for the Imperial Japanese Army, known euphemistically as the "comfort women." All seven textbooks authorized in 1996 covered the issue.
To help with the reforms, the prime minister has started a new advisory panel, the Education Rebuilding Council, with 17 members taken from government, business and academia. At their first meeting on Oct. 18, Abe urged the panel to think of new ways to improve not only academic performance, but also moral character, and suggested such things as reading and mandatory "volunteer" work.
Abe has also proposed a system of government vouchers to enable children to attend private schools regardless of their parents' income, which may force public schools to become more competitive to win students from their private rivals.
He also wants to monitor public schools with periodic evaluations by outside bodies.
The government under Abe's predecessor, Junichiro Koizumi, announced in April it will reinstitute nationwide achievement tests for the sixth and ninth grades, starting next April. It has been 40 years since these evaluations have been done.
Niigata University's Narushima said, however, that many of Abe's ideas to improve educational standards will do more harm than good.
Abe's educational reforms will result in students at a very early age being split into those who will be the elite and those who will not, with a widening disparity in the quality of education between the two, he said.
"For the losers in this competition, dissatisfaction will fester," the education professor said. "Society will fall apart. To fix it, the government will push the Hinomaru flag and 'Kimigayo' national anthem to integrate (the losers) into the 'beautiful country,' and compel them to toe the national line."
On the other side of the argument is Hidetsugu Yagi, a professor of law at Takasaki City University of Economics in Gunma Prefecture and a former president of the conservative Japanese Society for History Textbook Reform, which has been at the center of the textbook controversy for its junior high school texts that downplay Japan's wartime aggression.
He reckons tough action is exactly what is needed.
"Kids today have too many holidays," Yagi said. "Summer vacation should be shortened to have students attain minimum academic capabilities."
He said firms also want kids' holidays cut so they will have more time to learn skills needed for the modern economy.
The conservative camp is just as concerned that schools strengthen their students' Japanese identity, something Yagi and others believe will address what they see as society's moral decay.
Abe and many in his Cabinet -- notably special adviser on education Eriko Yamatani and Deputy Chief Cabinet Secretary Hakubun Shimomura -- have all at some point accused public school teachers of having a leftwing agenda, which focuses too much on Japan's misdeeds, such as the country's wartime aggression, and too little on the more positive aspects of the country's history.
On the teachers' side, many are nervous about pushing patriotism in schools, as it conjures up fears of a return to early 20th century imperialism.
However, a Jiji Press survey conducted in May shows that 54.7 percent of some 1,300 respondents said they supported the ruling bloc's bill to revise the Fundamental Law of Education to state that schools should foster in its students a love of their nation.
Since 2003, teachers and students in all Tokyo public schools have been required under a metro government directive to stand and sing the national anthem before the Hinomaru at ceremonies. Teachers who have refused have been punished by pay cuts or suspensions.
Kimiko Nezu, a teacher at Tsurukawa No. 2 Junior High School in western Tokyo who was disciplined for refusing to sing "Kimigayo" at school ceremonies, said she believes directives from above to observe patriotic rituals are suppressing healthy debate in the schools.
"About a decade ago, we teachers used to take up social issues with students in the classroom. But now I see many teachers shy away from political topics," Nezu said. "I don't think teachers can teach children that people should stand up against things that are wrong."
Yagi of the revisionist history text camp hopes to keep the reform momentum going. On Oct. 22, he and scores of other academics launched the Nippon Kyoiku Saisei Kiko (Japan Educational Revival Organization), a think tank dedicated to supporting Abe's reform plans. They plan to hold public meetings nationwide to hear people's suggestions for reform and pass the ideas on to Abe.
"We will drastically change Japan's educational system by proposing alternatives to the dubious educational methodologies of the past and, in so doing, lead the way for our children who will bear responsibility for Japan's future," Yagi said in a statement posted on the organization's Web site.
Regardless of if Abe succeeds as prime minister, Nezu said the conservative educational agenda has built up too much momentum to end anytime soon. "I don't think that this trend will abate after Abe," she said. "It will probably continue for decades."
▲
by

alfayoko2005

| 2006-10-28 14:43 | 国内政治
The New York Times
G.O.P. Moves Fast to Reignite Issue of Gay Marriage
Written by SHERYL GAY STOLBERG
Friday, 27 October 2006
The divisive debate over gay marriage, which played a prominent role in 2004 campaigns but this year largely faded from view, erupted anew on Thursday as President Bush and Republicans across the country tried to use a court ruling in New Jersey to rally dispirited conservatives to the polls.
Wednesday's ruling, in which the New Jersey Supreme Court decided that gay couples are entitled to the same legal rights and financial benefits as heterosexual couples, had immediate ripple effects, especially in Senate races in some of the eight states where voters are considering constitutional amendments to ban gay marriage.
President Bush put a spotlight on the issue while campaigning in Iowa, which does not have a proposal on the ballot. With the Republican House candidate, Jeff Lamberti, by his side, Mr. Bush — who has not been talking about gay marriage in recent weeks — took pains to insert a reference into his stump speech warning that Democrats would raise taxes and make America less safe.
"Yesterday in New Jersey, we had another activist court issue a ruling that raises doubts about the institution of marriage," Mr. Bush said at a luncheon at the Iowa State Fairgrounds that raised $400,000 for Mr. Lamberti.
The president drew applause when he reiterated his long-held stance that marriage was "a union between a man and a woman," adding, "I believe it's a sacred institution that is critical to the health of our society and the well-being of families, and it must be defended."
The ruling in New Jersey left it to the Legislature to decide whether to legalize gay marriage. Even so, the threat that gay marriage could become legal energized conservatives at a time when Republican strategists say that turning out the base could make the difference between winning and losing on Nov. 7. With many independent analysts predicting Republicans will lose the House and possibly the Senate, President Bush's political team is counting on the party's sophisticated voter turnout machinery to hold Democratic advances enough that Republicans can at least maintain control.
"It's a game of margins," said Charles Black, a Republican strategist who consults frequently with Karl Rove, the chief White House political strategist. "You've got about 20 House races and probably half a dozen Senate races that are either dead even or very, very close. So if it motivates voters in one or two to go vote, it could make a difference."
Democrats predicted Thursday that the debate would not dramatically alter the national conversation in an election that has been dominated by the war in Iraq and corruption and scandal in Washington. But across the country, Republicans quickly embraced the New Jersey ruling as a reason for voters to send them to Capitol Hill.
In Virginia, the court decision could not have come at a better time for Senator George Allen, a Republican whose campaign for re-election had been thrown off course by allegations that he had used racially insensitive remarks. The Virginia ballot includes a proposed constitutional amendment to ban gay marriage. Mr. Allen supports it; his Democratic opponent, Jim Webb, argues that the ban is unnecessary.
On Thursday, Mr. Allen could be found in Roanoke at a rally held by backers of a ballot initiative to ban gay marriage. Victoria Cobb, an organizer of the events, said the New Jersey ruling was giving the cause "a new momentum."
"It's an issue that's going to play a big role in the next 12 days," Mr. Allen's campaign manager, Dick Wadhams, said in an interview.
In Tennessee, another state with a proposal to ban gay marriage, Representative Harold E. Ford Jr., a Democrat running for the Senate, was sparring with Republicans over an advertisement in which the Republican National Committee asserts that Mr. Ford supports gay marriage — an assertion Mr. Ford says is wrong. On Thursday, he responded with his own advertisement, calling the Republican ad "despicable, rotten lies."
Mr. Ford says he will vote for the Tennessee gay marriage ban. With early voting under way, the Republican candidate, Bob Corker, is telling voters that he has already cast his ballot in favor of the gay marriage ban.
And in Pennsylvania, where Senator Rick Santorum, the Senate's leading Republican backer of a gay marriage ban, is fighting for his political survival, conservative advocacy groups were working furiously to revive the gay marriage debate. Pennsylvania does not have a ballot initiative.
"It's an important wedge issue to talk about between candidates where there are two distinct viewpoints on the issue," said Joseph Cella, president of Fidelis, a national Catholic advocacy group that has embraced Mr. Santorum for his views on abortion and gay marriage. Mr. Cella said his organization, which was also working to pass a gay marriage ban in Colorado, was contemplating an advertising campaign.
As of January 2006, 45 states had enacted some form of law — from a simple statute to a constitutional amendment — banning same-sex marriage. In addition to Virginia, Tennessee and Colorado, the states that have proposed constitutional amendments on the November ballot include Arizona, Idaho, South Carolina, South Dakota and Wisconsin.
For conservatives, the debate brings back memories of 2004, when they rallied in opposition to a Massachusetts court ruling that same sex couples had a right to marry. The issue proved central in places like South Dakota, where Senator John Thune, a Republican, railed against activist judges in his successful campaign to oust Tom Daschle, then the Senate Democratic leader.
This year, by contrast, conservatives have felt frustrated that the debate over gay marriage and the judiciary is no longer front and center.
"I think they've been a little sedate," Mr. Cella said. But in the wake of the New Jersey ruling, he said, conservatives "are really getting motivated, and this is a shot in the arm to propel that."
Democrats, though, insist they are not concerned.
"It's not going to be close to the issue it was in 2004," said Senator Charles E. Schumer, Democrat of New York. "In 2004 they scared people that the court ruling in Massachusetts would just change America and families dramatically. By 2006, it's clear that hasn't happened, and so the scare tactic, what motivated people to go to the polls, just isn't there."
One place the New Jersey court ruling is not likely to have much of a political impact is, paradoxically, New Jersey, a largely Democratic state that does not have a proposed gay marriage ban on the ballot.
The Republican Senate candidate, State Senator Thomas H. Kean Jr., has been distancing himself from his party throughout the campaign, in which he has focused largely on economic issues, domestic security and alleged ethical improprieties on the part of his Democratic opponent, Senator Robert Menendez. A Kean spokeswoman said Thursday that theme is unlikely to change.
"We're going to stick with the issues that we've been winning on this entire campaign," the spokeswoman, Jill Hazelbaker, said. Gay marriage, she said, "is not an issue that he's not talking about, or that he's trying to avoid. But in terms of our marquee issues that we're winning on, I don't think it rises to an issue that's going to define the campaign."
Clinton Says She's 'Evolved' On Gay Marriage
Special to 365Gay.com by Paul Schindler, Gay City News
October 26, 2006 - 9:00 pm ET

(New York City)
In an appearance early Wednesday evening in front of roughly three-dozen LGBT leaders,
Senator Hillary Rodham Clinton
indicated that she would not oppose efforts by Eliot Spitzer, the odds-on favorite to become the new governor, to enact a same-sex marriage law in New York.
She also suggested that language she used when she first ran for the Senate in 2000 explaining her opposition to marriage equality based on the institution's moral, religious, and traditional foundations had not reflected the "many long conversations" she's had since with "friends" and others, and that her advocacy on LGBT issues "has certainly evolved."
On Wednesday, Clinton presented her position on marriage equality as more one of pragmatism.
"I believe in full equality of benefits, nothing left out," she said. "From my perspective there is a greater likelihood of us getting to that point in civil unions or domestic partnerships and that is my very considered assessment."
Clinton addressed a gathering organized by the Greater Voices Coalition made up of LGBT Democratic organizations citywide. Leaders of those clubs, along with out elected officials, including Democratic district leaders and state committee members, City Council Speaker Christine Quinn, state Senator Tom Duane, and Assemblymembers Deborah Glick and Daniel O'Donnell, were in attendance. The meeting, which was held at the Upper East Side home of a Clinton supporter, ran for more than an hour.
Representatives of the gay press were invited to the meeting, which was on the record.
The session included both warm, enthusiastic praise for New York's junior Democratic senator and sharp questioning about her posture on marriage equality.
Quinn opened the meeting recalling a number of issues-LGBT-related and not-which she had worked with Clinton on in the 10 months since she's been the Council leader. She focused in particular on their efforts to strategize about the Senate Democrats' response to this summer's efforts by Republicans to revive a federal constitutional amendment barring same-sex marriage beaten back in 2004.
"Every single time since I've been elected speaker, I ever time I've picked up the phone to ask Senator Clinton to help the LGBT community, she has said yes," Quinn said. "She's assigned staff, she's taken her own time and political capital to put in on the deal."
Ethan Geto, a long-time gay activist who described himself as an advisor to the senator on LGBT issues, introduced Clinton, addressing what he called "the elephant in the room."
"We're engaged in a dialogue with someone who has the stature, who has the credibility, the viability to be the party's standard bearer in 2008," he said. "I think when you look at Senator Clinton's record, she may not agree with us on every last policy issue, but when you look at the totality of the record, there is no one in this country who may be the president of the United States with whom we have a warmer, a stronger, a closer productive working relationship."
But once the meeting moved from introductions to questions, Clinton faced a considerably more varied reception-and, hands down, the most challenging issue she faced was marriage equality.
Doug Robinson, the co-president of the Out People of Color Political Action Club who with his partner of more than 20 years has raised two sons, spoke about the pressures his family faces in sending both to college without the benefits of marriage's economic advantages. In what began as a strong challenge to Clinton, Robinson said, "We need your support on marriage, we need you to look at that."
Yet, just as Robinson was about to yield the floor for Clinton's response, he offered her a bit of wiggle room.
"Even if you say civil marriage isn't as important as equal benefits, in my mind I don't care what you call it," he concluded. "But I need the same things that everyone does so I can sustain my family."
It was at this point that the senator stated her support for "full equality of benefits, nothing left out," before saying that civil unions offered the more certain route to that goal.
"If you go the next step and say, 'But I want what is called marriage,' you're going to have a problem."
Following up, Allen Roskoff, the president of the Jim Owles Liberal Democratic Club, worked to hold Clinton's feet to the fire. Recalling a conversation he had with her during her first Senate campaign, Roskoff said, "It was right after you said that you were against same-sex marriage on moral, religious, and traditional grounds and I found that incredibly hurtful." He also criticized the senator for volunteering her support for the 1996 Defense of Marriage Act, even if not asked, and for not speaking during the Senate marriage amendment debate in June regardless of the work she did behind the scenes.
Clinton offered Roskoff some consolation regarding her earlier characterizations of marriage's history as an exclusively heterosexual institution, an argument that she made in an interview with this reporter as well during the 2000 campaign.
"Obviously my friends and people who spoke to me-we've had many long conversations and I think-and which I believe-that the way that I have spoken and I have advocated has certainly evolved and I am happy to be educated and to learn as much as I can," she said.
Clinton went on to defend both DOMA and her decision not to speak during the marriage amendment debate this past June, and in fact linked the two. She said that without being able to point to the U.S. law which bars federal recognition of gay marriage and allows states to similarly refuse to acknowledge such unions from other states, many more members of Congress would have voted to amend the Constitution, especially when that effort had its first vote two years ago.
She explained that her choice not to speak on the Senate floor about the amendment this year was strategic.
"Very few Democrats spoke, because maybe you thought one way, which is that you want people out there speaking for us. We thought as-force the Republicans out there, make them look like they're trying to enshrine discrimination in the Constitution. We don't even want to dignify it."
Later in the discussion, Larry Moss, who as a Democratic state committeeman led the charge for the state party's endorsement of marriage equality, raised the issue with specific reference to politics in Albany. Noting that Spitzer, if elected governor, plans to introduce a "program bill" legalizing gay marriage as a sign of his commitment to the issue, Moss asked, "How do we keep your words from being cover for conservative Democrats who want to compromise with Eliot and say, 'Just do civil unions?'"
Clinton's response was probably the evening's most newsworthy moment.
"My position is consistent," she said. "I support states making the decision. I think that Chuck Schumer would say the same thing. And if anyone ever tried to use our words in any way, we'll review that. Because I think that it should be in the political process and people make a decision and if our governor and our Legislature support marriage in New York, I'm not going to be against that... So I feel very comfortable with being able to refute anybody who tries to pit us or pit me against Eliot."
Asked several moments later by Gary Parker, the Greater Voices leader who chaired the meeting, to clarify that point, Clinton reiterated, "I am not going to speak out against, I'm not going to oppose anything that the governor and the Legislature do."
No other issue raised during the gathering garnered the heat that marriage did. Clinton spoke passionately against what she said was the injustice, waste, and stupidity of the military's Don't Ask, Don't Tell policy that has led to 10,000 discharges in the past 13 years, including some involving personnel with specialized skills such as language translation. The senator won praise from several at the meeting for her work in blocking Senate approval of a Ryan White AIDS Care Act reauthorization that would mean the loss of millions in federal dollars to New York each year.
Asked by Melissa Sklarz, a transgendered activist who is a former president of the Gay and Lesbian Independent Democrats, if she would support the inclusion of gender identity and expression protections in the long-stalled federal employment nondiscrimination act, or ENDA, Clinton noted that the federal hate crimes measure also lacks such language, but said only, "We are very aware of that and we are raising that."
Asked about a measure authored by West Side Democratic Congressman Jerrold Nadler that would allow immigrant partners of Americans to gain citizenship just as foreign-born married spouses can, Clinton said movement on that awaits a comprehensive solution to the immigration issue that moves beyond the current Republican emphasis on penalties and border fences. With a Democratic Congress, Clinton said, much more is possible "and I think that will be included in it."
Only at the very end of the meeting did Clinton get around to foreign policy, the Iraq War, and what she called the Bush administration's "abuse of power."
"I think they put Nixon to shame," she said, in what was an indisputable crowd-pleaser.

Chicago Tribune Editorial
Marriage by any other name
October 27, 2006
Three years ago, Massachusetts' highest court usurped the power of the state legislature and declared that gay couples have a right to marriage. Gays in Massachusetts won, but the decision sparked a backlash around the country. In 2004, voters in 11 states approved constitutional amendments to prohibit same-sex marriage. Next month, voters in eight states will consider such amendments.
So New Jersey's Supreme Court may have had one eye on the polls and the other on politics when it narrowly ruled Wednesday that the state legislature had to provide equal treatment for gay couples, but didn't necessarily have to call it marriage.
Semantic hairsplitting? The New Jersey ruling is not nearly as sweeping as the one in Massachusetts. If New Jersey is going to recognize gay marriage, the majority said, "such change must come from the crucible of the Democratic process."
The Massachusetts ruling posed a conundrum for other states--if a gay couple married in Massachusetts moves to Nevada, must Nevada recognize the marriage? The New Jersey ruling poses no such issue for other states.
And the ruling may not require a great leap for the New Jersey legislature, which already has enacted a domestic partnership law that provides to homosexual couples many, but not all, of the rights of married couples.
There is something quirky about the New Jersey ruling. The court gave the legislature 180 days to expand the marriage statute to include same-sex couples or enact a parallel statute conferring the same rights and privileges.
That's not much time. And if the legislature misses the deadline? Well, the court didn't say what would happen then.
A third option--a constitutional amendment banning same-sex marriage--isn't likely to happen in New Jersey, a state whose public policy toward gays has been changing faster than it has been in most of the rest of the country.
This page has supported the idea of civil unions, which confer the rights and protections of marriage without inviting the difficult and emotional debate over whether marriage, which was a religious and social institution long before it was a legal contract, can or should be redefined. Such decisions are best left in the hands of state legislatures--not decided at the federal level and not by judges, who are supposed to interpret laws, not make them.
State statute in New Jersey didn't necessarily help the judges there. State law there broadly and explicitly prohibits discrimination based on sexual orientation. But state law also limits marriage to heterosexual couples.
So the court had to find its way through seemingly conflicting statutes. The court found that the equal protection clause of the state constitution provides broader rights than those now provided by law, but didn't upend the law's definition of marriage.
As legal hairsplitting goes, the decision in New Jersey was pretty deft.
"Plaintiffs' quest does not end here," the majority said. "They must now appeal to their fellow citizens, whose voices are heard through their popularly elected representatives." As it should be.
Copyright © 2006, Chicago Tribune
Our view on same-sex marriage: This time, judges find sensible compromise on gay unions
N.J. court protects rights, leaves 'marriage' up to lawmakers.
Within minutes of the New Jersey Supreme Court's decision Wednesday on same-sex marriage, activists on both sides of the issue went into overheated overdrive.
Opponents of gay marriage blasted "activist" judges for ruling that same-sex couples in the Garden State must be given all the rights and benefits enjoyed by heterosexual married couples, although state legislators would have to decide whether gays can officially wed. The opponents predicted the ruling would give momentum to ballot measures in eight states Nov. 7 that would amend constitutions to ban same-sex marriage.
Gay rights groups in New Jersey, meanwhile, said that because the court refused to authorize same-sex marriage as a constitutional right, its decision amounts to "separate but equal" thinking and leaves gay couples as second-class citizens. They began an ad campaign to urge the state Legislature to authorize gay marriages.
In between the extremes, however, the initial reaction was far more muted than it was three years ago, when the Massachusetts Supreme Judicial Court touched off a furor by legalizing gay marriage there — and that is the best news to come along since.
A closer, calmer look at the New Jersey decision shows that it strikes a reasonable balance that reflects the evolving views of the public. It ends unjustified discrimination against gays and promotes equality under the law. At the same time, it acknowledges that the word "marriage" has deep cultural and religious roots, and therefore is best left to legislatures instead of courts to define.
Now, New Jersey lawmakers must decide whether these relationships are called marriage, civil unions or something else. This distinction is important and provides a sensible "third way" compromise for this increasingly bitter debate.
Americans as a whole have grown more tolerant — thousands of Massachusetts gays have wed, and Western civilization hasn't collapsed — but aren't ready to embrace gay marriage. By overwhelming margins, 19 states have passed constitutional amendments to ban it, and most others have enacted laws against it.
At the same time, the public opposes discrimination. In many states, gay couples aren't entitled to visit each other in the hospital and have been denied property, inheritance and child-custody protections. That's one reason, according to a Pew Research Center poll in July, that 54% of Americans favor civil unions, which convey the same rights under the law that married heterosexual couples take for granted.
Does equality demand the name of marriage? Not necessarily, or perhaps not yet. "Although courts can ensure equal treatment," the New Jersey judges held, "they cannot guarantee social acceptance, which must come through the evolving ethos of a maturing society."
Anything but winner-take-all frustrates those on the barricades of any debate. But a middle ground protects the most basic rights of gay couples without imposing same-sex marriage on a nation that isn't ready for it.
Posted at 12:22 AM/ET, October 27, 2006 in Gay marriage - Forum, USA TODAY editorial
Opposing view: Where's judicial restraint?
By Peter Sprigg
The New Jersey Supreme Court has professed respect for judicial restraint by refusing to change the definition of "marriage." But they have imperiously commanded the state Legislature to either redefine marriage itself, or create a "statutory structure" (such as "civil unions") to grant 100% of the legal rights and benefits of marriage to same-sex couples.
This is not judicial restraint. Courts have no power to command the legislative branch to enact a particular law. That the court has given the Legislature a choice (the frying pan or the fire) in no way mitigates this violation of the separation of powers.
The New Jersey Legislature should therefore simply ignore this command. Indeed, we urge them to go further and follow the lead set by 19 other states, by amending the state constitution to define marriage as the union of a man and a woman (and to make clear that only the Legislature may determine and distribute the "benefits of marriage").
The court based its ruling in part on protections against "discrimination" and limited "domestic partnership" rights already granted to homosexuals by the Legislature. This rationale — that because the state offers limited "rights," it must offer more expansive ones — turns logic on its head. It should, however, serve as a cautionary tale for politicians who think that such measures to appease homosexual activists will forestall the counterfeiting of marriage itself. Instead, they merely accelerate it.
Society gives benefits to marriage because marriage gives benefits to society. Therefore, the burden of proof must rest upon the advocates of homosexual unions to demonstrate that such unions benefit society (not just the individuals involved) in the same way and to the same degree as marriage between a man and a woman. Because homosexual unions never result in natural procreation and never provide children with both a mother and a father, this is a burden they simply cannot meet.
Peter Sprigg is vice president for policy at the Family Research Council and author of Outrage:
How Gay Activists and Liberal Judges Are Trashing Democracy to Redefine Marriage.
Posted at 12:21 AM/ET, October 27, 2006 in Gay marriage - Editorial, USA TODAY editorial
New Jersey Star Ledger Editorial
Still denied equality
Thursday, October 26, 2006
Same-sex couples went from being third-class citizens to second-class in New Jersey two years ago when the state enacted its domestic partnership act, provid ing them most of -- but not all -- the privileges of marriage. The state Supreme Court yesterday timidly upgraded that status to what may be called "second-class-plus."
The high court's action was timid because although justices ruled domestic partners have all the legal privileges of marriage, the majority couldn't bring themselves to grant same-sex unions the moral and emotional legitimacy that the "M" word provides.
The ruling says that al though the state constitution requires that same-sex couples receive fully equal treatment when it comes to health, adoption and other benefits, that same constitution doesn't grant gay couples the legal right to define their union as a "marriage."
Justice Barry Albin, joined by Justices Jaynee LaVecchia, John Wallace Jr. and Roberto Rivera-Soto, finely crafted legal arguments to justify this everything-but-marriage stance. The court said the "claimed right to the name of marriage is surely not the same now that equal rights and benefits must be conferred."
But this ruling still comes up short practically and morally.
The three dissenters -- Chief Justice Deborah Poritz and Justices Virginia Long and James Zazzali -- had a more just and realistic view.
Those three justices properly recognized that what's in a name is important whether the subject is marriage, race, religion, gender or sexual preference. The simple act of being able to say "We're married" bestows an emotional dignity, clarity and security that transcend discussions about legal benefits.
Albin and the majority tried to duck this very important point. They noted that same- sex couples are free to call their unions whatever they wish, including marriages.
That still isn't the same as formal, official recognition of the term and the deep symbolism it encompasses.
The court stepped into this argument because the Legislature failed to act, and the court yesterday left it up to the Legislature to go further. It said the Legislature was the proper forum to decide whether the traditional definition of marriage should be expanded be yond the union of a man and a woman.
Lawmakers should do just that. The Legislature should pass and Gov. Jon Corzine should sign into law a measure changing the legal definition of marriage to include same-sex couples.
Conservatives in other parts of the country undoubtedly will foretell the doom of the nation. Senators and Assembly members needn't worry. The public, in New Jersey at least, is ready to recognize that same-sex couples deserve marriage in name as well as in fact.
Washington Post Editorial
New Jersey's Step Forward
A court's order on same-sex partnerships leaves plenty of room for democratic decisions.
Thursday, October 26, 2006; A24
IN REQUIRING that state law grant the same benefits to same-sex couples that it gives to married ones, the New Jersey Supreme Court has given the Garden State a nudge down a road it was already traveling. For those, like us, who support same-sex marriage, such steps are welcome. There is no good reason why same-sex couples in loving and committed relationships should not be granted affirmative recognition from state governments -- recognition that carries with it the rights and responsibilities of marriage. The New Jersey court unanimously pushed in a direction we would like to see all states ultimately go.
What role judges should play in that process is always a difficult question, and yesterday's decision will no doubt spark controversy. So it is worth emphasizing that the judicial impetus here is actually a gentle one. New Jersey's legal landscape -- both its case law and the statutes passed by its legislature -- was already fairly advanced. The state has a robust set of anti-discrimination protections for gay men and lesbians, and it has a domestic partnership law that confers many of the benefits of marriage on same-sex couples.
What's more, the court specifically declined to require that marriage itself be available to same-sex couples -- provoking a dissent from three justices who would have gone further and simply mandated marriage rights. Instead the judges distinguished between the right to marriage and the rights and benefits flowing from marriage. They argued that it makes no sense "on the one hand, [to give] gays and lesbians full civil rights in their status as individuals, and, on the other, [to give] them an incomplete set of rights when they . . . enter into committed same-sex relationships."
The New Jersey legislature has not -- as was the legislature in Massachusetts after its court acted in 2003 -- been denied the democratic prerogative of deciding state policy on this question. It could, if it chooses, do as little as extend the state's domestic partnership law to confer additional rights on same-sex couples. Or, it could create civil unions or extend marriage rights themselves. Like all actions by state supreme courts, the decision affects nobody outside New Jersey and is ultimately subject to the will of the people of that state, who are free to change their constitution if they dislike their court's view of it -- as many other states have done on this issue. In other words, the court has required only a modest step, one to which the people's representatives will decide how to respond.
Coming, unfortunately, only two weeks before the Nov. 7 elections, this nuanced decision risks getting lost beneath angry rhetoric about activist judges and protecting marriage. That would be unfortunate. No reasonable reading of this decision could argue for, say, changing Virginia's constitution to ban same-sex marriages that are already illegal there or for adding a noxious amendment to the federal Constitution. It argues only for letting the residents of New Jersey digest what their court has said and decide how best to make same-sex couples equal under the law.
米中間選挙:民主が下院で逆転も 12年ぶり「地殻変動」
毎日新聞 2006年10月27日 0時47分 (最終更新時間 10月27日 1時02分)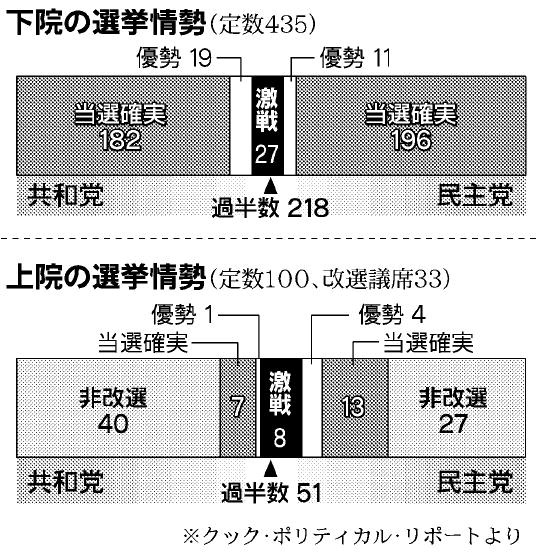 11月7日に投開票される米中間選挙まで2週間を切った。12年ぶりに民主党が下院で多数派になる可能性が高まり、米政界の「地殻変動」を予感させている。最大焦点のイラク政策が行き詰まり、政権基盤の保守派でさえ共和党から距離を置くほどだ。結果次第では、ブッシュ大統領の影響力低下は避けられず、次期大統領選(08年)の動向に影響を与えるのは確実だ。【ワシントン及川正也】
 米メディアや専門家の間には、今回の中間選挙が94年の中間選挙に酷似しているとの見方が強い。同選挙では、与党だった民主党が敗れ、共和党が40年ぶりに上下両院を制した。現職大統領や現職議員への不満が充満する政治状況が共通しているためだ。
 94年はうっ積したムードを破るかのように保守的な政策綱領「米国との契約」を打ち出した共和党が圧勝。民主党は下院で一気に52議席を失った。その投票直前のクリントン政権への支持率は48%だったが、今回、ブッシュ大統領の支持率はさらに低い40%前後だ。
 現在の勢力分野は上院が共和党55、民主党44、民主系無所属1、下院が共和党230、民主党201、民主系無所属1、欠員3(元共和2、元民主1)。民主党が多数派になるには上院で6議席、下院では15議席の上積みが必要になる。
 選挙分析で定評のあるクック・ポリティカル・リポートによると、25日現在、下院は民主党が共和党の4議席奪取をほぼ確実にし、27の共和党選挙区で善戦している。「民主党は30議席以上の奪取を視野に入れた」との地滑り的勝利を予測する報道もある。
 一方、上院は改選議席が全定数の3分の1にとどまるため、今選挙で民主党が与党になるのは難しいとの見方もあるが、ここに来て、「上院も民主党が過半数を占める可能性が高い」(ロサンゼルス・タイムズ紙の調査)との予測も出ており、予断を許さない状況だ。
 ◇イラク政策批判で大統領に危機感
 「(中間選挙は)経済成長を助け、安全を守るのはどちらの党かという審判だ。我々は(上下両院で)勝利するだろう」。ブッシュ大統領は25日、急きょ開いた記者会見で、語気を強めた。
 うかがえたのは、選挙の焦点をイラク問題から、経済とテロ対策に移そうという計算。裏返せば、この会見自体が、イラク政策への批判を受ける大統領の危機感の強さを示したものと言える。
 ブッシュ大統領は、1年から1年半で治安権限をイラク側に移すというイラクの治安回復「目標」を示した行程表について説明した。治安回復のメドがあることを示すことによって、イラク政策への批判をかわす狙いがあった。
 しかし、バグダッドではマリキ・イラク首相がその内容に関し、「米側の主張は中間選挙の影響を受けたものだ」と強い不満を表明。米政権の思い通りに進まない状況を象徴する結果になった。
 イラクでの米兵死者は2800人を突破。10月に入っての死者増大に、共和党有力議員からも不満が噴出した。CNNテレビの調査ではイラク政策への支持は過去最低水準の34%(不支持64%)だ。ニクソン大統領は72年に、泥沼化したベトナム問題をめぐって米軍を縮小する政策を掲げ再選した。ブッシュ政権も兵力削減を目指してイラクの自立を訴えたが、米軍増強を強いられているのが現状だ。
 ピュー・リサーチ・センター調査ではイラク駐留への共和党保守派の支持率が9月の80%から10月は67%に急落した。これにフォーリー前下院議員(共和党)のわいせつ電子メール問題が追い打ちをかけた。米ブルッキングズ研究所のトーマス・マン上級研究員は「共和党の基盤である宗教右派を落胆させ、ブッシュ政権の戦略が頓挫した」と分析する。
 頼みの経済をめぐっても、世論の評価は甘くない。確かに米経済は堅調で、米政権は「減税政策の効果」と胸を張る。10月に入ってダウ平均株価は史上最高値を更新し、ガソリン価格は大幅に下落。共和党には追い風になるはずだった。
 しかし、米メディアの調査では、米経済の評価は「4(良い)対6(悪い)」と厳しい。しかも、経済政策に関する政党別評価では民主党(50%)が共和党(36%)を上回っており、ブッシュ大統領の思惑通りには運んでいない。
 98年、クリントン前大統領の不倫疑惑で苦戦が伝えられた民主党は予想を覆し、政権与党でありながら議席を増やすという中間選挙としては46年ぶりの快挙を成し遂げた。背景には好調な経済があった。しかし、今選挙では、そうした「経済効果」は見えてこない。
 ◇共和党敗北なら、大統領選で民主が政権奪還も
 「手ごわい候補になる。勝ってほしくないが、彼女は勝ち得ると思う」
 チェイニー副大統領は24日、米FOXテレビのインタビューで08年大統領選挙で民主党のヒラリー・クリントン上院議員が勝利する可能性があるとの考えを示し、警戒感をあらわにした。
 中間選挙で共和党が大きく負けた場合、ブッシュ大統領のレイムダック(死に体)化が進み、次期大統領選で民主党が政権奪還する可能性が高まるとの見方が広がっている。「2年後もイラクが焦点なら、共和党が政権を失う」と大統領選に詳しいテキサス大のゲーリー・キース教授も予測する。
 下院だけでも民主党が多数派を占めた場合、専門家の多くが「ブッシュ大統領はイラク戦費予算を通過させるため民主党との妥協を強いられる」と指摘する。民主党はイラク政策の誤りを糾弾する方針を示しており、政府高官らを召喚状で議会に呼び付けて証言させ、政権側を徹底攻撃する可能性が高い。
民主、上院過半数奪還も=主戦場3州でリード-中間選挙・米紙調査

 【ロサンゼルス25日時事】
25日付の米紙ロサンゼルス・タイムズは、11月7日投票の中間選挙に関する世論調査結果を掲載した。上院議員選挙で、「主戦場」とみられるオハイオ、ニュージャージー両州などで民主党候補が共和党候補をリード。民主党が上院過半数を奪還する可能性が出てきたとしている。 
(時事通信) - 10月26日9時1分更新
▲
by

alfayoko2005

| 2006-10-27 08:13 | 米政治
「同性婚」にも同等の権利 米の州最高裁
2006年10月26日12時30分 朝日
 米ニュージャージー州に住む同性カップル7組が、異性間と同様に結婚する権利の確認を求めて起こした訴訟で、州最高裁は25日、法の下の平等を定めた州憲法により、同性同士も異性間の結婚と同等の権利を保障されるとの判決を出した。
 裁判所は判決に基づき、州議会に対し180日以内に法改正をして同性にも結婚を認めるか、「シビル・ユニオン」(市民契約)のような、結婚と同等の制度を設ける法整備をするよう指示した。「結婚」と呼ぶかどうかは憲法上の問題とまでは言えないとした。
 7人の判事が4対3と割れた。最高裁は、同性同士の結婚について、州憲法で保障された基本的な権利とまでは言えないとした。しかし、たとえば遺言がない場合の相続権など、異性間の結婚と同等の権利が同性間にも認められるべきだと判断した。
 米国の州で、同性婚を認めているのはマサチューセッツだけ。このところ、結婚を異性間のものと規定する州憲法の修正が各地で行われている。同性愛の団体などが憲法違反の訴訟を起こし、ジョージア、ニューヨーク州などで相次いで敗訴していた。
同性愛者の同等権利容認 米裁判所、中間選挙に影響
2006年10月26日(木)10:55

 【ニューヨーク25日共同】
米東部ニュージャージー州の最高裁は25日、同性愛者のカップルが同性婚を認めるよう求めた訴訟で、同性のカップルに対する不平等な取り扱いは「州憲法の下で認められない」と指摘、異性間の通常の夫婦と同等の権利を持つとの判断を示した。
同性婚を容認するかどうかは、人工中絶などと並び米国内で主要な政治問題の一つ。保守派は約2週間後に迫った中間選挙で巻き返しを図るとみられ、中間選挙の争点として浮上する可能性が出てきた。
最高裁は一方で、今後全面的な同性婚を認めるか、あるいは権利のほとんどを認めながら「婚姻」とは定義しない「シビル・ユニオン(合同生活)」にとどめるかについて、州議会が6カ月以内に決めるべきだと指摘。同性婚を認めるかどうかの最終判断までは踏み込まなかった。
米ニュージャージー州地裁、同性婚カップルの権利認める
2006.10.26
Web posted at: 13:16 JST
- CNN
米ニュージャージー州トレントン(CNN) 米ニュージャージー州地裁は25日、同州議会が同性婚カップルに対し、結婚に伴う権利や利益を認めるべきだとする判決を下した。中間選挙が迫るなか、同性婚をめぐる論議に拍車がかかるのは必至とみられている。
地裁は同州議会に対し、6カ月内に婚姻関連の州法を改正するか、通常の結婚と同様の保護や利益が得られる市民的結合などの新制度を設けるよう求める内容。判事の投票結果は賛成4、反対3だったが、反対票を投じた判事3人は問題を同州議会に差し戻さず、同性婚カップルに全面的な権利を認めるべきだと主張していた。
米国各地の裁判所では今年、同性婚に不利な判決が相次いだため、原告を含む同性婚賛成派は今回の判決を歓迎。また、同性愛者団体の関係者は、州議会議員3人が同性婚合法化に向けた法案提出を検討していることを明らかにした。
一方、同性婚反対派は判決に反発し、同性婚禁止に向けて米連邦議会に憲法修正をはたらきかける運動を再び活発化させる意向を表明した。
New Jersey court recognizes right to same-sex unions
POSTED: 7:43 p.m. EDT, October 25, 2006
From Rose Arce
CNN

TRENTON, New Jersey (CNN)
-- In a decision likely to stoke the contentious election-year debate over same-sex marriage, the New Jersey Supreme Court has ruled that state lawmakers must provide the rights and benefits of marriage to gay and lesbian couples.
The high court on Wednesday gave legislators six months to either change state marriage laws to include same-sex couples, or come up with another mechanism, such as civil unions, that would provide the same protections and benefits.
The court's vote was 4-to-3. But the ruling was more strongly in favor of same-sex marriage than that split would indicate. The three dissenting justices argued the court should have extended full marriage rights to homosexuals, without kicking the issue back to legislators.
Advocates of same-sex marriage hailed the decision, a respite from many defeats this year in courts nationwide.
"That is wonderful news," said Cindy Meneghin, one of the plaintiffs in the lawsuit by seven same-sex couples that prompted Wednesday's decision. "We can only hope that that means marriage, because that is the only way they can give us full equality." (Watch a couple say why they want to call their 32-year relationship marriage -- 2:01 )
Garden State Equality, a gay rights group, announced that three state legislators plan to introduce a bill to legalize same-sex marriage. In an e-mail to supporters, the chairman of the group, Steven Goldstein, vowed that only "over our dead bodies will we settle for less than 100 percent marriage equality."
Gay marriage opponents promise to fight
Those angered by the ruling predicted it will reinvigorate the fight in Congress for a federal constitutional amendment banning same-sex marriage nationwide.
"They took the future of marriage out of the hands of the people of New Jersey," said Matt Daniels of the Alliance for Marriage, which supports the amendment. "They are holding a gun to the head of the legislature of New Jersey and saying pick between two bullets -- one that allows civil unions and one that allows marriage."
Sen. Sam Brownback a leading social conservative in Congress, said the New Jersey decision "warrants swift, decisive action by Congress in the form of passage of the Marriage Protection Amendment."
"Huge social changes should be decided by the people and their elected representatives and should not be forced by the courts," the Kansas Republican said in a written statement.
The federal amendment, which President Bush supports, has stalled in Congress. It has so far failed to get the necessary two-thirds vote to be submitted to the states for ratification.
Opponents of same-sex marriage contend the New Jersey decision could have a national impact because the state imposes no residency requirements for people seeking marriage. In essence, it could open the door for gay and lesbian couples from other states to marry in New Jersey and challenge laws against same-sex marriage in their own states.
The gay marriage debate intensified in 2004 when Massachusetts became the first and only state to allow gay and lesbian couples to marry. The state does not allow nonresidents to marry there, however.
Precedent in Vermont
The decision mirrors the one made in 1999 by Vermont's highest court, which prompted its legislature to create civil unions for same-sex couples, with the same rights and benefits enjoyed by heterosexuals. (Opinion -- pdf)
The New Jersey high court held that state laws prohibiting gay and lesbian couples from receiving the "financial and social benefits and privileges" of marriage violate the equal protection clause of the New Jersey Constitution and served no "legitimate governmental purpose."
Noting that New Jersey already prohibits discrimination based on sexual orientation, the high court said there was "no rational basis for giving gays and lesbians full civil rights as individuals while, on the other hand, giving them an incomplete set of rights when they enter into committed same-sex relationships."
The justices wrote: "The issue is not about the transformation of the traditional definition of marriage, but about the unequal dispensation of benefits and privileges to one of two similarly situated classes of people."
However, they stopped short of finding that same-sex couples have a fundamental right to marry.
The ruling said the court would not "speculate" on whether legislation creating civil unions identical to marriage would pass constitutional muster "and will not presume that a difference in name is of constitutional magnitude."
The justices also held that the state's domestic partnership law for same-sex couples, passed in 2004, is not an adequate substitute for marriage rights because it provides gay and lesbians with fewer benefits and rights and has more stringent requirements for establishing partnerships than for marrying.
A hot button election topic
The issue of gay marriage has roiled American politics for more than a decade and on November 7 voters in eight states will decide whether to amend their constitutions to ban gay and lesbian couples from marrying.
Same-sex marriage advocates have suffered five high-profile court losses since July, including decisions in the high courts of New York and Washington state upholding state laws prohibiting marriage for gay or lesbian couples.
State supreme courts in Nebraska and Georgia also upheld constitutional amendments outlawing same-sex marriage that had been struck down by lower courts.
And earlier this month, an appellate court in California upheld the constitutionality of state laws against same-sex marriage, a decision now being appealed to the California Supreme Court.
The court said the state's existing Domestic Partnership Act, similar to one adopted in several other states, including California, doesn't go far enough in protecting the rights of gay couples.
Episcopal pastors Mark Harris and Denis Winslow, plaintiffs in the New Jersey suit, now have one dream to fulfill: to join the countless heterosexual couples they've married.
"We see it as a civil right that we're denied," Winslow said. "Even though we pay first-class taxes, we are treated as second-class citizens.
"We don't have that freedom to exercise our relationship in a practical way, dare I say, spiritual way."
New Jersey Star Ledger
APATHY, BUDGET CUTS TO BLAME
AIDS awareness falling by the wayside
By JUN HONGO
Staff writer
The Japan Times: Thursday, Oct. 26, 2006
Chizuko Ikegami believes that spreading the word on HIV/AIDS prevention is similar to teaching children the importance of brushing their teeth; it must be restated again and again to make one understand how imperative it is.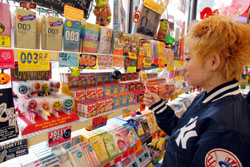 A woman examines a product at a Condomania condom shop in Harajuku in Shibuya Ward, Tokyo, on Tuesday. YOSHIAKI MIURA PHOTO
"Kids must be told repeatedly about how to protect themselves from HIV/AIDS," said the executive director of PLACE Tokyo, a community-based organization supporting people living with HIV/AIDS. "But currently there isn't sufficient education or backup from the government."
According to the Health, Labor and Welfare Ministry, 1,199 new cases of HIV/AIDS were reported in 2005, while the number of people who tested positive for HIV in the quarter between March 27 to July 2 this year reached 248.
Both figures were a record high for Japan, which remains the only industrialized country where the number of people infected with the virus is growing at a steady pace.
In Tokyo, where 417 of last year's new cases were reported, 390 came about through sexual contact.
Seventy-two percent of the people who tested positive for HIV in the city were in their 20s or 30s, while 6 percent were under 20, according to Tokyo's Bureau of Social Welfare and Public Health.
Ikegami said that 10 to 20 new clients contact her office every month to obtain information on living with HIV/AIDS, and in accordance with the national statistics, most are in their 20s to 50s, and 90 percent are males.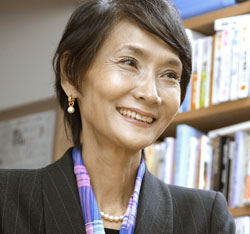 Chizuko Ikegami
"Working here, the growing number of patients with HIV/AIDS is very obvious," she said.
She blamed cuts in government spending on AIDS prevention as a major reason for the crisis.
Experts believe that the conclusion of the Green Cross Corp. scandal, which caused an outbreak of HIV/AIDS through contaminated blood products in the 1980s, resulted in a substantial reduction in AIDS prevention awareness.
Since the suit between patients and the pharmaceutical giant settled out-of-court in 1996, spending by local governments on promoting AIDS awareness has shrunk in Tokyo and many prefectures, including Osaka and Aichi.
Although those infected with HIV require at least 2 million yen a year just for medication, governments have opted not to invest in prevention.
For example, Tokyo, which had a budget of 632 million yen for AIDS awareness and prevention in 1995, only allocated 237 million yen in 2006 -- a massive 62 percent drop in the span of 11 years.
Another reason believed to be the cause for steady HIV/AIDS growth in Japan is the lack of proper sex education in schools, and some fear the situation could get worse under newly elected Prime Minister Shinzo Abe.
The conservative Abe is the head of a Liberal Democratic Party project team promoting a re-evaluation of "gender-free" education. The team claims on its Web site that radical sex education such as the use of dolls in school classes is inappropriate for children.
"I totally disagree that the use of dolls is inappropriate because it's a form of sexual education that is recognized to be efficient. To call that radical is simply unreasonable and lacks grounds," Ikegami argued.
Use of actual condoms in sex education at junior high schools is also now frowned upon, but she warns that no one will be motivated to have protected sex if the trend continues.
"When there was an outbreak of SARS, everyone was instructed to wear masks as prevention. Does it make sense not to use condoms while teaching about HIV/AIDS?" Ikegami said.
Condom makers fear that Japanese have already begun to prefer unprotected sex. Toshiaki Ishii, director of the condom manufacturers' association Nihon Condom Kogyokai, said the number of condoms produced in the country peaked in 1997 at 1.23 billion packs, but output had dropped by almost 50 percent in 2004 to 677 million.
The association analyzed whether birth control pills and the aging population contributed to the sudden drop and found that the plunge has been too sharp to attribute to declines in the sexually active population, and sales of birth control pills here have been small since their approval in 1998.
When surveys conducted by the association in an effort to halt the sales drop revealed that men didn't use condoms because they are "troublesome," "smell bad" and simply aren't "attractive," manufacturers responded by creating condoms with better smell, packaging and taste.
"We even have condoms with special tapes, which probably require 0.1 seconds to put on -- but it didn't boost sales. People are simply not using condoms," Ishii said.
He believes sex education is fundamental in preventing the spread of HIV/AIDS. However, although the association provided schools with condoms for sex education until several years ago, they have halted such programs after receiving complaints from parents claiming the condom makers were "promoting sex among children."
"We gladly help schools and teachers that ask us to provide samples and pamphlets, but other than that, there isn't much we can do in educating the children to use condoms," Ishii said.
Yorimasa Nagai of the Japanese Foundation for AIDS Prevention, a health ministry-approved organization that supports people with HIV/AIDS and works to raise awareness, also suggests that education is essential to preventing the spread of the virus.
But he says there have been schools that said using condoms in class would only promote student sex.
Nagai said that although there are approximately 12,000 people living in Japan who have tested positive for HIV or have AIDS, the disease remains a minor concern for many people because most haven't had contact with actual patients. There is also the perception that AIDS is a problem limited to other countries.
"There is no way that HIV/AIDS prevention can be taught without proper sex education and promoting prevention," Nagai said. "Enlightenment through campaigning is important, but adequate education in schools, communities and workplaces is vital as well."