カテゴリ
以前の記事
検索
最新のトラックバック
その他のジャンル
ファン
記事ランキング
ブログジャンル
画像一覧
一橋大学 中野 聡 研究室からの情報
LGBT・ゲイ権利運動の市民権戦略とアメリカ政治 (01/18)
Author:中野聡
一橋大学大学院社会学研究科教員
http://www.ne.jp/asahi/stnakano/welcome/
Reportage
Au Japon, polémique autour du gibet
LE MONDE | 15.01.07 | 14h39 • Mis à jour le 15.01.07 | 14h39
TOKYO CORRESPONDANT
haque matin, ils comptent les pas dans le couloir. Si les pas sont nombreux, ils comprennent qu'une exécution va avoir lieu. Qui a été désigné ? Les pas s'arrêtent. Un gardien devant chaque cellule. Les condamnés attendent les yeux rivés sur la porte. Puis, l'une d'entre elles est ouverte et tombe la phrase fatidique : "Le temps est venu."
Telle est l'épreuve, racontée par ceux qui ont échappé au gibet, qu'endurent chaque matin la centaine de condamnés à mort japonais. Une cinquantaine ont épuisé tous les recours et vivent dans la hantise des petits matins. Pour certains - une vingtaine -, cela dure depuis une à deux décennies. Pour quatre d'entre eux, cette attente a pris fin le 25 décembre 2006. La pendaison de quatre condamnés, dont Yoshimitsu Akiyama (77 ans) et Yoshio Fujinami (75 ans) - qui attendaient la mort respectivement depuis 1987 et 1993 -, a soulevé l'indignation des abolitionnistes au Japon comme dans le reste du monde.
Noël est certes un jour ordinaire dans l'Archipel mais il est symbolique pour une bonne partie de l'humanité. Il l'était particulièrement pour l'un des condamnés, Yoshio Fujinami, converti au christianisme en prison en 1989... Celui-ci avait en outre perdu l'usage de ses jambes. "C'est un homme incapable de se mouvoir que vous avez exécuté", écrit-il dans une ultime lettre adressée à son frère où il met en cause le ministre de la justice.
"UNE FORME DE TORTURE"
Cette quadruple exécution marque la fin d'un moratoire de fait de quinze mois dans le seul des pays développés, avec les Etats-Unis, à pratiquer la peine capitale. Les autorités se retranchent derrière les sondages où 80 % des Japonais se disent favorables à la peine de mort. Ce sentiment a été renforcé par une série de crimes commis contre des enfants. Mais il est surtout dû à l'impact psychologique de l'attentat au sarin dans le métro de Tokyo en 1995 (12 morts et 4 000 intoxiqués), perpétré par la secte Aum, dont le chef Shoko Asahara a été condamné à mort avec douze autres membres de l'organisation.
Un récent séminaire à la Maison franco-japonaise à Tokyo - "L'expérience de l'Europe face à la question de la peine de mort" - a mis en lumière les difficultés à sensibiliser l'opinion publique japonaise à cette question. Si bien que les abolitionnistes placent leurs espoirs dans une pression accrue de la communauté internationale.
Rares sont les ministres de la justice qui refusent de contresigner la sentence autorisant l'exécution. Ce fut le cas du précédent titulaire du poste, Seiken Sugiura, un avocat opposé à la peine capitale en raison de ses convictions bouddhistes. La dernière exécution remontait à septembre 2005. Son successeur, Jinen Nagase, ne partage pas ces valeurs. Quatre condamnés exécutés le même jour, cela ne s'était pas vu depuis 1997.
Le mouvement abolitionniste japonais comme des organisations internationales de défense des droits de l'homme dénoncent aussi le secret qui entoure les exécutions. La plupart se déroulent entre les sessions parlementaires afin d'éviter des interpellations. A la suite des exécutions de Noël, Mizuho Fukushima, présidente du Parti social-démocrate et avocate, membre du groupe d'une centaine de parlementaires opposés à la peine de mort, a réclamé un débat national sur cette question.
Dans un rapport de 2003, la Fédération internationale des ligues des droits de l'homme (FIDH) a qualifié la peine de mort au Japon de pratique "indigne d'une démocratie moderne". Elle dénonce les conditions de détention des condamnés : isolement absolu, surveillance permanente, crainte quotidienne de l'exécution. Une situation qui constitue "une forme de torture incompatible avec les principes d'une société civilisée et une sanction qu'aucun crime, si grave soit-il, ne saurait justifier".
Sept prisons sur la soixantaine que compte le Japon disposent d'une chambre d'exécution. Elle comporte une mezzanine à laquelle on accède par un petit escalier de treize marches, raconte un ancien gardien. La mezzanine est séparée en deux par un rideau. D'un côté : un petit autel et une statue de bouddha. De l'autre : la corde. Cinq gardiens sont choisis par leur supérieur pour procéder à l'exécution. Le condamné récite un sutra en compagnie d'un moine, puis on lui bande les yeux et on lui lie les mains avant de lui passer la corde au cou. La trappe est commandée par cinq boutons que les gardiens pressent en même temps. L'un des boutons est neutralisé afin que chacun d'entre eux puisse espérer que ce n'est pas lui qui a donné la mort.
Les familles ne sont prévenues que le lendemain de l'exécution. C'est ainsi qu'un jour de 1995, la mère d'un condamné, venue voir son fils à la prison, apprit qu'il avait été exécuté le matin même...
Les lenteurs procédurières conjuguées aux réticences de certains ministres de la justice à envoyer au gibet des condamnés contribuent à un "engorgement" des couloirs de la mort. Il y a une dizaine d'années, le Japon comptait de 50 à 60 condamnés à la peine capitale. Mais le nombre des exécutions ayant diminué, ils sont désormais plus nombreux à attendre. D'autant que le nombre des condamnations, lui, augmente : de 2 à 7 par an jusqu'en 2003, il est passé à 20 en 2006. Selon le quotidien Asahi, le ministère de la justice pourrait vouloir réduire la surpopulation dans les couloirs de la mort. "2007 ne sera pas une année record de non-exécution", a déclaré au journal un haut fonctionnaire alors que l'année écoulée avait été la première depuis quatorze ans au cours de laquelle il n'y avait eu aucune exécution.
Les partisans de la peine de mort font valoir que tant qu'elle est inscrite au code pénal, ne pas l'appliquer reviendrait à affaiblir le système judiciaire. Les abolitionnistes espèrent que le jury, qui sera introduit au Japon en 2009, permettra de réduire les condamnations à la peine capitale. Les parlementaires abolitionnistes proposent, eux, un moratoire de deux ans aux exécutions afin de faire mûrir un projet d'abolition accompagné de la création d'une peine de prison à perpétuité assortie d'une période de sûreté de trente ans.
Philippe Pons
Article paru dans l'édition du 16.01.07
ニッポンの死刑の真実と 『ル・モンド』 -保坂展人のどこどこ日記 2006/01/17
▲
by

alfayoko2005

| 2007-01-17 19:24 | 国内政治
中央日報・日本語版
金正日、小沢征爾に平壌交響楽団の指揮を依頼していた
北朝鮮の金正日(キム・ジョンイル)国防委員長が昨年、日本の世界的な指揮者小沢征爾(ウィーン国立歌劇場音楽監督)を平壌(ピョンヤン)国立交響楽団の指揮者に招こうとしたが霧散していた事実が明らかになった。
日本のある消息筋によると金委員長は昨年5月ごろ持病で日本東京で療養中だった小澤氏に朝鮮総連関係者を送って「あなたの指揮に胸を打たれた。是非平壌国立交響楽団の指揮者に来ていただきたい」というメッセージを伝えた。
これに小澤氏は「2009年までオーストリアウィーン国立歌劇場音楽監督として契約している」と丁寧に断ったが、その後も金委員長は朝鮮総連幹部を通じて「両方で働いてもらっても構わない」と重ねて招へいしたい意を伝えていたというものだ。大部分の音楽監督は特定楽団に専属されずに複数の仕事を引き受けることができる。これに小澤氏が昨年8月ごろ朝鮮総連幹部に「考えてみたが北朝鮮の政治的環境は音楽に集中することができる環境とはいえないようだ」と拒絶の意を表して北朝鮮の『小澤氏招へい』は霧散したという。
小澤氏は生存している全世界指揮者のうち10本の指に入るマエストロ(巨匠)指揮者として評価を受けている。昨年末にはタイムズ紙が「過去60年間のアジアの英雄」の1人に選んだ。
消息筋は「金委員長は昨年初め、小澤氏がオーケストラを指揮する姿が写されたビデオを見て感銘し、当時、北朝鮮を訪問中だった朝鮮総連幹部に特命を下した」と伝えた。小澤氏所属事務所側関係者も中央日報との電話通話で「朝鮮総連関係者を通じて平壌国立交響楽団の指揮者招への提議が来たのは事実」だとし「(ウィーン国立歌劇場との)契約を理由に霧散したということだ」と明らかにした。
消息筋は「金委員長が昨年ミサイル打ち上げ(7月)、核実験(10月)など一連の緊張局面を迎えてもオーケストラ指揮者の物色に出るほどに芸術には入れ込んでいることに驚いた」と明らかにした。これとともに「それにすでに米国の金融制裁で金がないはずだという西側の分析とは違い、巨額を投入して小澤氏を平壌に招こうとしたという点も注目される」と話す。
金委員長の公式伝記によると10歳のころ「祖国の心」を、20代の初めに多くの革命歌劇を作曲するなど音楽に造詣が深いものと知られている。また昨年の年末にはモーツァルト誕生250年を記念する音楽会を平壌牡丹峰(モランボン)劇場で開いている。
東京=金玄基(キム・ヒョンギ)特派員
2007.01.17 11:39:13
Wednesday January 17, 10:58 AM
N. Korea's Kim asked Ozawa to conduct N. Korea's orchestra
(Kyodo) _ North Korean leader Kim Jong Il invited prominent Japanese conductor Seiji Ozawa to conduct North Korea's national orchestra, but the 71-year-old maestro declined the offer, a South Korean newspaper reported Wednesday.
Quoting a source in Japan, the JoongAng Ilbo reported the North Korean leader sent an official from the pro-Pyongyang General Association of Korean Residents in Japan to Ozawa to convey the invitation in May last year.
"I was truly impressed by your conducting. I really want to have you as the conductor of Pyongyang National Symphony Orchestra," Kim was quoted as saying in the message.
Ozawa declined the offer, saying his contract with Vienna Staatsoper will last until 2009, the report said.
Ozawa was receiving medical treatment in Tokyo at that time.
Kim then sent another invitation to Ozawa, saying the Japanese conductor could work in both orchestras.
In around August last year, Ozawa also declined the second offer, saying, "I thought a lot and I don't think I can focus on music in the political environment in North Korea."
The source said Kim issued the directive to invite Ozawa after being impressed by watching his performance by videotape early last year.
▲
by

alfayoko2005

| 2007-01-17 13:27 | Music
salon.com
Geisha grrrls
The author of a new book about gender in Japan sets aside Western stereotypes and talks about how ordinary women are fueling a feminist revolution that's transforming the country.
By Corrie Pikul

Jan. 17, 2007 |
The American media loves Japanese women, especially when they're dressed in kimonos or school uniforms, or covered head to toe in brand names. But according to Veronica Chambers, a journalist, a novelist and the author of
"Kickboxing Geishas: How Modern Japanese Women Are Changing Their Nation,"
those stylish stereotypes distract us from the real story. Chambers claims that there's a major cultural power shift taking place in Japan -- and it's ordinary working women who are shaking things up.
Chambers first sensed the tremors of revolution when she visited Japan on a media fellowship in 2000; her interest piqued, she set out to find enterprising Japanese women who were bucking the corporate system and creating financial and personal success on their own terms. The task turned out to be harder than she expected -- not because the women didn't exist (to the contrary) but because they didn't think their stories were worth sharing with each other -- or with nosy journalists.
Chambers says she started to feel like one of the Western men of the 19th century who were obsessed with the myth of the exotic Japanese female. But instead of following the flash of red lips or the clatter of
geta
sandals down the alleyways of
Gion
, Chambers tracked groundbreaking businesswomen and iconoclastic entrepreneurs to their offices and homes. She spent three years discussing ideas of autonomy and ambition with more than 74 women, including young hipsters like a hip-hop DJ and an extreme snowboarder; barrier breakers like a senior executive at Canon and an openly gay Osaka assemblywoman; and dozens of small-business owners, artists and creative types. Through her interviews, Chambers discovered that feminism is alive and even thriving in Japan -- albeit in a way that might seem a little, well, foreign to American women. And as American women continue to strive for true equality in the workplace, the White House and beyond, she hopes it may be helpful to hear how our counterparts across the globe -- who don't have mandatory maternity laws, who have fewer female representatives in government than most other industrialized nations and who earn half of what men do -- are doing.
Salon spoke to Chambers about "empowered" office ladies, fed-up salarymen, and power-suited female execs who shamelessly play geisha on weekends.
When did you first realize "regular" Japanese women were in the middle of a major cultural shift?
The year I was in Japan for my fellowship was the year of the
yamamba girl
. Those were the girls with the extremely suntanned faces, the platform shoes and the bleached-blond hair. Also, the subways were filled with these signs that said "No Touching," because there was a big problem with girls being groped on the trains. I read in newspapers that part of the reason some of the girls adopted yamamba dress was to make themselves unappealing to Japanese businessmen. I felt like something really interesting was going on. It wasn't exactly "feminism," but I was hearing girls and women talk about wanting things to be different. I was curious about how women in Japan were changing, and I wanted to look beyond the shop-happy girls in Omotesando, the yamamba girls in Roppongi, the street-fashion girls in Harajuku, and find three-dimensional women doing interesting and pioneering things.
How did you go about finding them?
I started going to the newsstand and picking up magazines and newspapers that looked like they had profiles or stories about women. I'd come back to the U.S., pay to get these articles translated, then fax the translations [about] women who seemed interesting to the Japan Society, with requests for them to help me find them. My contacts at the Foreign Press Center in Japan were almost all women. I'd usually bring a translator with me on interviews, and the women from the Foreign Press Center would say to me, "Can I come with you? I've always wanted to meet someone like this."
Now, these are the people who set up press conferences when Hillary Clinton or Sofia Coppola comes to Japan -- they're not easily impressed. But you don't see a lot of People magazine-type stories or Oprah segments in Japan about regular people doing inspiring things. So the women at the center were really excited to interact with these Japanese women, and that made me feel like I was on the right track.
Just about every major Japanese company is filled with "office ladies," who are uniformed secretaries and administrative assistants. Why is it so hard for them to advance up the corporate ladder?
When I'd go to meetings at companies, I'd meet almost all men. There'd be one woman, maybe -- and she'd be pouring tea. Even at the copier giant, Canon, all the women who work at the front desk wear pink blouses, pink skirts, white gloves. It's like Renée Zellweger in that movie
"Down With Love."
When I interviewed Canon's Masako Nara, one of the few women in Japan who is a senior executive at a traditional company, she didn't even acknowledge these women. Here in the U.S. it's understood that you've got to get on the good side of the secretaries and the receptionists, because they tell you everything that's going on. But there it felt like a huge divide between Masako and her female subordinates. Masako later told me that once she got on the corporate track, another woman -- her mentor -- warned her to never pour tea. "Once you do," said the woman, "the men in the office associate you with the women in pink who pour tea; they'll think that's all you can do. You'll never gain back their respect."
If the few women who are making strides in corporate Japan aren't lending a hand to those below them, who is?
It's true that Masako Nara wasn't really feeling the sister-woman thing. She was at a point in her career where she was realizing that she had seven or eight years left to make a mark on the company, and then she was just going to be waiting out retirement. For her, making her mark meant bringing about innovation, it meant becoming powerful -- it didn't necessarily mean bringing in more women. But the fact that she is a woman in a high-level position at a big company like Canon means something, and because she's really good at her job, it will make it easier for the next woman who comes along.
There will always be individuals slipping in the door; the question is, how do you open the door wider so that more women can participate? When Carlos Ghosn, the Brazilian head of Nissan, announced in late 2005 that he was going to double the percentage of women in the company's Japanese sales force from 5 to 10 percent, people said it wasn't a big deal. But at car companies like Honda and Nissan, you have to do all the jobs -- including selling cars -- before you can become a V.P. So Ghosn is actually giving a lot of female Nissan employees an opportunity they didn't have before. But it was telling that it took a foreigner to make that decision.
Is there even a female equivalent for the Japanese word "salaryman"?
No. But then again, who wants to be a traditional salaryman? They work long, grueling hours and have little time to spend with their families.
Here's the classic Japanese situation: A salaryman puts in for his vacation, which he's entitled to. The dedicated thing to do is to show up at work on the first day he's supposed to be out. His supervisor sees him and says, "What are you doing here?! Aren't you supposed to be on vacation?" The salaryman replies, "I was, but I have too much work to do!" Another example: It's rare for salarymen to have a lunch hour or to go out for a big expense-account lunch. They usually take about 15 minutes to slurp noodles at the train station, or they eat quickly at their desks. At lunchtime, restaurants are all full of nicely dressed Japanese women -- no men.
How does the presence of modern women in the office affect the way men behave?
The women tend to take their vacations, and their sick days too. Men see their female co-workers taking advantage of their vacation time, and enjoying long, leisurely lunches, and they think, "Hey, the world didn't fall apart while they were gone. And besides, I'm entitled to this, too!" The men start taking their vacations; they start going out to a real lunch. Their world opens up a little.
The women you talked to didn't seem negative or bitter about their position, though. One woman even said that being an office lady can be empowering. What did she mean by that?
If a Japanese man leaves a company, it's not like here, where you can quit and find a new job at the same level or even higher. It's a huge risk. Even though the financial bubble has burst in Japan and lifetime employment there isn't what it used to be, the fact is that most people still spend their lives at one company. But so few women really have a chance within corporate Japan; they're not on the fast track at a major company, so they can afford to leave and start their own businesses, or to take a couple of years off from work to travel and study different languages.
If Japanese women aren't clawing their way to the top in the traditional sense, what are they doing instead?
There are more women entrepreneurs than men. They're exploring new paths to economic and personal fulfillment -- like Makiko Fujino, who ran for office after years of being a television chef and won a seat in the Diet, and Junko Asazuma, who became an internationally ranked snowboarder after spending years as a "freeter," or part-time worker.
What about working moms? You write that in Japan, maternity leave isn't that common, and neither are nannies or day-care centers. How on earth do Japanese women balance work and family?
You have to really love your job to go back to work after having a kid, and there aren't many women in corporate Japan who love their jobs. So, once they get married and pregnant, most women simply quit. The women who do make it to the upper levels at corporate companies tend not to have kids. For example, Masako Nara was divorced, and didn't have any children. It's not that there's a stigma against working women or mommy executives, it's just that there aren't that many of them. It will be the younger generation that will have to test that out.
What kinds of messages about work, family and home are young Japanese women getting from their mothers?
Out of the 75 women I interviewed, there were five, maybe 10, women whose moms were not housewives. If the family had a business or owned a farm, the mother might work, but for the most part, if you grew up in the '60s, '70s or '80s in Japan, your mom stayed at home. They're now telling their daughters, "I was trapped by the money. If I had the financial means now, if I knew what to do with myself, I'd get a divorce. Don't let yourself get into this situation."
Japanese women are delaying marriage and not having as many kids -- if any -- and it's because they got smart. They hear this stuff from their moms, And they're like, "Once you get married and have kids, you're locked into an 18-year job." If you can delay that, then you can travel, you can learn languages, you can make your own money, do your own thing. So there's actually this worldliness and sophistication that you see in young, single working women.
Compared with Japanese women, it sounds like Japanese men work more, take fewer vacations, have less free time, are less valuable to their global companies and are less sophisticated than their female counterparts.
It becomes hard to say who has the better -- or worse -- deal. There are women, especially young women, who would really like to run a company and have the opportunities that the men have. On other hand, you have men saying, "Company life isn't that great. I'd love to learn a foreign language, travel, have hobbies ..." The sexism is obvious, but at the same time, that sexism has created what one might call a sort of freedom. But it's not truly freedom, because the fact is that women should have a choice. Right now, women don't have a choice to be part of corporate Japan, and so what they've done is made these interesting other choices, like starting their own businesses and creating new roles for themselves within traditional companies.
You compare women's situation in Japan today with that of women in the U.S. circa 1974. What do you mean by that?
Think about what was going on here, with the ERA, with women getting some opportunities in the workplace but also talking more about what else they could do. Think of [TV's] Mary Tyler Moore: She was an associate producer on a news show, but she still answered her male boss's phone. In Japan, women might have a title and an opportunity to get their foot in the door, but they still don't necessarily have the power to do what men have traditionally done.
But in the U.S. in the '70s, those feelings and frustrations led to a major, organized push for women's equality. Is there an organized feminist movement in Japan?
This is a revolution without a movement. With the birthrate dropping, women getting married later and the level of women's entrepreneurship increasing, there's a feeling that things are changing. But I couldn't find the Japanese equivalent of
NOW
or anything like that. There's this one female media figure,
Yoko Tajima
, whom everyone refers to as the Gloria Steinem of Japan, but she doesn't represent an organized movement or agenda. She means a lot to a lot of women, but she's acting individually. Part of that is because Japan doesn't have a sit-in, petition, rally, movement type of culture. That's not the way that things get done there. When I first arrived, I actually thought all of this was going to grow into a movement by the time I left. I thought things were going to change, and I still do, but I'm not sure if it will be organized in a way that I or other American feminists can understand.
Do you think American women can learn from the way Japanese women conceive of work, home and success?
In the U.S., there seems to be a
big divide
separating women who stay at home with their kids and women who work in the office. It feels like you need to take a side. But most of us carry both of those ideas within ourselves: Women who work want nothing but the best for their children, and women who stay home still want to be intellectually engaged and challenged.
I think Japanese women are a little more comfortable taking from the old and new without feeling bad about either. Like American women, the Japanese women I interviewed were trying to construct a life with a meaningful sense of work and with satisfying relationships. But there's more of a "don't throw the baby out with the bathwater" sense in their regard for tradition. Japanese women are trying to create a more modern sensibility, but there is also a connection to the past. I don't think the Japanese feel like they have to be career women or mothers; they don't feel like they have to be feminist or traditional. You can find a woman who works as a vice president at Canon and also really likes playing the shamisen, which is one of the traditional geisha arts, or a snowboarder who spends her off-season doing ikebana, or flower arranging. And that's not an embarrassing admission at all. The old is always with you, and not something to reject in order to create a new definition of yourself.
How did the women you interviewed greet the idea that they are part of a national "revolution," and that the choices they make at work and at home could impact other women's lives?
Japan is a very humble nation. One of the biggest hurdles was convincing women that they -- as individuals -- were important and interesting enough to be featured in the book. I spent a lot of time wooing women, trying to put across how important I thought they were to the project. At the same time, I was assuring them that I wasn't singling them out as "the nail that stands out and should be hammered down," to paraphrase the old Japanese saying.
It sounds like the changes taking place are positive, but they're not as earth-shattering or widespread as American feminists might expect, or want. Why should we feel optimistic for women in Japan?
It's easy to say that they are so far behind us because there's so little room for women in corporate Japan, and that corporate Japan is a chauvinistic system that locks women out. But it's more like corporate Japan is a strict and difficult taskmaster, and both sexes are trying to deal with that. At the same time, we're seeing a lot of highly educated American women, who were on the fast track in the corporate U.S., simply walk away from it all.
Which is all to say, is it possible that 30 or 40 years from now, Japanese women and American women could end up in a remarkably similar place? I think it is. It could be that Japanese women will carve a thoroughly modern existence and paths to opportunity without those early 10 or 20 years that American women spent in big corporations, feeling our way around in our skirt suits and blouses with floppy ties, some of us wanting to fast-track it in the Fortune 500. But many of us -- maybe most of us, like most men -- do not.
-- By Corrie Pikul
'Kickboxing Geishas' by Veronica Chambers
▲
by

alfayoko2005

| 2007-01-17 12:58 | Books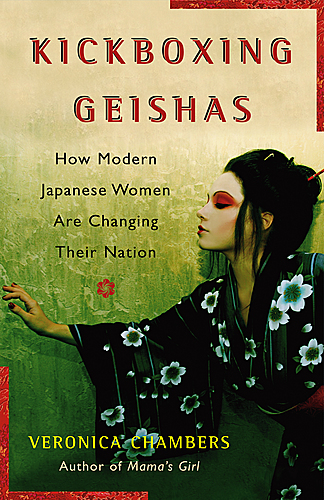 BOOK REVIEW
'Kickboxing Geishas' by Veronica Chambers
How modern Japanese women are slowly changing their country
By Janice P. Nimura
Special to The Los Angeles Times
January 15, 2007
"THE funny thing about my love affair with Japan," Veronica Chambers begins, "is that it was never the country of my dreams." In 2000, craving a posting to Paris, the journalist settled instead for a fellowship in Tokyo. That accident led to her new book, "Kickboxing Geishas," and it raises a question: Did serendipity make her objective or obtuse?
As the cartoonish title indicates, this is not your average analysis of inscrutable Japan. Chambers is black and from Brooklyn, proud of her accomplishments, including having written several books on the experiences of African American women. She is not shy, and her attitude can get in the way of her interview subjects. Most of the time, she sounds like a journalist: "I wanted to learn from Japanese women how they married the traditional with the feminist, how they balanced work with marriage and motherhood."
But Chambers also wants to be a character in her own research: "Sure, I've danced to hip-hop in clubs where Diddy and Mariah Carey hang out in velvet rope VIP areas. But what I love is searching out the beat in unexpected places: Indian bhangra music in London, reggae español in Barcelona, hip-hop in Sapporo."
On her first visit to Japan, Chambers was dazzled by the shiny stereotypes glittering in downtown Tokyo. There were the joshikosei, gangs of teenage girls elaborately costumed like Hello Kitty or Marie Antoinette. There were the uniformed schoolgirls involved in enjo kosai, or "compensated dating," with men three times their age. There were the "parasite singles," young working women living at home and spending their salaries on international travel and Louis Vuitton.
What saves "Kickboxing Geishas" from becoming "The Girlfriends' Guide to Japanese Women" are the voices of the women Chambers meets later and the parallels she teases out between them and their Western peers. She returns repeatedly to the idea, for example, that Japanese women base their ambitions largely on how they perceive their own mothers' happiness.
That's not so different from us. But Japan is several waves of feminism behind, and its current generation of young women was raised almost exclusively by housewives. When Yukiko Oka speaks of her mother, the 31-year-old echoes U.S. women of three or four decades ago: "She's been telling me my whole life that I should have a good career so I can be independent." A licensed tour guide operator, Yukiko was one of the first in her company to take maternity leave — most women quit as soon as they're married. "I have to make my own role model," she says.
Americans love role models, but Chambers is struck by how little that concept applies in Japan. Masako Nara, 45, a senior executive at Canon, made a pact with her female colleagues never to serve tea, the role most women fill in office settings. Satoko Seki, 29, at IBM Japan, hated the mandatory late-night drinking sessions that were part of the job. Her clients now are mostly foreigners who prefer business lunches.
Both women have carved spaces for themselves in Japan's corporate world, but they have kept their struggles and successes private. "My sense, again and again, was that women told me stories they did not share with their colleagues, or even sometimes with their friends," Chambers writes. "It occurs to me that in order for someone to be a role model, they must reveal not only their strengths, but their vulnerabilities."
In the absence of models at home, Chambers argues, many Japanese women look elsewhere. Whether they have traveled as tourists, students or the children of executives on foreign postings, Japanese women return with new ideas about independence, individuality and romance. Japanese is an indirect language; English is at first alarmingly, and then empoweringly, direct. Social expectations are more relaxed abroad, labels less permanent. This, Chambers finds, makes Japanese women intensely critical of Japanese men. Marriage, though increasingly delayed, is still the goal of most women, but they tell her that finding an enlightened husband is tough.
Chambers is an unreconstructed idealist when it comes to gender equality, in odd contrast to her quietly pragmatic subjects, who cobble together personal and professional compromises to create balanced lives. For the most part, she is interviewing her peers, but she can sound considerably younger. She asks, "Shouldn't a woman be able to choose any career and have a family? And why is it just the woman's job to make it work? All I can think is that life just isn't fair. If it was, then I could eat French fries every day and fit into my skinny jeans."
Now in her mid-30s, Chambers is married but has no children. In the context of this book, she is a foreigner twice over: in Japan and in the borderless world of women trying to combine career and children. She may not be the most acute cultural critic, but the stories she has found are a valuable reminder of how far we've come — and how far Japan has yet to go.
*
Janice P. Nimura's reviews have appeared in the New York Times and the Washington Post.
Veronica Chambers' Website
Kickboxing Geishas
How Modern Japanese Women Are Changing Their Nation
By Veronica Chambers

This Edition: Hardcover
Publication Date: 01/2007
Our Price: $25.00
▲
by

alfayoko2005

| 2007-01-16 11:27 | Books
Stonewall Issues Concern over Harold Ford
(Friday, January 12, 2007)

Washington, DC -
Today, the National Stonewall Democrats issued deep concern over the decision to name former Congressman Harold Ford, Jr. as Chair of the Democratic Leadership Council (DLC). Stonewall also urged the DLC and the lesbian, gay, bisexual and transgender (LGBT) community to closely scrutinize the record of Congressman Ford in light of the development. On Thursday, Former Iowa Governor, and presidential candidate, Tom Vilsack announced that he is stepping down of Chair of the DLC while indicating his replacement by Congressman Ford, who possesses a poor record on issues that impact LGBT families.
"Congressman Harold Ford has demonstrated a lack of leadership and judgment on family issues that causes our members great concern," said Joanne Wyrick, NSD Executive Director. "His willingness to lightly amend the U.S. Constitution and to exploit gay families for political gain should alarm Democrats across the country. The Democratic Leadership Council is in need of leadership that supports and affirms all American families."
In 2004, with his eye on his senate race, Harold Ford reversed his past opposition to an amendment to the United States Constitution that would permanently bar the legal responsibilities of domestic partnerships, civil unions and civil marriage to same-sex couples. In 2006, Ford again joined only a small minority of Democrats who voted for the amendment, which was dramatically defeated by both the U.S. House of Representatives and Senate.
"This is not about ideology," continued Wyrick. "Conservative, centrist and progressive Democrats agree that those who support such a constitutional amendment threaten the stability of thousands of American homes. Given that Harold Ford is at odds with the past position of the Democratic Leadership Council, we hope that this presents the DLC with an opportunity to reaffirm their supportive position and for Congressman Ford to rejoin Democrats across the country in rejecting the divisive policies of the Bush administration and discredited Republican leadership."
EVEN DLC LABELS FORD "CYNICAL AND DESPERATE"
Harold Ford's support of the anti-gay amendment opposes the policy of the Democratic Leadership Council which he now seeks to lead. In 2004, the Democratic Leadership Council called politicians like Ford who supported the amendment "cynical and desperate." "This tactic is socially divisive, morally questionable, and politically dangerous," wrote the DLC. "We suggest the president prove his own values by focusing on that threat to the institution of marriage, and stop dividing the country with an effort to bring back the 'culture wars' of the past." ("Bush and the Same-Sex Marriage Amendment: Cynical and Desperate", DLC New Dem Daily, July 12, 2004)
FORD DEMONSTRATES LACK OF UNDERSTANDING OF KEY LEGAL ISSUES
In his 2006 senate race, Congressman Harold Ford, Jr. swiftly exploited a ruling by the Supreme Court of New Jersey that challenged the state legislature to provide basic legal benefits for same-sex couples. "I do not support the decision today reached by the New Jersey Supreme Court regarding gay marriage. I oppose gay marriage, and have voted twice in Congress to amend the United States Constitution to prohibit same-sex marriage. This November there's a referendum on the Tennessee ballot to ban same-sex marriage - I am voting for it." (National Journal, The Hotline - October 25, 2006) However, the New Jersey Supreme Court actually rejected the appeal to immediately grant civil marriage responsibilities to same-sex couples. In contrast, the court agreed with President Bush who argued in 2004 that marriage should be left to religious institutions, but that the state has an obligation to provide basic legal protections to same-sex families.
The Democratic Leadership Council was led nationally by then-Governor Bill Clinton during the 1990s and includes Vice President Al Gore as a founding member. The DLC is not an official party organization, but a non-profit organization that represents a coalition of centrist Democrats in Congress and at the state and local level. Openly-gay Democrats have previously joined the leadership of the DLC as members of State Legislative Advisory Board and Local Elected Officials Network.
Earlier this month, Congressman Stephen Cohen replaced Harold Ford, Jr. as the United States Representative in Tennessee's 9th Congressional District centered in Memphis. Congressman Cohen easily won election as a supporter of civil marriage for same-sex couples.
Democrats can contact the Democratic Leadership Council by phone at (202) 546-0007 or by email form at www.dlc.org/cobrand/contact_us.cfm
------
National Stonewall Democrats is the only national organization of gay, lesbian, bisexual, and transgender Democrats, with more than 90 local chapters across the nation. NSD is committed to working through the Democratic Party to advance the rights of all people regardless of sexual orientation or gender identity.
# # #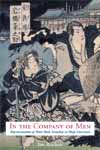 The Japan Times
Sunday, Jan. 14, 2007
THE ASIAN BOOKSHELF
Once in keeping with some of the best company
By DONALD RICHIE
IN THE COMPANY OF MEN: Representations of Male-Male Sexuality in Meiji Literature, by Jim Reichert. Stanford University Press, 2006, 282 pp., illustrations XI, $ 60.00 (cloth).
The search for modernity in the Meiji Era (1868-1912) involved not only the discovery of some new subject matter but also the suppression of some of the old. As the author tells us in this interesting volume: "Certain topics were deemed out of step . . . nanshoku topped the list of undesirable topics."
The term refers to male-male sexuality, in the practice of which Japan had had a long and distinguished history. Kobo Daishi is supposed to have both imported and practiced it. Oda Nobunaga, Tokugawa Ieyasu and Miyamoto Musashi had male partners. At least seven of the 15 Tokugawa shoguns had, in the words of one authority, "well-documented, sometimes very conspicuous, homosexual involvements."
When it was discovered what the West thought of the practice, however, nanshoku became the love that no one any more talked about. In Europe and America it was thought a symptom of biological and cultural decline. As Reichert adds, "according to this theory, homosexuality was of the many possible morbid conditions that could be acquired from an unhealthy environment or an unwholesome upbringing." When viewed in this manner "male-male sexual desire morphed into a social pathology that posed a threat to the well being of society."
This is something that the Meiji authorities did not want. They wanted to reassure that in this modern era assumptions and practices associated with sexuality had been thoroughly transformed. Further, since samurai were now a social embarrassment -- swords taken away, top-knots cut off -- and since nanshoku lore had been mainly about this class, official displeasure could thus accomplish several tasks.
Same-sex sexuality was consequently dragged from the realm of culture into the realm of medicine. It became not a practice but an identity. And the name was changed. Old-fashioned nanshoku ("male colors") became the clinical dosei kosetsu (same-sex relations). This was a neologism, the Japanese equivalent of "homosexuality," another neologism that had recently been constructed in the West.
What to call something of which we are expected to be nominally disapproving remains even now a problem. Reichert calls it male-male sexuality and one can guess that he wanted to avoid the medical solemnity of "homosexual," the fatuities of "gay," and the ambiguities of "queer," a word, which though recently promoted as an academic expression, still smells strongly of disapproval. Nonetheless his male-male nomenclature can suggest the sententious.
Not that Reichert himself does. On the contrary, his is a value-free argument, scholarly in the best sense. His main interest is in how Meiji constructed its modernity. The banning of homosexuality (even legally, for a short time) and the establishment of a regime of compulsive heterosexuality, is a richly pregnant example of this.
The means are Meiji texts that incorporate or avoid the subject. These include authors well known -- Natsume Soseki, Mori Ogai, Koda Rohan -- and some known mainly to the literary specialist: Yamada Bimyo, Tsubouchi Shoyo, and others. Reichert gives a very close reading of these texts since they are crucial to showing how the transformation of modernism was accomplished.
In some examples, nanshoku still reared a defiant head, but in others it was rigidly repressed. That it never again regained its status as a popularly expressed pastime indicates the thoroughness of Meiji modernism. Reading Reichert's analysis enables the reader to understand what happened and why.
▲
by

alfayoko2005

| 2007-01-14 11:36 | Books
中日・東京新聞社説:エイズ拡大 さらなる予防の徹底を (2007/01/11朝刊)
 エイズウイルス(HIV)感染者は、アフリカ、アジア、東欧などを中心に依然として増え続けている。わが国は海外に比べ相対的には少ないとはいえ増加のペースは衰えず、警戒が必要だ。
 国連合同エイズ計画(UNAIDS)の推計によると、二〇〇六年末までのエイズ患者を含む生存中のHIV感染者は三千九百五十万人で、このうち四百三十万人が昨年の新規感染者だ。これとは別に昨年一年間のエイズによる死亡者は二百九十万人に達する。
 〇四年と比べ、感染者数、死亡者数で7%、新規感染者数で10%増えており、エイズは依然として破壊的な疾患の一つであるといえる。
 最も深刻なのは、サハラ砂漠以南のアフリカで、世界の感染者の三分の二、死亡者の四分の三を占める。特にスワジランドでは成人の三分の一が感染者で、国家の存立を脅かすほどの惨状である。
 中国、インド、カンボジア、ネパール、ベトナムなどのほか、東欧、旧ソ連の中央アジアでも感染者が増え、中でも東欧と中央アジアの新規感染者は数としては二十七万人とそれほど多くはないが、二年前の70%増で増加が最も著しい地域だ。
 感染拡大を防ぐには予防の徹底しかない。幸いケニアやコートジボワール、マラウイ、ジンバブエなどでは国をあげてコンドーム使用の徹底、不特定多数の異性との接触を控えるよう啓発活動を行った結果、若い女性の感染率が大きく低下したことが明らかになっている。
 計画的な予防活動で状況が改善できることを示しており、国際機関と先進国は継続的に支援し、さらに弾みをつけてもらいたい。
 翻ってわが国はどうか。厚生労働省エイズ動向委員会によると、血液製剤による感染を除き、昨年十月一日までの累積患者・感染者数は一万二千人を超え、一昨年一年間の新規患者・感染者数は二年連続して千人を超え、最多記録を更新した。
 昨年の第三・四半期(七月三日-十月一日)の患者・感染者数でも過去二番目の多さを記録した。
 人口比でみると先進国の中では際だって少ないが、先進国のほとんどが一九九〇年代半ばから減少に転じているのに、わが国では増え続けていることを真剣に受け止めなくてはならない。
 抗エイズ薬の進歩で、エイズは慢性疾患のように症状コントロールがうまくいくようになった結果、完治すると勘違いし、予防教育がおろそかになったためだろう。こうした誤解を解くためにもエイズに対する予防教育を再度徹底すべきである。
ソプラノ歌手・森谷真理さん オペラ「魔笛」でMETデビュー
超絶の技巧、満場の喝采
FujiSankei Business i. 2007/1/10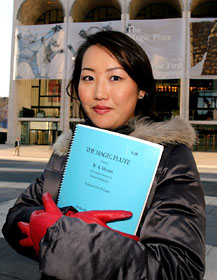 芸術の殿堂、メトロポリタン歌劇場前で「魔笛」スコアを持つ森谷真理さん(撮影 森口水翔)  
 昨年の大みそかにニューヨークのメトロポリタン歌劇場(MET)で行われたモーツァルトのオペラ「魔笛」英語版に日本人の若手ソプラノ歌手、森谷真理さんが出演。超絶技巧の難役「夜の女王」を堂々と演じ、満場の喝采(かっさい)を浴びた。世界最高峰のMETに出演した日本人オペラ歌手は森谷さんで5人目とされるが、アジア系が抜擢(ばつてき)されやすい「蝶々夫人」(プッチーニ)以外の作品でデビューを果たしたのは初めて。今年、活躍が最も期待される逸材だ。(ニューヨーク 長戸雅子)
 「魔笛」の聞きどころは何といっても2幕の夜の女王のアリア「復讐(ふくしゅう)の心は地獄のように」。この最大の見せ場で森屋さんはハイF(2オクターブ上のファ)と呼ばれる高音を難なく、自在に響かせて聴衆を陶酔の世界に引き込んだ。
 権力の座を追われ、娘も奪われかけて復讐に燃える女王を磨き上げた技術と堂に入った所作で表現しきった。
 「舞台に立つと観客からの期待が伝わり、それが自分でも気づいていない力を引き出してくれる。お客さんからいただく反応がなければ、役を完成させることはできません」と舞台と客席の呼応が生むマジックを語る。
 オペラ歌手、森屋和子さんを母に持つ。それだけに「オペラ歌手は学校の先生や本屋さんと同じで特別な仕事とは思っていなかった」と笑う。 
 16歳のときにピアノから声楽の道へ進むことを決めたものの、"絶対オペラ歌手になろう"という強い決意はなかったという。
 母は「やるならしっかりやってね」とだけ言い、先生を紹介してくれた。
◇
 武蔵野音大、同大学院を修了後、母の知人の紹介でニューヨークにやってきた。マネス音楽院で元METのソプラノ歌手、ルース・ファルコンさんに師事。手応えを感じ始めた3年目に転機が訪れた。
 METが05年3月に主催した若手芸術家発掘を目的にしたオーディションで、1500人から9人のファイナリストに入賞。9月にはMETから夜の女王の代役のオファーを受けた。今回の「魔笛」は新たにオーディションを受け、チャンスをものにした。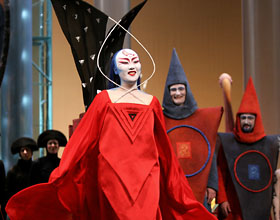 夜の女王を堂々と演じた森谷さんにはひときわ大きな拍手が送られた。衣装は歌舞伎をイメージしている(撮影 森口水翔)  
 天賦の才という言葉をつい使いたくなるが本人は「ある日、突然いい声が出てくるようなことはありません。発声には苦労しましたし、日々の積み重ねが一番大事です」ときっぱり。たとえば夜の女王のアリアは練習も含め、数百回はうたっている。
 さらにニューヨークで欧米の生徒たちと一緒に歌うようになってからは「何かが違う」と感じ続けていた。
 骨格、体形、母国語の性格の違い。フラットなトーンの日本語に対し、歌うような響きを持つイタリア語をはじめ欧米の言語にはイントネーションがあり、オペラで使う発声にもともと近い。
◇
 でもここで止まったら意味はない。日本で生まれ、育ったことも変えられるものではない。呼吸の仕方や口の開き方、舌の位置。あらゆる研究を重ね「違い」を「個性」に変えていった。
 現在、全米各地から出演依頼が来ているが、日本で公演を行うのが夢だ。
 「自分に本当に才能があるのかどうかは分からない。でも幸いなのは限界がまだ見えていないこと。もっと良くなるはず、もっと、と思って毎日練習しています」
 華やかなデビューを経て、競争の激しい音楽界という荒波に漕ぎ出した。でも「最後のライバルは自分自身」とさわやかに言い切った。
◇
【プロフィル】森谷真理
 もりや・まり 栃木県小山市出身。武蔵野音大、同大学院修了後、ニューヨークのマネス音楽院に留学。プロフッェショナル・スタディーズ修了。2005年9月からMETの夜の女王代役歌手となる。今回の「魔笛」英語版は、オペラ初心者や子供にも楽しんでもらえることを目的に上演時間も100分に短縮した。舞台演出はミュージカル「ライオン・キング」でトニー賞を獲得したジュリー・テイモア氏が担当した。
ソプラノ森谷真理さん、メトオペラ「魔笛」の「夜の女王」でデビュー
▲
by

alfayoko2005

| 2007-01-10 12:43 | Music
The Japan Times
Monday, Jan. 8, 2007
EDITORIAL
World epidemic defies retreat
The HIV/AIDS epidemic continues to grow more than 25 years after the epidemic was identified, despite worldwide efforts to prevent and contain it. According to a recent update on the epidemic jointly issued by UNAIDS (Joint United Nations Program on HIV/AIDS) and WHO (World Health Organization), an estimated 39.5 million people are living with HIV/AIDS. The year 2006 saw 4.3 million new infections and 2.9 million deaths from AIDS-related illness. Of the new infections, 2.8 million or 65 percent occurred in sub-Saharan Africa. WHO says the region represents 70 percent of the world's unmet need for treatment.
The number of women infected with HIV has been increasing. Of the people infected with HIV, 48 percent are women, with the rate jumping to 59 percent in sub-Saharan Africa. Life expectancy in the region at birth is just 47 years, about 30 years shorter than in developed countries.
WHO warns that some 40 percent of new HIV infections now occur among young people aged 15 to 24 and that East Asia, Central Asia and Eastern Europe saw the most striking increases in the number of HIV-infected people. There were 8.6 million infected people in Asia, 5.7 million in India and 650,000 in China.
The UNAIDS/WHO report says, "In many countries, HIV prevention programs are not reaching the people most at risk of infection, such as young people, women and girls, men who have sex with men, sex workers and their clients, injection-drug users, and ethnic and cultural minorities."
The report presents a bleak picture. Some 2.3 million children under the age of 15 are living with HIV. Most were infected through their HIV-infected mothers who were unable to receive treatment. Many women in developing countries contract HIV from their husbands. UNICEF (United Nations Children's Fund) says that 14 million children under 15 have lost one or both parents to AIDS and that by 2010 this number is expected to exceed 25 million. By extending financial and medicinal aid, developed countries can play an important role in protecting children against HIV/AIDS.
The report also says some countries, including Uganda, that had succeeded for a time in reducing new infections are experiencing a resurgence.
The situation in Japan does not warrant complacency. Although the absolute number of HIV/AIDS cases is relatively small, the number of new HIV infections and AIDS cases has been renewing a record high every year recently. In 2004, there were 780 new HIV infections and 385 new AIDS cases for a record combined total of 1,165 cases. In 2005, there were 832 new infections and 367 new AIDS cases for a total of 1,199. In the first three quarters of 2006, there were 679 new infections and 305 new AIDS cases for a total of 984. For the full year, the total number was expected to reach another new high, exceeding the 2005 record. Among developed countries, Japan is rare in that the number of AIDS cases is increasing. From 1989 to 2005, the accumulative total of new HIV infections was 7,392 and of new AIDS cases, 3,644, for a combined total of 11,036.
The big problem is that while HIV infection is spreading among young people, society's awareness of the danger from HIV/AIDS still seems low. People in their 20s and 30s accounted for about 69 percent of new infections in the third quarter, up from about 66 percent in the second quarter. Tokyo saw 417 new infections and new AIDS cases in 2005. Of the newly infected people, 72 percent were in their 20s and 30s. Six percent were under 20.
Of the newly infected people nationwide in 2005, 34 percent were in their 20s, 38 percent were in their 30s, and 1 percent were teenagers. As for new AIDS cases nationwide the same year, people in their 40s or older accounted for 52 percent of the total while those in their 20s accounted for 13 percent and those in their 30s, 35 percent.
It is also noteworthy that among new AIDS cases nationwide in 2005 the percentage of cases attributable to same-sex contact was the same as that attributable to opposite-sex contact: 37 percent. Causes were unknown for 22 percent of the new AIDS cases. Among new HIV infections nationwide the same year, 64 percent were from same-sex contact, compared with 24 percent from opposite-sex contact. Causes for 10 percent of the new HIV infections were unknown.
The trend in Japan points to the need to educate young people, especially teenagers. Local governments have been reducing their budgets for HIV/AIDS awareness and prevention. They must reverse this downturn, and education authorities should teach children not only the danger of HIV/AIDS but also how to protect both themselves and others. They should heed WHO's dictum: "Where prevention efforts decline, HIV infections increase."