無戸籍児:離婚300日以内誕生は前夫の子「法の壁」重く
毎日新聞 2007年1月8日 3時00分
 「離婚から300日以内に誕生した子は前夫の子」との民法の規定が各地で問題となっているが、多くの夫婦が婚姻や出生を届け出た時に規定を知らされている。喜びもつかの間、「法の壁」が重くのしかかる。「今の夫の子」として戸籍に登録するためには、前夫に「親子関係はない」と裁判で証言してもらうことが原則として必要となる。「暴力の悪夢を忘れたい」と前夫との再会を拒む女性だけでなく、比較的良好な関係でも当事者たちは負担を強いられている。【工藤哲】
■暴力振るう前夫避け
 東京都世田谷区の女性(32)は03年8月、前夫と別居。離婚は04年6月だった。新たな相手との出会いは別居から4カ月後。1年間の交際を経て、離婚から半年後の04年12月に結婚、05年1月に女児が生まれた。
 女性が規定の存在を知ったのは、04年12月に役所に婚姻を届け出た時だ。妊娠10カ月と告げると、窓口で「生まれてくる子は現夫の戸籍に入れられない」と告げられた。
 インターネットなどで調べたところ、前夫の家庭裁判所での証言が必要と分かった。前夫は毎晩のように飲み歩き、女性を殴り、家具を壊すなどした。「また嫌がらせに耐えなければならないのか」。衝撃で1週間寝込んだ。
 女性は、DNAによる親子鑑定書などの資料をもとに、娘の親権者として今の夫を相手に認知を求める調停にこぎつけた。前夫の証言がいらない手続きで、家裁からは「特別に事情を考慮した」と言われたという。
 05年4月から3回の調停で、6月に娘と現夫との父子関係が認められた。女性は「短期に正しい戸籍が取れるルールを整えて」と訴える。
■前夫の協力は得たが
 「裁判所とは無縁と思っていたのに、まるで悪いことをしたみたい」。盛岡市に住む女性(39)は、昨年10月に産んだ女児がいまだ戸籍に登録されていない悔しさを打ち明けた。
 17年間の結婚生活で、子に恵まれなかった。「どうしても子どもがほしい」。そんな思いでいた時に今の夫と出会った。そして06年2月に前夫と離婚。女児誕生は離婚から266日後だった。
 規定を知ったのは、夫が市役所に出生を届け出た時だ。「娘の将来のために当たり前の戸籍に」。12月に前夫を相手取り、親子関係不存在確認の訴えを家裁に出した。
 調停は4回程度になる見込みで、DNA鑑定も行う。前夫は「これも縁だからできることはする」と協力的だ。しかし、「なぜ何度も出向くのか」と漏らす。女性は「今の夫と娘のDNA鑑定を役所に出せば済むようにしてほしい」と話す。
 ◇再婚率高く問題増加か
 「離婚後300日以内に生まれた子は離婚前の夫の子と推定する」との民法772条により、役所から「現夫の子と認められない」とされるケースについて、法務省民事局は「実態を把握しておらず、件数などは分からない」としている。
 ただ、厚生労働省の人口動態統計によると、04年の婚姻件数は72万417件あり、再婚率は夫17.8%、妻15.9%。94年の夫12.9%、妻11.4%に比べ高くなっていることから、同様のケースは増えているとみられる。
 こうした問題の相談に応じようと、05年に設立されたNPO「親子法改正研究会」(大阪市)には、20件以上の相談が寄せられている。同会は「裁判など手続きの大変さから、子を戸籍登録しないままの人は少なくないのでは」と問題の重大さを指摘する。
毎日新聞 2007年1月8日 3時00分
(嫡出の推定)
民法第七百七十二条  妻が婚姻中に懐胎した子は、夫の子と推定する。
2  婚姻の成立の日から二百日を経過した後又は婚姻の解消若しくは取消しの日から三百日以内に生まれた子は、婚姻中に懐胎したものと推定する。
Japan Tackles School Violence
Critics say new education-reform plans don't address crucial issues affecting students.
By Christian Caryl and Akiko Kashiwagi
Newsweek International

Jan. 15, 2007 issue -
For Ayumi Yabe, now 18, the agony started back in first grade. A boy in her class singled her out for harassment. "Go die!" he'd scream at her—and a crowd of others soon joined in. As she got older, still other boys took to harrying her with taunts and threats on the way home. Sometimes the bullies would push her to the ground and make her eat berries that made her sick. Most painfully, she says, her teachers refused to help. Once, after receiving a death threat from a fifth-grade classmate, she passed the note to her teacher, who then read it in front of the class. "Our school was so detached," she remarks. Small wonder that she soon began to think about finding a way out. "I began to wish I was dead. I just didn't have the energy to live."
Luckily for Yabe, her resourceful mom managed to track down a refuge—one of Japan's rare alternative schools. Most children in the country aren't so fortunate. In recent months the media have been rife with gruesome stories about school-age suicides, most of them apparent responses to an epidemic of bullying. In the eyes of many Japanese, that scandal merely mirrors the country's lingering education crisis. Experts say standardized-test scores are falling, and so is the motivation to learn among secondary-school students. Critics also say there is less order and discipline in today's classrooms. Bullying, long a problem, is said to be worse than ever. "I think the number of bullying cases has been rising sharply, but it's getting increasingly difficult to keep track because many are not straightforward," says Midori Komori, a housewife turned antibullying activist. (Since her daughter committed suicide after being bullied, she's been visiting dozens of schools to fight the problem.) "The nature of bullying has become entirely different from years ago. Thanks to mobile phones and the Internet, kids today can send a curse in a click behind the scenes, without alerting the parents of the bullied."
Small wonder, then, that the new administration of Prime Minister Shinzo Abe has rushed to enact what the government calls a "bold" new plan to reform the schools. Last month Japan's Diet, or Parliament, easily passed the educational-reform bill. The problem, critics say, is that the plan isn't bold at all. Indeed, Abe now is facing a revolt from disappointed teachers, parents and even some of his own education experts, who say that the new bill does little more than institutionalize the teaching of morality and "patriotism" in Japanese schools and fails to address the day-to-day concerns of the country's beleaguered schoolkids. Critics say Abe's education plans don't even mention the need to promote more creative thinking among students—which experts have cited for years as a weakness in the system—and do not address other key issues, such as school vouchers and the reform of local boards of education. "Educational reform continues to go astray," blared the influential liberal daily Asahi Shimbun, which criticized Abe's education reform for its failure to address core problems.
The controversy has heightened concern about Abe's lack of leadership. Three months ago, following his deft handling of the North Korean nuclear test and his diplomatic overtures to China and South Korea, his approval rating was about 70 percent. But it's since plummeted to 47 percent, according to a recent survey, partly because of the public's growing unease about Japan's education system. Experts say that improving the school system is necessary to foster future global leaders, boost the productivity of the Japanese economy and, by extension, strengthen the country's creaky welfare state, which is under severe strain from a rapidly aging population.
Reformers say that Japan's education system is too rigid, bureaucratic and obsessed with rote learning and conformity, to the detriment of students. The Ministry of Education runs the school system with an iron fist; it has strict guidelines for teacher hiring, establishes the curriculum and mandates how student problems should be handled. Bullying, say social experts, is a manifestation of the pressure kids are under to succeed. Kids in hypercompetitive classrooms seem to require little incentive to gang up on each other. One favored tactic: the silent treatment, which can translate into entire classrooms resolutely refusing to dignify the target with greetings or routine chitchat.
Reliable statistics are elusive, but the number of bullying cases handled by the National Police Agency hit 165 in 2005, compared with 93 in 1997. Many social commentators argue that the problem is, in fact, much worse, since many (if not most) cases simply aren't reported to teachers or school administrators. Worries about the issue peaked last fall, when at least seven children committed suicide in a two-month period. Bunmei Ibuki, Japan's minister of Education, Science and Technology, blamed the problem on deteriorating social morality and said: "We have to seek ways to restores ties among families and the community, which are now shifting their responsibilities onto teachers." The MOE is supersensitive about the bullying problem—so much so that the agency insists, astoundingly, that there were no student suicides linked to bullying between 1999 and 2005.
Komori begs to differ. Her daughter committed suicide in 1998. Komori has spent the past eight years trying to get information pertaining to her daughter's death from the high school she attended. But neither the school nor the MOE will provide any details. Now she's taking the school to court. The case is all too emblematic, Komori says, of an entrenched bureaucratic mentality. "The basic rule is, you look the other way," she says.
Reformers assert that individual schools need more autonomy when dealing with issues such as bullying, and should be allowed to hire teachers from varied backgrounds to help nurture creativity. Abe supposedly agrees. But the new law only gives more power to the MOE. "[The reform] will increase government control and reinforce the current trend toward intensifying competition in school," insists Yoshihiro Izumi, a 51-year-old Tokyo elementary-school teacher who recently joined 5,000 other protesters in front of the Diet objecting to the new bill, which they fear would increase the state's oversight. "I believe that bullying occurs in a society where human rights are oppressed."
An education-advisory panel is now studying how Japan can revitalize its schools. The group is supposed to make its recommendations to Abe in late January. The final report must be vetted by the Ministry of Education and politicians from the ruling LDP, who reformers say would rather not see existing policies radically modified. If Abe wants to convince voters that his heart is in the right place, he may have to come back to the education issue and show that he's genuinely committed to reform.
© 2006 Newsweek, Inc.
URL: http://www.msnbc.msn.com/id/16500163/site/newsweek/
▲
by

alfayoko2005

| 2007-01-07 13:17 | 国内政治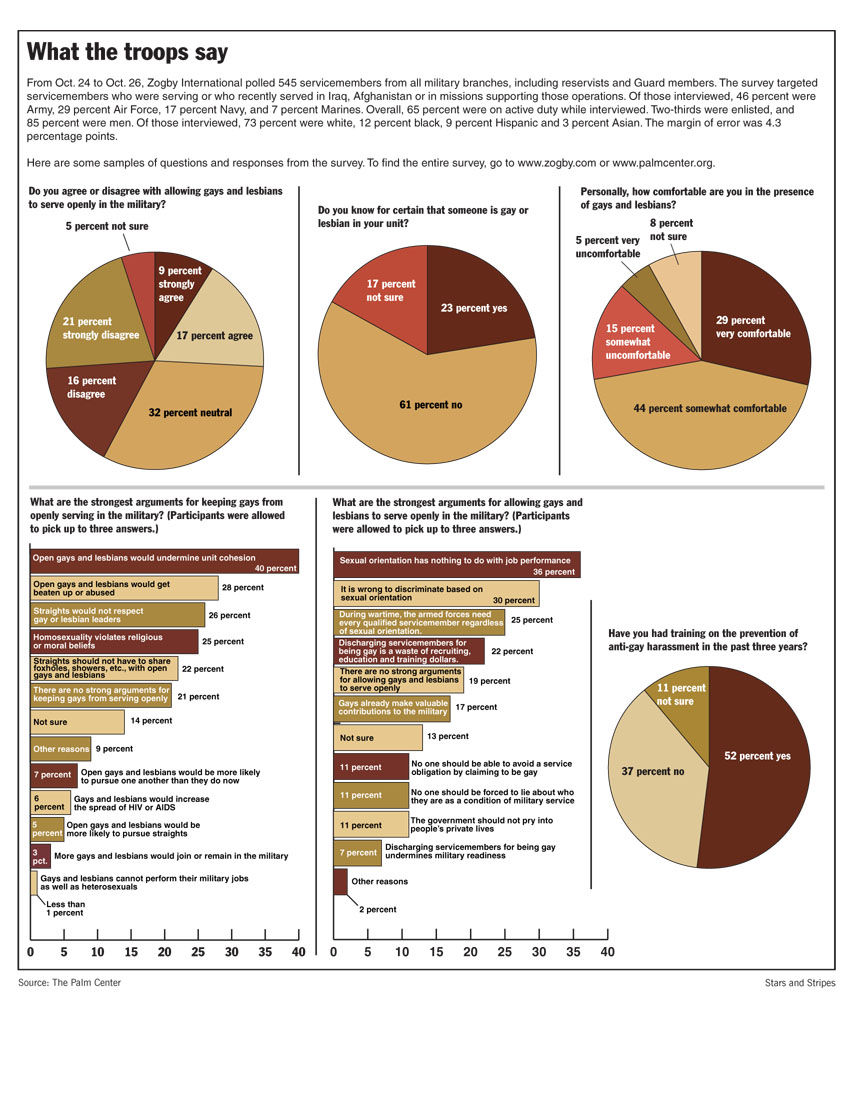 Survey: 1 in 4 troops knows gay colleague
By Teri Weaver, Stars and Stripes
Pacific edition, Saturday, January 6, 2007

TOKYO —
Nearly one in four servicemembers knows definitively that a member of his or her unit is gay or lesbian, according to a survey released last month.
Twenty-three percent of the 545 servicemembers surveyed online over three days in October said they knew "for certain" they were serving with someone who is gay, according to a Zogby International poll. The poll was commissioned by and designed in conjunction with the Michael D. Palm Center, a research institute at the University of California, Santa Barbara, that was formerly the Center for the Study of Sexual Minorities in the Military.
The institute's main goal includes studying the U.S. military's "don't ask, don't tell" policy. According to its Web site, the institute "promotes the interdisciplinary analysis of lesbian, gay, bisexual, transgender and other marginalized sexual identities in the armed forces."
When survey respondents were asked how they knew the person's sexual orientation, 59 percent said they had been told by that individual, according to the poll.
However, when the respondents were asked whether gays and lesbians should be allowed to serve openly in the military, 37 percent disagreed with the idea, 26 percent agreed with the idea, and 32 percent said they felt neutral about changing the current "don't ask, don't tell" policy.
The survey, released last month, was one piece of evidence former Joint Chiefs Chairman Gen. John Shalikashvili used this week in calling for a new discussion about the 1993 policy that prohibits gays from openly serving in the military.
Shalikashvili, a retired Army general, headed the Joint Chiefs when the "don't ask, don't tell" policy was created. Back then he supported it. This week, he called on leaders to revisit the policy in part because Zogby's poll, released Dec. 19, found that three-quarters of those surveyed "said they were comfortable interacting with gay people," he wrote in an opinion piece in the Jan. 2 edition of The New York Times.
The online poll targeted active-duty, veterans, reservists and Guard members from every military branch who are deployed to or recently returned from wartime missions in Iraq and Afghanistan, according to Dr. Aaron Belkin, a political science professor at Santa Barbara and head of the Palm Center.
Belkin said he believed the finding that one in four servicemembers knows of a gay colleague shows the current policy isn't working.
"No one is supposed to know a gay peer," Belkin said during a phone interview Thursday. "To see that was a surprise."
The questions ranged from the servicemembers' personal feelings about the presence of gay people in any setting, to the effect an openly gay servicemember might have on unit morale, to the frequency of private showers while in combat conditions.
The survey also allowed participants to comment on their views on the morality of both homosexuality and the military's ban of openly gay members.
On one hand, 25 percent of those surveyed said homosexuality violates their religious or moral beliefs. On the other, 30 percent said it is wrong of the Pentagon to discriminate against servicemembers based on sexual orientation.
Overall, the results found that those who believed they knew someone gay in their unit were more likely to be tolerant of the idea of openly gay servicemembers, as were less-experienced military members and women. Longer-serving servicemembers and officers, as well as all men surveyed, were less likely to be comfortable serving side-by-side with gay or lesbian people.
Of the total 545 surveyed, 78 percent said they would join the military regardless of the existence of openly gay servicemembers in the ranks. But one in 10 said they would "definitely or probably not" have joined the military if gays served openly.
The current policy states that gays and lesbians may serve in the military only if they keep their sexual orientation private. Commanders may not ask, and gay servicemembers may not tell.
Over the years, thousands have been dismissed under this policy. Two dozen countries, including U.S. allies such as Great Britain and Israel, allow for openly gay members.
The survey respondents also gave high marks to their overall training, and the training of their leaders. Eighty-two percent felt very well or well trained for their wartime mission. Four in five respondents said they felt their noncommissioned officers were good leaders.
Some in Europe support gays but oppose them in ranks
By Matt Millham, Stars and Stripes
Mideast edition, Saturday, January 6, 2007
Most servicemembers say they are comfortable in the presence of gays and lesbians, according to a Zogby poll released in December.
This doesn't mean, however, that most troops want to see gays serving openly alongside them in combat.
Troops across Europe gave their takes on gays serving openly in the military just days after retired Chairman of the Joint Chiefs of Staff Gen. John Shalikashvili came out Tuesday in support of such a change in policy.
Troops interviewed by Stars and Stripes were mostly supportive of the idea, and some hoped the policy would change. Others cited such things as possible harassment and religious beliefs as reasons for being opposed.
"Some people are ignorant and think that gays are different people, but they're not," said Senior Airman Fredy Pasco, an information manager journeyman at the Joint Analysis Center at RAF Molesworth, England.
For that reason, Pasco said, allowing gays to serve openly isn't a good idea and "may cause problems."
Among those who do not want to see the current policy overturned is Air Force Maj. Richard Brown, a political/military analyst for the Joint Analysis Center on RAF Molesworth, England. Asked if he thought gay and lesbian servicemembers should be able to serve openly, Brown said, "I don't think so because the Bible teaches that homosexuality is wrong."
Army Capt. Stephanie Meyer at Landstuhl Regional Medical Center in Germany was less inclined to let her personal feelings on homosexuality dictate her stance on gays serving openly.
"I'm not going to put my moral beliefs on anybody else," Meyer said. "If we're going to talk about EO (equal opportunity) and all this kind of culture in the military, we need to keep our personal perspectives out of it. As long as it doesn't interfere with the mission, it shouldn't be a problem."
Others echoed Meyer's points or took them even further.
"For me, it doesn't really make a difference. I have no trouble right now. If the policy changed, I wouldn't have any trouble," said Air Force Staff Sgt. Trever Scott at Aviano Air Base, Italy.
Master Sgt. Shannon Adams of Aviano said he doesn't think the policy has any effect on him.
"I've seen the policy change since I've been in and … really, I didn't notice a difference," he said. "I don't want to say that people don't have an opinion on it, but I don't think it affects most people."
"I guess being in the U.S. Army, where we defend freedom, to place restrictions on people who are physically capable of doing the job is discrimination," said Spc. David Powell, a member of the 32nd Signal Battalion in Darmstadt, Germany.
Both Powell and his wife have openly gay friends, he said, and for him, serving alongside openly gay troops is "not an issue."
Other opinions were more pragmatic, if not supportive, of serving with gays.
"Can the soldier do the job? What they do behind closed doors should never affect me. That's how I look at it," said Army Master Sgt. James R. Mosher, at Landstuhl Regional Medical Center.
"We are to be a reflection of our society," Mosher said. "If our society's saying we are not discriminating against gays and lesbians, then we shouldn't discriminate against gays and lesbians because we are a reflection of society."
Stars and Stripes reporters Steve Mraz, Sean Kimmons and Kent Harris contributed to this report.
米軍、同性愛者の入隊公認を 元制服組首脳、定員増へ提言
歌舞伎座で楽しむ「魔笛」 NY・METが映像配信
2007年01月06日 朝日
 米のニューヨーク・メトロポリタン歌劇場(MET)の舞台を、映像で世界に届ける初の試み「METライブビューイング」が始まった。第1弾はモーツァルトの「魔笛」。土曜マチネ(昼公演)の模様が東京・歌舞伎座と京都・南座で12月31日午後に2回ずつ上映された。北米や欧州には衛星中継で、日本には光ファイバー経由で配信された高画質映像だ。日本の劇場で楽しめる海外オペラ映像という新機軸の企画への反応は――。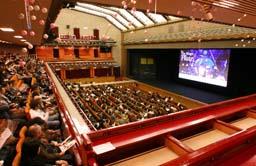 ニューヨーク・メトロポリタン歌劇場のオペラ「魔笛」を上映した歌舞伎座=東京都中央区で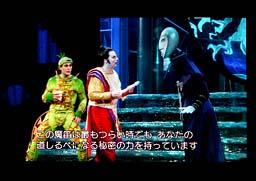 「魔笛」の一幕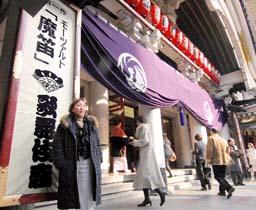 歌舞伎座前では記念撮影する観客も
 歌舞伎座では上映前、縦4.5メートル、横8メートルのスクリーンに現地の開演前の会場風景が映し出され、臨場感をかき立てた。客層は歌舞伎にしては若く、オペラにしては年配客が多めの印象。松竹によると、約1000席がほぼ満席だった。「オペラはチケット入手が困難な上に高い。4000円で気軽に見られるのがいい」(埼玉県、30代の女性)という声が多い。
 「魔笛」は、ミュージカル「ライオンキング」で知られるジュリー・テイモアの演出。文楽やインドネシアの民族劇の手法を採り入れ、凧(たこ)のように鳥を飛ばし、夜の女王の吊(つ)り衣装を膨らませて激情を表現するなど、色彩豊かで遊びに富んだ趣向がスクリーンに字幕付きで映し出される。通常は2時間以上かかる作品だが、今回はファミリー向けで、100分の短縮版。パパゲーノとパミーナの有名な二重唱「恋を知る殿方は」を完全にカットするなど、音楽(ジェームズ・レバイン指揮)よりも筋立てを優先した格好だ。
 METのピーター・ゲルプ総支配人は、昨年夏の着任以来、メディア戦略に積極的に取り組んできた。背景にはオペラの客層が高齢化していることへの危機感がある。「テレビでメジャーリーグの試合を見た人は、球場に足を運びたくなる。同様に、一般の人が歌劇場に足を向けるきっかけを作りたい」と就任前から語っていた構想を実現したのが今回の企画だ。
 生の舞台と違って終演後の拍手はまばらだったが、「内容も歌も期待以上。ただ、アリアの後、拍手したいのをこらえないといけないのが、ちょっと欲求不満だった」(都内、49歳女性)、「安く、それなりに楽しめる。オペラグラスなしで表情がアップで見られるのがいい」(都内、59歳男性)など、観客の評判は上々だ。
 歌舞伎座では場内に23台のスピーカーを設置、どの席でも同様に聞こえるように工夫したというが、7歳の娘と鑑賞した都内の女性(37)は「スクリーンも音も小さいのが残念。でも、次こそは本場で、という気になった」と話す。「映画館の方が音響はいいのでは」という声もあった。
 松竹の荒牧大四郎・演劇事業部長は「作品のクオリティーの高さに感激した。アンケートでも8割以上の観客が『よかった』と書いてくれたし、手応えは十分。最初の試みとして歌舞伎座で上映したが、さらによい形を模索したい」と語る。好評に応え、「魔笛」のアンコール上映を決めた(2月27日、東京・ルテアトル銀座)。
 「ライブ」とうたっているものの、30日の昼公演は日本時間の31日未明に当たり、正確には「ライブ」でない。松竹によると、時差や字幕制作の関係で日本での上映は当面、数時間から数日遅れるが、将来的には夜公演の同時上映(日本時間午前)も目指すという。
 今後のスケジュールは、▽ベッリーニ「清教徒」11、12日、東京・ルテアトル銀座▽タン・ドゥン「始皇帝」16日、東京・新橋演舞場。31日、京都・南座▽チャイコフスキー「エウゲニ・オネーギン」2月26日、ルテアトル銀座▽ロッシーニ「セヴィリャの理髪師」3月26、27日、東京・銀座ブロッサム▽プッチーニの三部作5月3日、同。電話03・5565・6000(チケットホン松竹)。
▲
by

alfayoko2005

| 2007-01-06 19:03 | Music
OPINION | washingtonblade.com
A gay tribute to Gerald Ford
GOP should honor former president and end our national nightmare of treating gays like second-class citizens.
By JAMES KIRCHICK
Jan. 05, 2007
WITH THE PASSING of former President Gerald Ford last week at the age of 93, Republicans and Democrats have joined in bipartisan praise of the man who led the country through the aftermath of the Watergate scandal.
President Bush praised Ford as "a man of complete integrity" whose "life was a blessing to America." Conservative politicians, activists and journalists across the country echoed this sentiment. But in their encomiums to the late president, they have conveniently left out one important fact: in his later years, Ford was a prominent ­— though hardly outspoken — supporter of gay rights.
In a 2001 interview with the Detroit News, Ford said, "I have always believed in an inclusive policy, in welcoming gays and others into the party. I think the party has to have an umbrella philosophy if it expects to win elections."
But his support for gay rights was not just a matter of strategic concern; it had a moral basis as well. "I think they ought to be treated equally. Period," the straight-talking ex-President of firm, Midwestern-values said.
With Ford, there was none of the evasiveness that we hear from the current president, who speaks of the gay marriage issue with words like "civility" and "decency," while supporting unreconstructed, anti-gay policies. Nor did Ford have any problem saying the word "gay," one that President Bush has shown incredible reticence in uttering.
IN 2001, FORD joined the short-lived Republican Unity Coalition, an organization dedicated to making sexual orientation a "non-issue" in the GOP. Former Wyoming Sen. Alan Simpson served as chair of the organization, and other prominent members included John Danforth, Mary Matalin and Diane Ravitch.
Following the coverage of Ford's passing in the mainstream media, one would have difficulty coming across any mention of his unprecedented support for gay rights. In a symposium on the web site of the leading conservative magazine National Review, not one of the nine conservative historians or journalists that the publication invited to share words on Ford mentioned this interview. Indeed, finding a conservative commentator or politician — aside, of course, from the Log Cabin Republicans — mentioning Ford's support for gay rights has been a futile effort.
THAT A FORMER United States president would come out, essentially, in favor of gay marriage is no small thing. That he was a rock-solid Republican ought to give conservatives pause before launching into their next attack on the "homosexual agenda."
Gerald Ford was an honest, decent man who did a great service to his country in one of its most troubled times. In his statements on gay rights, he showed a better side of the Republican Party, one we have not seen much of lately, yet Ford reminds us what the party could still become. Ford's support for gay civil rights might have something to do with the fact that the man who saved his life from a 1975 assassination attempt in San Francisco, former Marine and Vietnam veteran Oliver Sipple, was gay.
When Ford took office in 1974, he assured the country that "our long national nightmare" — Watergate — was over. One day, when more Republicans show the same sense of fairness that Ford demonstrated, the door will be closed on our country's long, national nightmare of treating gay people like second-class citizens.
米軍、同性愛者の入隊公認を 元制服組首脳、定員増へ提言 (産経 2006/01/04)
 【ワシントン=山本秀也】米陸軍、海兵隊の定員増が論じられるなか、元制服組トップが2日、米軍でタブーとされてきた同性愛者の入隊を認めるよう提言した。「軍内で同性愛をオープンにしても戦力を損なうことはないはず」と訴えている。
 クリントン政権当時に統合参謀本部議長を務めたシャリカシュビリ氏が米紙ニューヨーク・タイムズに寄稿した。
 米軍内での同性愛者の処遇は、1993年から同性愛者であることをオープンにしないことを条件に緩和されている。
 シャリカシュビリ氏は「(同性愛か否かを)聞くな、語るな」といわれる現行の"入隊黙認"について、同性愛者への機会創出を叫ぶクリントン政権と風紀の乱れや戦力への影響を懸念する軍部の反対の双方に配慮した「妥協の産物だった」と指摘した。
 そのうえで同氏は、この14年間に同性愛をとりまく米国内の環境が変化したことなどを理由に、現状なら同性愛をオープンにしつつ軍務につくことを容認できると訴えている。
 同氏によると、英国、イスラエルなど24カ国の軍隊が同性愛者の入隊を公認している。
(2007/01/04 10:35)
Op-Ed Contributor
Second Thoughts on Gays in the Military
By JOHN M. SHALIKASHVILI
Published: January 2, 2007
Steilacoom, Wash.
TWO weeks ago, President Bush called for a long-term plan to increase the size of the armed forces. As our leaders consider various options for carrying out Mr. Bush's vision, one issue likely to generate fierce debate is "don't ask, don't tell," the policy that bars openly gay service members from the military. Indeed, leaders in the new Congress are planning to re-introduce a bill to repeal the policy next year.
As was the case in 1993 — the last time the American people thoroughly debated the question of whether openly gay men and lesbians should serve in the military — the issue will give rise to passionate feelings on both sides. The debate must be conducted with sensitivity, but it must also consider the evidence that has emerged over the last 14 years.
When I was chairman of the Joint Chiefs of Staff, I supported the current policy because I believed that implementing a change in the rules at that time would have been too burdensome for our troops and commanders. I still believe that to have been true. The concern among many in the military was that given the longstanding view that homosexuality was incompatible with service, letting people who were openly gay serve would lower morale, harm recruitment and undermine unit cohesion.
In the early 1990s, large numbers of military personnel were opposed to letting openly gay men and lesbians serve. President Bill Clinton, who promised to lift the ban during his campaign, was overwhelmed by the strength of the opposition, which threatened to overturn any executive action he might take. The compromise that came to be known as "don't ask, don't tell" was thus a useful speed bump that allowed temperatures to cool for a period of time while the culture continued to evolve.
The question before us now is whether enough time has gone by to give this policy serious reconsideration. Much evidence suggests that it has.
Last year I held a number of meetings with gay soldiers and marines, including some with combat experience in Iraq, and an openly gay senior sailor who was serving effectively as a member of a nuclear submarine crew. These conversations showed me just how much the military has changed, and that gays and lesbians can be accepted by their peers.
This perception is supported by a new Zogby poll of more than 500 service members returning from Afghanistan and Iraq, three quarters of whom said they were comfortable interacting with gay people. And 24 foreign nations, including Israel, Britain and other allies in the fight against terrorism, let gays serve openly, with none reporting morale or recruitment problems.
I now believe that if gay men and lesbians served openly in the United States military, they would not undermine the efficacy of the armed forces. Our military has been stretched thin by our deployments in the Middle East, and we must welcome the service of any American who is willing and able to do the job.
But if America is ready for a military policy of nondiscrimination based on sexual orientation, the timing of the change should be carefully considered. As the 110th Congress opens for business, some of its most urgent priorities, like developing a more effective strategy in Iraq, share widespread support that spans political affiliations. Addressing such issues could help heal the divisions that cleave our country. Fighting early in this Congress to lift the ban on openly gay service members is not likely to add to that healing, and it risks alienating people whose support is needed to get this country on the right track.
By taking a measured, prudent approach to change, political and military leaders can focus on solving the nation's most pressing problems while remaining genuinely open to the eventual and inevitable lifting of the ban. When that day comes, gay men and lesbians will no longer have to conceal who they are, and the military will no longer need to sacrifice those whose service it cannot afford to lose.
John M. Shalikashvili, a retired army general, was chairman of the Joint Chiefs of Staff from 1993 to 1997.
Text of Nancy Pelosi's speech
Thursday, January 4, 2007

(01-04) 11:31 PST --
Rep. Nancy Pelosi's speech upon her election today as speaker of the House.
"Thank you my colleagues, thank you leader (John) Boehner (R-Ohio).
"I accept this gavel in the spirit of partnership, not partisanship, and I look forward to working with you Mr. Boehner and the Republicans in the Congress on behalf of the American people.
"After giving away this gavel in the last two Congress', I'm glad someone else had the honor today.
"In this House, we may belong to different parties, but we serve one country. We stand united in our pride and prayers for our men and women in the armed forces. They are working together to protect America, and we, in this House, must also work together to build a future worthy of their sacrifice.
"In this hour, we need and pray for the character, courage, and civility of a former member of this House -- President Ford. He healed the country when it needed healing. This is another time, another war, and another trial of our American will, imagination, and spirit. Let us honor his memory, not just in eulogy, but in dialogue and trust across the aisle. Let us express our condolences and appreciation to Mrs. Ford and the entire Ford family for their decades of service to our country.
"With today's convening of the 110th Congress, we begin anew. I congratulate all members of Congress on your election; I especially want to congratulate our new members of Congress. The genius of our Founders was that every two years, new members bring to this House their spirit of renewal and hope for the American people. This Congress is reinvigorated new members by your optimism, your idealism, and your commitment to our country. Let us acknowledge your families, whose support has made your leadership possible.
"Each of us brings to this new Congress our shared values, our commitment to the Constitution, and our personal experience.
"My path to Congress and the speakership began in Baltimore where my father was mayor. I was raised in a large family that was devoutly Catholic, deeply patriotic, very proud of our Italian American heritage, and staunchly Democratic. My parents taught us that public service was a noble calling, and that we had a responsibility to help those in need. I viewed them as working on the side of the angels and now they are with them.
"I am so proud that my brother Tommy D'Alesandro, who was also a mayor of Baltimore, is here leading my D'Alesandro family today.
"Forty-three years ago, Paul Pelosi and I were married. We raised our five children in San Francisco, where Paul was born and raised. I want to thank Paul and our children Nancy Corinne, Christine, Jacqueline, Paul, and Alexandra and our six magnificent grandchildren for giving me their love, support and the confidence to go from the kitchen to the Congress.
"And I thank my constituents in San Francisco and to the state of California for the privilege of representing them in Congress. Saint Francis of Assisi is our city's patron saint, and his song of St. Francis is our city's anthem: 'Lord, make me a channel of thy peace; where there is darkness may we bring light, where there is hatred, may we bring love, and where there is despair, may we bring hope.'
"Hope, hope, that is what America is about and it is in that spirit that I was sent to Congress.
"And today, I thank my colleagues. By electing me speaker, you have brought us closer to the ideal of equality that is America's heritage and America's hope.
"This is an historic moment -- and I thank the leader for acknowledging it. I think you Leader Boehner. It is an historic moment for the Congress, and an historic moment for the women of this country. It is a moment for which we have waited over 200 years. Never losing faith, we waited through the many years of struggle to achieve our rights. But women weren't just waiting; women were working. Never losing faith, we worked to redeem the promise of America, that all men and women are created equal. For our daughters and granddaughters, today we have broken the marble ceiling. For our daughters and our granddaughters, the sky is the limit, anything is possible for them.
"The election of 2006 was a call to change -- not merely to change the control of Congress, but for a new direction for our country. Nowhere were the American people more clear about the need for a new direction than in the war in Iraq.
"The American people rejected an open-ended obligation to a war without end. Shortly, President Bush will address the nation on the subject of Iraq. It is the responsibility of the president to articulate a new plan for Iraq that makes it clear to the Iraqis that they must defend their own streets and their own security, a plan that promotes stability in the region, and a plan that allows us to responsibly redeploy our troops.
"Let us work together to be the Congress that rebuilds our military to meet the national security challenges of the 21st century.
"Let us be the Congress that strongly honors our responsibility to protect the American people from terrorism.
"Let us be the Congress that never forgets our commitment to our veterans and our first responders, always honoring them as the heroes that they are.
"The American people also spoke clearly for a new direction here at home -- they desire a new vision, a new America, built on the values that have made our country great.
"Our founders envisioned a new America driven by optimism, opportunity, and strength. So confident were they in the America they were advancing, they put on the seal, the great seal of the United States, 'novus ordo seclorum' -- a new order for the centuries. Centuries, they spoke of the centuries. They envisioned America as a just and good place, as a fair and efficient society, as a source of opportunity for all.
"This vision has sustained us for over 200 years, and it accounts for what is best in our great nation: liberty, opportunity, and justice.
"Now it is our responsibility to carry forth that vision of a new America into the 21st Century.
"A new America that seizes the future and forges 21st Century solutions through discovery, creativity, and innovation, sustaining our economic leadership and ensuring our national security.
"A new America with a vibrant and strengthened middle class for whom college is affordable, health care is accessible, and retirement reliable.
"A new America that declares our energy independence, promotes domestic sources of renewable energy, and combats climate change.
"A new America that is strong, secure, and a respected leader among the community of nations.
"And the American people told us they expected us to work together for fiscal responsibility, with the highest ethical standards and with civility and bipartisanship.
"After years of historic deficits, this 110th Congress will commit itself to a higher standard: pay as you go, no new deficit spending. Our new America will provide unlimited opportunity for future generations, not burden them with mountains of debt.
"In order to achieve our new America for the 21st Century, we must return this House to the American people. So our first order of business is passing the toughest congressional ethics reform in history. This new Congress doesn't have two years or 200 days.
"Let us join together in the first 100 hours to make this Congress the most honest and open Congress in history - 100 hours.
"This openness requires respect for every voice in the Congress. As Thomas Jefferson said, 'Every difference of opinion is not a difference of principle.' My colleagues elected me to be Speaker of the House -- the entire House. Respectful of the vision of our Founders, the expectations of our people, and the great challenges that we face, we have an obligation to reach beyond partisanship to work for all Americans.
"Let us all stand together to move our country forward, seeking common ground for the common good.
"We have made history, now let us make progress for our the America people.
"May God bless our work, and may God bless America."
URL: http://sfgate.com/cgi-bin/article.cgi?file=/c/a/2007/01/04/BAG5ANCTQ27.DTL
▲
by

alfayoko2005

| 2007-01-05 15:13 | 米政治
Japan TV apologizes for "topless" New Year's Eve shock
Mon Jan 1, 2007 1:29am ET

TOKYO (Reuters) -
A troupe of dancers in skin-colored body suits had Japanese national broadcaster NHK apologizing to viewers of its New Year's Eve music special for what seemed to be a full-scale Janet Jackson-style wardrobe malfunction.
The dancers, who all appeared to be topless and wore skimpy bikini-style bottoms and feathered head-dresses, covered the stage during a performance by singer DJ OZMA, prompting about 250 viewers to phone in and complain.
"The dancers were wearing body suits, but we apologize for any misunderstanding," a presenter announced toward the end of the 57th annual "Red and White Song Contest".
"I guess it looked a bit too real," local media quoted the singer as telling reporters after the show, which regularly tops viewer ratings on New Year's Eve in Japan.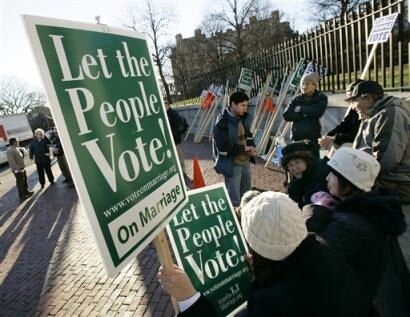 Gay marriage opponents sit outside the Statehouse in Boston Tuesday, Jan. 2, 2007, after lawmakers in Massachusetts, the only state where gay marriage is legal, voted Tuesday to allow a proposed constitutional amendment to move forward that would effectively ban it. The amendment's backers had collected 170,000 signatures to get a question on the 2008 ballot asking voters to declare marriage to be between a man and a woman, but they still need the approval of two consecutive legislatures. (AP Photo/Elise Amendola)
同性婚認める州憲法修正か 米マサチューセッツ
2007年01月03日18時56分 朝日
 AP通信などによると、米国の州で唯一、同性同士の結婚を認めているマサチューセッツ州の上下院は2日、結婚を男女間のものと限定する州憲法修正案を08年に住民投票にかけることについて採決し、200人の議員のうち、必要とされる4分の1を上回る61人が賛成した。
 実際に住民投票にかけるには連続した会期での採決が必要。次期会期でも、採決に持ち込まれれば50人を上回る賛成があるとみられる。住民投票をへて修正が成立すると、同州での同性婚は認められなくなる。
Proposed Mass. gay marriage ban advances
By STEVE LeBLANC, Associated Press Writer
Wednesday, January 3, 2006
A proposed constitutional amendment to halt gay marriage is a step closer to making the 2008 Massachusetts ballot, but the governor-elect said Wednesday that the fight to preserve the state's unique same-sex marriage rights will continue.
Lawmakers voted Tuesday to advance the proposed amendment, which would define marriage as the union between a man and woman.
The measure still needs approval in the next legislative session before it can appear on the ballot, and both supporters and opponents of gay marriage promised to step up their campaigns.
"This fight isn't over," said Democratic Gov.-elect Deval Patrick, who opposes the amendment.
Patrick had been out of the country until Monday, and he had conducted a furious round of last-minute lobbying to try to prevent the vote Tuesday. If the Legislature had recessed Tuesday, the final day of its session, without voting, amendment supporters who had collected more than 120,000 signatures would have essentially had to start over.
"This is democracy in action. It's not a vengeance campaign. It's not a hate campaign. It's just an opportunity for the people to vote," said Kris Mineau of the Massachusetts Family Institute, which backs the amendment.
Gov. Mitt Romney, an opponent of gay marriage who took the first step Wednesday toward becoming candidate for the GOP 2008 presidential nomination by filing papers to create an exploratory committee, called the vote to advance the proposed amendment an important step on the path to the ballot box.
"This is a huge victory for the people of Massachusetts," he said.
About 8,000 same-sex couples have wed in Massachusetts since the Supreme Judicial Court ruled in 2003 that the state Constitution guarantees gays the right to marry. A few other states offer civil unions with similar rights for gay couples, but only Massachusetts allows gay marriage.
"There are thousands and thousands of supporters who are committed to ensuring that the rights of a few are never put to a public popularity ballot," said Marc Solomon, campaign director for MassEquality, a gay rights group.
House Speaker Salvatore DiMasi, who had avoided calling the proposed amendment to a vote last fall, said its wording discriminates against gays.
One state lawmaker, Rep. Philip Travis, said the Legislature was simply upholding its duty to respond to a petition calling for a statewide vote on the issue.
The state's high court had admonished the Legislature for avoiding a vote on the citizen petition last fall but said it had no power to intervene.
The amendment needs to be approved by 50 members of the current Legislature and 50 members of the new Legislature before going to voters on the 2008 ballot. Tuesday's vote fulfills the first part of that process.
Supporters of gay marriage say the tide is in their favor.
Seventeen lawmakers who voted Tuesday won't be returning in the new legislative session, including some of the most vocal opponents of same-sex marriage. Gay marriage supporters say they will pick up a total of seven votes to block the proposed amendment in the new session, according to Solomon.
But gay marriage opponents say they're confident they have a solid base of more than 50 lawmakers who won't flip their votes.
___
AP reporters Glen Johnson and David Weber contributed to this report.
Massachusetts lawmakers approve gay marriage vote
By Kevin McNicholas
Tue Jan 2, 6:50 PM ET
Reuters
Massachusetts lawmakers approved a measure on Tuesday that could give voters a chance next year to ban gay marriage in the only U.S. state where it is legal and overturn a historic ruling by the state's highest court.
"We see this as a victory," said Kristian Mineau, president of the Massachusetts Family Institute, a conservative Christian organization.
With hundreds of protesters on both sides of the emotionally charged issue chanting slogans outside the gold-domed Statehouse, 61 lawmakers voted to advance the proposed constitutional amendment to ban same-sex marriage -- more than enough needed under state law for such initiatives.
The 200-member legislature, which has faced a grueling battle over the issue for three years, immediately moved to reconsider its vote, a step gay-marriage supporters had hoped would defeat it. But the measure passed a second vote by the same 61-132 margin.
If it clears another legislative test expected by early next year, Massachusetts residents will vote on it in 2008.
"If it goes to the ballot, it would be a disaster for this state," said Arline Isaacson, co-chair of the Massachusetts Gay and Lesbian Political Caucus. "The state will endure one of the nastiest and most divisive debates you've ever seen with the radical right money pouring in and an anti-gay campaign of the likes people could not possibly imagine."
Although a majority in the Democratic-controlled state legislature voted against it, the measure needed only 50 votes to pass. It also was backed by 170,000 Massachusetts voters who signed a petition along with social conservatives including Republican Gov. Mitt Romney, a probable White House contender.
Gay marriage advocates, including Democratic Gov.-elect Deval Patrick, had lobbied to kill the proposed amendment by pressing the state constitutional convention to recess without voting on the proposal.
ANGERING ROMNEY
That is what happened on November 9 when lawmakers threw their support behind gay-marriage advocates by adjourning the constitutional convention without moving on the issue, angering Romney, who then asked the state's highest court to intervene.
The Supreme Judicial Court ruled last week that it could not force lawmakers to vote but urged them to do so anyway, saying they had a constitutional duty to vote. That statement appeared to sway legislative leaders.
The proposed amendment, which would define marriage as between a man and a woman, now goes to a second legislative vote expected by early 2008. If it clears that hurdle, it will be added to a ballot next year for a popular vote.
"I believe a vote to advance this question to the 2008 ballot is irresponsible and wrong," Patrick, who will be sworn in this week, said in a statement before the vote. "It would do nothing more than condemn us all to more years of debate and expense on a matter that is legally and practically settled."
In 2003, the state Supreme Judicial Court ruled that a ban on gay marriage was unconstitutional, leading to America's first same-sex marriages the following year. More than 8,000 gay and lesbian couples have since married.
The debate in Massachusetts comes about two weeks after New Jersey became the third U.S. state to provide equal rights for same-sex couples in committed relationships known as civil unions.
Marriage between same-sex couples is legal in Belgium, Canada, the Netherlands, Spain and South Africa.
The Telegraph
North Korea's leader orders birthday tribute to 'fellow music prodigy' Mozart
By Graeme Baker
Last Updated: 1:27am GMT 30/12/2006
North Korea took a break from its hit parade of rousing revolutionary songs yesterday to celebrate the work of Wolfgang Amadeus Mozart in Pyongyang.
Kim Jong-il, the renegade leader known for his many eccentricities, ordered his nation to mark the 250th birthday of Mozart by staging a rendition of his most famous works.
The celebration was in stark contrast to North Korea's normal diet of titles including Let's Support our Supreme Commander with Arms and Song of Coast Artillerymen.
"A concert was given at the Moranbong Theatre to mark the 250th birth anniversary of Mozart," the state owned KCNA news agency said.
advertisementIt added: "Put on the stage were the orchestra of The Marriage of Figaro piano concerto No 23 and other music pieces of Mozart, who composed dozens of operas and symphonies and many other instrumental music and vocal songs, contributing to the development of Western music in the second half of the 18th century.
"The State Symphony Orchestra successfully presented the peculiar attraction and diverse emotion of music pieces of Mozart through exquisite rendition and truthful representation." North Korea's government has banned popular music from South Korea and the West as subversive and has a habit of jailing people who own records not to the liking of officials.
But Kim is known to be an admirer of the Austrian composer and claims to boast similar talents.
According to his official biography, Kim was also a musical prodigy, penning the song The Embrace of My Motherland at 10 and writing several revolutionary operas by his early 20s.
His talents apparently do not stop there.
Official state news carried reports that he bagged 11 holes-in-one while playing his first game of golf.
外信「金総書記は音楽神童?」 (中央日報・日本語版 2007/01/02)
北朝鮮官営・朝鮮中央(チョソンジュンアン)通信が「暮れの12月28日、モーツァルトの誕生日250周年を記念する音楽会が平壌(ピョンヤン)の牡丹峰(モランボン)劇場で行なわれた」と報じた。
同通信によると、記念音楽会では、モーツァルトのオペラ管弦楽『フィガロの結婚』の序曲、ピアノ協奏曲23番、交響曲第39番のすべての楽章が演奏された。通常、社会主義の建設や祖国統一などを主題にした曲が演奏される北朝鮮で、モーツァルトの曲が響きわたったのは異例のことだ。
ロイター通信は、朝鮮中央通信が報じた内容として「北、砲兵音楽(artillery music)をモーツァルトに変える」という見出しのもと「北朝鮮は韓国や西側の大衆音楽を『破壊的だ』として忌避し、共産党の役人が好まないレコードを持っている人を投獄させているとされてきた」と伝えた。
続いて「金正日(キム・ジョンイル)国防委員長は自伝で10歳のとき『祖国のふところ』を、20代初めに数曲の革命オペラを作曲するなどモーツァルト並みの音楽神童だった」としている。英紙デーリー・テレグラフは「北朝鮮指導者は『音楽神童』、モーツァルト誕生日への献辞を命令」という見出しのもと、モーツァルト音楽会は『武装でかしずこう、我々の最高司令官』、『海岸砲兵の歌』などと言った、通常北朝鮮で演奏される曲とは明確に異なるものだと伝えた。
2007.01.02 16:55:34
▲
by

alfayoko2005

| 2007-01-03 19:25 | Music