カテゴリ
以前の記事
検索
最新のトラックバック
その他のジャンル
ファン
記事ランキング
ブログジャンル
画像一覧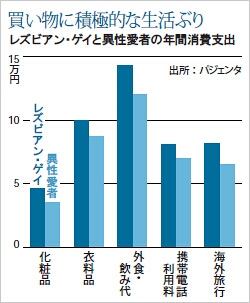 巨大市場「LGBT」とは
年間6兆6000億円、同性愛者の国内市場
2007年2月28日 水曜日 細田 孝宏
同性愛者  LGBT市場  市場開拓
日経ビジネス 2007年2月26日号14ページより
 年間6兆6000億円――。日本における同性愛者など性的マイノリティーの消費市場が、このほど初めて明らかになった。国内酒類の市場規模が6兆円前後と言われていることから、その巨大さが分かるだろう。
 調査をまとめたのは、ポータルサイト運営会社のパジェンタ(東京都千代田区)。同社は昨年10月からレズビアンやゲイなど性的マイノリティー向けの会員制情報提供サイトを運営している。11月に約4万人を対象に実施した調査では、性的嗜好への質問の結果、日本の同性愛者は約274万人、20~59歳の人口比では4.0%に相当するとの結果が出た。さらにアンケートから消費ベースの市場規模を算出すると6兆6423億円にもなるという。
米国では既に77兆円市場
 こうした性的マイノリティーの消費市場に対する認識は日本ではまだ低いが、欧米では既に「LGBT市場」として広く認知されている。米国では多様性との意味を込めて「レインボー市場」とも言われる。「LGBT」はそれぞれ、レズビアン、ゲイ、バイセクシャル(両性愛者)、トランスジェンダー(性同一性障害者)の頭文字。正確な統計はないものの、米国では全人口の約5~15%を占めるとされる。
 既に欧米企業にとっては攻略すべき重要ターゲットの1つとなっている。米国では、アメリカン航空がLGBT層を想定した旅行サイトを設けているほか、フォード・モーターが独自の広告を展開するなど、大手企業も積極的に取り組んでいる。
 企業がLGBTを狙うのは、その市場規模の大きさゆえ。米国の調査では年間6400億ドル(約77兆円)とされており、既にヒスパニック(スペイン語系米国住民)の購買力とほぼ肩を並べるまでになった。2012年にはさらに、現在の1.5倍程度に市場は拡大すると予想されている。
 大きさばかりではない。消費の「質」でも企業にとって無視できない存在になりつつある。一般に、LGBT層はデザイナーや芸術関係など創造性の高い仕事に就いている人が多く、流行やファッションに対する感度が高いとされる。それゆえ「気に入れば値段が高くても積極的に買い、特定ブランドやメーカーの優良顧客になる傾向が強い」(パジェンタの箱石克好社長)。
可処分所得の多さも魅力
 消費に対して積極的なのはもう1つ理由がある。子供を持たないというライフスタイルを選択することが多いため、可処分所得が多いのだ。消費支出のうち、人間らしい生活を営むために必要な「基礎的消費」と、自らの価値観に照らして生活をより豊かにするための「選択的消費」に分けてみた場合、後者の消費性向が比較的高くなるというわけだ。
 パジェンタが実施した今回の調査でもその傾向が出ている。美容、交際費、旅行など10項目の消費について、年間の支出額を聞いたところ、平均で一般の異性愛者に比べ1.2倍。化粧品であれば、異性愛者の平均が3万6000円だったのに対し、レズビアン・ゲイは4万6000円、海外旅行なら6万5000円だった異性愛者平均を26%上回る8万2000円という結果が出た。インターネットの利用にも積極的な傾向があり、ネット通販による支出額は異性愛者平均の1.3倍だった。
 米国では既にLGBT向けマーケティングに乗り出している日本企業もあるが、日本では性的マイノリティーへの理解が米国ほど浸透していないこともあって、市場開拓には「まだ消極的な企業がほとんど」(箱石社長)。無視できる市場規模ではないことが判明したことで、消費者の意識の変化を横目に見ながら、LGBT戦略への関心が高まるかもしれない。
The Japan Times
Monday, Feb. 26, 2007
EDITORIAL
Baby-making brains
The "baby-making machine" comment by a senior politician continues to reverberate through Japanese society. One might forgive a slip of the tongue, yet whenever the age-old misunderstanding between men and women re-emerges, it always exposes more ironies and issues than, simply, whose turn it is to get up in the middle of the night and take care of the baby. Indeed, if there are any babies.
"Machine" is the least appropriate metaphor. During pregnancy, women run through such a gamut of emotions that "machine" is about the last thing most fathers-to-be would come up with. After birth, of course, it is minds, not bodies, that do the work. If all this were machine work, one would have long ago been invented to take care of midnight crying and feeding. Machines would never become sleep-deprived. Neither, of course, could they smile and coo with affection.
The biological irony is that men, not women, are really the baby-making machines. After men drop off a genetic packet, they are, biologically speaking, unnecessary. And with the advent of sperm banks, even more so. Perhaps it is being reproductively equaled by a test tube that makes so many men so uneasy.
Why are Japanese women not having children? For the same reason Japanese men traditionally helped very little in the household -- they are busy working.
One worries when the government seems to have not noticed one of the most amazing changes in Japanese history. Japanese women have secured important positions in publishing, communications, academics and sophisticated services. While they may be lagging in male bastions like hard sciences and heavy industries, within another baby-less generation, they will be in upper management. And maybe even in the government.
One need not look at the statistics to see this remarkable shift. Numbers tell part of the story, but a glance around the society tells the rest. One can see as many young women in job-hunting outfits as young men.
Or step into any office and see women working away at desks right beside men. If they are baby-making machines at home, they are human beings in the workplace.
But, back to the babies. One does wonder about the reasons and forces behind Japan's declining birthrate, especially since baby making is nowadays safer and easier than at any time in human history. It would be easy to assume women have somehow lost their maternal instincts or are in denial about one possibility in life. If so, the same applies to men.
After all, it still takes two to tango: Japanese men are just as responsible for making babies as women.
This reproductive refusal, if that's what it is, brings to mind the famous Greek drama, "Lysistrata." In this 2,000-year-old play, the women of a small city-state decide to stop having sex with men until they halt a senseless war. The men, driven to frustration, eventually give in, halt the war, and all returns to normal. The comedy focused not only on the ironies of sexuality but more importantly on freedom of choice and social harmony.
In real modern societies, though, the dynamics are more complicated. Having children is perhaps one of the most personal and private decisions anyone can make. With the increasing openness and declining verticality in Japanese society, women can now make more choices of their own in more areas of their lives. That is not a failure of the society, but a success.
This turning away from babies should not be seen as a rejection of Japanese tradition, nor as a refusal to continue the species. Instead, it seems a step toward self-dignity and equality, a desire to fully share in the success of Japan's modern society. It is men, after all, who have for the past two generations made work seem so appealing, gratifying and central to life. Reproductive downturn is one of the side effects of these social gains.
It remains to be seen, though, if the next step will occur. Will baby making ever again become popular? Pendulums swing but not always in predictable ways. Babies might just well become the most fashionable of accessories. When that happens, droves of women will have them. No woman would dare be seen without a designer stroller and name-brand diapers. The government should start planning for this next baby-boom mania right away. Marketing specialists probably already are.
Whatever happens, governments are better at offering support like maternity-leave regulations and day-care facilities than they are at convincing people to do what they are told. Reproduction might eventually even "naturally" return to "normal" levels, though "natural" and "normal" are difficult terms to clearly define. What is sure is that in the future, baby making and baby raising will never again be what they were once traditionally imagined to be.
From The Times
February 26, 2007
Dissect them alive: chilling Imperial that order could not be disobeyed
Richard Lloyd Parry in Hirakata
For 62 years Akira Makino spoke not a word of what he had done. But to those who knew him well it must have been obvious that he was a man with a tortured conscience. Why else would he have returned so often to the obscure, mosquito-blown town in the southern Philippines where he experienced such misery during the Second World War? He set up war memorials, gave clothes to poor children, and bought an entire set of uniforms for a local baseball team.
Last year, at the age of 83, he embarked on a gruelling pilgrimage to 88 Buddhist temples in Japan. After number 40 he collapsed from heat exhaustion, having permanently injured his knees. "My wife didn't like me going back to the Philippines — she called me 'war crazy'," said Mr Makino, a frail old man who lives alone in Hirakata, near Osaka. "But she let me go anyway. Right up until she died three years ago, I never told her. But over time I think she realised."
Only in the twilight of his life has Mr Makino begun to talk about the secret he carried for more than 60 years. In 1944, as a medical auxiliary in the Imperial Navy, he was stationed on the island of Mindanao in the southern Philippines. There he was party to one of the most notorious and poorly chronicled cruelties of the Japanese war effort — the medical dissection of living prisoners of war.
Over four months before the defeat of the Japanese forces in March 1945, Mr Makino cut open ten Filipino prisoners, including two teenage girls. He amputated their limbs and cut up and removed their livers, kidneys, wombs and still beating hearts for no better reason than to improve his knowledge of anatomy.
"It was educational," he said. "Even today when I go to see doctors they are impressed by my knowledge of the human body. But if I'm really honest, the reason we did it was to take revenge on these people who were spying for the Americans. Now, of course I feel terrible about the cruel thing that I did, and I think of it so often. But at the time what I felt for these people was closer to hatred than to pity."
There have been other accounts of medical vivisection, most notoriously by Unit 731, a top-secret arm of the Imperial Army which killed thousands of Chinese and Russian prisoners in Manchuria in the name of scientific research. But Mr Makino's is the first such testimony to have emerged from the Philippines — and from the Navy, which was regarded as the less cruel and fanatical of the Imperial Armed Forces.
Apart from the extraordinary climax of his wartime story, Mr Makino comes across as a typical Japanese of his generation — a polite, well-meaning man who lacked the courage and daring that would have been needed to stand up to the Imperial war machine. It was in such an atmosphere that he found himself in Zamboanga, a Muslim town in the far southwest of the Philippines.
The population were the Moro people, an assortment of jungle tribes legendary as ferocious head hunters. The Japanese feared and hated them; as the US forces drew closer they arrested many of them as spies and threw them into a hellish pit where they were left to rot. "I don't know whether they really were spies or not," Mr Makino said. "All that was needed was for someone to say that they were. We knew that we'd lost the war. Our psychological state was very strange by then. In those conditions, we could do anything, absolutely anything." It began with a practice that has been described by a number of former Japanese soldiers — the "testing" of traditional Japanese swords on live prisoners.
One day towards the end of 1944, Mr Makino was summoned by his commanding officer, a navy doctor. "He told me that if anything happened to him I had to take over from him. He told me to come and see a vivisection. The first time it was one prisoner, a middle-aged man. He'd already given up — there was no struggle. He was tied to the bed and anaesthetised with ether, so that he was completely unconscious. The lieutenant showed me what to do. He cut him open, and pointed out, 'Here's the liver, here's the kidneys, here's the heart'. The heart was still beating, then he cut the heart open and showed me the inside. That was when he died.
"I didn't want to do it, but it was an order, you see. At that time, if a commander gave you an order it was understood that it was the order of the Emperor, and the Emperor was a god. I had no choice — if I had disobeyed I would have been killed."
The "operation" took about an hour; when it was over the body was sewn up and thrown into a hole in the earth. Eight more vivisections followed, Mr Makino said. "We removed some of the organs and amputated legs and arms. Two of the victims were women, young women, 18 or 19 years old. I hesitate to say it, but we opened up their wombs to show the younger soldiers. They knew very little about women — it was sex education.
When the Americans landed in March 1945, the Japanese scattered into the jungle. Mr Makino spent seven months living like an animal, alone. When he returned to Japan the feelings of remorse began.
He said: "I was under orders, you see. But I know that I did a terrible thing."
Atrocities remembered
— Up to 300,000 Chinese were killed by biological weapons between 1938 and 1945
— 200,000 women are thought to have been made to work in Japanese military brothels during the war
— The construction of the Railway of Death, linking Thailand and Burma and including the bridge over the River Kwai, cost the lives of 13,000 prisoners of war and up to 100,000 civilians Between December 1937 and March 1938 Japanese troops occupying the Chinese city of Nanjing killed an estimated 275,000 people, many of them women and children
— In 2000 a Japanese company paid $4.6 million compensation to 1,000 foreign labourers forced to work as slaves to support Japan's war effort
Sources: Times archive; the Hoover Institute
▲
by

alfayoko2005

| 2007-02-26 10:16 | 国内政治
Prodi To Stay On, Gay Unions Bill Appears Dead
by 365Gay.com Newscenter Staff
Posted: February 24, 2007 - 4:00 pm ET

(Rome)
Italian president Giorgio Napolitano asked Prime Minister Romano Prodi on Saturday to remain in office but face a confidence vote in parliament. Whether or not he survives the vote it appears that a bill to recognize same-sex couples is off the table.
Prodi stepped down Wednesday after an embarrassing parliamentary defeat over foreign policy.
Following two days of meetings with Napolitano and scrambling by Prodi to expand his left-of-center coalition, he has managed to escape, at least for the moment, being thrown out.
But the cost of his new-found allies has been costly for gay couples.
The expanded coalition forced Prodi to agree to a 12-point plan that calls for respecting Italy's international commitments in Afghanistan and elsewhere, and for the construction of a high-speed rail line linking Turin with Lyon, France.
But, in an apparent nod to Catholic moderate lawmakers, the new government program makes no mention of a proposal to grant legal rights to unmarried couples, including gay partners. The proposal has angered the Vatican and drawn the opposition of Catholic politicians.
"I will seek a vote of confidence as soon as possible, with renewed impetus and a united and determined coalition," Prodi said after meeting Saturday with President Napolitano.
Opposition leader Silvio Berlusconi denounced the center-left efforts, saying senators in his center-right coalition were being bandied about as a commodity, and called for new elections.
The opposition "is protesting, and will protest with vigor and will commit in every way to give the country an authoritative majority," Berlusconi said.
Earlier this month Prodi's left-of-center coalition cabinet approved the civil partnership bill in a stormy special meeting (story) and it was expected to be introduced in the Lower House in the next few weeks.
It would have allowed same-sex couples to sign a civil registry and then share pensions, health insurance, enter into contracts, and permit them to be considered the same as married couples for public housing.
consortiumnews.com
Why US Shields Japan's WWII Denials
By Jerry Meldon
February 24, 2007
Editor's Note: Over the years, we have written a number of stories about Rev. Sun Myung Moon's influence-buying schemes inside U.S. conservative political circles – and the federal government's odd refusal to aggressively enforce laws when Moon's operation is caught in legally questionable activities. [See, for instance, Moon/Bush 'Ongoing Crime Enterprise'.]

In this guest article, Jerry Meldon examines the mysterious roots of the money that has funded right-wing Asian politics since World War II and that has sometimes spilled over into the United States:
On Feb. 19, Japanese Foreign Minister Taro Aso took exception to a U.S. congressional resolution introduced by Rep. Mike Honda, D-California, calling on Japan to "formally acknowledge, apologize and accept historical responsibility" for coercing 200,000 Asian women into slavery as "Comfort Women" (wartime prostitutes) for 3.5 million Japanese soldiers. Mr. Aso said he considers the accusation groundless and extremely regrettable.
Six decades after World War II, can it really be that Japanese officials are still distorting history and insulting the Chinese, Koreans, Philippinos and others across Asia whom Hirohito' s forces savagely brutalized and robbed?
And why does Washington turn a deaf ear?
The answers may be rooted in what transpired behind closed doors in Tokyo when Japan was occupied by the U.S. military in the post-war years .
Sterling and Peggy Seagrave suggest a motive in their eye-opening – and at times stomach-turning – 2003 book, Gold Warriors: America's Secret Recovery of Yamashita's Gold. In the war's immediate aftermath, Gen. Douglas MacArthur, commander-in-chief of Allied occupying forces, secretly joined hands with Japanese war criminals.
Rather than convict, imprison and throw away the keys, MacArthur coddled those responsible for one of history's bloodiest wars of aggression. When the U.S. occupation ended in 1952, he released all those who were still in custody.
And it may have gone a lot further than that.
According to Gold Warriors, e ven as the United States "introduced democratic reforms and a new constitution … [it ] put Japan back under the control of men who were devotedly undemocratic … [insisting] that Japan never stole anything and was flat broke … [when, in reality, America had given it ] huge infusions of black money."
Washington even had Article 14 of the 1951 Japan Peace Treaty state : "It is recognized that Japan should pay reparations to the Allied Powers for the damage and suffering caused by it during the war. Nevertheless it is also recognized that the resources of Japan are not presently sufficient … [Therefore] the Allied Powers waive all reparations claims of the Allied Powers and their nationals arising out of any actions taken by Japan."
As historian Christopher Simpson put it , the United States thereby insured "that the vict ims of the war – rape camp survivors, slave laborers and POWs – [would] be left with nothing."
Furthermore, according to the Seagraves, "records of Japan's looting and economic conspiracy have been removed from Western archives and databases, remain under secret classification and will not be made public for another half-century."
The cover-up notwithstanding, the Seagraves somehow penetrated the veil of secrecy and reported that the source of the black money that MacArthur bestowed on the Japanese. They wrote that after arriving in Japan, the general's aides located $100 billion in gold, platinum and other treasures that Hirohito's forces had systematically plundered from occupied Asian nations and buried deep underground.
When MacArthur reported this to Washington, President Harry S. Truman's brain trust – which included John McCloy, who as U.S. High Commissioner for Germany would authorize the early release of many Nazi war criminals – decided to devote the fortune to covert operations such as the bankrolling of rightist political parties and the recruitment of war criminals as U.S. intelligence agents for the Cold War that was just beginning.
One of the most notorious crooks MacArthur embraced was yakuza godfather Yoshio Kodama. With the exalted rank of rear admiral in the Japanese navy, Kodama had overseen the wartime looting of Asia's criminal infrastructure. In the process, he stashed away a personal fortune estimated at $13 billion.
Arrested as a Class A war criminal, he made a deal with MacArthur's intelligence chief, Gen. Charles Willoughby. Kodama handed the CIA $100 million in return for his release from Sugamo Prison. Returning to the underworld, he regained control of the Asian heroin traffic.
According to the Seagraves and others, he also remained a CIA asset until his death in 1984. It was apparently in that capacity that he became a major behind-the-scenes political force, primarily in Japan but, indirectly, across the Pacific as well.
Together with his fellow racketeer and Class A war criminal Ryoichi Sasakawa, Kodama underwrote the creation of two Japanese political parties that later combined to form the Liberal Democratic Party (LDP). Except for a brief hiatus when voters had had their fill of corruption, the conservative LDP has ruled Japan ever since. According to sources cited by the Seagraves, the LDP secretly contributed to the 1960 presidential campaign of Richard M. Nixon.
The LDP was not the only organization which Kodama and Sasakawa bankrolled, that lavished the gangsters' ill-begotten wealth on American politicians. They also underwrote the Rev. Sun Myung Moon's Unification Church, which owns the right-wing daily, the Washington Times.
When Gen. Park Chung Hee staged a coup and installed himself as South Korea's dictator in 1961, he designated the Unification Church to be his political arm. Successive South Korean leaders have used it to influence U.S. foreign policy.
A 1978 congressional inquiry found that Moon's organization, in coordination with South Korea's CIA-molded intelligence agency, the KCIA, paid off several U.S. congressmen. Rep. Richard Hanna, D-California, and Otto Passman, D-Louisiana, accepted approximately $200,000 each.
Hanna was slapped with a six-to-30-month sentence and spent a year behind bars. Passman managed to have himself tried in his home town and was acquitted. Fortunately for Reps. Cornelius Gallagher, D-New Jersey, and William Marshall, R-Ohio, the five-year statute of limitations ran out before they could be prosecuted. Three others congressmen were reprimanded for lying about their gifts.
Kodama and Sasakawa, together with followers of Rev. Moon, also underwrote the Asian People's Anti-Communist League (APACL) as a propaganda mill for the dictatorships of Taiwan and South Korea. In 1966, the APACL expanded to become the World Anti-Communist League (WACL) . European neo-nazi terrorists and Latin American death squad leaders attended WACL conferences in the 1970s and 1980s.
Ronald Reagan – whose 1981 presidential inauguration was attended by the godfather of Central America's death squads, Mario Sandoval Alarcon – sent the following message to the 1985 WACL convention in Dallas:
"I commend you all for your part in this noble cause. Our combined efforts are moving the tide of history toward world freedom. We must persevere and never falter. I send all you who help in your crusade for liberty my best wishes. God bless you."
The previous year, Congress had blocked continued White House funding for the counter-revolutionary Nicaraguan contras. Undaunted, the Reagan administration solicited donations from private right-wing sources, including the two organizations that Kodama and Sasakawa had spawned. WACL and the Unification Church each obliged the Reagan team with generous donations that kept the contras afloat.
In that same period, WACL also contributed heavily in the United States to right-wing candidates running against progressive incumbents. One such beneficiary, WACL conferee Steven Symms, unseated the chairman of the Senate Foreign Relations Committee, Frank Church, D-Idaho. A prominent Vietnam War critic, Church had chaired a 1975 Senate investigation that uncovered CIA plots to assassinate foreign leaders.
Putting the pieces of the puzzle together, a picture emerges of CIA-controlled Japanese wartime loot being funneled by Japanese war criminals, via rightist Asian conduit organizations, to American politicians.
Maybe that explains why Washington turns a deaf ear when Japanese officials sanitize their country's wartime atrocities. After all, the bruised feelings of a couple of billion Asian mainlanders is a small price to pay for keeping a lid on the truth.
Jerry Meldon is an Associate Professor of Chemical Engineering at Tufts University in Medford, Massachusetts. His e-mail is jerry.meldon@tufts.edu .
▲
by

alfayoko2005

| 2007-02-25 07:48 | 国内政治
Japan's "baby hatch plan" draws PM's criticism
24 Feb 2007 04:03:07 GMT
Source: Reuters
TOKYO, Feb 24 (Reuters) - A Japanese hospital's plan to open a "baby hatch" where people can anonymously drop off infants they feel unable to care for has been criticised by the prime minister.
Jikei Hospital in the southwestern city of Kumamoto plans to place an incubator-like hatch with access from the outside of the building to allow babies to be dropped off safely. An alarm will alert hospital staff when a baby is placed there.
The plan has been cleared by the Health Ministry after it found there were no legal obstacles.
"I feel very resistant to the idea of creating a system where people can abandon a child anonymously," the Sankei Shimbun daily quoted Prime Minister Shinzo Abe as telling reporters on Friday.
"It is important to take responsibility as parents for bearing children," he said, adding that he felt Japan already had adequate provision for babies whose parents were unable to care for them.
The system, which the hospital calls "cradle of storks" is based on a similar facility in Germany. Children left there would be handed over to the local authorities, Kyodo news agency quoted the hospital as saying.
Domestic media have reported that Jikei Hospital, which traces its origins back to a clinic founded by Catholics, aims to discourage abortion, as well as prevent deaths through the abandonment of children.
Official figures show there are about 300,000 abortions a year in Japan, although researchers say the actual incidence is much higher.
Earlier in the week, Health Minister Hakuo Yanagisawa also expressed doubt about the hospital's plan.
"In one regard it will help sustain lives of infants who might otherwise be lost unnecessarily, but there also are concerns that it might encourage parents to entrust their children to others," Kyodo news agency quoted him as saying.
▲
by

alfayoko2005

| 2007-02-24 18:53 | 国内政治
The Washington Times
www.washingtontimes.com
Program stands up against dating and domestic violence
Published February 23, 2007
Sachiyo Iwase, a facilitator at Aware in Tokyo — the Japan Association of Batterers' Intervention Programs, founded by Noriko Yamaguchi — spoke with Takehiko Kambayashi of The Washington Times about dating violence and Aware's program. In Japan, women are most often the victims of domestic and dating violence. Japan has no law to penalize batterers
.
Question: What is dating violence?
Answer: It is physical and psychological abuse that occurs between dating partners, most of whom are young. That includes verbal abuse and sexual abuse. For example, women are forced to watch porn films and view magazines or to engage in sexual intercourse. Some men refuse to use condoms. Our experts very often go to middle schools, high schools and universities to talk about dating violence and how to prevent it.
Abusers use various ways to attempt to exert their power and control their victims. Some men check and read text messages their partner received on a cell phone. They want to know if there are any messages from other men. One man told his girlfriend to send him the text message "I love you" on a cell phone every three minutes. Some abusers repeatedly demean their victims, for instance by insulting or ridiculing their partner's clothes or hairstyle.
Q: What makes them violent?
A: Once a man has had sex with someone, he thinks of her as "his property," so he becomes excessively jealous and possessive. Japan also has a gender bias against women, due to the system of patriarchy. Besides, violence against women is widely portrayed on Japanese television and in the movies. One can easily buy a pornography magazine at a convenience store. There is also violence at home.
Q: What does your organization offer to batterers?
A: We offer batterers the same program as the one in California: We use various study materials, and abusers discuss topics like the effect of porn magazines and films on their wife and children, the effect of domestic violence on their children, and the meaning of "masculinity."
Q: Can batterers change?
A: It depends, but most of them at least stop their physical violence against their wife. Their hardest part is to show sympathy toward their partner and be willing to support their partner's life. Wives are regarded by many Japanese as servants of their husbands.
Rep. Honda: 'It's the Right Thing To Do'
From the Nichi Bei Times Weekly February 22, 2007
By KENJI G. TAGUMA
Nichi Bei Times

SAN JOSE ・
The Nichi Bei Times caught up with Congressman Mike Honda (D-San Jose) at the San Jose Day of Remembrance commemoration to discuss the controversial House Resolution 121, which he recently introduced calling on the government of Japan "to formally acknowledge and apologize for the Japanese Imperial Armed Forces' World War II-era coercion of some 200,000 young women ・known as 'comfort women' ・ into sexual slavery."
Nichi Bei Times: Why did you decide to pursue this resolution now?
Mike Honda: Well there's less than 300 of them left, out of 200,000 that were victimized. So every day is a day that we lose an opportunity to get them an apology.
NBT: Ambassador Ryozo Kato has said that the resolution could adversely affect U.S.-Japan relations…
MH: That is hogwash.
NBT: What kind of feedback, if any, have you received directly from the Japanese government?
MH: We told them we were going to do this, so we gave them fair warning. My staff has met with the Embassy, I've met with members of the Embassy, I've met with their lobbyist, and they're all good people. But they're wrong.
NBT: Have they attempted to change your mind in any way?
MH: Yes. They offered to extend the Asian Women's Fund beyond March 31st if I would do something ・I can't remember what it was ・but I can't. I won't.
NBT: A vote on the last draft was blocked in September by the Republican majority. What assures you that it will pass this time?
MH: Those who are uncomfortable with it, they may need a little time to learn more about the history and the fact that the Japanese government says "we apologized." ...It is my sense that the prime ministers of the past have expressed a personal regret, but not on behalf of the government. What that means is that the Diet has to make the formal action of apology and then shared by the prime minister on behalf of the government, much like Congress passed H.R. 442 that was signed by the president (which provided for redress and reparations for Japanese Americans). That's a clear, unequivocal apology.
NBT: During the process of Assembly Joint Resolution 27 (while in the California state Assembly), some Japanese Americans had criticized you for your call for an apology and redress from the Japanese government for victims of its military atrocities during World War II. How have Japanese Americans reacted to this particular resolution?
MH: I think most people who understand the history are supportive of it. I think some who hear the idea that Japan has formally apologized will question whether we need this or not, without understanding the words and the sentiments and the context in which these apologies in the past were made ・they were individual, personal regrets, not formal government process of apologies.
NBT: Have you consulted with any other Japanese American politicians on this?
MH: I brought it before CAPAC (Congressional Asian Pacific American Caucus). I didn't ask for support, as I did for the (Filipino American) veterans. I think it's a matter of conscience.
NBT: Do you think that they would not support you?
MH: I think some of them would. I don't know if all of them would.
NBT: You're pretty confident that it's going to pass?
MH: It should come to the floor at the minimum, because it came to the floor last time. Once it comes to the floor, we'll just leave it up to the good will and the conscience of the people who have to make the decision. I think that thoughtful people will support it.
NBT: Why should Japanese American community members support this?
MH: Because it's the right thing to do. Reconciliation is an action that members of Congress on behalf of countries should urge each other to do. We have issues too, and I acknowledge that… I think Japan's relationships with other Asian countries will be enhanced.
Parliament farewells first transsexual MP
5:00AM Thursday February 15, 2007
The world's first transsexual MP Georgina Beyer came into Parliament making a joke about her sexuality and left yesterday on the same note.
In her maiden speech Ms Beyer joked that she was the stallion that became a gelding, then a mayor (of Carterton) and then she became a member.
"Well Madame Speaker can I say to you at this point that while I have relished the opportunity at being a member in this House I am glad I don't possess one," she said in her valedictory speech last night.
But it was not all lightness and laughter as she talked about the difficult decision to support Labour over the foreshore and seabed legislation.
"I am Maori but I held a general seat and my electorate wanted me to support the Government."
However, she was listening to family and Maori who opposed it.
"We all actually experience from time to time being torn in this way."
Ms Beyer said her biggest achievement was being elected.
"The first transsexual in the world to be elected to a Parliament ... it was inspirational in itself."
She praised colleagues Chris Carter, who was New Zealand's first openly gay MP, and Tim Barnett.
"This has got to add to our country that significant minorities can have a voice, can have a say and can stand for representation in this House."
Other achievements included support for prostitution reform and the legislation enabling civil unions.
"I will not resile ever from being a staunch supporter for both of those."
She was also proud to have supported the Labour programme.
"I will always be a person that will have the utmost respect for democracy. I have been pleased and proud to be a positive participant in our society. I am so glad that I have been able to redeem my more lurid past and practise proper rights of being a citizen of this country.
"I could ask for no more than that and whatever my future holds this will have to have been the greatest moment of my life."
After her speech Ms Beyer was kissed and hugged by colleagues from several parties.
She was MP for Wairarapa from 1999 until 2005 then continued as a list MP.
Ms Beyer is considering running against incumbent Wellington City Mayor Kerry Prendergast.
She will be replaced by Southland union organiser Lesley Soper.
- NZPA
▲
by

alfayoko2005

| 2007-02-22 22:28 | トランス
「性同一性障害」で戸籍上の性別変更、573件に
2月21日23時29分配信 読売新聞
 心と体の性が一致しない「性同一性障害」を持つ人が、戸籍上の性別変更を認められたケースが昨年12月末までに573件あることが21日、最高裁のまとめで分かった。
 性別変更は、2004年7月に施行された性同一性障害者特例法で可能になり、家裁に申し立て、同法が定める要件を満たせば認められる。
 最高裁によると、性別変更の申し立ては605件あり、変更が認められたのは573件、却下8件、取り下げは23件、その他1件だった。
 特例法は、性別変更には<1>性別適合手術を受けている<2>成人で子がいない――などの条件を定めている。
支援団体の「性同一性障害をかかえる人々が、普通にくらせる社会をめざす会」(東京都品川区)
によると、性同一性障害と診断された人は全国に約5000人以上いるといい、山本蘭代表は「性別を変更出来たのはまだ約1割で、要件を緩和してほしい」としている。
▲
by

alfayoko2005

| 2007-02-22 14:26 | トランス