カテゴリ
以前の記事
検索
最新のトラックバック
その他のジャンル
ファン
記事ランキング
ブログジャンル
画像一覧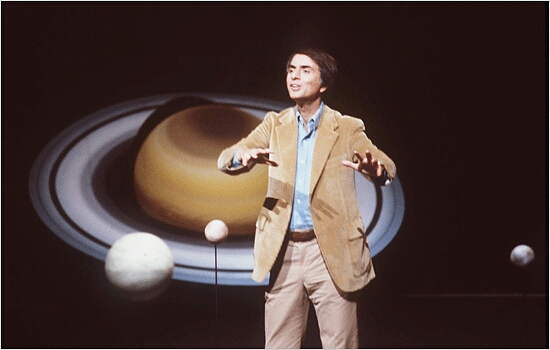 Carl Sagan in 1981. The astronomer extolled and explored the grandeur and mystery of the universe in lectures, books and on TV. (The Associated Press )
Carl Sagan, posthumously, rejoins debate on faith vs. science
By Dennis Overbye Published: February 14, 2007
International Herald Tribune
It's been 10 years since we've heard Carl Sagan beckoning us to consider the possibilities inherent in the "billions" of stars peppering the sky and in the "billions" of neuronal connections spiderwebbing our brains.
In his day, the Cornell astronomer, Pulitzer Prize-winning author of books like "The Dragons of Eden," "Contact," "Pale Blue Dot" and "The Demon- Haunted World," and impresario of the PBS television program "Cosmos" was one of the world's most eloquent unbelievers, an apostle of cosmic wonder, critic of nuclear arms and a champion of science's duty to probe and question without limit, including the claims of religion. He died of pneumonia after a series of bone marrow transplants in December 1996.
Since his death, the public discourse on his favorite issues — the fate of the planet, the beauty and mystery of the cosmos — has not fared well. The teaching of evolution in public schools has become a bitter bone of contention; NASA tried to abandon the Hubble Space Telescope and censor talk of climate change; and religious fanatics crashed jetliners into the World Trade Center, which helped lead to a war in the Middle East that has awakened memories in some corners of the Crusades.
Now, however, Sagan has rejoined the debate with the publication last month of "The Varieties of Scientific Experience: A Personal View of the Search for God" (Penguin). The book is based on a series of lectures exploring the boundary between science and religion that Sagan gave in Glasgow in 1985; it was edited by Ann Druyan, his widow and collaborator.
"I would suggest that science is, at least in part, informed worship," he writes at the beginning of a discussion that includes the history of cosmology, a travel guide to the solar system, the reason there are hallucinogen receptors in the brain, and the meaning of the potential discovery — or lack thereof — of extraterrestrial intelligence.
Never afraid to venture into global politics, Sagan warns at one point of the danger that a leader under the sway of religious fundamentalism might not try too hard to avoid nuclear Armageddon, reasoning that it was God's plan.
"He might be interested to see what that would be like," Sagan wrote. "Why slow it down?"
But Sagan acknowledges that religion can engender hope and speak truth to power, as in the civil rights movement in the United States, but that it rarely does.
It's curious, he says, that no allegedly Christian nation has adopted the Golden Rule as a basis for foreign policy. Rather, in the nuclear age, mutually assured destruction was the policy of choice. "Christianity says that you should love your enemy. It certainly doesn't say that you should vaporize his children."
When Saddam Hussein was hanged in December, those words had a haunting resonance.
It was Druyan's impatience with religious fundamentalism that led her to resurrect Sagan's lectures, which were part of the Gifford Lectures, a prestigious series about natural theology.
Druyan, who co-wrote "Cosmos" and produced the movie "Contact," based on her husband's novel, runs Cosmos Studio and was a leader in the aborted effort by the Planetary Society to launch a solar sail from a Russian submarine two years ago. Among her lesser-known achievements is a kiss on the cheek of the science writer Timothy Ferris, which was recorded and included on a record of the sounds of Earth that is part of the Voyager spacecraft now flying out of the solar system.
She and Sagan had planned to use his Gifford lectures as the basis for a new television show called "Ethos," a sequel to "Cosmos," about the spiritual implications of the scientific revolution. "I know of no other force that can wean us from our infantile belief that we are the center of the universe," she said.
But "Ethos" never happened, and the lectures disappeared.
In the wake of Sept. 11 and the attacks on the teaching of evolution in the United States, she said, a tacit truce between science and religion that has existed since the time of Galileo started breaking down. "A lot of scientists were mad as hell, and they weren't going to take it anymore," Druyan said recently.
Some of the books that resulted, such as Richard Dawkins's "The God Delusion," have been criticized as shrill, but Druyan said: "People like Carl and Dawkins are more serious about God than people who just go through the motions. They are real seekers."
About a year ago, Druyan went looking for Sagan's lectures, eventually finding them in his archive at Cornell. Rereading them, she said, "I couldn't believe how prophetic they were." It took about a day for her editor at Penguin to decide to publish them, she said.
She retitled the book — Sagan had named his lectures "The Search for Who We Are" — as a nod to William James, whose Gifford lectures in 1901 and 1902 became the basis for his book "The Varieties of Religious Experience."
Sagan asks at one point in his lectures why the God of the Scriptures seems to betray no apparent knowledge of the wider universe that "He or She or It or whatever the appropriate pronoun is" allegedly created. Why not a commandment, for instance, that thou shalt not exceed the speed of light? Or why not engrave the Ten Commandments on the Moon in such a way that they would not be discovered until now, à la the slab in "2001: A Space Odyssey"?
If such an inscription were found, people would ask how it had gotten there, Sagan writes. "And then there would be various hypotheses, most of which would be very interesting," he adds.
Near the end of his book, Sagan parses the difference between belief and science this way: "I think if we ever reach the point where we think we thoroughly understand who we are and where we came from, we will have failed."
The search for who we are does not lead to complacency or arrogance, he explains. "It goes with a courageous intent to greet the universe as it really is, not to foist our emotional predispositions on it but to courageously accept what our explorations tell us."
The last word may as well go to Dawkins, who in a 1996 book nominated Sagan as the ideal spokesman for Earth. In a blurb for the new book, Dawkins said that the astronomer was more than religious, having left behind the priests and mullahs.
"He left them behind, because he had so much more to be religious about," Dawkins wrote. "They have their Bronze Age myths, medieval superstitions and childish wishful thinking. He had the universe."
▲
by

alfayoko2005

| 2007-02-15 20:13 | 米政治
Report: Moscow official stresses city will not allow gay rights parade
The Associated Press
Wednesday, February 14, 2007
MOSCOW
Moscow will not allow a gay rights parade this spring, a senior city official said Wednesday, and he equated homosexuality with alcoholism, the RIA-Novosti news agency reported.
The city's mayor had previously said the event would not be held.
"There is the hard line of the city authorities and the position of our main faith, the Russian Orthodox Church ... of the inadmissibility of such an event in Moscow," RIA-Novosti quoted the head of the city's international relations department, Georgy Muradov, as saying.
Mayor Yuri Luzhkov and city authorities barred gay-rights activists from staging a parade last year, citing the threat of violence, but activists ignored the ban and were attacked by right-wing protesters and detained by police. Last month, Luzhkov vowed never to allow a gay rights parade, calling such events "satanic."
Russian gay activists pledged to hold a march in May.
London Mayor Ken Livingstone said last month that he strongly opposed a ban, and RIA-Novosti quoted Muradov as saying Luzhkov expects to face criticism over the issue at a Feb. 27-28 meeting with the mayors of London, Paris and Berlin.
In an attack on what he said was criticism from the Swedish ambassador, Muradov equated homosexuality with alcoholism and drew a comparison meant to suggest the ban was aimed to protect the heath and well-being of society.
"As you know, the sale of alcohol is restricted in many Scandinavian countries. Why not pose the question of removing the limits on alcohol in these countries, of holding a 'parade of alcoholics' in Sweden? They would answer: no, it's bad for one's health, it affects society's morals," RIA-Novosti quoted him as saying.
Muradov said he had "medical proof" that "this form of relations" is harmful to one's health, the agency reported.
山形市大チョンボ、男性の戸籍を女性と誤記載20年
2月15日12時0分配信 読売新聞
 山形市が、市内に本籍を持つ東京都内の男性(20)の戸籍に、20年間にわたって「長女」と誤って記載していたことが15日、わかった。市は「単純な手続きミス」と謝罪した。
 同市市民課によると、大阪府に住む男性の姉(23)が、パスポート申請のため戸籍謄本を取り寄せ、弟である男性の続柄が「長女」となっているのに気付いた。男性の父親(56)から指摘を受けた同課が、山形地方法務局に保管されている男性の出生届と照合して、市側のミスが判明した。
 市は、出生届をもとにタイプして戸籍を作成しており、男性の戸籍は、その際に打ち間違えた可能性が高いという。
 戸籍の訂正には、誤記載の部分に棒線を引くか、戸籍自体を書き直す「再生」の2種類があり、同課と父親が、どちらの方法で訂正するかを協議中。同課は「戸籍を作る際は複数の職員で確認しているが、見逃してしまった。申し訳ない」としている。
▲
by

alfayoko2005

| 2007-02-15 12:27 | トランス
Controversial sexologist backs down sex talk
By Jessie Tao (chinadaily.com.cn)
Updated: 2007-02-14 16:59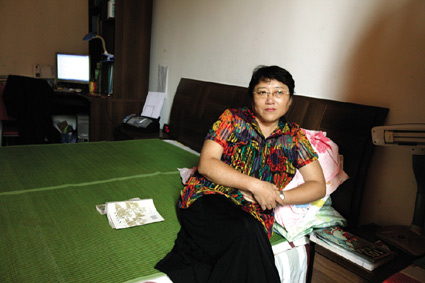 Li Yinhe at home on August 23, 2006. [sohu.com]
Li Yinhe, a noted sexologist and professor at the Chinese Academy of Social Sciences (CASS), who is expected to propose for a fourth time that gay marriage be legalized in China at this year's Chinese People's Political Consultative Conference (CPPCC) of which she is a member, just wrote in her personal blog about her decision to refrain from interviews and talk about sex because of pressure from above.
"... My leaders [at CASS], under pressure from "non-average people," would like me to shut up. ...So starting now, I have decided, for a while (maybe for the rest of my life): 1. to accept as few press interviews as possible; 2. to talk about sex as little as possible," Li wrote in an update entitled "My latest decision".
"...I don't want to uphold any more of my social responsibility because it's interfering with my life, and it's causing pressure on my higher-ups...Gay marriage is not something our country can accept at this stage. History will change when it must. And perhaps I will only be able to be a bystander when the change comes, rather than a participant," Li wrote.
Li, China's first female sociologist on marriage and sex issues, has always been in the media spotlight for her open and bold views on sex and marriage. Li was once listed as one of China's 50 Most Influential People by Asiaweek magazine.
In November 2006, Li, addressing the case in which a man who created China's largest pornographic website was given a life sentence, lashed at China's anti-porn law, saying the law against producing, selling and propagating obscene products should be overthrown.
In January 2007, Li criticized in her blog the firing of a female police office for engaging in wife-swapping activities, claiming that employers, government work units or companies alike, should not interfere in the private lives of employees.
"There is nothing wrong with wife-swapping, which follows the three sexual principles of free will, privacy and being adult. Her participation in wife-swapping is like going to an amusement park with another couple. It's obviously wrong for the employer to force her to resign," Li wrote in the blog.
However, Li's bold speech has also drawn doubt and criticism in a society where the majority of people still harbor relatively traditional and moral attitudes about sex.
Some say Li's bold views are morally corrupt and unacceptable in a civilized society. Some believe Li's defending people's rights to such sexual behaviors as one-night stands, gay marriage and wife-swapping, just to name just a few, may lead to he spread of HIV/AIDS and other sexually transmitted diseases.
Others say Li is siding with the bad guys, including corrupt officials, by blasting China anti-porn law.
Li is well aware of the criticism, and the reasons behind it.
"Many people think I am fighting for the bad people - that may explain why my opinions invited so much objection. In fact, I am not. " Li wrote in an update after announcing her latest decision,
"The people I have been defending are not all bad people. Be they gays, lesbians, or wife-swappers, they are common people on the first stand, only that they have special habits of one kind or another."
"I think even bad people should be entitled to basic rights, like eating and having sex, and that is not easy for my fellow countrymen to accept,." Li wrote.
特集ワイド:珍「産む機械」失言 外国人特派員の目
毎日新聞 2007年2月13日 東京夕刊
◇What? あきれて(バース・ギビング・マシン)飛びついた(ベビー・メーキング・デバイス)
 「日本の首相、"バース・マシン"ミニスター("産む機械"大臣)を擁護」--。日刊紙「ジ・オーストラリアン」(発行部数約13万部)は、先月31日付紙面(電子版)でこんな見出しを掲げた。柳沢伯夫厚生労働相の発言は、海外メディアにとって大ニュースではないが、「面白トピック」「あきれた話」としてすぐに飛びつきそうなネタだ。在京特派員は、発言をどう伝えたのか。「マシン発言は日本に関心のない米国の地方の人まで知っている」。そう語る英ロイター通信と、米ニューヨーク・タイムズ紙のともに米国人の担当記者に聞いた。【藤原章生】
 ◇常識外れ「日本の神経逆なで」--ロイター通信東京特派員のリンダ・シーグさん
 ◇「非人間扱い」はっきり表現--NYタイムズ東京特派員のマーティン・ファクラーさん
 1月27日、ロイター通信からの第一報を世界に流したのは、在京25年の特派員、リンダ・シーグさんだった。「土曜日だから家で(パソコンで)共同通信の英文記事を見ていたら『バース・ギビング・マシン(Birth‐giving machine)』っていう言葉に目が留まり、『は?』っと」。シーグさんはあぜんといったポーズをしてみせた。
 「何を言ったんだろうと日本語版を見たら『産む機械、装置』とあった。これは問題になる可能性が相当あると、すぐに『共同が伝えた』という短い記事をロンドンに送りました」
 特派員の業務は、独自取材のほか、担当地域のニュースを精査して伝える「転電」がある。「○○通信によると」「××新聞がこう報じた」といった記事だ。「ただの翻訳」とも言えるが、日々のニュースから何を選ぶか、センスが問われる。
 シーグさんがそばにいた日本人の夫に「発言、どう思う?」と尋ねると「常識外れだね」という答えが返ってきたという。
 「ニュース価値が二つあった。まず発言そのものが柳沢大臣の(地位を脅かすといった)問題になる。それに加え、支持率が落ちている安倍政権の問題が膨らみ、選挙など今後の政治情勢に影響する」と読んだ。
 シーグさんは第一報の後、「"産む機械"失言が日本の神経を逆なで」という長文の分析記事をまとめた。そこでは「柳沢発言は、男性で占められる日本の権力社会にしみ渡る、根深い視線を映し出している」と話す学者や、「物のように扱われ、侮辱された気持ちがする」という26歳の女性の声を紹介している。
       *
 一方、ニューヨーク・タイムズのマーティン・ファクラー記者は27日のニュースを聞き「女性を人間扱いしていないのでちょっと驚いた」ものの、すぐに記事にはしなかった。理由の一つは、新聞社の特派員の場合、通信社とは違い、日々のニュースを転電する必要がないためだ。
 「うちの特派員はスポット(ニュース記事)よりもフィーチャー(企画記事)を大事にしている。読者はニュースをヤフー(などのネット配信)で見られるから、新聞にはロイターやAP(など通信社電)とは違う、独自の記事が求められている」。つまり、記者が独自の分析記事やルポルタージュを書くため、ニュース報道に労力を割かないよう努めているのだ。
 もう一つ、ファクラーさんには「もしかしたら……」という疑いも多少あったようだ。
 「日本には女性差別があるが、イスラム圏のようなことはないし、ラテン諸国や韓国のように男らしさをアピールするマチズモ(男性優位主義)とも違う。どちらかというと、女性が家を守り男性を支える、米国の1950年代風、昔懐かしいオールドファッションというイメージがある」
 だから、日本人はこれをさして問題にしないかもしれないという思いもあった。しかし、発言の2日後になって記事にしたのは、国会ばかりでなく男性も含めた社会から「意外なほどの反発」があったからだ。そして、国際面のミニニュース欄に「日本で、女性についての大臣発言に激怒」という記事を載せた。
 「国会でいろいろ言われ、柳沢大臣が辞任するかどうか、インパクトがあると思い、書くべきだと思った。日本人が何を考えているかを伝えるのが僕の仕事だから、この場合、日本のマスコミが大きな判断材料になった」
 ただ、「これで安倍政権が倒れるわけでもないので」1段落で終わる短い記事にまとめた。ただし、一語一語に工夫が込められている。
 大方の通信社が「産む機械」を「バース・ギビング・マシン」と訳したのを、ファクラーさんはあえて「ベビー・メーキング・デバイス(Baby‐making device)」にした。
 「『産む』をバーシングやバースだと、なんだか病院に置いてある『避妊』関係のモノというイメージが浮かぶ。日本語は主語、目的語がなかったりあいまいでしょ。だから、あえて目的語のベビーをつけた。それと、本人は機械、装置と両方言っているけど(訳語を)マシンじゃなく(より非人間的な)デバイスにした。その方が女性を人として見ていないことがはっきりするし、日本の世論が何に対して怒っているのか、うまく伝わると思ったからです」
 記事は毎日新聞の世論調査を引用し「発言に対する騒ぎで、すでに支持率が落ちている安倍(晋三)首相は、ダメージからの回復に躍起になっている」と、政治情勢に焦点を当てている。
 「女性だけでなく一般人も『これはいけない』と言い始めたことが、世論とのギャップに全く気づいていない、素人っぽい安倍政権を物語っている。男性中心の日本ではまだ女性に制限があり、平等ではないけれど、これほどはっきりと『機械』だなんて言うのはやはり珍しい。そういう見方が少子化にも関連しているのに、安倍さんはそれにも気づいていない」
      *
 こうした閣僚発言が英語圏であったら、どうなるか。
 「こういう事例は全く考えられないけど、多分、その人は政治的にもうおしまいでしょう」とファクラーさんは言う。一方、シーグさんは「前例を調べたけれど、米国などには女性をさげすむ例があまりないので分からない」と言う。「ただ、米国では、人種差別発言が今もあり、その場合は議員を辞めなくても、ポストを去る例が多い」
 でも単純には比べられない。日本は石原慎太郎東京都知事の「三国人発言」のように、権力の座にある人物が平然と弱者や女性差別の暴言を吐き、依然その座にとどまれる国なのだ。
 「でも、今回これだけ人々が反発したということは、日本人の考え方が変わってきているんじゃないでしょうか。女性は家にいて子育てしてろという人でさえ、『機械』という言葉はいけないと思ったのでしょう」とシーグさん。いずれにせよ、今回の柳沢発言は、極めて珍しい日本特有の現象だったようだ。「安倍さんは新しい保守と言うけど、今回の反応なんか見ると、全然オールドですよ」とファクラーさんは繰り返した。
ABC Online

Last Update: Tuesday, February 13, 2007. 10:02am (AEDT)
Former sex slave calls for Japanese apology
An Australian woman forced into sexual slavery by the Japanese Government during World War II says she is determined to extract an apology for her treatment.
Jan Ruff O'Herne was among 200,000 women known as comfort women, who were forced to sexually satisfy Japanese soldiers during the war.
Mrs O'Herne is flying from Sydney to Washington today to testify before a US Congressional hearing on the practice.
US Congress is considering a resolution that demands the Japanese Government take historical responsibility and make a formal apology to the victims.
Mrs Ruff O'Herne says it is vitally important that Japan says sorry to the women.
"An apology will give us back our dignity," she said.
"You can't imagine the shame that we have lived with after you've experienced those things, those atrocities.
"You feel dirty, you feel ashamed, you feel soiled and we carried that shame all our lives."
Friends of Comfort Women in Australia spokeswoman Anna Song says the resolution does not demand compensation but it is still an important step forward.
"There is a movement for legal compensation that adheres to international standards, and by that we mean adhering to the recommendations made by the UN and human rights organisations, such as Amnesty International, but that is not officially part of the resolution," she said.
© 2007 Australian Broadcasting Corporation
Australian sex slave seeks apology
February 13, 2007 - 1:13PM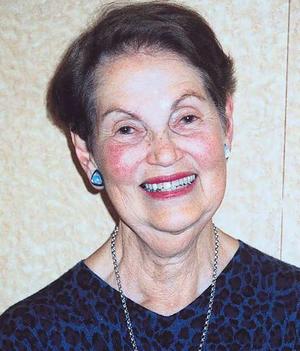 Jan Ruff-O'Herne ... raped day and night by soldiers as a young woman.
An Australian woman forced into sexual slavery by the Japanese during World War II will appear before a US Congressional hearing seeking an apology for her treatment.
Eighty-four-year-old Jan Ruff O'Herne was 19 when she was seized from a prisoner of war camp in Indonesia and forced into a brothel to become one of hundreds of thousands of so-called "comfort women".
Ms O'Herne, from Adelaide, said she was "raped day and night" by Japanese soldiers for three months during the war.
She flew out for Washington today to testify at a hearing into the practice.
US Congress is considering a resolution that demands the Japanese government take historical responsibility and make a formal apology to the victims.
Ms O'Herne has been campaigning for justice for herself and other comfort women for 15 years, after keeping silent about her experiences for 50 years.
"We were just military sex slaves," Ms O'Herne told ABC Radio.
"They called us comfort women but it was just a horrific experience.
"This is really the pinnacle of all my campaigning that I have done over the past 15 years for justice for the comfort women."
Ms O'Herne said a formal apology would help the healing process to begin.
"An apology will give us back our dignity," she said.
"You can't imagine the shame that we have lived with.
"After you've experienced those things, those atrocities, you feel dirty, you feel ashamed, you feel soiled, and we carry that shame all our life."
The Netherlands-born Australian, who was captured by the Japanese in 1942 and spent three and a half years in prisoner of war camps, said she hoped the Congressional hearing would put pressure on Japan to finally act on the matter.
"After 60 years a lot of us are already dead," she said.
"I'm 84 and it's about time that we want Japan to acknowledge their wartime atrocity."
AAP
Abe Plan for More Forceful Military Fades With His Popularity
By John Brinsley

Feb. 13 (Bloomberg) --
Shinzo Abe's aim of revising Japan's pacifist constitution to allow the nation to assert itself militarily for the first time in more than 60 years may be petering out, a casualty of the prime minister's falling popularity.
``He's set himself up for failure,'' said Gerald Curtis, author of ``The Japanese Way of Politics'' and a professor of political science at Columbia University in New York. ``There's no enthusiasm for constitutional revision from society as a whole. For it to happen he has to be pretty popular, and he's not.''
Less than five months after taking office, Abe's popularity is plummeting amid scandals and doubts over his ability to address problems including welfare costs and a rising disparity in incomes. Abe, 52, may face pressure to step down if his Liberal Democratic Party does poorly in July elections for parliament's upper house.
A Kyodo News survey published Feb. 5 found that only 40.3 percent of Japanese approve of his performance, while 44.1 disapprove; his ratings have plummeted 25 points since he took office.
``Abe's lack of popularity in opinion polls is doing serious damage to his credibility,'' said Koichi Nakano, a political science professor at Sophia University in Tokyo. ``For him to make constitutional reform the centerpiece of July's elections is a huge risk.''
Forbids War
Japan's constitution, written by U.S. occupation forces after its defeat in 1945, renounces war as a sovereign right and forbids military forces. Japan can't exercise the right of collective self-defense -- to defend an ally that is attacked -- although courts have ruled that it can maintain troops for self- defense purposes.
Most Japanese prime ministers since World War II have concentrated on economic issues or, in the case of Abe's immediate predecessor Junichiro Koizumi, on revitalizing the LDP. Abe argues that with its pacifist approach, the constitution has made Japan ``incapable of adapting to the great changes taking place in the 21st century,'' as he told parliament on Jan. 26.
He pledged to enact legislation this year calling for a national referendum on how to revise the document .
While Abe's effort has drawn support from some -- former Prime Minister Yasuhiro Nakasone, an advocate of constitutional revision, said in an interview that Abe's Jan. 4 speech outlining his proposed changes was ``great'' -- it hasn't resonated with the public.
`Baby-Making Machines'
Opinion polls show that Japanese are ambivalent to constitutional change, and consider other issues more important, such as rising social welfare costs due to Japan's aging population.
Abe's popularity has been diminished by a series of scandals and miscues by his ministers. In December, his administrative reform minister resigned after his supporters falsified financial records, and the head of the government's tax panel quit over the improper use of a subsidized apartment.
Last month, Abe's health minister, Hakuo Yanagisawa, referred to Japanese females as ``baby-making machines,'' enraging women and prompting calls from the opposition for the minister's resignation. Abe has yet to ask Yanagisawa to quit, partly because he's already lost so many members of his cabinet, said Jeff Kingston, a professor of political science at Temple University in Tokyo. ``It certainly wouldn't look good for Abe to have to keep on replacing his ministers,'' Kingston said.
`Turning Point'
Changing Japan's constitution for the first time would require two-thirds approval from both chambers of parliament followed by a national referendum.
Proponents of the change say it would boost Japan's power and prominence on the world stage. ``In that respect, politics is at a major turning point,'' said Nakasone in an interview Feb. 6. Nakasone conceded that Abe may not be able to change the constitution in a first term. ``Five years may be too short to achieve that goal,'' he said, ``but the fact that the prime minister has taken such a strong stance has probably made a good impression on voters.''
The constitution is illegitimate and riddled with errors, said Tokyo Governor Shintaro Ishihara in a Feb. 6 interview. ``The text was written by Americans, so the Japanese is grammatically incorrect,'' Ishihara said. ``If I were an English teacher, I would give the Japanese translation a grade of 70.''
`Ignore Polls'
Ishihara, often described as a nationalist, says the constitution should be ``torn up'' and rewritten from scratch.
Ishihara said he doubted that Abe's declining popularity will sap his efforts to change the constitution. ``There's no use worrying too much about approval ratings because they go up and down,'' he said. ``There will be more opportunities for them to go up, so the cabinet should focus on doing a good job.''
To contact the reporter on this story: John Brinsley in Tokyo at jbrinsley@bloomberg.net
Last Updated: February 12, 2007 17:01 EST
▲
by

alfayoko2005

| 2007-02-13 08:21 | 国内政治
Let's Tap Japan's Baby `Machines,' Immigrants: William Pesek
By William Pesek

Feb. 12 (Bloomberg) --
Japan has never been known for a thriving feminist movement. The World Economic Forum ranks it 69th out of 75 countries in female empowerment. Tokyo is still awash with women wearing work uniforms that make them look like 1970s flight attendants.
The weakness of women's lib in the world's No. 2 economy may come as a surprise to Hakuo Yanagisawa. Japan's embattled health minister has been front-page news since describing women as ``baby-making machines'' on Jan. 27. You would think millions of Japanese women had suddenly discovered Gloria Steinem.
Even by the standards of Japanese politicians, Yanagisawa went too far. ``I reprimanded him severely,'' Prime Minister Shinzo Abe told reporters after female lawmakers called for Yanagisawa's resignation. Yanagisawa, 71, apologized, further displaying his cluelessness by saying women were ``people whose role it is to give birth.''
What's more, Yanagisawa defined ``baby-making machines'' as women between the ages of 15 and 50. Was he suggesting that teenage girls do more to increase Japan's low birthrate? The man should resign, and now.
The bigger problem is that Yanagisawa is charged with tackling one of Japan's biggest long-term challenges: keeping the population from shrinking. In 2005, the birthrate fell to a record 1.25 babies per woman, well below the 2.1 needed to maintain today's population of 127 million. A shrinking population makes it harder for Japan to fund pension programs and pay back government debt.
Japan needs to act aggressively to encourage families to have more children. Doing so involves making it easier for women to work and raise a family, providing affordable day care and, more generally, reducing sexism in corporate Japan.
Women and Immigrants
Yet Japan really needs a dual approach to boosting long- term growth prospects: more babies and more immigration.
Thanks to a rapidly aging population, a low birthrate and no pro-growth immigration policies to speak of, Japan faces a skilled-labor shortage. Stimulating procreation is an awkward task for governments, and Japanese already live the longest on a world scale. A more immediate cure is attracting more workers from overseas.
That's easier said than done in uniquely homogeneous Japan. A reminder of the nation's aversion to opening the floodgates came last week with the publication of a magazine on crimes committed by foreigners. FamilyMart Co., Japan's third-largest convenience-store chain, pulled ``Gaijin Hanzai Ura Fairu,'' or ``Secret Foreigner Crime Files,'' from its shelves, citing the publication's ``inappropriate racial expressions.''
Foreign Talent
It's significant, though, that some leading politicians such as Tokyo Governor Shintaro Ishihara are speaking more about the need to attract international talent.
First, a couple of caveats. As a regional leader, Ishihara might not seem all that important. Yet when you manage Tokyo and appear on television as frequently as the charismatic 74-year- old, you have some serious sway over popular opinion.
Also, Ishihara is an unabashed nationalist known for xenophobic statements; he's sometimes described as Japan's answer to France's Jean-Marie Le Pen. Feminist groups also weren't amused a few years back when Ishihara said women past childbearing age are ``useless.''
That said, at least part of Ishihara's immigration argument is worth exploring. ``The country should take it upon itself to adopt an immigration policy,'' Ishihara said in an interview with Bloomberg News on Feb. 6. ``This is not a question of procuring a labor supply. We should be letting in more people who are intelligent.''
Ishihara's comments came with a rant about lax Japanese immigration controls that allowed an increasing number of Chinese to enter Japan illegally. ``This is leading to new forms of crime,'' he said. Such comments only feed those who equate ``foreign'' with crime and disorder. In my opinion, this part of Ishihara's immigration stance should be ignored.
`Intelligent' People
Yet his point on importing ``intelligent'' people is about attracting badly needed talent. What Japan's economy lacks most is the kind of rampant entrepreneurship you would expect from such a highly educated labor force. Sure, there's innovation, as evidenced by the high number of patents that Japanese apply for. The ingredient Japan lacks is startup companies that create jobs.
Take the U.S., for example. A Duke University study published last month found that foreign-born entrepreneurs were behind one in four U.S. technology startups during the past decade. If high-cost Japan is going to maintain its standard of living amid the rise of low-cost China and India, it needs far more innovation than it enjoys today. Immigration could help.
``The world is becoming smaller, and information travels,'' Ishihara pointed out. He added that so far, when it comes to using immigration to Japan's advantage, the national government has failed to act. ``People in Japan have lost the creativity necessary to track the currents of history.''
Dual Approach
There are other currents Japan needs to track if it's going to be the thriving investment destination that is its potential. In a recent report, Yuwa Hedrick Wong, Singapore-based economic adviser at MasterCard International Inc., focused on the need to increase female participation and bring retired workers back into the labor force.
``Better utilization of women in the labor force itself would improve productivity significantly,'' Wong said. A similar dynamic could come from better utilizing the ranks of Japan's aging, yet highly skilled, retirees.
Immigration must be part of any long-term economic strategy, too. No, Japan shouldn't keep low-wage workers out. Nor should it only welcome holders of doctorates. Yet Japan does need to think urgently about importing talent. Tapping the potential of women and immigrants may pay economic dividends in the years ahead.
(William Pesek is a Bloomberg News columnist. The opinions expressed are his own.)
To contact the writer of this column: William Pesek in Tokyo at wpesek@bloomberg.net
Last Updated: February 11, 2007 10:18 EST
米ハーバード大に女性総長 1636年の創設以来初 【写真】
  2007/02/12 11:51

 【ニューヨーク11日共同】
米東部マサチューセッツ州の名門ハーバード大は11日、第28代総長に同大ラドクリフ研究所のドルー・ギルピン・ファウスト所長(59)を選んだと発表した。1636年の創設以来、同大で初の女性総長となる。今年7月1日に就任する。
 ファウスト所長は南北戦争の研究で知られる歴史学者。ペンシルベニア大で博士号を取得した。ハーバード大総長に他大学出身者が就くのは極めて異例。
 米メディアによると、ファウスト所長は記者会見で「私の総長選任は1世代前でも考えられなかった(女性の)機会拡大を象徴している」と意義を強調し「私はハーバードの女性総長ではなくハーバードの総長です」と胸を張った。
 クリントン前政権で財務長官を務め、同大総長となったローレンス・サマーズ氏は、女性差別発言問題や教授陣との対立で昨年6月に退任。総長は空席となっていた。
<写真:11日、米東部マサチューセッツ州のハーバード大で記者会見するファウスト氏(AP=共同)>
Harvard names Drew Gilpin Faust
as its 28th president
Monday, Feb. 12, 2007
JAPANESE PERSPECTIVES
Mum's the word, Mr. Yanagisawa
By NORIKO HAMA
The Japan Times
Keeping mum has never been a strong point of politicians. Hakuo Yanagisawa, the beleaguered health, labor and welfare minister, seems especially bad at keeping mum on the subject of mums. In his world, mums are machines. Their sole function is to breed.
Having established that par- ticular piece of wisdom, he has now gone on to make the point that all healthy young people should want to have at least two children. Thus the benchmark has been set for the evaluation of all mum machines. Two is the magical figure. Any mum machine worthy of its name must clear that threshold.
What's the penalty for failing to "deliver," one wonders. Shutdown? Demolition? Replacement?
"Foot-in-mouth disease" is nothing new in the world of politics. No politician is ever immune to its self-destructive effects. It is a malaise of great breadth and variety. It ranges from really quite benign slips of the tongue to verbal diarrhea of the most malignant sort.
Yanagisawa's seemingly never-ending gaffes clearly fall in the latter category. Not only because the attacks seem to seize him so repeatedly, but also because they are apparently so internally generated.
It is not as though some itinerant bug had penetrated the man's otherwise well-functioning system in a moment of weakness. Nor does the evidence suggest that this is the case of a tumor that, malign as it is, can be successfully removed by the hands of a skilled surgeon or two.
Yanagisawa's ailment seems to lie in his heart and mind. It is a part of what makes the man the man, so to speak. What we are experiencing through his unfortunate remarks seems to be a glimpse into the man's deep-rooted convictions. This is what makes this whole thing so frightening. What would otherwise be a farce is shaping up to be quite a serious tragedy. For it is indeed tragic when we have people in positions of responsibility whose convictions seem so apparently to be at odds with intellectual soundness and integrity of values.
It is really rather sad to hear Yanagisawa saying he deeply regrets hurting the feelings of women. Such shallowness of mind really takes one's breath away.
Mums are tough people and they are not hurt that easily. Even women who are not mums are quite capable of taking care of their own feelings, thank you very much, without Yanagisawa to fret over their fragile condition.
Women are just simply appalled at the limitations of an intellect that is incapable of thinking beyond such a tiny and myopic box. As are men, one sincerely hopes.
An even more frightening aspect of this farcical tragedy is that Prime Minister Shinzo Abe does not seem to have grasped the nature of the problem.
To paraphrase Oscar Wilde, to have such a gaffe-prone person in the Cabinet may be regarded as a misfortune, but to be unable to get rid of him looks like carelessness. Carelessness not so much in the sense of inattentiveness, but as in a lack of understanding of what is acceptable and what is not in persons entrusted with policymaking powers. Or indeed in any decent human being. This brand of carelessness is irresponsibility by another name.
Someone with the job of prime minister should not be allowed to get away with such irresponsibility. One begins to wonder whether Abe, too, might not be a closet believer in the mums-as-machines theory.
He should be given the benefit of the doubt of course, but meanwhile he really should do something about his colleague's inability to keep mum.
Noriko Hama is an economist and a professor at Doshisha University Graduate School of Business.
安倍晋三の愚鈍愚図には、ほとほと呆れる
2月12日10時0分配信 日刊ゲンダイ
「世界に信頼され、尊敬され、みんなが日本に生まれたことを誇りに思える国」
 これ、安倍首相が繰り返す「美しい国」とやらの定義である。
 ところが、今の安倍内閣は、この基本的なことすら忘れてしまったらしい。世界から信頼を失い、バカにされ、我々が日本に生まれたことを恥ずかしく思うようなことを平然とやっているからだ。
 柳沢伯夫厚労相の「子どもを産む機械」発言について、小池百合子首相補佐官は、「イスラムの国よりも女性に対する見方は遅れているんじゃないか」と懸念していたが、世界中のメディアも同じような見方をしている。
「男性優越主義が公的に許容される日本ですら、女性を怒らせた」(米タイム誌)、「産む機械も有権者なので、大臣は謝罪しなければならなかった」(CNNテレビ)、「柳沢大臣はこの意見で真実の顔を見せた」(独シュピーゲル誌)――。 差別発言大臣がのうのうと居座り、それを首相が擁護するおかげで、日本は世界中からおかしな国だと笑われているのだ。
 自民党内からも批判は出ているが、ガス抜きのようなものである。誰も本気じゃないし、クビを求める声もない。一体、誰に指図されているのか知らないが、猪口邦子や高市早苗といった女性議員までもが、「謝っている姿を見るたび、胸が痛む」「発言を撤回して取り下げた」と擁護に回る始末だ。これほど見苦しくて、恥ずかしいものはない。
●しゃべればしゃべるだけ本性が見えてくる柳沢大臣
「問題は、柳沢の不適切な発言にあるのではなく、女性をモノとしてとらえる"不適切な心"の持ち主が、大臣を務めていることにあるのです。ついうっかり、"機械"と出てしまうのは、常日頃からそう思っている証拠。だから、『娘には男と同じ教育をさせた』といった男尊女卑の言葉を平然と吐けるのです。謝っているそばから、『2人以上子どもを持つのが健全』と言い出すのですから、まったく信じられません。心がねじ曲がっています。それをかばう首相も、同じような心の持ち主なのでしょう」(作家・松崎菊也氏)
 7日の集中審議でも、民主党の小宮山洋子の質問に「委員のような開明化された女性議員には不満もあると思う」と答え、小宮山議員に「カイメイカとはどういう字か! 文明開化していない(女性もいる)ということか」と指摘されていた。これが柳沢の正体なのだ。
 文芸評論家の斎藤美奈子氏も「週刊アエラ」でこういっている。
〈女は国のために子を産む道具と考えていることがバレてしまった〉〈男はモノを、女は子どもを産む機械、どんどん生産性を上げて国力をあげろと、そういう発想から抜けていないのだと思う〉
 国の方向性を決める政治家たちがこのありさまでは、みんながこの国を誇りに思えるわけがない。
●人生の節目で決断しなかった坊ちゃん首相
 安倍首相が本気で美しい国を目指すというのなら、心の歪んだ大臣などスパッと切るしかない。「私からもおわびする」と柳沢発言について謝罪するのではなく、「柳沢氏を人間のライフスタイルや生死に関わる厚生労働行政のトップに任命したのが間違いだった」と謝罪するべきだろう。
 心にもない上滑りの謝罪を繰り返されたところで、安倍内閣に対する国民の不信感は募るばかりだ。
 まったく愚鈍で愚図な首相である。政治評論家の山口朝雄氏が言う。
「安倍首相には政治家として欠かせない決断力や判断力が備わっていません。これといった苦労もなく総理大臣になってしまったのだから、それも当然でしょう。幹事長に抜擢されたのは選挙用のお飾りのため。難しい問題に直面することもありませんでした。官房長官のときは、森元首相がバックについて根回しを担当した。まるで箱入り娘のように扱われてきたのです。修羅場を経験していないから、物事を深刻にとらえ、熟慮し、苦しみながらも決断するという作業ができない。政治家としては致命的な欠陥です」
 安倍首相はエスカレーター式で大学まで進学している。政治家になったのは、祖父も親父も政治家だったから。結婚は紹介された相手とだった。進学、就職、結婚と、だれもが決断を迫られる人生の節目に際しても、自らは何も決断してこなかったのだ。そんな人物に「さあ、決断して」と求めるなんて、そもそも間違っている。ところが日本という国と国民は、そうしなければならないのだから不幸というほかない。
●ダメ大臣のクビすら切れない裸の王様
 安倍首相は対北朝鮮政策では強硬姿勢をアピールしている。小泉訪朝時に北側が出してきた拉致被害者の資料を見て、「帰りましょう」と小泉前首相に進言したと伝えられている。しかし、思いつくままに意見を言うのと、本当に決断するのとでは大違い。自分の人生すら決められない人物に、他人の進退を決められるわけがない。
 案の定、安倍首相は、この期に及んでも柳沢大臣を罷免せず、謝罪だけで逃げ切るハラだ。しかし、そんなことで国民はダマされるわけがない。安倍首相が「不適切な心」を持つ大臣をかばったり、居直ったりすれば、内閣支持率はズルズルと低下し、統一地方選も参院選も大敗が目に見えている。
「国民は安倍首相のリーダーシップを不安視しています。共同通信の最新の調査では、『首相に指導力がない』と答えた人が、前回調査から10ポイント近くも急増していた。本当に柳沢続投なら、こんな大臣すらクビを切れないのかと、国民は絶望的な気分になる。裸の王様の安倍首相には、それが分からないから深刻です」(政界関係者)
 国民の思いを理解できない人物がリーダーを務める。そんな絶望的な状況が続いている間、日本は世界に笑われ続けるのだ。