カテゴリ
以前の記事
検索
最新のトラックバック
その他のジャンル
ファン
記事ランキング
ブログジャンル
画像一覧
仏大統領選、本格舌戦スタート ロワイヤル氏VS.サルコジ氏
2月12日8時0分配信 産経新聞

 ■ロワイヤル氏 "らしさ"消え低迷

 ■サルコジ氏 左右支持者が評価

 【パリ=山口昌子】
4月22日の仏大統領選1回目投票が迫る中、社会党のセゴレーヌ・ロワイヤル候補(元環境相)と最大与党である保守・中道の国民運動連合(UMP)のニコラ・サルコジ候補(内相)が11日、それぞれ重要会合を開き、本格的な舌戦をスタートさせた。支持率低迷に悩むロワイヤル氏に対し、サルコジ氏の優位が目立ち始めている。
 逆転を目指すロワイヤル氏は同日、パリ郊外で全国書記大会を開いた。「低きに向かうフランスの無秩序をともに点検しよう」と訴えた。昨年11月に社会党公認候補に選出されて以来、各地で行った公開討論などを土台に作成した「大統領協定」を発表。約1時間半の演説で年金の5%引き上げや若年層の初就職支援、選択性移民など市民生活に比重を置いた百余りの提案を行った。
 女優のジャンヌ・モロー氏や社会学者のエドガール・モラン氏らが会合に参加し、約600人の内外記者団が取材。ロワイヤル氏は今回、ミッテラン前大統領が再選を果たした1988年の大統領選で使用した会場を選び、必勝を期した。
 ロワイヤル氏の選挙運動をこれまで仕切ってきた支持団体「未来への欲望」は退き、社会党が前面に出たせいか、これまで批判的だったジョスパン政府時代の目玉政策「週35時間労働」に関しては「否定的効果を減じるため交渉を開始する」との表現に弱められた。ロワイヤル氏の魅力は従来の社会党とは異なる新鮮さにあったが、党公認候補となったことで逆に"らしさ"が制約を受け、支持率低下につながっているようだ。
 サルコジ氏の支持委員会も11日、パリ市内で約3000人を集めて開かれた。1月中旬以降の各種世論調査では数%差でロワイヤル氏をリード。こうした勝利予測を受け、サルコジ氏は会合で「われわれを団結しているものは同じ文化と同じ歴史の後継者であることだ」と述べ、「政治的開放」の方針を確認した。
 左派系の哲学者アンドレ・グリュックスマン氏が「古い時代の苦悩と新しい展望と熟慮」の末にサルコジ氏支持を決めたほか、ロカール元首相(社会党)側近のブラン・エールフランス前会長ら左派系著名人も参加するなど、早くも「政治的開放」を印象付けた。
 1月14日の党公認候補に選出された際の演説は「感動的で共感できた」と左派支持者のジャーナリストたちにも好評だった。2月5日の民放テレビの公開生番組でも「統治能力がある」「説得力がある」と左右の支持者から高く評価された。
 番組では、批判を恐れて賛否の明言をしにくい同性同士の結婚やイスラム教徒の慣習の多妻、女性器の一部切除、いけにえ用の羊を自宅アパートで解体することにも明確に反対した。
中絶合法化に「賛成」=ポルトガルで国民投票
2月12日8時1分配信 時事通信

 【パリ11日時事】
ポルトガルからの報道によると、同国で11日、中絶の是非をめぐる国民投票が行われ、即日開票の結果、賛成が過半数を制した。ただ、投票率は50%に達しなかったため、同国の制度上は、これで中絶合法化とはならない。しかし、ソクラテス首相は、民意は示されたとして、政府が議会を通じて中絶合法化への手続きを進める方針を表明した。
 ポルトガルは国民の9割がカトリックとされ、現行法では中絶に対し最大で禁固3年が科される。欧州連合(EU)加盟国の中でも厳しい対応をしている国の1つだ。 
February 12, 2007
Low Turnout Undercuts Portugal Vote on Abortion
By ELAINE SCIOLINO
The New York Times

LISBON, Feb. 11 —
Portugal voted decisively in a referendum on Sunday to liberalize its restrictive abortion law, but the result was not considered valid because of low voter turnout.
Still, Prime Minister José Sócrates, a Socialist who supported the liberalization, declared victory and said he would ask Parliament, where his party enjoys a comfortable majority, to change the law.
"The people spoke with a clear voice," Mr. Sócrates said in televised remarks after the polls closed. He added: "The law now will be discussed and approved in Parliament. Our interest is to fight clandestine abortion and we have to produce a law that respects the result of the referendum."
The vote was 59.25 percent in favor and 40.75 percent opposed, with a turnout of slightly less than 44 percent of the 8.8 million eligible voters.
At least 50 percent of eligible voters needed to cast ballots for the results to be legally binding.
In many urban centers, the margin in favor of changing the law was much higher than at the national level. In Lisbon, for example, 71.5 percent voted in favor, 28.5 percent opposed; in Faro, in the Algarve region of southern Portugal, 73.6 percent were in favor, 26.4 percent opposed.
Supporters and opponents of abortion, political commentators and pollsters attributed the lack of voter participation to the episodically rainy weather, voter apathy and even ignorance.
"Referendums, unlike regular elections, often deal with complicated issues, and people who are not politically motivated or informed have a problem making the decision to vote," Pedro Magalhães, a pollster at Catholic University of Lisbon, said on state-run RTP1 television.
Other commentators explained that the political elite misread popular opinion in assuming that a broad range of people would declare their position at the polls.
"There are two Portugals, the Portugal of the elite — politicians, newspapers and television — and the Portugal of the people," said João Marcelino, director of the mass-circulation daily tabloid Correio da Manhã. "The people are more concerned about unemployment, their salaries, the health system. The real country doesn't consider the issue of abortion important."
Despite the low turnout, supporters of abortion rights were jubilant.
"Finally after thirty years of democracy in Portugal we now can pass a law that will not treat women as criminals," said Maria Antónia Santos, a Socialist deputy. "This is the first step toward eliminating the reality of backstreet abortions. Now it's our responsibility to pass a good law."
Opponents of a change in the law said that the referendum's failure to attract at least half the electorate meant that Mr. Sócrates was wrong to call for a change in the law.
"Sócrates will be responsible for this sad chapter in Portugal's history for insisting on a political move that has split Portuguese society," José Ribeiro e Castro, head of the center-right Partido Popular, said in televised remarks. He added that the low voter turnout confirmed that for the Portuguese, abortion "was not a critical issue."
A similar referendum in 1998 took place on a sunny Sunday in June, when many Portuguese were at the beach. Only 32 percent of the electorate turned up at the polls, voting by a razor-thin margin to retain the existing law. That result was declared invalid and the restrictive 1984 law remained unchanged.
In the latest referendum, both supporters and opponents of abortion, including the Catholic Church, had urged voters to cast ballots. The referendum asked voters whether they approved legalizing abortion in the first 10 weeks of pregnancy and would have allowed women to openly seek medical support from the state-run health system.
During the day, clerics used their sermons at Sunday Mass in many parishes throughout this overwhelmingly Catholic country to remind parishioners of their duty to vote — and to vote no.
"Before baptism a life already exists that must be appreciated divinely as a gift from the creator," said Rev. Lourenço Sebastião Dias during his sermon in a Lisbon church that was broadcast on state-run RDP radio.
Mr. Sócrates had campaigned in favor of a change in the law, one of the most restrictive in the 25-nation European Union.
He had said the country's identity was at stake in the referendum. "The choice placed before Portugal is whether it resigns itself to staying in the group of the most conservative countries or if it embraces modernity," he said Thursday.
Portugal is also the only European Union member that has put on trial women who undergo illegal abortions, the health care providers who perform them and even "accomplices" like husbands or family members who might accompany them to backstreet abortionists.
The current law in Portugal allows abortion until the 12th week of pregnancy in case of "mental and physical risk," until 16 weeks in case of rape, until 24 weeks in case of a malformed fetus and at any time if the woman's life is in danger. It imposes prison sentences of up to three years for a woman who undergoes an illegal abortion and up to eight years for the person who illegally performs it.
Sunday, Feb. 11, 2007
Women find voice over sexist gaffe
By HIROKO NAKATA
Staff writer
The Japan Times
In harmony-loving Japan, women rarely take to the streets to protest the sexist remarks that routinely spill from the mouths of ruling politicians, and even the most outrageous comments go largely unpunished at the ballot box.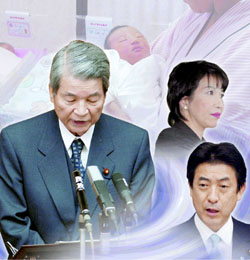 Health minister Hakuo Yanagisawa (left), Chief Cabinet Secretary Yasuhisa Shiozaki (lower right) and Sanae Takaichi, minister in charge of population and gender-equality issues, are shown in a collage. KYODO COLLAGE
However, there are signs that the outrage over health minister Hakuo Yanagisawa's recent remark that women are "child-bearing machines" might make the crucial Upper House election in July an exception to the rule -- no matter how many times he apologizes in public.
During Prime Minister Shinzo Abe's four months at the helm, his Cabinet has suffered a steady decline in approval amid a series of money scandals involving his ministers and a collapse of faith in his leadership. A large enough female protest vote over Yanagisawa, political analysts say, could loosen the ruling coalition's tenuous grip on the Upper House, potentially forcing Abe to step down.
Among those angry voters is Minako Shibata, a system engineer in Tokyo. No firebrand, the soft-spoken 31-year-old said she's never imagined joining a protest rally, no matter the issue. Still, the "child-bearing machine" thing has her all fired up.
"This one got me really angry," she said.
Shibata believes Yanagisawa should resign because the remark was particularly offensive to women in their 30s who want children but can't conceive.
"I refuse to vote for any politician like him."
Then there is financial commentator, social activist and mother of three Kazuyo Katsuma, who is taking her frustration with Yanagisawa to a higher level.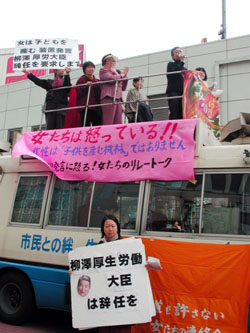 Protesters call for health minister Hakuo Yanagisawa's resignation during a rally in Tokyo's Yurakucho district Wednesday. AKEMI NAKAMURA PHOTO
Katsuma, selected in 2005 by The Wall Street Journal as one of the world's "50 Women to Watch" for her creation of a Web-based network of working moms, is busy collecting comments of outrage from among her more than 4,500 members. She plans to compile them in a pamphlet and send it to media organs and lawmakers.
"Our views must be reflected at election time," Katsuma said.
Though women voters have arguably enjoyed some degree of influence on the ruling Liberal Democratic Party during its half-century of almost continuous rule, they have usually let leaders off the hook for breaking some of the rules closest to their hearts.
To be sure, in 1989, women voters got fed up after Prime Minister Sosuke Uno's lover made their relationship public. Also annoyed with political corruption and a new consumption tax, those voters played a key role in bumping the LDP from its majority in the Upper House and Uno's subsequent resignation.
In more recent years, a series of eyebrow-raising verbal blunders by LDP leaders barely dented the party's overall popularity.
In one of several examples, Lower House LDP lawmaker Seiichi Ota stunned listeners at a panel discussion in June 2003 by describing a gang rape of young women by male college students as a sign of "virility."
Around the same time, former Prime Minister Yoshiro Mori commented during a debate, "It's peculiar that any woman who's never given birth to even a single child, but enjoys her freedom and has fun, should demand taxpayer support when she gets old."
Despite grumbling by women, Mori faced no significant pressure to vacate his seat. Ota did lose the following election, but recovered his seat two years later.
These can be explained in part by solid support from traditionalist women, mostly in suburbs and rural areas, whose social conservatism compels them to support the LDP come what may.
Polls in recent years suggest that approximately one in four women voters support the LDP. The older the women, the more loyal, according to experts.
Recently, though, it appears the LDP offends women at greater peril.
One reason is that women's role in society has become a hot-button issue amid the raging debate on how to tackle the declining birthrate, which some conservatives blame on women prioritizing careers over family and liberals attribute to a lack of government support for mothers.
The Yanagisawa brouhaha has already put the ruling party on the defensive. On Feb. 4, two LDP-New Komeito backed candidates didn't fare so well in local elections considered referendums on the issue.
Analysts agree it played a role in the defeat of Takahiro Shibata, the coalition-backed former bureaucrat running for mayor of Kitakyushu, as well as a last-minute plunge in support for Masaaki Kanda, the coalition-backed candidate seeking re-election as governor of Aichi Prefecture. Kanda scraped by with a razor-thin margin.
"Yanagisawa's comment sparked deep distrust among women, causing them to question whether, as the man tasked with addressing the falling birthrate, he sincerely means to solve the problem," said Kazuhisa Kawakami, a political science professor at Meiji Gakuin University in Tokyo. "Such distrust is going to build up like magma."
That's bad news for the LDP as it heads toward July, Kawakami said, citing a rise in swing voters who could defect to the opposition Democratic Party of Japan if it succeeds in offering a roster of woman-friendly policies.
If the LDP and coalition partner New Komeito together lose 15 or more seats in the Upper House, their majority will vanish, and analysts say that would probably force Abe to resign.
Kawakami said the coalition might lose between 10 and 20 seats, with the Yanagisawa scandal a significant factor as female voters express anger through their ballot.
"It looks like Abe's Cabinet holds a big bomb that could explode any time," he said, adding the prime minister could defuse the bomb by dismissing his embattled health minister.
Still, the very same anger that could drive women against the LDP could also help spare it from humiliation -- that is, women could choose to boycott the election. None of the all-male leadership of the DPJ -- President Ichiro Ozawa, Deputy President Naoto Kan, nor Secretary General Yukio Hatoyama -- particularly inspire female voters, said Kawakami, and that fact could prevent the opposition from benefiting from the LDP's tarnished image.
Katsuma, the working mother and online activist, counts herself among those uninspired by the opposition.
Most commonly discussed on her Web community, called Field of Mugi (Wheat), is the difficulty of balancing work with child-rearing, an issue Katsuma says the whole spectrum of political leadership in Japan has left woefully unaddressed. She called that a main reason couples are reluctant to be fruitful and multiply.
"I don't care what party it is," she said. "I just want any politicians -- young ones, ones from the opposition, female, whatever -- who can present clear, easy to understand proposals helping women.
"When Japanese women want to express their opinions, there's nobody there to vote for," she said. "No party is there for us."
The Japan Times
(C) All rights reserved
February 10, 2007
Harvard Plans to Name First Female President
By SARA RIMER and ALAN FINDER
The New York Times

CAMBRIDGE, Mass., Feb. 9 —
Harvard, the nation's oldest university, plans to name Drew Gilpin Faust, a historian of the Civil War South, to be the first female president in its 371-year history, university officials said Friday.
Her selection by a search committee, if ratified as expected by the Board of Overseers on Sunday, would make Harvard the fourth Ivy League university to name a woman. It comes two years after Lawrence H. Summers, then president of the university, set off a storm by suggesting that a lack of intrinsic aptitude could help explain why fewer women than men reach the top ranks of science and math in universities.
Some Harvard professors, particularly women, greeted the decision with euphoria. "Harvard's waited a long time — since 1636," said Patricia Albjerg Graham, an emeritus professor of the history of education at Harvard, recalling that when she was a postdoctoral fellow in 1972, she was not allowed to enter the main door of the faculty club or eat in the main dining room.
Mary Waters, the acting chairwoman of the Harvard sociology department, said: "It's been a lonely place for women, very lonely. There aren't many of us."
Dr. Faust, 59, the author of five books and a former professor of history and women's studies at the University of Pennsylvania, is the dean of the Radcliffe Institute of Advanced Study, the smallest of Harvard's schools. It is the remaining remnant of Radcliffe College, once the women's college at Harvard. Much of the research sponsored by the institute emphasizes the study of women, gender and society.
Dr. Faust emerged in recent weeks as a finalist among the candidates being considered by the university's search committee, particularly after Thomas R. Cech, a biochemist who is the president of the Howard Hughes Medical Institute and a Nobel Prize winner, took the unusual step of announcing publicly that he had withdrawn from the competition.
His withdrawal prompted some professors to raise last-minute concerns about Dr. Faust. While declining to speak on the record, they said they thought she lacked the toughness and vision to be a strong leader of an unruly and factionalized university and noted that the Radcliffe Institute, with about 80 staff members, is a tiny part of Harvard. Others wondered why it had taken nearly a year to choose someone who was already a Harvard dean.
"The real import of this choice is that it is a cautious pick, which seems targeted at healing the wounds of the Summers years and restoring Harvard's momentum as quickly as possible," said Richard Bradley, who wrote "Harvard Rules: The Struggle for the Soul of the World's Most Powerful University" (HarperCollins, 2005).
Mr. Bradley said there were legitimate questions about Dr. Faust's qualifications, like her lack of experience running a large university. "The fact that Harvard could not find someone who filled all their bases suggests to me the difficulty that Harvard had to fill the position," he said.
One of the nation's premier universities, Harvard has 12 schools and colleges with an annual budget of $3 billion and an endowment of nearly $30 billion.
John Longbrake, a university spokesman, said he would not comment on the presidential search. Dr. Faust also declined to comment until Sunday's official announcement. Her selection was first reported by The Harvard Crimson late Thursday night on its Web site.
Faculty members and officials familiar with the search said Dr. Faust's leadership style — her collaborative approach and considerable people skills — would be vital for soothing a campus ripped apart by the battles over Dr. Summers, whom many accused of having an abrasive, confrontational style.
"She combines outstanding scholarship with an uncanny ability to administer both well and with a heart," said Judith Rodin, the president of the Rockefeller Foundation.
Dr. Summers turned to Dr. Faust two years ago to help calm the furor over his remarks about women in math, engineering and science. He asked her to oversee two committees he created to come up with ways to recruit, retain and promote women in those fields at Harvard.
Dr. Summers, a former Treasury secretary, stepped down a year ago after a five-year tenure in the face of widespread faculty discontent.
Dr. Faust will take the helm at a time when the university faces a challenging agenda, which includes transforming the undergraduate curriculum, re-emphasizing teaching and building a new campus in the Allston section of Boston that, among other things, will support stem-cell research.
She is seen as likely to be able to restore trust with the Faculty of Arts and Sciences, the university's largest and among its most prestigious divisions, which had led the charge against Dr. Summers.
Dr. Faust has run the Radcliffe Institute since 2001. Before that, she taught American history for more than two decades at Penn, where she had gone to graduate school. An expert in Southern history and a native of Virginia, she has written books on Southern women during the Civil War and on intellectuals and ideology in the Confederate South, as well as a biography of a plantation owner.
In the end, some Harvard professors said, Dr. Faust's management style might have been more important to the nine members of the presidential search committee than any desire to name a woman.
"My own sense is that it's a new template for leadership, and that probably is not unrelated to gender, but it ought not get eclipsed by it," said Richard P. Chait, a professor of higher education at Harvard.
Dr. Chait, who studies university management, noted that in several recent changes of leadership of major American corporations, tough, even bullying leaders were replaced by more mild-mannered consensus builders.
The presidential search began not long after Dr. Summers resigned last February. Derek C. Bok, a former president of Harvard, stepped in to serve as interim president.
News of Dr. Faust's selection was greeted warmly by Harvard students. "It's about time," said Elisa Olivieri, a junior. "Talent is no longer 'single, male, childless.' It's an excellent acknowledgement that the face of talent has changed."
George Thampy, a freshman, said of the selection: "I think it's a great step forward — a bona fide scholar who's a woman. In some ways you could say it's a reaction to the last president and that fiasco."
Sara Rimer reported from Cambridge, Mass., and Alan Finder from New York.
Japan Times
Saturday, Feb. 10, 2007
EDITORIAL
Mr. Yanagisawa does it again
Language sometimes masks what one really thinks or feels. It also sometimes exposes what is really on one's mind, consciously or unconsciously. The second case appears to apply to the two statements health minister Hakuo Yanagisawa has made in relation to the nation's falling birth rate. In a Lower House Budget Committee session on Wednesday, he apologized for his Jan. 17 speech in which he likened women to "child-bearing machines and devices." But on Tuesday, he made another controversial statement.
When a reporter asked whether women alone should bear the responsibility of raising the birth rate, Mr. Yanagisawa replied in part, "Young people are in an extremely sound state in which they want to marry and have two or more children. Therefore it will be important for us to work out policy measures that really fit, well what should I say, Japanese young people's sound wishes." His statement reflects a 2005 finding by the National Institute of Population and Social Security Research that 90 percent of unmarried people want to marry and have an average 2.1 children.
But the question is why he went to the trouble of using the word "sound." Social Democratic Party leader Ms. Mizuho Fukushima, who has a daughter with her unmarried partner, reacted by saying, "Does he mean that people who do not have two or more children are not sound?" Other possible and logical questions would be: Are people who have not married or do not want to marry not sound? Are people who are married but do not have children not sound?
When a reporter said that his latest statement may have hurt some people, Mr. Yanagisawa said that since the present society is based on a premise that individuals have freedom in deciding whether to marry and whether to have children, his statement would not hurt people. But it would not be far-fetched to say that by using the word "sound," he is imposing a certain value on people and tacitly criticizing certain people concerning their thinking and life style. Language has its own weight. Even if he works out concrete policy measures, many people will still harbor deep doubts about his basic thinking.
Japan Times
Saturday, Feb. 10, 2007
U.S. resolution on sex slaves moves toward House passage
Compiled from Kyodo, AP

WASHINGTON --
U.S. Rep. Mike Honda was confident Thursday that a resolution that he and other American lawmakers have introduced condemning Japan for forcing Asian women to provide sex for the Japanese military during the war will clear the House of Representatives.
"We are enjoying bipartisan support as this resolution moves forward," the California Democrat said during a teleconference with reporters.
Honda and some powerful Republicans submitted the draft resolution on Jan. 31, urging the prime minister to issue an official apology for the suffering Japan caused the women, who were euphemistically called "comfort women."
A similar resolution asking for an apology for as many as 200,000 women forced into sexual servitude for millions of Japanese soldiers during the war was passed last year by the House of Representatives foreign affairs panel. However, the Republicans, who then controlled Congress, never brought it before the House.
The Japanese Embassy in Washington did not immediately respond to a request for comment. Tokyo acknowledged in the 1990s that its military set up and ran brothels for its troops. But Japan has rejected most compensation claims, saying they were settled by postwar treaties.
Honda acknowledged Japan is "very sensitive" to the issue and that Japanese lobbyists in Washington have urged the resolution be dropped, saying it would be bad for U.S.-Japanese relations.
"I'm sure there will be resistance," Honda said. But, he added, "It's a necessary move that the Japanese have to take."
Honda called the resolution "a matter of fundamental justice. These brave women's wounds have been left to fester for over a half-century."
Next week, three comfort women are scheduled to appear at a hearing of the House Foreign Affairs Subcommittee on Asia.
The current resolution does not recommend that Japan pay reparations to the women. Instead, it urges Japan to accept moral responsibility for the women's misery with an official apology, to refute those who say the sexual enslavement never happened and to educate children about the sex slaves' experience.
伊で事実婚に夫婦並みの権利、同性同士も (共同 2007/02/09)
 イタリアのプローディ内閣は8日、同性同士を含む非婚カップルに「事実婚」として夫婦に準じる権利を与える法案を承認した。フランスなどでは既に確立した制度で、イタリアでも非婚カップル増加に伴い、権利付与を求める声が強まっていた。夫婦を核とした家族の価値を重視するカトリックの総本山、バチカンの強い反発が予想される。
 与野党内でも賛否が分かれ、議論が続きそうだ。
 ANSA通信によると、法案は同居年数に応じ、カップルの各種権利を保護。片方が死亡した際の相続や年金の継続受給、片方が病気のときの手術への同意権、家族向け公営アパートに入る権利などを盛り込んだ。
 与党左派の中では共産党系などが賛成。キリスト教系の議員には反対論が強く、8日の閣議でもマステラ法相(欧州民主同盟)が欠席した。野党右派の中では、伝統的価値観を強調する国民同盟に反対論が強く、ベルルスコーニ前首相が率いるフォルツァ・イタリアなどには賛成議員が多い。
 2003年現在の非婚カップルは約56万組で、1994年の倍以上とされる。最近の世論調査では、約69%が事実婚の法制化に賛成した。
 ローマ法王ベネディクト16世は就任以来「結婚の義務を拒否しながら、権利を享受しようとしている」などと、事実婚を批判している。
[2007年2月9日20時7分]
Pope worries about family after Italian government backs rights for unmarried couples
The Associated Press
Friday, February 9, 2007
VATICAN CITY
Pope Benedict XVI expressed concern Friday about family identity after the Italian government proposed legislation to grant legal rights to unmarried heterosexual and same-sex couples.
The Vatican newspaper L'Osservatore Romano said the proposed law "wounded" the family as an institution.
"As pastor of the universal Church, I cannot help but express my concern about laws regarding very delicate questions, such as the transmission and defense of life, illness, family identity and respect for marriage," Benedict said.
On Thursday, Premier Romano Prodi's center-left coalition approved proposed legislation Thursday which would grant legal rights to unmarried couples who live together.
A Christian Democrat minister boycotted the Cabinet meeting in protest, and the Italian bishops conference newspaper, Avvenire, said the family was 'under siege."
The pope has been leading a Church drive against legal recognition for unmarried couples, which he contends would threaten the family as a fundamental institution of society. He has also campaigned vigorously against any efforts to allow gays to marry, and in a speech Friday to Colombia's new ambassador to the Holy See, Benedict said the Vatican would keep up its campaigns.
"The Catholic Church will continue to proclaim ceaselessly the inalienable greatness of human dignity," Benedict said, referring to his campaign which insists that families must be based on marriage between a man and a woman.
He called on lay faithful who serve in legislatures or in governmental or judicial roles to ensure that "laws always are the expression of principles and values which conform to natural law and which promote the authentic common good."
Benedict made no direct reference to Italy, but the Vatican newspaper entitled its article Friday on the Cabinet's approval for unmarried couples' rights "The wounded family."
Prodi, whose coalition ranges from centrists to Communists, told AP Television News in an interview Friday that he did not expect trouble from the Vatican about the proposed legislation.
"It's wise and intelligent," Prodi said about the proposed law.
If the law is passed by the Italian Parliament, unmarried couples would have to live together for nine years before acquiring inheritance rights that married couples have immediately, but they would enjoy other rights must sooner, such as taking over rental leases and deciding medical treatment should a partner become incapacitated.
2007-02-09 20:00
Pope worried about family values
Church attacks Italian bill on cohabiting couples

VATICAN CITY (ANSA) -
Pope Benedict XVI voiced worry about new laws regarding marriage and the family on Friday, a day after the Italian government approved a draft law giving legal recognition to gay and unmarried couples.
The pontiff was speaking to the Colombian ambassador and his remarks clearly referred to a decision this week by that country's constitutional court, which gave gay couples the same inheritance rights as heterosexual ones.
But Benedict's words reverberated strongly in Italy, where he and top Catholic figures have repeatedly expressed alarm over the campaign in the country to legally recognise unmarried couples. "I cannot fail to express my concern over laws regarding delicate questions such as the transmission of life, illness, the identity of the family and respect for marriage," Benedict told Ambassador Juan Gomez Martinez.
The pontiff appealed to lawmakers and members of the judiciary to see that laws were always "the expression of values which conform to natural law and which promote the authentic common good".
On Thursday, the centre-left government of Romano Prodi greenlighted a bill which recognises relations between cohabiting gays and unmarried heterosexual couples, granting rights in areas like inheritance and health care.
The bill, which must still be approved by parliament, was a compromise between left-wingers in the government and Catholic-oriented centrists. But it still went too far for some Catholics in the centre left. Justice Minister Clemente Mastella, head of the Udeur party, deserted the cabinet meeting which approved the bill. The Catholic Church opposes the bill because it says legally recognising unmarried couples undermines Christian marriage and traditional family values.
The Vatican daily Osservatore Romano carried the news on Friday under a headline reading: Family Harmed as DICO Arrives.
SIR, Italian bishops' news agency, produced a stinging appraisal of the draft law on Friday, saying it would produce "problems more serious than those it sets out to tackle".
DICO OR PACS?.
The government's proposals, referred to as DICO (Diritti di coppie conviventi - Rights for cohabiting couples), falls short of the civil unions introduced in France, Britain and Spain in recent years.
Gay rights campaigners and hard leftists in Prodi's coalition wanted a more far-reaching measure, akin to the PACS (Civil Solidarity Pacts) legislation in France.
SIR said the Italian solution was a step on the way to gay marriages. "People are talking about DICO but they're imagining PACS and a legislative process in this direction," it said.
According to recent statistics, there are about 560,000 cohabiting couples in Italy. The figure has risen steadily in recent years as the number of marriages, both civil and religious has fallen.
The DICO bill would give cohabiting partners inheritance rights after nine years of living together and alimony rights after three. If specific provision was made beforehand, it would also allow one partner in a couple to take decisions on funeral arrangements and organ donation when the other died.
The bill could be modified when it goes to parliament in coming weeks. The centre-right opposition has promised a battle and several centre-left MPs have talked about "improvements".
But Deputy Premier Francesco Rutelli said any changes would be slight and that there would be "no surprises".
Despite the grumbles of hard leftists and the reservations of Catholics, the government has said it will not call a do-or-die confidence vote on the bill in order to force possible dissenters into line. Although Prodi's coalition has only a razor-thin majority in the Senate, the bill is expected to have the support of some centre-right senators whose votes could compensate for defections in the centre left.
♪ 当ブログではこの先、「DICO (Diritti di coppie conviventi - 同居カップルの権利) 法案」と記載します。
ヒラリー議員に「スカート着用」を助言、伊著名デザイナー
2007.02.09
Web posted at: 16:20 JST
- CNN/REUTERS
ベルリン――イタリア著名デザイナーのドナテッラ・ベルサーチさんは8日、米大統領選への出馬を表明、最有力候補とも目されるヒラリー・クリントン上院議員(民主党)に、「女性らしさ」を強調するため、「ズボン」ではなく「スカートやドレス」の着用を助言した。
ドイツの週刊紙ツァイトに語った。「ズボンの着心地の良さは分かるが、彼女は女性。その特性を出すべきだ」などと述べた。「政治の世界での男らしさを真似る必要はない」とも強調した。
その上で、ひざまでの長さのスカートで、短めのジャケットかコートを試すよう助言。色についてはヒラリー議員が現在好む青ではなく、黒を推薦した。
「彼女の決断力を崇拝している。ホワイトハウスに入れることを期待している」とも応援した。
Donatella to Clinton: Ditch the trousers
POSTED: 2:44 p.m. EST, February 8, 2007

BERLIN, Germany (Reuters) --
Presidential candidate Sen. Hillary Clinton, D-New York, should tap into her feminine side and wear dresses and skirts instead of trousers, fashion designer Donatella Versace was quoted as saying on Thursday.
"I can understand (trousers) are comfortable but she's a woman and she is allowed to show that," Versace told Germany's weekly newspaper Die Zeit in an interview.
"She should treat femininity as an opportunity and not try to emulate masculinity in politics," Versace said.
Skirts should reach to the knee and be worn with a short jacket or coat, she said. The best color would be black rather than the blue Clinton currently favors, she added.
"I admire her for her determination, which will hopefully take her to the White House," Versace told the paper.
▲
by

alfayoko2005

| 2007-02-10 00:04 | 米政治
Congress to hear WW2 sex slaves' testimony
Thu Feb 8, 2007 10:28 PM ET
By Paul Eckert, Asia Correspondent

WASHINGTON (Reuters) -
Three women who were forced into sexual servitude by Japanese soldiers in World War Two will testify before a U.S. congressional committee next week, the author of a resolution calling on Tokyo to apologize for the practice said on Thursday.
Rep. Michael Honda, a California Democrat who introduced the nonbinding measure on February 1, told reporters he was confident the resolution would pass by the end of March.
"There are parties who are going to be lobbying against the resolution also, but on the whole we're enjoying bipartisan support," said Honda, one of a handful of U.S. lawmakers of Japanese descent.
Honda's resolution calls on the government of Japan to "formally and unambiguously apologize for and acknowledge the tragedy that comfort women endured at the hands of its Imperial Army during World War Two."
"Comfort women" is a Japanese euphemism for the estimated 200,000 women forced to provide sex for Japan's soldiers at battle-zone brothels during World War Two.
Honda said the first step toward passage would be the hearing at the Asia-Pacific subcommittee of the House of Representatives Committee on Foreign Affairs on February 15.
Witnesses would include experts on the issue and three former comfort women: Koreans Lee Yong-soo and Kim Koon-ja and Jan Ruff O'Herne, a Dutch-born woman who now lives in Australia, said Honda's office.
Asked about the timing of debate that could become an irritant in U.S.-Japan relations ahead of an expected spring visit to Washington by Japanese Prime Minister Shinzo Abe, Honda said that time was running out for the elderly women.
"The urgency is based upon the age of the women who were victims of the policy. Every year these ladies get older and older and they start to die off," he said in a conference call with reporters in Washington.
Japan in 1993 acknowledged a state role in the wartime program and Japanese leaders since 1996 have sent letters of apology to 285 of the women, along with donated funds collected by the government-administered Asian Women's Fund.
U.S. lawmakers introduce resolution urging Japan apology to World War II 'comfort women'
The Associated Press
Thursday, February 8, 2007

WASHINGTON
U.S. lawmakers have introduced a nonbinding resolution demanding that Japan apologize to thousands of so-called comfort women the Japanese army used as sex slaves during World War II.
The resolution, sponsored by Democratic Rep. Michael Honda, Republican Rep. Christopher Smith and others, calls for Japan's prime minister to "formally acknowledge, apologize and accept historical responsibility in a clear and unequivocal manner" for the women's ordeal.
A similar resolution asking for an apology for as many as 200,000 women forced to service millions of Japanese soldiers during the war was passed last year by the House of Representatives foreign affairs panel. The Republicans who then controlled Congress never brought it before the House for action.
The Japanese Embassy did not immediately respond to a request for comment. Tokyo acknowledged in the 1990s that its military set up and ran brothels for its troops. But Japan has rejected most compensation claims, saying they were settled by postwar treaties.
In an interview Thursday, Honda acknowledged that Japan is "very sensitive" to the issue and that Japanese lobbyists in Washington have urged the resolution be dropped, saying it would be bad for U.S.-Japanese relations.
"I'm sure there will be resistance," Honda said. But, he added, "It's a necessary move that the Japanese have to take."
Honda called the resolution "a matter of fundamental justice. These brave women's wounds have been left to fester for over a half-century."
Next week, three comfort women are scheduled to appear at a hearing of the House Foreign Affairs subcommittee on Asia.
The current resolution does not recommend that Japan pay reparations to the women. Instead, it urges Japan to accept moral responsibility for the women's misery with an official apology, to refute those who say the sexual enslavement never happened and to educate children about the comfort women's experience.
▲
by

alfayoko2005

| 2007-02-09 16:55 | 米政治
事実婚の権利法案を閣議承認=伊
2月9日10時1分配信 時事通信

 【ジュネーブ8日時事】
ANSA通信によると、イタリア政府は8日の閣議で、同性愛者同士を含む事実婚カップルに一定の法的権利を与える法案を承認した。法案にはこのほか、少なくとも9年間同居すれば、互いの資産を相続する権利を付与することも盛り込まれている。
 ただ、法案に反対の構えを見せていたマステッラ法相は閣議承認を棄権。カトリック教会も伝統的な家族の価値が汚されるなどとしており、法案成立に向けた議会審議の行方はなお不透明だ。 
Unwed partners including same sex couples to get legal status
by Gina Doggett
Thursday, February 8, 2007
AFP
Italy unveiled a draft bill that would grant legal status to gay couples after months of debate that has divided the center-left ruling coalition and attracted fierce opposition from the Vatican.
The legislation, one of the coalition's election manifesto promises, would apply to unmarried couples regardless of sexual orientation and even siblings living together, its authors told a news conference following an extraordinary cabinet meeting.
The law, bitterly opposed by the Roman Catholic Church, was hotly debated within the government, which includes far-left components as well as centrist Catholics.
"It's the first time in the legislation of our country that people who live together, heterosexual or homosexual, will have their basic rights recognized," Piero Fassino of the Democrats of the Left party told the news conference.
The bill "allows the recognition of the rights of those who live together by making this cohabitation more serene and solid, and at the same time respecting the Italian constitution, which guarantees that the family is founded on marriage," he said.
Equal Rights Minister Barbara Pollastrini, a co-author of the bill, said: "This draft law, which is a mark of respect and coherence, recognises rights but also duties."
She noted "health assistance, the possibility of making decisions in case of the illness or death of a partner, residence permits (and) inheritance rights" as among the most important entitlements of the proposed legislation.
Concerning duties, the bill calls for "the protection of the weaker partner if after three years of living together the relationship breaks up," for example in the case of a rental contract, she said.
While two-thirds of Italians favor the measure, according to a recent poll, the Vatican sees the planned legislation as an attack on the concept of marriage as the union of a man and a woman.
To satisfy all components of the ruling coalition, the new legislation will result in far less robust civil unions, or PACS, than those that exist elsewhere in Europe.
"This bill is certainly not a PACS, but it still contains important elements, beginning with the recognition of rights for same-sex couples," said Franco Grillini, a Democrats of the Left lawmaker who is honorary president of Italy's main gay rights association Arcigay.
"It's a first important step towards the recognition of rights that at least 20 countries in Europe introduced long ago," Grillini said in a statement,
However unlike the French PACS, the Italian one will also allow "two brothers or two sisters, a niece and her aunt" to enter into civil unions, Family Minister Rosy Bindi, the bill's other co-author.
In addition to health and social benefits, inheritance entitlements will be assured after partnerships lasting at least nine years, Pollastrini said.
A minimum duration of a union in order for a pension to continue to be paid to a surviving partner has yet to be decided.
Under the law, unmarried gay or heterosexual couples would also be accorded some of the rights enjoyed by conventional couples such as hospital and prison visitation rights.
Justice Minister Clemente Mastella, who heads a small Christian Democrat party in the coalition and has repeatedly spoken out against the bill, did not attend the cabinet meeting.