カテゴリ
以前の記事
検索
最新のトラックバック
その他のジャンル
ファン
記事ランキング
ブログジャンル
画像一覧
Washington Post Editorial
Shinzo Abe's Double Talk
He's passionate about Japanese victims of North Korea -- and blind to Japan's own war crimes.
Saturday, March 24, 2007; A16
THE TOUGHEST player in the "six-party" talks on North Korea this week was not the Bush administration -- which was engaged in an unseemly scramble to deliver $25 million in bank funds demanded by the regime of Kim Jong Il -- but Japan. Tokyo is insisting that North Korea supply information about 17 Japanese citizens allegedly kidnapped by the North decades ago, refusing to discuss any improvement in relations until it receives answers. This single-note policy is portrayed as a matter of high moral principle by Prime Minister Shinzo Abe, who has used Japan's victims -- including a girl said to have been abducted when she was 13 -- to rally his wilting domestic support.
Mr. Abe has a right to complain about Pyongyang's stonewalling. What's odd -- and offensive -- is his parallel campaign to roll back Japan's acceptance of responsibility for the abduction, rape and sexual enslavement of tens of thousands of women during World War II. Responding to a pending resolution in the U.S. Congress calling for an official apology, Mr. Abe has twice this month issued statements claiming there is no documentation proving that the Japanese military participated in abducting the women. A written statement endorsed by his cabinet last week weakened a 1993 government declaration that acknowledged Japan's brutal treatment of the so-called comfort women.
In fact the historical record on this issue is no less convincing than the evidence that North Korea kidnapped Japanese citizens, some of whom were used as teachers or translators. Historians say that up to 200,000 women from Korea, China, the Philippines and other Asian countries were enslaved and that Japanese soldiers participated in abductions. Many survivors of the system have described their horrifying experiences, including three who recently testified to Congress. That the Japanese government has never fully accepted responsibility for their suffering or paid compensation is bad enough; that Mr. Abe would retreat from previous statements is a disgrace for a leader of a major democracy.
Mr. Abe may imagine that denying direct participation by the Japanese government in abductions may strengthen its moral authority in demanding answers from North Korea. It does the opposite. If Mr. Abe seeks international support in learning the fate of Japan's kidnapped citizens, he should straightforwardly accept responsibility for Japan's own crimes -- and apologize to the victims he has slandered.
「女性を議員に」数も中身も
(2007年3月23日 読売新聞)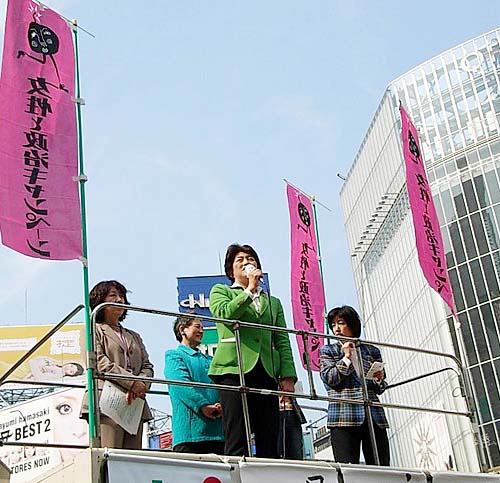 「女性議員を増やそう」と呼びかける「'07女性と政治キャンペーン」のメンバー(東京都渋谷区で)=月野美帆子撮影
「候補者の考え方見極めて」
 4年に1度の統一地方選挙が22日の知事選告示で始まり、女性を政治の場に送ろうという活動が活発化している。
 ◆市民の応援運動転換期
 今回の統一地方選では、市民グループなどから「数も大事だが中身も」という声が聞かれる。女性の政治参加を応援する考え方が、転換期を迎えているようだ。
 「社会の半分は女性なのに、政治に参加する女性はごくわずかです」――。3月初め、東京・渋谷駅前で「'07女性と政治キャンペーン」のメンバーがマイクを手に声を張り上げた。地方議会の女性比率が全体で1割に満たず、女性ゼロの地方議会も4割前後あることなどを挙げて、男女が平等に議会に参画する必要性を訴えた。
 地方議員や市民グループなどが中心になり、1999年から統一地方選の年に行っている全国キャンペーンで、今回は3回目。「女性議員を50%に」などをキャッチフレーズに、一人でも多くの女性を政治の場に送ることを目標としている。街頭での呼びかけのほか、ホームページ(http://www.josei-seiji.com)で情報発信を行っている。
 この日の街頭イベントでは、「男女平等の政策を実行する女性議員をおくり出そう」というメッセージを初めて掲げた。「女性議員を増やすのは大前提。でも男女共同参画に理解がある人に議員になってほしい」と、メンバーの西武(にしたけ)節子さんは話す。
 選挙のノウハウを指南する講座や街頭活動を行っている全国組織「女性を議会に 無党派・市民派ネットワーク」(事務局・岐阜県山県市)の寺町みどりさんも「女性候補ならだれでも応援するということではない。所属する政党や組織の論理を優先する女性議員なら、数が増えても政治や暮らしは変わらない」と強調する。
 女性候補を後押ししてきたグループがこう話す背景には、女性だからといって必ずしも男女平等政策に対して積極的とは限らないという、女性議員の多様化がある。「男は仕事、女は家庭」といった男女の固定的な役割分担を強調する考えに同調したり、男女共同参画に異議を唱えたりする女性議員が、ここ数年目につくようになってきた。
 評論家の樋口恵子さんは「女性は政治の場で長年少数派だったので、数を増やすことが大命題だった。だが女性議員が増えるにつれ、様々な考えの人がいることが分かってきた。とにかく女性議員の数を増やそうという考え方は、転換期を迎えている」と言う。樋口さんは「今度の統一地方選挙では、女性候補を政治の場に送る意味を考え、どんな考えの候補者なのかをよく見極めて投票してほしい」と話している。
◎
 国のまとめでは、女性議員の比率は衆議院で9・4%、参議院で14・2%(いずれも2006年11月現在)。都道府県議会が7・2%、市区議会11・0%、町村議会6・4%(いずれも05年12月現在)など。国の男女共同参画基本計画は、議員を含めた指導的地位の女性を2020年に30%に引き上げる目標を掲げている。
(2007年3月23日 読売新聞)
Former Japanese Premier Nakasone Denies Setting Up War Brothel
By Kiyori Ueno

March 23 (Bloomberg)
-- Former Japanese Prime Minister Yasuhiro Nakasone denied setting up brothels and recruiting sex slaves as a naval officer during World War II, while acknowledging that victims of such actions deserved an apology.
``I helped to set up rest houses and leisure centers for workers,'' Nakasone, who served as prime minister from 1982-1987, told reporters at the Foreign Correspondent Club of Japan in Tokyo today. ``They weren't comfort stations,'' he said, using the Japanese euphemism for wartime brothels.
Prime Minister Shinzo Abe has upset Japan's Asian neighbors and others recently with comments playing down the Japanese military's role in forcing as many as 200,000 women into sexual slavery during the war. Nakasone wrote in his 1978 memoir that he set up a ``comfort station'' to stop members of his unit attacking women.
Abe on March 1 said there was ``no evidence'' that the military forced women into sexual servitude during Japan's occupation of Asia during the war and his office released a report on March 16 backing his statement up.
As many as 200,000 women, mostly from Korea and China, served as prostitutes for Japanese soldiers during the war, and Abe has repeatedly said he supports a 1993 apology to the women.
``There were comfort women and I've heard the circumstance there were in,'' Nakasone said today. ``I don't know if there was coercion.''
He said he supports the Japanese government's 1993 apology to the women. ``We must embrace the fact and we must apologize to those women if there was violation of human rights.''
To contact the reporter on this story: Kiyori Ueno in Tokyo at kueno2@bloomberg.net
Last Updated: March 23, 2007 05:20 EDT
Former Japanese leader Nakasone denies setting up sex slave brothel in World War II
The New York Times
March 24, 2007
Editorial
Legal Convolutions for Gay Couples
One consequence of denying gay couples the right to marry is that it forces people to resort to legal convolutions to protect their family's financial interests. This problem is currently at the center of an intriguing lawsuit involving Olive Watson, a granddaughter of Thomas Watson Sr., the founder of I.B.M., and Patricia Ann Spado, her former lesbian partner of 14 years.
Sixteen years ago, when she was 43, Ms. Watson adopted Ms. Spado, then 44, under a Maine law that allows one adult to adopt another. The purpose was to allow Ms. Spado to qualify as an heir to Ms. Watson's estate. It was a legal path used over the years by an untold number of same-sex couples who had been denied a straightforward way to establish inheritance rights through marriage.
Less than a year after the adoption, the pair broke up. Ms. Spado has filed a claim seeking to inherit a share of Mr. Watson's estate, contending that her adoption technically makes her one of Mr. Watson's grandchildren.
As Pam Belluck, Alison Leigh Cowan and Ariel Sabar reported in The Times, Watson trust lawyers are pursuing a variety of tactics to defeat Ms. Spado's claim, including trying to annul the adoption on the grounds that the law was not intended for same-sex partners. Ms. Spado convincingly argues that an annulment would leave other adoptions on shaky ground, and that the "courts cannot unravel longstanding judgments based on third-party aversions to personal lifestyles."
While the outcome is hard to predict, the lesson is clear: gay people who want to protect their families should not have to resort to adult adoptions. Nor should they be confined to separate and unequal new legal regimes, like civil unions, or rely on a patchwork of contracts, some of dubious enforceability. One benefit that comes with marriage is a universally understood framework for formally dissolving relationships and settling financial matters.
Connecticut's legislators are about to consider a proposal to upgrade their state's civil union law to allow full-blown marriage rights for gay couples. For practicality and fairness, it's the right move.
Former Japanese leader Nakasone denies setting up sex slave brothel in World War II
The Associated Press
Friday, March 23, 2007

TOKYO:
A Japanese former prime minister and elder statesman Friday denied setting up a military brothel staffed by sex slaves during World War II, despite writing a memoir that critics say shows he did so while in the navy.
Yasuhiro Nakasone, who served as prime minister from 1982 to 1987 and was known for his friendship with then-U.S. President Ronald Reagan, described the facility he set up as a place for civilian engineers to relax and play Japanese chess.
"I never had personal knowledge of the matter," Nakasone told reporters at the Foreign Correspondents Club of Japan when asked about wartime sex slaves, known in Japan euphemistically as "comfort women."
"I only knew about it from what I read in the newspaper," he said, adding that such enslavement was "deplorable" and that he supported the Japanese government spokesman's 1993 apology to victims.
Historians say thousands of women — most from Korea and China — worked in the frontline brothels, and estimates run as high as 200,000. Victims say they were forced into the brothels by the Japanese military and were held against their will.
The U.S. House of Representatives is considering a resolution that calls on Japan to make a full apology for the brothels, and Prime Minister Shinzo Abe stirred criticism earlier this month when he denied there was evidence the women were forced into service.
A Nakasone memoir published in 1978 said that members of his 3,000-man navy unit in wartime Philippines and Borneo "began attacking women, while others took to gambling."
"At one point, I went to great pains to set up a comfort station" to keep them under control, he wrote. The essay was in an anthology of war accounts, "The Eternal Navy — Stories to Hand Down to the Younger Generation."
In the 1990s, former Philippine sex slaves cited the memoir as further proof Nakasone was involved with enslavement, bolstering their demands that Tokyo compensate the victims. The Japanese government in 1995 set up a private fund for the women, but never offered direct government compensation.
A Nakasone spokesman in 1997 told The Associated Press that the brothel was operated by local business people and that the prostitutes worked there voluntarily and had not been forced into sexual slavery.
But on Friday, Nakasone was vague about the activities at the facility, skirting a question about whether prostitutes were active there.
"The engineers ... wanted to have a facility to relax and play 'go,' so we simply established a place so they could have that," Nakasone said, explaining that the men — civilian engineers — needed someplace for rest and entertainment.
Nakasone's government, as all Japanese governments until the 1990s, denied any official involvement with the wartime brothels.
The former prime minister is known in Japan for his nationalist stance. In 1985, he was the first Japanese prime minister to visit a Tokyo war shrine after it began honoring executed war criminals.
Elton John urges fight against homophobia
POSTED: 0408 GMT (1208 HKT), March 22, 2007

LONDON, England (Reuters) --
Elton John has paid tribute to gay rights campaigners and urged others around the world to "stand up and speak out" against homophobia.
The British singer, who tied the knot with long-term partner David Furnish in a civil ceremony, said people must stand up for the human rights of homosexuals.
"In December 2005, I was legally bound to the man I love," he wrote in the New Statesman magazine. "It's my legal right and my human right. And I wanted everyone to know, I wanted to shout about it.
"In some countries, my voice would have been drowned out. Maybe even stamped out.
"Men and women are persecuted and attacked every day all over the world, just because of who they love and who they make love to."
The singer, who celebrates his 60th birthday on Sunday, paid tribute to William Hernandez, a gay rights campaigner in El Salvador.
Amnesty International says Hernandez and others in his organization Entre Amigos (Between Friends) have received death threats for their work.
"People like William are a lot braver than me. When the bigots shout abuse, they shout back," the singer wrote.
"My voice has served me pretty well over the years. I hope maybe it can do him some good too. But we need more voices.
"Whether the bigot is in our local pub or a thousand miles away, we should all stand up and speak out for these basic human rights."
The article was for a column in the magazine in which well-known public figures highlight Amnesty cases.
「同性愛恐怖症との闘いを」E・ジョンが呼びかけ
2007.03.22
Web posted at: 14:52 JST
- CNN/REUTERS

ロンドン──
同性愛を公言している英ミュージシャンのエルトン・ジョンさん(59)は雑誌「ニュー・ステーツマン」のコラムで、同性愛恐怖症に対して「立ち上がり、声を上げるよう」世界各地の人々に呼びかけた。
2005年12月に長年パートナー関係にある男性と民事婚で挙式したジョンさんは、同性婚について「わたしの法的権利であり、人権だ。このことをあらゆる人に知ってもらいたい」と述べた。そのうえでジョンさんは、一部の国では自身の声がかき消され、踏みにじられるだろうと語り、「世界各地には恋愛や性交渉の対象が原因で、迫害され攻撃されている男女がいる」と指摘。エルサルバドルで同性愛者の権利活動に携わっているウィリアム・ヘルナンデス氏への敬意を表明した。
国際人権団体アムネスティ・インターナショナルによると、ヘルナンデス氏が率いる活動団体は死の脅迫を受けている。ジョンさんは「わたしよりずっと勇気がある」と同氏を賞賛し、「わたしは長年自分を励ましてきたし、ヘルナンデス氏についても幾分力づけられるかも知れないが、もっと大勢の声が必要だ」と述べ、基本的人権を求めて同性愛者への偏見を持つ人々に声を上げていく必要性を強調した。
Texas is the unlikely home of biggest gay church
Tue Mar 20, 2007 2:35PM EDT
By Ed Stoddard

DALLAS (Reuters) -
They say everything is bigger in Texas.
But the Cathedral of Hope in Dallas makes one Texas-sized claim that few would expect in the conservative Bible Belt state -- it says it is the world's biggest gay church.
"I think this shows that God has a tremendously great sense of humor," said senior pastor and rector Jo Hudson.
On a more serious note, she says the church, affiliated with the United Church of Christ, is a spiritual refuge for gay people of faith in a region associated with more conservative brands of Christianity.
"Because we are in the Bible Belt we have a lot of people of tremendous faith," she said in an interview.
"But a lot of them have been alienated and rejected by their faith community, which is fundamentalist, so they hanker for a place where they can encounter God," she said.
Gays and the church are no small matter in America. Many of the country's 60 million evangelicals view homosexuality as a sinful lifestyle choice -- a stance that angers gay activists who say their sexual orientation is not a choice.
The Episcopalian church -- the American wing of the Anglican Communion -- is sharply split on the matter of gay clergy, while the Republican Party has used state ballot initiatives banning gay marriage to get its supporters out to the polls.
Hudson estimates that over 90 percent of the Cathedral's 3,500 members are gay, lesbian or transgender.
Founded in 1970 by a dozen gays and lesbians who gathered in a home and decided they wanted a safe and tolerant place to worship, it has grown into a large and affluent institution centered on a cavernous church that can seat up to 900.
Last year it became part of the United Church of Christ, which claims 1.3 million members in 5,725 U.S. congregations and traditions of diversity and pioneering action on social justice.
On a recent Sunday during Lent -- a period of prayer and penance in the run-up to Easter -- mostly gay couples, men and women, streamed in for morning services.
The big pickup trucks and sports utility vehicles gave the parking lot a Texan flavor and most were on the expensive side -- highlighting the fact that being openly gay remains a mostly white-collar phenomenon in America.
The church offered liturgical worship with an Episcopalian flavor, complete with communion. It also provides contemporary and Spanish-language services.
But there was no discussion of homosexuality from the pulpit. One pastor spoke of South African Archbishop and Nobel laureate Desmond Tutu and the importance of forgiveness.
Hudson's sermon focused on humanity's propensity to wander.
FOCUS ON THE POOR
Members of the congregation said that while the church was a place of spiritual comfort for gays, its focus was on ministering to the wider community, especially the poor.
"We don't talk much about gay stuff here," said Coy James, who has been attending the church for almost 30 years.
"We give over $1 million each year in aid and services to the poorest of the poor and we have adopted elementary schools in low-income areas and helped them with tutoring and other things," he said after the service.
Others are drawn by its liberal theology in a range of areas that go beyond sexual orientation.
"I'm from a Catholic background and have an issue with its stance on women in the priesthood," said Chris Kuntz, who said he joined the Cathedral in 1994.
All of this places the church firmly on the left of America's political and cultural divide -- another anomaly in the red-blooded, Republican-dominated state of Texas.
The church's store prominently displays books such as "The Real AntiChrist: How America Sold its Soul," with a cover photo of President George W. Bush with his hands clasped in prayer.
But its liberal views on sexual orientation are also clearly a big part of its attraction for many members who might not feel comfortable or welcome in other churches.
"Homosexuality & Christianity: no matter who you are, God loves you," declares the church's Web site, which features a discussion on the matter, stressing among other things Jesus' silence on the subject.
Southern Baptists and other socially conservative denominations point to mostly Old Testament passages that they say shows God's dim view of homosexuality.
"The Bible could not be more clear -- all forms of homosexual behavior are expressly condemned as sin," said R. Albert Mohler Jr., the president of The Southern Baptist Theological Seminary, in a recent statement on the issue.
Hudson says such attitudes both underscore the importance of her church for gay Texans and explain its size.
"Sometimes where there is great oppression, great justice emerges," she said.
保守的な土地に「世界最大の同性愛者の教会」
3月22日 20時42分
【ダラス 20日 ロイター】
 テキサス州では何でも「テキサス・サイズ」――つまり他より大きい、らしい。
 だが、ダラスにある教会"カテドラル・オブ・ホープ"が行った「テキサス・サイズ」の主張は、バイブル・ベルト(聖書地帯)と呼ばれるこの保守的な地域におよそ似つかわしくないものだった。この教会、自分達は世界最大の同性愛者の教会だ、と主張したのだ。
 主任司祭であり教区主任も務めるジョー・ハドソン牧師は、「このことは、神が偉大なるユーモアのセンスをお持ちだということを示しているのだと思います」と語った。そして少し真面目な口調でこう続けた。合同教会に加盟しているこの教会は、キリスト教の中でもより保守的な宗派に属する地域に住む、信仰の厚い同性愛者たちの精神的な避難所となっているのだ、と。
 ハドソン牧師はインタビューに対して、こう語っている。「バイブル・ベルトだけあって、この地域には非常に信仰心の厚い人々がたくさんいます」。 「ですが彼らの多くが、根本主義を信奉する自分の教区から疎んじられ、また拒絶されています。だからそうした人々は、神と向き合うことができる場所を求めているのです」。
 アメリカにおいて、同性愛者と教会の関係は大きな問題だ。アメリカ国内に6,000万人いる福音主義者の多くは、同性愛を「罪深い生き方の選択」と見ている。一方、同性愛擁護の活動家たちは、同性愛という性的指向は「選択」したものではないのだと主張し、こうした見方に怒りを示している。
 英国国教会の米国支部である米国聖公会では、同性愛の聖職者を承認するかどうかで、内部で意見の対立が生じている。また共和党は、同性結婚を禁止する州民投票を利用して、同性結婚反対派の支持を取りつけようとした。
 ハドソン牧師の推計によると、このカテドラル・オブ・ホープ教会のメンバー3,500人のうち90%以上が、ゲイ、レズビアン、或いはトランスジェンダー(性同一性障害)だという。
 この教会は1970年、12人の信者によって創設された。ゲイまたはレズビアンだった彼らはある家に集まり、信仰のための安全で寛容な場所が欲しいと決心したのだ。そうして創設された教会は、最大900人が着席できる広々とした教会を中心とした、大規模な施設へと成長した。
 教会は昨年、米国内の5,725の信徒協会および多様性の伝統、社会正義についての先駆的行動に携わる団体などから130万人のメンバーを誇る合同教会に加盟した。
 先日、受難節――復活節の準備として祈りと贖罪を行う期間――のある日曜日には、朝の礼拝にこぞって訪れたのは、ほとんどが同性愛者のカップル達だった。駐車場に並んだ大きなピックアップ・トラックやSUV車は、いかにもテキサスという雰囲気を醸し出していた。そして、ほとんどの車が比較的高級な部類に入るもので、アメリカで同性愛者であることをオープンにするのは、ほとんどがホワイトカラーの人々であるという実態を反映していた。
 教会では、米国聖公会の特徴を盛り込んだ礼拝を提供し、聖餐式も行った。また、現代風の礼拝やスペイン語での礼拝も行われた。だが、聖職者が説教の中で同性愛の問題に触れることはなかった。ある司祭は、南アフリカの大司教でありノーベル賞を受賞したデスモンド・トゥトゥ大司教について、また許しの重要さについて話をした。
 ハドソン牧師の説教は、人間とは道を踏み外す傾向があるものだ、というテーマに焦点をあてたものだった。
※この記事はロイター通信社との契約のもと、Amebaニュース編集部が日本語に翻訳しています。
Japan elections a key test for Abe's embattled government
The Associated Press
Thursday, March 22, 2007
TOKYO: Pivotal campaigns kicked off Thursday across Japan with Prime Minister Shinzo Abe facing the first major electoral test of his embattled government.
Abe's public support languishes at all-time lows, his Cabinet is embroiled in scandal and international outrage swirls around his views on World War II sex slaves.
Japan's youngest prime minister might be forgiven for wishing the April 8 polls for 13 prefectural governors and hundreds of other local officials could be postponed.
"It's not perfect timing," political analyst Shigenori Okazaki said. "Now Abe's losing his approval rating and suddenly the elections look very tough."
Of the races, the Tokyo gubernatorial poll is seen as a bellwether of Japan's drift to the right under Abe and his future political capital. It pits an outspoken reformer against firebrand conservative Shintaro Ishihara, the incumbent.
In some ways, Ishihara can be seen as a stand in for the prime minister.
Backed by Abe's ruling Liberal Democratic Party, Ishihara has been a champion of fiscal responsibility and conservative causes during his eight years as Tokyo governor.
But he is also a lightning rod of controversy for what critics say are disparaging remarks about foreigners and for policies seen as too nationalistic, such as the order for teachers to sing the national anthem, the "Kimigayo."
Challenger Shiro Asano, backed by the opposition Democratic Party, says Ishihara's "discriminatory comments" and "dictatorial style" are out of step with voters.
"Unless somebody stops Ishihara now, I feel that the situation not only in Tokyo but in Japanese politics as a whole may get entirely out of hand," the former governor of Miyagi prefecture said at a news conference earlier this week.
Similar criticisms might also be leveled against Abe, who has made nationalism a top rallying cry. He has pushed for teaching patriotism in the schools and reforming the pacifist constitution to give the military a bigger profile.
Deputy Cabinet Secretary Hiroshi Suzuki, an Abe spokesman, said Thursday that April's results should not be misinterpreted as a direct vote of confidence on Abe.
But the polls will nonetheless be a closely-watched barometer of the LDP's prospects in parliament's critical upper house elections in July, he said.
"Of course these elections are important," Suzuki said. "Those elections would be the run-up for the upcoming Upper House elections this coming summer."
Abe's approval rating currently hovers just above 40 percent, a drastic tumble from the 70 percent support level he enjoyed when taking office last September.
Approval has been whittled away partly by a scandal involving huge, unexplained expenses for a rent-free office linked to Agriculture Minister Toshikatsu Matsuoka.
Cabinet gaffes have also hurt. In February, Health Minister Hakuo Yanagisawa called women "birthing machines," prompting calls for his resignation.
Meanwhile, Defense Minister Fumio Kyuma ruffled feathers by declaring the U.S.-led war in Iraq, to which Japan dispatched troops, a "mistake."
Abe's troubles deepened when he angered neighboring nations by saying there was no evidence Japan's military or government forced women to work in World War II brothels.
Historians say about 200,000 women, mostly from Korea and China, served in Japanese military brothels throughout Asia in the 1930s and '40s. Many victims say they were kidnapped and forced into sexual slavery by Japanese troops.
A reinvigorated Democratic Party, led by Ichiro Ozawa, a former LDP heavyweight who defected, is waiting to pounce. And Abe's vague policy platform and nationalistic outlook may give it plenty of fodder for criticism.
The big prize will be control of parliament's upper house, up for grabs in nationwide elections this July. The April 8 polls, as well as two upper house by-elections later in the month, may foreshadow who comes out on top.
▲
by

alfayoko2005

| 2007-03-23 11:38 | 国内政治
Published: March 22, 2007 at 2:24 PM
Analysis: N. Korea scores on Japan in sex
By SHIHOKO GOTO
Senior Business Correspondent

WASHINGTON, March 22 (UPI) --
When it comes to encouraging gender equality, it seems that even North Korea wants to boast of having higher standards than Japan. What's more, there are growing concerns in Japan that its leader's denial of the military forcing Chinese and Korean women into prostitution during World War II is driving a wedge between Japan and the world at large at best, and making it ironic for Japan to pester North Korea about its own human-rights abuse at worst. And for Pyongyang today, creating a schism between Japan and the other countries in negotiating nuclear disarmament may be to its advantage.
For now, there is no doubt that Pyongyang wants to highlight Japan's transgressions and use them to its advantage. At the United Nations' Human Rights Council earlier this week, the North Korean delegation accused Japan of subjugating women even today as it did during World War II. Specifically, it cited a comment made by Japanese Health Minister Hakuo Yanagisawa in January that women are "child-bearing machines" and warned that the country has essentially remained unchanged on its stance toward women more than 60 years on.
"The Japanese government and military turned girls from the Korean peninsula and other Asian countries into sex slaves. Under the previous Human Rights Council, the United Nations sought to persecute its responsibility, but the Japanese government was backward-looking, and is even trying to deny this problem," the North Korean delegation stated. It added that "as you can see from the current health minister's statement that 'women are child-bearing machines,' there is the threat that Japan can repeat the same crime."
For their part, the Japanese media have interpreted North Korea's comments as one of a number of ways it is seeking to isolate Japan from the six-party talks that seek to denuclearize Kim Jong-Il's regime. For instance, one of the country's most influential dailies, Asahi Shimbun, reported that Pyongyang has been going out of its way to highlight how Japan's interest in the talks is different from those of South Korea, China, Russia and the United States, most notably in its demand for more information on the abduction of Japanese nationals to Pyongyang, in a bid to drive a wedge between Japan and the other countries.
Japan has insisted that unless North Korea becomes more open about the abductions, it will not take part in the initial energy aid package offered by the other members of the six-party talks in return for the regime to be more open about its nuclear capabilities. The irony of Japan calling for more transparency about the abductees even as it tries to sweep its own past under the rug appears to have been lost, at least for now. Meanwhile, Pyongyang has retaliated by saying it does not need Japan's help and instead wants Japan to apologize for its war past.
But while the Japanese media may argue that Pyongyang is deliberately trying to isolate Japan from the six-party talks, it is more likely that Japan is actually shooting itself in the foot as it clamors for more information about those 17 or so individuals abducted in the 1970s and 1980s on the one hand, while brushing aside the issue of forced wartime prostitution on the other. For one thing is clear: Both North and South Korea continue to be united when it comes to criticizing Japan for its past, most notably on the issue of women largely from China and the Korean peninsula forced into prostitution by the Japanese military during World War II, who are still referred to as "comfort women" in Japan.
Certainly, the fact that Japanese Prime Minister Shinzo Abe told lawmakers earlier this month in a parliamentary session that there was "no evidence" that the military forced foreign women into prostitution has made matters only worse. Japan's militaristic past, particularly its endorsement of institutionalized rape, has remained a major obstacle for the country in furthering diplomatic ties with its neighbors, particularly in China and the Korean peninsula, where the pains of Japanese occupation were felt the deepest. But the fact that Abe denied that as many as 200,000 women were forced to become prostitutes for Japanese soldiers, and that the prime minister's office subsequently released a statement last week supporting his claims, has further fanned the flames of anger across the East Asia region.
The problem is likely to remain when Chinese Premier Wen Jiabao visits Tokyo next month and will most likely be an issue of major concern when Abe goes to Washington at the end of April for a meeting with President George W. Bush.
18. März 2007, 12:50, NZZ Online
Opernsänger Ernst Haefliger 87-jährig gestorben
Akutem Herzversagen erlegen
Der bekannte Schweizer Tenor Ernst Haefliger ist im Alter von 87 Jahren gestorben. Er erlag am Samstag in Davos einem akuten Herzversagen, wie die Pressebeauftragte des Lucerne Festivals am Sonntag auf Anfrage bekannt gab.
(ap) Haefliger wurde am 6. Juli 1919 in Davos geboren. Er studierte in Zürich Gesang und Geige und war einer der legendären Oratorien- und Liedsänger des 20. Jahrhunderts. Seine Interpretationen des Evangelisten in den Bach Passionen, besonders in den denkwürdigen Aufführungen des Münchner Bachchors unter Karl Richter, gelten als exemplarisch, wie es in der Würdigung des Lucerne Festivals weiter heisst.
Als Opernsänger war Haefliger von 1943 bis 1952 als Ensemblemitglied am Opernhaus Zürich, in den Jahren 1952 bis 1972 als erster lyrischer Tenor an der Deutschen Oper Berlin tätig. Dort sang er sowohl alle Mozart-Partien als auch den Hans in Smetanas «Verkaufte Braut». Unvergesslich bleibe er als Pfitzners «Palestrina», schreibt das Lucerne Festival.
Unter der Leitung von Ferenc Friczay spielte Haefliger bei der Deutsche Grammophon zahlreiche Mozart-Opern und Beethovens «Fidelio» ein, unter Leitung von Bruno Walter Mahlers «Das Lied von der Erde» bei Columbia Records. Seine Aufnahmen wurden vielfach ausgezeichnet.
Haefliger hatte bei Leni Haefely, Julius Patzak und Fernando Carpi studiert. In Kritiken wurden sein unverwechselbar silbriges Timbre und sein aussergewöhnliches Gestaltungsvermögen gelobt. Von Beginn seiner Karriere an war Haefliger auch ständig Gast der grossen Festspiele wie Salzburg, Glyndebourne, Luzern.
Haefliger war viele Jahre Professor für Gesang an der Musikhochschule in München. Nach seiner Emeritierung vermittelte er seine Belcanto-Technik vielen Studenten und verlieh 2006 dem Gesangswettbewerb «Concours Ernst Haefliger» seinen Namen, für den er auch als Juror wirkte.
Diesen Artikel finden Sie auf NZZ Online unter: http://www.nzz.ch/2007/03/18/fe/newzzEZFF8SPQ-12.html
The New York Times
March 20, 2007
Ernst Haefliger, Swiss Tenor, Dies at 87
By ALLAN KOZINN
Ernst Haefliger, a Swiss tenor who was most renowned as an interpreter of German art song and oratorio roles, died on Saturday in Davos, Switzerland, where he maintained a second home. He was 87 and lived in Vienna.
Charlotte Schroeder, his American manager, announced his death.
Mr. Haefliger was a graceful singer with a flexible, lyrical voice that served him well in recitals — particularly in Schubert lieder — and made him an ideal Evangelist in Bach's St. Matthew Passion and St. John Passion, or an eloquent Tamino in Mozart's "Magic Flute." His repertory included most of the Mozart tenor roles, as well the tenor roles in nonoperatic scores like Mahler's "Lied von der Erde," Bach's Mass in B minor and the Beethoven Ninth Symphony.
Ernst Haefliger was born in Davos on July 6, 1919, and studied at the Wettinger Seminary and the Zurich Conservatory before moving to Vienna, where he became a student of the tenor Julius Patzak.
At first he focused on the recital and choral repertory, and in 1942, he made his public debut as the Evangelist in Bach's St. John Passion, in Geneva. He also sang in the first performances of several works by the Swiss composer Frank Martin, including "Le Vin Herbé" in 1941, "In Terra Pax" in 1945, and "Golgotha" in 1949.
At the urging of the conductor Ferenc Fricsay, with whom he went on to record several Mozart operas, as well as Beethoven's "Fidelio," Mr. Haefliger began studying opera as well, and joined the Zurich Opera in 1943.
His first important operatic appearance outside Switzerland was as Tiresias in the premiere of Carl Orff's "Oedipus," at the Salzburg Festival in 1949. In 1952, he left the Zurich Opera and joined the Städische Oper (later the Deutsche Oper), in Berlin, where he remained one of the company's principal lyric tenors until 1974.
Mr. Haefliger made his debut at Glyndebourne in 1956, as Tamino, and at the Lyric Opera of Chicago, in the same role, in 1966. In the United States, however, he was heard mainly in recitals and in the Bach Passions. In recent years, he appeared as the Speaker in Schoenberg's "Gurrelieder" with James Levine and the Met Orchestra at Carnegie Hall in 2001; he sang the Schubert song cycle "Die Winterreise" in a recital at the Metropolitan Museum of Art with his son the pianist Andreas Haefliger in 1995.
Mr. Haefliger taught for many years at the Munich Hochschule für Musik and published a book, "Die Singstimme" ("The Singing Voice"), in 1983. In 2006, the Ernst Haefliger Competition was established in his honor in Switzerland.
In addition to his son Andreas, Mr. Haefliger is survived by his wife of 53 years, Anna Golin Haefliger; another son, Michael Haefliger, who is the artistic and executive director of the Lucerne Festival; and a daughter, Christine Marecek.
テノール歌手のエルンスト・ヘフリガーさん死去
2007年03月19日 asahi
 エルンスト・ヘフリガーさん(テノール歌手)が17日、スイスの自宅で心不全で死去、87歳。日本の音楽事務所に家族から連絡が入った。
 ドイツ歌曲の権威。カール・リヒター指揮「マタイ受難曲」の福音史家の名唱でその名を高めた。52年にベルリン・ドイツ・オペラに迎えられ、何度も来日した。
 80年からの「草津夏期国際音楽アカデミー&フェスティバル」に長年講師で参加し、後進を育てた。「赤とんぼ」「浜辺の歌」など日本の歌曲をドイツ語で歌ったCDも出している。
E・ヘフリガー氏死去/スイスのテノール歌手
2007/03/19 00:42
 エルンスト・ヘフリガー氏(スイスのテノール歌手)AP通信によると17日、心不全のためスイス東部ダボスで死去、87歳。音楽祭関係者が明らかにした。
 19年、ダボス生まれ。バッハの「マタイ受難曲」などの宗教曲で独自の境地を開き、名声を高めた。52年にベルリン・ドイツ・オペラに迎えられ、モーツァルトの歌劇でも揺るぎない地位を築いた。「この道」「荒城の月」など日本の歌曲をドイツ語で歌ったCDも発表、大きな話題となった。(共同)
訃報:エルンスト・ヘフリガーさん 87歳 死去=スイスのテノール歌手
毎日新聞 2007年3月19日 東京朝刊
 エルンスト・ヘフリガーさん 87歳(スイスのテノール歌手)日本の音楽事務所に入った連絡によると17日、心不全のためスイス・ダボスの自宅で死去。
 チューリヒ音楽院を卒業、バッハ「ヨハネ受難曲」でデビューして成功を収め、宗教曲、歌曲、オペラで、ドイツ物を代表するテノールとして活躍した。シューベルトの歌曲「美しき水車小屋の娘」、モーツァルトのオペラ「魔笛」のタミーノ役などがとりわけ高い評価を集めた。親日家で数多く来日、日本歌曲をドイツ語に翻訳して歌ったCDも話題を呼んだ。最近まで、草津夏季国際音楽祭の常連として、毎夏のようにリサイタルを開いていた。
▲
by

alfayoko2005

| 2007-03-21 13:07 | Music