カテゴリ
以前の記事
検索
最新のトラックバック
その他のジャンル
ファン
記事ランキング
ブログジャンル
画像一覧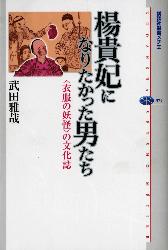 『楊貴妃になりたかった男たち』武田雅哉著 (産経 2007/03/19)
■女装者を通して見る中国史
 「月も朧(おぼろ)に白魚の篝(かがり)も霞む春の空…こいつあ春から縁起がいいわえ」。百両を奪い、悪びれずに朗唱する女装の白浪(盗人)。河竹黙阿弥作「三人吉三」の名場面だ。幕末歌舞伎ならではの倒錯美、悪の華である。
 と思いきや、中国には美女に化けて相手を油断させ、盗みや婦女暴行を働くワルが大昔からごまんといたらしい。犯罪目的のみならず、趣味の女装癖から縁起かつぎ、商売、スパイ、性同一性障害によると思われる女装まで、あらゆる事例がそろっていた。
 本書は、そんな古今の異聞奇譚を渉猟しながら描く女装の歴史。女になりすますコツを伝授する泥棒の師匠やら纏足(てんそく)を擬装する器具のエピソード、学生演劇ではなぜかもっぱら女形だった周恩来(写真あり!)まで登場して驚きに満ちている。
 彼ら女装者たちを通して見た中国社会も興味深い。例えば、男に身をやつした女が「男装の麗人」と美称され、しばしば歴史に名を残しているのに対し、女になろうとした男の多くは冷眼視され、滑稽(こっけい)に扱われている。例外は楊貴妃を演じて好評を博した京劇役者・梅蘭芳くらいか。伝統社会のジェンダー観が如実に表れているのだ。
 また奇異な身なりは古来「服妖」と呼ばれ、世界への脅威や凶兆とされた。陰陽を転倒させる女装も、為政者や秩序を重んずる人々にとっては服妖である。お上や世間がモンスターをいかに畏(おそ)れ、嫌悪するか。正体がバレた女装者たちへの仕打ちを見るとよくわかる。
 教科書に載る偉人より、女装ごっこを妹に見とがめられる情けない青年の方に親近感を覚える、という著者のあたたかい眼差(まなざ)しによって日の目を見たモンスターたち。ぎくしゃくした話題が多い中、久々に楽しい中国に出合えた。
 残念なのは、本書が黙阿弥さんの時代に間に合わなかったこと。何しろ芝居に翻案できそうな荒唐無稽(むけい)なお話がゴロゴロしているのだから。(講談社選書メチエ・1785円)
 翻訳家 瀬川千秋
                  ◇
【プロフィル】武田雅哉
 たけだ・まさや 北海道大学大学院教授。専門は中国文化史、中国文学。『蒼頡(そうけつ)たちの宴』でサントリー学芸賞。
(2007/03/19 07:47)
▲
by

alfayoko2005

| 2007-03-19 13:12 | Books
NEWS ANALYSIS
Japan's Abe sticks to comments on 'comfort women'
Premier denies coercion in World War-II era brothels, even as he berates North Korea over kidnappings of Japanese citizens.
By Bruce Wallace, Los Angeles Times Staff Writer
March 18, 2007

TOKYO —
Anyone struggling to understand the Japanese government's position on the morality of kidnapping people, taking them to another country and forcing them to work against their will can be excused for being confused by the declarations coming out of Tokyo these days.
On one hand, Prime Minister Shinzo Abe seems prepared to risk his country's reputation by saying that the Japanese military did not coerce the tens of thousands of women from other Asian countries cast into sexual slavery during World War II.
Yet his government cannot contain its fury over North Korea's failure to "sincerely" face up to its role in kidnapping a handful of Japanese civilians during the Cold War and forcing them to teach Japanese customs and language to North Korean spies.
There is no hint here of any awareness of the irony.
There has been almost no outcry in Japan against Abe's assertion that there is no evidence to implicate the Japanese military in the well-documented system of organized brothels in areas under its control. Major media organizations support Abe's position and have encouraged him to stick by it.
In a sign that it feels no heat at home, the Abe Cabinet issued a statement Friday reiterating that government archives contain no evidence of official military involvement in recruiting what the Japanese euphemistically call "comfort women."
Contrast that with the national anguish over the 17 Japanese allegedly kidnapped by North Korea and who Tokyo says may still be alive. One of the abductees, Megumi Yokota, who was kidnapped at age 13 three decades ago, has become an icon of Japanese victimhood, and Abe has never missed a chance to affix his career to her tragedy. Last week, his government launched a $1-million TV ad campaign extolling its determination to free her and the other abductees.
"The Japanese people have little awareness about human rights," says Yoshimi Yoshiaki, a Chuo University professor and co-chairman of the Center for Research and Documentation on Japan's War Responsibility. He has received many requests about the center's scholarship since the controversy broke — all form abroad. "There was no interest in Japan," he says.
"The Japanese become very emotional about the abductees because the victims are Japanese, but they don't feel so close to other Asian women, whose suffering they see as something in the past," Yoshiaki says. "What Abe is demanding from North Korea, an apology and punishment for the people who did it, should be the same standard he applies on comfort women."
No documentation
But Abe has opted to play the lawyer rather than the moralist on the so-called comfort women. Despite the testimony of women who were victims of the brothels, Abe says there is no paper trail showing coercion in the narrow sense of soldiers breaking into homes and abducting women into forced prostitution. Any such suggestion is a "complete fabrication," he told parliament.
How, critics ask, could a prime minister who came to office vowing to create a "beautiful Japan" that spoke with credibility on global affairs, end up squabbling over details with now-octogenarian women about the degree of coercion that was used to conscript them into a network of serial rape?
Some say it is rooted in his government's falling poll numbers, which has left him vulnerable to attack from the nationalist wing of his party. These conservatives once saw Abe as their champion but accuse him of going soft since becoming prime minister.
Others argue he was merely speaking his mind, noting his record of criticizing what he described as Japan's masochistic culture of endlessly apologizing for World War II and its related crimes.
It's unclear whether Abe knows, or worries, about the damage his obfuscation has done to Japan's image abroad. He has dismissed criticism as Japan-bashing spawned by a misrepresentation of his position by foreign media.
But the sex slavery issue comes at what was supposed to be a shining period of breakthroughs for Japanese diplomacy: a visit by Chinese Premier Wen Jiabao to repair Japan's shaky relations with its Asian rival, and a trip to Washington at the end of April to draw attention to the robust health of the alliance with Japan's one indispensable partner.
Eager to keep warming relations on track, the Chinese government has been muted in its criticism of Abe's statements about the wartime brothels. But the Washington visit seems certain to be dogged by protests by women's groups and to attract sharp questions about whether the United State's firmest ally in Asia is backsliding on a central moral question.
And it will come as Congress considers a resolution introduced by California Democrat Mike Honda of San Jose calling on Tokyo to issue a formal, unconditional apology over the comfort women. Abe has dismissed the Honda resolution as "not based on objective facts" and said his government would not apologize again, whether the resolution passed or not, a statement that cut the legs from under Japan's best supporters in Washington.
"There is no difference of opinion on the issue in the United States," said Thomas Schieffer, the U.S. ambassador to Japan, who said he took the word of the women who recently testified to Congress about their enforced prostitution under Japanese occupation.
"They were raped by the Japanese military," Schieffer said. "I think that happened. And I think it was a regrettable, terrible thing that it happened."
Playing to emotions
Abe's dilemma is that although legalistic hair-splitting about responsibility may play well in Tokyo's political backrooms or with conservative academics, it is volatile material abroad, where Japan's former victims and its current friends alike demand that Japanese prime ministers deliver an unambiguous moral condemnation of the sexual slavery.
And no one knows the emotional potency of defending the victims of kidnapping better than Abe, who fashioned his nationalist career on the back of the abductees' media soap opera. Just days before he stumbled into the sexual slavery fiasco, Abe used the weekly newsletter on his website to gush over a song that Noel "Paul" Stookey of Peter, Paul and Mary fame wrote for Megumi Yokota.
"An image of a happy Megumi together with her family floated before my eyes," Abe wrote after hearing Stookey perform the song to Megumi's parents in "a gentle voice one would use when speaking to a small girl."
"How scared and lonely she must have been, separated from her parents," Abe wrote. "How deep and large the emotional scars must be for parents, whose dear child was taken away."
How true. And how extraordinary, critics say, that Abe was unable to conjure the same sympathy and moral outrage over the horrors inflicted on the thousands of women at the hands of the Japanese military.
bruce.wallace@latimes.com
ゲイタウン「新宿2丁目」石原発言に反発 (日刊スポーツ 2007/03/08)
 3選を目指す石原慎太郎知事(74)に日本最大のゲイタウン「新宿2丁目」から反発の声があがっている。石原氏が昨年、五輪招致に絡み、新宿2丁目の景観を条例で規制すると発言したのが発端。歌舞伎町が石原都政下で"浄化"された過去があるだけに、今度は「2丁目つぶし」が始まる可能性もある。ゲイバーなどは「死活問題になりかねない」と規制への危機感を訴えている。
 夜、新宿2丁目に行くと、数百店のゲイバーなど、多くの店のネオンがきらめいている。ここでは今、石原氏3選を警戒する声が出ている。昨年9月、五輪招致に絡み、新宿2丁目を「美観とはいえない」と問題視し、街の景観を条例で規制することを一部紙で明言したのが発端だ。
 約130店舗が加盟する「新宿二丁目振興会」会長で、ゲイバー「mf(メゾフォルテ)」を経営する福島光生氏(48)はこの発言について「過去の石原さんの差別的発言からみても、今回の規制発言の奥にゲイへの差別が見え隠れする。危機感を覚えるし、嫌な感じがする。グローバルな視野をお持ちではないのかなと思う」と話した。
 2丁目のゲイバーの多くは未明まで営業している。福島氏は「もし営業時間が規制されるなどした場合、死活問題になる店も出てくる。2丁目は世界一のゲイタウン。ゲイにとっては、単なる繁華街でなく『最後のとりで』のようなコミュニティーでもあることを、石原さんには忘れないでほしい」と続けた。
 あるゲイバーにいた20代男性会社員に聞くと「2丁目を規制するのは時代錯誤」と反発した。ゲイ関連のサイトにも規制発言に絡み「(石原氏を)当選させるわけにはいかない。抗議すべき」などの厳しい意見が書かれている。
 同じ新宿区の歌舞伎町では最近、多くの風俗店などが摘発され様子が一変。「石原浄化作戦」とも呼ばれた。五輪招致に絡め「次は2丁目」となる可能性もある。
 東京都のゲイに関する情報の調査・発信をしているネットワーク「東京メトロポリタン ゲイフォーラム」の共同代表・赤杉康伸氏(31)は「われわれも、法律や都市計画の専門家らときちんと話し合ったり、地域とも共同して、2丁目をどう守っていくかを真剣に考え、対抗していかないと、やられるがままになる可能性すらある」と訴える。
 赤杉氏はまた、過去のゲイ差別発言などから石原氏は「筋金入りの同性愛嫌いでは」とした上で「『都民すべてに人権がある』ということを押さえるのは、公職に就く人にとって基本中の基本。2丁目は平和な街。あえてつぶす必要がない場所を、なぜほかの繁華街と差別化してつぶそうとするのか、非常に疑問。2丁目規制は、地域の特色や人々の意向を尊重する景観法の理念とは異なる」と続けた。
 都の都市整備局では、2丁目の規制条例について、まだ具体化しているものはないとしている。
[2007年3月18日9時1分 紙面から]
Gay marriage advocates switch strategies
By RAY HENRY, Associated Press Writer
Sat Mar 17, 2:41 PM ET
Aronda Kirby and Digit Murphy were once married to men, received the tax breaks for married couples and were legally permitted to take family leave if their husbands or children got sick. Both women lost those protections when they came out as lesbians, divorced their husbands and set up a new household together with their six children.
Now, with couples like Murphy and Kirby in mind, some gay rights advocates who previously fought for "marriage or nothing" are shifting strategies. Rather than fighting to legalize marriage for same-sex couples, they're lobbying for the protections marriage provides.
Those who follow the movement say bills taking that approach that were introduced this year in Rhode Island and Washington state could signal a broader change in tactics, although some gay marriage advocates fear it could undercut more than a decade of work.
"We've had all the rights, so we want them back," Murphy said. "We don't care how we get them."
Gay rights proponents have had to accept less than marriage before. Court decisions forced New Jersey and Vermont to adopt civil unions. Connecticut's legislature passed a civil union bill even though many gay rights activists there had pressed for marriage.
"It's very new," said Washington state Sen. Edward Murray, a gay man who represents a heavily gay area in Seattle where his constituents until recently frowned on anything but marriage. "If I had suggested this strategy a year or two years ago, I would have been run out of my district."
Advocates in Rhode Island have introduced bills to legalize gay marriage every year since 1997, but they've gone nowhere. So this year, in addition to filing marriage legislation, they hope to have some success with six new bills that focus on incremental rights rather than the label of marriage.
One would allow same-sex parents to take family leave if their partner or partner's children fall ill. Another bill would give gay men and women the right to plan their partners' funerals.
In Washington, similar rights would be granted under a domestic partnership bill. Gay leaders like Murray adopted the approach after losing a court case they hoped would lead to gay marriage.
Gay marriage advocates in both states say they're still committed to marriage and will still support marriage bills — even if those efforts are likely to fail. They say they are testing whether lawmakers who summarily reject gay marriage will approve rights that enjoy more popular support.
"The holdup is about marriage, not about the protections," said Jenn Steinfeld, who leads the advocacy group Marriage Equality RI. "So we're giving them an opportunity to show us that."
But the shift has critics both in and outside the gay rights movement.
Evan Wolfson, a gay-rights lawyer who heads the national advocacy group Freedom to Marry, says anything short of marriage relegates gays and lesbians to second-class status. He said a two-pronged approach might be temporarily appropriate in some places, but he questioned whether advocates in Rhode Island and Washington pushed hard enough before switching tactics.
"What I am against is us going into the conversation bargaining against ourselves," he said. "You don't even get half a loaf by asking for half a loaf."
Even though civil unions and individual laws can grant gay couples some protection, lawmakers who support them are deliberately setting up a lesser system, he said.
The Rev. Bernard Healey, a lobbyist for the Roman Catholic Diocese of Providence, said the church would oppose any legislation viewed as a gradual step toward marriage — which is exactly what leaders of Marriage Equality RI say they have in mind.
Despite initial victories, including the legalization of same-sex marriage in Massachusetts, all but four other states — New York, New Jersey, New Mexico and Rhode Island — have amended their constitutions or passed laws banning gay marriage.
Gay rights advocates in New York are still pushing for a marriage bill because Gov. Elliot Spitzer has said he's supportive. Basic Rights Oregon is pursuing an anti-discrimination law and a civil union system because voters banned gay marriage in 2004.
However, it would be surprising gay marriage legislation gets a floor vote in any state this year, said Carrie Evans, until recently the legislative director for the Human Rights Campaign in Washington, D.C.
"I think with legislators, just like the public, people don't change their minds on marriage equality ... overnight," she said. "Often time, we have to bring people along with us and that may be the incremental approach in some states."
Back in Rhode Island, Aronda Kirby isn't sure she'd remarry, but she wants the same legal options as any heterosexual. And in the meantime, she wants lawmakers to address her here-and-now concerns about taxes, property inheritance and child custody.
"I don't want to waste my energy arguing about the argument," she said. "Just get the rights."
エイズ重点対策進まず 感染・患者は過去最多 (東京 2007/03/18)
 エイズ対策の重点自治体に選ばれた全国の十都府県と六政令指定都市のうち、エイズ対策計画を策定できている自治体は三割に満たないことが十七日、東京新聞の調べで分かった。国内で昨年新たに報告されたエイズウイルス(HIV)感染者・エイズ患者報告数は過去最多を更新(速報値)し、地域ごとのエイズ対策の中心的役割を果たす自治体の姿勢も問われているが、地域計画を練る協議会が"休眠状態"に陥っている自治体もみられ、取り組みが停滞している実態が浮かんだ。
 昨年三月に改正されたエイズ予防指針は、国と自治体が連携して、エイズ対策に重点的、計画的に取り組むよう求めた。これを受けて、厚生労働省は感染者・患者の報告数が全国平均を上回る自治体を重点自治体として選定、エイズ対策を支援している。
 先月末までに電話で聞き取り調査した結果、独自にエイズ対策計画を策定したのは東京都、長野県、沖縄県、川崎市のわずか四自治体。計画は普及啓発や相談検査、医療体制など課題別に整理されており、全国の感染者・患者報告数で約35%を占める東京都は、エイズ関連事業を毎年度実施計画にまとめ、ホームページで公開している。
 他の自治体は「既存の対策があり、エイズ対策に特化した計画は考えていない」(神奈川県)「必要性は認識しているが、計画の議論はない」(名古屋市)などとして策定していなかった。今後の策定についても消極的な自治体が多かった。
 エイズ対策推進協議会については、山梨県では設置されておらず、さいたま市は三月から設置。愛知、千葉県と千葉市は設置後休止している。愛知県は一九九七年度、千葉市は二〇〇一年度を最後に開催していないという。愛知県は「過去開催された協議会で対策の方向性は示されており、毎年開く必要はない」(健康対策課)としている。
 横浜市は「会合を開いても行政の一方的な報告だけで形骸(けいがい)化している」として〇六年度の開催を見送り、開催内容などを再検討するという。
 東京都では毎年、医療や教育など各分野でエイズ対策にかかわる専門家の会議を開催。年約三回開催している川崎市は「関係者の認識を共有できる」と、メリットを強調する。
 厚労省エイズ動向委員会は今年二月、自治体に対し、同協議会の開催とエイズ対策計画の早急な策定を求めている。
■当事者意識が欠如
 厚労省エイズ動向委員会委員長の岩本愛吉・東大医科研教授の話 速報値の段階だが、昨年のHIV感染者報告数、エイズ患者報告数はいずれも過去最高である。HIV感染はまさに身近な問題となりつつあるのに、その認識は希薄だ。HIV感染には集積性があり、コミュニティーが予防啓発、早期検査等の主体となるべきだが、重点都府県等に当事者意識が欠如しているのではないか。
<メモ>エイズ対策の重点自治体 2002年から3年間の新規感染者・患者合計報告数をもとに、厚労省が昨年、人口10万人に対する割合が全国平均を上回る計16自治体を選定。2年間発生動向を重点的に監視し、相談・検査、医療提供体制の整備や普及啓発などのエイズ対策を支援する。昨年新たに報告されたHIV感染者は914人、エイズ患者は390人でそれぞれ過去最多(速報値)。05年の感染者報告数のうち、重点自治体が約75%を占めている。
Gay couple tie knot in first Mexico City civil unions
By Gunther Hamm
Fri Mar 16, 8:18 PM ET
Reuters
Two gay lawyers celebrated a civil union in Mexico City on Friday, becoming the first legally recognized homosexual couple in the traditionally macho capital of one of the world's most Catholic countries.
Dressed in somber suits, Alejandro Diaz and Rafael Ramirez tied the knot in a short ceremony held in a city council building, the first since the city approved a law permitting civil unions in November.
After signing papers and listening to a short speech from a local councilor, Diaz, 27, said "Married." Ramirez, 31, said "My husband." They hugged but declined to kiss.
"The era of plurality and diversity is permeating Mexico City," Julio Cesar Moreno, the local councilor who oversaw the ceremony, told dozens of wellwishers and journalists.
Throughout the day, around 10 gay couples exchanged vows in the city.
In Iztapalapa, one of Mexico City's poorest neighborhoods, journalist Antonio Medina, 38, was united with Jorge Cerpa, 31, a bank employee. The two kissed and raised their hands triumphantly after the open-air ceremony.
A man wearing felt angel wings then handed them flowers to the strains of a small string orchestra.
Homosexuality has long been frowned on in Mexico and in most of the country, boy-meets-girl soap operas help mold traditional notions of love.
However, it is now not uncommon to see same-sex couples holding hands in increasingly liberal Mexico City, although assaults on gays remain common.
'HITLERIAN'
Civil unions allow any two people, gay or otherwise, to form a partnership protecting property, pension and inheritance rights. The country's first civil union of a gay couple took place in the northern border state of Coahuila in January.
Civil unions fail to give all the legal rights of marriage, most notably the right to adopt children.
With a majority in the municipal assembly and control of the mayor's post, leftists in Mexico City are briskly passing laws liberalizing gay rights, abortion and euthanasia.
Catholic Church officials have called the moves "Hitlerian" and warned believers not to vote for the leftist Party of the Democratic Revolution.
"A Catholic who votes for one of these (politicians) has a huge lack of values," said Hugo Valdemar, spokesman for the Mexico City archdiocese, the world's largest.
Medina said the church should not get involved in people's private lives.
"We respect people's beliefs but we believe the church should not climb into anybody's bed," he said to cheers from a crowd of guests and local dignitaries, some waving rainbow flags often used as a symbol of gay pride.
Mexico's Catholic Church leads the world's second-biggest Catholic population after Brazil. Some 90 percent of the country's 107 million people call themselves Catholic and conservative evangelical groups are also winning adherents.
First gay couple unites in Mexico City
By LISA J. ADAMS, Associated Press Writer
Fri Mar 16, 10:06 PM ET
An economist and a journalist became the first couple united under Mexico City's new gay civil union law, kissing while an orchestra played "Besame Mucho" and police cordoned off streets around a white wedding tent filled with guests.
The new law, which took effect on Friday, grants same-sex couples inheritance rights and social benefits similar to those enjoyed by married heterosexual couples. It reflects a growing acceptance of homosexuality in what has traditionally been a macho society, as well as a willingness by Mexico City — the second municipality in the country to legalize same-sex unions — to join the international debate on gay marriage.
After dating for four years and three months, journalist Antonio Medina, 38, and economist Jorge Cerpa, 31 were united in front of the government offices for Mexico City's Iztapalapa borough, signing documents under a banner that read "Civil Union Law: Your right to choose."
Dozens of supporters, including several couples who plan to register their own same-sex unions soon, waved rainbow flags, showered the couple with flower petals and yelled "Bravo!" Firecrackers exploded nearby.
"With this law, a history of exclusion comes to an end," Medina said. "Today, the love that before did not dare speak its name has now entered the public spotlight."
The left-dominated legislature of Mexico City, a semi-independent zone with some of the same powers as states, passed the law in November.
The capital was the first in the predominantly Roman Catholic country to approve such a law. A similar measure went into effect in January in the northern state of Coahuila and a lesbian couple registered their union shortly thereafter.
Coahuila state lawmakers from the conservative party of President Felipe Calderon have filed a court challenge claiming that gay unions violate constitutional provisions protecting the family.
The Catholic Church in Mexico also has spoken out forcefully against the law.
Kansas City Star editorial
Posted on Sat, Mar. 17, 2007
'Comfort women' denials split hairs, damage credibility
Japan should own up to its sordid actions
Japanese Prime Minister Shinzo Abe has denied that the military was involved in coercing thousands of women to serve as sex slaves during World War II. This is another sad example of Japanese denial over the country's wartime savagery.
Abe seemed to suggest that since the Imperial Japanese Army wasn't directly involved in forcibly rounding up the sex slaves — estimated at 200,000 — Imperial Japan's guilt is somehow diminished, even though the women were confined to brothels patronized by the military.
But in 1993 Tokyo acknowledged that the Imperial Japanese Army did help set up the network of the euphemistically named "comfort stations" in nations invaded by Japan during the war.
Abe now wants to back away from that admission. The latest line: Yes, coercion was involved in rounding up the women, but it was done by private dealers rather than government authorities.
This is a virtually meaningless distinction when discussing countries that fell victim to the ferocious brutality of Japanese troops.
The controversy over wartime atrocities has flared anew in part because of a resolution introduced in the U.S. Congress, urging Japan to acknowledge responsibility for its abuse of the comfort women and to apologize for it.
The Yomiuri Shimbun, echoing Abe's argument, noted that, "The (U.S.) resolution says the Japanese military commissioned the acquisition of comfort women. However, no documents have been found to support this assertion. Historians also accept that no such orchestrated action was undertaken by the Japanese military."
Nonsense. This flies in the face of testimony by the surviving "comfort women" as well as the work of historians — some of them Japanese — who cite statements from military officials and documents from the United States and other countries.
Japan has profoundly damaged its standing in Asia and the world — and undermined its ability to provide leadership commensurate with its economic status — by decades of haggling over its past.
The aspiration of many Japanese is for their country to become a "normal nation." It's not likely to happen as long as Japan continues to deny its own past.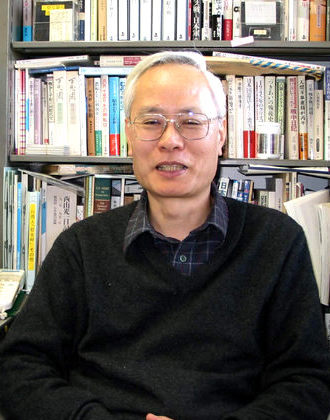 The Hankyoreh
[Interview] Japanese professor calls PM's historical stance 'bizarre'

Prof is expert on issue of WWII sexual slavery by Japan
"It is bizarre that Prime Minister Abe only speaks of whether or not the 'comfort women' were taken forcefully by the Japanese military. Wasn't the very system of 'comfort women' one based upon sexual slavery?"
"Abe said that there were no violent abductions of women, but in fact there were. The 1994 report released by the Netherlands found such actions took place in at least eight separate locations."
An authority on the issue of the comfort women, the over 200,000 foreign women made to serve as sexual slaves for the Japanese military during World War II, Japanese professor Yoshimi Yoshiaki of Chuo University methodically criticized Prime Minister Abe's recent comments and historical consciousness. In reference to the 1993 apology made by Chief Cabinet Secretary Kono Yohei, Yoshimi said "it was unclear who exactly was taking responsibility," and that on the next opportunity, legal responsibility must be clearly assigned and an unambiguous apology must follow.
Professor Yoshimi unearthed official documents from March 1938 sent to the Japanese military stationed in China detailing regulations regarding "comfort stations" and the "recruitment" of women for them. His discovery was carried in the news daily Asahi Shimbun in 1992, and the Japanese government admitted to some degree the reality of the forced abductions the following year via Chief Cabinet Secretary Kono Yohei's statement.
What first drew the professor's interest to the subject was his meeting with Kim Hak-sun, who was forced to serve as a comfort woman and the first one to openly declare this bitter part of her past. "I felt a responsibility as a historian to study the subject when on the NHK network, Kim Hak-sun expressed her desire that Japanese youth be informed about how the Japanese military had commited such vile deeds during the war."
However, his research activities brought him the unwanted attention of Japanese right-wing groups. For some time, the phone would ring at 2 or 3 a.m. As soon as he picked up the receiver, the caller would hang up. Presiding over a document center on the Japanese war, he dug into the reality of the Japanese germ warfare program, as well.
On March 8, Professor Yoshimi spoke at a gathering hosted by a group of Japanese lawmakers, where he sharply criticized Abe's comments.
Question Recently, Prime Minister Abe has repeatedly made apologies in regard to the comfort women issue...
Answer It appears like a temporary retreat on his part. I think he's changing his stripes in view of the American reaction. But his heart has not changed. His stock argument is that there were no forced abductions by Japanese military personnel, and that given that fact, there is nothing else to discuss. In other words, there was no coercion 'in the narrow sense of the term.' His opinion is that civilians managed the activities, and thus the Japanese government and military is exempt from responsibility.
Q There are also scholars who assert, like Prime Minister Abe, that the documents of the Japanese government do not prove such a "coerced agreement" took place.
A Prime Minister Abe is focusing exclusively on the issue of how the comfort women were taken. What is important, however, is whether or not the women wanted to work at the comfort stations. No matter how courteously they were taken away, the things done to them at the stations were criminal. In clause 226 of the old Meiji Constitution, trade in people, kidnapping, and overseas abduction are all outlawed. Yet it seems that Prime Minister Abe does not know these actions were and are criminal, regardless of whether the victims were taken by force. In 1937, the Japanese Supreme Court found a comfort station guilty of kidnapping under clause 226.
There was also a system of licensed prostitution within Japan during the war. The rights of the women working to stop work and leave were acknowledged only on paper, but research shows they were no different from sex slaves. The overseas comfort stations were much more severe. The women there had none of these rights, and endured nothing less than sexual slavery. Some say that there are no documents to prove this, but it is only natural that there are no memorandums ordering the Japanese soldiers to "violently conscript" women.
Q What's your view of the Kono Statement [or the Kono Apology]?
A We must not retreat from the Kono Apology. We must take another step forward. The major problem with the Kono Apology is that it is unclear exactly who is taking responsibility for the human rights abuses. By some interpretations of the statement, the government merely provided a small amount of assistance to civilian enterprises. But it is clear from the historical documents that private companies could not have established the comfort stations singlehandedly. The facilities could not have been made without permission from the military. The comfort station administrators were pawns of the Japanese, whether the military or the police.
Furthermore, the Kono Statement speaks only of moral responsibility, but clearly asserts there is no legal responsibility within its legalese. At this point, though, full responsibility [both moral and legal] needs to be taken and reparations must be paid.
Q What do you think of the resolution before U.S. Congress [to compel the Japanese government to apologize officially]? Prime Minister Abe said there was no further need for apologies...
A The thought behind the U.S. resolution seems to be that insufficient Japanese reflection on the issue of war responsibility is creating an uneasy situation in East Asia. I think of the resolution as less criticism than advice. Indeed, it is advice that Japan needs to hear. Rather than vaguely putting the issue aside, Japan should take this opportunity for the sake of the future to officially record its responsibility and send a message that this must never happen again. Several Prime Ministers have released letters of apology, but they were all tinged with vagueness. After clarifying where responsibility lies, it is right to apologize.
Q I feel that Japan's historical consciousness is on the retreat in view of Prime Minister Abe's statement.
A Me, too. The new consciousness is most clearly rearing its head in school textbooks. The year following Kono's apology in 1993, the comfort women issue was described in all middle school textbooks. But afterwards, people like Abe began a movement to remove this content, and now there is not a single textbook that discusses the issue frankly. There is one textbook that mentions the comfort facilities without elaboration, and there is another that explains that they were coerced into this 'work.' The comfort women have all but disappeared from Japanese books.
Two years ago, Minister of Education, Culture, Sports, Science and Technology [and head of the group of legislators urging the withdrawal of Kono's apology] Nakayama Nariaki declared, "it is a good thing that the number of references to the comfort women has decreased."
But in addition, several Prime Ministers sent separate letters of apology to the victims stating, "the truth of the comfort women must be passed down to future generations," yet they have not lived up to their words.
Q What do you see as the context for the decline of Japanese historical consciousness?
A It seems like it is related to the situation that emerged since the mid-1990s. After the bubble economy collapsed, there were few things on which one could rely and finding regular employment became difficult. It was amidst this atmosphere that the desire for pride took root.
Students these days do not want to reflect upon the past at all, and are unwilling to acknowledge the things that occurred. However, if there were mistakes in the past, then a healthy pride would require one to acknowledge them and vow to never allow them again. Of course, there are many young people who think this way, too.
Another reason is that although the Japanese media prominently covered this issue earlier, now they show hardly any interest. Only recently have they brought up the issue, and only to the extent of covering the U.S. Congressional resolution under debate, as well as Chinese and Korean criticism about the issue.
Kim Do-hyeong, Tokyo Correspondent
Please direct questions or comments to [englishhani@hani.co.kr]
Posted on : Mar.17,2007 14:21 KST Modified on : Mar.17,2007 14:40 KST
© 2006 The Hankyoreh Media Company. All rights reserved.
No part of this material may be reproduced, stored in a retrieval system, or transmitted in any form or by any means, electronic, mechanical, mimeographical, in recorded form or otherwise for commercial use, without the permission of the Hankyoreh Media Company.
Uncomfortable truth for Japan
Ellen Goodman
The Boston Globe
Friday, March 16, 2007
The name is what first grabbed my attention. Comfort women? What a moniker for the sexual slaves who were coerced, confined and raped in the Japanese military brothels strung across Asia during World War II.
The very name reduces the women to the sum of their service. What kind of comfort did they supply? The label is only marginally more humane than the other words for the women listed on the procurement rolls: "items" and "logs."
Now comfort women are back in the news. They're back because California Representative Mike Honda held hearings on a bill asking Japan to finally "acknowledge, apologize, and accept historical responsibility in a clear and unequivocal manner for its Imperial Armed Force's coercion of young women into sexual slavery." They're back because the Japanese prime minister, Shinzo Abe, chose instead to deny that the women were coerced or that the imperial government was to blame.
Abe was hardly the only one in his ruling elite to make such a gaffe. They don't even consider it a gaffe. Another lawmaker, Nariaki Nakayama, breezily dismissed the government's procurement of some 100,000 to 200,000 young women by describing it as a private enterprise. "Where there's demand," he said, "business crops up."
Honda, himself a Japanese-American who spent childhood years in internment camps here, said, "Prime Minister Abe is in effect saying that the women are lying." Mindy Kotler of Asia Policy Point puts it more baldly. Abe, she said, called these elderly survivors "lying whores."
Koon Ja Kim, a Korean, remembers to this day what she was wearing — "a black skirt, a green shirt and black shoes" — when as a 16-year-old girl she was taken to a brothel where she comforted 20 or more soldiers a day. Jan Ruff O'Herne, a Dutch woman taken at 19, remembers beatings and rape even by the doctor who paid calls to the brothels checking for venereal disease. Lee Yong-soo left with venereal diseases and shame for over half a century. Liars all?
This time the denial of history threw Japan's image back 15 years, prior even to the Kono statement, a half- hearted apology to the women, composed in 1993 by a Cabinet member. But it's also a reminder of the distance the world has come on these issues.
This is women's history month, when attention here in the United States is often focused on founding mothers like Susan B. Anthony. But this year, the comfort women are showing the long way we've come from victim to heroine.
For millennia, rape was seen as a side effect, even a perk, of war. As recently as World War II, the Free French gave Moroccan mercenaries license to rape enemy women in Italy. In the 1990s there were rape camps in Bosnia, and sexual assault is a grisly routine in African conflicts.
Nevertheless, wartime rape is becoming less a matter of personal shame and more a matter of international outrage. It's designated as a war crime by the United Nations. And more than one comfort woman, like O'Herne, spoke out after seeing stories about the Bosnian camps.
There are few countries that haven't been complicit in this war crime. But the Japanese military actually planned and managed a vast system of forced brothels complete with scheduled "comfort" appointments for soldiers, visits by doctors and government-issued condoms named "Attack No. 1."
Undeniable? "There is a right wing in Japan," says Kotler, "that we would think of as equivalent to the Holocaust deniers." But Japan is not the only country that wants to rewrite history. If some Japanese leaders talk about the World War II syndrome, some U.S. leaders talk about the Vietnam syndrome. In 2001, a revisionist Japanese textbook excising wartime atrocities caused a furor across Asia. The revisionists argued that history should make children proud of their country. Maybe telling the hard truths would make those children proud.
Abe has backed off his denial inch by inch. On a Japanese television show he even expressed formal, if offhand, sympathy for "the injuries of the heart" of the comfort women. But as Andrew Horvat, an American professor in Japan, says, "If someone has to provide sexual services for 20 soldiers a day, she comes home with more than just 'injuries of the heart.' She comes home sterile, infected with a stubborn STD, and in a state of psychological trauma."
So we have a shrinking, aging cohort of women standing on the cusp of history. It is long past the time for modern Japan to fully apologize and claim responsibility for its past. Maybe there is no final comfort for the comfort women, but there should be justice.
The New York Times
March 17, 2007
Japan Repeats Denial of Role in World War II Sex Slavery
By NORIMITSU ONISHI

TOKYO, March 16 —
The government of Prime Minister Shinzo Abe repeated Friday that there was no proof that the Japanese military forced women into sexual slavery during World War II.
In a written statement endorsed by the cabinet, the government referred to a study from the early 1990s and said that "among the materials it discovered, it did not come across any that directly show that the military or authorities so-called forcibly led away" the women, known euphemistically as comfort women.
The statement was in response to a request from an opposition lawmaker, Kiyomi Tsujimoto, for Mr. Abe to explain remarks in which he had denied that the military coerced the women into working as prostitutes for Japanese soldiers throughout Asia.
The remarks caused a furor throughout Asia as well as in the United States, where the House of Representatives has been considering a nonbinding resolution that would call for Japan to acknowledge and apologize unequivocally for its wartime sex slavery.
The government stated that it would adhere to a 1993 declaration that acknowledged and apologized for Japan's brutal mistreatment of the comfort women. But Mr. Abe, who has been under pressure from the right wing of his Liberal Democratic Party to reject the 1993 declaration's admission of state responsibility, said last week that the women had been coerced by private brokers.
The 1993 declaration said, "The government study has revealed that in many cases they were recruited against their own will, through coaxing, coercion, etc., and that, at times, administrative/military personnel directly took part in the recruitments."
Mr. Abe, whose approval ratings have been plummeting since he took office last September, said that Japan would not apologize even if the House resolution passed.
In a meeting with reporters on Friday, the American ambassador, J. Thomas Schieffer, said he hoped that the government "would not back away" from the 1993 statement.
Mr. Schieffer described as "credible witnesses" former comfort women who recently testified in Congress about being coerced into prostitution by the Japanese authorities.
"I take the word of the women that testified," Mr. Schieffer said.
He added: "I think they were coerced to engage in prostitution. That means they were raped by the Japanese military at that point in time. I think that happened, and I think it was a regrettable, terrible thing that it happened. I think the events speak for themselves."
A group of conservative lawmakers in the Liberal Democratic Party has been leading efforts to soften the 1993 declaration, and is planning to conduct a new investigation into the comfort women issue. Mr. Abe, a founding member of that group in the 1990s, has said that the government will cooperate in the new investigation by providing it with documents.