カテゴリ
以前の記事
検索
最新のトラックバック
その他のジャンル
ファン
記事ランキング
ブログジャンル
画像一覧
The New York Times
April 30, 2007
A Push to Legalize Gay Marriage (5 Letters)
To the Editor:
Re "Mr. Spitzer and Gay Marriage" (editorial, April 24):
Sincere thanks to Gov. Eliot Spitzer for wanting to help make marriage a reality for New York State's gay and lesbian couples.
My partner, David, and I have been married in all but name for more than 13 years. We are often asked why we haven't had a commitment ceremony, or even been married in Canada.
We will get married when it is legal in New York State. Until that time comes, something less than marriage doesn't seem, to us, a real reason to celebrate.
Paul D. Poux
New York, April 24, 2007
•
To the Editor:
Thank you for the sensitive and sensible editorial supporting Gov. Eliot Spitzer's intentions for legislating gay marriage in New York.
But where is the leadership on a national level? Perhaps it's too much to expect from a presidential candidate, but there must be some people "brave" enough to assert themselves for such a sensible cause — Bill Clinton or Al Gore, perhaps?
It is painful to realize that there are so many who chose to ignore the gays and lesbians left "sitting at the back of the bus."
Tom Power
Venice, Calif., April 24, 2007
•
To the Editor:
I applaud your editorial backing Gov. Eliot Spitzer's intention to introduce a bill legalizing same-sex marriages. While Mr. Spitzer will certainly face "outspoken opponents" among religious organizations, not all faith groups oppose marriage equality.
Unitarian Universalists have advocated for legal marriage rights for same-sex couples since 1996. And while we acknowledge the right of other religions to refuse to perform wedding ceremonies for any reason, Unitarian Universalist ministers have joyfully officiated at same-sex religious unions for several decades.
In my home state, Massachusetts, marriage equality has been the law for nearly three years. We have seen how quickly the extraordinary becomes ordinary.
The sun still rises and sets every day, but now it shines on several thousand more couples whose commitments to one another are legally recognized by the state.
If the institution of marriage is good for couples, good for families, and good for society, then we all benefit when this institution is free from discrimination.
Marriage is a civil right.
(Rev.) William G. Sinkford
Boston, April 24, 2007
The writer is president, Unitarian Universalist Association of Congregations.
•
To the Editor:
You're worried that religious groups might "dictate who can and who cannot be married by the state" (editorial, April 24)?
Consider this: my Christian faith profoundly informs the way I vote. If I believe that a legislative proposal threatens the common good, I will vote against it and encourage others to do the same.
That's not dictatorial. That's democracy.
(Rev.) James D. Miller
Tulsa, Okla., April 25, 2007
The writer is pastor of the First Presbyterian Church.
•
To the Editor:
In response to your editorial, I would like to point out that not all religious groups will oppose a bill to legalize same-sex marriage.
My congregation is the largest gay and lesbian synagogue in the world, and we wholeheartedly support Gov. Eliot Spitzer's move to embrace justice for all by legalizing same-sex marriage. As a rabbi who has officiated at dozens of same-sex marriages in New York City, I would like to see these unions recognized by the state.
I look forward to a day when all religious groups recognize that whether gay, lesbian, transgender or straight, we are all created in God's image.
Sharon Kleinbaum
New York, April 24, 2007
The writer is senior rabbi, Congregation Beth Simchat Torah.
April 24, 2007
Editorial
Mr. Spitzer and Gay Marriage
The news that Gov. Eliot Spitzer will soon introduce a bill to legalize same-sex marriage — what he calls "a simple moral imperative" — is welcome and could give new national momentum to this important cause. Mr. Spitzer would be the first governor in the nation to introduce a gay marriage bill. But if he is going to make a real difference, rather than simply checking off a box to fulfill a campaign promise, he will have to fight for the law vigorously.
Even in a progressive state like New York, this will be a steep political climb. So far, only Massachusetts has enacted a gay marriage law — after its highest court held that gay couples had a right under the State Constitution — and while there is a similar bill working its way through the Connecticut legislature, its prospects are uncertain. Civil unions or domestic partnerships involving same-sex couples are now recognized by a small but growing number of states, including Connecticut, New Jersey, Vermont, California, Hawaii and Maine. It is an indication of how big a challenge Mr. Spitzer faces that New York is not, and hasn't come close to being, on this list.
Mr. Spitzer is right to be fighting for gay marriage. Civil unions and domestic partnerships are an important recognition of gay relationships by a state. But they still represent separate and unequal treatment. One federal study identified more than 1,100 rights or benefits that are accorded only to the legally married. That means that even in states recognizing civil unions and domestic partnerships, gay couples often have to use legal contortions to protect their families in ways that married couples take for granted. Gay couples may also be discriminated against when it comes to taxes and pension benefits.
The next step in building momentum for gay marriage in New York will be to get the State Assembly, which has a Democratic majority, on board. Speaker Sheldon Silver has said he will not take a stand until he talks with his fellow Democrats. But most of those Democrats have already publicly expressed support for gay marriage, so Mr. Silver has no excuse to delay. He should make it clear that he will join Governor Spitzer and press for the legislation's swift passage.
The biggest stumbling block is likely to be, as it always is for gay rights measures in New York, the State Senate, which is controlled by Republicans. The majority leader, Joseph Bruno, has made it clear that he is against same-sex marriage, but he is also a pragmatist whose views on these issues have evolved and become more humane over the years.
Religious groups, particularly the Catholic Church, are likely to be the bill's most outspoken opponents. It should be clear that these religious institutions have the right to refuse to marry anyone within their own religious houses. But they should not be allowed to dictate who can and cannot be married by the state.
Mr. Spitzer did not make gay marriage a priority in his first 100 days in office, and he did not mention it in his State of the State address or, more recently, when he laid out his agenda for the remainder of the legislative session. That may simply have been a pragmatic assessment that the bill would not pass right away.
Now that he is ready to move, we are eager to hear him speak out more on this issue. There will be nothing easy about championing this simple moral imperative. But it is a fight well worth the governor's full efforts.
April 23, 2007
Spitzer Plans to Introduce Gay Marriage Bill
By NICHOLAS CONFESSORE
Gov. Eliot Spitzer will introduce a bill in the coming weeks to legalize same-sex marriage in New York, his spokeswoman said Friday, a move that would propel New York to the forefront of one of the most contentious issues in politics.
Though he has long voiced support for same-sex marriage and promised during his campaign last year to introduce legislation to legalize it, Mr. Spitzer did not mention the issue in his State of the State speech in January or in remarks a week ago outlining his priorities for the remainder of the legislative session, which ends June 21.
But the spokeswoman, Christine Anderson, said that Mr. Spitzer would not back away from his campaign pledge.
"The governor made a commitment to advance a program bill, and he will fulfill that commitment during this legislative session," Ms. Anderson said, using the term that refers to legislation introduced directly by the governor rather than through a state agency or by the Legislature.
Several states allow some form of civil unions for same-sex couples, including Connecticut, where lawmakers are debating a measure that would legalize marriage for lesbians and gay men. Massachusetts is the only state where same-sex marriage is legal.
Any legislation to make New York the second such state would face a steep climb in Albany, a fact that Mr. Spitzer has acknowledged. Explaining why he did not include the gay-marriage bill among his post-budget legislative priorities, Mr. Spitzer said last week that he "was listing bills that I think we can and should get passed by the Legislature in the next few weeks. And so I am focusing now on politics as the art of the possible.
"I think most who are close to the issue would agree with me that it's not likely to be passed in the next nine and a half weeks," Mr. Spitzer added.
Legislation to allow same-sex marriage has never made it to a floor vote in either the Assembly, which has a Democratic majority, or the Republican-controlled State Senate. Sheldon Silver, the Assembly speaker, has declined to take a stand on the issue. Joseph L. Bruno, the Senate majority leader, has supported legislation to outlaw hate crimes and workplace discrimination against gays, but he remains opposed to same-sex marriage.
Even among lawmakers who say they favor the legislation, there is some division over the best strategy to get it passed. Two legislators from Manhattan, State Senator Thomas K. Duane and Assemblyman Richard N. Gottfried, both Democrats, have tried for several years to shepherd a gay-marriage bill through the Legislature and are trying again this year. That bill has at least 14 sponsors in the Senate and 42 in the Assembly.
If Mr. Spitzer does propose a bill, it is unclear how much muscle he will be willing — or able — to put behind it. The priorities he has outlined — such as overhauling the state's campaign finance laws and introducing a constitutional amendment to require nonpartisan legislative redistricting — already pose a considerable challenge. That would leave Mr. Spitzer with little political bandwidth that would allow him to build support for another controversial bill.
The governor has also had few opportunities to build bridges to constituencies that present the strongest grass-roots opposition to gay marriage, such as Roman Catholic Church officials and other religious leaders. Church leaders already oppose Mr. Spitzer's support of embryonic stem cell research, and an initiative that might have softened the blow of gay marriage — a tax credit for parents who send children to religious or other private schools — did not make it into the budget this year.
Gay-rights groups are scheduled to convene in Albany early next month for a day of lobbying, and several lawmakers and same-sex marriage advocates said they hoped that Mr. Spitzer would introduce his proposal before then.
"I don't think the governor has dropped the ball on this," said Alan Van Capelle, executive director of Empire State Pride Agenda, a gay-rights group. "We've been talking with the governor's people about this. At every moment they have brainstormed with us in some very creative ways about how to accomplish this agenda."
Mr. Van Capelle said he shared Mr. Spitzer's assessment that the measure was unlikely to pass both chambers of the Legislature this year, but he emphasized that the governor's proposal would give it strategic and symbolic weight.
Gary Parker, the founder of Greater Voices, a coalition of gay-oriented political clubs in New York City, said the fact that every statewide elected official now supports gay marriage had heartened advocates.
"During the Pataki administration, there was a lot of frustration," Mr. Parker said. "We felt extremely stagnant and stifled. Now there is movement. And the fact that there is discussion is progress."
米NY州スピッツァー知事、同性婚合法化法案を提案
FOR IMMEDIATE RELEASE:
April 27, 2007
PROPOSED LEGISLATION WOULD CREATE CIVIL MARRIAGE EQUALITY
Governor Eliot Spitzer and Lieutenant Governor David Paterson today submitted legislation to create civil marriage equality for all New Yorkers. This historic legislation would establish equal responsibilities, recognition, benefits and protections for all married couples. The bill would additionally stipulate that no clergy member or religious institution should be compelled to perform any same-sex marriage ceremony.
Under current law, partners unable to enter into a civil marriage -- and their children -- lack legal protections taken for granted by married couples. In such areas as property ownership, inheritance, health care, hospital visitation, taxation, insurance coverage, child custody and pension benefits, married couples receive important safeguards against the loss or injury of a spouse, and crucial insurance against legal intrusion into marital privacy.
"This legislation would create equal legal protection and responsibilities for all individuals who seek to marry or have their marriage protected in the State of New York," said Governor Spitzer. "Strong, stable families are the cornerstones of our society. The responsibilities inherent in the institution of marriage benefit those individuals and society as a whole."
"This bill guarantees that the inalienable right to the pursuit of happiness will be protected equally for all individuals in the State of New York," said Lieutenant Governor David Paterson. "This is an important step in the fight for civil rights for all people."
The legislation will include the following provisions:
*A marriage that is otherwise valid under the law will be valid regardless of the sex of the individuals; Government treatment, legal status, and all rights, benefits, privileges, protections or responsibilities relating to marriage will be equal for all individual parties who enter into marriage regardless of the sex of their partner;
*No application for a marriage license will be denied on the ground that the parties are of the same, or a different, sex, and;
*In consideration of private, ethical and religious beliefs, no clergy member or religious institution will be compelled to perform any marriage.
ABC 20/20
'I Want to Be Seen as Male'
Transgender Teenager and His Parents Share Their Story With Barbara Walters
By ALAN B. GOLDBERG and JONEIL ADRIANO

April 26, 2007 — -
On Sept. 19, 2004, 14-year-old Rebecca gave a startling letter to her mother, Betsy.
"This is one of those stream of consciousness things that I write in the wee hours of the morning when I'm tired and unable to sleep. I was probably crying when I wrote it, but don't think that the tears blurring my eyes were blurring my judgment as well," Rebecca wrote.
"What am I? I ask myself this all the time. Right now what I believe myself to be is an FTM, or a female-to-male transsexual. A boy in a girl's body. What I want is for you to understand, and let me transition into the boy I really am."
The startling admission left Betsy shocked and bewildered.
"It was an out of body experience," she said. (The family's last name is not being used to protect their privacy.)
For Rebecca, the letter was the culmination of years of anguish over feelings that she had been born into the wrong body. She signed it, "Love, your son," -- a reflection of her deeply held conviction that she was a boy. (
Click here to read the full letter
).
"I can't quite explain it. It was just a feeling of being not quite in my body," Rebecca said. "When I was in kindergarten, I would tell people that when I grew up I wanted to be a boy. I didn't want to be astronaut, or a teacher. I wanted to be a boy."
'It Didn't Really Feel Like My Body'
Rebecca's parents, however, saw no signs that something was amiss with their youngest child. Raising their family in Los Angeles, the couple worked hard to make their two daughters, Rebecca and Anna, feel that they could do everything that boys could do.
So when Rebecca wanted to play with trucks with other boys, Betsy and her husband weren't troubled.
"I think I must honestly say that I was pretty oblivious to that," said Rebecca's father, Peter.
But it was excruciatingly clear to Rebecca -- even more so when she hit puberty. She felt awkward and uncomfortable when her breasts began to grow. Menstruation, which for most girls is a celebrated right of womanhood, served only to further alienate Rebecca from her own body.
"It didn't really feel like my body, or like this was my life-changing moment. It just seemed like this weird thing that was happening."
Confused, Rebecca went looking for answers, and in the seventh grade, she found them on the Internet. She finally had a word to describe what she was: transgender. She even found other children who struggled with the same feelings she did.
Sharing the Secret
Rebecca had found clarity, but she kept the knowledge of what she was hidden for two more years. Finally, when she was 14 years old, Rebecca told her secret to her sister, Anna, via e-mail.
"I wrote back the same day saying, 'You know, I don't get it yet, but I love you with all my heart. You are my favorite person in the world, and absolutely, whatever you need,'" Anna said.
Anna and Rebecca had always been close. With her sister's support, Rebecca wrote her coming-out letter and gave it to her mother. Despite her initial shock, Betsy kept her composure, and even had the wherewithal to ask whether Rebecca had a new name. She was prepared. Rebecca became Jeremy.
"I didn't see her crying the day I came out," Jeremy said. "She held it in, which was kind of what I needed then. I needed to know that she still loved me. And that this wasn't going to bring her to tears."
Jeremy didn't come out to his father right away, fearful of how he would react. But Peter found out anyway just a few weeks later. While working on his computer, he discovered letters Rebecca wrote about wanting to be a boy.
"I think I just kind of withdrew into some silence because I realized that anger wasn't the correct response," Peter said. "I mean, this had to be accepted somehow."
Becoming Jeremy
Jeremy began to transition into a boy almost immediately after coming out to his parents. He got his hair cut short. He asked his parents to stop referring to him as a she. He bought all his clothes, down to the socks and underwear, from the boys' department. He also began to wear a binder, a Lycra vest that painfully flattened his breasts.
Finally, in the ninth grade, Jeremy came out to his school during an assembly in front of teachers and friends. Going to a progressive school, Jeremy was generally accepted by his classmates.
"The boys at my school did a sort of funny, almost initiation, in which they asked me about which girls that we knew in common I thought were really attractive. It was like they were trying to kind of feel me out," Jeremy said. "It was actually kind of amusing."
Although Jeremy's parents allowed him to use a male name and dress like a boy, in the back of their minds, Peter and Betsy still hoped that their daughter Rebecca would eventually return. They put Jeremy in therapy, hoping that their child was just going through an adolescent phase.
"I did go through a period of hoping that it would wash away. Disappear," Peter said.
"What I really wanted was for the therapist to help Jeremy work through any body issues that might be within the scope of, you know, what normal adolescent girls go through," Betsy said.
'I Want to Be Seen as Male'
As the months wore on, however, it became clear that Jeremy was experiencing something far more serious. He wanted to go beyond merely altering his outward appearance, he wanted to physically change his body as well.
Jeremy insisted on taking the male hormone testosterone, but his parents thought he was too young. They weren't ready to let go of Rebecca completely.
"That was probably the darkest of all of the times that we went through. The many, many talks that we had. And he said to me, 'Mom, you still don't see me as male.' He had been binding, and dressing as a boy, and had a boy's haircut for a full year," Betsy said. "I admitted it. It was true."
"That was hard to hear," Jeremy said. "I knew that they saw me as a transgendered child, but not as a male child. And, the thing is, that I don't really want to be seen as trans. I want to be seen as male."
Without the testosterone, Jeremy felt trapped in a life between genders. He became anxious that his body would never be whole.
'Definitely Ready'
Betsy and Peter ultimately chose to let Jeremy fully transition. Last year, Peter took Jeremy, 16, to a doctor for his first shot of testosterone.
"Jeremy was a clear-cut case. He came in completely ready. He was definitely ready," said Jo Olson, Jeremy's doctor.
"When you start giving someone hormones of the opposite gender, they go through a puberty. That's exactly what they go through," said Olson, an adolescent medicine specialist at Children's Hospital Los Angeles. "We are trying to get male patterned hair -- so beard, mustache, a little bit more body hair. We are aiming for a deepening of the voice."
"I'm very grateful to have had that experience, to be just a teenaged boy. And now I'm sort of on the same level as the guys I know who are biologically male," Jeremy said. "I'm not stunted anymore."
Today, Jeremy is a typical high school senior. His name was legally changed after his 16th birthday. He gets good grades at school, is accepted by his peers, passes as a boy and looks forward to college enrolled as a male. And like many young men his age, he worries about dating -- other men.
"I could have been a straight woman. But then I would have been someone's girlfriend. And that's … that's not right. What I want to be is someone's boyfriend. That's what feels right," Jeremy said.
Gender and Sexuality
It's not unusual for transgender people to identify as gay. That's because your gender doesn't really determine your romantic attractions, according to Olson.
"There is a big difference between sexuality, or who you're sexually attracted to, and what gender you identify with," she said.
Although surgery is expensive and not covered by insurance, Jeremy hopes to undergo procedures to remove his breasts before he goes to college. Surgery below the waist -- to create an artificial penis -- is not an option, he says, because the results are often disappointing.
"The surgery for male-to-female transsexuals is a lot better and more realistic than the female-to-male [process]," he said. "It's depressing. Part of me wants to say that it's not fair that I have to stay this way, and that nothing can be done about it. I'm a big believer in the power of medicine to heal. I can't be helped, and that's frustrating."
Whatever decisions Jeremy makes about surgeries, Betsy and Peter say they will stand behind him. They've accepted that their daughter is now their son, even if a small part of them still wonders whether Rebecca might come back.
"There are times when I can still hold that over myself," Betsy said. "And that was the thing that I think kept me from fully accepting Jeremy. But I've learned so much from our child. You can't predict the future. And you can't control it."
Jeremy has no regrets. Asked what he saw when he looked at pictures of Rebecca, Jeremy said, "I just see someone whose eyes aren't really smiling."
"I'm so much happier than I was before I came out and transitioned. The feeling of wrongness is gone," he said. "I feel for the first time in my life as though I am in the right body. I feel like, the world sees me as I see myself."
Copyright © 2007 ABC News Internet Ventures
▲
by

alfayoko2005

| 2007-04-28 20:13 | トランス
Bishop wants to be first in line for N.H. civil union

CONCORD, N.H. (AP) —
The Rev. V. Gene Robinson became the Episcopal Church's first openly gay bishop. Now, he and his partner want to be among the first gay couples in New Hampshire to officially unite under a soon-to-be-signed civil unions law.
New Hampshire is set to become the nation's fourth state to offer civil unions for gay couples after legislation approved by the state Senate on Thursday was sent to Gov. John Lynch, who has said he would sign it.
USA TODAY ON POLITICS: Giuliani: N.H. law 'goes too far'

REACTIONS: Following N.H. lawmakers' votes
"I think this moves us one step closer to the American promise to all its citizens of equality under the law," Robinson told The Associated Press. "My partner and I look forward to taking full advantage of the new law."
Robinson, 59, was elected as Episcopal bishop of New Hampshire four years ago, a move that made him a household name but also divided the Anglican community. Earlier this year, Anglican leaders demanded the U.S. denomination step back from its support of gays or risk losing its full membership in the world Anglican fellowship.
Robinson said his long journey began as a boy in Kentucky when he found he was not attracted to women. As an adult, he spent two years in therapy seeking a "cure" for his homosexual urges.
He told his girlfriend, Isabella, about his struggles, but they married anyway in 1972, moved to rural New Hampshire and had two daughters. Robinson eventually realized he would not change and the two divorced.
"The hardest thing is coming out to yourself. You've internalized the same homophobia as the rest of the culture," he said in an interview four years ago.
Soon after the divorce, Robinson met Mark Andrew, who was working for the Peace Corps in Washington. A year and a half later, the two settled in Weare, where Andrew began accompanying Robinson to his daughters' after-school activities.
The two have been together for 18 years now, and Robinson has said they would marry if they could. Andrew, 53, is a state health care administrator.
To many, Robinson has become a symbol of progress. He was welcomed two years ago at New York's gay pride parade by marchers and spectators who reached out to touch his hand, cheered, cried and thanked him.
Robinson praised New Hampshire's move toward civil unions but said more needs to be done. In particular, he said gay couples should have full civil legal rights under federal law.
"I don't think it will happen until we get several more states," he said. "It doesn't have to be a majority, but it has to be a significant number embracing full marriage rights until we can expect that at the federal level."
So far, three states offer civil unions: New Jersey, Connecticut and Vermont. Massachusetts in 2004 became the only state to allow gay marriage. Washington, Maine, California, New York City and Washington D.C., recognize domestic partnerships, and New York Gov. Eliot Spitzer this week pledged to introduce gay marriage legislation.
Robinson predicted gays would have full equality in 20 years, and he attributed the gains to gays being open about their homosexuality.
"Fifteen to 20 years ago, most Americans would have told you and been reasonably honest that they did not know a gay or lesbian. Now, there's not a family left, or a co-worker, that doesn't know someone," he said.
Washington Times
The truth about Japan's 'comfort women'
By Henry Hyde and Chris Smith
Published April 26, 2007
Recent denials by Prime Minister Shinzo Abe that women in Asia were coerced into sexual slavery by Imperial Japan during the war years perpetuate pain and sorrow among victims and their loved ones. As Mr. Abe represents the Japanese people to the world, his views also damage foreign perceptions of the great strides many Japanese have made as peaceful, responsible world citizens since 1946. As friends of Japan, we urge the Japanese people to courageously acknowledge and redress the wrongs perpetrated by Imperial Japan.
The government of Japan, during its colonial occupation of Asia and the Pacific Islands from the 1930s through the duration of World War II, organized the subjugation and kidnapping, for the sole purpose of sexual servitude, of young women, who became known to the world as "comfort women." This tragedy was one of the largest cases of human trafficking in the 20th century, and was officially commissioned and orchestrated by the government of Japan to include gang rape, forced abortions, sexual violence, human trafficking and numerous other crimes against humanity.
Some of the victims were girls as young as 13 years of age and women separated from their own children; others were abducted from their homes or lured into sexual servitude under false pretenses. Many comfort women were eventually killed or driven to commit suicide when the hostilities ceased, because they were ashamed of what they had been forced to do.
Historians conclude that as many as 200,000 women were enslaved, but very few of them survive today. And not only did the government of Japan fail to fully disclose these war crimes during negotiations for reparations with its former enemies and occupied countries, but some textbooks used in Japanese schools minimize the "comfort women" tragedy and other atrocities, and distort the Japanese role in war crimes during World War II. In fact, Japanese government officials, both elected and career, as recently as June 2005, praised the removal of the term "comfort women" from Japanese textbooks. This kind of treatment of the issue only exacerbates the pain of the survivors.
Victims of Imperial Japanese brutality throughout East Asia and the Pacific and their families want Japan to frankly acknowledge what it has done. A responsible demonstration of humanity from Japan's social and political leaders will promote general healing and trust in the region, while as Mr. Abe surely knows, official denials from Japan's leaders keep these issues alive and alarm its neighbors.
Facing history squarely is the first duty of leaders anywhere. In the United States today, for instance, political and social leaders courageously acknowledge a shameful history of slavery and racial discrimination. What makes their efforts courageous is that they challenge long-held myths that were used to justify outrageous behavior that weakened our society. Correcting long-standing myths is hard. Efforts to redress them may not initially succeed, but ultimately they strengthen society and make the country more admirable.
We encourage the Japanese people as freedom-loving people to come to grips with the history of Imperial Japan. Doing so will yield untold benefits. Japan will earn not only the respect of neighboring countries and friends, but also their trust, which is essential for Japan to become the leader it yearns to be. Preventing such worthy results are modern denials of Imperial Japan's past. It would bring great honor to the Japanese people if the U.S. Congress hears a frank and courageous leader admit the truth and accept responsibility for the past, when Mr. Abe visits Washington later this month.
Former Rep. Henry Hyde, Illinois Republican, was a member of Congress and served as Chairman of the House International Relations Committee until January 2007. Rep. Chris Smith, New Jersey Republican, is the ranking member of the Africa and Global Health subcommittee of the House Committee on Foreign Affairs.
Japan Premier to Visit a Politically Changed Washington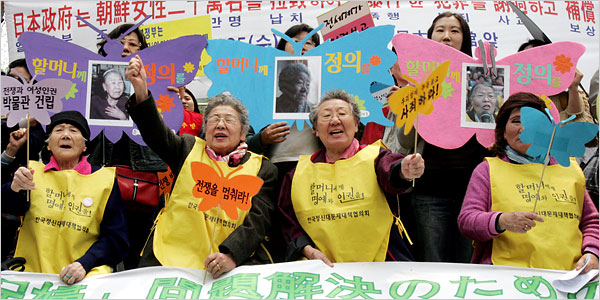 Ahn Young-joon/Associated Press
South Korean women who were forced to serve Japanese troops as sex slaves in World War II rallied yesterday at the Japanese Embassy in Seoul.
The New York Times
Japan Premier to Visit a Politically Changed Washington
By NORIMITSU ONISHI
Published: April 26, 2007

TOKYO, April 25 —
Prime Minister Shinzo Abe will have a hard act to follow when he arrives in Washington on Thursday for his first trip to the United States as Japan's leader.
President Bush took his predecessor, Junichiro Koizumi, on a highprofile visit to Graceland in Memphis, where Mr. Koizumi put on Elvis's shades and played air guitar while mugging for the camera. Mr. Abe is expected to make a low-key visit, staying just one night in Washington and limiting his exposure to potentially uncomfortable questions about his views on Japan's conduct during World War II.
In his seven months in office Mr. Abe has reassured Washington by smoothing relations with China, which grew dangerously tense under Mr. Koizumi. But relations between the United States and Japan have become slightly strained because of differences over two issues intimately tied to Mr. Abe's nationalist ideology: North Korea and his revisionist views of history.
American officials recently publicly rebuked Mr. Abe for denying that the Japanese military had coerced women into sex slavery during World War II. While the United States still wants Japan to become more assertive in Asia, even conservative voices have recently urged caution over being too closely tied to Japan's nationalist leaders.
"The U.S. is going blindly into an alliance with these people without appreciating the fact that their friends in Japan aren't on the right side of history, as with the 'comfort women' issue," the American political philosopher Francis Fukuyama said in an interview. "If you end up polarizing Asia on these history issues, nobody will be on the side of Japan."
Mr. Fukuyama said he supported the Bush administration's overall strategy of encouraging Japan to be more assertive diplomatically and strengthening the two countries' military alliance.
But he said Japan should move cautiously in revising its pacifist Constitution — a goal that Mr. Abe has defined as his most important, and Washington has supported.
"Everybody, including the Japanese themselves, says that nobody should be worried about Japan revising its Constitution," Mr. Fukuyama said. "I think that is basically right. But the Japanese have to make their case. It's not about letting China or Korea have a say in this matter. The Japanese need to take time in their public diplomacy to explain why they want to do this. If they do this unilaterally, the situation in Asia could get a lot worse."
At home, Mr. Abe's approval ratings appear to have bottomed out after falling precipitously for several months over a series of scandals and complaints of weak leadership.
But because Mr. Abe has succeeded in reasserting himself recently and because the main opposition party is in disarray, he is likely to remain head of the governing Liberal Democratic Party and prime minister after a critical election of the upper house of Parliament in July, experts said.
"His popularity was dropping because he lacked management skills and his policies didn't have a clear direction," said Jun Iio, a professor of government at the National Graduate Institute for Policy Studies here. "But the likelihood that his administration will stabilize is very high as long as Prime Minister Abe shows steady results."
Before becoming prime minister, Mr. Abe made a name for himself inside Parliament by spearheading conservative issues like excising references to Japan's wartime abuses from school textbooks. Among voters, he drew his popularity by championing the cause of more than a dozen Japanese citizens abducted by North Korea in the 1970s.
As prime minister he has been trying to balance the demands of his conservative base with those of his new job, often by finessing difficult issues. A onetime regular visitor to the Yasukuni Shrine, the memorial for Japan's fallen soldiers, including war criminals, Mr. Abe says he will neither confirm nor deny whether he has visited as prime minister. That has placated China for now.
"All the expectations of Abe pointed to somebody who was not only going to continue Mr. Koizumi's foreign policy, but harden what were already difficult relations with Japan's neighbors," said Richard J. Samuels, a Japan expert at the Massachusetts Institute of Technology. "But he surprised everyone" by reaching out to China.
It is on North Korea that differences have widened between Washington and Tokyo. Mr. Abe has long said that Japan will not take part in any nuclear agreement, including the accord reached on Feb. 13, unless the North returns Japanese abductees. The North says it has returned all surviving Japanese.
His tough stance, which dovetailed with the Bush administration's previous policy toward the North Koreans, has remained unchanged despite Washington's new efforts to strike a deal with the North.
"Abe and his allies are clearly in dismay that the neocon rug was pulled from under them last fall," said Gerald L. Curtis, a Columbia University expert on Japanese politics who is now in Japan, referring to the Republican loss of Congress and the resulting decline in influence of neoconservatives. "Now he has to find a way to get on board this nuclear agreement."
That will be difficult, Mr. Curtis said, because the abduction issue has become tied to Mr. Abe and Japanese nationalism. "So if it seems like he's selling the abductees down the river, he's dead," Mr. Curtis said.
Before the change in policy toward North Korea, Mr. Bush made symbolic gestures supporting the abductees, including inviting a relative to the White House. In a recent visit to Japan, Vice President Dick Cheney met relatives. But according to the news media here, Mr. Cheney also asked Mr. Abe what he would consider progress on the abduction issue, suggesting that Washington wanted Japan to support the nuclear deal.
"Americans have paid lip service to the abductions, but they're not going to let it get in the way of realizing a nuclear deal," Mr. Samuels said. "Japan is marginalized on this issue."
On Monday, perhaps anticipating that he would be asked the same question in Washington, Mr. Abe struck a tough stance. "Whether there's progress or not on the abduction issue, that's something we will decide," Mr. Abe told reporters.
On the domestic front, Mr. Abe has pushed to extract Japan from what he calls its "postwar regime." He has revised the basic law of education by emphasizing patriotism and has moved to change the Constitution.
His ideological allies, whom Mr. Abe appointed to top posts in government and the governing party, have pushed even harder for long-cherished nationalist goals. One was to rescind a 1993 declaration acknowledging that the Japanese military had coerced women into sex slavery during the war. Nationalists here have long argued that the so-called comfort women were voluntary prostitutes, despite overwhelming evidence to the contrary.
In a nod to his base, Mr. Abe said there was no evidence that the military had coerced the women, but added that the 1993 declaration would remain in effect. After his comments caused anger in Asia and the United States, Mr. Abe apologized.
But despite many verbal contortions, he has not taken back the point most important to his political base, his denial of coercion by the military.
"He made a good gesture in the beginning by visiting Korea and China, but then he made a completely unnecessary comment about the comfort women," said Ahn Yinhay, a Northeast Asia expert at Korea University. "Because of his basic stance, his distortion of history, relations between Korea and Japan will likely remain strained. I don't see any dramatic improvement in the future."
アイ・ラブ下北沢 選挙に行こう!キャンペーン ホームページ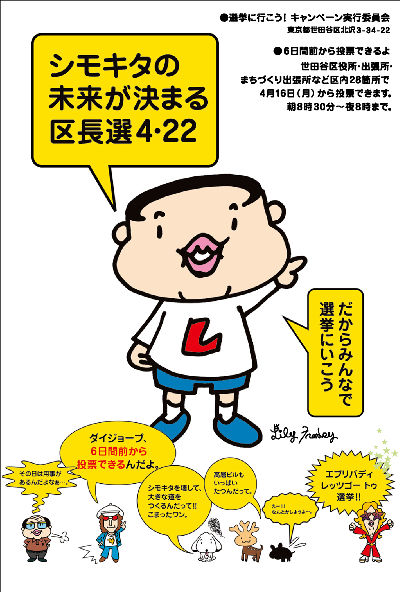 '07統一選:世田谷区長選 「シモキタの将来は自分自身で」 投票呼びかけ /東京
毎日新聞 2007年4月15日
 下北沢駅周辺再開発の是非が区長選の争点の一つになっている世田谷区で、市民団体がポスターで投票を呼びかけている。下積み時代、毎日のように下北沢を訪れていたというイラストレーターでエッセイストのリリー・フランキーさんが描いたキャラクターが「シモキタの未来が決まる区長選4・22」と啓発しているデザインで、若者に関心を持ってもらおうというのが狙いだ。
 下北沢駅周辺再開発は、駅前に最大26メートル幅の都市計画道路と約5300平方メートルのロータリーを整備する事業で、一時計画が中断していたが、都の小田急線連続立体交差事業に伴い再浮上。区民の反対意見は根強いが、既に区と都の都市計画審議会を通過し、実施に向けて進み始めている。
 投票啓発を企画したのは、再開発に反対する市民らで組織する「選挙に行こう!キャンペーン実行委員会」。下平憲治代表らは昨年夏から、リリーさんや漫画家の浦沢直樹さんら、下北沢にかかわりが深く、再開発に異を唱える著名人に呼びかけ、オリジナルTシャツを製作。売り上げを活動資金に充ててきた。
 今回も、リリーさんは無償で協力。ポスターでは、胸に「L」のイニシャルを入れ、リリーさん自身をイメージしたキャラクターを中心に、動物やロックンローラー風の青年たちが「6日間前から投票できるんだよ」「エブリバディ レッツゴー トゥ 選挙!」などと叫んでいる。
 下平さんらはこのポスター約500枚を、下北沢を中心に区内の飲食店やレコード店、雑貨店の店内などに掲示させてもらう予定で、「若者たちに問題意識を共有し、シモキタの将来を自分自身で決めてほしい」と話している。【市川明代】
参考
世田谷区長候補(届出順)
熊本 哲之 75 無所属 現 1 区長
鈴木 義浩 46 無所属 新 公認会計士
水間 賢一 66 無所属 新 (元)区助役
区議(会派)の支持する区長候補
熊本…自民・公明
鈴木…生活者ネット・社民・共産・無党派市民(木下)
水間…民主
平成19年度一般会計予算案の賛否状況(07年3月議会)
賛成…自民・公明・政策会議・虹(上川)・無所属(青空)
反対…民主・生活者ネット・社民・共産・改革派(下条)・無党派市民(木下)
▲
by

alfayoko2005

| 2007-04-22 20:00 | 国内政治
性的少数者の人権擁護を 『弱者に厳しい社会を変える』 
東京新聞2007年4月21日 夕刊
 二十二日の投票日が目前に迫った統一地方選後半戦。東京都内の区議選には、同性愛者ら性的少数者の権利拡大に取り組んできた男性が出馬しているほか、同性愛者だと公表した大阪の女性府議が思いを共有する統一選候補を応援する動きを見せるなど、性的少数者の人権擁護を争点にした動きも広がっている。 (浅田晃弘)
 「私は同性愛者として生きてきた。いじめや差別も体験したから、人一倍、弱者の不安や不便に敏感になれる」
 都内のスーパー前での街頭演説。同性愛者であることを公表した元養護教諭男性(30)の訴えに、子ども連れの母親らが耳を傾けていた。
 男性は二〇〇一年から都内で選挙があるごとに候補者に質問状を送り、性的少数者の人権擁護の必要性について、意識を問う運動をしていた。当初は「予想より肯定的な回答が多かった」が、次第に学校の授業で同性愛を扱うことに否定的な意見が増えてきたという。男性は「議員の保守化が進んでいる。ならば自分が出るしかない、と思った」と話す。
 また陣営は、性的少数者の権利拡大を公約にする三人を「フレンドリー候補」として、各地の区議選で"公認"。共感を広げようとしている。
 大阪の女性府議はゲイバーが密集する新宿区新宿二丁目に事務所を構え、今夏の参院選出馬を目指す。地元での活動の合間を縫い、統一選候補の応援に走っている。
 都の人権施策推進指針では女性、子ども、障害者、同和問題には単独で項を割いているが、同性愛は「その他の問題」としてわずかな記述にとどめている。その現状を事務所は問題視する。
 事務所スタッフを務める府議のパートナー(32)は「弱者に厳しい社会を変えるため当事者を議会に送ることは力になる。性的少数者に優しい社会は、誰もが生きやすい社会のはず。ほとんどの人にプラスになる主張だということを浸透させていきたい」と指摘。「政治意識の高まりを実感する」と手応えを感じている。
<メモ> 性的少数者 固定的な男女のあり方に、違和感を持つ人たち。同性愛者や性同一性障害、身体的に男女両方の特徴を持つインターセックス(半陰陽性)らがいる。同性カップルの生活は、婚姻関係が認められないため、夫婦間での相続や税金面などの社会的保障がないほか、病院などから家族と認められず個人情報の提供を拒まれたりするなど、多くの困難がある。海外では、同性カップルに夫婦と同様の権利を保障するパートナーシップ制度の整備が、欧州を中心に進み、同性愛を公表する議員も増えている。
Washington Post
A Conversation With Shinzo Abe
By Lally Weymouth
Sunday, April 22, 2007; B03
President Bush will welcome new Japanese Prime Minister Shinzo Abe to the White House and Camp David this week. The first Japanese head of government born after 1945, Abe is a staunch nationalist who has aroused controversy with his dismissive remarks about "comfort women" -- women forced to serve the Japanese army as prostitutes during World War II. Newsweek-Washington Post's Lally Weymouth sat down with Abe in Tokyo to discuss issues ranging from changing Japan's constitution to forging a new relationship with China.

What do you hope to accomplish in Washington?
I had the pleasure of meeting President Bush last year in Hanoi, and I am looking forward to seeing him again. I believe the Japan-U.S. alliance is the only indispensable alliance, and I'd like to use my visit to further strengthen this relationship.
How do you feel about the recent agreement on the North Korean nuclear program that was reached in the Six Party Talks?
I welcome this agreement, but what is important is that North Korea actually act in a concrete manner to abandon nuclear weapons in accordance with that agreement. It is also important that we make the North Koreans understand that if they do not act accordingly, none of the problems they are facing today will be resolved and the situation they find themselves in will only get worse.
Do you feel sidelined [in the talks] because the Japanese government has said it will not participate in the U.S.-led deal until the issue of abductees [as many as 17 Japanese were abducted by North Koreans in the 1970s to teach Japanese language and culture to their security services] is resolved?
On this question, Japan and the United States are fully coordinated. I discussed this matter on the phone with President Bush. It is a matter to be discussed at the North Korea-Japan working group. To the extent that the issue remains unresolved, there will be no normalization of diplomatic relations between Japan and North Korea, and therefore there will be no attainment of the objectives of the Six Party Talks.
All the participating countries in the Six Party Talks understand that if there is no progress on the abduction issue, Japan will not participate in energy assistance for North Korea.
What would you define as progress? It appears that the United States wants to go ahead with this deal.
At this moment North Korea is not responding in good faith at all. It is for us to judge if there is progress, not the North Koreans.
Last week the Chinese premier came to Tokyo -- the first visit of a senior Chinese official in seven years. How do you see relations with China now and what came out of the visi t of Premier Wen Jiabao?
Since I took office as prime minister last September, I have met with [Chinese] President Hu Jintao twice, during my visit to China and also during the APEC summit. And I've had three meetings with Premier Wen Jiabao. On my visit to China last year, I agreed with the Chinese leadership that we together shall build a mutually beneficial relationship based on common strategic interests. There are numerous issues that can be covered -- the environment, energy, North Korea, East Asian development, U.N. reform and others. I believe that our cooperation on these fronts will benefit not just Japan and China but Asia and the entire world.
People say that you would like to have a more robust military. Will you aim to reinterpret the constitution to have a military that could take part in peacekeeping operations, that could fire back in Iraq?
This year the Japan Defense Agency was upgraded to the Ministry of Defense. And we believe that this is a reflection of the maturing of democracy in this country and also the confidence of the people in civilian control.
The security environment surrounding Japan and the entire world has undergone major change. There has been proliferation of weapons of mass destruction, the fight against terrorism and regional conflicts arising here and there. At the same time, it is expected of Japan to make increasing contributions to various international challenges.
I think it is the responsibility of anyone involved in politics to always think of what Japan can do to contribute more to the peace and stability not just of Japan and the region but of the entire world.
Does that mean you want Japan to be a normal country and to have a military? Do you want to reinterpret the constitution or amend Article 9 [which prohibits a standing Japanese military]?
It has been more than 60 years since the constitution was put in place. There are provisions in the constitution that no longer suit the times. Since the constitution was promulgated, we've seen the emergence of new values, such as privacy, the environment and so on, which need to be incorporated.
This constitution was drafted while Japan was under occupation. I believe it is important that we Japanese write a constitution for ourselves that would reflect the shape of the country we consider desirable in the 21st century.
In other words, not have an American-drafted constitution?
The basic philosophy that is embedded in the current constitution, such as sovereignty residing in the people, basic human rights and pacifism -- these elements are already incorporated in the draft constitution that we would like to propose. But the important thing is that we write the constitution ourselves. Because the constitution is the basic law of the land.
Your comments on "comfort women" caused an outcry in the United States. Do you really believe that the Imperial Army had no program to force Korean, Chinese and other women to provide sexual services to the Japanese Imperial Army?
I have to express sympathy from the bottom of my heart to those people who were taken as wartime comfort women. As a human being, I would like to express my sympathies, and also as prime minister of Japan I need to apologize to them.
The 20th century was a century in which human rights were infringed upon in numerous parts of the world, and Japan also bears responsibility in that regard. I believe that we have to look at our own history with humility and think about our responsibility.
But that's not what you said originally in the Diet. You said that there was no evidence.
I wasn't the first to make the remarks that I made.
You were not the first to say that there wasn't evidence of links to the Imperial Army?
What I was saying is that I wasn't the first to comment on the facts.
But the main point is, do you now believe that the Imperial Army forced these women into this situation, and as prime minister of Japan do you apologize to them, and do you believe the Kono Statement [a partial 1993 acknowledgment by a Japanese official named Kono of Japan's responsibility for the brothels]?
My administration has been saying all along that we continue to stand by the Kono Statement. We feel responsible for having forced these women to go through that hardship and pain as comfort women under the circumstances at the time.
Can you give me one or two examples of economic reforms you want to bring about as prime minister?
We have expounded two basic pillars to enable Japan to grow in the future. We will deregulate to promote innovation, and we plan on establishing free trade arrangements and economic partnership arrangements with various countries.
We'd also like to facilitate foreign direct investment in Japan. Our plan is to double FDI over a five-year period. We will start implementing rules in May that will enable triangular mergers to be implemented in Japan. It's been said that the government in general has been active in impeding economic activity. My administration -- the [previous] administration also worked on this -- will present to the parliament a bill for reform of the civil service.
I understand that you're going to the Middle East after Washington. How do you see the danger of nuclear proliferation in Iran? What do you hope to accomplish on your Middle East trip?
Japan relies heavily on the Middle East for much of its energy supplies. Japan has a vital interest in the peace and stability of the Middle East. During my visit to the region I would like to discuss with the leaders of the countries there how we can best secure peace and stability -- especially with regards to Iran. Japan today enjoys good relations with Iran and would like to exercise whatever influence it has on the Iranians to try and work toward a peaceful resolution of the [nuclear] issue. We would like to appeal to the Iranians to respond to the concerns of the international community.
▲
by

alfayoko2005

| 2007-04-21 09:00 | お知らせ