中絶一部禁止法は「合憲」 米連邦最高裁が判決
2007年04月19日10時29分 朝日
 米連邦最高裁は18日、妊娠中後期に施す特定の中絶法を禁じた「中絶一部禁止法」を合憲とする判決を下した。73年の最高裁判決で認められた中絶の権利が、一部にせよ、連邦レベルで否定されたのは初めて。ブッシュ政権の下で、国民の間でも論議の分かれる社会問題に関して、最高裁が保守化したことが明確になった。
 ブッシュ大統領は同日、「人間の尊厳と生命の神秘を守るために我々が果たしてきた進歩を裏付けるものだ」と判決を歓迎する声明を出した。
 一方、次期大統領選の民主党有力候補であるヒラリー・クリントン上院議員は声明を出し、「判決は女性の自己決定権と健康を尊重してきた40年以上の判例から逸脱し、憲法上の権利を損なう」と批判した。
 「中絶一部禁止法」は、03年にブッシュ大統領が署名し成立したが、連邦地裁、控訴裁レベルで「違憲の疑いがある」として効力を一時停止する命令が相次いだ。このため、同法は実際に適用されず、最高裁に判断が委ねられていた。
 最高裁は00年、「中絶一部禁止法」とほぼ同様の内容を持ったネブラスカ州法について、「母体にとって安全な形での中絶方法を選ぶ道を閉ざすため違憲」とする正反対の判決を、5対4の小差で出していた。
 今回の判決には、06年に変わった最高裁判事の構成が反映された。00年の判決時に多数意見に加わっていた中道派のオコーナー判事が06年に引退、後任にブッシュ政権が指名した保守派のアリート氏が加わったことで、今回は5対4で「合憲」の多数意見となった。
 オコーナー氏の離任で唯一の女性最高裁判事となったギンズバーグ判事は「多数意見は女性の権利を削り取る、恐るべき決定」などと批判する少数意見を出した。
 中絶容認派は強く反発している。米家族計画連盟のイブ・ガートナーさんはAP通信に対し、「政治家が女性の健康上の決定を行うと告げるものだ」と語った。
The New York Times
April 19, 2007
In Reversal, Justices Back Ban on Method of Abortion
By LINDA GREENHOUSE
WASHINGTON, April 18 — The Supreme Court reversed course on abortion on Wednesday, upholding the federal Partial-Birth Abortion Ban Act in a 5-to-4 decision that promises to reframe the abortion debate and define the young Roberts court.
The most important vote was that of the newest justice, Samuel A. Alito Jr. In another 5-to-4 decision seven years ago, his predecessor, Justice Sandra Day O'Connor, voted to strike down a similar state law. Justice Alito's vote to uphold the federal law made the difference in the outcome announced Wednesday.
The decision, the first in which the court has upheld a ban on a specific method of abortion, means that doctors who perform the prohibited procedure may face criminal prosecution, fines and up to two years in prison. The federal law, enacted in 2003, had been blocked from taking effect by the lower court rulings that the Supreme Court overturned.
The banned procedure, known medically as "intact dilation and extraction," involves removing the fetus in an intact condition rather than dismembering it in the uterus. Both methods are used to terminate pregnancies beginning at about 12 weeks, after the fetus has grown too big to be removed by the suction method commonly used in the first trimester, when 85 percent to 90 percent of all abortions take place.
While the ruling will thus have a direct impact on only a relatively small subset of abortion practice, the decision has broader implications for abortion regulations generally, indicating a change in the court's balancing of the various interests involved in the abortion debate.
Most notable was the emphasis in the majority opinion, by Justice Anthony M. Kennedy, on the implication of abortion's "ethical and moral concerns."
"The act expresses respect for the dignity of human life," Justice Kennedy said.
The decision was a major victory for the Bush administration and its vigorous defense of the law, which President Bill Clinton had vetoed twice before President Bush signed it.
Mr. Bush welcomed the ruling, saying: "The Supreme Court's decision is an affirmation of the progress we have made over the past six years in protecting human dignity and upholding the sanctity of life. We will continue to work for the day when every child is welcomed in life and protected in law."
It was also a vindication for the strategic choice the anti-abortion movement made 15 years ago, when the prospect of persuading the Supreme Court to reconsider the right to abortion seemed a distant dream. [Page A23.]
By identifying the intact procedure and giving it the provocative label "partial-birth abortion," the movement turned the public focus of the abortion debate from the rights of women to the fate of fetuses. In short order, 30 states banned the procedure.
The decision on Wednesday came seven years after the court struck down one of those state laws, from Nebraska. Justice Kennedy was a strong dissenter from that decision. With Justice Alito's vote, he was in a position this time to write not for the dissenters but for the new majority.
Chief Justice John G. Roberts Jr. and Justices Antonin Scalia and Clarence Thomas also voted in the majority. Justices Thomas and Scalia also filed a brief concurring opinion reiterating their opposition to the court's abortion precedents and expressing their continued desire to overturn them.
Neither Chief Justice Roberts nor Justice Alito signed this statement. There was no way of knowing whether their silence meant they disagreed with it or whether, not having previously expressed their views as Justices Thomas and Scalia had, they had no need at this point to stake their ground.
The court did not explicitly overturn any of its precedents, although Justice Ruth Bader Ginsburg, writing for the four dissenters, said the decision was "so at odds with our jurisprudence" that it "should not have staying power." Justice Ginsburg called the decision "alarming" and said the majority's "hostility" to the right to abortion was "not concealed."
Justices John Paul Stevens, David H. Souter and Stephen G. Breyer signed Justice Ginsburg's opinion, portions of which she read from the bench at a slow pace that caused every syllable to resonate.
Justice Kennedy took pains to describe the decision as faithful to the court's earlier rulings, including the one in the Nebraska case. He said that by defining the prohibited procedure more precisely, the federal law avoided the vagueness the court had found in the Nebraska statute and thus did not place doctors at risk of violating it inadvertently.
Congress passed the law in response to the court's ruling in the Nebraska case, responding specifically to the majority's insistence in that case that the law must include an exception for circumstances when the banned procedure was necessary for the sake of a pregnant woman's health. Congress provided an exception only to save a pregnant woman's life, as Nebraska had, declaring that the procedure was never necessary for a woman's health.
Justice Kennedy, in addressing the need for the health exception, said on Wednesday that it was acceptable for Congress not to include one because there was "medical uncertainty" over whether the banned procedure was ever necessary for the sake of a woman's health. He said that pregnant women or their doctors could assert an individual need for a health exception by going to court to challenge the law as it applied to them.
Justice Ginsburg said that this approach was unrealistic and "gravely mistaken." She said that requiring "piecemeal" litigation "jeopardizes women's health and places doctors in an untenable position."
Clarke D. Forsythe, president of Americans United for Life, a leading anti-abortion group, said approvingly that while the court did not technically overturn the Nebraska decision, the new ruling "effectively gutted it."
Dr. LeRoy H. Carhart, the Nebraska doctor who challenged both the state law in 2000 and the federal law in this case, Gonzales v. Carhart, No. 05-380, said that "those who support this law are trying to outlaw all abortions, one step at a time."
In his discussion of the court's precedents, Justice Kennedy went so far as to suggest that the new ruling was in fact compelled by the court's decision in Planned Parenthood v. Casey, the 1992 case that reaffirmed the basic holding of Roe v. Wade that women have a constitutional right to abortion. Justice Kennedy supported that result and helped write the decision's unusual joint opinion.
On Wednesday, he said that "whatever one's views concerning the Casey joint opinion, it is evident a premise central to its conclusion — that the government has a legitimate and substantial interest in preserving and promoting fetal life — would be repudiated were the court now to affirm the judgments of the courts of appeals" that struck down the federal law.
In describing the federal law's justifications, Justice Kennedy said that banning the procedure was in fact good for women, protecting them against terminating their pregnancies by a method they might not fully understand in advance and would come to regret later.
"Respect for human life finds an ultimate expression in the bond of love the mother has for her child," he said, adding: "It is self-evident that a mother who comes to regret her choice to abort must struggle with grief more anguished and sorrow more profound when she learns, only after the event, what she once did not know: that she allowed a doctor to pierce the skull and vacuum the fast-developing brain of her unborn child, a child assuming the human form."
Justice Ginsburg objected vehemently that "this way of thinking reflects ancient notions of women's place in the family and under the Constitution — ideas that have long since been discredited."
She cited century-old Supreme Court cases that upheld a paternalistic view of women's place in society and contrasted those with more recent cases, including one she successfully argued to the court in 1977 and one in which she wrote the majority opinion in 1996, that rejected "archaic and overbroad generalizations" and assumptions about women's inherent dependency.
One law professor, Martin S. Lederman of Georgetown University, commented after reading Justice Ginsburg's response on this point that Justice Kennedy's opinion "was an attack on her entire life's work."
In her opinion, Justice Ginsburg said the majority had provided only "flimsy and transparent justifications" for upholding the law, which she noted "saves not a single fetus from destruction" by banning a single method of abortion. "One wonders how long a line that saves no fetus from destruction will hold in face of the court's 'moral concerns,' " she said.
The New York Times
April 19, 2007
Editorial
Denying the Right to Choose
Among the major flaws in yesterday's Supreme Court decision giving the federal government power to limit a woman's right to make decisions about her health was its fundamental dishonesty.
Under the modest-sounding guise of following existing precedent, the majority opinion — written by Justice Anthony Kennedy and joined by Chief Justice John Roberts and Justices Clarence Thomas, Antonin Scalia and Samuel Alito — gutted a host of thoughtful lower federal court rulings, not to mention past Supreme Court rulings.
It severely eroded the constitutional respect and protection accorded to women and the personal decisions they make about pregnancy and childbirth. The justices went so far as to eviscerate the crucial requirement, which dates to the 1973 ruling in Roe v. Wade, that all abortion regulations must have an exception to protect a woman's health.
As far as we know, Mr. Kennedy and his four colleagues responsible for this atrocious result are not doctors. Yet these five male justices felt free to override the weight of medical evidence presented during the several trials that preceded the Supreme Court showdown. Instead, they ratified the politically based and dangerously dubious Congressional claim that criminalizing the intact dilation and extraction method of abortion in the second trimester of pregnancy — the so-called partial-birth method — would never pose a significant health risk to a woman. In fact, the American College of Obstetricians and Gynecologists has found the procedure to be medically necessary in certain cases.
Justice Kennedy actually reasoned that banning the procedure was good for women in that it would protect them from a procedure they might not fully understand in advance and would probably come to regret. This way of thinking, that women are flighty creatures who must be protected by men, reflects notions of a woman's place in the family and under the Constitution that have long been discredited, said a powerful dissenting opinion by Justice Ruth Bader Ginsburg, joined by Justices John Paul Stevens, David Souter and Stephen Breyer.
Far from being compelled by the court's precedents, Justice Ginsburg aptly objected, the new ruling is so at odds with its jurisprudence — including a concurring opinion by Justice Sandra Day O'Connor (who has now been succeeded by Justice Alito) when a remarkably similar state abortion ban was struck down just seven years ago — that it should not have staying power.
For anti-abortion activists, this case has never been about just one controversial procedure. They have correctly seen it as a wedge that could ultimately be used to undermine and perhaps eliminate abortion rights eventually. The court has handed the Bush administration and other opponents of women's reproductive rights the big political victory they were hoping to get from the conservative judges Mr. Bush has added to the bench. It comes at a real cost to the court's credibility, its integrity and the rule of law.
akaboshiさんが
、告示後にも関わらず、中野区議候補石坂わたるさんを応援する内容のブログを更新し、YouTube動画をどんどん投稿しています。
http://blog-search.yahoo.co.jp/
 で「石坂わたる」で検索
2007年4月16日午前8時43分7秒現在の「ウェブ魚拓」
http://megalodon.jp/?url=http://blog-search.yahoo.co.jp/search%3fp%3d%25C0%25D0%25BA%25E4%25A4%25EF%25A4%25BF%25A4%25EB%26ei%3d&date=20070416084307
告示後における特定候補者の当選目的のブログ更新は、文書配布制限の潜脱として禁止されているとの、公職選挙法ないし選挙管理委員会の見解はご存知のことと思います。
この見解はたしかに理不尽ではありますが、他の候補者や支持者がそれに従っている以上、あなたや支持者もそれに従うべきです。akaboshiさんだけが、この縛りから自由になれるはずがありません。
ここまでakaboshiさんの意図が明白である以上、石坂氏と「無関係」との抗弁は通じません。
早急に適切な手段をとられるように、お勧めします。でなければ、これに基づいて、akaboshiさん、およびあなたにどんなことが起ころうが、保障できません。
コメント欄がないのでトラックバックいたしました。
選挙ですので、「知らなかった」では済まないです。
▲
by

alfayoko2005

| 2007-04-16 08:39 | お知らせ
Rubber Tit a hands-on experience
By Supriya Sinhababu
Friday, April 6th, 2007
Chicago Maroon
Like a punctured hot air balloon, it began its performance lying shriveled and orange at the bottom of a modified wooden crate with edges but no sides. With the aid of a portable air blower and the sounds of a jazz saxophone for inspiration, the thing slowly took shape, spiting the efforts of the small Japanese woman who energetically bound the crate at arbitrary intervals with rainbow-colored cord.
When the thing grew big enough to chafe at the sides of the crate, the woman abandoned her web-weaving and wrenched the strange object bodily from its confines. Now a little taller than the woman herself, the thing at the end of its development finally resembled a "rubber tit," both an actor and a prop in its, uh, titular performance.
Rubber Tit's two non-synthetic performers assumed the shapes of Japanese lesbians: performing artist-cum-performance artist Tari Ito, and jazz saxophonist Masa, a New York resident for the past 20 years. Sponsored by the Japan Committee of the Center for East Asian Studies and the Center for Gender Studies, among others, Rubber Tit dealt abstractly with Japan's ingrained homophobia and the difficulties of leading a lesbian lifestyle in that nation.
Some of the five dozen or so attending students, who sat mainly on the floor of the Cloister Club at Ida Noyes Hall on Tuesday night, may have come to Rubber Tit out of interest in such gender issues. Others may have expected only to experience something from the very broad category of "weird and from Japan." The performance delivered on both counts, but also succeeded from a purely entertainment-seeking standpoint. Rubber Tit dragged lofty intellectual concepts from their roosting places down to the Cloister Club floor, where they could actually engage an audience.
Audience participation had a lot to do with Rubber Tit's success. While the well meaning tactic has added a cheesy, elementary-school feel to many an otherwise interesting performance, Rubber Tit avoided corniness almost entirely. While the tit inflated, Ito wordlessly wrapped her rainbow cord around the feet of a few lucky audience members, this writer included. After extracting the fully-inflated tit from its prison, she spent a few minutes jumping and rolling around in the tit like a child in an enormous beanbag chair; then, to everyone's surprise, she heaved the tit onto the cross-legged audience members. A sort of volleyball game quickly developed between Ito and the crowd, and before long the tit had made its way around the room. Ten-cent parallels to confronting the sexuality of oneself and others could be drawn from the literally in-your-face tit, but only in retrospect. The show itself was engaging enough that during the performance, the audience did not have to scrape for meaning to justify sitting through boring moments.
That said, some elements of the performance certainly packed more punch than others. The show began with the lights completely dimmed, and with Ito lying in the crate on top of the deflated tit. A camera inside the crate shed light on Ito's writhing movements by way of a large projection screen at the front of the room. At one point the camera projection overlapped with the silhouette of a Japanese legislator, whom running text revealed as the first Japanese lesbian to come out during office. While certainly relevant to Rubber Tit's themes, this woman's story seemed adventitious because of its length and textual medium.
The music of Masa's jazz saxophone, on the other hand, added immeasurably to the performance. At moments when Ito failed to completely arrest the audience's attention—mainly during her brief pauses in interacting with the tit—Masa's excellent playing picked up the slack. Significantly, Masa's performance didn't have the feel of being too artsy for the appreciation of novice jazz listeners. As with the tit, Masa's music may well have expressed heavier themes of sexism and homophobia. However, it was entirely possible, if not easier, for the audience to leave contemplation for a later date, and instead just sit back and enjoy the show.
University of Chicago hosts lecture series to explore Japan's protest culture
Financial Times
Gender inequality/economic growth
Published: 13/4/2007 | Last Updated: 13/4/2007 11:50 London Time
In the coming struggle to cope with ageing populations and heavier pension liabilities, governments, though they may not realise it, have a secret weapon: women.
Goldman Sachs estimates that closing the gap between male and female employment would boost US gross domestic product by as much as 9 per cent, eurozone GDP by 13 per cent and Japanese GDP by 16 per cent. But there is no inexorable rise in female employment levels. Goldman reckons that increasing female employment accounts for 0.4 percentage points of the eurozone's 2.1 per cent trend growth since 1995 and projects a further 0.25 percentage points lift over the next 10 years. But relatively high female employment levels in the US have been slipping slightly, and Japan's low female employment rate remains stubbornly flat – so no fillip for either of those.
Yet higher female employment, it turns out, offers a double-whammy, by raising not only total employment (so reducing the proportion of the population dependent on those in work) but also fertility. Italy and Japan, with low levels of female employment and fertility, also share a particularly grim demographic outlook.
The success of Sweden and Denmark in encouraging women to enter – and stay in – the workforce reflects not only their long cultural tradition of female equality, but also policy initiatives such as state-sponsored childcare. The US, on the other hand, has a strong history of equality in the workforce, but little in the way of policies to encourage women to stay in work after childbirth. Other policy issues worth reviewing include equality of tax treatment and of statutory retirement age (Germany, Italy and the UK still have lower retirement ages for women than for men).
Just how equity investors, whatever their gender, should benefit from further likely shifts in working patterns and their impact on economic growth is less clear. Goldman proposes a "Women 30" index which mainly consists of luxury goods brands and fashion retailers – though thankfully stops short of Procter & Gamble and Unilever. More broadly, rising female employment is yet another element of Europe's improving economic prognosis.
Transman Torai lectures on transgender issues at Rikkio University, Tokyo

性同一性障害:性の多様性、認め合って 虎井さん、立教大で初講義
毎日新聞 2007年4月12日 東京夕刊
 心と体の性が一致しない性同一性障害(GID)を公表し、04年に男性への性別変更が認められた作家の虎井まさ衛さん(43)が、非常勤講師として立教大学文学部の教壇に立った。戸籍の性別変更に道を開いた「性同一性障害特例法」の施行から3年。今年は同法の付則で規定された見直しの年に当たる。虎井さんは「現行法は子供がいる人の性別変更を認めないなどの問題点がある」と指摘し、講義を通じて改正機運の高まりも期待している。
 虎井さんは、ドラマ「3年B組金八先生」で上戸彩さんが演じた性同一性障害に悩む少女「鶴本直」のモデル。北山晴一・同学部教授から請われ、「ジェンダー論」の前期の授業を受け持つことになった。
 11日の初講義は立ち見が出るほど盛況で、虎井さんはGIDのあらましや学説の変遷などについて説明。大学卒業4日後に渡米し、性別適合手術を受けた経験も披露した。学生の関心は高く、1年生の女子学生は「実体験の言葉には重みがある」と話した。
 GIDを持つ人の団体「
gid.jp
」によると、04年の特例法施行後、573人が裁判所に戸籍の性別変更を認められた。一方でGIDと診断された人は全国に5000人いるとされる。「現に子がない」との変更条件の妥当性が今後の改正の焦点。虎井さんは「性や人間の多様性とお互いを認め合うことの大切さを訴え、より良い法のあり方を模索したい」と話す。【清水忠彦】
▲
by

alfayoko2005

| 2007-04-12 20:49 | トランス
University hosts lecture series to explore Japan's protest culture
By Nicholas Nardini
Tuesday, April 10th, 2007
Chicago Maroon
Exploring the oft-overlooked tradition of social activism in modern Japan, the Center for East Asian Studies's Japan Committee is hosting "Celebrating Protest," a lecture series covering such topics as war, colonialism, and sexuality.
The Japan at Chicago Lecture Series's most recent event, "Rubber Tit," responded to issues of sexuality and homophobia in Japan.
The lecture series was developed by Norma Field, the Robert Ingersoll Professor of Japanese Studies, and Tomomi Yamaguchi, a postdoctoral fellow at the Center for East Asian Studies with a specialty in gender and sexuality, as an offshoot of their course on postwar Japanese social movements.
The course and the lecture series were inspired by the troubling term "postwar Japan," Field said. "It's a strange word to use 62 years after the war. Isn't the postwar period over yet?"
The term persists, she said, because many of the social and political problems that troubled Japan in the 1940s remain influential today. Field attributed this condition to the near-disappearance of social activism in Japan after early activist movements clashed with U.S. foreign policy and people grew disillusioned by the American student protests of the '60s.
"Whereas in the 1940s and 1960s you saw huge social movements in Japan, the democratic movement, and the no-war movement, now you get the sense that there is no activism," she said.
The lecture series aims to spotlight Japanese who maintain the postwar tradition of criticism and protest. The series will continue until May 17, with a total of seven scheduled lectures.
"None of the lecturers is a University professor," said Field. "In Japan there's much more of a tradition of learning taking place outside of the classroom, so we wanted to bring in students and performers and institute heads instead."
The series began in March with a talk by Noriaki Imai, a student environmentalist who traveled to Iraq without a visa to study the effects of depleted uranium shells on children. Imai spoke about being captured by Iraqi insurgents who held him hostage during the trip. He returned home to public ridicule, was harassed in public, and was ordered to pay for the plane flight that brought him home.
"Japan is much more of a collective-focused society instead of an individualist society," said Lauren Sethy of the Center for East Asian Studies, one of the series's principle organizers. "So his actions were looked down upon."
Last week's "Rubber Tit" featured an inflated breast that was hurled at audience members during the interactive performance. In an explanation of her piece, performer Tari Ito wrote, "In the course of my daily life in Tokyo, I must face both the entrenched sexism and compulsory heterosexuality of this society."
Upcoming lectures will examine the controversial issue of trans-racial adoption, the status of an embattled plutonium plant in Japan, and protests against Japanese forces in Iraq.
"I have Japanese friends that hear about this series and are amazed," Field said. "They say, 'So you really think it's possible to be positive about protest?'"
In Japan's modern feminist, environmentalist, and educational movements, though, she sees the endurance of the postwar activist spirit, and a chance to learn about more than just Japan. "The series is absolutely universal," she said. "It's so tied to the U.S., and to U.S. government policy today."
Japan's divisive 'comfort women' fund
By Chris Hogg
BBC News, Tokyo
Published: 2007/04/10 13:20:01 GMT
When the prime ministers of Japan and China meet in Tokyo this week, the Japanese will be hoping the summit talks will not be derailed by controversies over its wartime record.
Other Asian nations claim Japan has not faced up to its World War II brutality, but despite these accusations the Japanese have made at least some efforts to heal the scars of the past.
One initiative is the Asian Women's Fund which, until it wound up recently, offered compensation to so-called "comfort women", the women forced to work as sex slaves for the Japanese Imperial Army.
It started with a full page newspaper advertisement, published on the morning of the 50th anniversary of the end of World War II, on 15 August 12 years ago.
The advertisement announced that a fund would be set up to compensate women who had been used as sex slaves during the war.
The money would be given by the government, but the fund would be run by independent trustees.
Ambiguous donations
From the start, there was controversy.
Some right-wingers were opposed to anything that offered compensation or an apology.
Yet some activists, in countries where the comfort women came from, complained that this was not an official apology or official compensation from the government.
Haruki Wada, the fund's executive director, admitted that there was initial confusion about the fund's status.
So he started his explanation of the fund by giving some facts:
*565m yen ($4.7m) was raised in donations from the Japanese people, and given to 285 comfort women from Korea, Taiwan and the Philippines, each of whom received about 2m yen ($16,700)

*770m yen ($6.5m) in taxpayers' money was provided to pay for medical fees for these women, and for 79 other women from the Netherlands

*370 million yen ($3.1m) was spent building medical facilities and old peoples' homes in Indonesia, rather than compensating individuals there, and the rest was used for the fund's running costs and other smaller projects
Mr Wada wanted to list all this detail because of how sensitive this issue of whether or not the compensation was 'official' has become.
"The very first criticism we received," he said, "was that the Japanese government was running away from their responsibility and using the Asian Women's Fund as cover."
"It is true that it was not state compensation. Although the Japanese government spent lots of money on this, we were not able to give the impression that the government was taking full responsibility."
Boycott
There were further difficulties with the letter of apology signed by the prime minister, which was given to each victim.
Copies of the letter were delivered by the Asian Women's Fund rather than by diplomats.
Activists in South Korea and Taiwan claimed that the letter was a personal not an official one, and that the money available was from charity funds rather than state compensation.
They persuaded more than half the former comfort women in the two countries not to accept the money.
In fact, the women in these countries were compensated locally if they said they did not want to receive the Japanese money.
Mr Wada said there was a similar debate in the Philippines, but activists there decided that if the elderly victims wanted the money, they would support them.
"The way we distributed the fund did not leave the right impression," he admitted, "and that is why we have problems now."
Moving on
But not all the difficulties can be blamed solely on the Japanese side.
No money has been paid to the Japanese army's former sex slaves in China, because the Chinese government did not want to help in establishing an authorisation system for women, like the South Korean government did, Mr Wada said.
"There were lots of different sorts of victims of the war in China, and I believe it was difficult for the Chinese government just to single out comfort women for help".
The fund was wound up at the end of last month, its work finished according to Mr Wada.
It had set a deadline of five years for applications for financial support from former sex slaves. Those requests have now all been processed.
Despite the criticism directed at the fund, Mr Wada feels it was important, not just to provide compensation for those wronged by Japan but also to educate the Japanese people about what he calls "the new consensus" about the wrongs committed by the Imperial Army.
"We know that [the comfort womens'] deep scars and damage will not be compensated by a little money and we will not be forgiven for what we've done," he said.
"But both the Japanese government and the people of Japan felt it was necessary for us to apologise for the past and we wanted them to receive compensation as a sign of our vow that it will not be repeated again."
And although the fund has been wound up, Mr Wada feels there is still more work to be done for other victims of the Japanese during World War II and before.
"One issue is that of forced labour. The South Korean government is considering paying compensation to those victims. But it was Japan who forced them to work, so I wonder whether that is the right way to deal with the issue," he said.
"And then there are the comfort women in North Korea too," he added. "There are about 200 of them, and I believe only around half of them are still alive."
Haruki Wada is now ready to move on from the fund, and plans to finish a book he has been writing.
"I believe we can now move forward from here," he said. "That's why I'm proud of the fund, and I feel I'm done with it."
Story from BBC NEWS:
http://news.bbc.co.uk/go/pr/fr/-/2/hi/asia-pacific/6530197.stm
The Japan Times
Tuesday, April 10, 2007
BIG SPENDERS ON FASHION, TRAVEL
At 6.6 trillion yen, gay, lesbian market no small niche
By SHINICHI TERADA
Staff writer
Japan has an estimated 2.74 million people who are either lesbian, gay, bisexual or transgender, and in terms of targeting a niche market, they have a combined purchasing power of 6.64 trillion yen -- the equivalent of the nation's liquor consumption.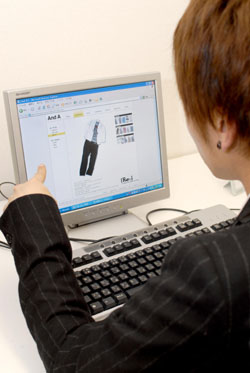 Akihiro, 22, who only wants to be identified by his first name, views a fashion brand's Web site popular with young gays. YOSHIAKI MIURA PHOTO
This is according to Tokyo-based marketer Pageanta Co., which sees many of the people in the so-called LGBT segment willing to spend vast sums on lifestyle-related items from fashion and art to travel.
"Their buying power is undeniable," said Yuko Hakoishi, founder and president of Pageanta, which operates a social networking site for its target clientele.
Hakoishi encountered the gay and lesbian segment while researching niche markets at an advertisement agency. Counting on large market potential, she established Pageanta last August, calling it the first and only marketing firm in Japan specifically targeting such people.
Because many nonheterosexuals refrain from starting families -- same-sex marriages are not permitted by law -- they have more disposable income, Hakoishi said.
"Many of them tend to enjoy the moment by spending for now rather than saving for the future."
Despite overall sluggish consumer spending, Hakoishi's company found that people in the gay and lesbian segment spend 1.2 times more than their straight counterparts. Hakoishi noted, for example, that straight people -- women and men -- spend 36,000 yen a year on average for cosmetics, while their gay and lesbian counterparts spend 46,000 yen. For overseas travel, the figure is 65,000 yen for straights and 82,000 yen for gays and lesbians, she said.
Akihiro, a 22-year-old gay man who asked that his full name not be published, said he spent 80,000 yen on clothing, shoes and accessories in March alone.
"I love And A brand. It touches my heart," he said of a clothing line popular with gays.
Like many other gay and lesbian consumers, Akihiro is a loyal customer to gay-friendly companies -- and he spends without hesitation.
The soft-spoken man with model-like looks spends not just for fashion items but strives to be "beautiful," because he sees women as his competitors.
"I went to a big gay party with my female friend. A good-looking guy picked her up, but no one was interested in me. That made me feel that I need to look better to win," he said with a smile.
Yukiko, a 31-year-old lesbian who also asked that her last name not be used, said she travels overseas with her partner two or three times a year, where she does not have to worry about being stared at. She spends a lot on traveling and polishing her skills in various fields.
"My generation is not afraid of staying single, so we don't hesitate to invest money on skill development," she said.
In the case of a 32-year-old gay who goes to a gym three times a week, design, rather than function, is a priority when it comes to shopping.
"I love the iPod. It feels good when you touch it," he said. "Softbank's mobile phones that come in 20 different colors are cool, too."
Pageanta's Hakoishi believes businesses can cultivate a potentially lucrative market by offering information about the purchasing trends of sexual minorities on her firm's Web site. Companies trying to sell goods and services to gays and lesbians can make use of the information and also interact with them via the Net, she said.
Many in this segment are heavy Internet users, as it allows some degree of anonymity and provides a forum for exchanging ideas and information, she said.
Foreign companies here already recognize the potential for this segment, as firms participate in various gay and AIDS-prevention events.
Tower Records ran an ad in the brochures of the annual Tokyo International Lesbian and Gay Film Festival, while Denmark-based furniture store BoConcept has run ads in yes, a magazine featuring nonstraight lifestyles published by a subsidiary of Tower Records.
"Gay-themed magazines are very limited here, so readers tend to read every page, unlike regular magazines that readers often leaf though," said Yukiko Konno, marketing coordinator of BoConcept Japan.
Employees of Body Shop outlets have participated in gay rights parades at different locations in Japan to offer giveaway goods.
Levi Strauss gives out condoms with the firm's logo printed on the package at events related to AIDS prevention, and is looking at the gay and lesbian segment as a marketing target.
"The question is how these activities can translate into money. We need to study the possibility of appealing to gay and lesbian customers," said Atsushi Murohashi, human resources manager at Levi Strauss in Japan.
Lehman Brothers Japan Inc. meanwhile sees the lesbian and gay segment as a pool of resources instead of a marketing target, and holds job seminars specifically targeting nonstraight college students.
To be sure, not all companies in the U.S. are gay-friendly and there is a deep divide of opinions over same-sex marriages and other issues involving homosexuality.
Hakoishi said there is also a backlash against the growing gay market in the U.S., citing as an example calls by religious conservatives to refrain from buying cars made by Ford Motor Co., which is running advertisements targeting gay and lesbian groups.
In Japan, many firms worry about the possible damage to their corporate image if they are seen targeting the nonstraight market, she said.
However, since the market itself is not widely recognized, willing businesses might be able to quietly cultivate the segment without worrying about a social backlash, she said.
"I know there is an atmosphere of gay bashing in the U.S. But in Japan, I don't think people care too much about them," said Midori Kyan, 27, a straight woman who is a regular customer at a trendy gay bar in Tokyo's Shinjuku district. "The Japanese gay scene may be described as gay-passing."
The Japan Times
(C) All rights reserved
Stars and Stripes
Sunday, April 8, 2007
Okinawans outraged by what they say is a cover-up of military-urged mass suicides during WWII battle
By David Allen, Stars and Stripes
Pacific edition, Sunday, April 8, 2007
Controversy is nothing new
CAMP FOSTER, Okinawa — Recent outrage over Japan's Ministry of Education's censorship of Battle of Okinawa accounts in history textbooks is not new.
A similar controversy developed in 1999 when then-Gov. Keiichi Inamine tried to buff up the image of the Imperial Japanese Army, which, according to survivors, encouraged Okinawan civilians to commit suicide during the battle 62 years ago.
At the time, the new Peace Prayer & Memorial Exhibition Center in Mabuni had commissioned artists to design battle dioramas for the $412 million building. Some of the displays told the horror of civilians hiding in caves in Southern Okinawa in the last days of the battle.
One of the displays portrayed a Japanese soldier pointing his bayoneted rifle at a mother who fearfully clutched a baby to her bosom.
Upon learning of the display, Inamine suggested it be toned down by having the rifle removed from the soldier's hands.
Inamine urged that the text accompanying displays also be changed. For example, the word "massacre" in the description of the massive deaths in the caves was to be changed to "sacrifice."
But when the word got out, Okinawa Prefectural Assembly members accused Inamine of wanting to tone down history so tourists from mainland Japan would not be offended.
The original displays and written material eventually were allowed to stand. But when the gun was replaced in the soldier's hands, it was no longer pointing at the mother and child.
CAMP FOSTER, Okinawa — Exactly 62 years after the start of the Battle of Okinawa, another battle is shaping up here.
Some say it's a battle for the truth.
Last weekend the Japanese Ministry of Education instructed publishers of school textbooks to alter descriptions of the mass suicide of Okinawa civilians during the battle. The order included eliminating all references to the Japanese military's direct role in the tragedies, erasing accounts in earlier texts that claimed the Imperial Japanese Army instructed Okinawans to kill themselves rather than submit to U.S. invaders.
"There are divergent views of whether or not the suicides were ordered by the army and no proof to say either way. So it would be misleading to say the army was responsible," said Yumiko Tomimori, an official in the Education Ministry.
The news drew outrage from Okinawans who claim the government is bent on whitewashing history. The ministry's decision came on the heels of denials from politicians in Tokyo that women throughout Asia were forced to serve in Japanese military brothels.
For years, Okinawa teachers have fought to prevent school textbooks from glossing over that hundreds of civilians committed suicide during the battle, many of them reportedly with grenades Japanese soldiers distributed specifically for that purpose.
University of the Ryukyus professor Nobuyuki Takashima, a member of the Association to Not Allow the Distortion of the History of the Battle of Okinawa, said the education ministry is pushing "their one-sided historic perspective that the mass suicide was beautiful death of residents who died in the love and loyalty to their nation."
The association planned a protest rally in Naha on Friday night.
Takashima and others believe the ministry's move was prompted by a lawsuit in which the former commander of the Japanese army garrison in the Kerama Islands, part of the Okinawa chain, is suing the publisher and author of a book charging the military was directly responsible for some of the suicides. The defamation lawsuit, filed in 2005, included a book by Nobel Prize laureate Kenzaburo Oe, who wrote about mass suicides in the Kerama Islands, located just west of the main island of Okinawa.
It's a charge supported by many residents of the Keramas.
Nobuaki Kinjo, 80, is one of the survivors. In 2001 he told Stars and Stripes that he was 16 years old living on Tokashiki Island when the Americans invaded the Keramas on March 26, 1945, in preparation for the April 1 landing on the main island of Okinawa.
He said that in a state of insanity fueled by the propaganda of Japanese soldiers, he killed his mother and two siblings in a mass suicide the day the Americans invaded.
"We were told the Americans were beasts," Kinjo said in 2001. "We were told by the soldiers of the Imperial Japanese Army that we should commit suicide rather than be captured."
Some 329 bodies were later counted in a valley where the villagers pulled the pins on hand grenades passed out by soldiers. He said he survived the mass suicide only because he was convinced by other teens that they should die a "more glorious death" by attacking the Americans. They were armed with sticks, but became disheartened when they came across some Japanese soldiers.
"I felt we had been betrayed," Kinjo said. "Why were they alive and all the residents had to commit suicide?" They were soon captured by the Americans.
"Besides the issuing of hand grenades, what else do you need to prove the army was responsible for the mass suicides?" asked Kosei Yonemura, 77.
Yonemura, former chief of the Okinawa Board of Education, is from Aka Island, one of the Keramas, and fought with the Japanese Imperial Army in the Boys' Volunteer Brigade when U.S. forces landed. He was 15 years old.
"The residents in Zamami were driven to commit mass suicide," he said. "The cause of the tragedy was militarism and nationalistic education. In those days, the Japanese people had been indoctrinated to choose a graceful death by cutting their lives short rather than exposing themselves to humiliation by enemies."
He called the Ministry of Education's argument that there may have been no written or historically proven oral order to commit suicide "ridiculous."
"Such an argument is nothing but an effort to trivialize the irrevocable fact that the mass suicides were a result of the militaristic education of the day," he said. "We must raise our voices so that Japan today does not follow the same path it went down in the past."
Toshiaki Shinjo, a teacher at Ginowan High School, told the Okinawa Times that the textbook changes skew the telling of the Battle of Okinawa.
By leaving out mention that the military forcefully encouraged civilians to kill themselves, "the tragedy becomes a beautiful story of people who willingly offered their lives to the nation," he said.
"In the classrooms it will now be difficult to teach students the reality of Battle of Okinawa," he said. "It will be more challenging for teachers to teach students true history."
Chiyomi Sumida contributed to this report.
© 2006 Stars and Stripes. All Rights Reserved.
Stars and Stripes
Sunday, April 8, 2007
Survivors remember commotion then calm inside Okinawa cave
By David Allen, and Chiyomi Sumida, Stars and Stripes
Pacific edition, Sunday, April 8, 2007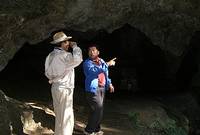 Chiyomi Sumida / S&S
Haruo Chibana (left) and Akihiko Shinjo, Yomitan's Namihira District Mayor, stand at the entrance of Shimuku Gama, where Namihira residents used as a bomb shelter.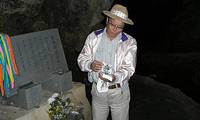 Chiyomi Sumida / S&S
Chibana stands before a monument erected at the entrance of Shimuku Gama to honor two men, his grandfather and great-grand uncle, who saved about 1,000 residents from 'mass suicide.'
YOMITAN, Okinawa — Not far from Torii Station is a cave complex where more than 1,000 civilians took shelter during the shelling that preceded the landing of U.S. forces on April 1, 1945.
It's only by calming words from two men who had once worked in Hawaii that they all did not kill themselves with hand grenades the Imperial Japanese Army issued to them, says Haruo Chibana, 74.
During a recent tour of one of the caves in the Namihira community, Chibana spoke of being saved from the fate that struck Okinawans who cowered in nearby caves.
Chibana recalls the morning when U.S. soldiers with machine guns appeared at the entrance of the cave, called Shimuku Gama.
"People were terrified and screaming and crying voices filled the cave," he said. "Some people prepared to drink poison and others discussed how best to kill themselves."
It was at that time that Heiji Higa, Chibana's great-granduncle, spoke up.
"He told people in the cave that the Americans would not kill unarmed civilians," Chibana said.
Heiji worked in the sugarcane fields on the Big Island of Hawaii. To press his point, he called on his nephew, Heizo Higa, a former Hawaii bus driver, to back him up.
Propaganda from the Imperial Army and the government in Tokyo depicted Americans as "beasts" who mercilessly killed and mutilated their enemies and raped women.
According to several accounts of the invasion day, U.S. soldiers set up a machine gun at the mouth of the cave and shouted in English at the terrified villagers.
"There was a terrible commotion," Chibana said. Then Higa and his nephew stepped forward. "That's when the commotion in the cave calmed."
The Higas spoke to the soldiers and then convinced the villagers that they would not be harmed, and ushered all the residents out, Chibana said.
Twelve years ago, on the 50th anniversary of the battle, survivors dedicated a monument at the mouth of the cave to Higa and his nephew.
What had happened at Shimuku Gama was a stark contrast to the fate of people huddled in a cave called Chibichiri Gama, in the same village.
"Among the people in that cave was a man who was conscripted and fought in China," Chibana said. "He brought back the military mindset with him."
According to survivor accounts, some civilians resisted the Americans with bamboo spears and were killed. Others drank poison after stabbing their children with knives, while others killed themselves with hand grenades.
Of the 140 people in Chibichiri Gama, 84 people died.
And they died a second death in 1987 when right-wing nationalists took sledgehammers to a sculpture of writhing figures reaching toward heaven, mothers embracing their dying children and human skulls heaped near funeral urns.
"The nationalists said the memorial insulted the emperor," said Setsuko Inafuku, a tour guide for 18th Services on Kadena Air Base. "So many people died here foolishly believing the propaganda," she tells the Americans she takes to the hidden cave.
Inafuku has said that guides for Japanese tourists often tell her to tone down her comments to Americans.
"But I have to speak the truth," she said. "I am not anti-Japanese. I am anti-lies."
© 2006 Stars and Stripes. All Rights Reserved.
▲
by

alfayoko2005

| 2007-04-08 21:02 | 国内政治