The Wall Street Journal
PAGE ONE
Developing Nation: Japanese Clothiers Update Their Lines
Changes in Diet Produce Curvier Bodies in Women; The 'Love Bra' Catches Fire
By AMY CHOZICK
May 7, 2007; Page A1

TOKYO --
All over Japan, retailers are scrambling to keep up with a new look known as "bon-kyu-bon." It means "big-small-big" and it signals a change in the way Japanese women look: They're getting curvier.
Japanese stores that used to keep just two or three sizes of clothing on hand are rushing to stock larger sizes. Juicy Couture, known for its figure-hugging terrycloth tracksuits, opened one of its biggest stores in Tokyo last year. And Tokyo's high-end Isetan department store, which used to relegate its bigger sizes to one corner, now prominently features larger items from designers such as Ralph Lauren, Diane von Furstenberg and DKNY.
Wacoal Corp., Japan's largest lingerie company, was once known for its super-padded brassieres. Now the company has a new best-seller: the "Love Bra," a cleavage-boosting creation with less padding, aimed at curvier women in their 20s.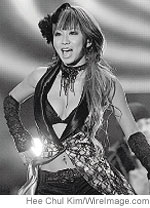 Kumi Koda at a performance in South Korea last year
Today the average Japanese woman's hips, at 35 inches, are around an inch wider than those of women a generation older. Women in their 20s wear a bra at least two sizes larger than that of their mothers, according to Wacoal. Waist size, meanwhile, has gotten slightly smaller, accentuating many young women's curves.
The average 20-year-old is also nearly three inches taller than she was in 1950, according to government statistics, and the average foot has grown by nearly a quarter of an inch.
The physical changes are largely the result of an increasingly Westernized diet, say nutritionists. Meals that used to consist of mostly fish, vegetables and tofu now lean heavily toward an American-style menu of red meat, dairy and indulgences such as Krispy Kreme doughnuts and Cold Stone Creamery ice cream.
All this extra protein and calcium has led to longer, stronger and fuller bodies. Shinichi Tashiro, an endocrinology professor at Showa Pharmaceutical University, says the intake of extra fat tends to go to either breasts or hips in adolescent girls.
Marketers say they first started noticing more women with hourglass figures a few years ago. One of the first people to act on the change was apparel wholesaler Kazuya Kito.
A Catalyst
In 2001, Mr. Kito founded Egoist, a trendy purveyor of slinky clothing designed to highlight the busty look, figuring that the curvier bodies would make women want to wear less-modest outfits. His fashion-industry friends scoffed at the idea. Back then micro-miniskirts were in style, but women, for the most part, kept their chests covered. Yet Egoist, whose wares include see-through sweaters made to show off decorative bras or skinny tube tops, became a huge hit and a catalyst for other skimpy-clothing brands.
"Now that Japanese women are more proportioned," they're ready for these clothes, Mr. Kito says.
Nami Sakamoto, an advertising-agency employee, embodies the new look. The 26-year-old is tall -- by Japanese standards -- at 5 feet 5 inches. She's also voluptuous, with a 35-inch bust and 35-inch hips.
"I had a hard time finding button-down shirts that would close," says the 26-year-old Ms. Sakamoto, especially when she was in high school and there were fewer foreign retailers in Japan that sold bigger sizes. "Sometimes the buttons would burst off." Now she buys clothes at Western retailers that carry larger sizes.
Other young women are buying special items to flaunt their new physique. "It's just more fun to show some skin," says Ayami Arii, a 19-year-old vocational-school student, who recently sported a tiny denim miniskirt and an iridescent pushup bra that peeks out from below her low-cut blouse. Her bra, a big seller at boutiques in Tokyo's Shibuya 109 department store, is called a "Showy Bra." Similar to a string bikini top, the $60 bras, made to be peeking out of a low-cut blouse, started appearing last year and come in a variety of colors, from red patent leather to leopard print and orange sequins.
The cleavage craze took off in 2003, when a young pop star named Kumi Koda appeared in ads around Tokyo wearing a barely-there metallic bra and not much else. In one image, she wore coconut shells over her chest. Then, two years later, she performed at the televised Japan Record Awards wearing thin tape-like gold satin straps over her breasts that revealed nearly everything when she danced. The 24-year-old star has become the champion of a new "If you've got it, flaunt it" attitude among young Japanese women.
The trend has some families concerned. Akiko Uchida, a 49-year-old restaurant owner, decided to enroll her 17-year-old daughter, Masumi, who wears an E-cup bra, in a private all-girls school where she would have to wear a uniform. She says her daughter is always trying to wear scoop-neck shirts and other clothes that show off her body. "I don't want boys to see her unsupervised," says Ms. Uchida, who plans to be even stricter when her daughter goes to college next year.
Complicated Terrain
Fashion has long been complicated terrain for women in Japan, a conformist society where showing some skin is a way to rebel against traditional roles. Fashion historian Akiko Fukai likens the new look to post-World War II Japanese women shedding their restrictive kimonos, which are designed to flatten the chest, in favor of Western garb.
Saki Toraiwa, a 21-year-old cashier at a bakery, says she likes the look of a tanned body and curves like Jennifer Lopez. When she's not wearing her work uniform, she likes to wear skin-tight T-shirts, jeans and high heels.
But she says she has to be careful not to dress in clothes that look too sexy when she's with her boyfriend, who prefers her in more-conservative fashions like flowing sundresses and girly skirts. Ms. Toraiwa wants to get married soon and doesn't want him to see her as a sex object.
"If I'm feeling confident, I'll show it off," says Ms. Toraiwa, "but lately a lot of it just depends on what my boyfriend likes."
Write to Amy Chozick at
amy.chozick@wsj.com
Sarkozy élu : et maintenant ? ... (E-llico.com 2007/05/07)
Le prochain président de la République, Nicolas Sarkozy, est contre le mariage et l'adoption pour les homosexuels. Il a promis une union civile rejetée par la quasi-totalité des organisations LGBT. Le combat pour l'égalité des droits reste ouvert.
Avec l'élection de Nicolas Sarkozy, les homosexuels français se voient privés de l'égalité des droits qu'ils revendiquent et que Ségolène Royal leur avait promis. L'ouverture du mariage et de l'adoption aux homosexuels ne verra pas le jour pendant les cinq années qui viennent puisque le nouveau président y est hostile (il aura déjà beaucoup à faire pour convaincre sa majorité d'adopter son projet d'union civile).
C'est profondément dommageable pour la communauté LGBT. La revendication reste sur la table avec d'autant plus de validité qu'elle va dans le sens de l'histoire. La France va prendre davantage de retard à se mettre au niveau des meilleures démocraties (Espagne, Canada...), mais l'accès au mariage républicain et à l'adoption doivent rester l'objectif à atteindre, quoi qu'il en soit parce qu'il s'agit de la seule réponse qui consacre l'égalité réelle des homosexuels avec tous les citoyens.
Pourtant se pose déjà la question de l'attitude des organisations LGBT face au nouveau pouvoir. Que faire en effet ? Une forme de "grève", de résistance frontale à la nouvelle majorité? Ou bien un rôle de pression pour tenter de peser sur les décisions qui nous concernent ?
La question est difficile. Faudra-t-il notamment entrer dans un dialogue avec le gouvernement et les parlementaires UMP quand le chantier de l'union civile se présentera ?
On imagine que la réponse ne fera pas l'unanimité des associations homos. Certaines estimeront sans doute que l'union civile présente une amélioration par rapport à l'actuel PaCS et qu'il convient de tenter de lui donner un maximum de substance pour ne pas renvoyer tout progrès à une date incertaine. D'autres préfèreront ne pas transiger avec l'exigence d'égalité, par principe et aussi pour pas prendre le risque d'hypothéquer pour longtemps l'accès au mariage et à l'adoption.
La prochaine Gay Pride devrait donner une première idée des positions en présence.
En tout état de cause, c'est un chemin difficile qui s'ouvre pour les défenseurs des droits LGBT pour les années à venir.
Lire notre dossier "Le double jeu de Sarkozy".

Voir notre "Edition spéciale : Présidentielle 2007".

Mis en ligne le 07/05/07
Gay-Positive Royal Loses Bid For French Presidency
by 365Gay.com Newscenter Staff
Posted: May 7, 2007 - 9:00 am ET

(Paris)
France's right of center UMP candidate Nicolas Sarkozy won France's presidential election on Sunday, beating Socialist Segolene Royal by wide margin.
The victory ensures the 12 year reign of the conservative party will continue, dashing hopes by Frances' gay community of any chance for the foreseeable future for same-sex marriage.
Royal had pledged that if she were elected president she would introduce a gay marriage bill.
"Opening up marriage to same-sex couples is needed in the name of equality, visibility and respect," Royal told gay publication Tetu last year.
Royal also told the publication that same-sex couples should be allowed to adopt.
UMP's Sarkozy opposes both gay marriage and adoption.
The ruling UMP only begrudgingly agreed several years ago to grant limited rights to gay and lesbian couples.
In 2004 the mayor of a small community in southwestern France performed France's first gay marriage but it was quickly annulled by the government in Paris.
A public opinion poll released last year shows that about 60 percent of the population favors same-sex marriage.
The election pitted the far right against the far left and even though that would have appeared to offer a clear choice of on or the other, for many French voters it only added to the uncertainty.
Leading up to the election public opinion polls found voters preferred Royal as a person but Sarkozy as a leader.
The new conservative president will have his work cut out for him. A racial divide is widening in France and unemployment is at near record highs.
フランス新大統領にサルコジ氏当選 ロワイヤル氏敗北
U.S. lawmaker calls for investigation of post-WWII brothels for U.S. troops in Japan
The Associated Press
Thursday, May 3, 2007
WASHINGTON: A U.S. lawmaker said Thursday he wants a closer look at reports that American authorities allowed the operation of an official brothel system for GIs occupying Japan in the aftermath of World War II.
Democratic Rep. Mike Honda, sponsor of a resolution urging Japan to apologize formally for coercing thousands of Asian women into sexual slavery as the Imperial Japanese during the war, said he has asked the Congressional Research Service to look into allegations of brothels set up for American soldiers after Japan's surrender in 1945.
Honda rejected comparisons between the actions of the Japanese during the war and the U.S. occupation forces. He said the Japanese comfort women system was set up and sanctioned by the Japanese government and armed forces.
"It's different," he said. "This is the military of the imperial government, the imperial military's policy, in capturing, coercing and kidnapping girls and women for the purpose of sexual slavery."
Honda said it was important to find out what role the U.S. military played in the postwar system.
An Associated Press review of historical documents and records shows that American authorities permitted an official brothel system to operate despite internal reports that women were being coerced into prostitution.
Tens of thousands of women were employed to provide cheap sex to American troops until the spring of 1946, when Gen. Douglas MacArthur shut down the system, documents show.
There is no clear evidence that non-Japanese comfort women were imported to Japan as part of the program.
Supporters of Honda's nonbinding resolution want an apology similar to the one the U.S. government gave to Japanese-Americans, including Honda as a child, forced into internment camps during World War II. That apology was approved by the Congress and signed into law by President Ronald Reagan in 1988.
___
Associated Press writer Foster Klug contributed to this report.
同性カップル:結婚夫婦と同等の法的保障 米オレゴン州

 【ロサンゼルス國枝すみれ】
米西部オレゴン州議会は2日、同性愛のカップルに、結婚した夫婦と同等の法的保障を与えるドメスティック・パートナーシップ(同居人保護)法を成立させた。AP通信が報じた。
 同法によれば、同居する契約を交わした同性のカップルは、相続権や親権が認められ、一方が入院した際などの医療方針の判断も、既婚の夫婦と同様に行うことができる。また、医療健康保険や、車両や自宅の損害賠償保険なども共同で購入できる。
 カリフォルニア、バーモント、コネティカット、メイン、ニュージャージー、ワシントン州で同様の州法が成立している。
毎日新聞 2007年5月3日 22時08分 (最終更新時間 5月4日 0時42分)
Ore. lawmakers OK domestic partnerships By BRAD CAIN, Associated Press Writer
Wed May 2, 8:36 PM ET
A bill giving Oregon's gay and lesbian couples the benefits of marriage through domestic partnerships won final legislative approval Wednesday.
The Senate endorsed the measure 21-9, sending it to Gov. Ted Kulongoski. The governor is a gay-rights supporter who says he will sign that bill along with another one passed earlier to ban discrimination based on sexual orientation.
The domestic partnership bill would enable same-sex couples to enter into contractual relationships that grant them the same benefits that state law offers to married couples.
The measure won unanimous endorsement from the Senate's majority Democrats, with two Republicans joining them.
When Kulongoski signs the measure, Oregon will join Vermont, Connecticut, California, New Jersey, Maine and Washington state in offering civil unions or domestic partnerships to same-sex couples.
Massachusetts allows gay couples to marry. The New Hampshire Legislature last week approved a civil unions measure that's expected to be signed into law soon, and Hawaii extends certain spousal rights to same-sex couples, along with cohabiting heterosexual pairs.
Oregon's domestic partnerships measure covers benefits relating to inheritance rights, child-rearing and custody, joint tax filings, joint health, auto and homeowners insurance policies, visitation rights at hospitals and others.
It does not affect federal benefits for married couples including Social Security and joint filing of federal tax returns.
Opponents have called domestic partnerships "marriage by another name," and said the bill violates the will of voters who endorsed a constitutional ban on gay marriage in 2004.
Backers said the law will provide dignity and protection for thousands of same-sex couples in Oregon who are in committed relationships not currently recognized by the state.
After the vote, about 60 jubilant gay rights supporters gathered in a nearby room, where they toasted their victory with sparkling cider. Some shed tears.
"The fact of the matter is, the state now recognizes us," said Kevin Bailey-Gilliam, who came to the Capitol with his partner, Alex, for Wednesday's vote.
性同一性障害 変更500件超 (NHK 2007/05/02)
心と体の性別が一致しない性同一性障害に悩む人たちが、戸籍上の性別を変えることを認められたケースが、これまでに500件を超えたことが、最高裁のまとめでわかりました。
性同一性障害と診断された人については、日常生活での偏見やトラブルをなくそうと平成15年に特例として戸籍上の性別を変えることができる法律が成立しました。法律では、20歳以上で、現在結婚していないこと、それに子どもがいないことなど一定の要件を満たせば、家庭裁判所が戸籍上の性別の変更を認めることになっています。最高裁判所によりますと法律が施行された平成16年7月から去年12月までに全国の家庭裁判所に630件の申し立てがあり、このうち573件で性別の変更が認められました。当事者団体によりますと、性同一性障害に悩む人は病院で診断を受けた人だけでも全国で5000人に上りますが、結婚や子どもに関する法律の要件に阻まれて変更の申し立てができないケースも少なくないということです。法律の要件は、ことしをめどに見直しを検討することになっていることから当事者団体では、要件の緩和をはじめ手術や診断を行う医療機関の拡充などについて国への働きかけを強めることにしています。
▲
by

alfayoko2005

| 2007-05-02 20:29 | トランス
JAPAN:
Gender Biased Divorce Law Under Review
Suvendrini Kakuchi

TOKYO, Apr 24 (IPS) -
The birth of her baby four years ago was supposed to be a happy occasion for Masae Ito, 41. But she and her second husband were in for a nasty surprise at the registry office.
''I was told flatly by ward officials that the baby (legally) belonged to the husband I had divorced almost a year earlier. I could only gasp in disbelief,'' said Ito, a plucky woman who now manages a small non-profit organisation geared to support mothers in similar situations.
Ito is currently working hard to have changes made to the archaic Civil Code law that prevents women from remarrying for six months after divorce and also prohibits babies born within 300 days of the divorce from being recorded under the family register of their biological fathers.
Only through a special court procedure, whereby the former husband testifies that the child is not his, can the problem be rectified. Husbands, however, are not covered under this law.
Japanese law calls for families to have family registers apart, from individual birth certificates. The register records the background of each family member and is maintained by the householder -- usually the husband.
Changing the contentious civil code -- established in 1898 to ensure a child is not illegitimate at a time when DNA testing did not exist -- is proving difficult.
Gender experts point to the ongoing debate in the Japanese Diet (parliament) on making a long overdue change to a legal stipulation that no longer makes sense as yet another example of official resistance to gender equality.
''The issue of not accepting the father of a child on the grounds that the mother was married to another man before, is beyond logic. The difficulty to change this irrelevant law reflects the desire on the part of conservative politicians to protect Japan's male-dominated society,'' Fujiko Sakakibara, a lawyer and gender expert, told IPS.
A bone of contention for conservative politicians in the ruling Liberal Democratic Party (LDP) is that abolishing the law would break family values by encouraging divorce and possibly increase the number of children born out of wedlock.
Recent remarks by senior politicians referring to women in this situation as ''committing adultery'' have caused bitter resentment. Moves to soften the old law by accepting DNA testing or a doctor's certificate showing the date of conception or reducing to 100 days the wait for women to remarry, have only been met by even more resistance by activists.
''The whole case is a shame on Japan. It shows how Japan ignores the rights of women to start married lives afresh after divorce. Moreover, children are denied their right to register their biological father and mother. Laws take precedence over the happiness of women and children,'' says Yoko Sakamoto, editor of M-Net, an Internet publication that focuses on gender issues.
Indeed, Ito, who has advised more than a hundred women who grapple with this predicament, says many of them suffer mental anguish when they have to approach the courts to settle with their former husbands.
''There are cases where women are the victim of domestic violence and do not want to meet their former husbands ever. In other cases, the wounds from divorce can be still raw and it can be nerve wracking for women to be forced to meet and appeal to their former husbands for permission to register their new offspring under their biological fathers,'' she explained.
As a result of these difficult stipulations, activists have found hundreds of unregistered children in Japan. There is no official count because of the lack of concrete statistics, but cases recorded in the Family Courts, says Ito, indicate there are at least 3,500 children per year who go unregistered.
One consequence of the contentious code is that unregistered children cannot apply for national benefits or have a passport issued. A woman, quoted in the local media, said her new baby was born prematurely and does not have a family register. Both her second husband and she worry about medical bills.
However, last week, the government announced that it has decided to issue passports from May to children not registered due to the provisions of the code relating to recently divorced mothers. The gesture is a sign that the resistance by mothers is paying off.
Ito's own case is regarded as a landmark in the fight for equality. Rather than plead her case in court, she lobbied for help from politicians.
''I met with sympathetic politicians who introduced me to officials at the justice ministry. After long arguments I was allowed to register my child under a new family register without going to Court. But the law itself remained intact which is why I started my grass root movement,'' she said.
Activists hope to push the change before the current session of the Diet ends in June. Already the ruling LDP and its coalition partner, the New Komeito party, are discussing the matter to usher in a new legislation.
''We have to work step by step to change things and make Japan a better place for women,'' said Sakamoto. (END/2007)
Japan Considers Amending Pacifist Constitution
By Catherine Makino
Tokyo
30 April 2007
Voice of America
After years of talking about it, Japan's governing party has moved ahead this month with plans to revise the country's constitution. The changes would expand the role of Japan's military - a significant break from its post-World War II pacifist era. And as Catherine Makino reports from Tokyo, that is giving rise to fear that Japan could return to its militarist past.
Since Japan's pacifist constitution was imposed by U.S. occupiers after the country's defeat in World War II, the Japanese have held Article Nine sacrosanct. In it, Japan forever renounced war and the threat of force as a means to settle international disputes. It limits Japan's military to a purely self-defensive role and bans any offensive capabilities. Article Nine was meant to show Japan was breaking with its imperialist era when it brutally invaded and conquered swaths of East Asia in the early 20th Century.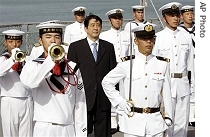 Japanese PM Shinzo Abe, center, stands with Japanese seamen on the deck of Japan Maritime Self-Defence Force refueling ship Hamana which was dispatched to Middle East to support the U.S.-led operations in Afghanistan, Sunday, 29 April 2007 in Abu Dhabi
But a new generation of leaders, led by Shinzo Abe - the first prime minister born after the Second World War - backs sweeping reform of the constitution and specifically Article Nine.
Proponents of the changes, such as Osamu Nishi, professor of constitutional law at Komazawa University in Tokyo, say Japan needs to be able to project force commensurate with its economic power.
"Japan is not the same country as it was 60 years ago," he said. "It has become a big country with a responsibility to keep world peace."
Opponents of revision say it would bring a return to militarism and "a dark period of history." They argue that the pacifist clause has kept the country out of war and allowed Japan to prosper.
The Self-Defense Force has expanded over the years, and now has 240,000 members. Although Japanese soldiers have not been sent into combat, Tokyo dispatched about 600 non-combat soldiers to Iraq to work on reconstruction projects in southern Iraq since 2004. But the deployment was unpopular at home and the ground troops were withdrawn.
Nishi says such work does not mean Japan would be returning to militarism.
"Of course, in order not to return to militarism of the past, it is necessary for the civilian [sic] and government to control the military forces," Nishi says.
But behind the general talk of the need for Japan to play a larger role in the world is another argument: that Japan must compete more strongly with major neighboring powers such as China.
Law professor, Pema Gyalpo, of Toin University in Yokohama is a constitutional advisor to the ruling Liberal Democratic Party. He says a change in the military's role is necessary to meet any threat caused by China's growing military might.
"Because in recent years it has been very obvious that China is increasing their military budget by double digits, and this is very great concern for the Japanese," Gyalpo says.
Gyalpo also believes that if Tokyo wants to become a global player and a member of the United Nations Security Council, it has to take a more active military role.
Such views may have the current government's backing, but proponents of change have a long wait ahead. The lower house of parliament passed a bill on April 13 setting out procedures for a national referendum on whether or not the constitution should be amended. The referendum could be held three years from now.
In the meantime, public support for constitutional change is declining. Surveys over the past 15 years by the conservative Yomiuri Shimbun, Japan's largest daily newspaper, show that those favoring revision consistently outnumber those who oppose them. But the percentage of those in favor has dropped for three years in a row.
But some experts, such as Gyalpo, say while there is no pressing need to revise the constitution immediately, there is short-term political benefit for Mr. Abe to bring the issue to public debate.
"Well, when he became prime minister he said that one of his top priorities is to change the constitution and I think that's what he is trying to do," Gyalpo says. "Secondly, the opposition party is attacking him for the growing gap between the rich and poor, and also the pension issue for the citizens, elderly citizens, so that is why Abe is trying to focus the coming election in July on the constitution."
The constitution was drafted by the United States when it occupied Japan following Japan's defeat in World War Two. The document reduced the formerly supreme emperor to a symbolic figurehead and gave control of imperial palaces and assets to the Japanese parliament.
It established democracy in Japan, creating political parties and elections. Political power previously had been concentrated in the hands of a small group of government leaders who answered only to the emperor.
Freedom of speech, of religion, and human rights were also included in the 1947 constitution, as were "gender equality," the right to vote, and the right to own property.
But the more conservative elements in the LDP point out that the Americans imposed the constitution on Japan and that it therefore lacks true legitimacy in the eyes of many Japanese.
How far constitutional change should go remains a concern not just in Japan, but also across a region still wary of Japan's militaristic past.
▲
by

alfayoko2005

| 2007-05-01 09:43 | 国内政治